Light and fluffy, these pumpkin-pie spiced, hemp almond pancakes pack a hefty nutritional punch in addition to being so scrumptious!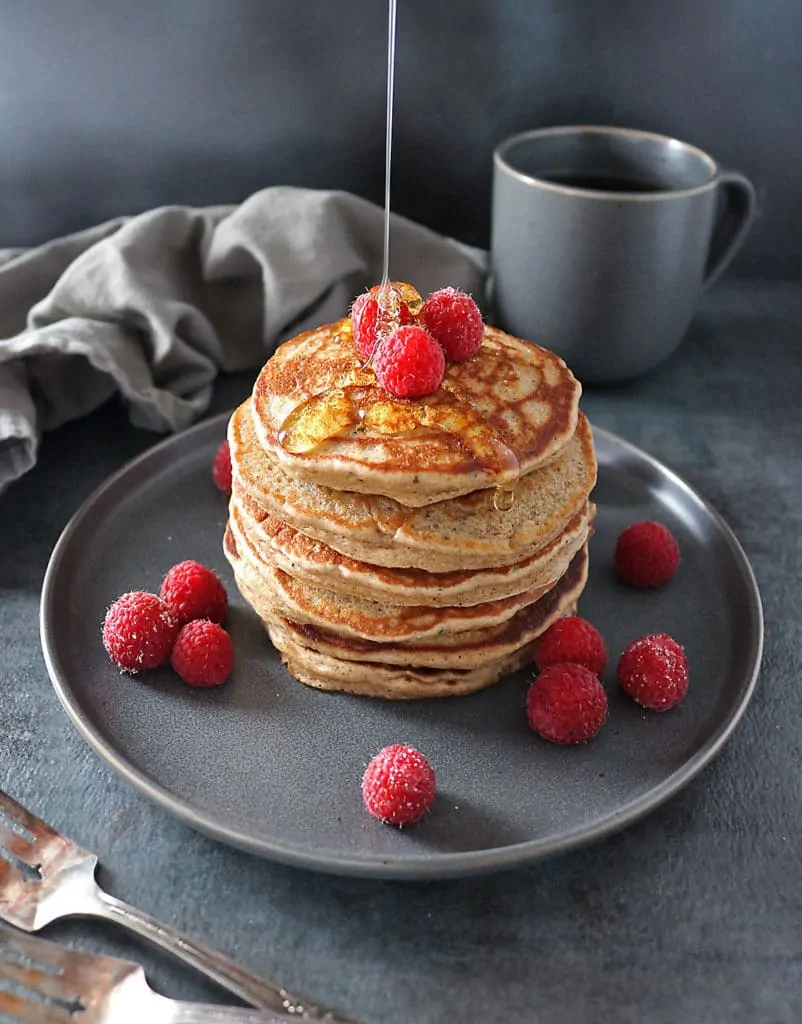 *This post was originally published in October 2014. I have made edits to the photos and content, to reshare these amazingly delicious pancakes with y'all today.*

When I say pancakes, what's the first word that comes to your mind

How about cupcakes?

Aaaannnnd…what's the first emotion you feel as you roll the word "cupcakes" around?

Pancakes…cupcakes…just the words (before either of their aromas even assault my nostrils) make me feel all happy, and excited, and relaxed – ALL at the same time!

Just those words make me think of a PARRRTAYYY – in my mouf!

Maybe it's because they both end in "cakes"… ???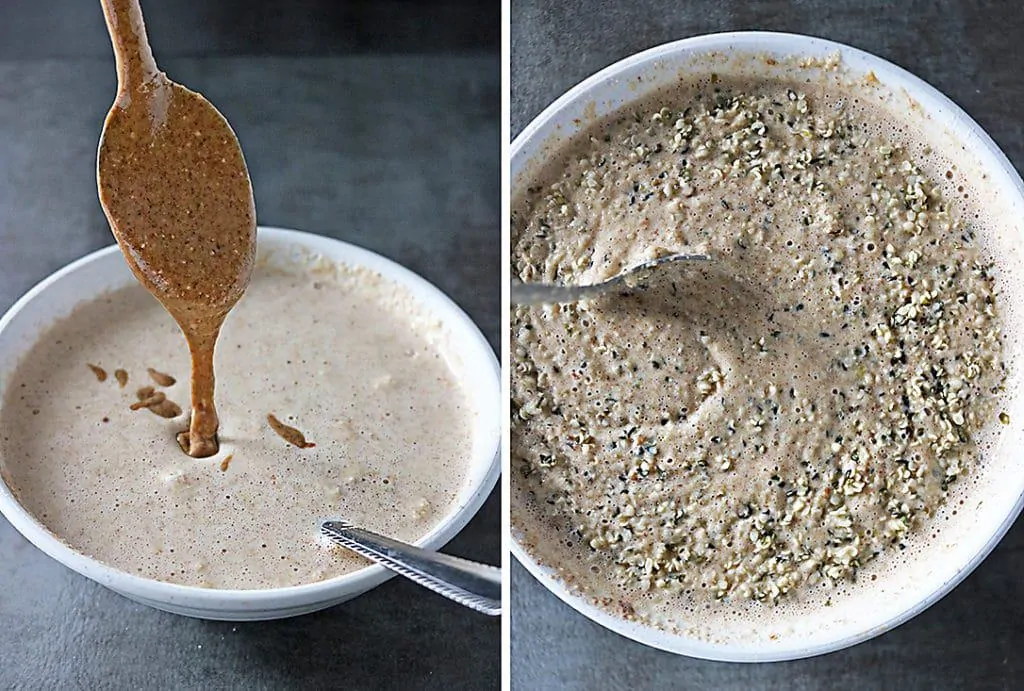 When I was a young 'un, cupcakes, pancakes, were treats – comfort food – exploding with white flour and refined sugar.
These days, while I am a staunch supporter of "treats", I usually like to put a healthy spin on them – beets in cupcakes, quinoa in pancakes, avocado in muffins – I mean, life is too short not to fill it with delicious AND nutritious right?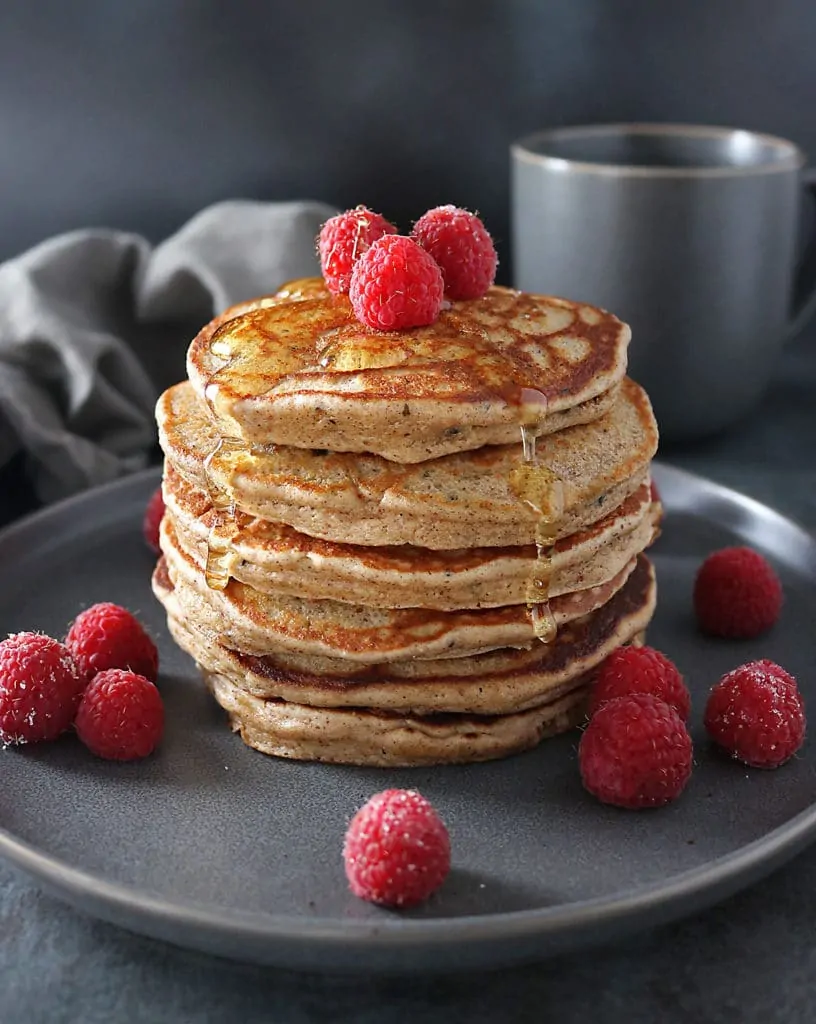 Why You Should Make These Gluten-free Hemp Almond Pancakes This Weekend:
• They are a stack of comfort food – for your weekend breakfast – or lunch – or both,

• They are delicious, with almost "cake" like in consistency even though they are gluten free (top them with frosting if you'd like and see what I mean)

• Have NO white flour,

• Have NO Refined Sugar,

• Have NO Butter, and

• AND they can be refrigerated for upto 3 days #mealprepwin
These pancakes are made with energy boosting oats, honey, almond butter, and Hemp Hearts.

After I used Hemp Hearts to make these breakfast cookies, I figured my weekend pancake stack could use these slightly nutty, non-GMO seeds, packing a whopping 10 grams of plant-based protein and 10 grams of Omegas per 30 gram serving!
These pancakes are easy to whip up just mix all the ingredient up, wait about 5 minutes for the oats to thicken up the mixture, and then cook up spoonfuls of this batter and voila, you are done!

You can double or triple the quantities to make bigger batches. Any extra pancakes you have can be refrigerated for upto 3 days and reheated and enjoyed as needed.
My daughter and I sandwiched our stack of pancakes with almond butter and topped them with more honey before devouring them on our test round. 😉
I hope these Hemp & Almond Pancakes find their way into your homes and hearts this weekend!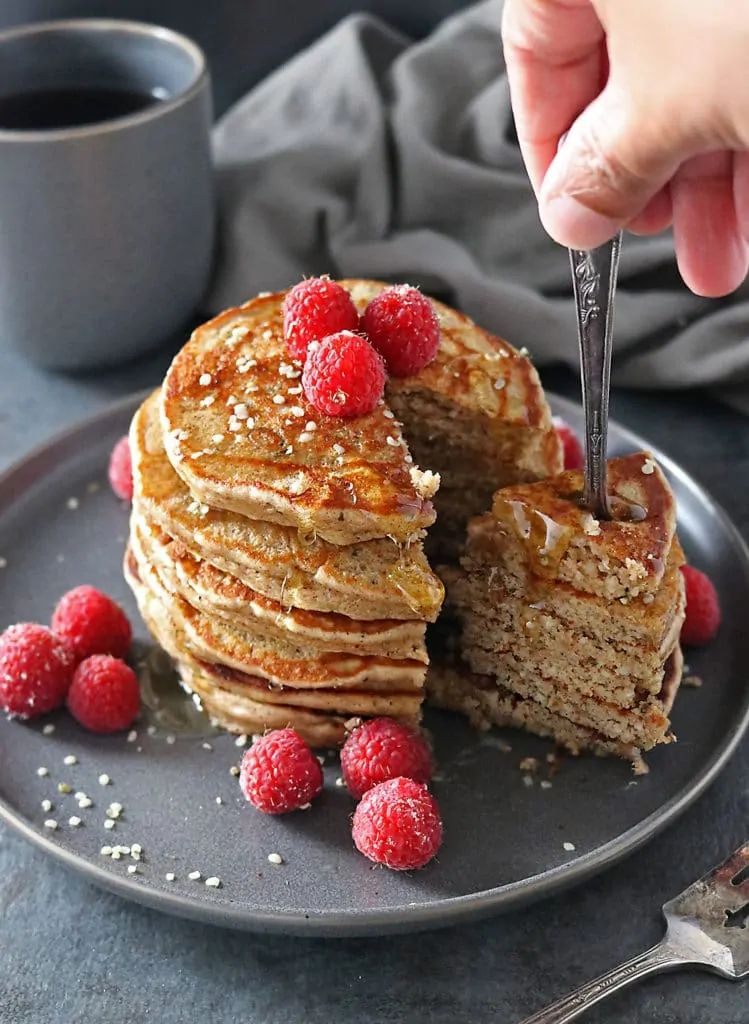 I would love to know if you've make this recipe or any other recipe from this blog so please do rate the recipe and let me know your thoughts on it in the comments below. You can also FOLLOW ME on FACEBOOK, TWITTER, INSTAGRAM and PINTEREST to get recipe ideas and inspiration.
©Savory Spin All content and images are protected by copyright. Please do not use my images or recipe without my permission.