Slightly sweet, slightly savory, hugely tasty, these baked Cinnamon Bacon Doughnuts also happen to be gluten-free and are perfect for breakfast or even a party snack!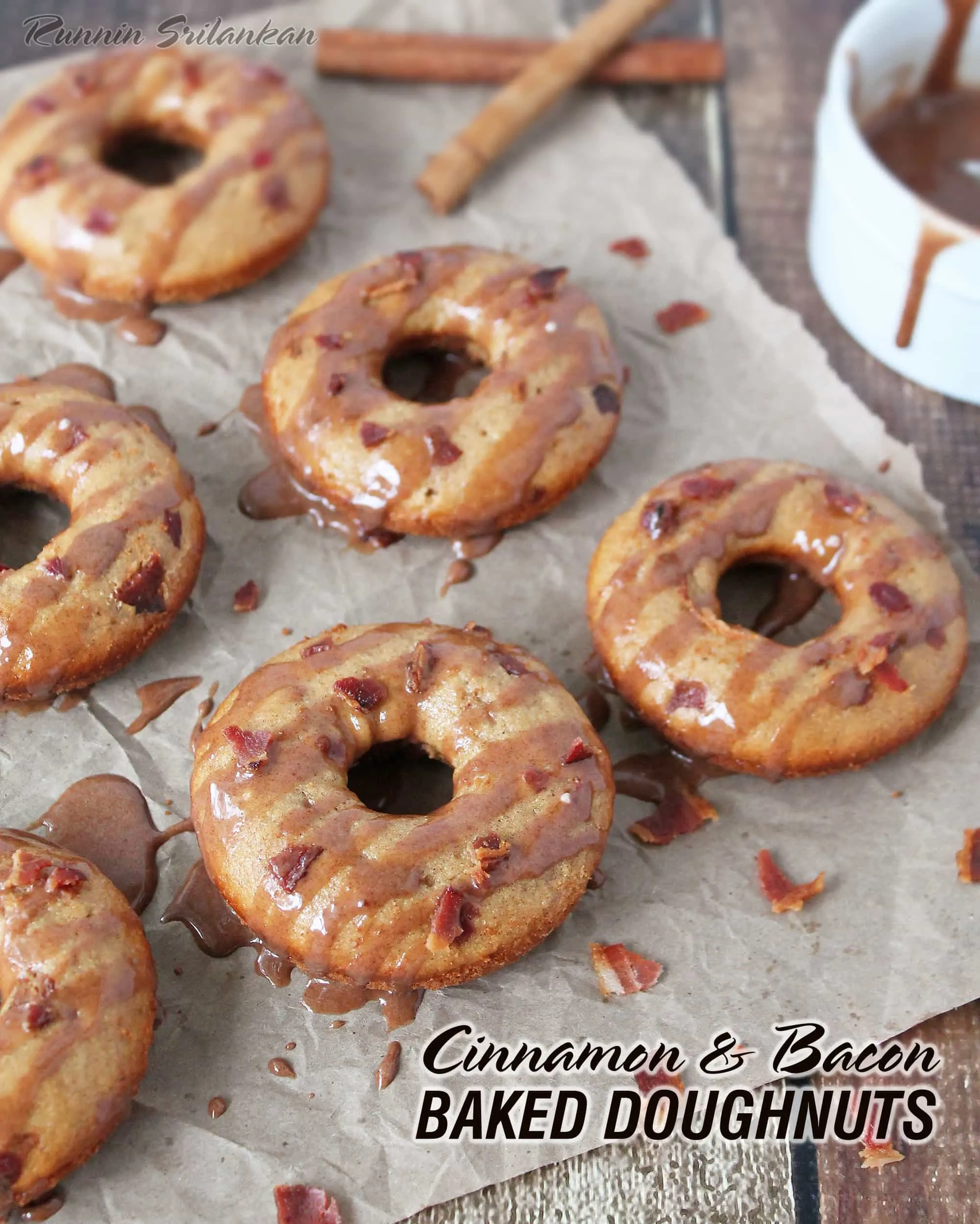 Today happens to be a pretty special day!
Today, we are having a party! A surprise-virtual party which I am so stinking excited to be a part of!
Today, Chris @ Shared Appetite rallied 21 of us bloggers together to throw a surprise virtual manly baby shower for a fellow food blogger, my dear friend, and mentor, and member of the dude-food-blogger "wolfpack" – David @ Spiced! David and his wife, Laura are expecting their first baby in November, and well – SURPRISE Mr. & Mrs. Spiced!!!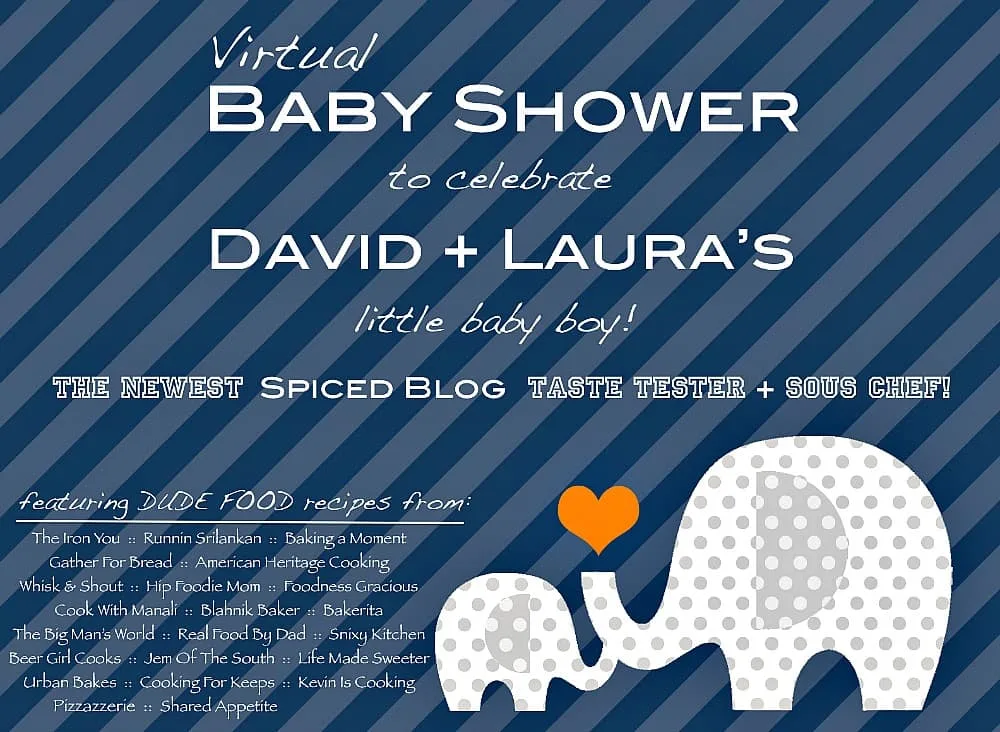 So, for this party I decided to show up baring these Cinnamon Bacon Doughnuts.
These baked, gluten free, doughnuts were inspired by the powdered sugar doughnuts David posted earlier this year. I had given up making doughnuts till I stumbled on his recipe and – the cliche is true – the rest was history! Now doughnuts are a part of our monthly weekend ritual!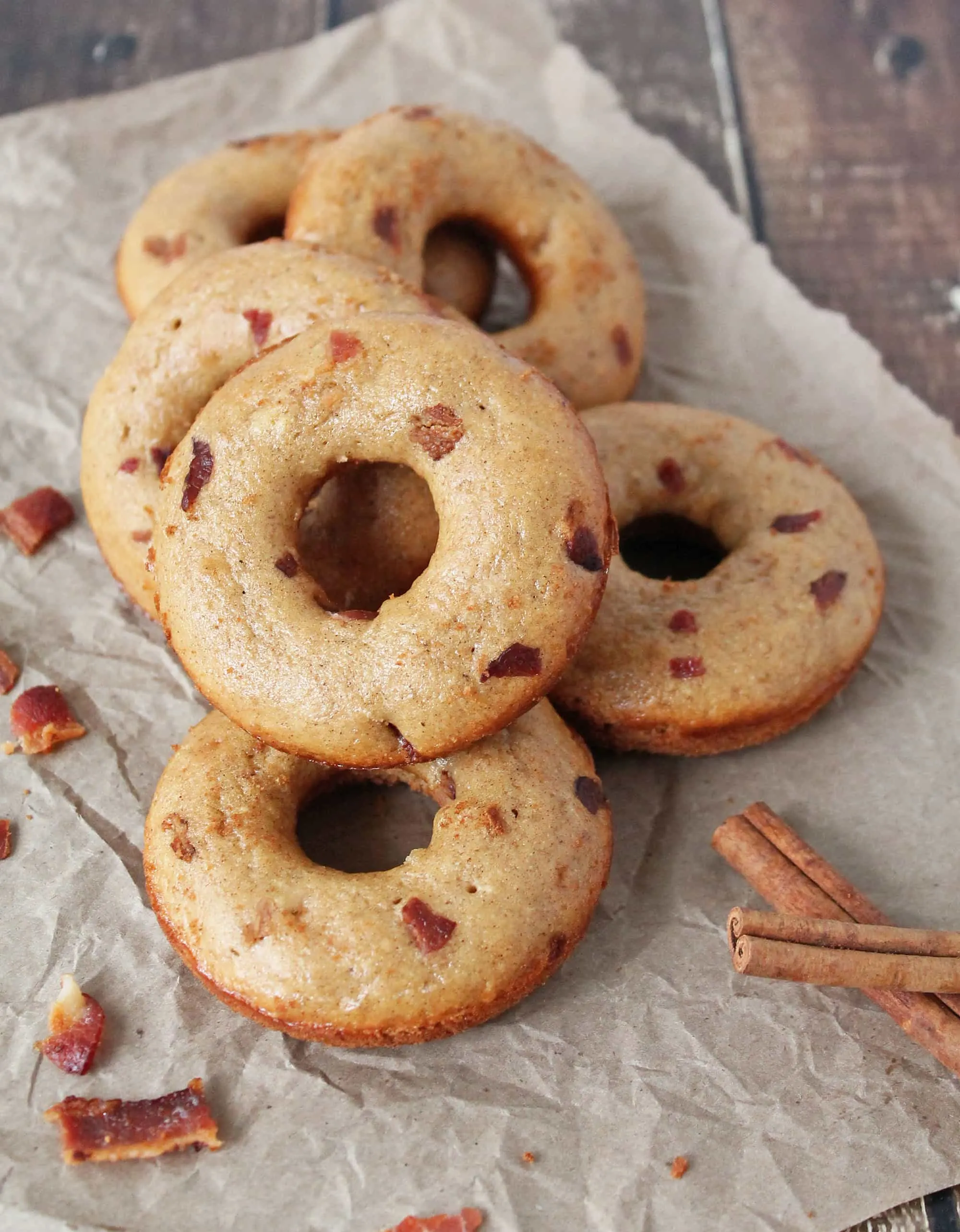 One weekend, I made some cinnamon doughnuts which my daughter and I decided to have with a side of bacon when my daughter suggested I should just bake the cinnamon doughnuts with the bacon inside them.
This is what leads to these, slightly sweet, slightly savory, hugely tasty, Cinnamon Bacon Doughnuts with a cinnamon drizzle and bacon crumbles!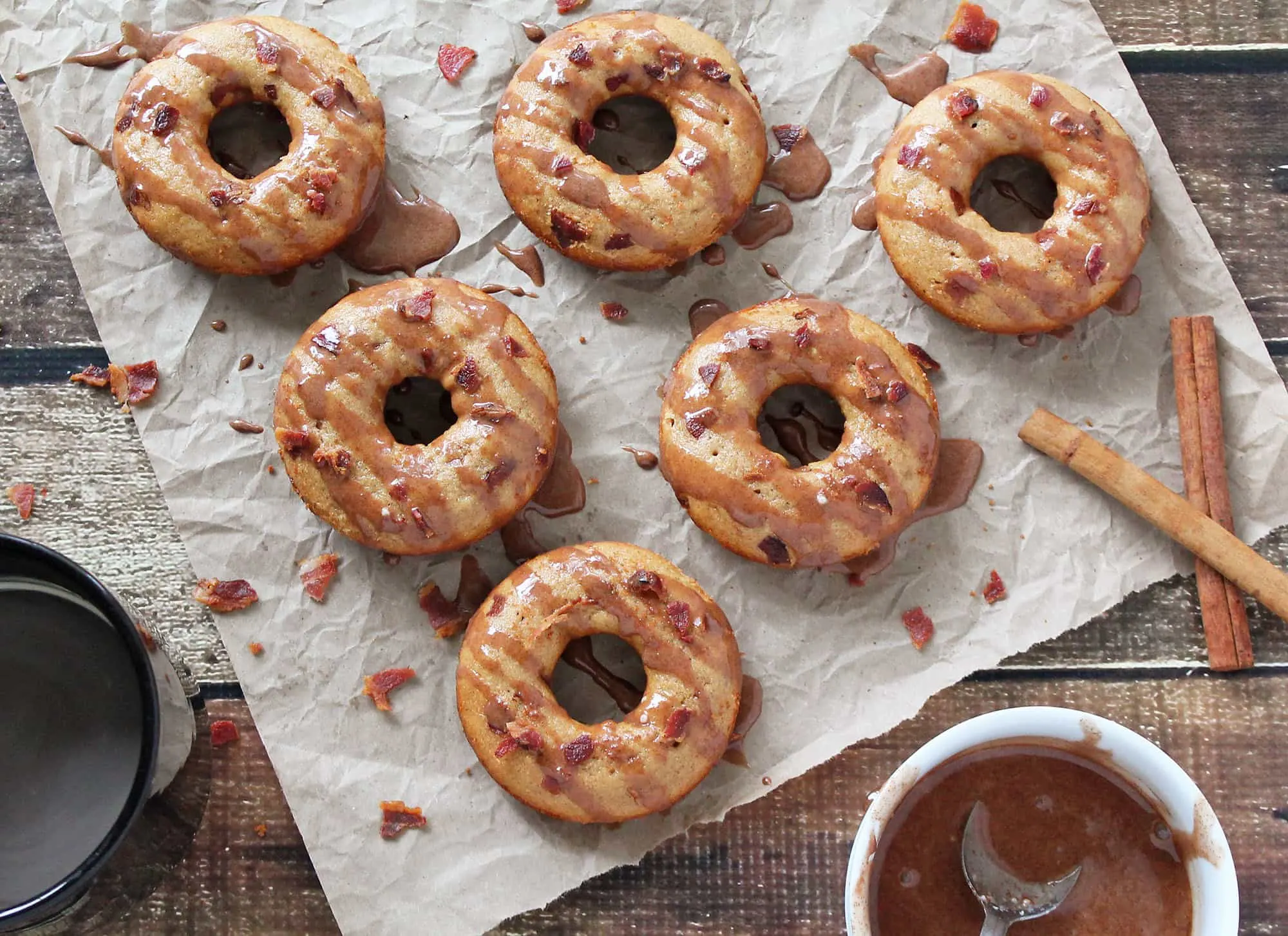 Congrats David and Laura – all the cliches out there about babies are true – the joy that little Spiced is going to bring to y'alls home is indescribable! Wishing you both a safe and healthy pregnancy and delivery. I am so excited for you all and cannot wait to meet Baby Spiced!
And, Chris @ Shared Appetite – thanks so very much for rallying us together and hosting this fabulous virtual-baby shower for David!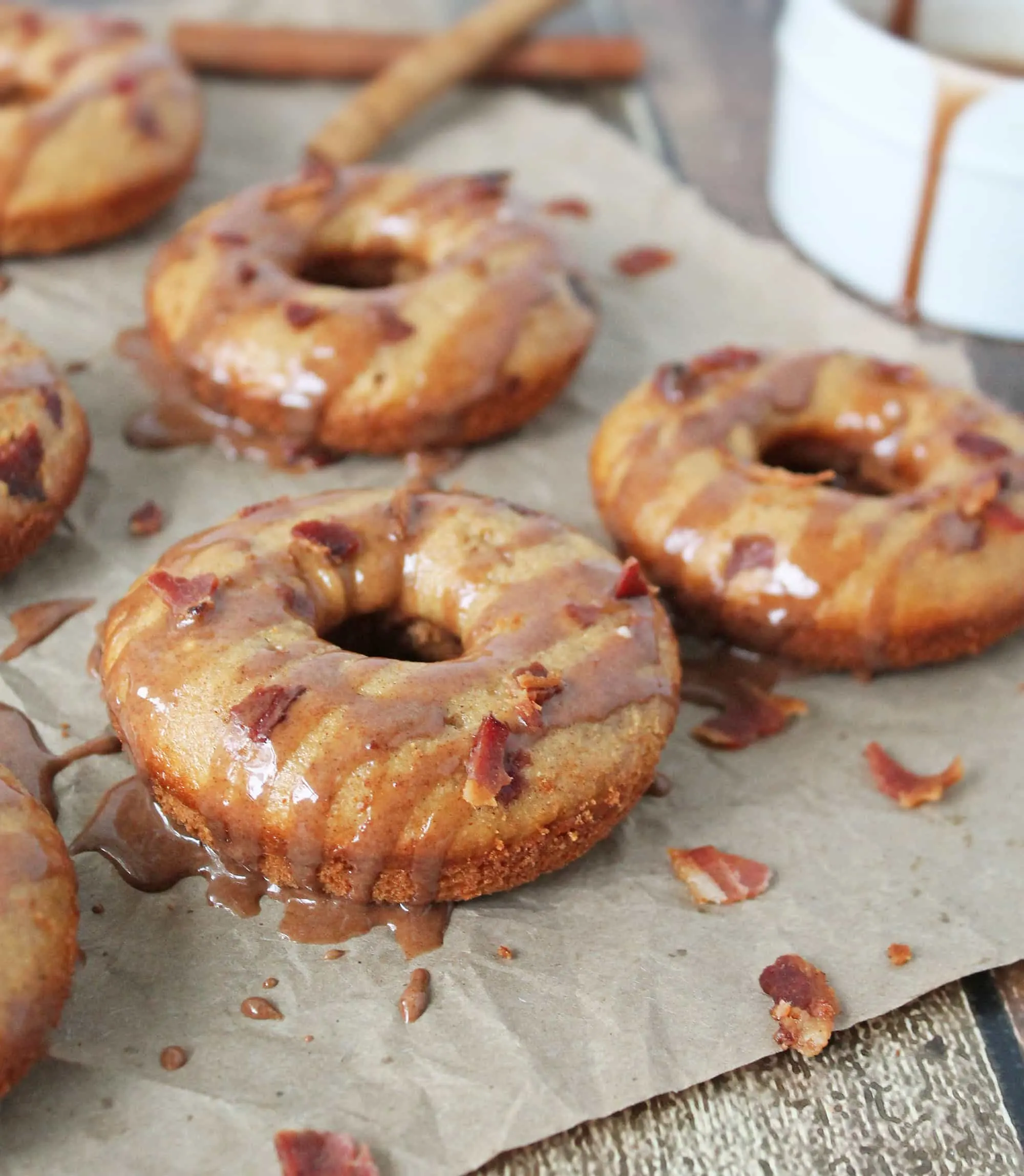 Y'all Gotta check out these other Drool-inducing Baby Shower Recipes!
Buffalo Chicken Blue Cheese Hand Pies by American Heritage Cooking
Chocolate Bacon Toffee by Bakerita
Pumpkin Beer Soft Pretzels by Baking A Moment
No Bake Salted Caramel Apple Slice by The Big Man's World
Philadelphia Cheesesteak – Southern Style by Beer Girl Cooks
Shredded BBQ Chicken Nachos by Blahnik Baker
Cinnamon Churros by Cooking With Manali
Grilled Brown Butter Burgers with Swiss + Boubon Mushrooms by Cooking for Keeps
Cider Braised Brisket by Foodness Gracious
Ham Potato and Corn Chowder by Gather For Bread
Mini Croques Monsieur Sandwiches by Hip Foodie Mom
Wolfpack-Style Meatballs by The Iron You
Pecan Praline Popcorn by Jem Of The South
No Bake Pumpkin Cheesecake Pecan Tarts by Kevin Is Cooking
Maple Sriracha Pulled Pork Mini Pies by Life Made Sweeter
Vanilla Almond Snowball Cake by Pizzazzerie
Something Amazing by Real Food By Dad
Cinnamon Bacon Donuts by Runnin Srilankan
Buffalo Garlic Knots by Shared Appetite
Spicy Butternut Bacon Deviled Eggs by Snixy Kitchen
Maple Bourbon Bacon Chocolate Donuts by URBAN BAKES