These Inside-Out Microwave S'mores are super easy and versatile and can be made in your microwave! This is a quick and easy dessert solution – with no need to turn on your oven or stoke your fire-pit!
This shop has been compensated by Collective Bias, Inc. and its advertiser. All opinions are mine alone.
#LetsMakeSmores #CollectiveBias #sponsored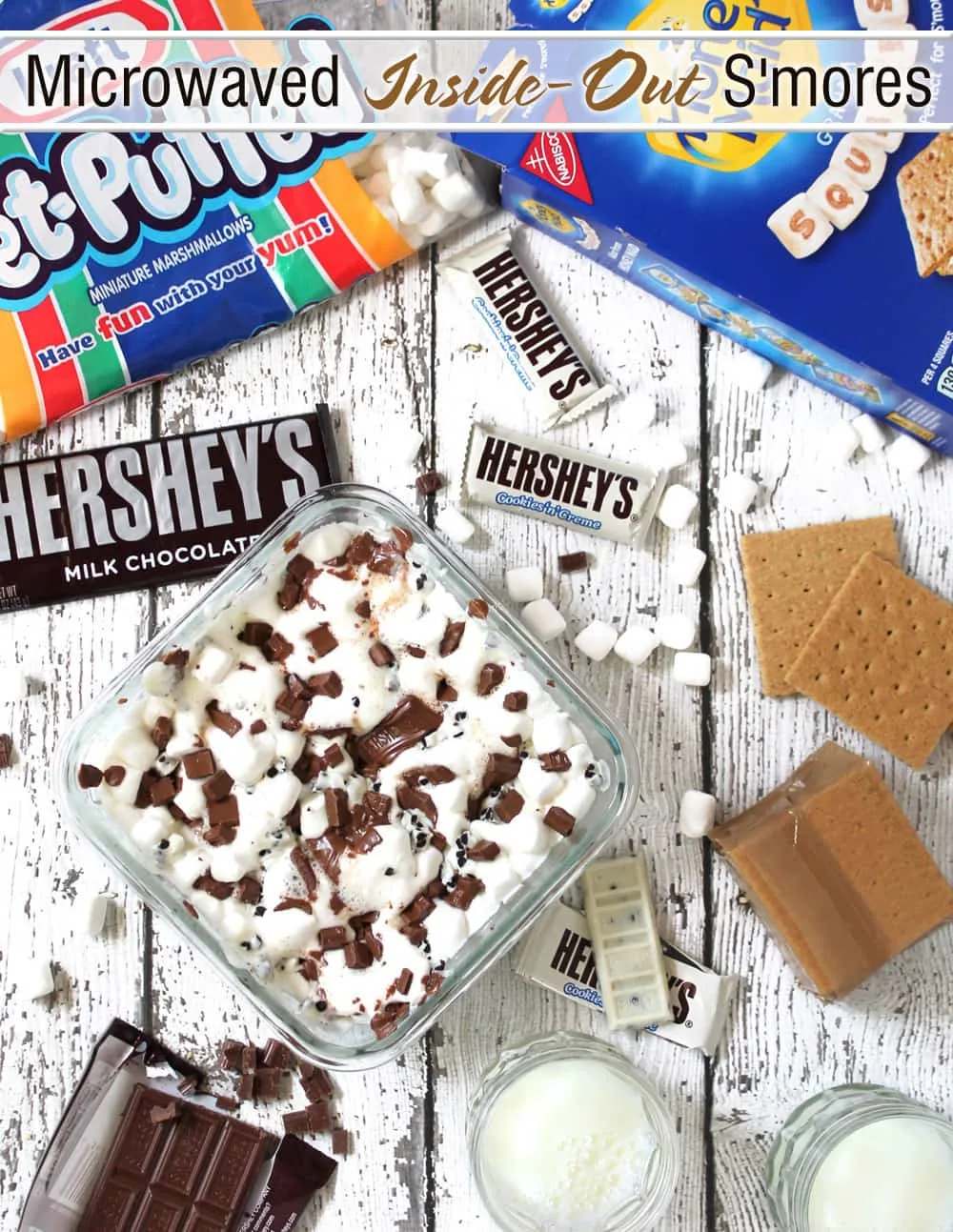 *This post was first published on July 5th, 2015. It has been updated and is being republished today.
These are our go-to s'mores when I am too tired to light up our fire pit or it is too hot to turn on the oven. When I first made these microwave s'mores, we had an electric stovetop. Without an indoor flame, enjoying s'mores always involved lighting up the fire-pit or turning on the oven and waiting.
But, with this easy and quick spin on s'mores, we can enjoy s'mores in less than 5 minutes!
---
When school let out for summer, I was so looking forward to longer, lazier, schedule-free days!
But, I feel I blinked and June slipped by!
Longer, lazier, and schedule-free has turned into zany and super busy…now don't get me wrong…I like busy…I thrive on busy, so I really shouldn't complain…
But… being constantly busy makes me just want to take a break, every now and then…and, have a weeknight dessert of some chocolate – in S'mores form!
But, Atlanta has a ban on burning right now…
Some people say fire-pits are a no-no and some others disagree…
I'd rather err on the side of caution; so…
I chose to make my s'mores indoors – in a microwave!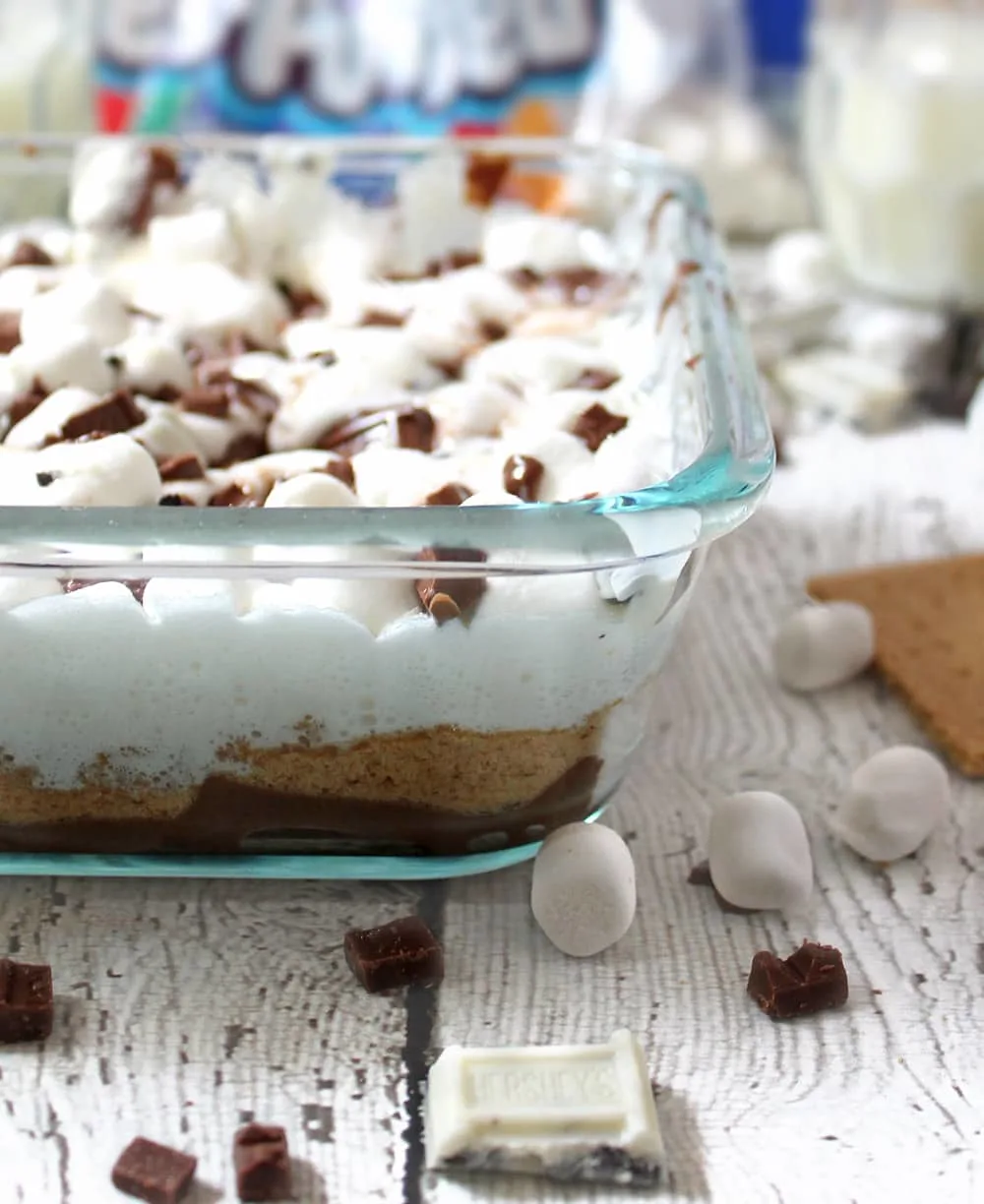 What is the best part about making s'mores indoors in a microwave?
They are ready in less than 5 minutes!
They are so easy
You can get the kids involved
These indoor s'mores are inside-out!
Instead of chocolate sandwiched with graham crackers, you have crushed graham crackers sandwiched with chocolate!
To a chocoholic like me – THIS is a dream!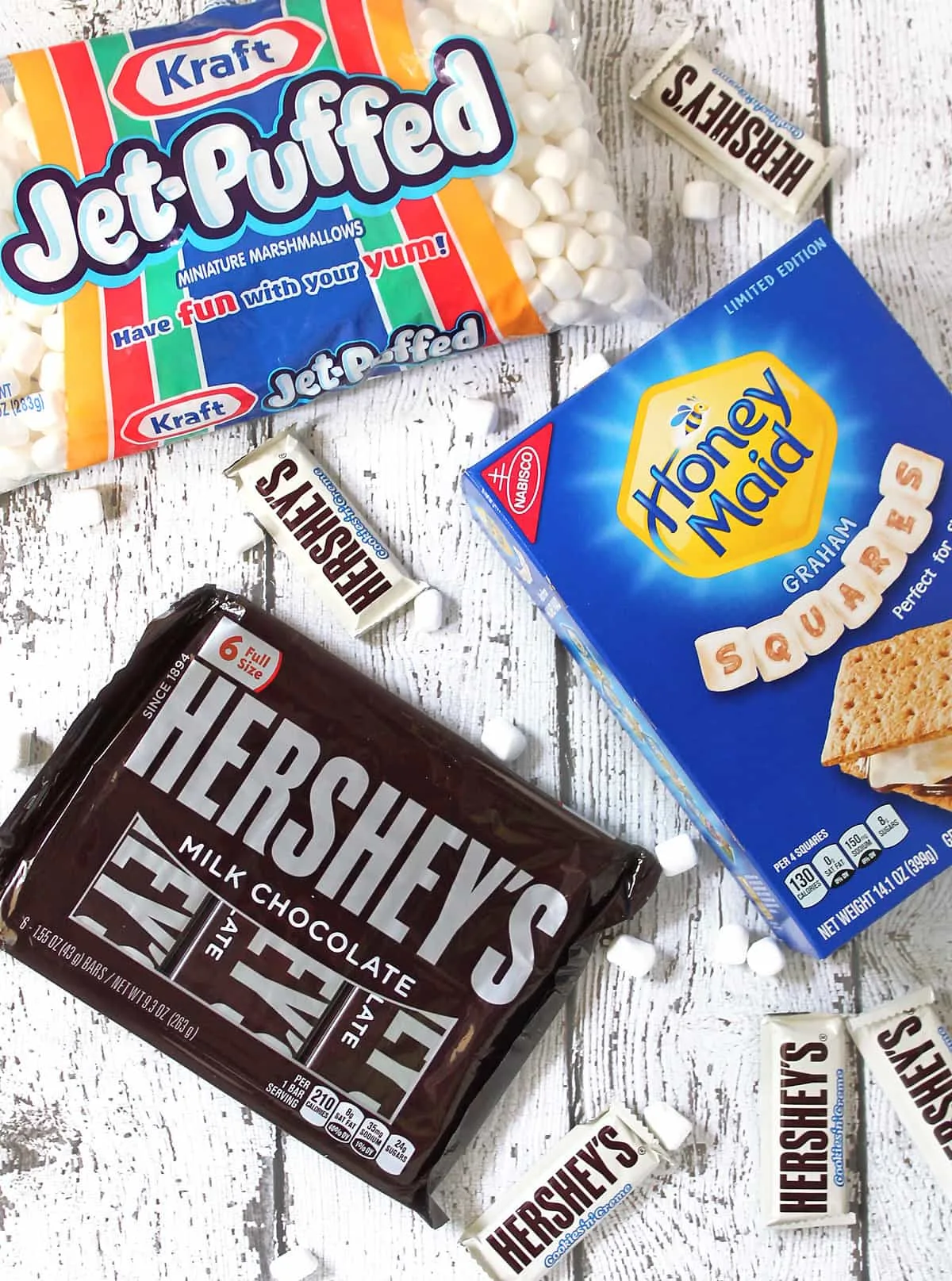 The idea for these popped into my head when my daughter and I saw a special Hershey s'mores display as we were bustling through our neighborhood Walmart. It had been a while since we had had s'mores so we brought home a 6 pack – of Hershey's Milk Chocolate bars!
A packet of Honey Maid Graham Cracker Squares (which are the perfect size for s'mores of all sorts!; as well as a packet of Kraft's Jet-Puffed Marshmallows also made their way home with us.
This recipe is so super simple – and, if your schedule is super busy like mine has been, it is also super quick! It would be perfect for a Weeknight Dessert or Summer Get-Together.
RECIPE:
Lat's start our watches and make the inside-out microwave s'more today…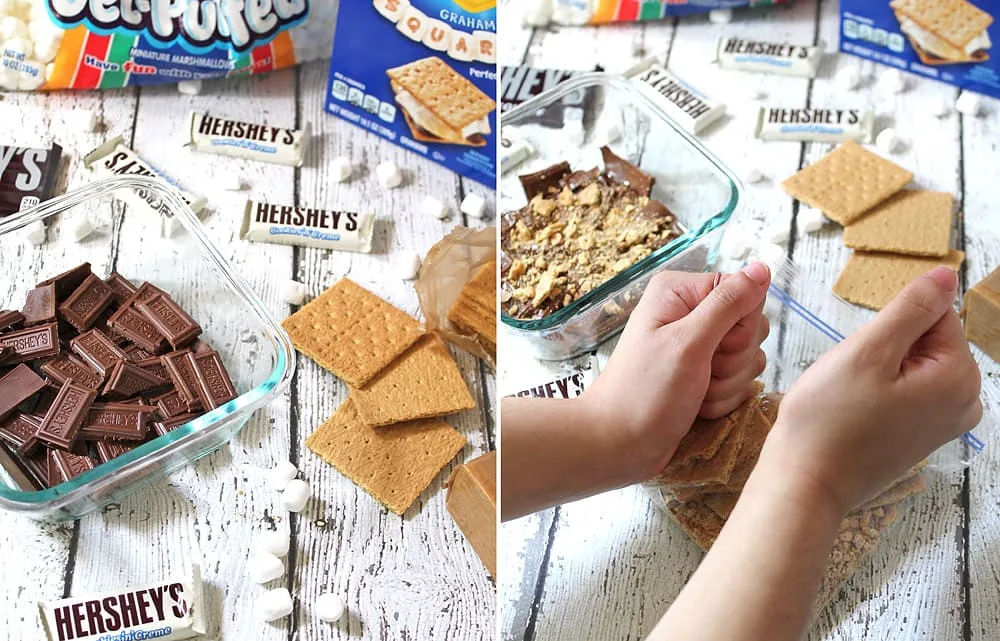 • I started off by breaking 4 bars of Hershey's Milk Chocolate into pieces and layered them on the bottom of a microwave-safe dish (60 seconds)
• I microwaved this for 30 seconds, I took a quick look at them and microwaved them for another 20 seconds (50 secs + 60 secs = 110 secs)
• My daughter helped by pounding up 2 sleeves of Honey Maid Graham Squares – using a sandwich bag and her hands (50 secs + 110 secs = 160 secs)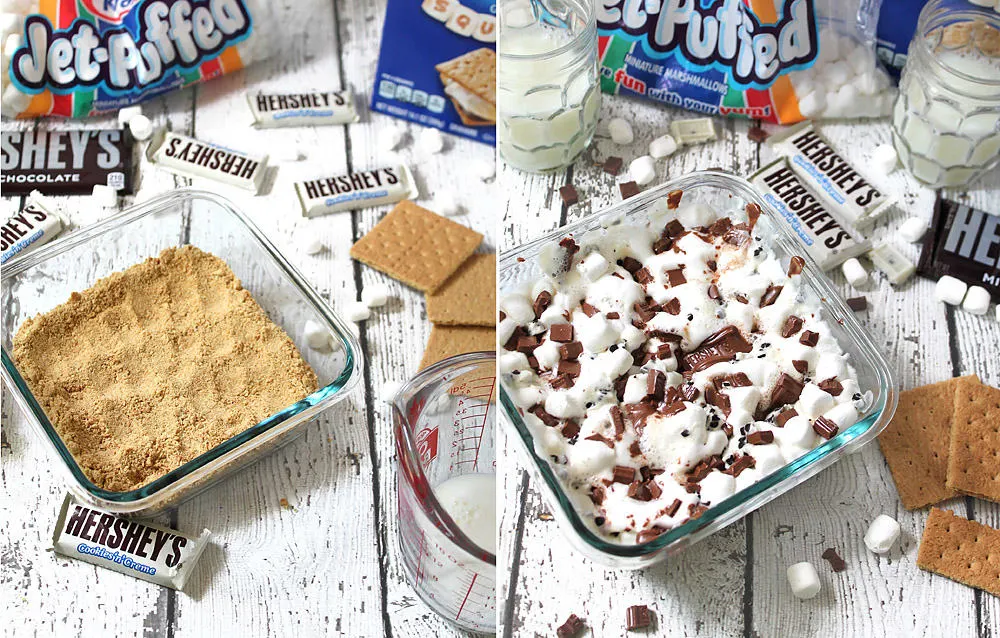 • I then topped the chocolate with the graham crackers and sprinkled 3 tablespoons of lactose-free milk on them and microwaved them for 20 seconds (20 secs + 160 secs = 180 secs)
• I added a cup of Kraft's Jet-Puffed Mini Marshmallows to the top and microwaved this for another 30 seconds (30 secs + 180 secs = 210 secs)
• I removed this dish from the microwave and added some pieces of Hershey's Milk Chocolate and Hershey's Cookies And Cream Bars to the top and microwaved it for another 25 seconds (25 secs + 210 secs = 235 secs = 3.91 minutes)
And, dessert…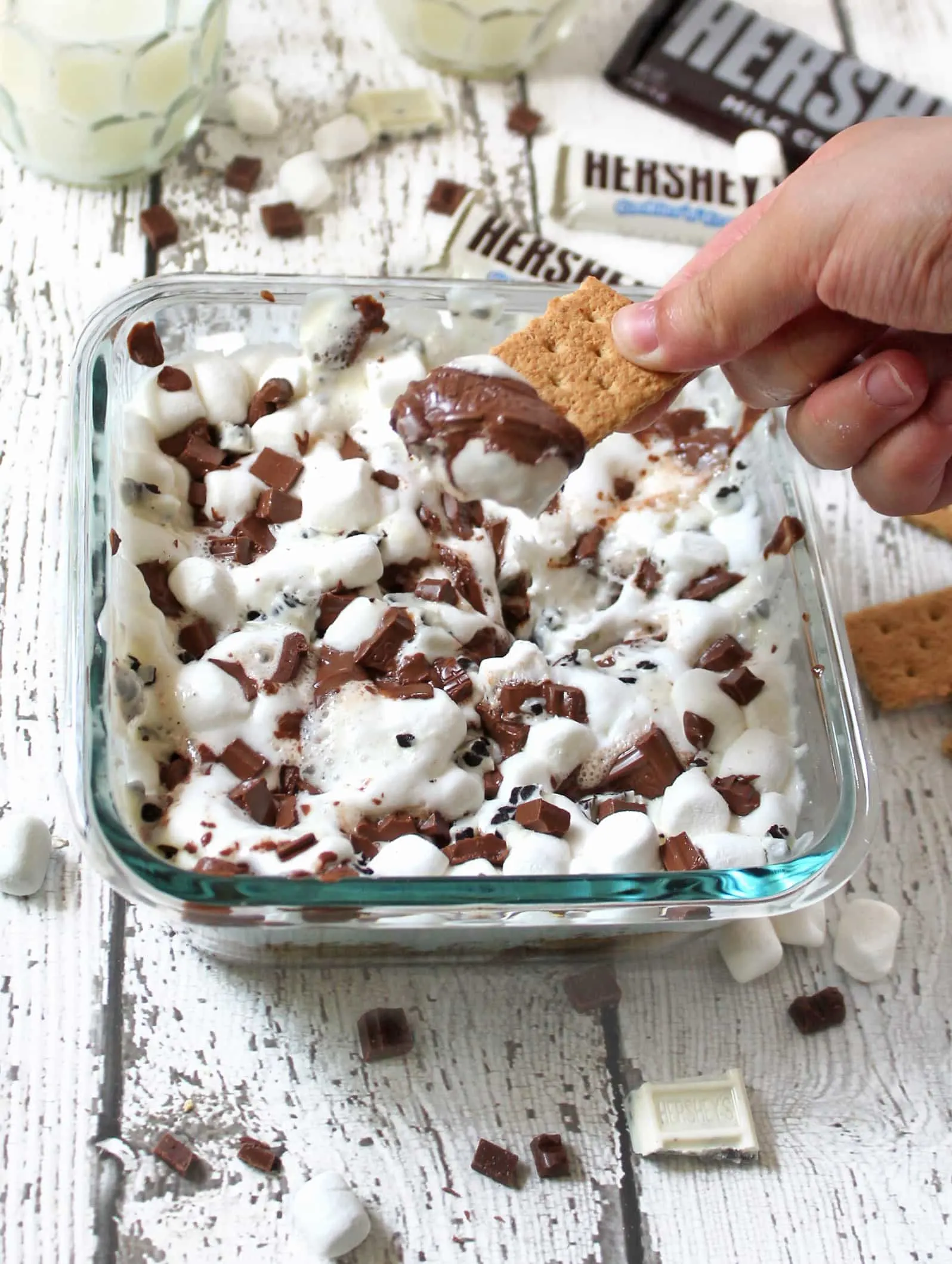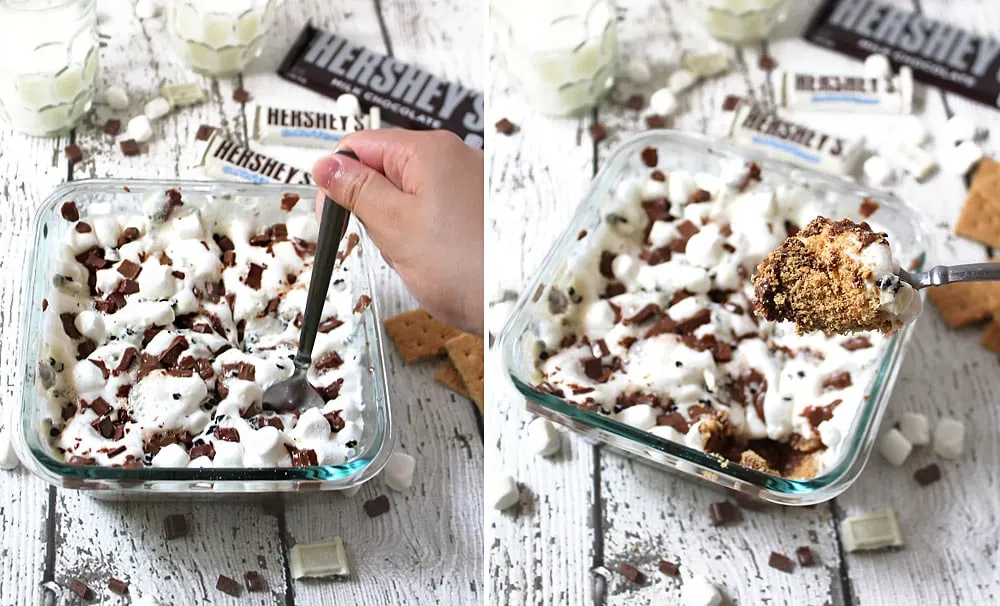 …was ready!
The only con to this recipe is that my daughter and I couldn't agree on the best way to eat it!
I suggested a Graham cracker and she suggested a spoon! What would you use?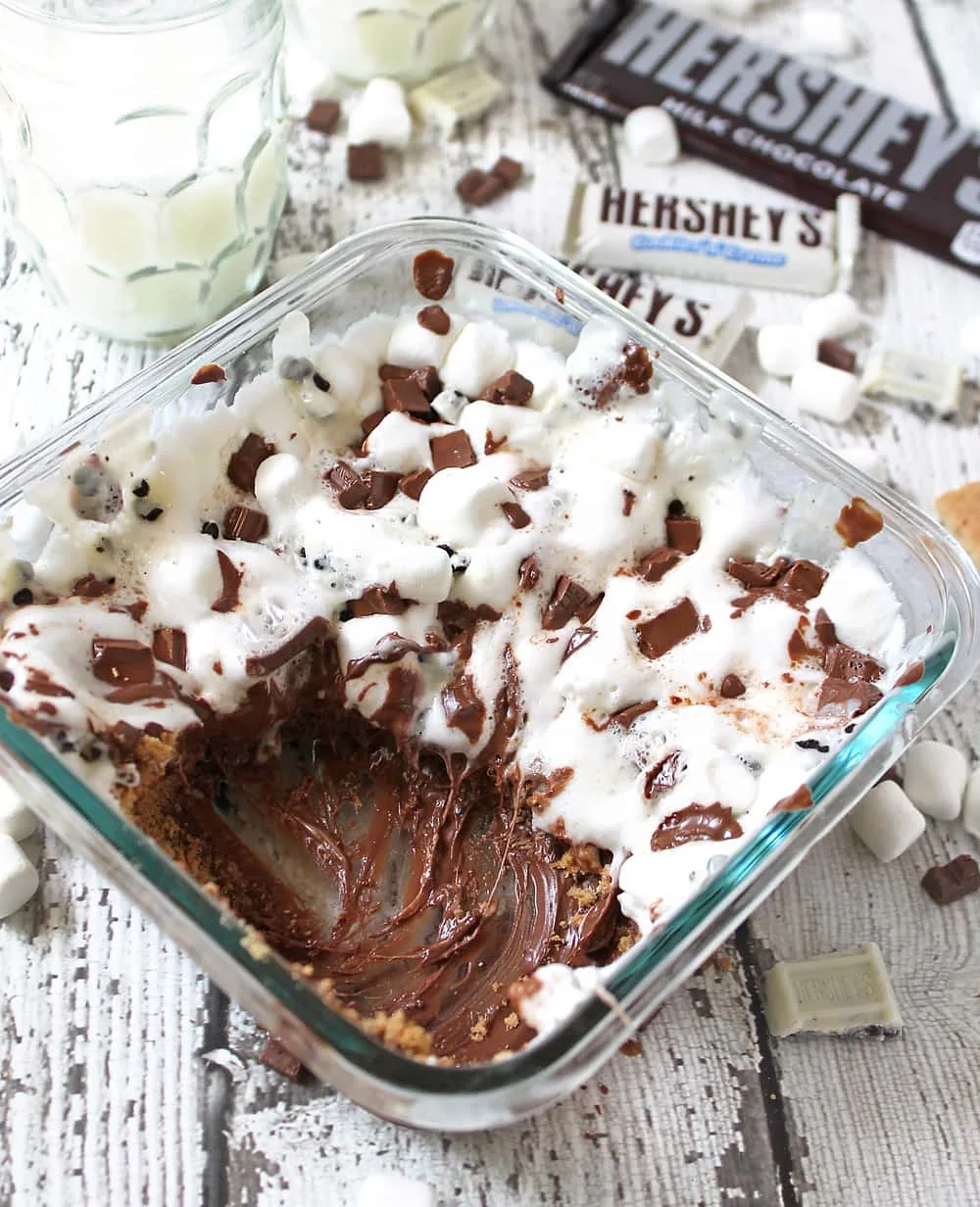 These Inside-Out S'mores are pretty versatile; you can use more Hershey's Chocolate on the top, covering up all the marshmallows; or, you can even use a different type of Hershey's Chocolate &/or a different type of Kraft's Jet-Puffed Marshmallows…but either way, this is a quick and easy dessert solution – with no need to turn on your oven or stoke your fire-pit!
Over a Fire, or in a microwave, or in an oven, or in a fireplace…what's your favorite way to make S'mores?
If you are looking for a bevy of desserts to try out ~ then make sure you check out:
This Easy Apple Crumble Pie with Butternut Squash,
This Peanut Butter Chocolate Cookie Trifle,
These Easy To Go Pavlova In A Jar,
These Gluten-Free Apple Almond Bars With Caramel Drizzle,
These Fruity Waffle Cups with Vanilla Cardamom Coconut Cream,
These Mini Buckwheat Banana Bundt Cakes,
These Chocolate Strawberry Cookies,
These Berry Frozen Treats in Honey Roasted Almond Cups,
These No-Bake Fruit and Yogurt Crumble Pies,
These Dr. Pepper Brownies,
This Ice Cream Bread,
These unique Vegan Cheesecakes,
And, a reader favorite: this Healthy Chocolate Pudding!