This 4-ingredient vegan avocado pudding is so luxuriously creamy – it makes a delicious and healthier summer treat and can be customized to fit into even a keto diet.
**This recipe for avocado pudding was first published back in August 2013. I have updated the pictures and post and I am re-sharing this favorite of our's here today.**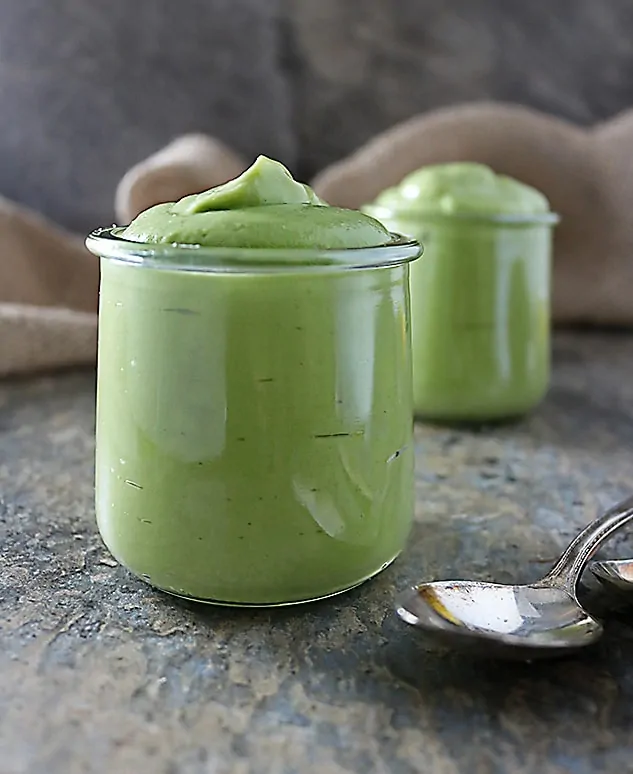 What are the FOUR ingredients to make avocado pudding?
• Ripe avocados,
• Lemon juice,
• Sugar or sweetener of your choice,
• Almond/coconut milk or milk of your choice,
blended up together result in this delicious treat!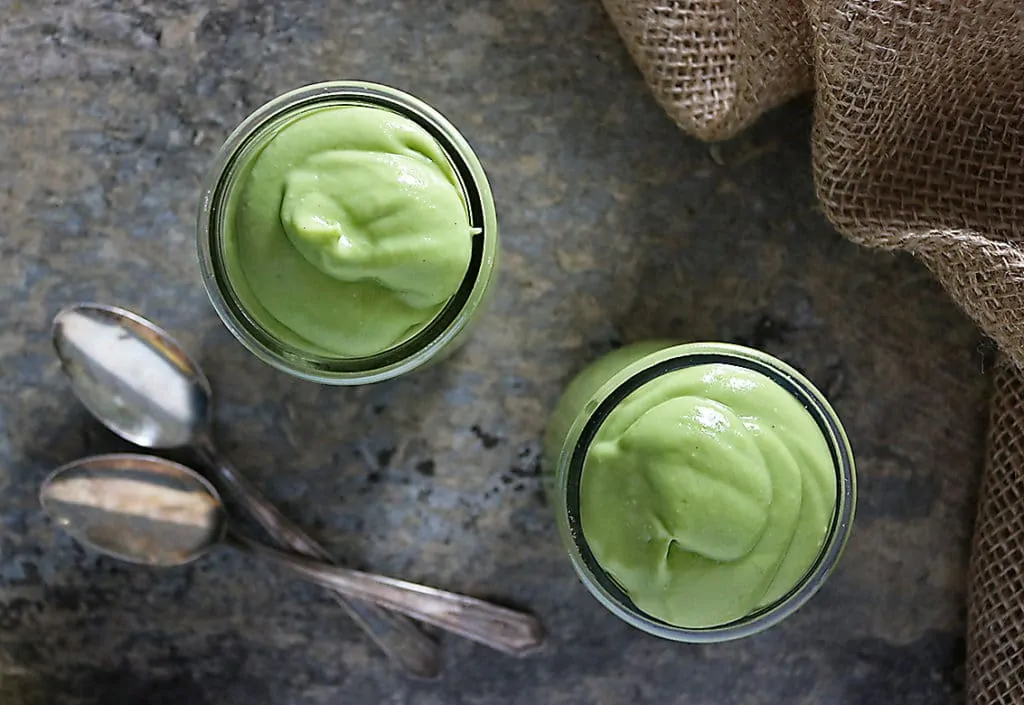 Long before Kourtney Kardashian was chomping on her infamous poosh-approved, Avo Pudding, my mom was making avocado pudding for my sister and me when we were crazy toddlers.
I gotta confess, back in the day any green pudding was eyed suspiciously by us kids.
Green pudding always had me thinking what kinda sneaky shenanigans was my mom up to?!
But – one taste of her avocado pudding would perish all sorts of illusions of a healthy treat!
My Mom's Avocado Pudding Dessert!
My mom never used a blender to get her avocado pudding smooth. When we were in Sri Lanka, my mom would get her hands on some of the tastiest ripe avocadoes. She would remove their skin and throw the flesh into a bowl. Then, she would grab a fork and mash away!
Into the mashed avocado, my mom would add in a few splashes of milk, a few squeezes of lime juice (limes were plentiful in Sri Lanka), and cane sugar to sweeten it. She would then bring bowlfuls to us and we would gobble that pudding up – even licking the bowl clean!
The avocado pudding my mom made was deliriously delicious. Rich and creamy, to me that avocado pudding was better than ice cream!
And, since I got out of college and graduated onto a diet that included more than ramen noodles, I have been making avocado pudding. So, it made sense to share it on this little blog of mine.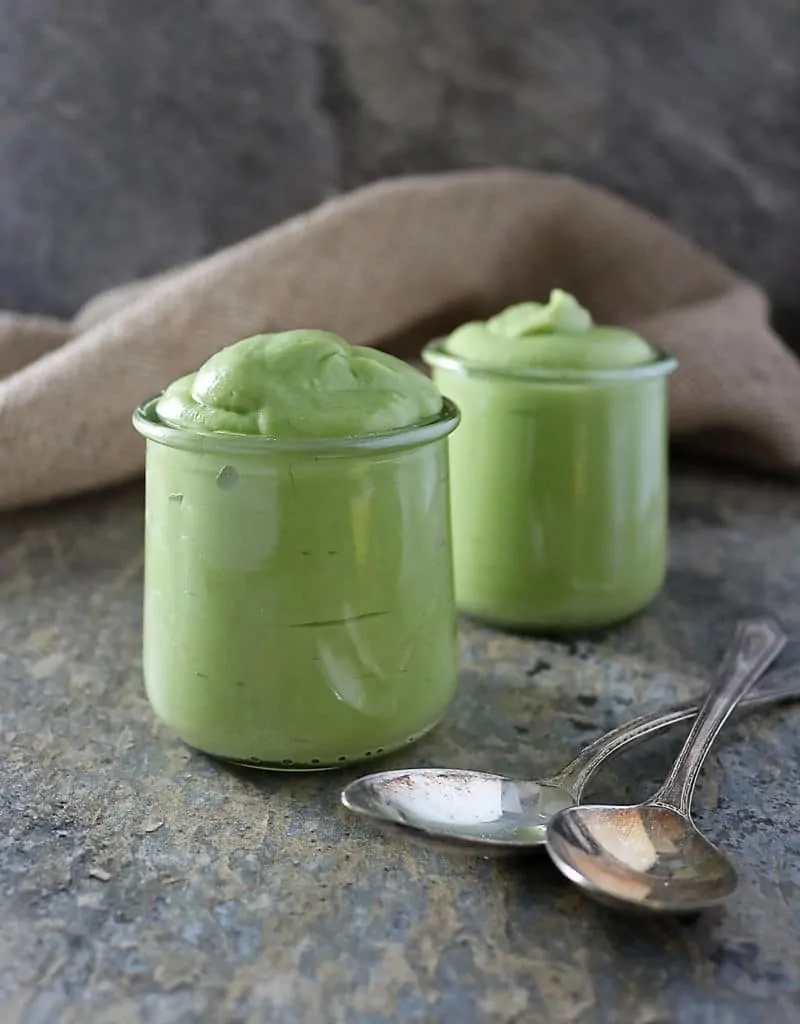 Why we love this vegan pudding?
So Creamy (IMO it's creamier than ice cream),
So Tasty,
So Healthy,
So Easy (no cooking or baking involved), &
So Adaptable!
This pudding you see here today is so luxuriously creamy. It tastes so indulgent. But, it was and always has been, a really healthier snacking option.
---
When my daughter was a toddler (and before she started attending birthday parties of other little humans) I managed to convince her that this avocado pudding and yogurt were ice cream.
Yes, I know that's absolutely evil – but, I felt if I played my parenting cards right, she'd grow up and love this pudding as much as I did.
Even though she went through a period when she rebelled against all colored foods once she had the wool lifted off her toddler's eyes, she did enjoy this pudding.
And, she does enjoy this pudding often – even now. In fact, she even suggested we make these into popsicles this summer!
---
How to make avocado pudding?
This plant-based pudding is so incredibly easy to make!

• Gather the avocados, almond milk, sugar (or sweetener). lemon juice, and salt and place it in a blender

• Blend until well processed.

• Chill for about an hour…aaaannnnd

• Enjoy!
The avocado pudding my mom makes calls for the use of milk and very ripe avocadoes. But, the one I am sharing here today uses full fat coconut milk which makes this a vegan avo pudding.
If you'd like to leave the lemon juice out, then you have to eat this as soon as you whip it up as it will turn an ugly shade of greyish brown.
However, if you do add in the lemon juice, you can chill this for a couple of hours and enjoy it as a healthier dessert option to ice cream. Sometimes, we even top this with whipped vanilla coconut cream.
Adaptations To Make This Keto-Friendly:
If you'd like to tailor this to fit into a keto-friendly diet, you could sub the sugar with a keto-friendly sweetener and use heavy cream for the coconut milk.
Adaptations To Make This Sugar-Free:
If you are avoiding or restricting sugar, you can still enjoy this creamy delicious pudding. My mom is diabetic now and still enjoys this pudding. She uses this birch sweetener (Amazon affiliate link) to sweeten this. Or, you could use any keto-friendly sweetener as well.
If green isn't your color, then check out this easy squash pudding.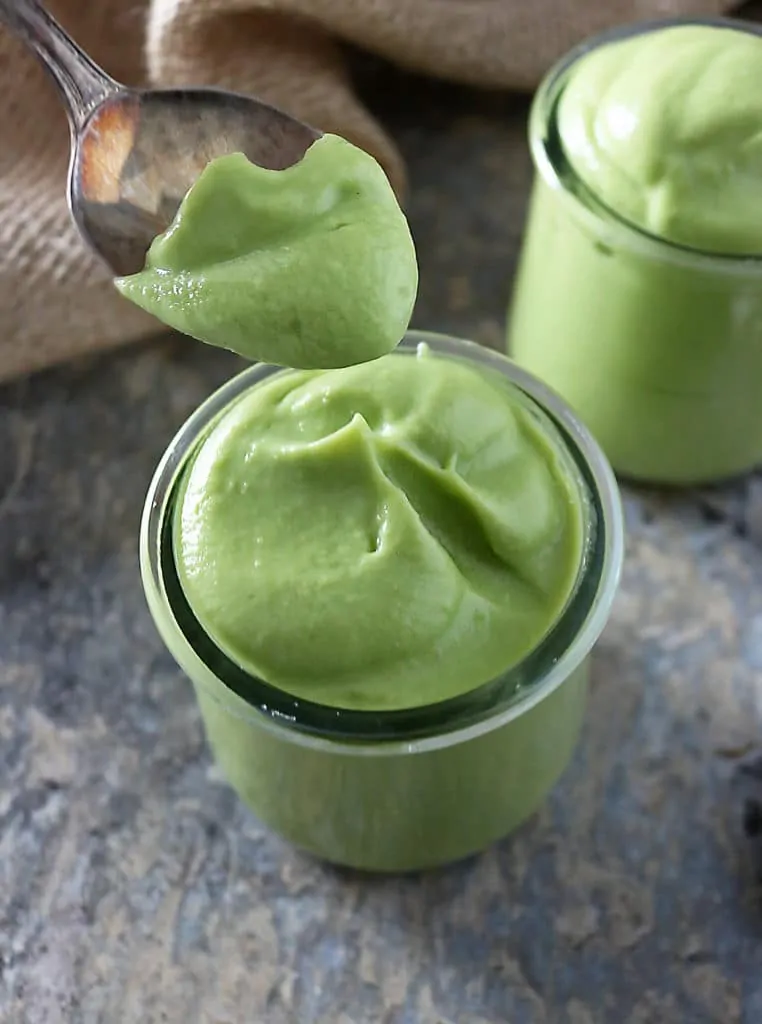 I would love to know if you've made this recipe or any other recipe from this blog ~ please do rate the recipe, let me know your thoughts on it in the comments below, OR tag @savoryspin on Instagram to connect!
You can also FOLLOW ME on FACEBOOK, TWITTER, INSTAGRAM and PINTEREST to get recipe ideas and inspiration.
©Savory Spin All content and images are protected by copyright. Please do not use my images or recipe without my permission.