Slightly caramelized onions, ginger, garlic, and a plethora of easy-to-find spices go into making this tasty Easy Chicken Curry Recipe that you can whip up in a cinch.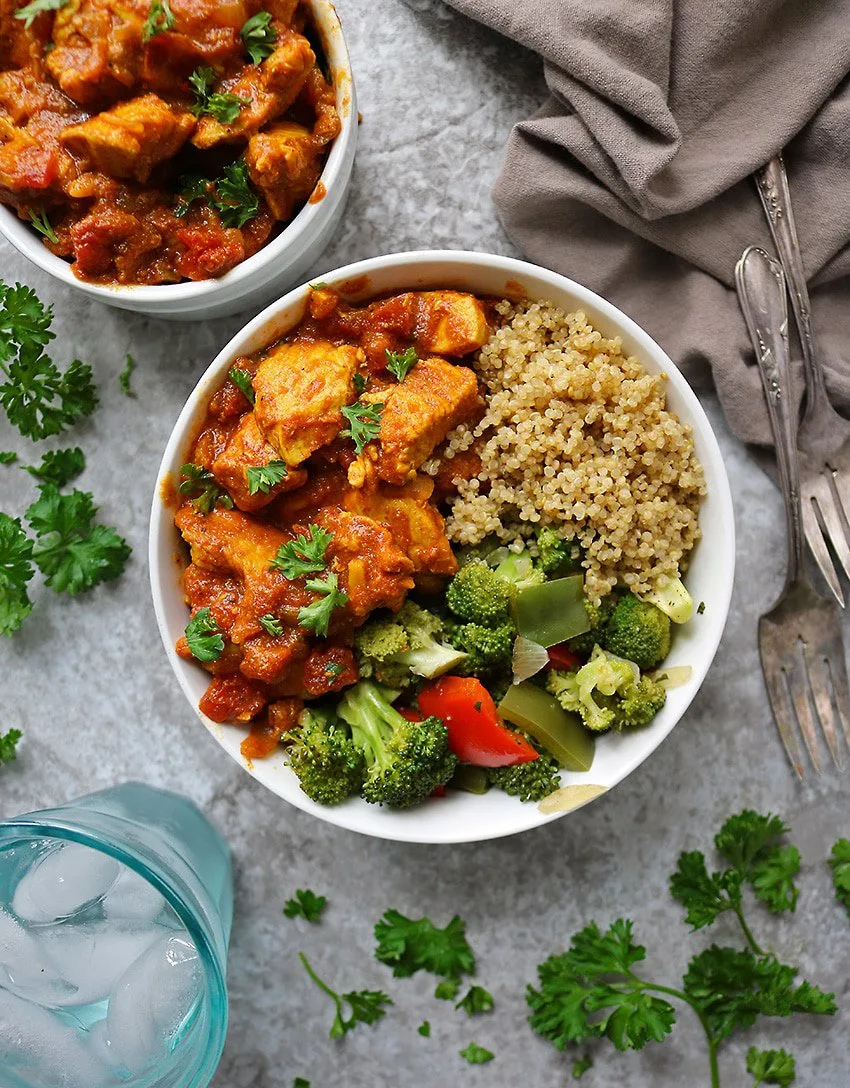 This is such a delicious chicken curry and hands down one of our favorite go-to recipes when we are in a hurry and craving curry! Made with only 10 ingredients, this curry is comforting and so packed with flavor!
What are the ingredients to make this chicken curry?
All that you need to make this curry are:
• Onions
• Garlic
• Fresh Ginger
• Boneless Skinless Chicken Breasts
• Ground Coriander
• Ground Turmeric
• Cumin
• Chili Powder
• Smoked Paprika
• Diced Tomatoes or RO*TEL tomatoes
And, optional Fresh Parsley, for garnish
---
My mom can make a mean chicken curry. In fact, I think her chicken curry is the tastiest I've ever had!
And, she pulls it together with such a short list of ingredients.
She just throws together some onion, ginger, garlic, a few "shakes" of coriander, cumin, chili powder, fenugreek and some tamarind water (made by soaking dehydrated tamarind) and boom!
Total deliciousness!
Recently I decided I would try and replicate her chicken curry. But first I had to find dehydrated tamarind.
Now most Kroger stores have fresh tamarind. Like I did in this vegan date and tamarind paste, I could have bought some fresh tamarind and gone through the slightly laborious process of soaking it, separating the seeds from the useable part and then using that.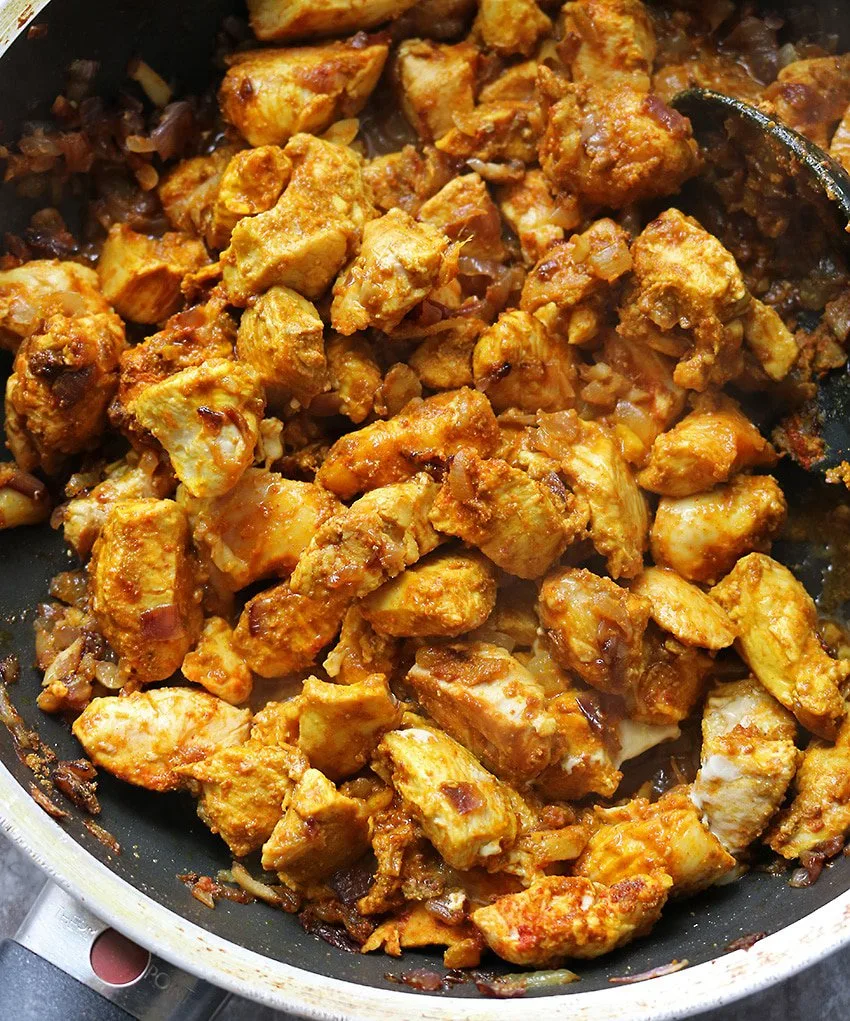 ---
In fact, if it was a weekend, I wouldn't think twice about going through this process to get some fresh tamarind to use in making some chicken curry ~ like I did in this Vegan Date Tamarind Tofu Curry. But, most weeknights, I have 30 to 40 minutes between getting home from work and my stomach going into total meltdown, so fresh tamarind wasn't an option.
While I was able to find dehydrated tamarind at a South Asian Store I visit from time to time, I couldn't find any dehydrated tamarind in any of the regular grocery stores around me.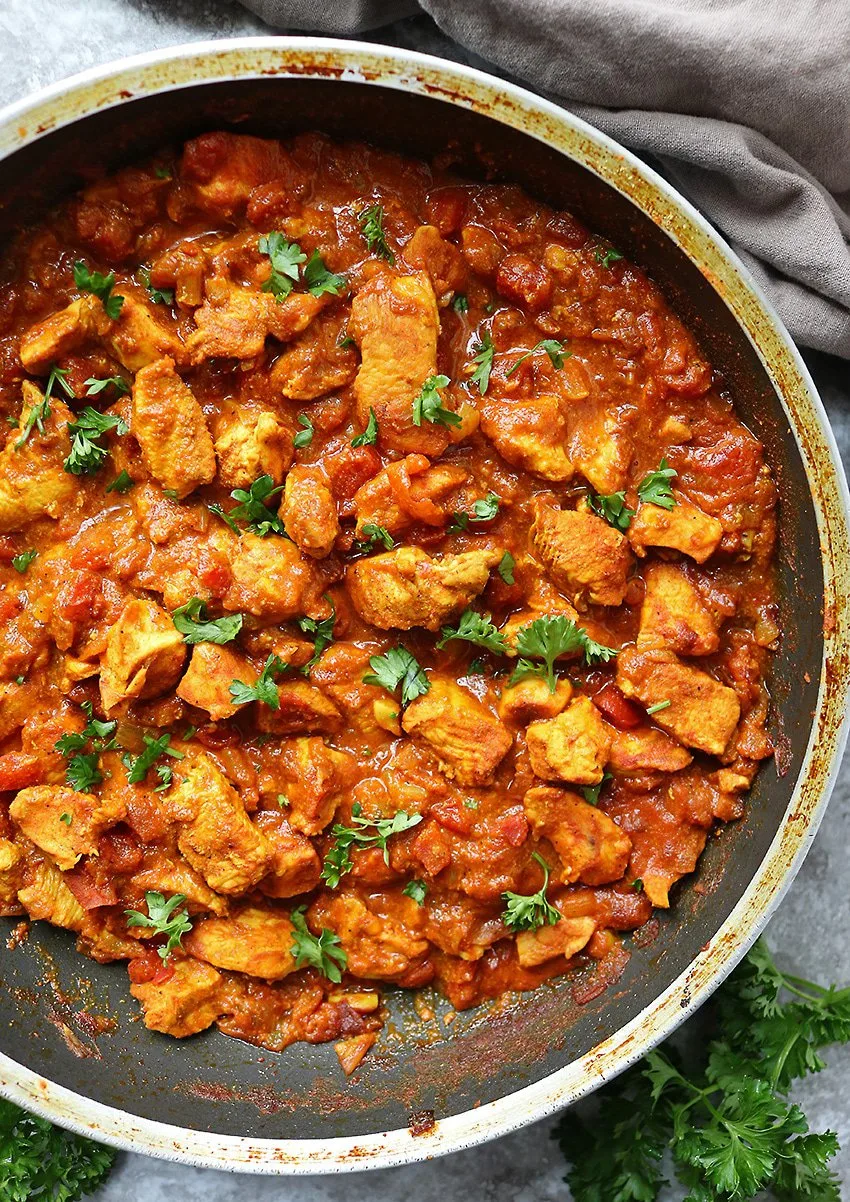 So, I opted to make and share this super simple chicken curry I whip up often. This curry is very easy to make.
And, you can find the ingredients in most grocery stores. Slightly caramelized onions, ginger, garlic and a mixture of coriander, cumin, turmeric, chili powder, smoked paprika and diced tomatoes are all that go into this curry.
If you like a creamier curry (like this Chickpea Spinach Curry), then you can use ½ cup coconut milk instead of the ¼ cup of water.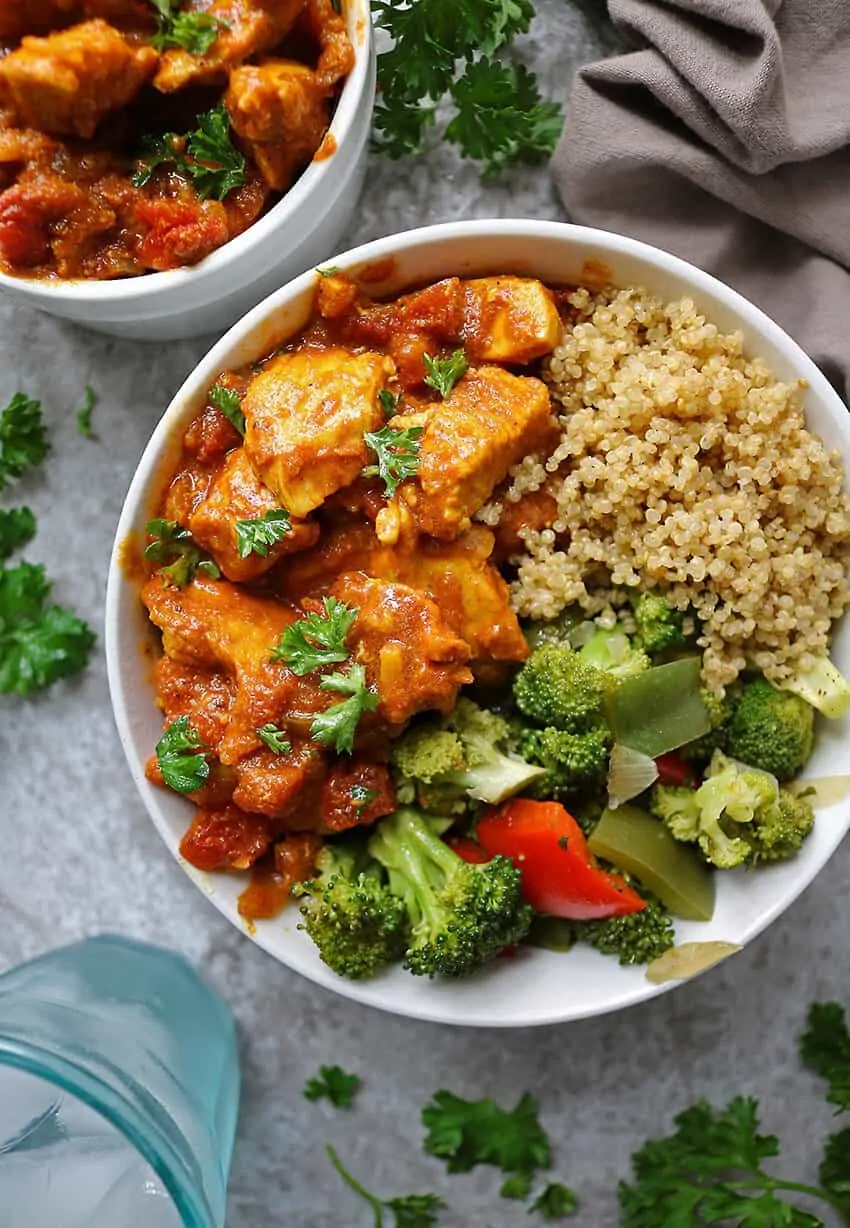 My daughter and I enjoyed this Easy Chicken Curry with some turmeric quinoa, but it is delicious with rice, this Sri Lankan Coconut Roti or naan even.
This recipe first appeared on Food Fanatic ~ For more recipes that will have you drooling, make sure to head on over to Food Fanatic!