This easy vegan Date Tamarind Tofu Curry has your sweet, spicy, and tart bases covered and it is delicious with some rice or roti.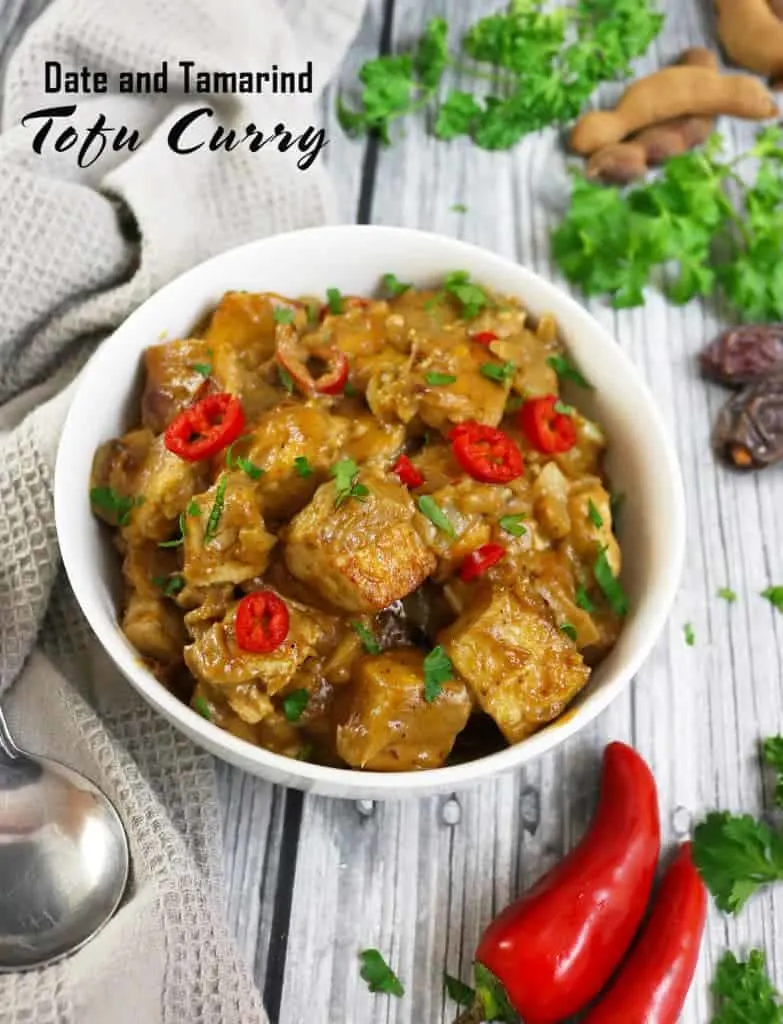 **This post was first published on March 1st, 2017. It has been updated and is being republished today.**
My daughter and I simply love this Easy Date Tamarind Tofu Curry. A delightful plethora of sweet, spicy, and tart flavors, this curry is packed with flavor. With a base of this rich and tasty date tamarind paste and coconut milk, this curry only calls for only six other ingredients.
What are the ingredients to make this Easy Date Tamarind Tofu Curry?
This easy curry is made with the following 8 ingredients:
Date Tamarind Paste (You can use my homemade version or get a store bought version – usually availlable in South Asian stores like Cherians, here in Atlanta)
onion
garlic
extra firm tofu
coconut milk
coriander
Serrano Chili Peppers
Parsley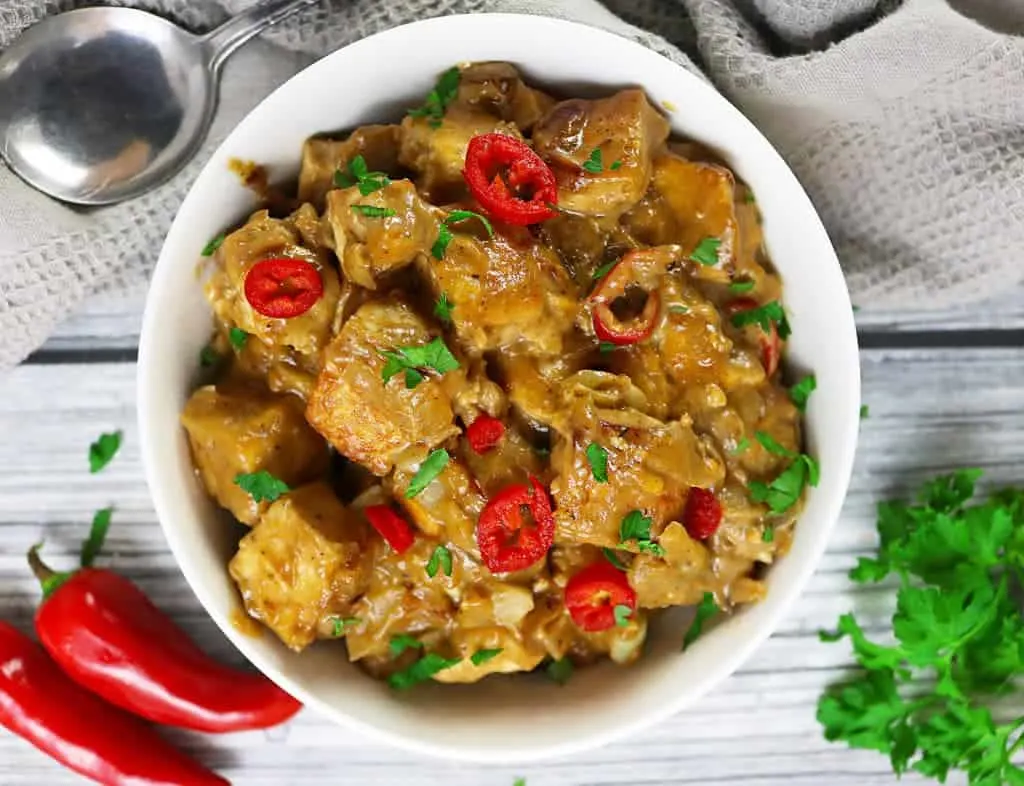 When I make a more liquidy curry like this Chickpea and Spinach Curry, I like to serve it with some rice or roti.
But, when I make a thicker curry where the curry seems to embrace and latch onto whatever veggie or meat it surrounds, well, those times I feel like I don't even need any rice or roti. When I find a thick curry on my plate, I like to grab a spoon and dive right in! Or, serve that dry-curry on a bed of greens like I did with this Potato and Salmon Dry Curry.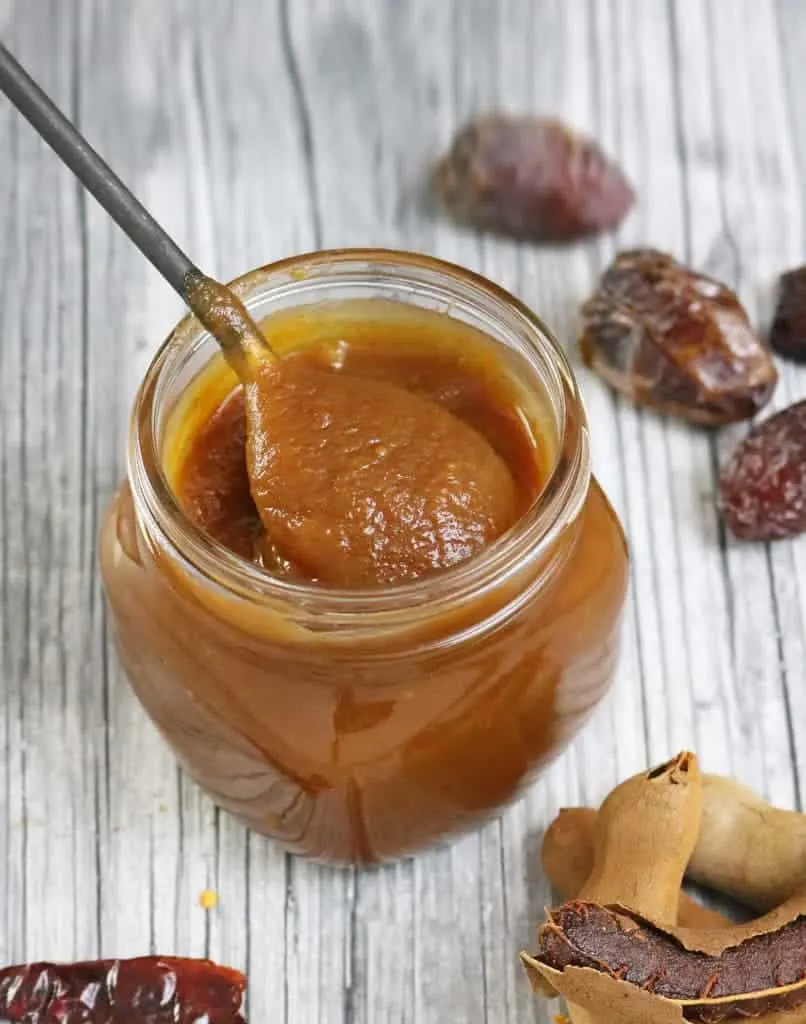 With this Date Tamarind Tofu Curry, my daughter and I grabbed spoons and dove right in!
---
The combo of coconut ilk and date tamarind paste is simply dreamy …a little sweet, a little tart, a little spicy, a little creamy, and a whole lotta yum!
On a side note, a few years ago my daughter got me hooked on The Vampire Diaries. And, when I first wrote this post, it had only 2 more episodes to go before the finale aired! As in series finale! Seeing they use to film kinda down the road from us, my daughter and I are going to join in the finale festivities on the square in downtown Covington, Georgia in a few days. But, change…it must happen…
And, speaking of change…
This post was the post in which I announced the rebranding of my blog. The blog I started as Runnin SriLankan was about to be rebranded to what it is today: Savory Spin.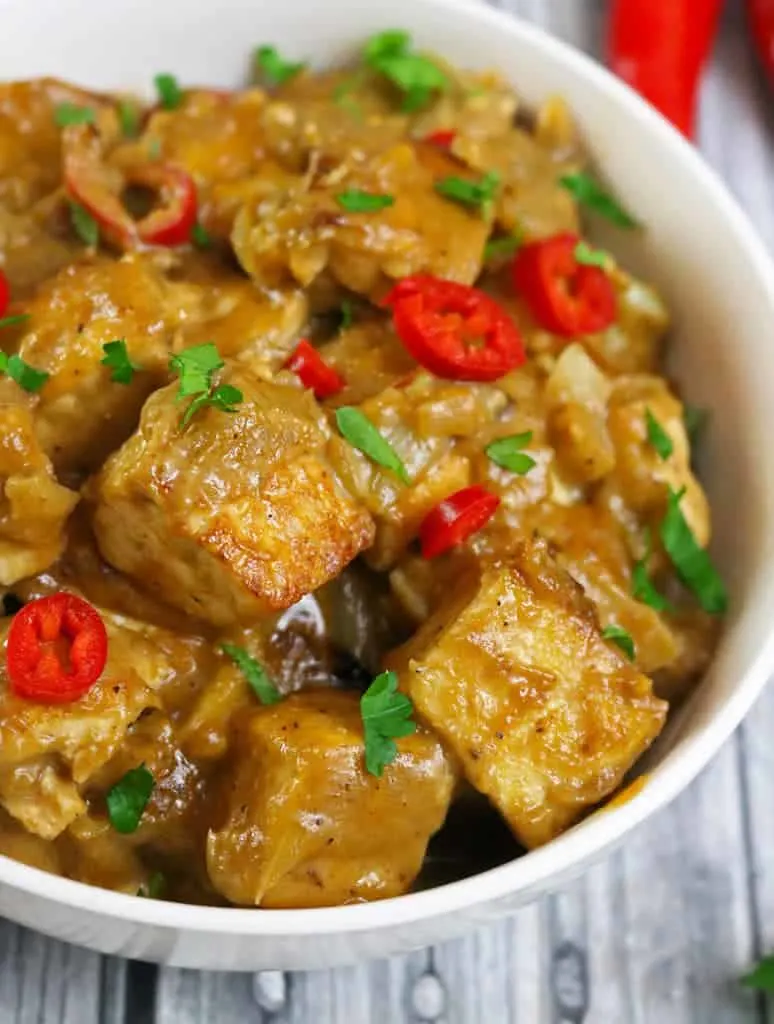 When I started my blog in 2013, it was to be just for fun.
It was to be an online journal of sorts – a journal of runs I embarked on, recipes my daughter and I were enjoying, and a whole lot of what was going on in our lives.

But…things changed…and, not all change is bad. In fact… some change can be jolly good!
This little space has morphed into a mostly recipe site these days, and, a big source of my income!
So… after much deliberating…
I changed my blog name and social handles from Runnin Srilankan (which so many has trouble spelling and finding) to Savory Spin, on March 16th, 2017.
Now, getting back to food…
And this Easy Date Tamarind Tofu Curry…
As tofu is a sponge to the flavors it is surrounded with, the tofu in this curry is rich with flavor. It soaks up the flavors of the tangy, spicy, sweet date tamarind coconut curry beautifully.
What to pair with this curry?
This Easy Date Tamarind Tofu Curry pairs beautifully with a rice pilaf or some coconut roti, for a simple meal.
However, if you are preparing an elaborate plant-based dinner consisting of several curries and rice and some roti or naan, then this curry would pair well with some oven roasted eggplant, this cashew curry, this mung bean curry, and some mango chutney.
This curry also is a tasty side dish when paired with this zucchini curry, this One Pan Israeli Couscous with Chicken, and these tasty croquettes.