Tamarind isn't the prettiest looking item in the produce section, but it sure boasts a major flavor and taste punch! And, I monopolize on it in this easy, versatile, Tamarind Date Paste that can be used as a dip, a spread and even in curries and saute's!
Sri lankan recipes usually call for quite an exotic list of ingredients – some that are incredibly hard to come by. Even my mom resorts to ordering some of her favorite ingredients from a specialty store in California. I, on the other hand, usually try and make my fusion-type curries with ingredients I can find at any local grocery store. Awhile back, I came across tamarind concentrate at a little South Asian grocery store I frequent. I used it to make some Date and Tamarind Chicken, but, seeing it's one of those hard-to-find ingredients, I didn't post a lot of other recipes using it.
I didn't…but, things change…
Because…
This past weekend I was rummaging through the produce section at Kroger and guess what I ran into?!
Yup – you guessed right!
Tamarind! Fresh ripe Tamarind! In all their pod glory!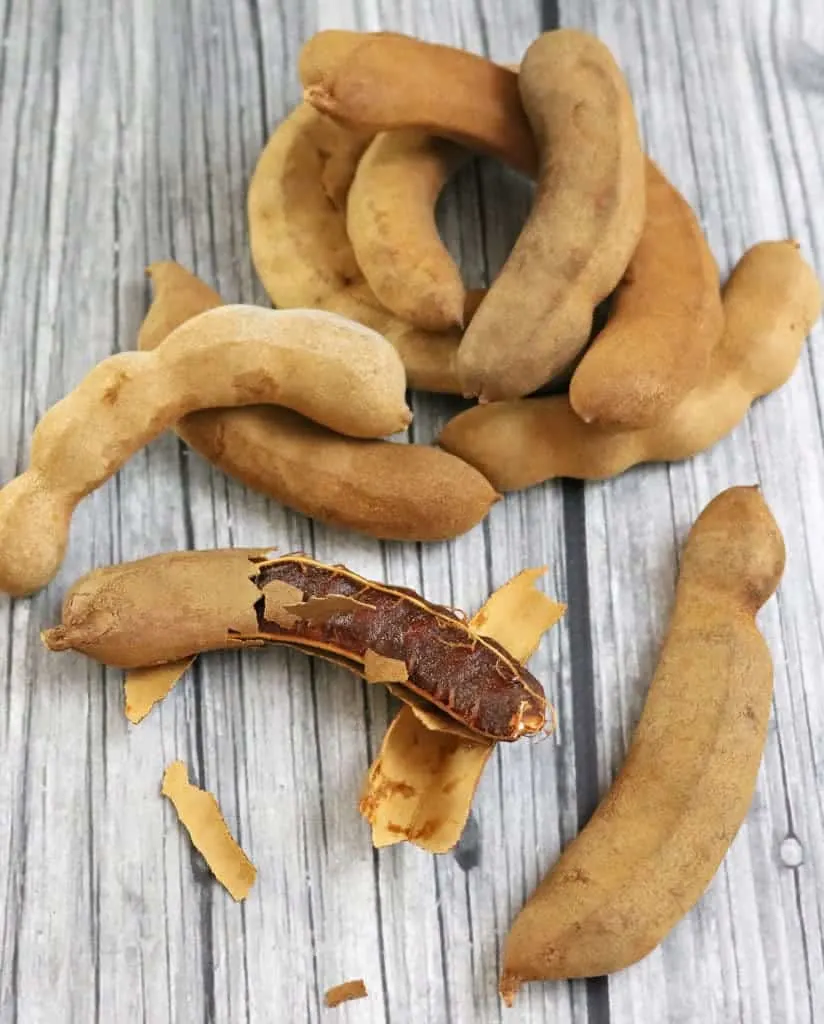 Now, tamarind isn't the prettiest legume-fruit out there. A child in line in front of me took one peek into my grocery cart and proceeded to ask his mom why I had poop in a bag… aaaannnd, I had to smile because at one point in time, I used to think the same thing.
What tamarind lacks in looks, it makes up for in taste, nutrition and versatility in usage. Tamarind is such a palate teaser with it's sweet, sour, tangy, undertones.
Some people say tamarind tastes like a combo of lemons and apricots, but, I've always thought it tasted a bit like dates drizzled with vinegar…which might not sound so appetizing to some, but can be totally addicting to others!
One thing for sure though is that tamarind is a powerhouse of good-for-you stuff. If you are interested, you can read more about it's benefits here.
I grew up with my mom using tamarind in everything from sauces for "patties" (a Sri Lankan finger food quite like empanadas) to curries, soups, and stews. In fact, at the grocery stores back then, tamarind candy was quite popular too.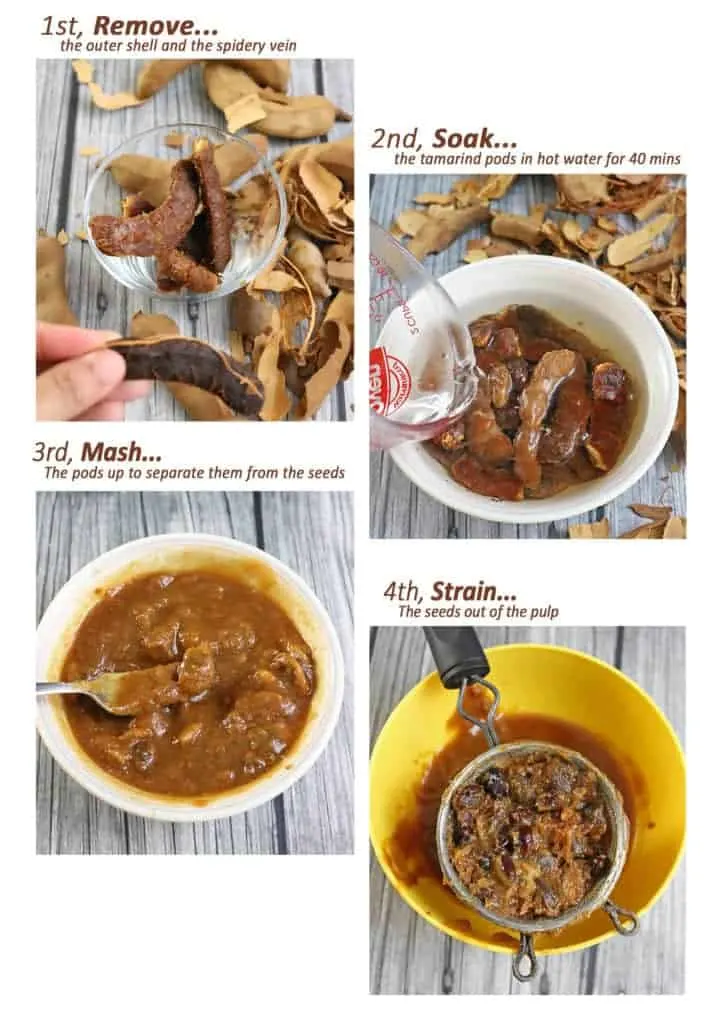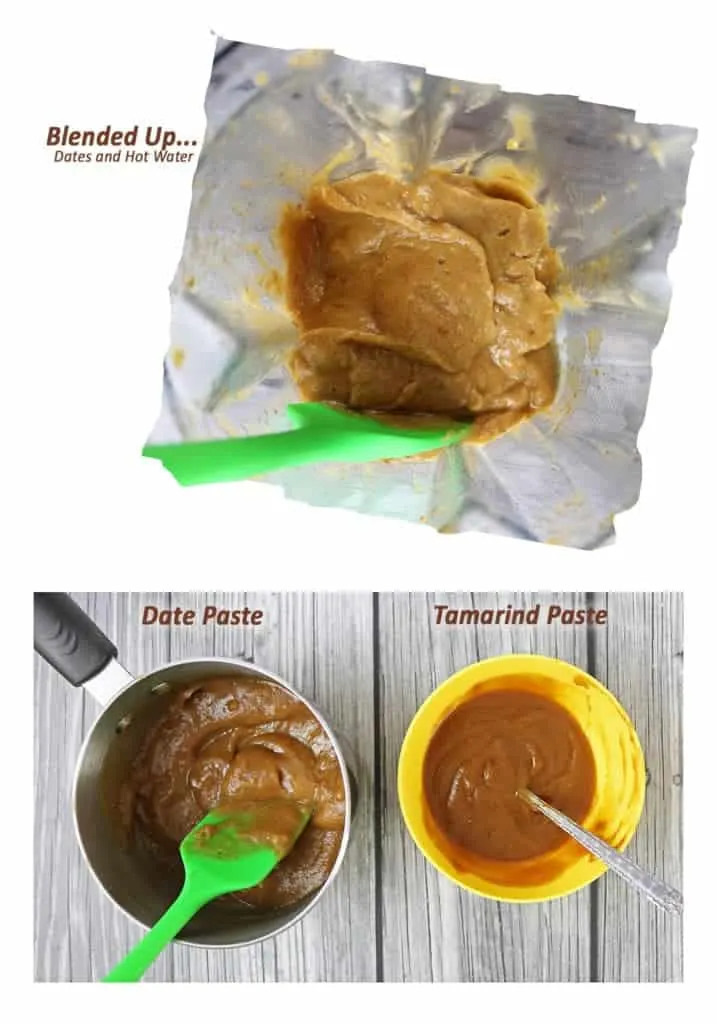 The tricky part to enjoying tamarind is getting it free of it's "shell" and spidery vein inside the shell. Once the gooey interior is separated from the shell and vein, there are seeds in it that I separate through what might seem a bit of a tedious process. I soak the gooey pods in warm water, mash them up (most times with my hands) and then push the water/tamarind mix through a strainer to get that glorious paste.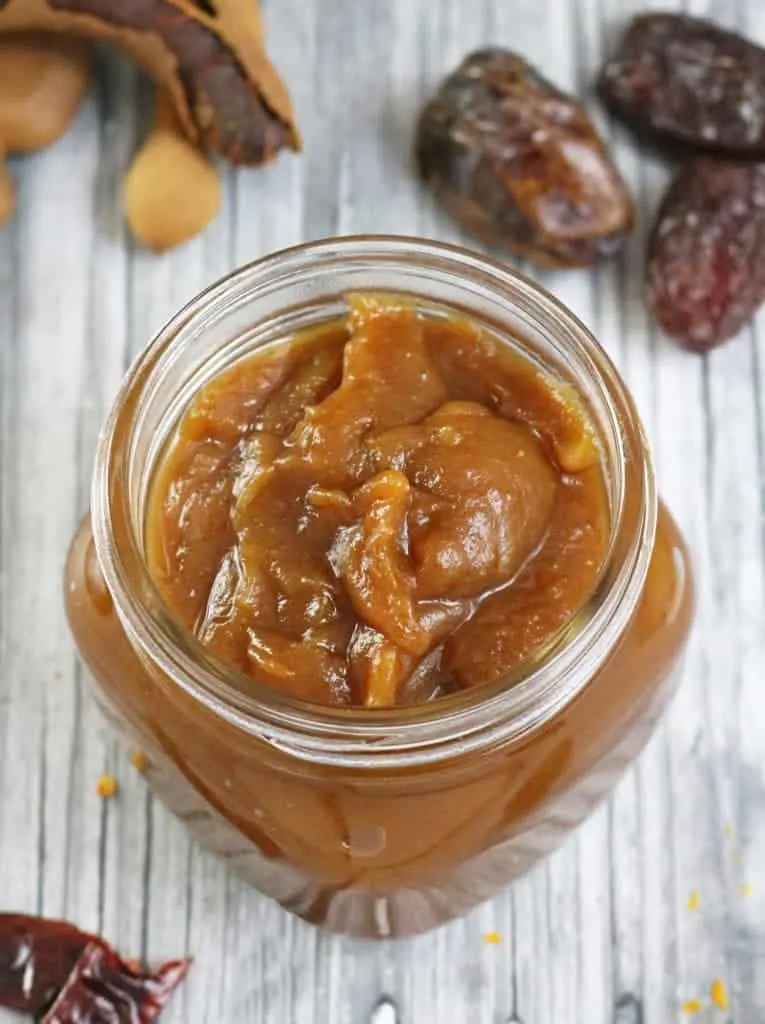 Today, I have a simple Tamarind Date Paste to share with y'all. This Tamarind Date Paste is slightly seasoned with a bit of chili powder and orange zest and it is something that I use as a base in sauteed dishes as well as in curries and soups (recipes will be shared soon). This Tamarind Date Paste is also delicious as a dip for vadas or samosas. It is also taste-bud titillatingly delicious smeared on baked puff pastry or a bagel or slice of toast or a croissant – with a layer of cream cheese on top! BTW, Happy National Croissant Day to those celebrating!
I am keeping my fingers crossed y'all, too, find tamarind at those grocery stores y'all frequent and get to experience it's benefits first hand!
[Tweet "Sweet, Spicy, Sour, & Versatile – Tamarind Date Paste! "]