Simply scrumptious, this spinach curry sauce is creamy and flavorful with a handful of healthy ingredients. It is delicious to slurp on as is, or with some of your favorite sauteed meat or well spiced crispy tofu.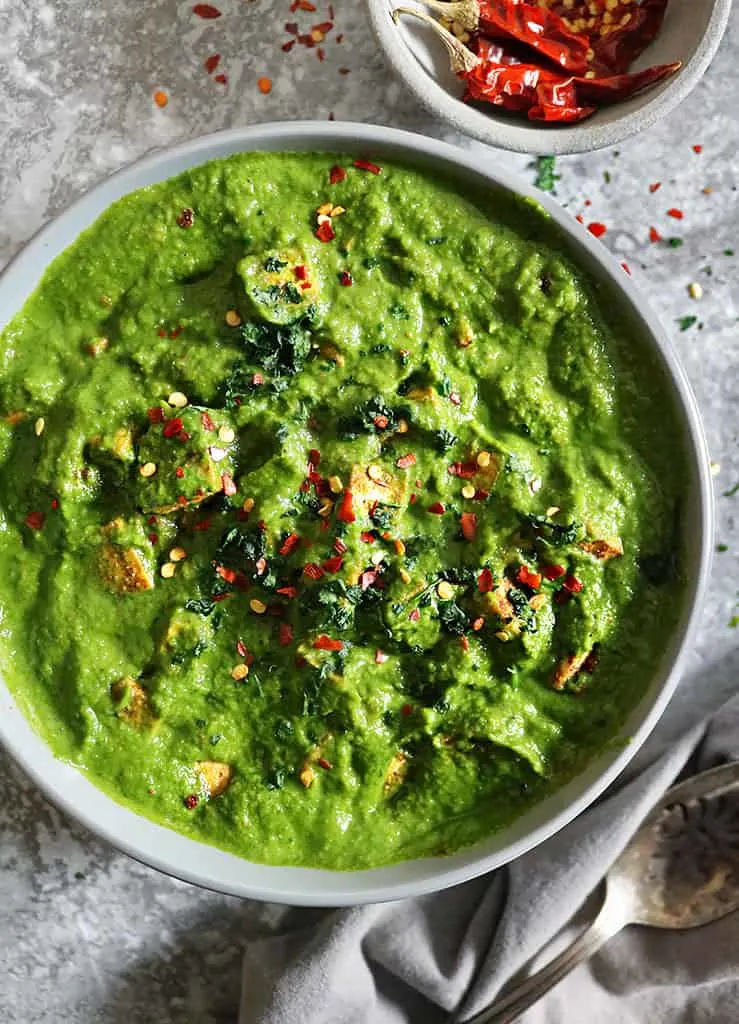 Slightly caramelized onions intertwine with sauteed ginger and garlic as the base of this rich and tasty spinach curry sauce.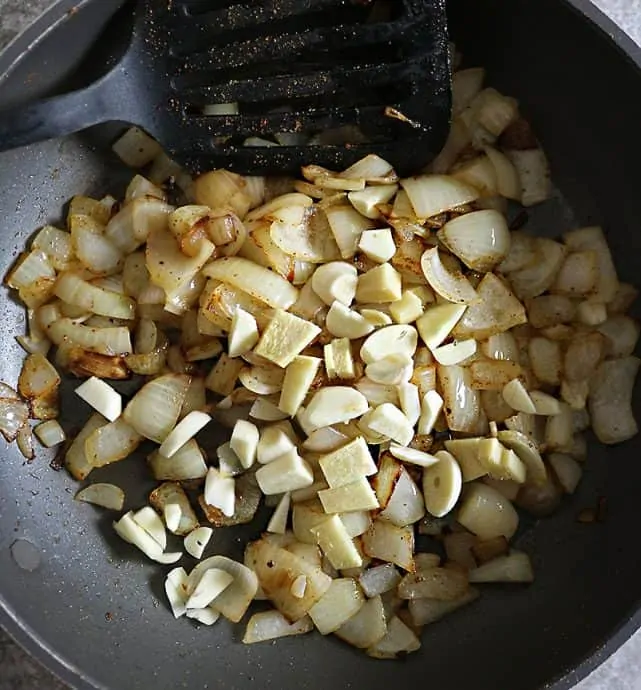 Then celery is added in along with a few spices such as turmeric, coriander, and smoked paprika, (that you probably have hanging out in your kitchen). Next, this mixture is added to a blender along with a whole bag of spinach, a jalapeno, and some vegetable stock. Finally, all these ingredients are blended into a creamy, scrumptious concoction.
We love this spinach curry sauce because:
• creamy without any added milk or cream – not even coconut milk;
• it is full of flavor without any added fat from butter or too much oil. In other words, maintaining your girlish figure is easy as pie with this deliciousness;
• it is gluten free (so long as you use unflavored tofu);
• it is vegan; and
• it is so healthy!
I could slurp on bowl after bowl of this creamy spinach curry sauce. Actually, forget the bowl, I did could slurp on this right out of the blender.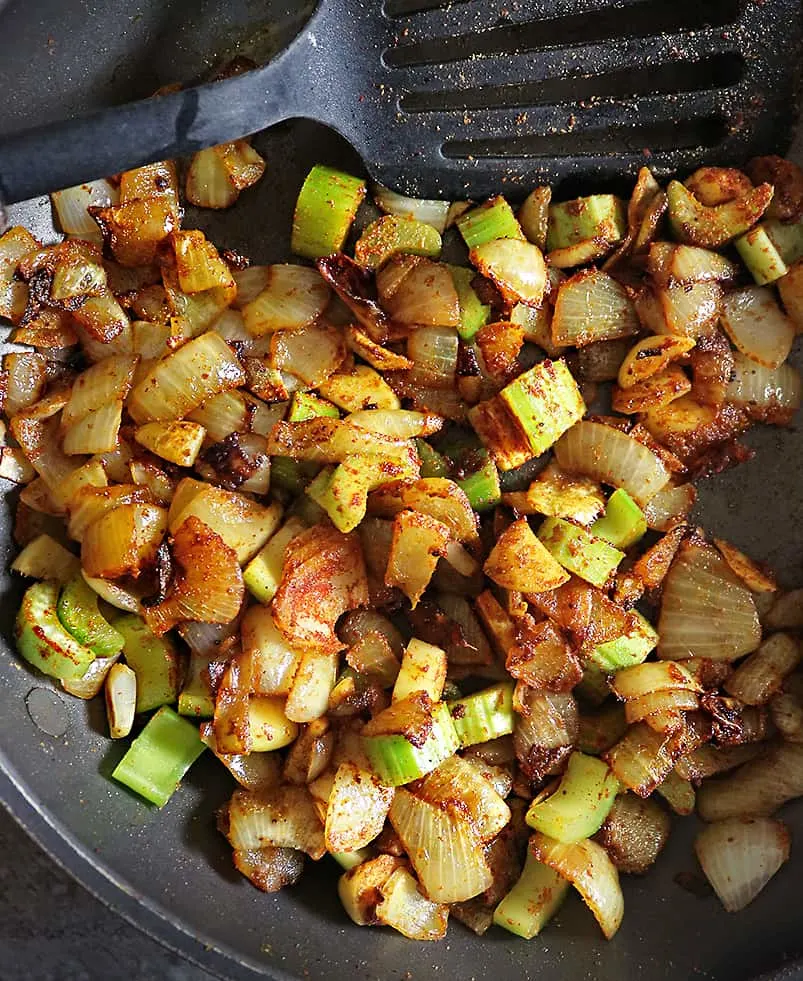 I am a huge fan of food that acts as medicine. Food that lights up my cells and makes my skin glow from the inside ~ know what I mean? Those healthy foods like ginger, garlic, and spinach that work wonders for how I feel on the inside.
And, in this day of 'Rona, the added immune-boosting nutritional punch this Spinach Curry Sauce packs, is a welcomed bonus.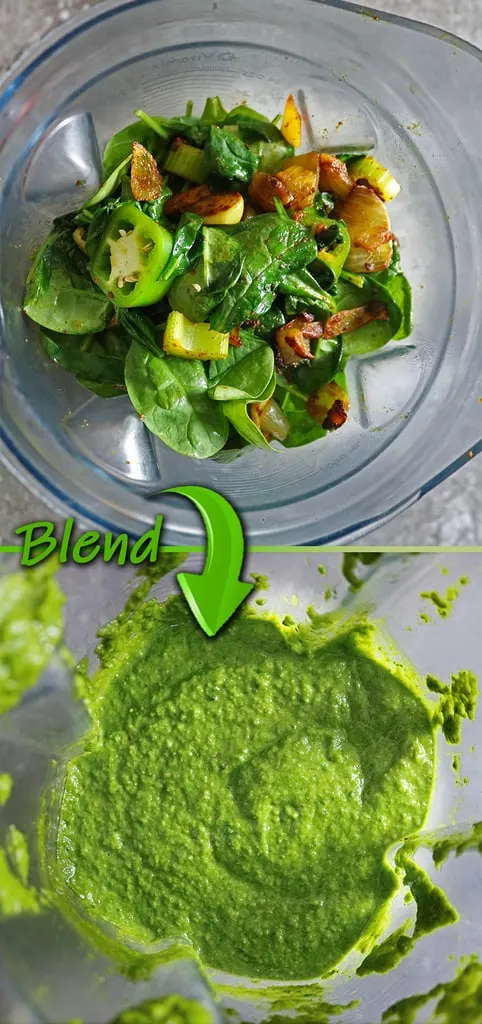 Tips in making this Spinach Curry Sauce:
By the way, if you don't want to add a whole jalapeno into the mix, then scrape out the jalapeno seeds – which are the spicy part – but add the rest of the jalapeno in for flavor.
Speaking of flavor, it would be easy to add in raw onion, ginger, garlic, and celery, but sauteing these for a just bit in some olive oil, really ignites their flavor.
You can thin this spinach curry sauce out with a little more vegetable stock and enjoy it as a gloriously tasty Spinach Curry Soup.
Or, enjoy this creamy thick sauce with some roti on the side. Another option would be to saute some well spiced chicken, or pork, or fish, or tofu (like I did here) and toss it into this sauce.
When I made this sauce, I had a block of firm tofu hanging out in my fridge. So, I figured I would drain it, pan saute it until crispy, and toss it into this sauce.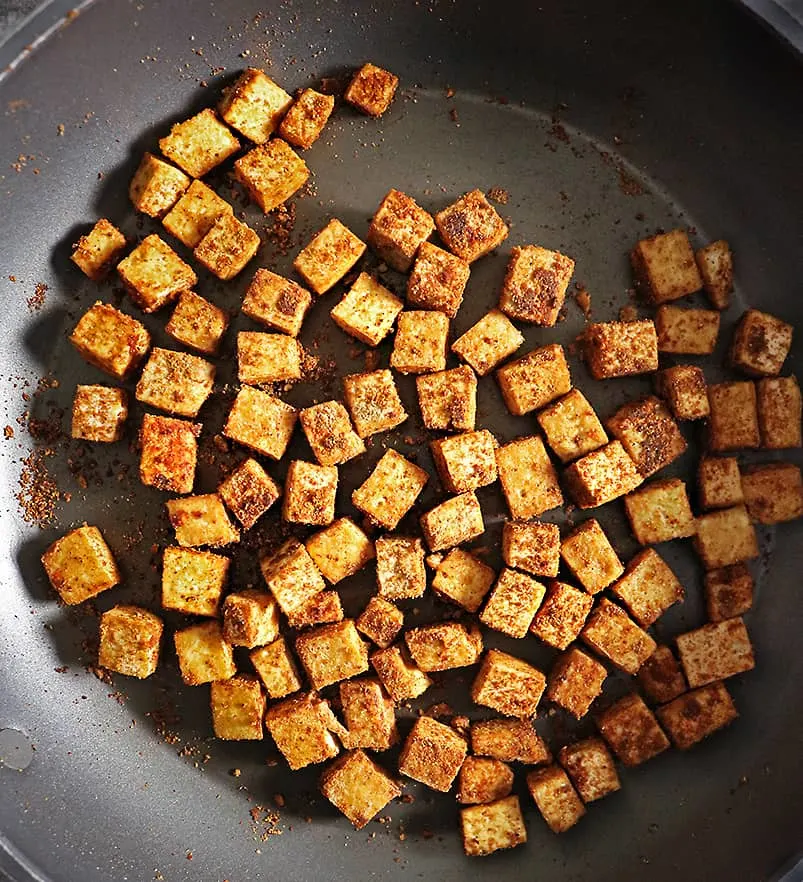 How do I make tofu crispy?
My method for getting tofu crispy is pretty fuss free.
Simply wrap the tofu up in some paper towels for about 30 minutes.
Then dice the block of tofu up.
Add the diced tofu into a pan with a smidge of olive oil and let the tofu saute for about 5 minutes.
Add in some spices for flavor and toss the diced tofu around in it.
Then, let it cook for another 5 minutes.
Using a spatula, toss the tofu again so the diced pieces that were not browned are on the bottom of the pan and cook without stirring for another 5 minutes.
Fifteen minutes later, you will be rewarded with some crispy diced tofu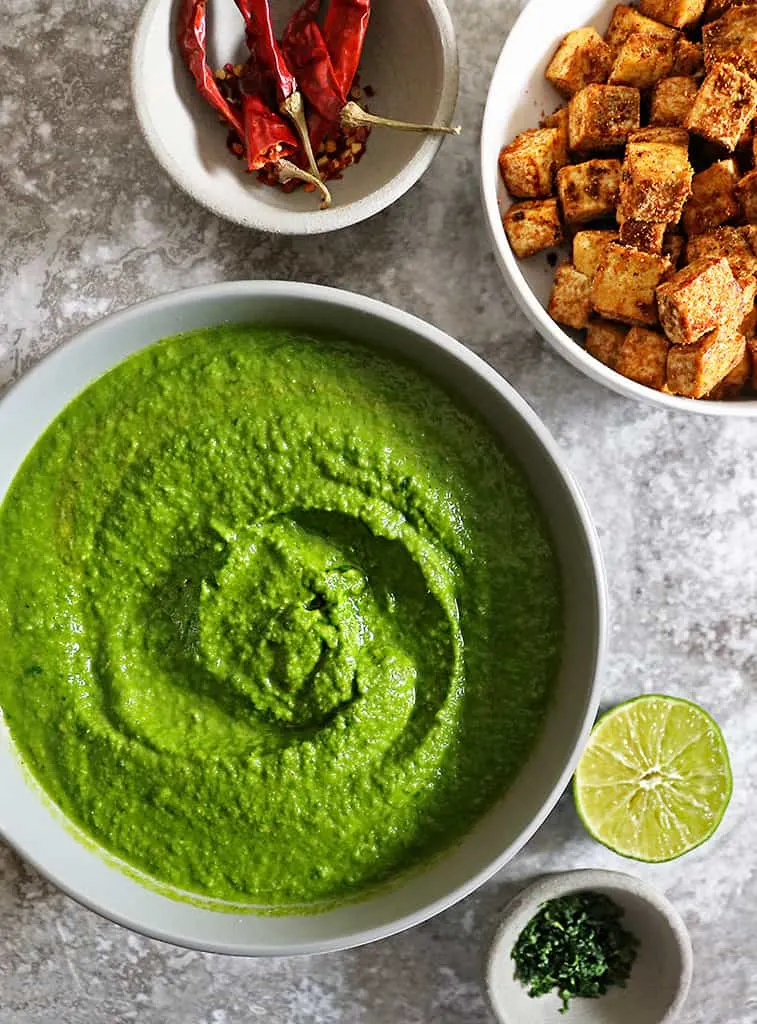 Of course, once tossed into this sauce, the tofu lost it's crispiness. So, if you'd like to savoy that crispy tofu as is, then simply drizzle a bit of this sauce on top of that crispy tofu.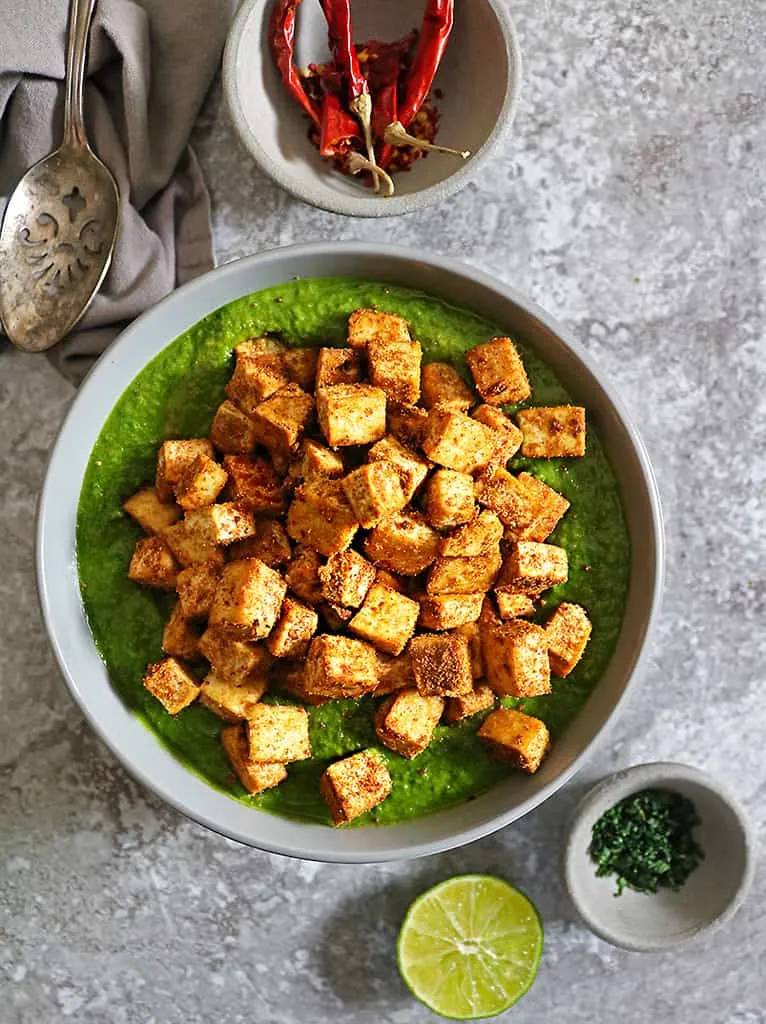 Serve this tasty spinach curry sauce with:
• Roti to slurp it up for a quick and light lunch,
• On the side with these spicy lentil stuffed buns,
• Thin it into a sauce and enjoy it with some mango chutney or sweet chili sauce drizzled into it,
• Make it a vegetarian meal with this zucchini curry and these carrot croquettes.
• Follow it up with these a dessert of these vegan / egg-free pumpkin chocolate chip cookies.