Chipotle peppers in Adobe sauce add a Smokey spin to this easy shrimp curry. This is a creamy, comforting curry that makes for a delicious and filling dinner when served with some rice or roti.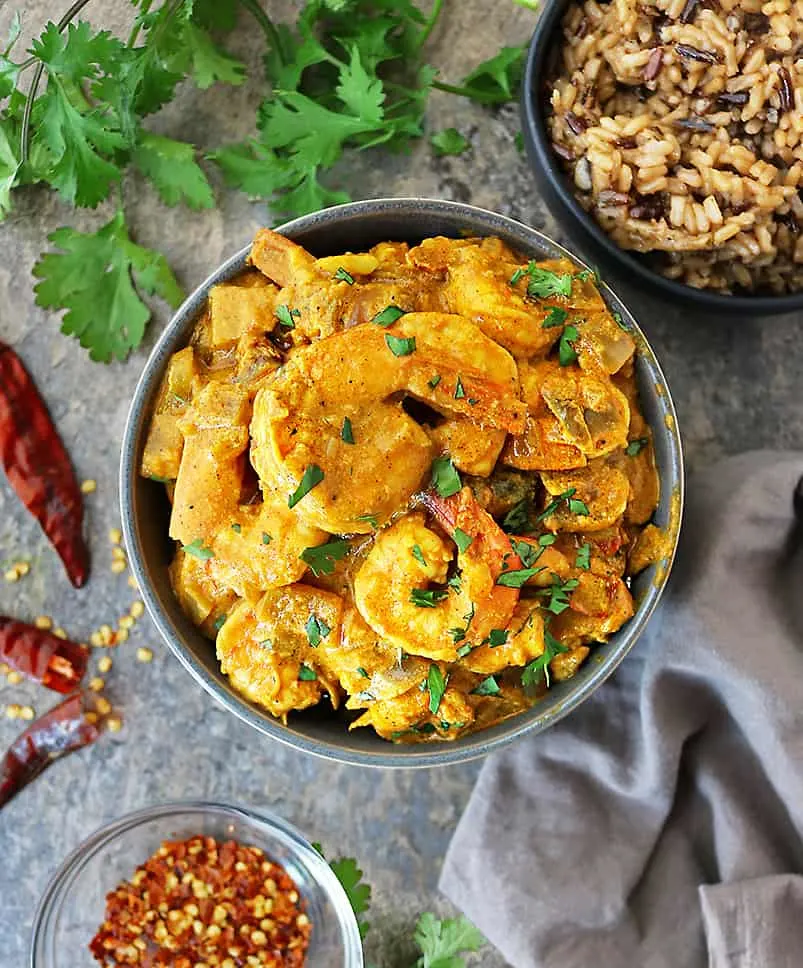 This shrimp curry is my kind of comfort food! It is:
• Easy to make
• Ready in 30 minutes
• Creamy and rich
• Gluten free
• Nourishing
The most time consuming part of this curry is sautéing the onions until they are tender. Then throw in the garlic, ginger, spices, shrimp, coconut milk, and chipotle peppers and adobo sauce – and boom! Dinner is ready in less than 30 minutes!
I usually have a can of chipotle peppers in adobo sauce hanging out in my pantry or some leftovers of a can in the freezer. Ever so often, I use a couple of chipotle peppers and a couple of tablespoons of adobo sauce to add a deep, smokey taste to the curries I make.
Mixed in with spices like coriander, cumin, turmeric, and smoked paprika, chipotle peppers in adobo sauce add such a unique and tasty spin to dishes like this easy shrimp curry.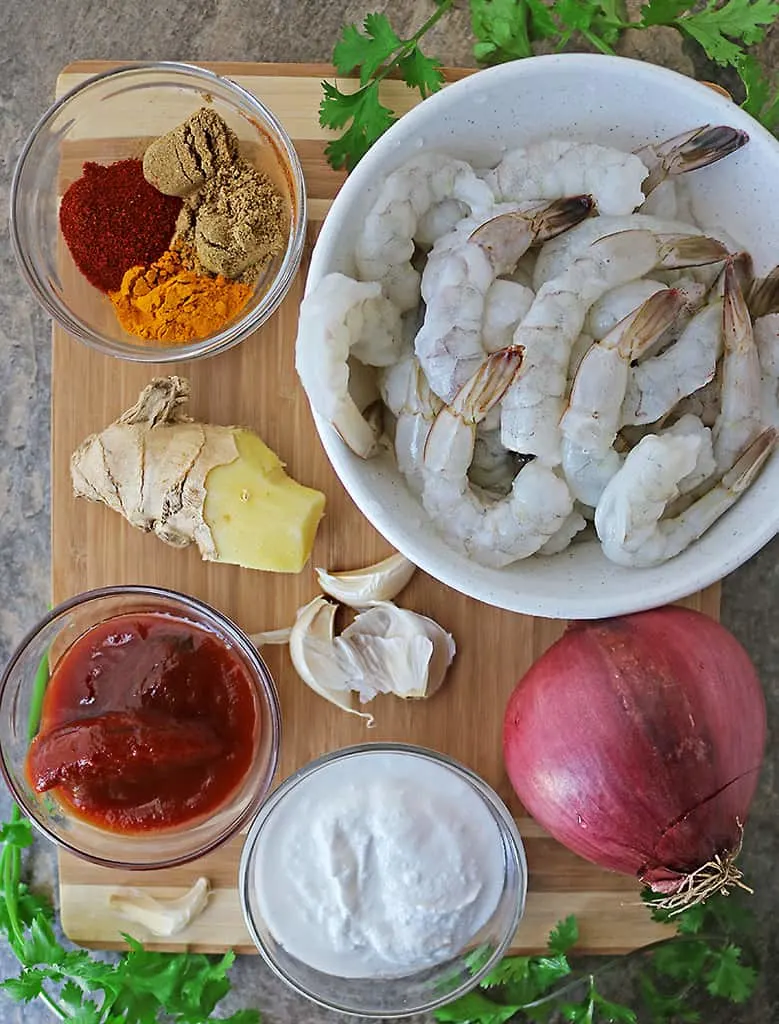 This shrimp curry along with an okra curry and rice, was the comfort I was craving after a crazy weekend of house hunting adventures.
It's been three months since we started our topsy-turvy adventures in house hunting. And, we are hoping that soon – soon, these adventures will come to an end and we can move into a home closer to Atlanta. This weekend was crazy but I am so thankful for the amazing real estate agent my mortgage lady put me in touch with. And, I am so thankful for comforting plates of easy shrimp curry and roti.
Getting back to this shrimp curry, you need only 30 minutes and the following ten ingredients to make it!
Ingredients to make this easy shrimp curry:
red onion
fresh ginger root
garlic cloves
coriander powder
cumin powder
turmeric powder
smoked paprika
shrimp
two chipotle peppers in two tbsp of adobo sauce, and
coconut milk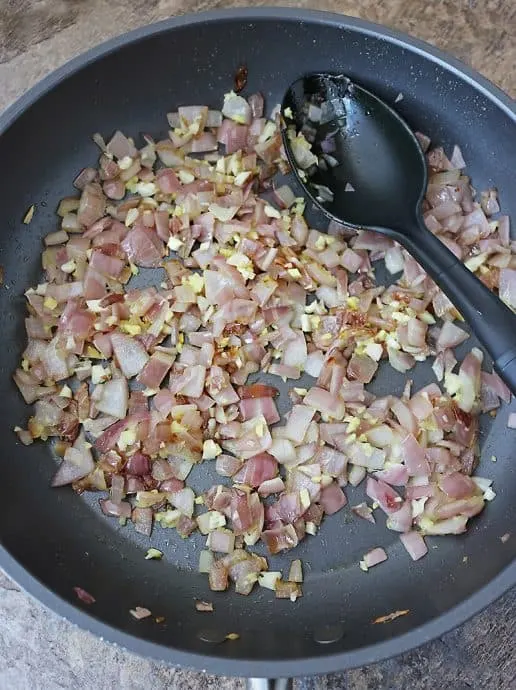 Like I mentioned before, sauteing the onions until they are tender (usually 10-15 minutes) is the most time consuming part of this recipe.
While the onion is sauteing, peel and chop up the ginger and garlic.
TIP: If you would like to really infuse the garlic and ginger into this curry, grab a micro-plane grater and after you peel the garlic and ginger, grate them into the sauteing onions.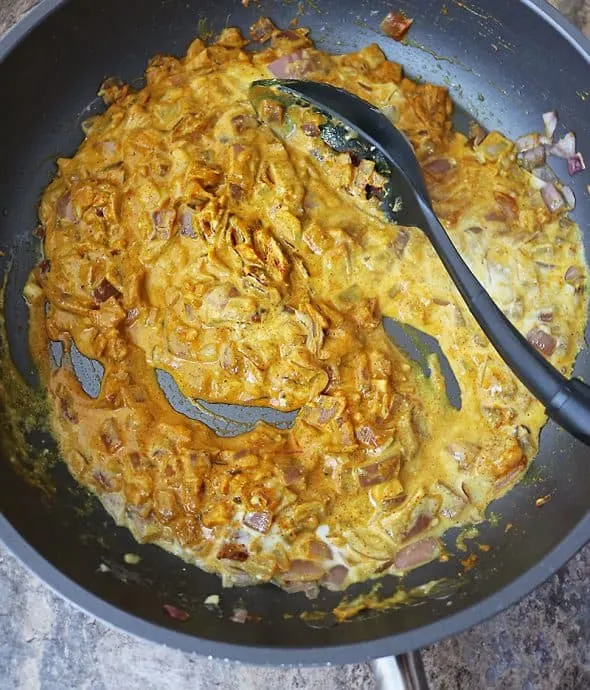 Saute the ginger and garlic with the onion for another 5 minutes. The rest of the curry-making goes by pretty fast. Simply add in the spices, coconut milk, 2 chopped up chipotle peppers with 2 tbsp of the adobo sauce they come in, and finally the shrimp.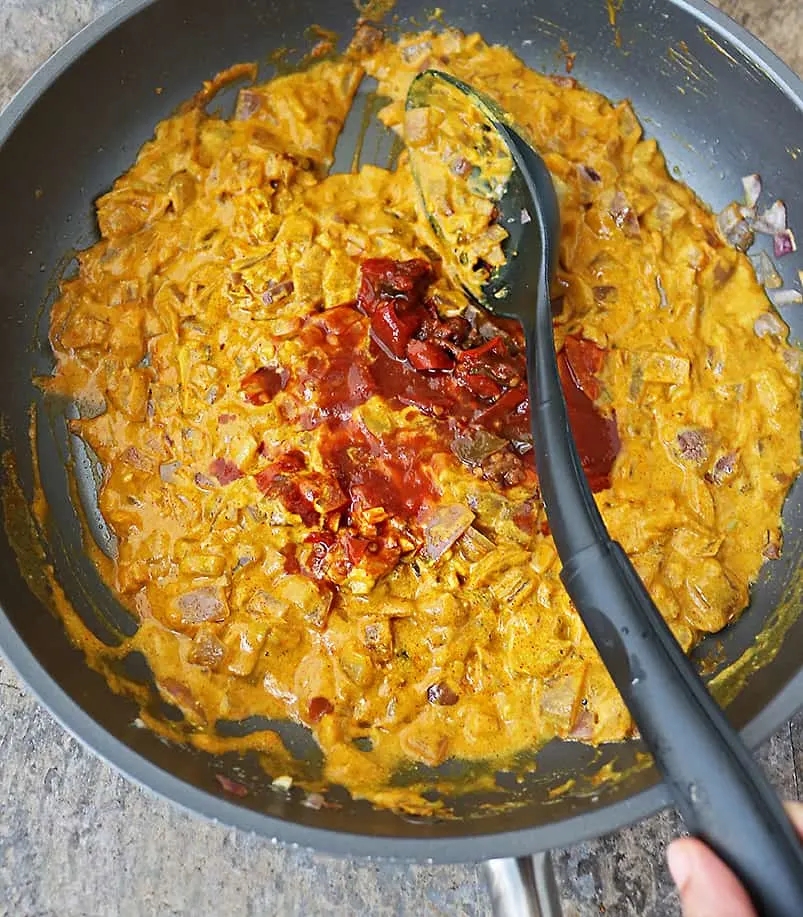 As soon as the shrimp cooks, this easy shrimp curry is ready to enjoy!
While this shrimp curry makes a delicious dinner with some rice and roti, you can also pair it with the following to make it into a delicious buffet style dinner for your family or a week of leftovers for you:
• Zucchini Curry
• Potato & Cashew Curry
• Fish Curry
• Lentil Curry
• Chickpea and Spinach Curry
• Pumpkin Cauliflower Curry
• Fish cutlets / croquettes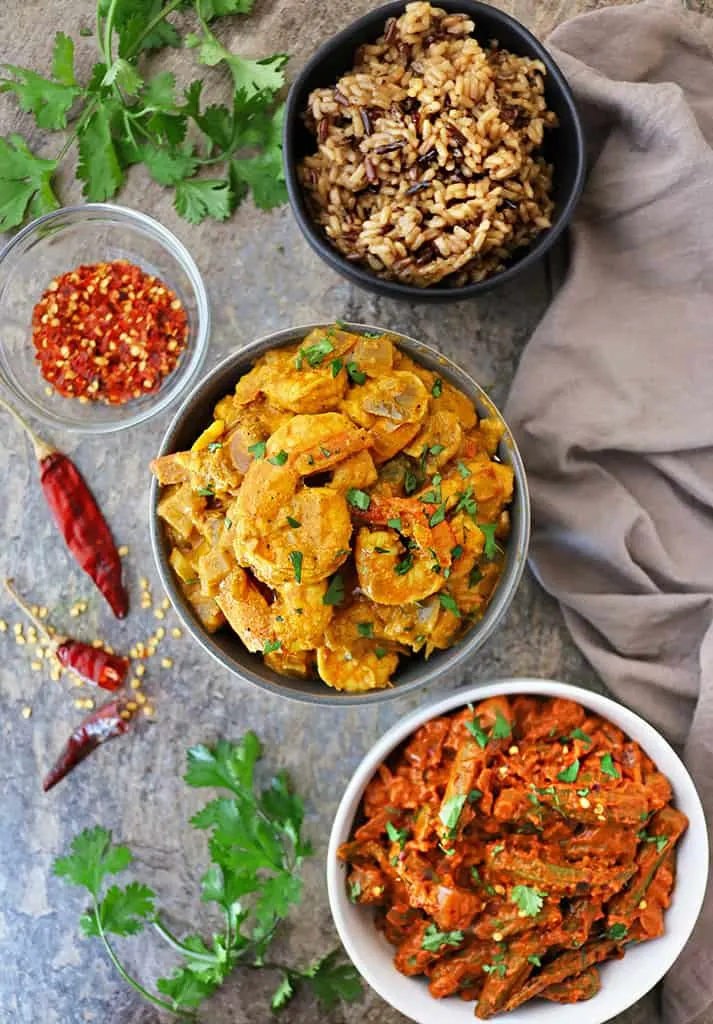 I sure hope you enjoy this tasty recipe as much as my daughter and I do!