Decadently creamy and luscious, this aromatically spiced Slow Cooker Salmon Curry is comfort food for me – I hope you find it to be your comfort food too.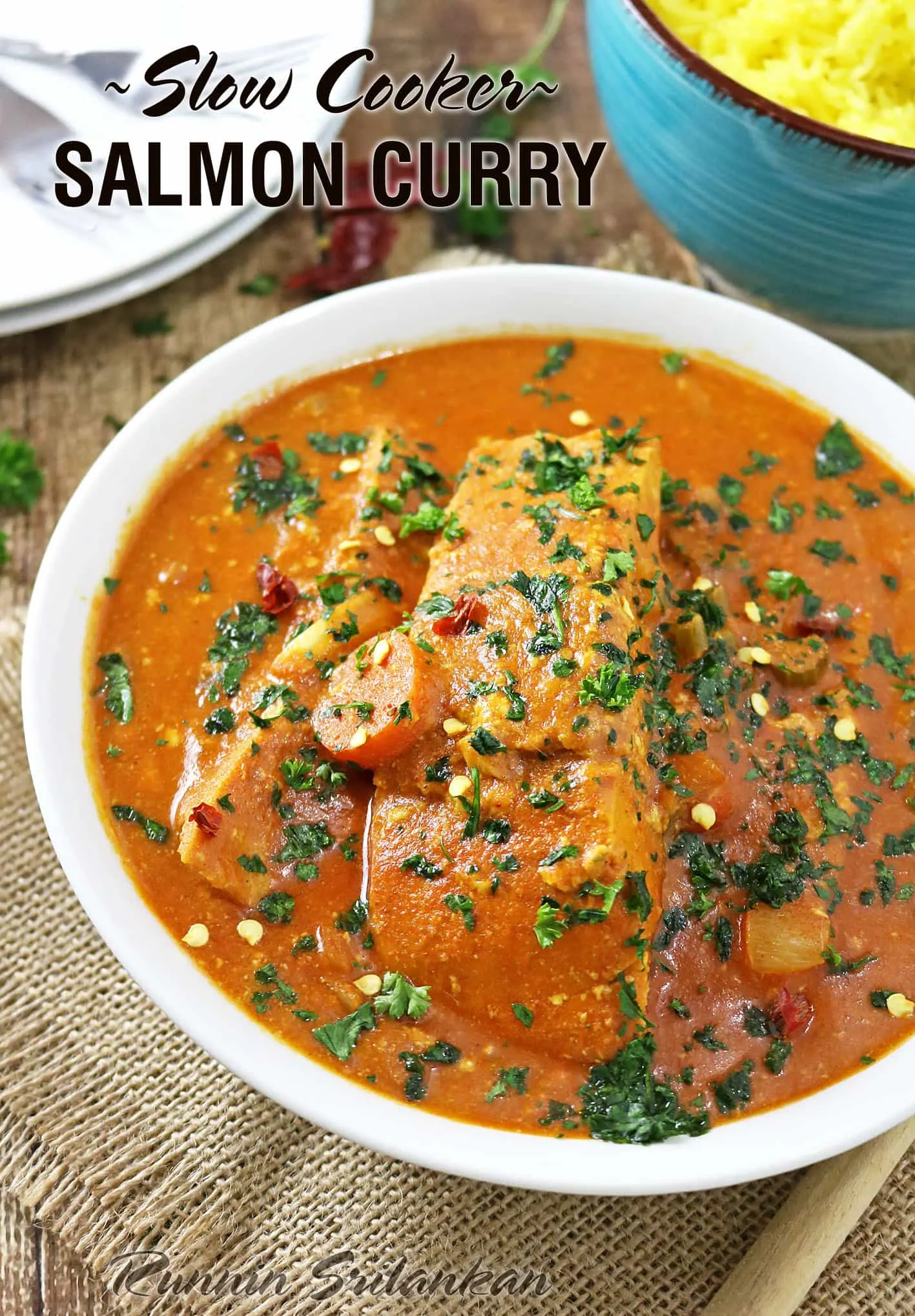 Why cook salmon in a slow cooker?
Someone asked me why would I cook salmon in a slow cooker?
After all, salmon is a tender meat. All you need is a frying pan and some spices and a tender piece of salmon can easily be cooked up on the stovetop within minutes – as I did with these Harissa Salmon fillets.
But, every now and then, I like to cook up sauces and curries in my slow cooker because the flavor that results after a bunch of spices, herbs, garlic, ginger, onion, etc. hang out together for a couple of hours or more is so deliriously delicious.
And, there are also those times when I have a million things going on and it's just plain easy to throw a bunch of ingredients into my slow cooker, set it and forget it while I busy myself with a million errands and household chores.
And those are some of the reasons for this slow cooker salmon curry.
It is not necessarily to get the salmon tender – but to let all the spices bloom and result in one delicious curry sauce that makes it hard for us not to lick our plates clean!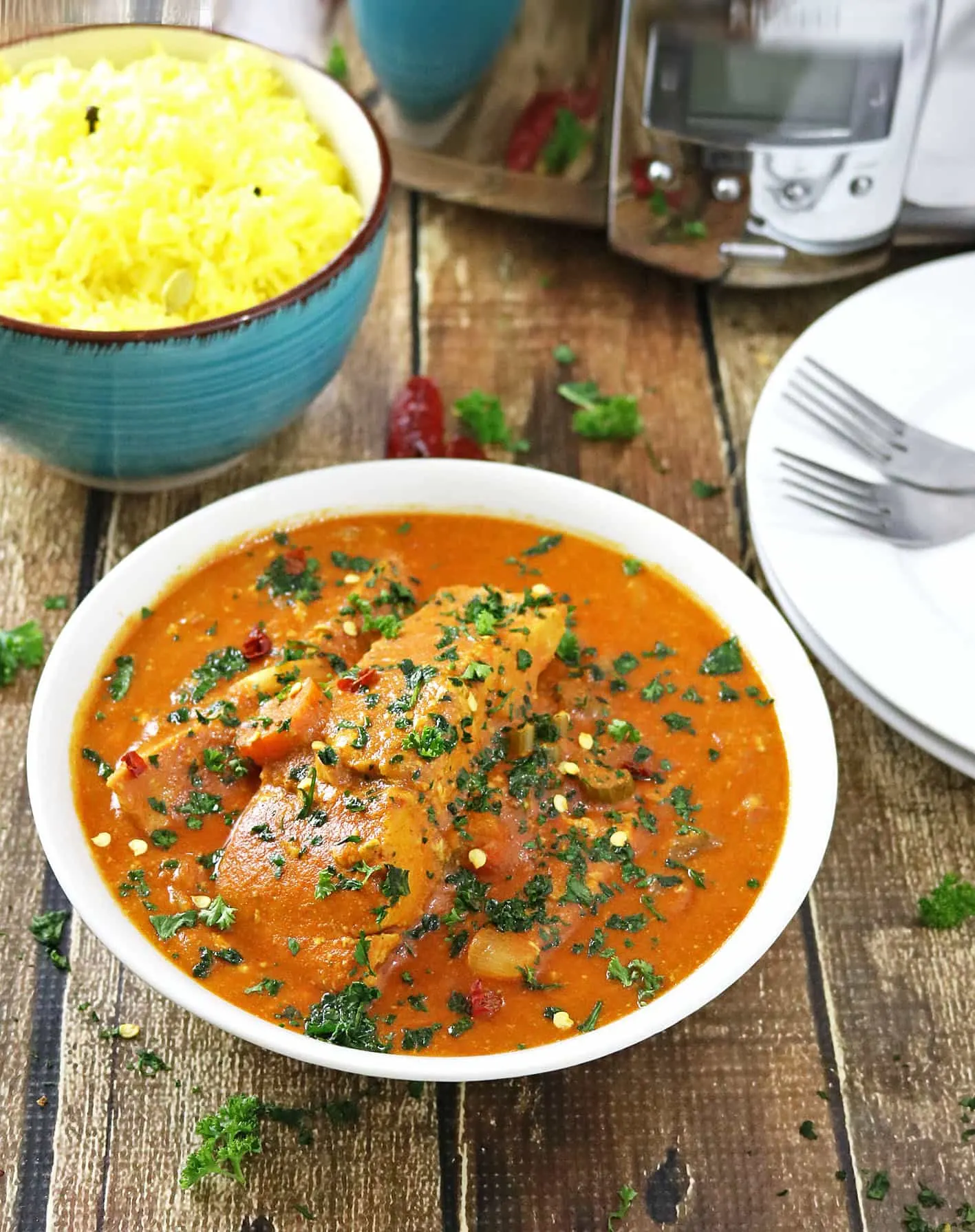 As a child, I grew up eating curry – vegetable curry, egg curry, chicken curry – you name it – my mom could curry just about everything. One of my favorites of all her curries was her fish curry – and it didn't matter what fish she used.
These days, when I need something comforting, I tend to turn to fish curry. Warm, creamy, soul-and-taste-bud-satisfying, fish curry.
And that's what this salmon curry is – luscious, creamy, so incredibly aromatic and tasty – and it came together by throwing a bunch of ingredients into a slow cooker for a little over 2 hours.
Usually, I don't employ a slow cooker to make curry.
Usually, I manage to pull together a salmon curry in less than 30 minutes on the stove. But, lately, life has been a tab bit busy.
Sometimes, all I have is 5 to 10 minutes between getting home from my day job and then going onto wherever my daughter needs me to be.
While 5 to 10 minutes isn't enough time for me to pull together a curry, it is plenty of time for me to throw a few ingredients into a slow cooker before I head out. That way, when we get home a few hours later, we have a warm and nutritious meal waiting on us.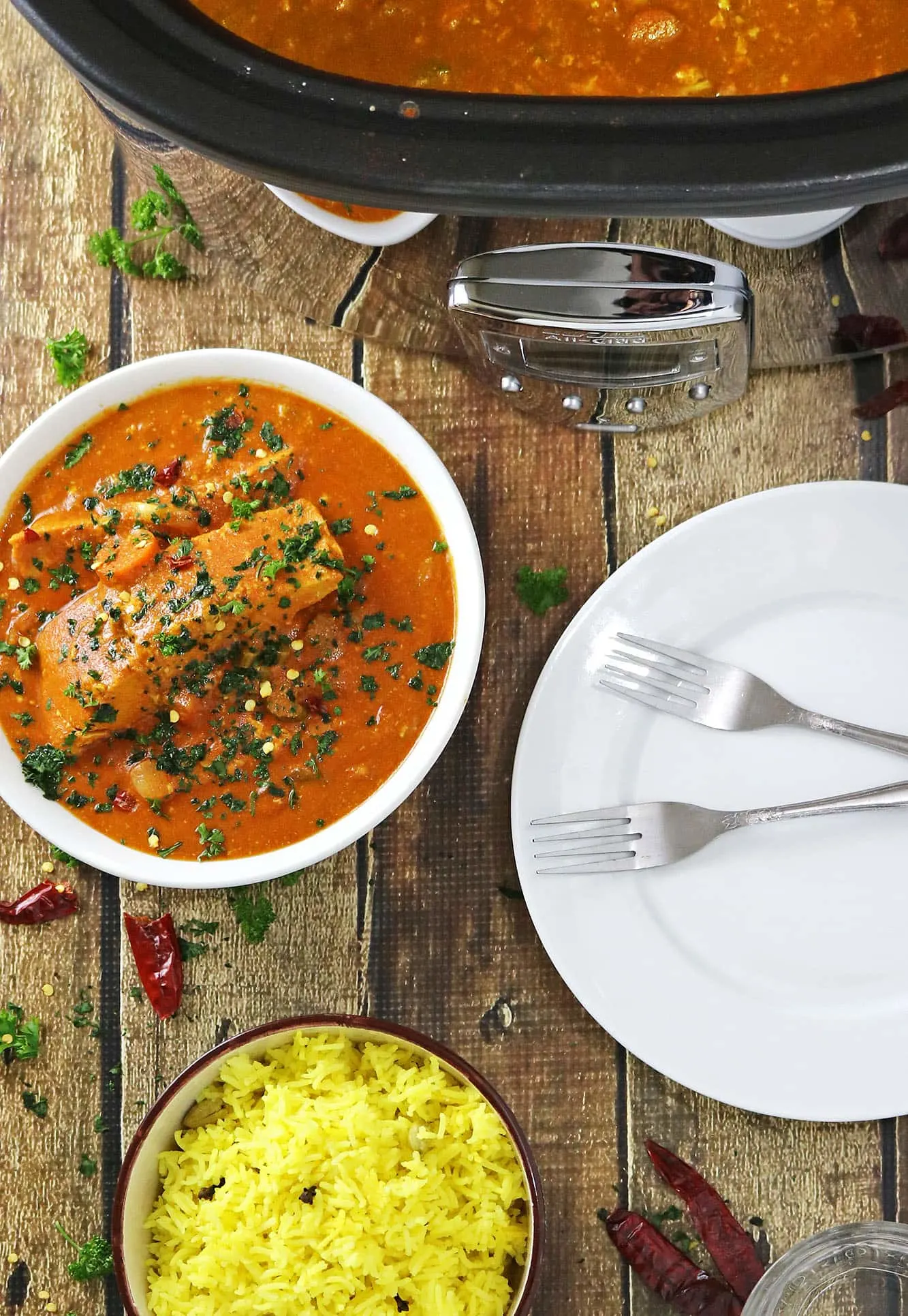 I have noticed that whenever I make curry in a slow cooker, it always ends up being so much more flavorful than when I make curry on the stove top – I am thinking it's because all the ingredients get to hang out together longer.
This Salmon Curry is dairy-free as I used coconut milk. My go-to coconut milk is Chaokoh brand – this is an Amazon affiliate link to one of my favorite brands of creamy coconut milk and coconut cream.
What to pair this curry with?
Serve this curry with:
• Broccoli Kale Cilantro Sambol & roti,
• On the side with some delicious Sri Lankan Shrimp Kottu Roti,
• Some shrimp curry and wild rice,
• Or, serve it simply with rice or this onion and herb roti
My daughter and I enjoyed this Slow Cooker Salmon Curry with some cardamom and clove spiced saffron rice one night and some roti on another night as we had leftovers for days. I sure do hope you give this a try and maybe, just maybe it will be your comfort food too?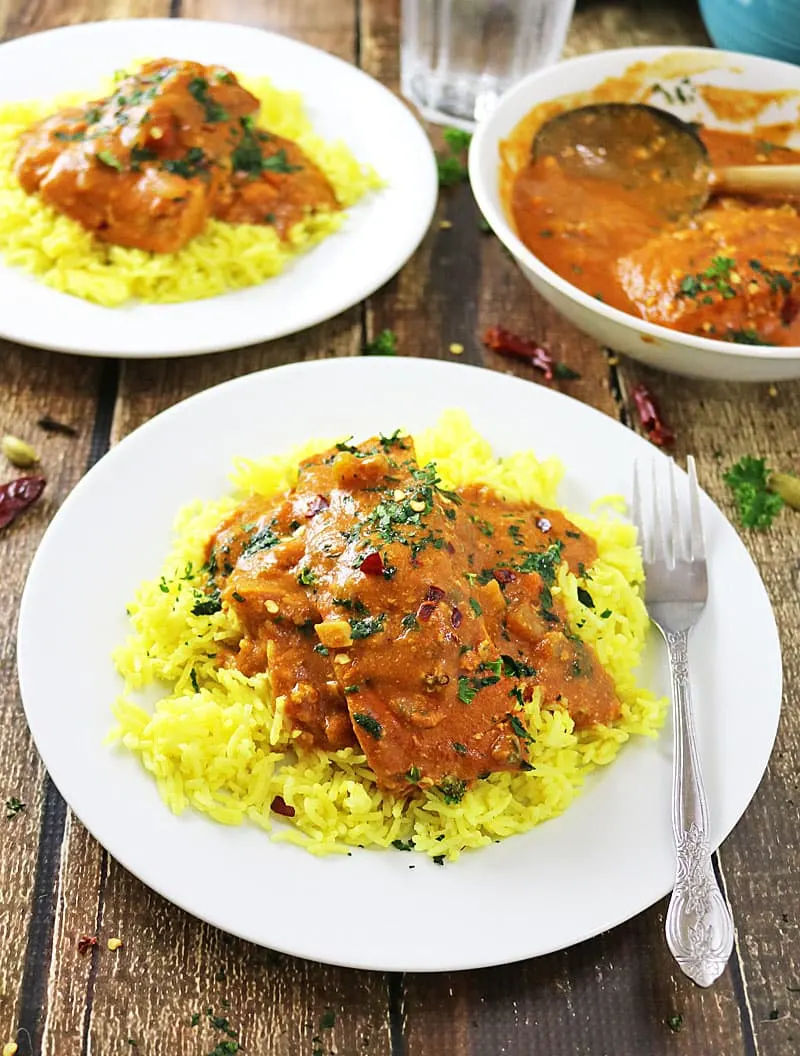 This recipe first appeared on Today Food, if you happen to like this recipe, please click >HERE< and give it a thumbs up.