These easy Sri Lankan Pol Roti with onion and herbs are tasty unleavened flatbreads that are flavored with shredded coconut, onion and a mix of herbs. They are sure to be a favorite when served with curry.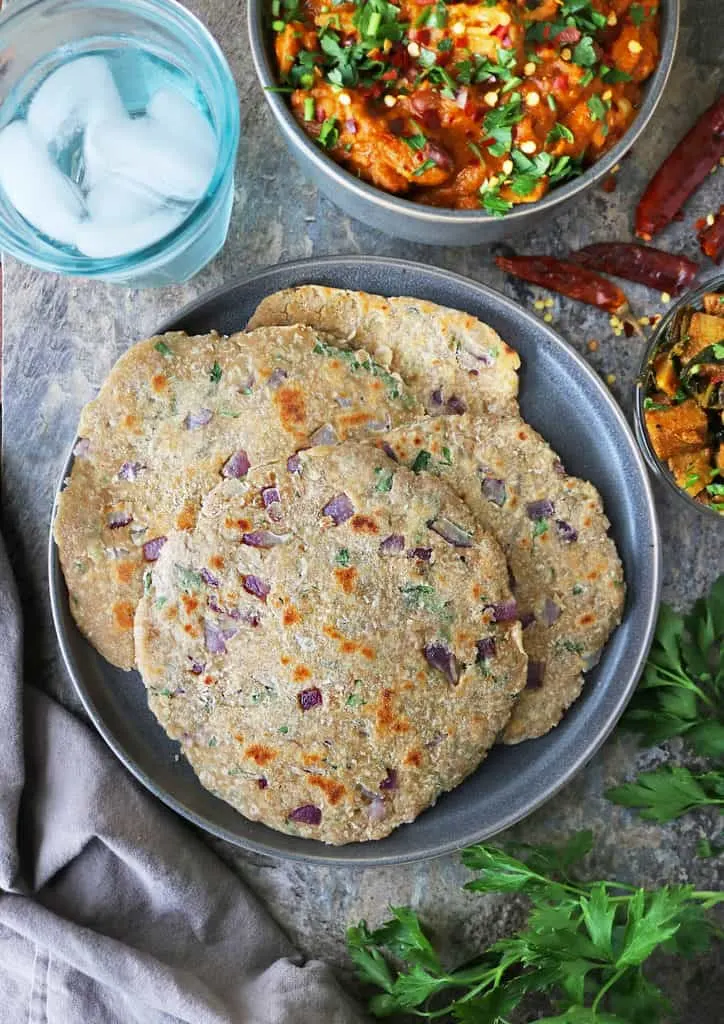 When it comes to breads of all kinds, my absolute favorite is Sri Lankan pol roti. As "pol" in Sinhale (the language spoken by the largest ethnic group in Sri Lanka) means "coconut", "pol roti" translates to "coconut roti."
What is roti?
Roti is basically an unleavened flat bread made with shredded coconut, flour, water, and salt. Sometimes, coconut milk is added in along with other spices, onion, and green chillies.
I'm not much of a bread person, but I could do some serious damage to a stack of pol roti! Usually we eat pol roti with curry – but I'm not gonna lie, I can eat it plain!
My mom's pol roti is the best roti I've ever had. My mom sometimes uses a bit of coconut milk along with water to make her roti super soft. She also uses desiccated coconut which she gets from a south Asian store in Atlanta, called Cherians.
But I live out here in Athens and don't go to Cherians often. So I use unsweetened shredded coconut, which can easily be found at local grocery stores.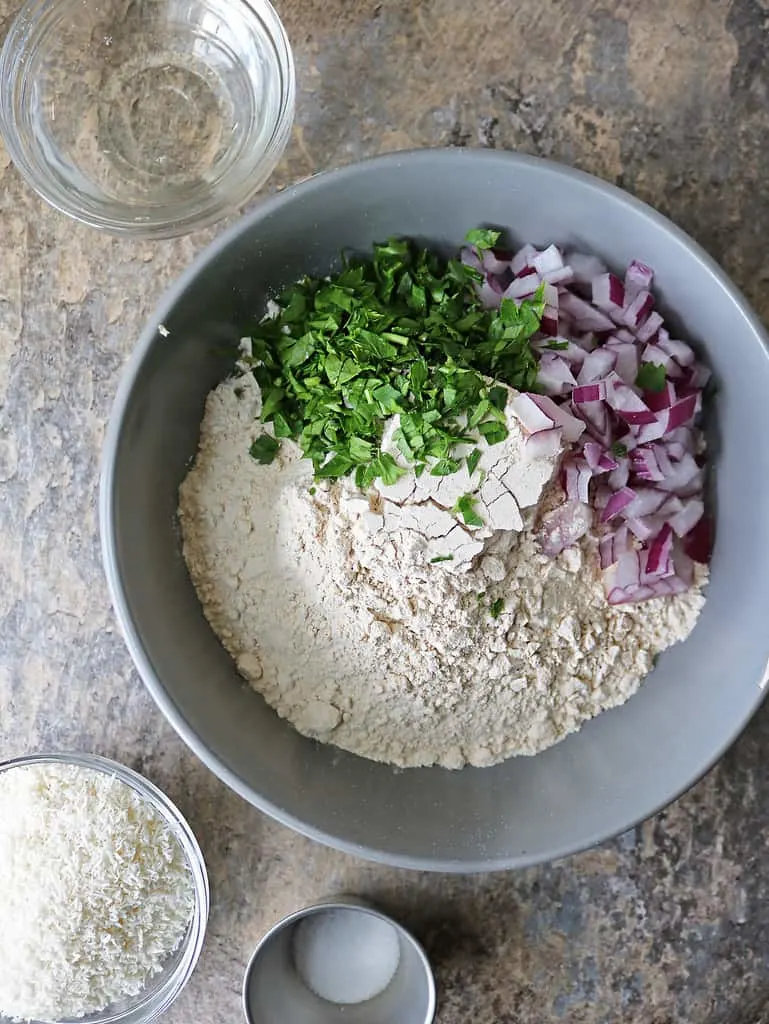 Tips to make soft Sri Lankan Pol Roti:
When making roti, my mom always mixes the dough and lets it rest for an hour or so. She says this, along with her use of coconut milk helps keep her roti soft and tasty.
However I'm usually in a hurry. So, after I mix up the dough for roti, I form it into balls and let the balls sit for about 15 minutes (sometimes less) while I get a quick curry started. I have found that when I cover the roti after I flip them over, they turn out softer than if I don't.
My daughter and I have enjoyed this pol roti (coconut roti) I make with everything from curry to a chutney to jam even!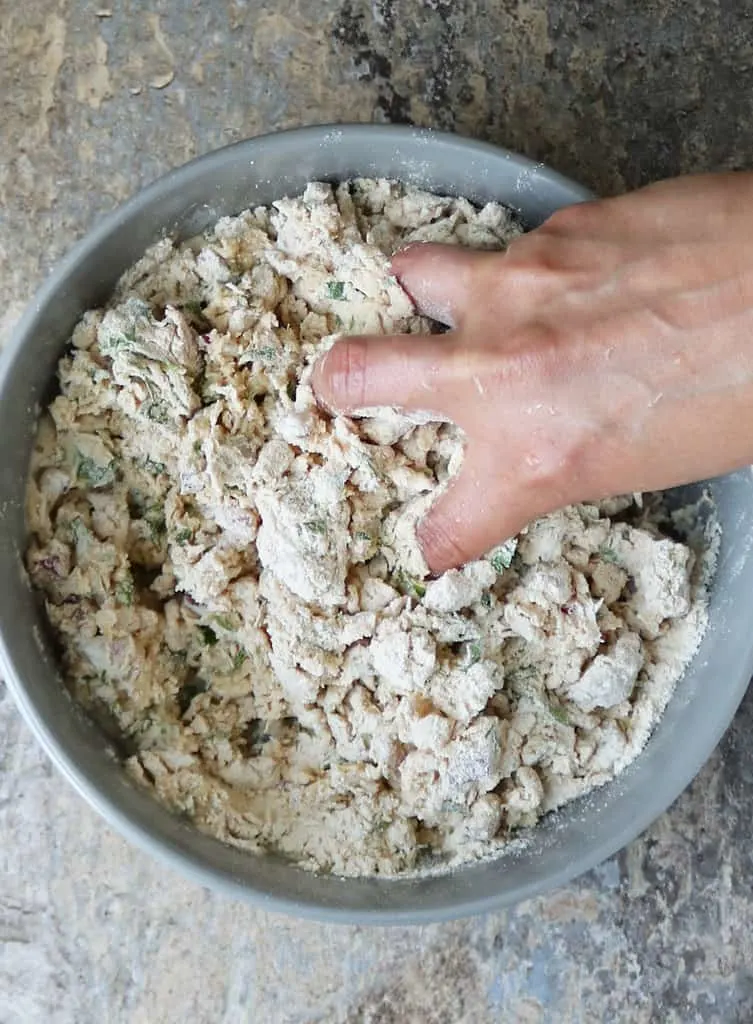 This pol roti recipe is so easy that there have been many days I've come home from work to find my daughter making us a batch of roti to go with leftover curry, like this chicken one. This is one recipe from my blog she uses so often that she has it memorized.
Speaking of my daughter, I've got to take a moment to brag on her. For the past couple of weeks I've been nursing a craving for some chocolate cake. But I was in a bit of a baking slump and every recipe I attempted, tasted like mud! Well, Friday I got home from work to find she had baked and frosted a chocolate cake using this vegan chocolate cupcake recipe. I was speechless! This child of mine! I am blessed beyond measure!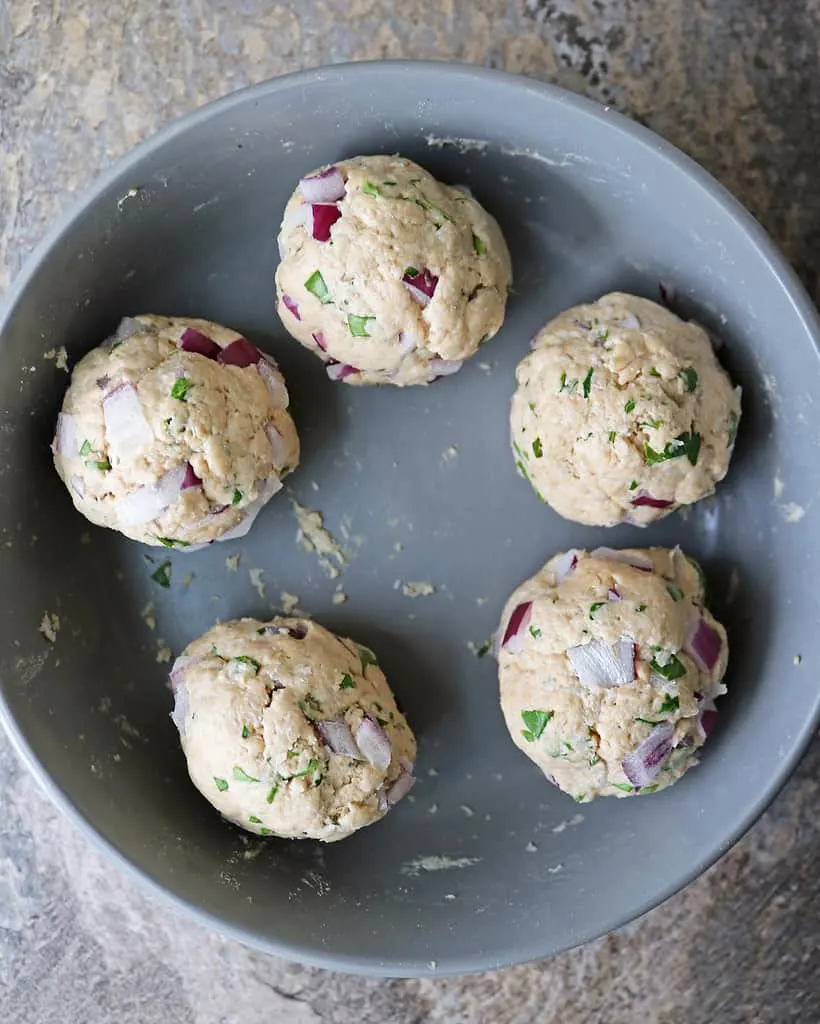 Now getting back to pol roti…

Usually, either my daughter or I, make a plain and easy pol roti.

But every now and then, we like to jazz things up a bit and add in chopped onion and herbs to the roti dough ~ like we did here in this Sri Lankan Pol Roti with onion and herbs.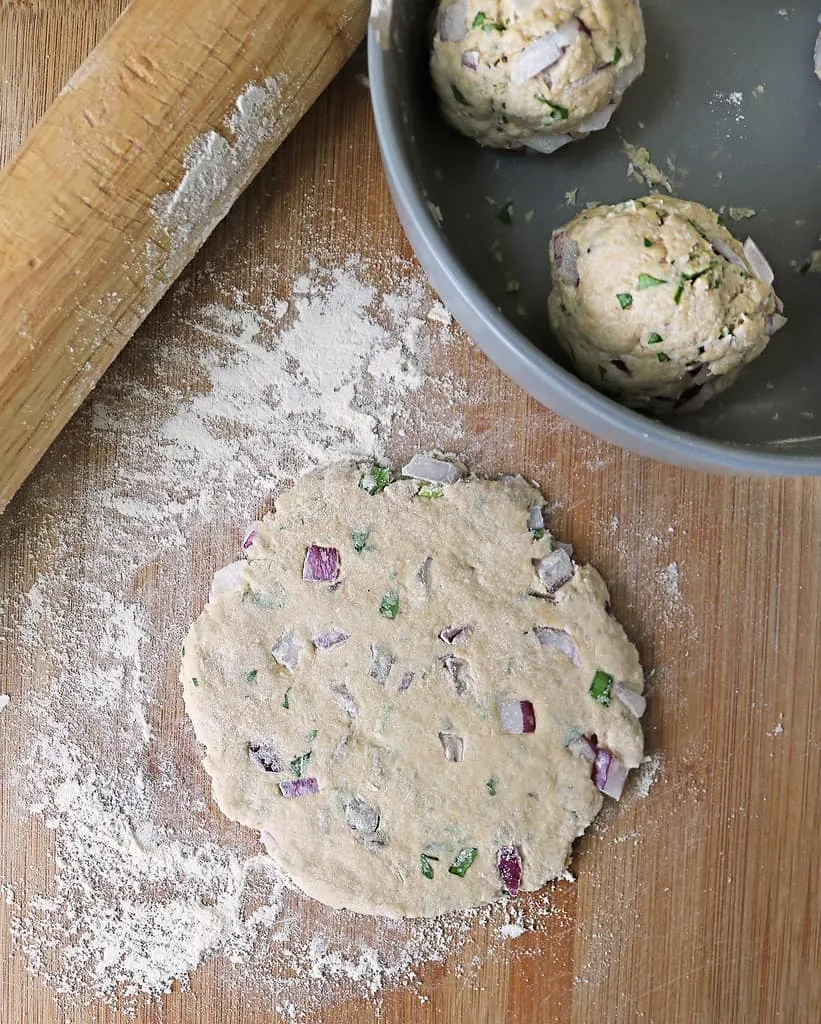 The onion and mix of parsley and cilantro add such a depth of flavor to these. If you don't like onion, then you don't have to use it, just add in your favorite herb mix and maybe some garlic. Cooking is always about letting your tastebuds have a fun feast, so experiment with different flavors that tickle your fancy.
These pol roti with onion and herbs are delicious just by themselves. Or you can enjoy them with some of this tasty and Easy Jackfruit Curry and this Potato and Moringa Salad, like we did.