Fresh cherries unite with chili flakes in this delightfully delicious, easy, 6 ingredient, chili cherry sauce ~ which pairs so well with everything from wings to burgers to curries to veggie curries.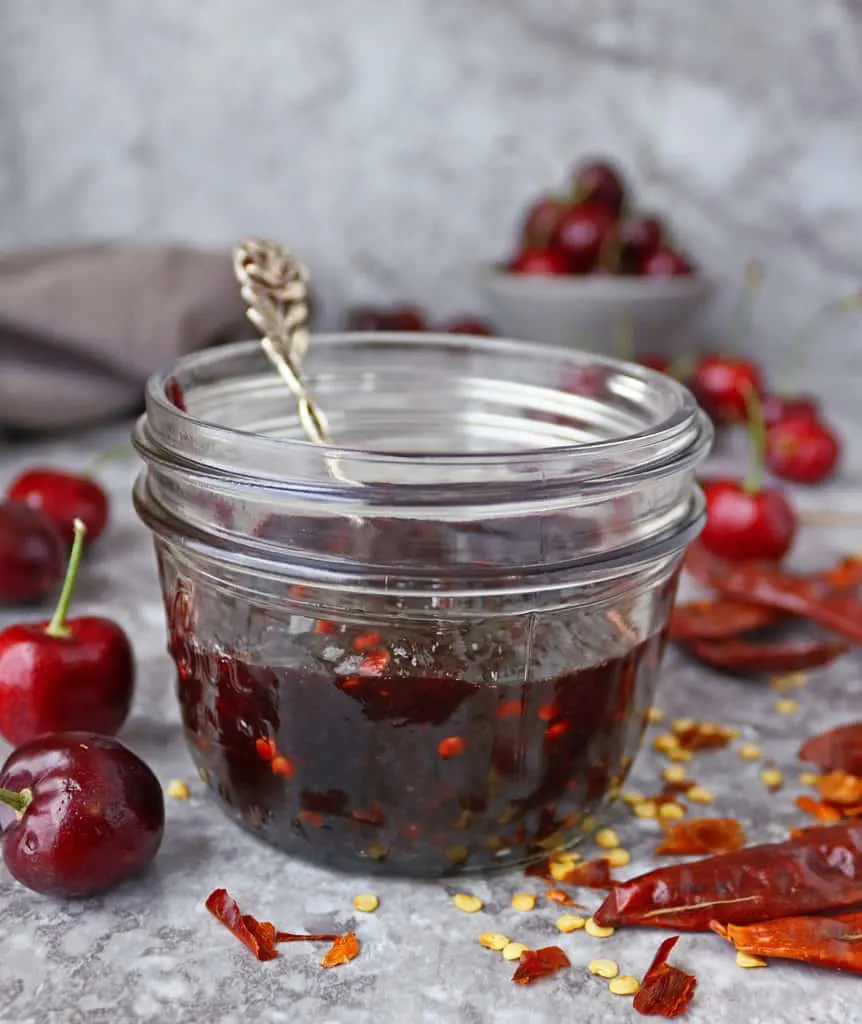 I love sweet treats. I will always pick a stack of oatmeal pancakes with a very generous pour of maple syrup over a savory spinach mushroom bake. On those nights when I'm not feeling like cooking dinner, I rummage around in the freezer and grab a popsicle to nibble on.
And usually, I am a decent maker of said sweet treats. Just a few weekends ago, I made and enjoyed these golden donuts. Then there were these vegan cupcakes my daughter and I were deliriously delighted with.
But, these past couple of weeks, every time I try to make something sweet, it's been like a complete disaster ~ kind of like the early 90's trend of "bottled water for pets."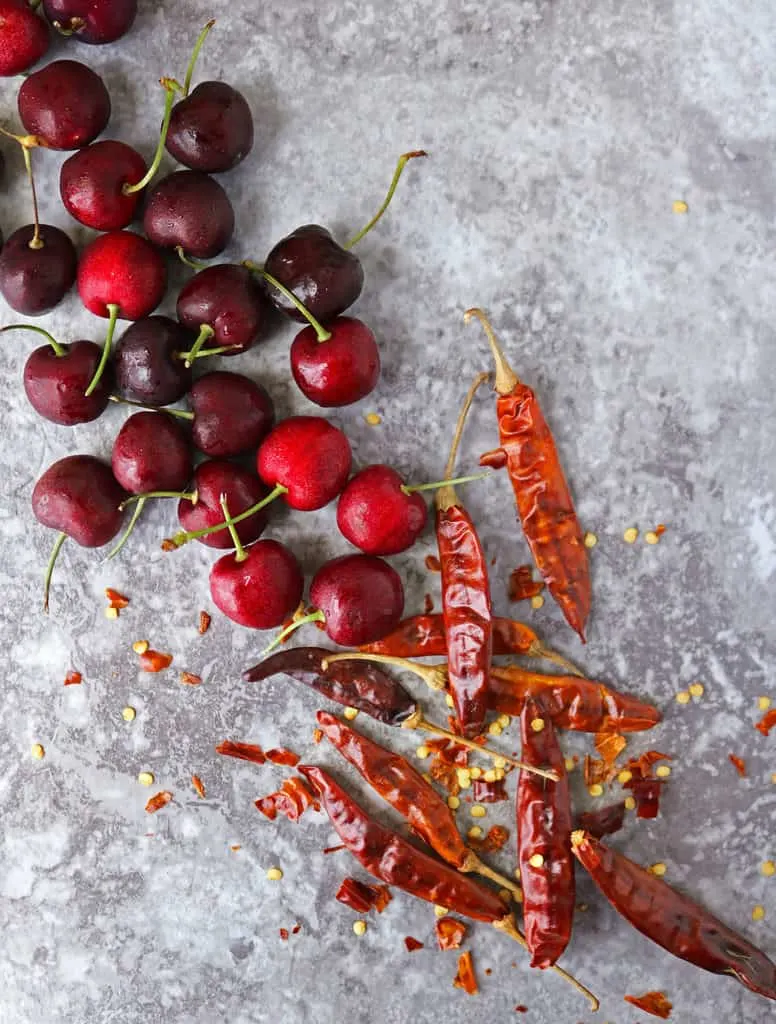 Last weekend I tried to make baked oatmeal donuts. But, when I pulled the donut pan out of the oven, that oatmeal mixture had spread all over the middle raised part that would have been the center donut whole. And… well… those donuts resembled a certain part of the female anatomy more than they did donuts!
Then, this Saturday I tried to make some ruby chocolate truffles with some of the ruby chocolate I had leftover after making these strawberry popsicles. I melted it with the more solid part of of coconut milk (that forms when you refrigerate a can of coconut milk) and some coconut oil. I stirred this gorgeous ruby hued creamy concoction well and placed it in the fridge to set. Well, after 6 hours in the fridge those truffles were still cream!
So, when I got home from Sprouts with more bags of cherries than I intended to buy, I figured I would not even attempt to make some cherry muffins or cherry chocolate cupcakes.
Instead I opted to make a super easy Chili Cherry Sauce (Coulis). And this sauce did not disappoint.
How to make this homemade Chili Cherry Sauce?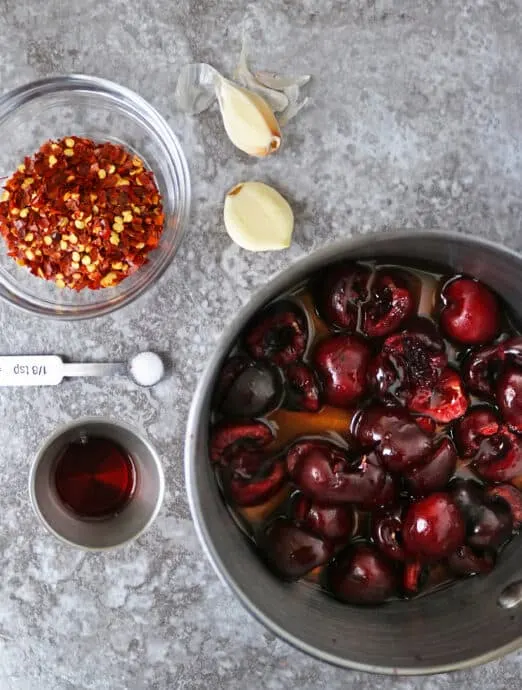 With just 6 ingredients you probably have in your kitchen, this chili cherry sauce is so easy to make.

Just place all the ingredients, which include cherries, maple syrup (or honey), red wine vinegar, salt, grated garlic, and chili flakes in a pan over a medium heat, cover and simmer 15-20 minutes.
And voila! You have a delicious sauce to enjoy!

What does this Chili Cherry Sauce pair with?
This spicy cherry sauce is delicious on toast and pairs beautifully with everything from chicken to fish to veggies.

Serve it warm along with these salmon croquettes, slather it on these lentil potato patties, or chili is and serve it on top of these crackers with a small piece of cheese.

My daughter and I have even enjoyed this chili cherry sauce with these spicy chicken stuffed buns.