Made with 7 ingredients that include canned salmon, some potatoes I found in the back of my pantry, and spices that are pantry staples, these tasty & easy Air Fryer Salmon Croquettes are a delicious snack/side dish!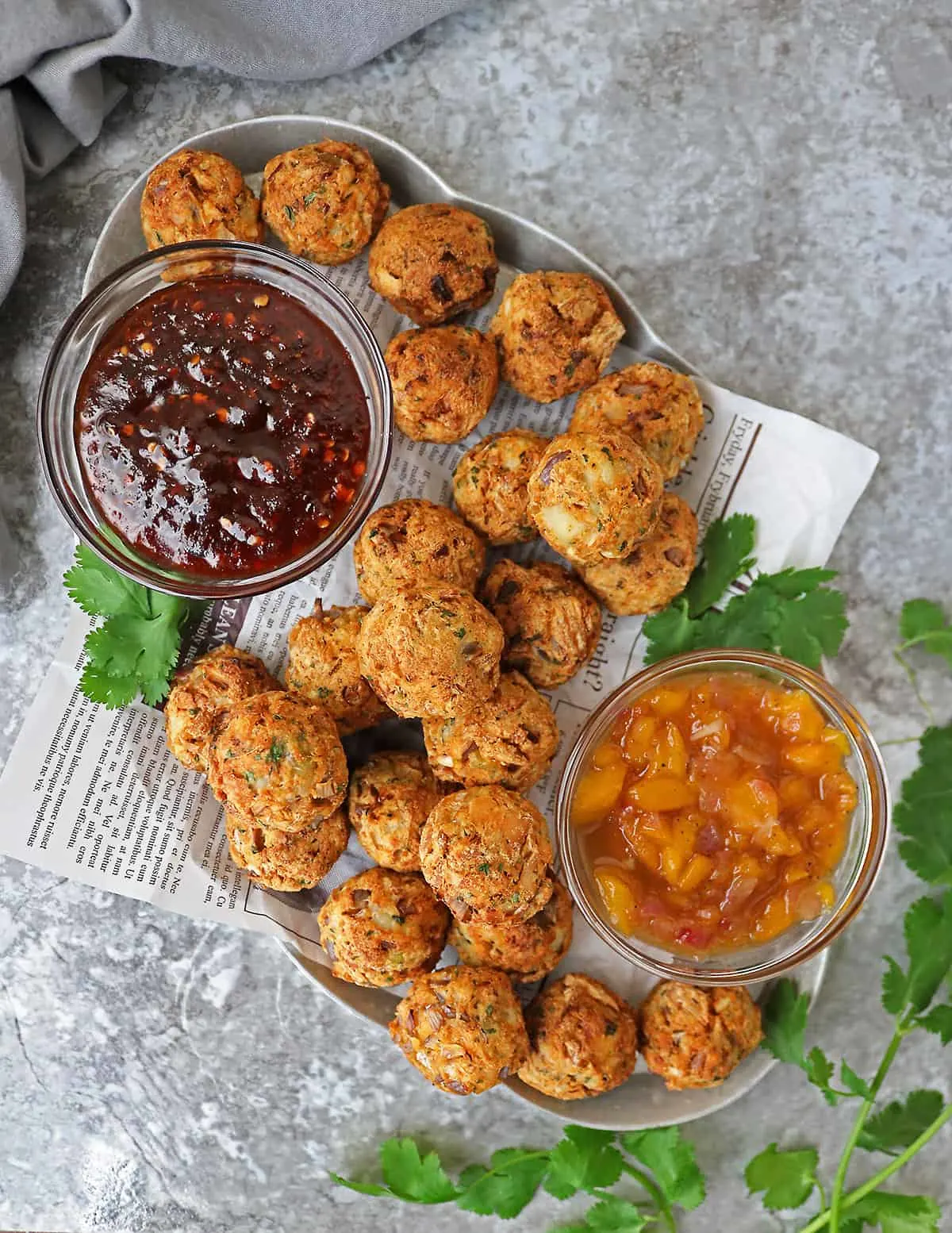 I made a batch of these Air Fryer Salmon Croquettes last Sunday.

Last Sunday was also the day I gave my daughter a haircut.
Yikes!
Fortunately, she thinks it looks good…

But, if she could see the back of her head as closely as I can, she might change her mind!

Now, she wants to return the favor and cut my hair…

Even though hair salons here in Georgia are set to open this Friday, I think I'd rather let my daughter experiment on my tresses – after all, it's just hair – right? 🙂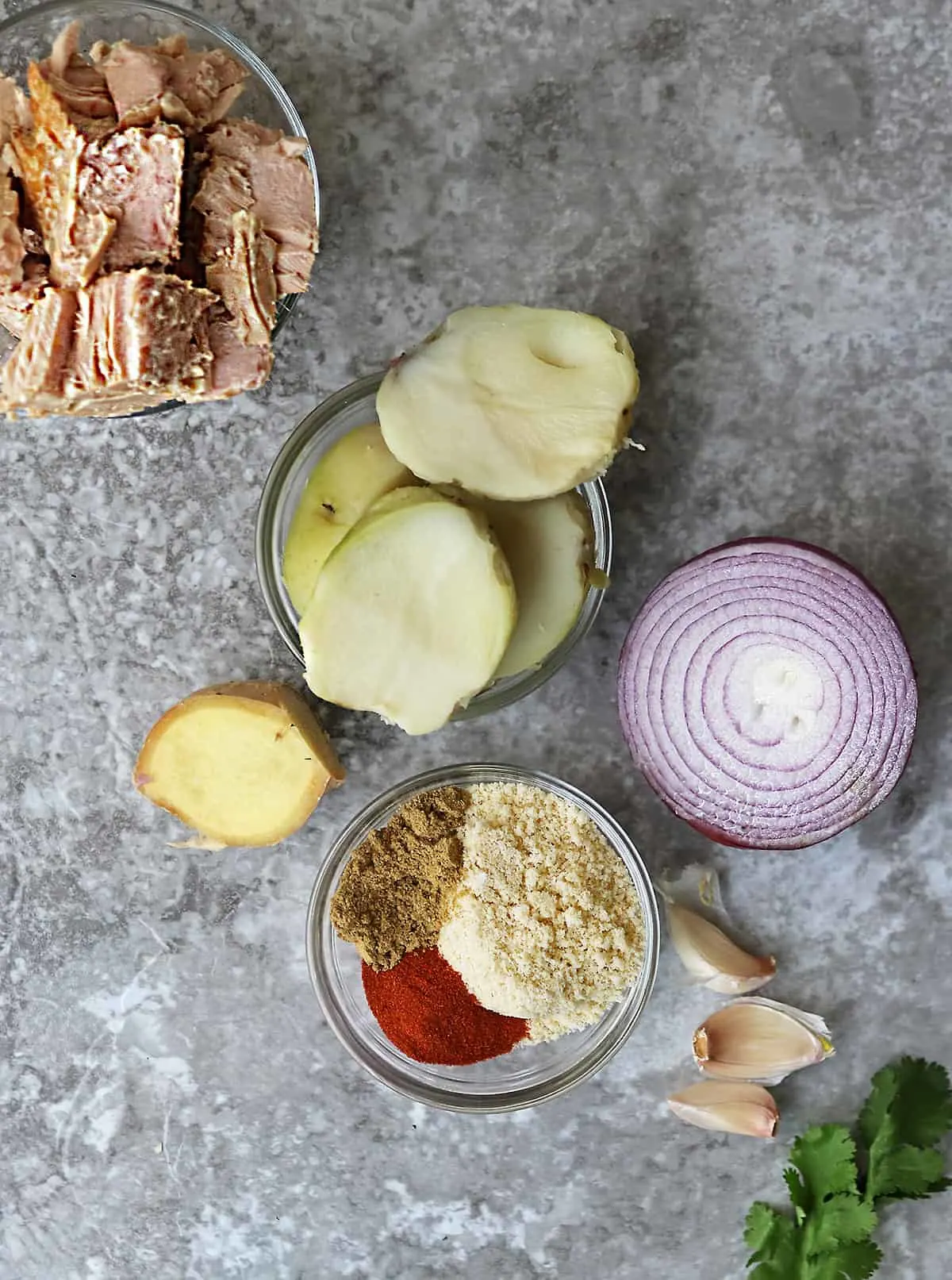 My daughter and I plan on hunkering down at home for a little while longer – other than our weekly trips to the grocery store.

By the way, these grocery store runs have become the highlight of our past few weeks during this pandemic! Anyone else feel the same?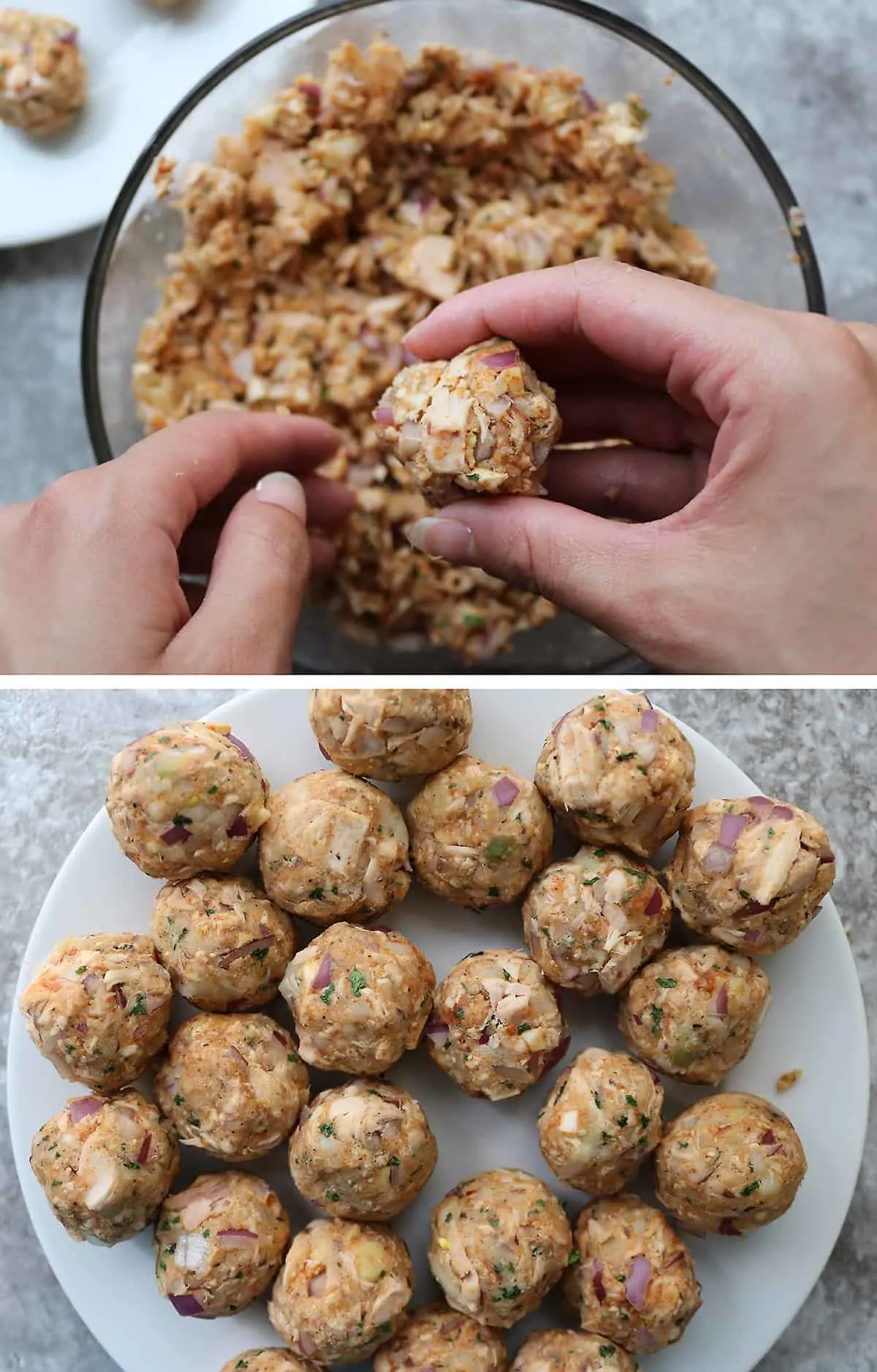 Speaking of highlights, I have got to give a shutout to Mediavine. Mediavine is the company that runs the ads on my little site. But, they are so much more than an ad management entity.

They are always, always, always looking out for, and lifting up, the bloggers who are fortunate to partner with them.

From helping us get the most out of ad revenue (even as advertisers are scaling back) to helping us optimize our recipes, to increase our social reach, and to even optimize our sites so they are running at warp speed, the guys and gals behind the Mediavine team have been such a huge highlight during these crazy times.

Now…moving on to the reason y'all are here…
Like I mentioned, I made these Air Fryer Salmon Croquettes last Sunday. I figured my daughter and I would have 3 each, which would mean that this batch would last us about 4 dinners.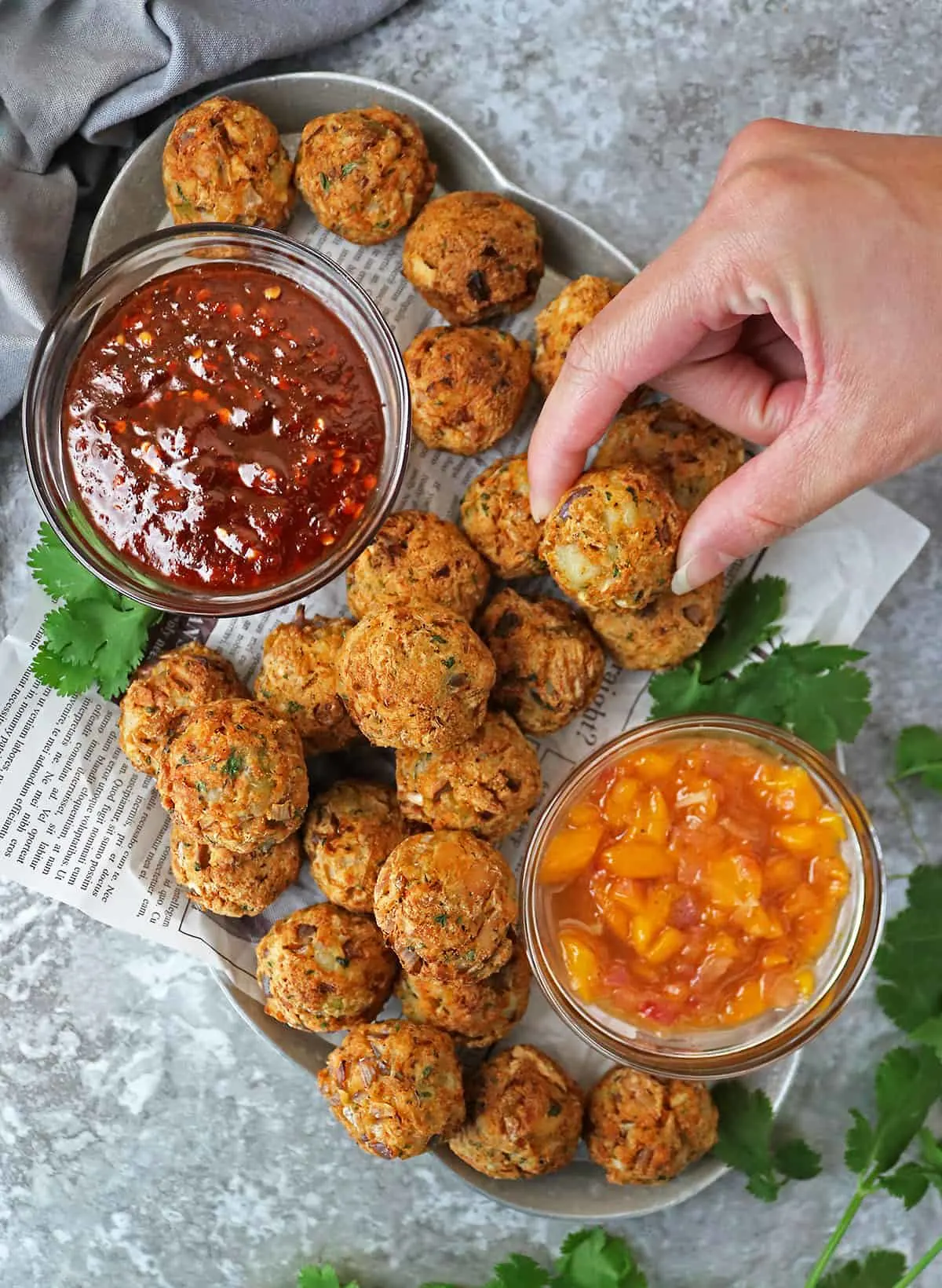 But, oh boy, was I wrong!

I'm not sure if she was more stressed because it was the first time I was cutting her long locks…

Or, if I was more stressed because I was the one doing the cutting…

But, after that haircut, we both sat down for a second and, before either of us knew it, we had polished off this whole platter!
We love these Air Fryer Salmon Croquettes because:
• They are so tasty. The flavors of the garlic, ginger, onion, smoked paprika, and coriander jive so well together that we forgot these were not fried like most croquettes I've made before are.
• They can be made with only 7 ingredients,
• They are quick and easy,
• They are perfect as a snack or side dish!
We enjoyed those Air Fryer Salmon Croquettes with some of this Easy Mango Chutney and some of this Sweet Chili Sauce. As my daughter said – this was the highlight of our hair-cutting ordeal!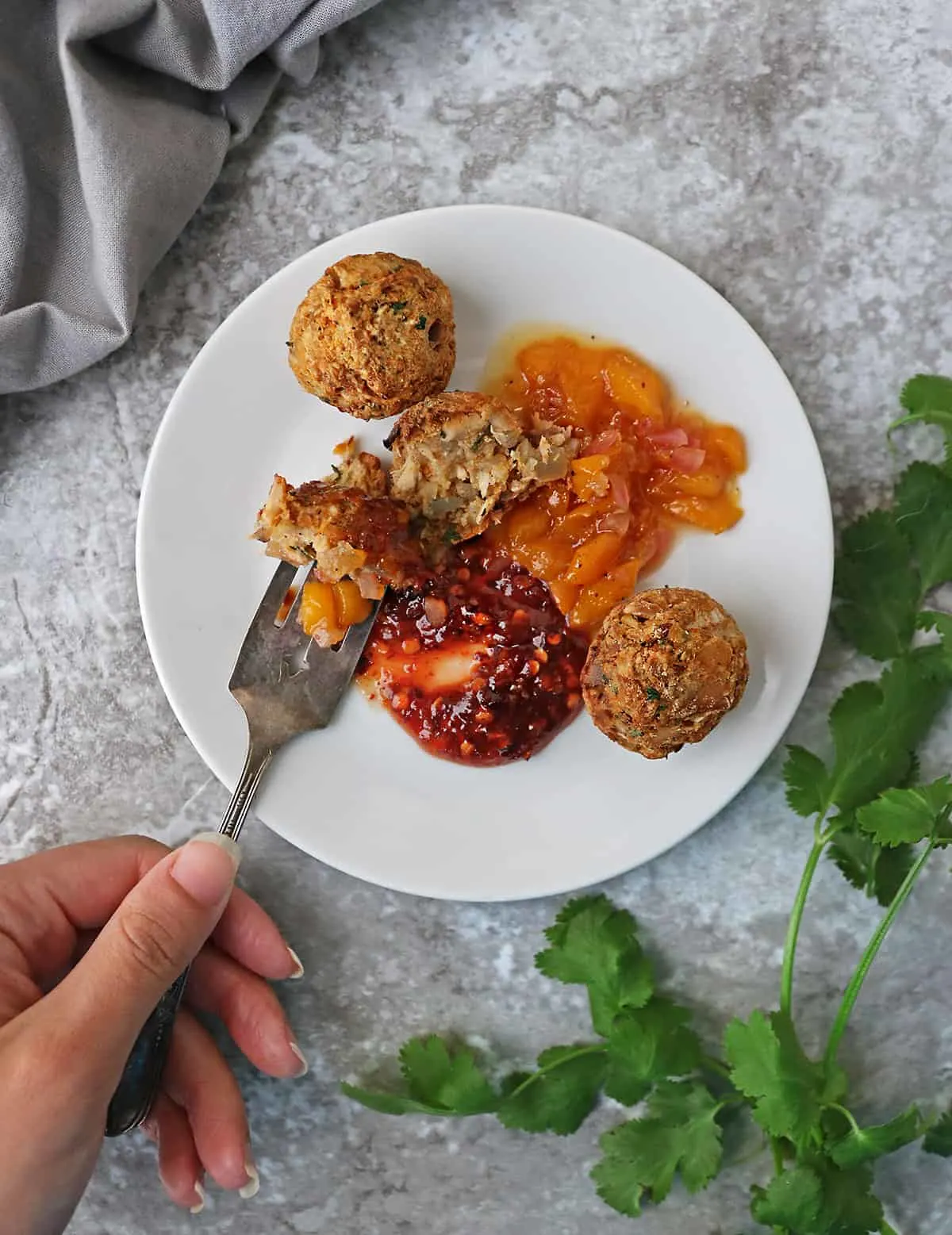 These easy Air Fryer Salmon Croquettes are made with canned salmon, some potatoes I found in the back of my pantry, spices that are pantry staples, and almond meal. You can use breadcrumbs instead of the almond meal if you prefer.

If you make these, I'm hoping you and your family find these to be as much of a highlight as my daughter and I did. Stay well, until next time.
---
Thanks so much for stopping by. If you make this recipe, please let me know in the comments below what you think of it, or tag your creation on social media with @savoryspin or #savoryspin. For more fusion, spice-filled, recipe ideas, please subscribe and follow me on Facebook, Instagram, and/or Pinterest!