Thank you Beyond Meat for sponsoring this post. Try The Beyond Burger today! The Future of Protein. Made from Plants.
Have you tried The Beyond Burger yet? If not, then make sure to click the product links in the image below for a valuable coupon ~ then whip up some of this sweet chili sauce to enjoy these delicious, plant-based Beyond Burgers with!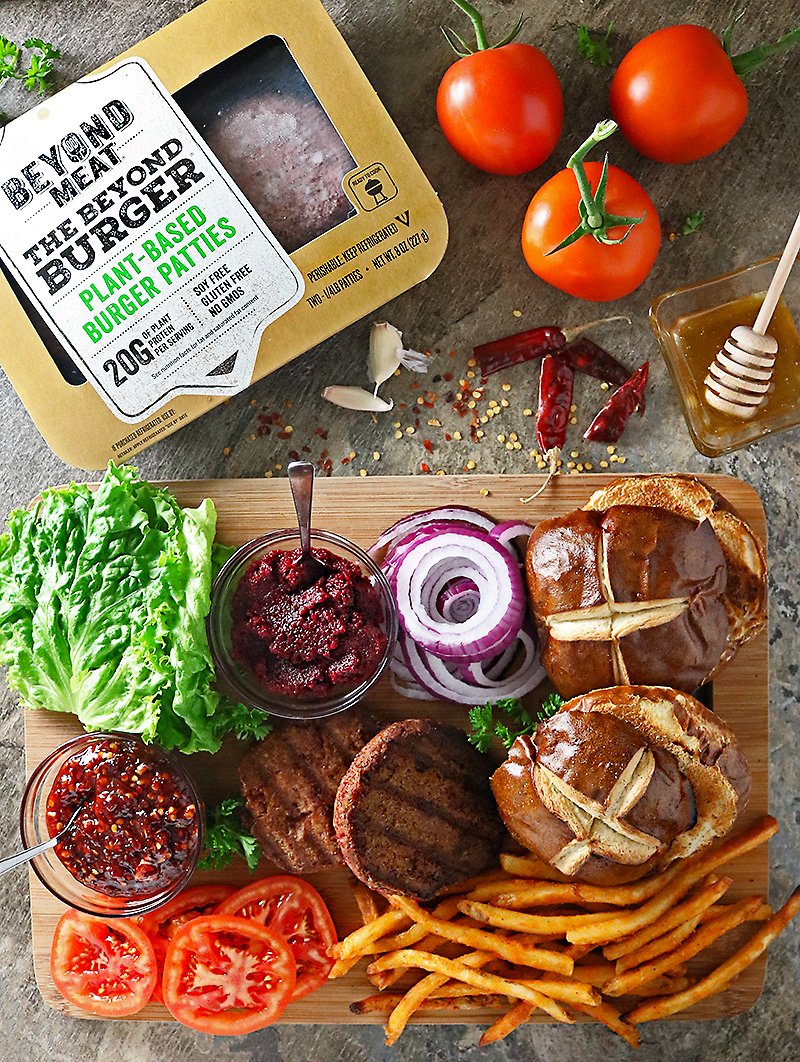 Ever since I was introduced to Beyond Meat's Beyond Burgers last month, I have been cooking them up every which way.
And, no matter how or how many times I cook them, they always manage to leave me flabbergasted.
Now, I've partaken in quite a few plant-based burgers in my time, but, I cannot ever remember coming across one that was so meat like!
When Beyond Meat says that their Beyond Burger is "so meat like it's sold in the meat case of over 7,000 grocery stores nationwide…" they aren't kidding!
When plant-based Beyond Burgers are thawed out, their color and consistency is so similar to a beef patty. Cook 'em up medium rare and, y'all, their middle stays red – just like a beef patty! But that's not all. Beyond Burgers are juicy, with the chew and bounce of beef ~ and a hefty 20 grams of plant protein per patty! And, they don't contain any soy, gluten, or GMOs either!
Last month, I whipped up a sweet and spicy beet onion jam to enjoy with pan-grilled Beyond Burgers. This month, I decided to whip up a healthier sweet chili sauce to accompany them. As you can see from the images, this sweet chili sauce is quite thick. It is perfect for globbing onto a grilled Beyond Burger, or swooping up with thick fries.
This sweet chili sauce gets it's sweetness from honey and it's kick from chili flakes. I added in some red wine vinegar, garlic and some tomato paste to balance out the sweet and spicy flavors. I simmered his sauce for quite a bit to reduce it down and make it thicker. But, if you would like a thinner sauce, add in a quarter cup of water to the mix.
On some of our at-home movie nights, my daughter helps me put together a Burgers and Fries platter with pan-grilled Beyond Burgers, beet onion jam, sweet chili sauce, fries, pretzel buns, lettuce, onions and tomatoes. As you can see, the resulting burgers are so tall ~ and so satisfying! After one of these burgers, we hardly ever get up to get more snacks to last us through the movie! Now we are trying to find a purse big enough to sneak two of these beauts into a movie theatre for us to enjoy on at-theatre movie nights!
Don't forget to click on the image at the beginning of this post for a money-saving coupon for you to use on your next purchase of Beyond Meat's Beyond Burger.
If you happen to fancy this recipe, let me know what you think by leaving a comment and rating below. If you make this recipe, please post a pic on INSTAGRAM -tagging @savoryspin so I can see! For more recipes and ramblings, like us on FACEBOOK and follow along on PINTEREST!
I was selected for this opportunity as a member of CLEVER and the content and opinions expressed here are all my own.