Breadfruit was a staple when I lived in Sri Lanka – and, boy-oh-boy, is it versatile! It can be boiled, baked, and roasted and enjoyed either in a sweet, savory or spicy dish – like these Spicy Breadfruit Fries.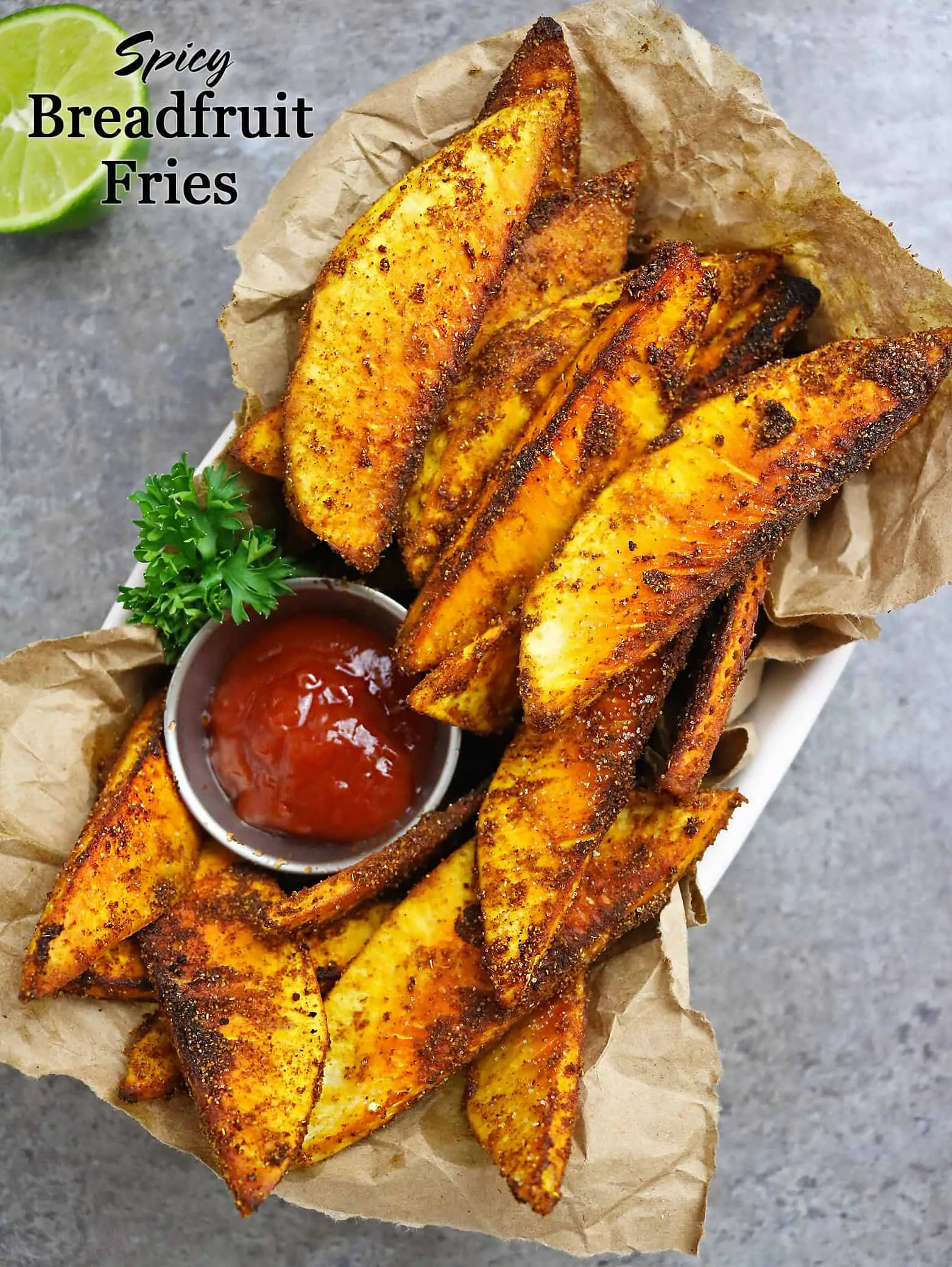 If you come across breadfruit, this is a quick, easy, and tasty way to enjoy it. In this easy recipe, breadfruit is cut into wedges and spiced with coriander, smoked paprika, turmeric, and cumin. These breadfruit wedges are then baked until they are ever so slightly crispy.
When I lived in Abu Dhabi, I used to frequent a Social Center with a bunch of other friends. There were badminton courts, table tennis tables, foosball setups, study-nooks, and the like, geared towards us teens!
Back then I took this teen hangout totally for granted (if you are new to this space of mine, I spent my elementary school years in Sri Lanka and my middle and high school years in Abu Dhabi due to my parent's jobs).
When I came to the States to attend college, other than The Y, I couldn't seem to find anything like that teen Social Center here in Atlanta.
At one time, I had this brilliant idea to open one up myself – but then abandoned it when some friends started pointing out all the not-so-rainbows-and-unicorns scenarios that could happen.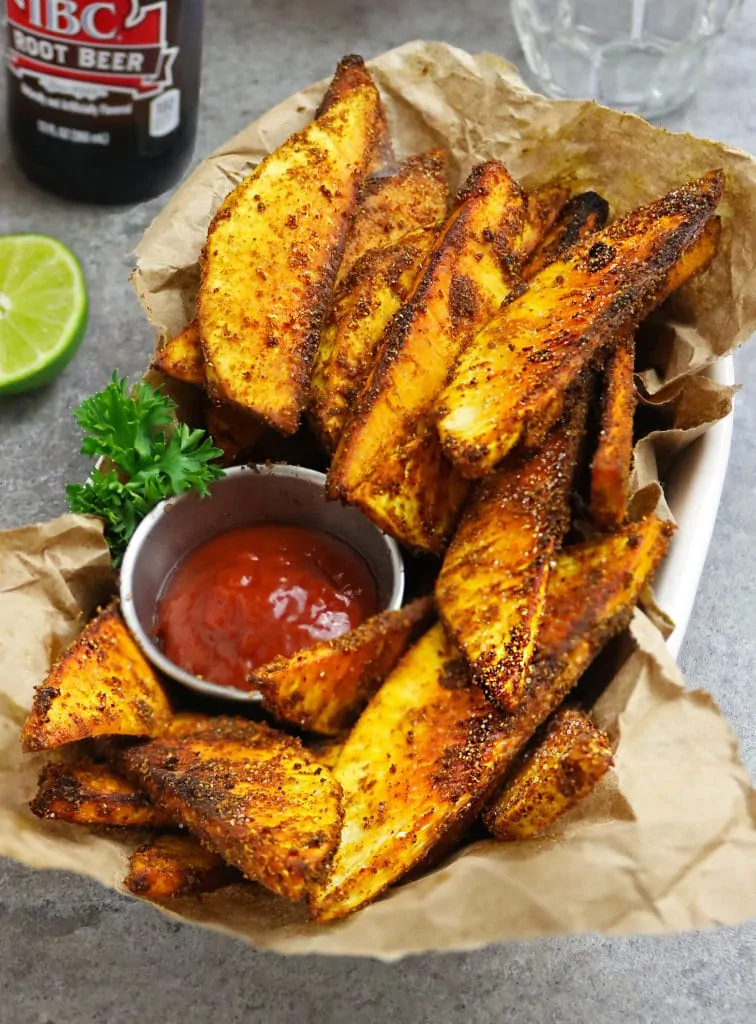 While there might not be a whole lotta teen social centers here in Atlanta, there sure are a good number of Senior Centers.
And, am so thankful my mom ended up joining one shortly after my dad passed (this August will mark 3 years since he passed), as it has given her something to look forward to.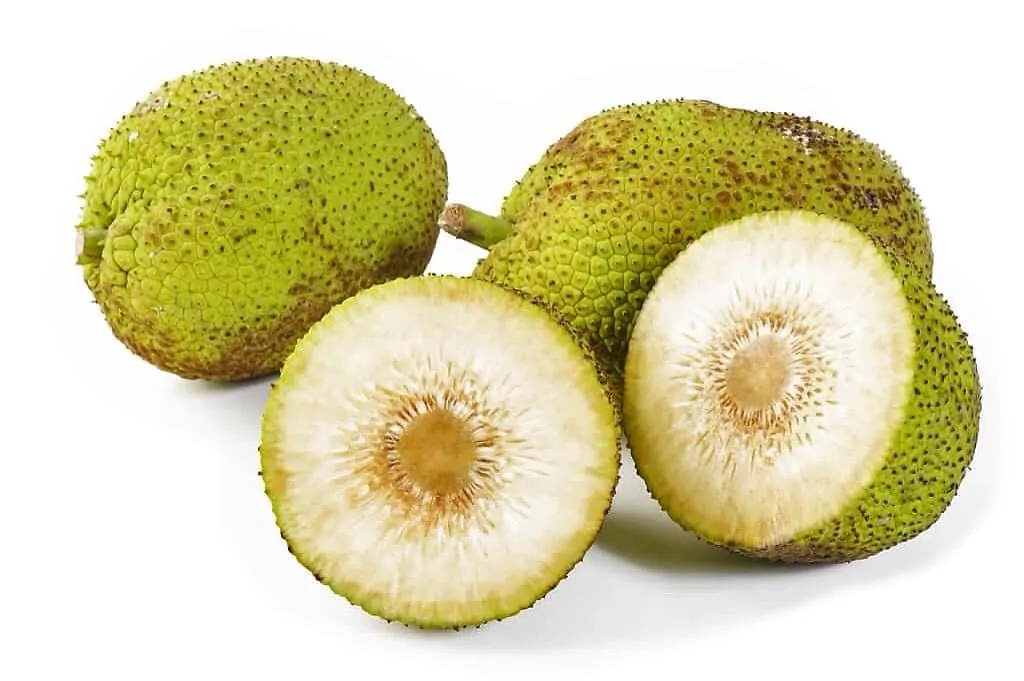 Recently, she went with some of her buddies from the Senior Center to The Buford Highway Farmers Market and told me I had to take my daughter there as there were more fruits and veggies there from our early days in Sri Lanka.
Of course, I had to take her up on her suggestion – and that's where my daughter and I ran into Breadfruit.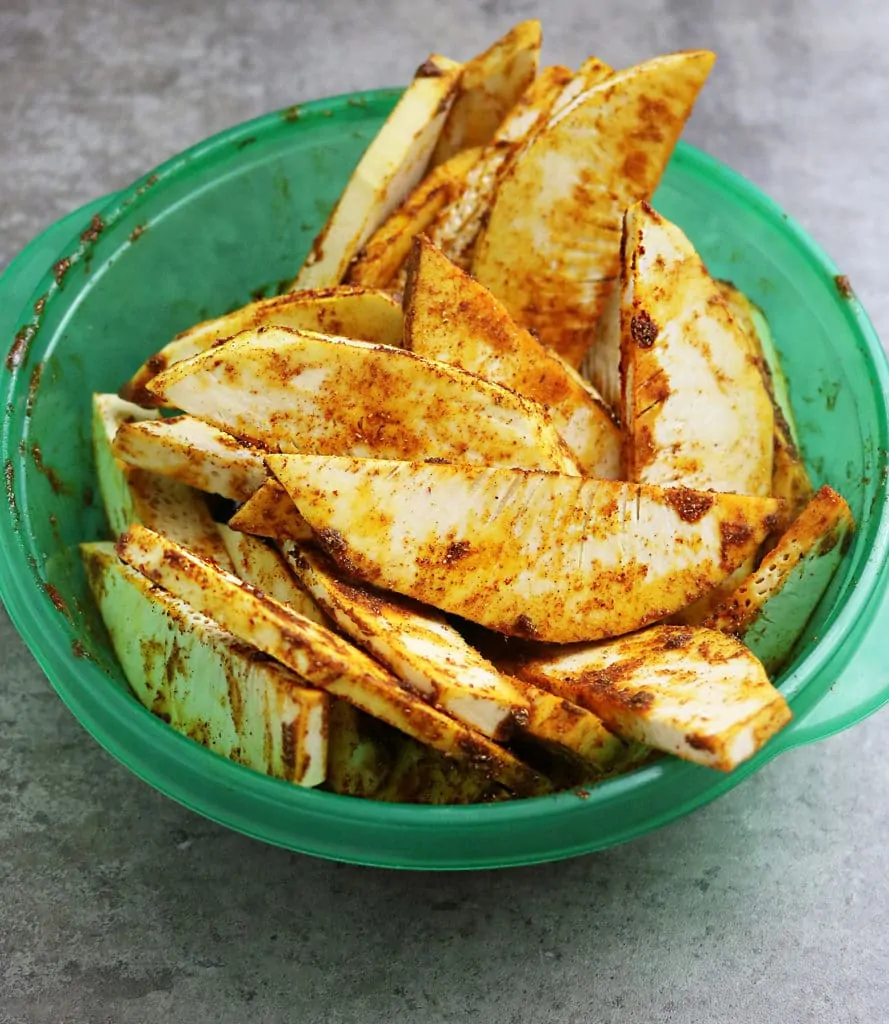 What is breadfruit?
From the outside, Breadfruit looks similar to its cousin, Jackfruit with a prickly-looking green exterior. However, on the inside, it is paler – with a more beige / white-colored flesh.
Also like jackfruit, it's incredibly versatile and, some say, has a distinct odor.
What does breadfruit taste like?
Ripe Breadfruit is considered to be a fruit, but some folks refer to it as a vegetable when it's mature and not fully ripened. Some folks say it can taste like freshly baked bread, others say it tastes like a cross between a pear and water chestnut.
In Sri Lanka, it used to be a budget-friendly, nutritious option to enjoy in many, many different ways.
How to eat breadfruit?
Breadfruit can be boiled, roasted, baked, curried, and enjoyed as a sweet treat or a savory/spicy dish – ripe, sweet, breadfruit can also be enjoyed raw!
When my mom gets her hands on breadfruit, she uses it to make a killer curry. But, I didn't go the curry route when I got my hands on one.
I, instead, peeled it, sliced it, and treated it like I would potato wedges.
I spiced these breadfruit wedges with coriander, smoked paprika, turmeric, and cumin. And, then baked the heck out of them. When they were ready, we enjoyed them with ketchup. They are also delicious dunked into some sweet chili sauce or served alongside some apple chutney or mango chutney.
Have you happened to run into breadfruit in your neck of the woods? If you do -maybe you'd give these Spicy Breadfruit Fries a try?