Easy, tasty, and dairy-free, this 15 minute vegetable curry is made with frozen vegetables in a deliciously spiced coconut sauce. This aromatic curry is a delightfully satisfying dinner recipe paired with rice or roti.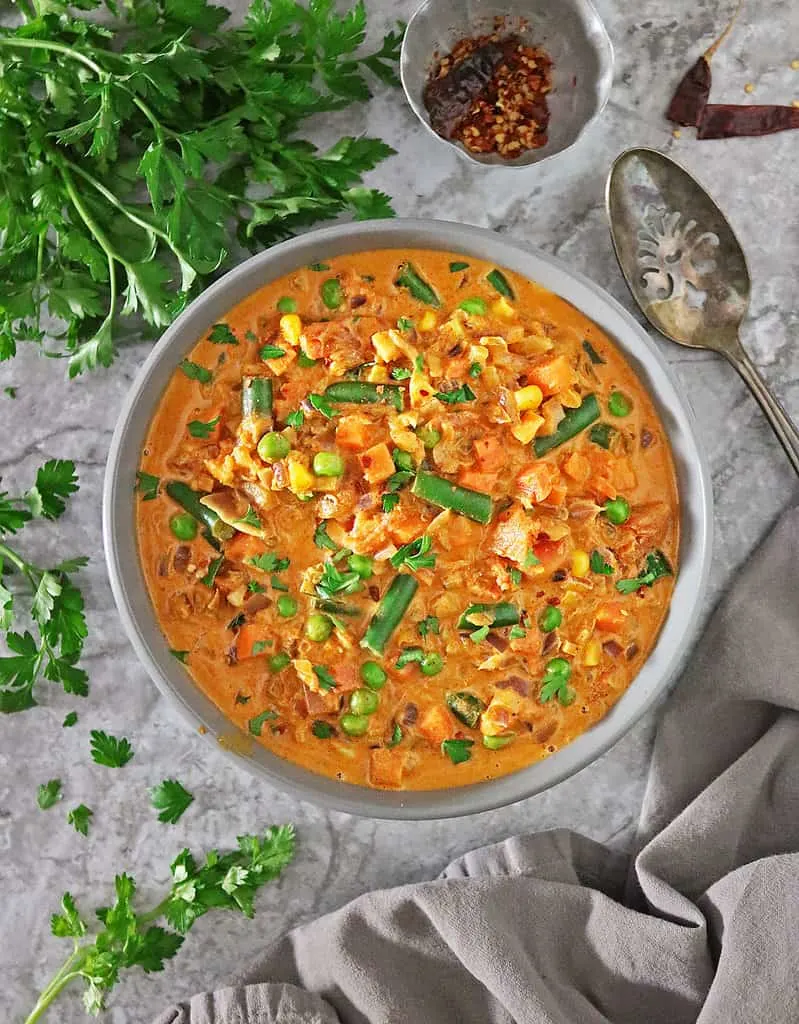 There are so many reasons why I love this vegetable curry.
It is so quick to make. Once you have the ingredients, this curry has a 15 minute cooking time.
It is downright delicious. Like, lick-the-plate sort of delicious.
It is dairy-free, so perfect for you if you are trying to avoid lactose.
And, it is my idea of comfort food.
Now, this might not be a traditional Sri Lankan vegetable curry. Mainly because I don't use ingredients that would go into a traditional vegetable curry. For example, my mom likes to use tamarind, curry leaves, and Sri Lankan curry powder in her vegetable curry. But, to me, this curry does a good impersonation of a traditional one.
This curry is made with ingredients you can find at most grocery stores. If you might be thinking that you don't want to buy powdered coriander just to use in this one recipe, well, I might have a solution for you.
Why not have a curry night once a week or so, much like a taco night?

I kid, I kid.

But, if you decide to go with the above suggestion, you can find more veggie curries on here (I have a few listed above the recipe card) – including this ghoulish curry for Halloween!
Before we get into the ingredients of this curry… maybe you stumbled on here looking for quick meal ideas… and are sitting there wondering…
What is Vegetable Curry?
Vegetable curry is usually a plethora of vegetables (fresh or frozen) that are cooked in coconut milk that is spiced with onions, ginger, garlic, turmeric, coriander, chili powder, tomatoes, curry leaves, and sometimes cinnamon, cardamom, and cloves.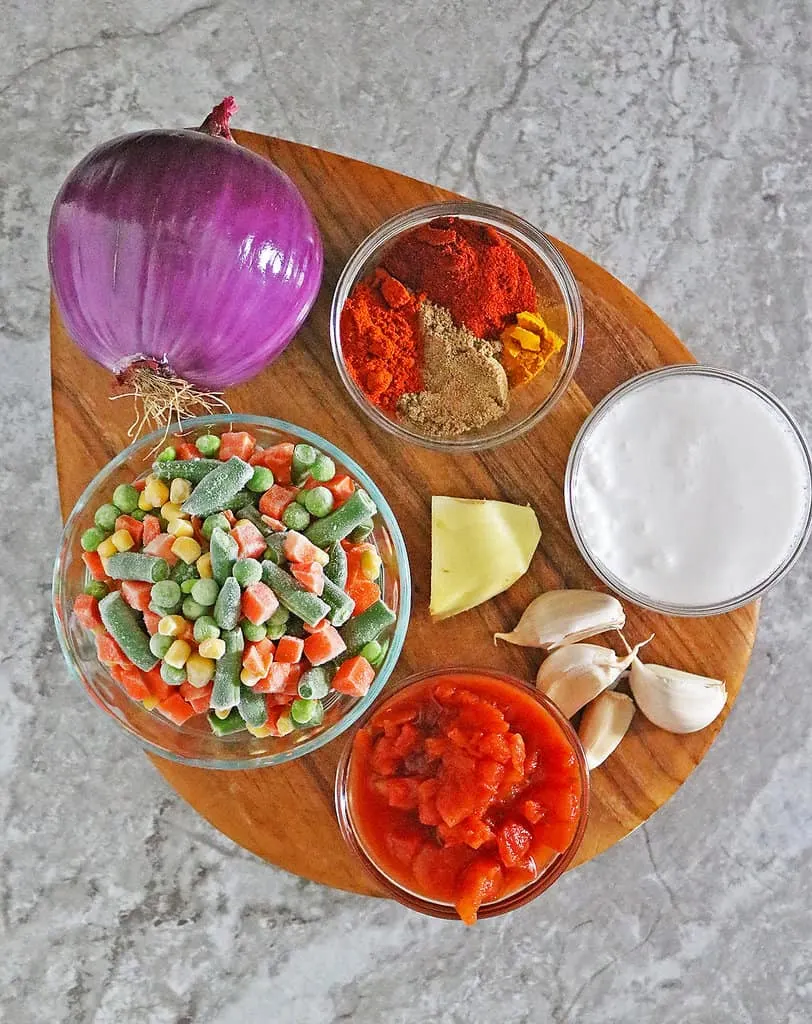 What are the ingredients needed to make this curry?
You will need the following 10 ingredients to make this, and they are:
Fresh red onion or yellow onion,
Fresh garlic cloves
Fresh ginger
Canned diced tomatoes
Coconut milk
Coriander powder
Smoked paprika
Cayenne powder
Turmeric powder
Frozen mixed vegetables
I used grapeseed oil to sauté the onion, ginger, and garlic. You can also use coconut oil or any high-heat oil. I seasoned the finished curry with salt and black pepper too. I don't usually specify the quantity of salt and pepper used in curries, as I feel this is a matter of personal taste. I also garnished this curry with parsley. You can use fresh cilantro for garnish if you happen to have that on hand.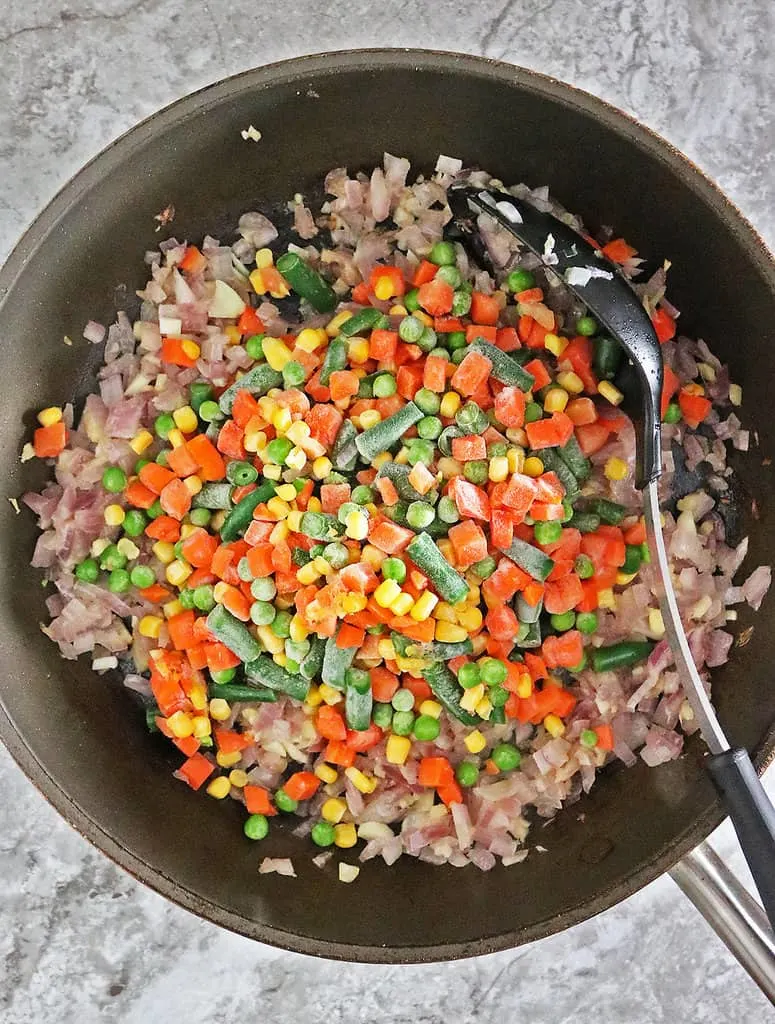 A Few Tips When Making This Curry…
If you would like to save prep time, you could use already diced onions, diced ginger, and diced garlic. These are sold in containers usually found in the produce section of most grocery stores.

Sautéing the onion, ginger, and garlic for about 10 minutes over medium heat helps to cook these until tender and release their flavors.

For this recipe, I used canned diced tomatoes. You could also use fresh tomatoes that have been chopped up. Or, canned fire-roasted tomatoes can also be used for layers of flavor. In fact, I have used fire-roasted tomatoes in this pinto bean curry and even this plantain stew with delicious results.

I have found that all packaged coconut milk is not the same. These days I have found that Embre coconut milk works so well in the curry recipes I share. I am not being paid to say this, this is just my current favorite brand. Also, from trial and error, I have found that full-fat coconut milk works better than light coconut milk, making this curry taste rich and creamy.

This curry is thick and creamy. However, if you prefer your curry less thick, add in some vegetable stock or a splash of water to it to thin it out.

If you would like to use fresh vegetables instead of frozen veggies, you could use a combination of bell pepper, sweet potatoes, carrots, peas, and green beans instead.

If you would like to add a bit of plant protein to this dish, you can also add some canned chickpeas, cooked chickpeas, or black beans to this recipe. You could also add some drained and cubed tofu for an extra protein boost.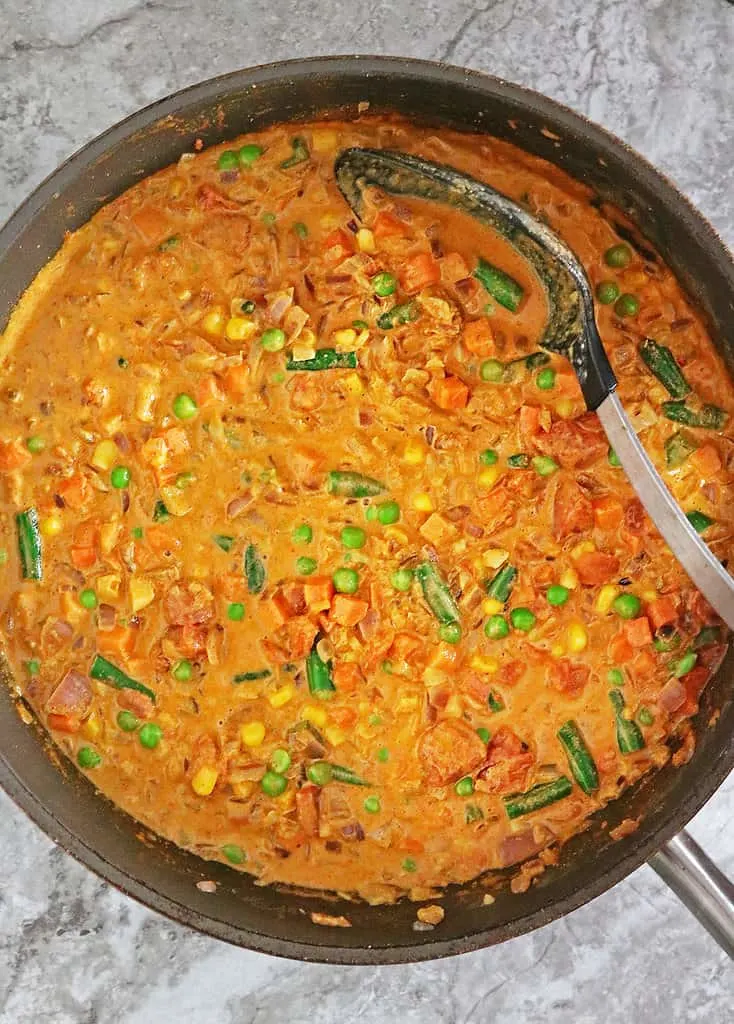 What to serve with this 15 Minute Vegetable Curry?
With just 155 calories a serving, this easy vegetarian curry can be served with some yellow rice, brown rice, Basmati rice, roti, cauliflower rice, or warn naan bread for a tasty and quick weeknight dinner.
For a more elaborate vegetarian meal, this vegetable curry can be served with some croquettes, rice, cashew curry, tofu curry, chickpea curry, chayote curry, bean curry, cauliflower curry, and some cherry chutney or apple chutney.
Or, for a non-vegetarian flavorful dinner, this can be served with some turkey ball curry, pineapple chutney, jackfruit seed curry, egg curry, and garlic chili chicken croquettes.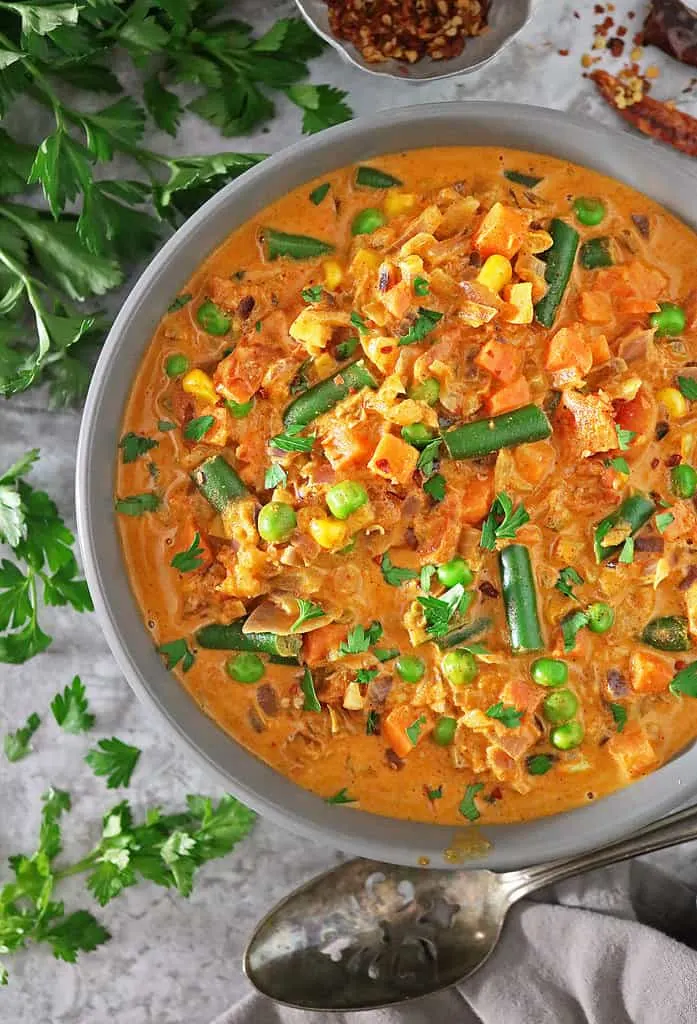 How do you store leftovers?
Store any leftovers of this mixed vegetable curry in an airtight container in the fridge. This curry will stay good for about 4–5 days in this manner.
Any leftover curry can also be frozen. But, do keep in mind that when this curry is thawed out, the coconut milk in it might tend to separate. This would not make for an appetizing look or feel. Now, if you don't necessarily want to keep this delicious curry dairy-free, you could use heavy cream instead of coconut milk.
How to heat up leftovers of this delicious plant-based curry?
You can heat up leftovers of this curry by placing the leftovers in a microwave-safe dish and microwaving it on high heat for 30-second increments until the desired heat level is reached.
You can also heat this curry up in a pan over the stovetop.
---
Hiya, I'm Shashi, the blogger behind Savory Spin. Here you can browse a collection of super easy, economical, mostly fusion recipes that can be made with ingredients from your local grocery store ~ find out more here. Please do let me know in the comments below your thoughts on this dish. If you make this, please do tag @savoryspin on Instagram to have your post shared or Pinterest to let me know.