This recipe is for a small batch of Eggless Praline Pecan Cranberry Cookies. These cookies are delicious and so easy to make. In fact, you do not need an electric mixer nor do you need to chill the dough. Just mix, bake, and enjoy!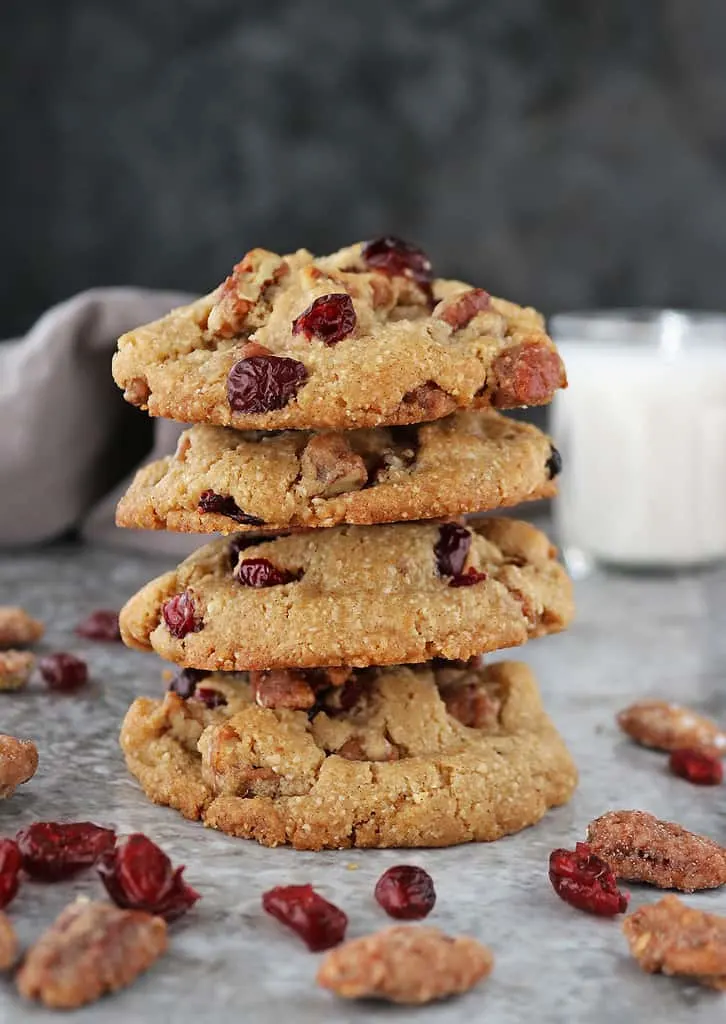 I made these Praline Pecan Cranberry Cookies for my daughter. This first week of December is her birth week and instead of a birthday cake, she wanted birthday cookies. So I obliged.
Pecans and cranberries are some of her favorite snacking options. Well, I happened on some vegan praline pecans recently and decided to use them along with some dried cranberries in this super easy cookie recipe.
This Eggless Praline Pecan Cranberry Cookie recipe is a slight spin on this Vegan Pumpkin Chocolate Chip Cookie recipe. This recipe results in a cookie that is slightly crispy on the outside, with a delightful crunch from the praline pecan bits scattered throughout each cookie, and a nice tang from the bits of dried cranberries.
This recipe results in 4 large cookies or 8 small ones. You can easily double or triple the recipe to make as many as you need. Or, if you want just a small batch of cookies to enjoy – then this recipe is perfect just as is.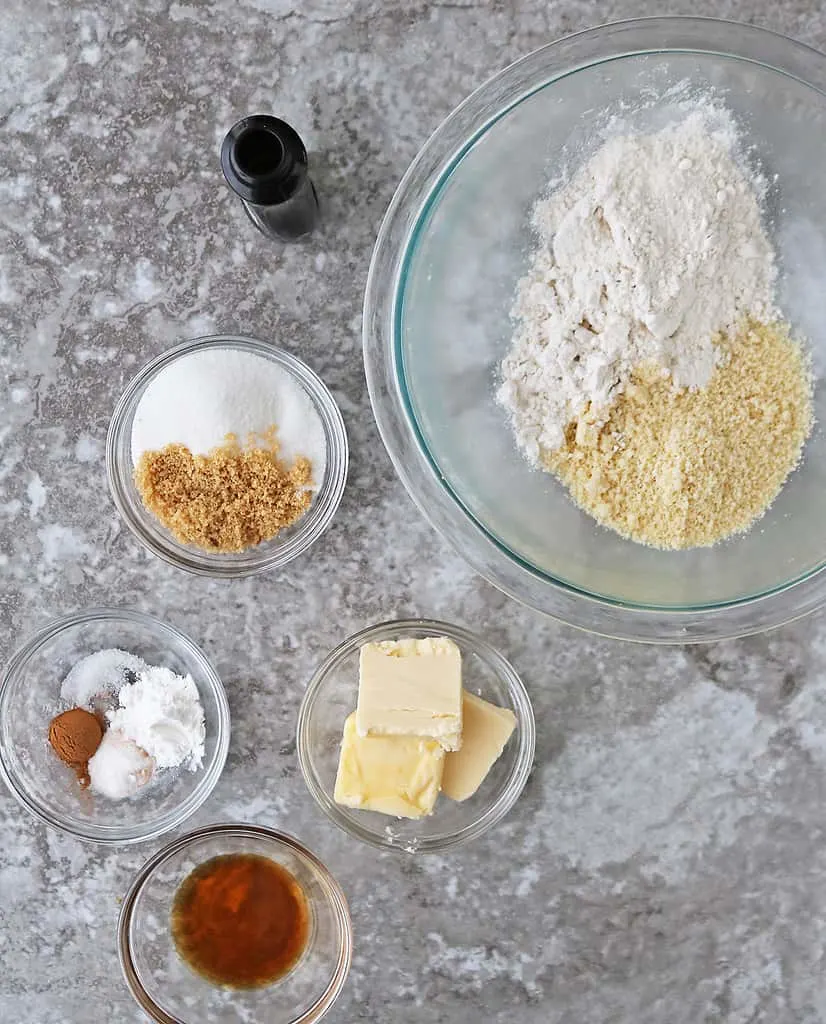 What are the ingredients needed to make these Eggless Praline Pecan Cranberry Cookies?
Even though this recipe is a quick and easy one, you will need the following 13 ingredients to make these cookies:
Vegan Butter
From trial and error I have found that not all vegan butters are created equal. Some work great in cookie recipes, some others work well in cakes, and yet others are delicious to enjoy on toast. When I make vegan cookies I find that Earth Balance Vegan Butter Sticks work well for me.

Vanilla Extract
Make sure to use pure vanilla extract and not artificial vanilla extract to add aroma and flavor to these cookies.

Almond Extract
A little bit of almond extract goes a long way in adding a delightful aroma to this recipe. But, if you do not have any on hand, it is the only item on here you could leave out.

Granulated Cane Sugar
I use granulated sugar in this recipe as it helps the cookies crisp up a bit. Granulated sugar is said to absorb the liquid in the dough, which ultimately leads to a crisper cookie.

Light Brown Sugar
The addition of light brown sugar results in a slightly caramel flavoring as well as light brown sugar gives these cookies a slightly chewy texture.

Almond flour
I love to use. acombination of almond flour and all-purpose flour as the almond flour adds texture and richness to these cookies that just isn't there when only flour is used. By the way, I always use finely ground almond flour in my cookie recipes.

All Purpose Flour
I use regular enriched all-purpose flour. But, you can also use gluten-free all-purpose flour to make these cookies gluten-free.

Salt
Just a pinch is all I use. Yes, the vegan butter sticks do have salt in them, but I feel just a pinch adds in a smidge more flavor.

Cinnamon
I love to add in just a hint of cinnamon to most cookie recipes – it is not too noticable and seems to balance out all the other flavors beautifully.

Baking Powder
Make sure the baking powder you use has not expired.

Baking Soda
Same goes for the baking soda.

Praline Pecans
While I used praline pecans in this recipe, you could also use regular pecans in these cookies.

Cranberries
I used dried cranberries in this recipe. Fresh cranberries would not be a good substitute. However, you could use raisins if you prefer or even dried dates.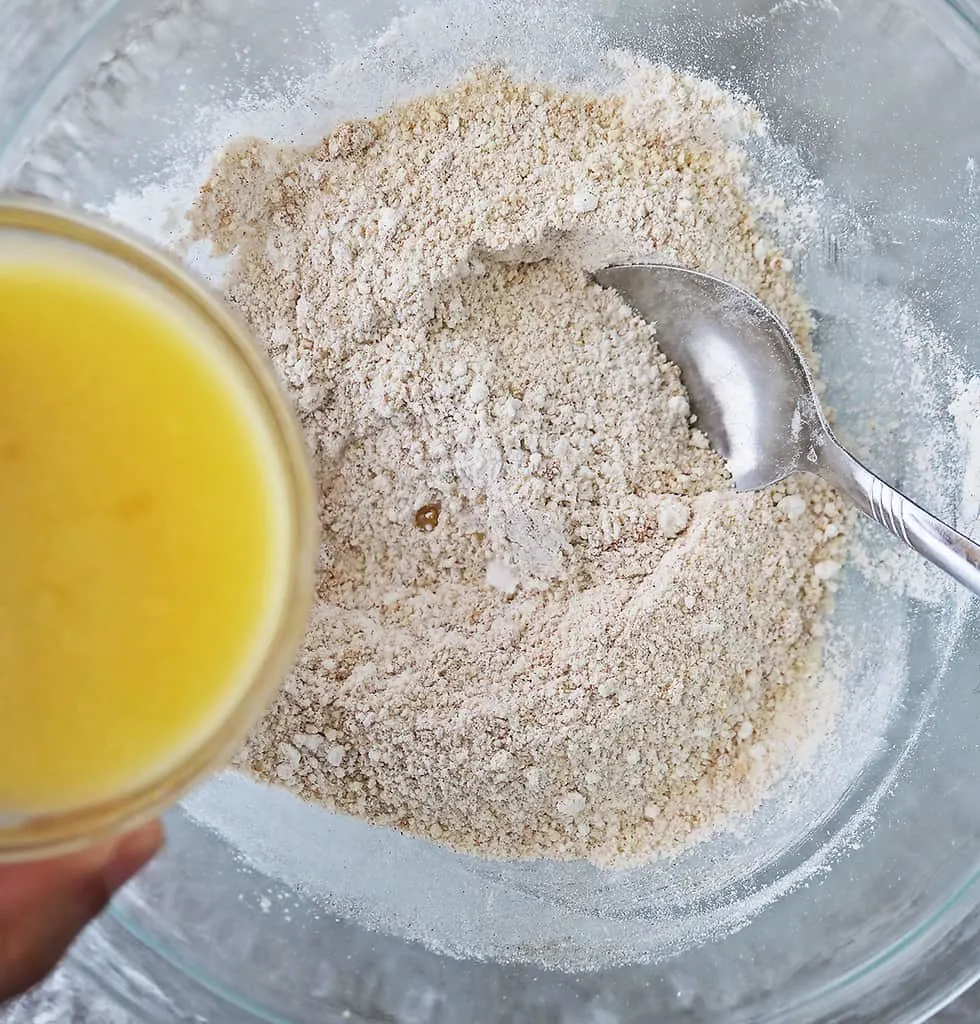 These cookies are so easy to make…
Once you have all the ingredients, these cookies can be whipped up in a jiff. Simply combine your dry ingredients together, then melt the vegan butter and add in the vanilla and almond extracts to it, then combine it with the dry ingredients. Add in the praline pecans and the dried cranberries and combine well. Then, divide the dough into 4, place them on a baking tray, bake and enjoy after they have cooled slightly.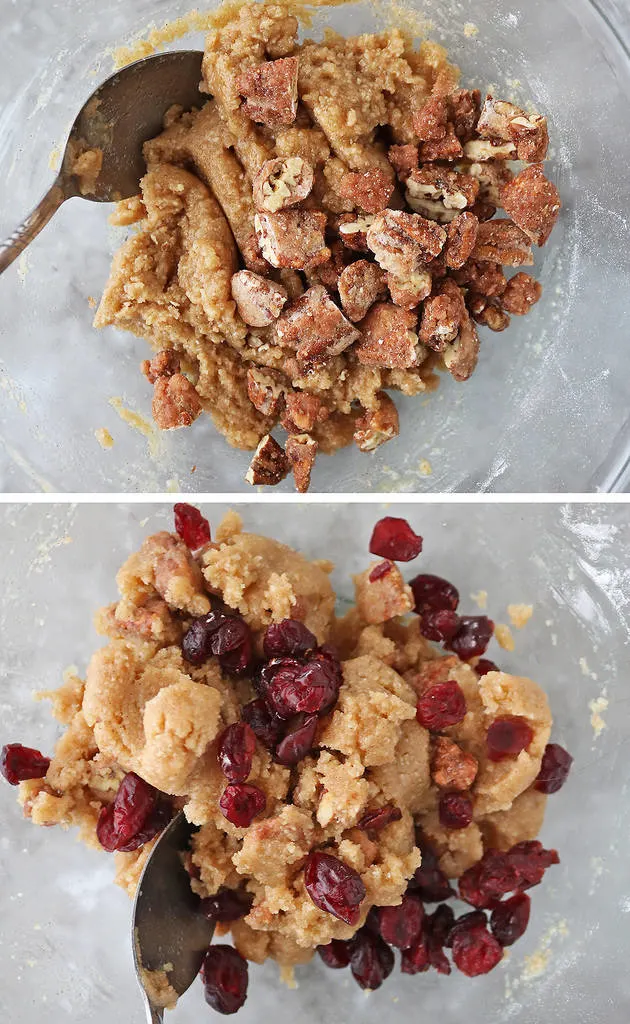 As this is a small batch of cookies, they do not last two long in our home. I made these on a Satuarday before I hopped on a plane on Sunday to come visit my daughter. She polished off the last of these a couple days after. So, I would say these would last about 4-5 days in an air-tight container.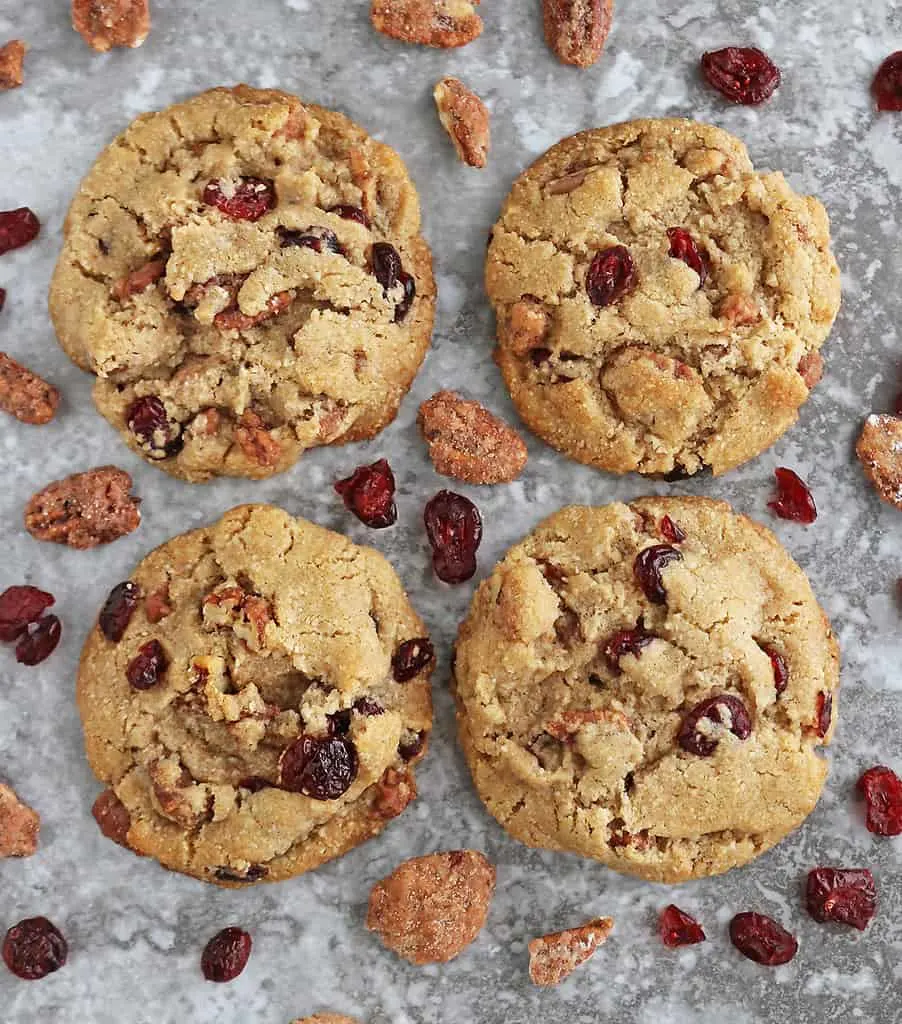 I also made these eggless praline pecan cranberry cookies to share as part of The Sweetest Season Cookie Exchange.

The Sweetest Season Cookie Exchange is a one of a kind cookie exchange. It is organized by Erin Parker of The Speckled Palate. And, it is a virtual cookie exchange of delicious cookies by fellow food bloggers to raise awareness and funds for Cookies For Kid's Cancer.
Cookies for Kids' Cancer was started in 2007 by Larry and Gretchen when their 2-year-old Liam Witt was diagnosed with childhood cancer. The lack of effective treatments for pediatric cancers due to lack of funding lead them to support the funding of research for safer, more effective treatments for children battling cancer.
With the help of 250 volunteers, Gretchen baked and sold 96,000 cookies, raising more than $400,000 for research. Word spread, and people nationwide began asking, "How can I help?" From that giant cookie bake, Cookies for Kids' Cancer was born.
Cookies for Kids' Cancer is a recognized 501(c)3 non-profit organization dedicated to funding research for new, innovative and less-toxic treatments for childhood cancer. Cookies for Kids' Cancer is in a matching window with their friends at OXO, who will be matching every dollar raised through the end of 2021, up to $100,000. Whatever money we raise will automatically double on our fundraising page! So please, open your hearts and wallets and help support a worthy cause.