Flavored with a hint of cardamom and cinnamon, these tender and buttery, vegan spritz cookies are melt-in-your-mouth delicious!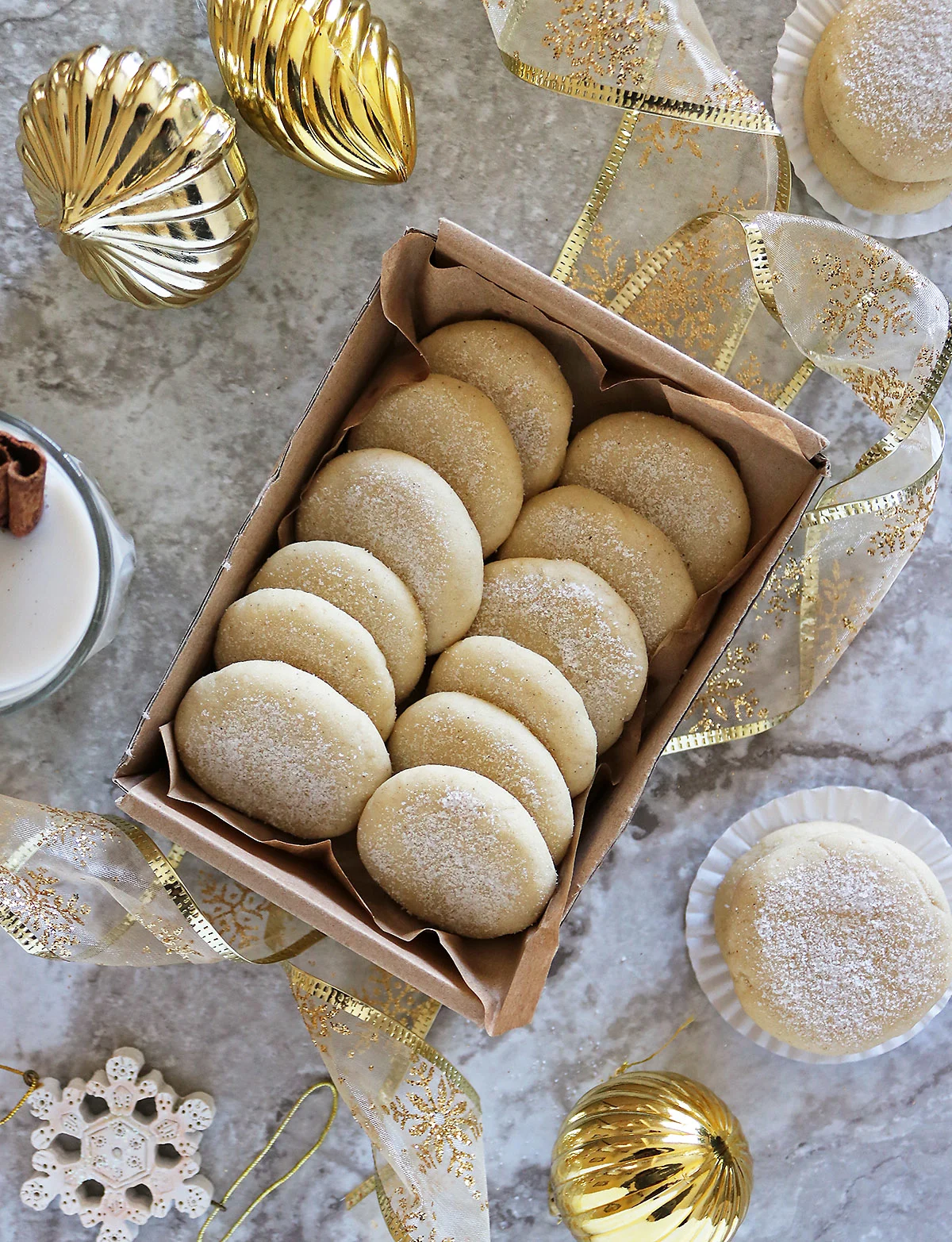 Soft and buttery, these delicious vegan spritz cookies are perfect for gifting and sharing. Unlike traditional spritz cookies, these are made with vegan butter, sugar, flour, and a smidge of cinnamon and cardamom for added flavor. These are egg free yet tender, buttery, and ever so slightly crisp.
Traditional spritz cookies are made with a dough that is similar to the one used to make butter cookies. This dough is usually conformed into shapes with the help of a cookie press.
A little food history…
The word "spritz" is said to come from the German word "spritzen" which is said to mean "to spray" or "to squirt."
In Germany, traditional Christmas cookies called "Spritzgebäck" are made by squeezing or squirting dough through a cookie press. While the cookie press originated in the 16th century, some state that the Germans invented it while others say that the Scandinavians did so.
But… getting back to these vegan spritz cookies…
I seem to have given away my cookie press so instead of buying another, I decided to make do with what I had on hand.
So, these vegan spritz cookies you see here today were made by squeezing (or squirting) dough through a small hole cut into a sandwich bag.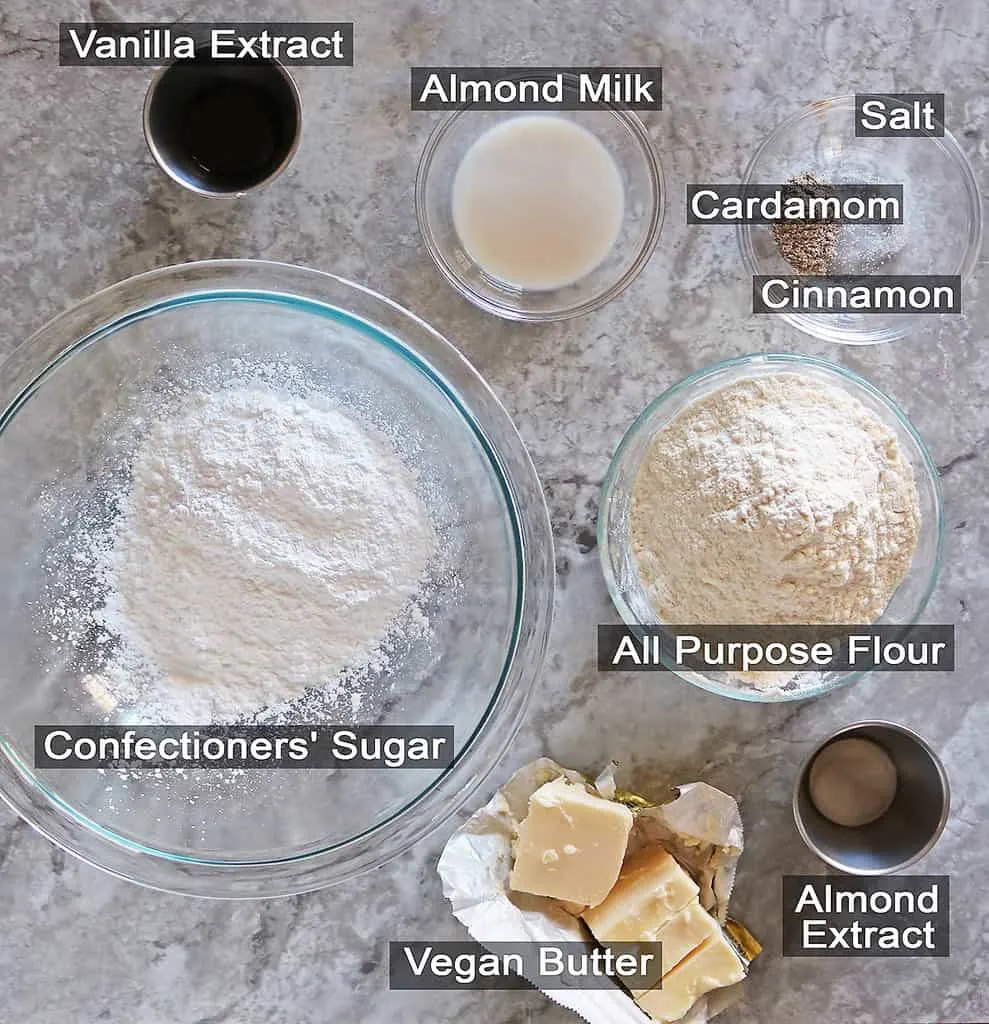 What are the ingredients needed to make these vegan spritz cookies?
You will need the following 9 ingredients to make these vegan spritz cookies:
Vegan butter [my favorite butter for vegan baking is Earth Balance and am not being paid to say that ;)]
Confectioner's sugar or powdered sugar
All-purpose flour
Vanilla extract [I prefer to use pure vanilla extract or vanilla bean paste]
Almond extract
Cardamom [ground]
Cinnamon
Almond milk [or any plant-based milk]
Granulated sugar, for decoration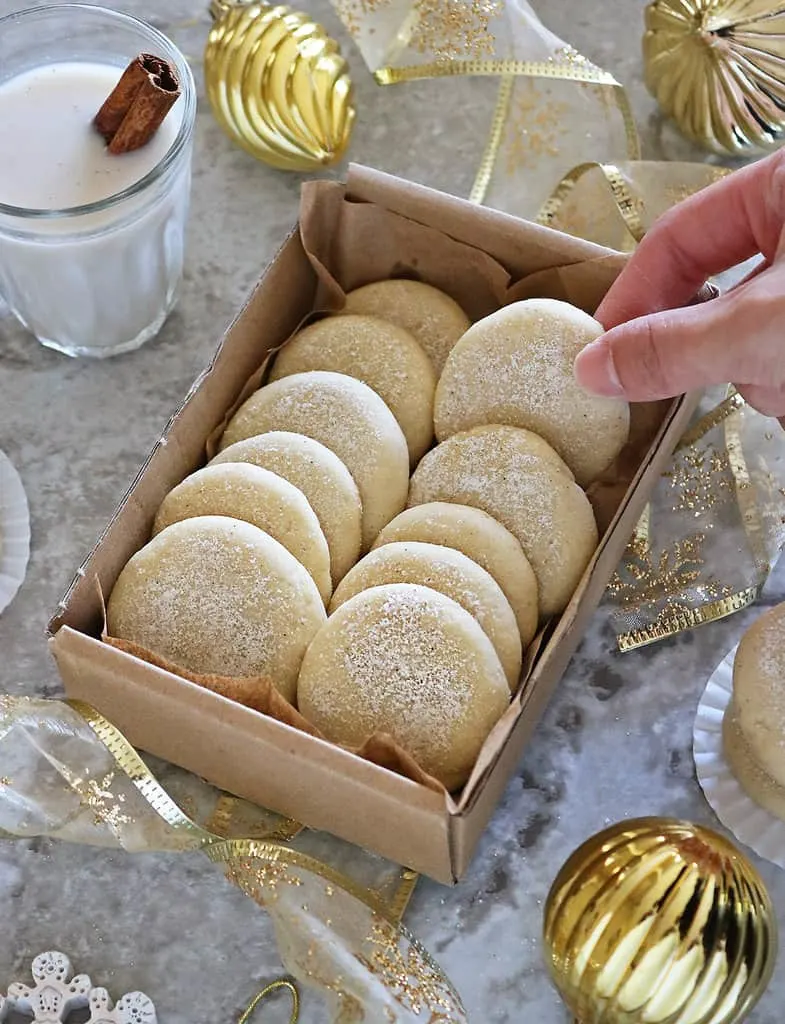 A few notes…
When selecting a vegan butter to use when making these cookies, I have found that one that holds its form at room temperature works best. In my limited experience, Earth Balance vegan butter sticks hold up well and always result in buttery, soft cookies. I have not had much luck with several other vegan butter or dairy-free spreads. However, I have only tried a handful so if you have a suggestion, please do let me know in the comments below.

In order to bake up light and buttery vegan spritz cookies, make sure to not over-mix the flour. If you are using an electric hand mixer, once the sugar and butter are creamed and the other ingredients beaten in, mix the flour only until well incorporated. Or, you could mix in the flour using a spoon or spatula. Over-mixing after the flour has been added could lead to over-developing gluten which, in turn, could result in a dense and tough cookie.

If you do not have a cookie press, no need to fret. You can still enjoy these cookies. You could use a sandwich bag with a hole cut into an end to press this dough through. Or, you could simply pinch off a spoonful, roll it into a sphere, and lightly flatten it before baking.

However, if you use a cookie press and have a hard time getting the dough to stick to the cookie sheet, chill the cookie sheet for about 30 minutes before pressing the vegan spritz cookie dough onto it.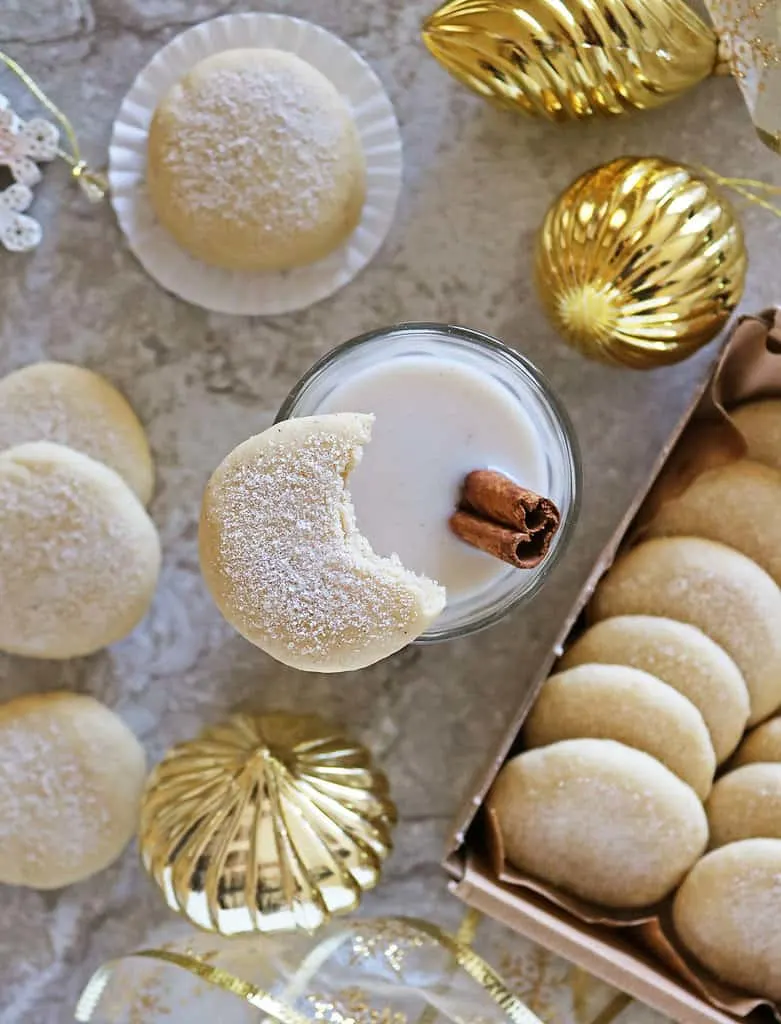 Can you freeze this vegan spritz cookie dough or baked cookies?
Yes! You can freeze this vegan spritz dough for up to 2 months. Then let thaw to room temperature on your kitchen counter, before pressing through a cookie press.
You could also bake a batch or 3 of these vegan spritz cookies and freeze them like I am doing currently. When ready to enjoy, leave them out on your kitchen counter to thaw at room temperature.
We love these vegan spritz cookies…
These vegan spritz cookies are flavored with a hint of cardamom and cinnamon with subtle notes of almond and vanilla lingering on your palate. They are a delicious addition to your holiday cookie roundup. And perfect for gifting to your vegan friends.

These cookies are also my contribution to The Sweetest Season Cookie Exchange.
This year is my fourth time participating in the Sweetest Season Cookie Exchange, which is a one-of-a-kind cookie exchange. It is organized by Erin Parker of The Speckled Palate. And, it is a virtual cookie exchange of delicious cookies by fellow food bloggers to raise awareness and funds for Cookies For Kid's Cancer.
Cookies for Kids' Cancer was started in 2007 by Larry and Gretchen when their 2-year-old Liam Witt was diagnosed with childhood cancer. It is a recognized 501(c)3 non-profit organization dedicated to funding research for new, innovative, and less-toxic treatments for childhood cancer.
Cookies for Kids' Cancer is in a matching window with their friends at OXO, who will be matching every dollar raised through the end of 2022 ~ up to $100,000.
So whatever money we raise will automatically double! So, if you are looking for an organization to support this holiday season, please check out The Sweetest Season fundraising page for Cookies for Kids' Cancer.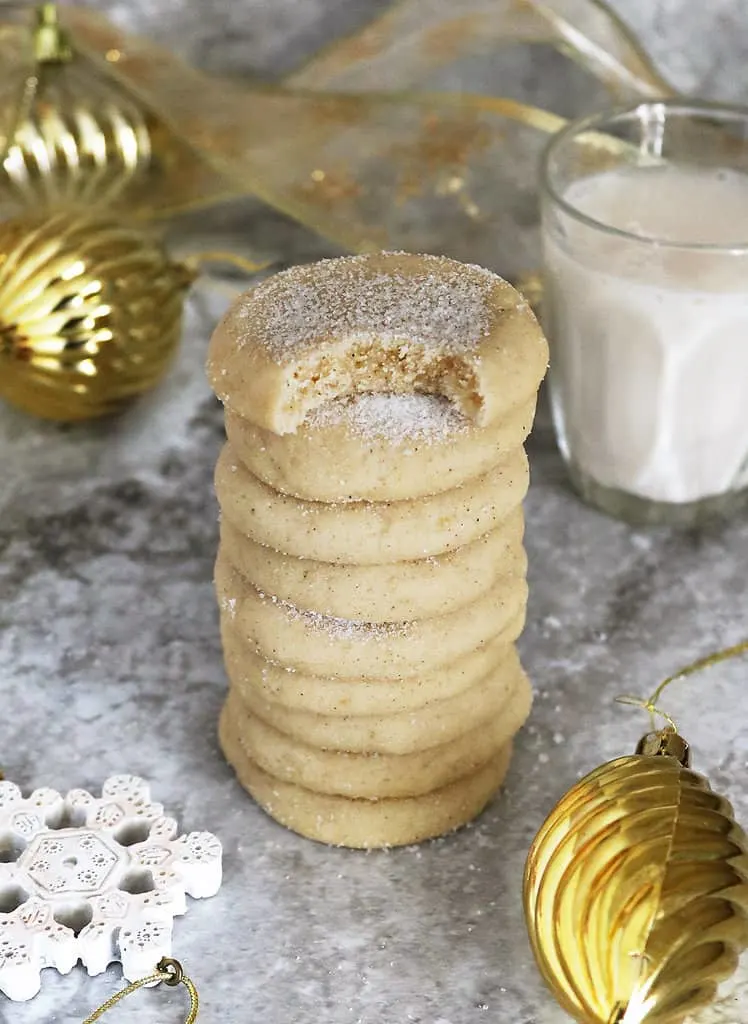 Thanks so much for stopping by. If you make this recipe, please let me know in the comments below what you think of it. For more fusion, spice-filled, recipe ideas, please subscribe and follow me on Instagram and Pinterest!