Need a unique cookie recipe to add to your annual cookie exchange? These Easy Fruitcake Cookies are slightly chewy, butter-free, and packed with dried fruits and nuts!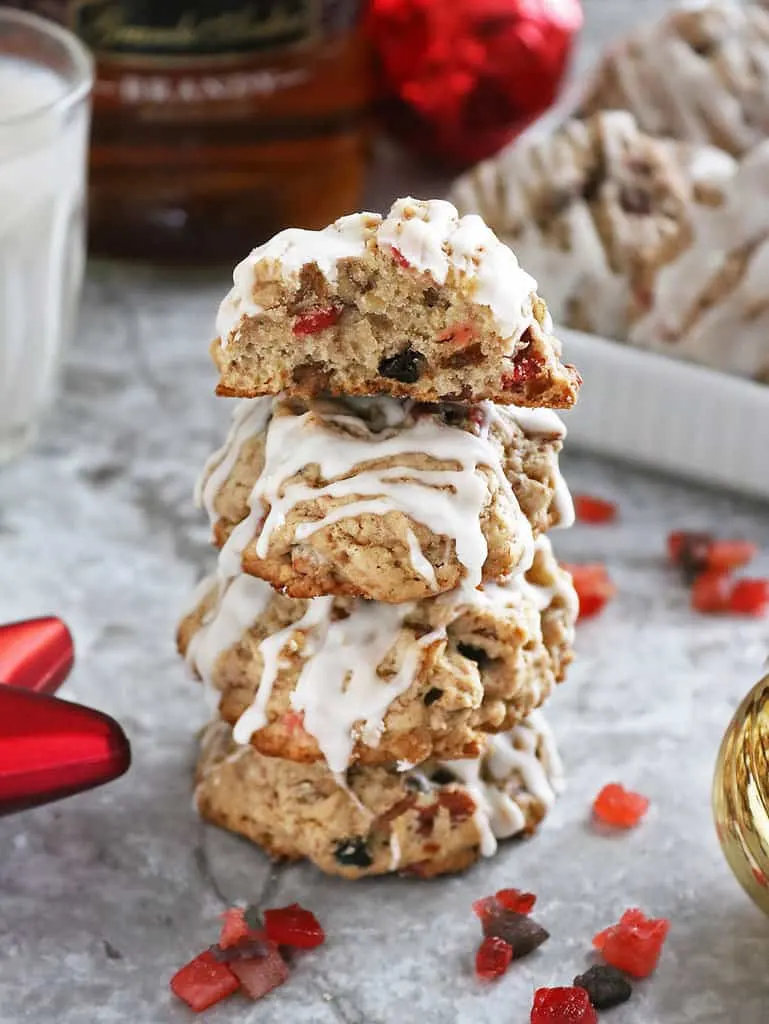 I took the traditional Sri Lankan Christmas Cake of my youth and adapted the recipe to come up with these decadently delicious, Easy Fruitcake Cookies.
A version of these cookies first appeared on Sofab food. These ever so slightly chew Fruitcake Cookies are dairy-free and taste incredible.
If I say Christmas Cake, you probably think about fruit cake, right?
But, the traditional Sri Lankan Christmas Cake I grew up on was far, far from the fruit cake that adorns most grocery store shelves this time of year.
Yes, it has fruits and nuts in it, but it also has brandy and jam in it, and it is made months in advance because the longer it sits, the better it tastes – just like a fine wine.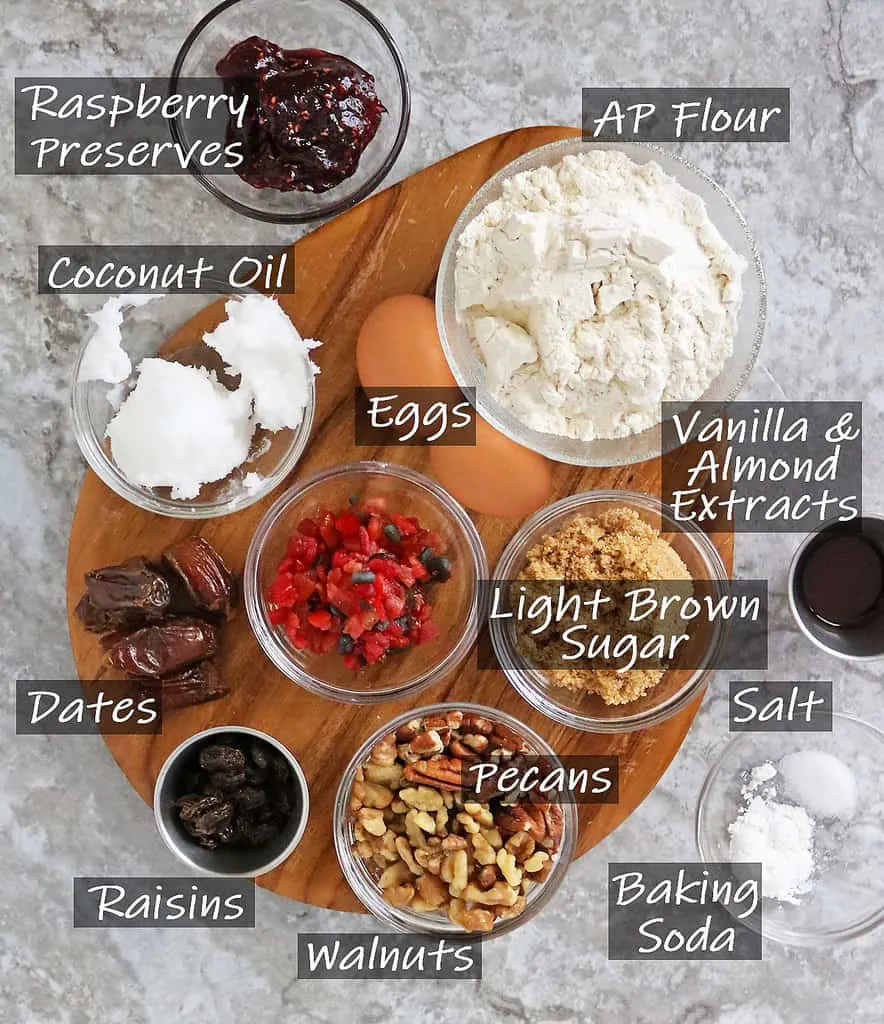 What are the ingredients needed to make these fruitcake cookies?
You will need the following 14 ingredients to make these cookies:
Medjool dates
Raisins
Coconut oil
Light brown sugar
2 Eggs
Raspberry preserves
Walnut pieces
Pecan pieces
Salt
Fruit and peel mix
Baking powder
Vanilla extract
Almond extract
All-purpose flour
Once you have all your ingredients together, it takes about 15 minutes to mix up the batter and another 15 minutes or so to bake these. I have chilled the dough before for just a few minutes. But, I did not chill the dough for this batch.
So, if you need a cookie to add to your Holiday cookie platter, these fruitcake cookies are quick, easy, tasty, and a unique spin to any cookie platter!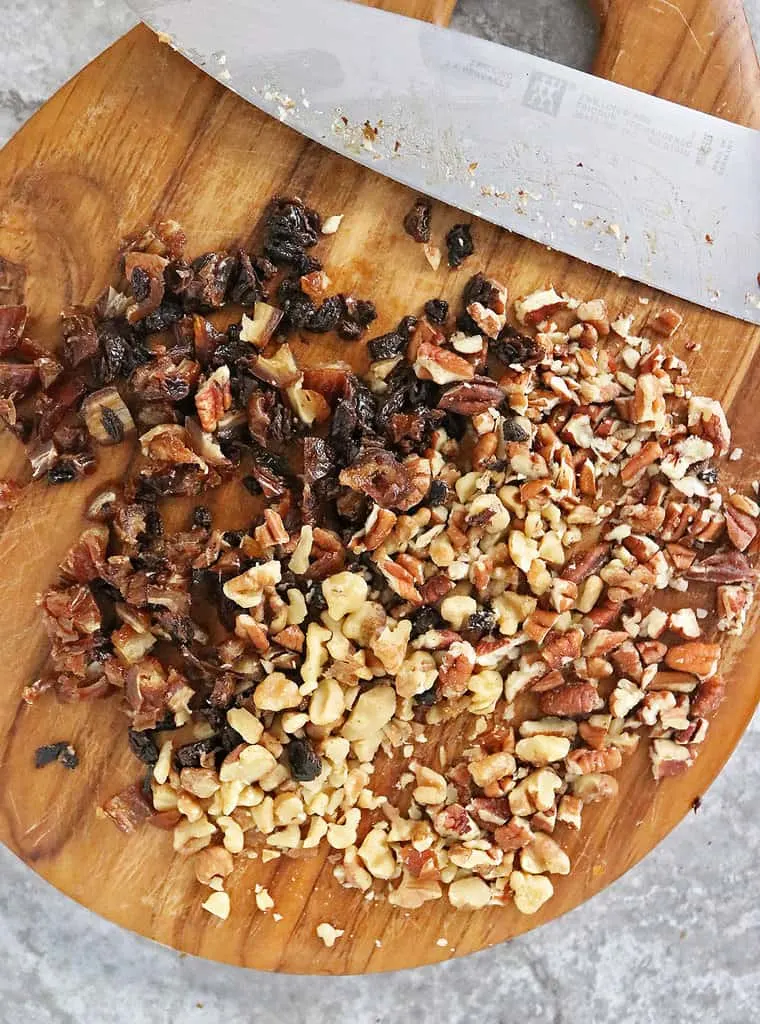 When I was a youngster, my parents would start making our traditional Sri Lankan Christmas Cake months ahead of Christmas. My dad and mom would cut up what seemed like cups and cups of glazed cherries, candied ginger, dates, raisins, ginger peel, lemon and lime peel, and cashews.
Then, using a huge wooden spoon and what seemed like a cauldron, my dad would mix those fruits and nuts with brandy, jam, and golden syrup.
That sweet boozy smell was intoxicating – and we hadn't even gotten to baking it yet!
My parents would usually cover this concoction up with plastic and let it sit for a few days so the booze and fruits and nuts got well acquainted. Then semolina and aromatic spices like cinnamon and cardamom, sugar, and a boatload of eggs were added in.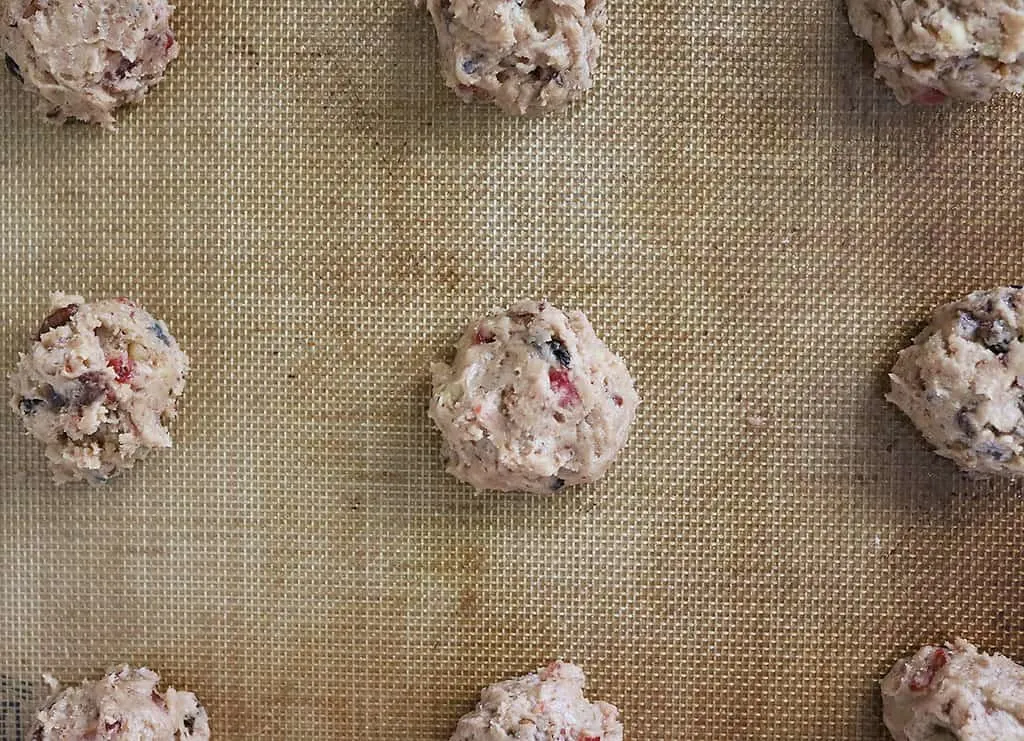 Then this cake mix would be poured into heavily lined baking trays and the cake would be baked for three to four hours over a very low flame.
And ~ y'all ~ the smell!
Wow – it was simply swoon-worthy!
Now, when that cake finally emerged, my mom would cut it into small 2×2 inch slices and then wrap each slice up.
Slices of Sri Lankan Christmas Cake were so incredibly treasured. And, to me, one of the reasons I enjoyed visiting numerous relatives and friends while we lived in Sri Lanka. A few years ago, I missed that Sri Lankan Christmas cake so much, I made these Christmas Cake Cupcakes.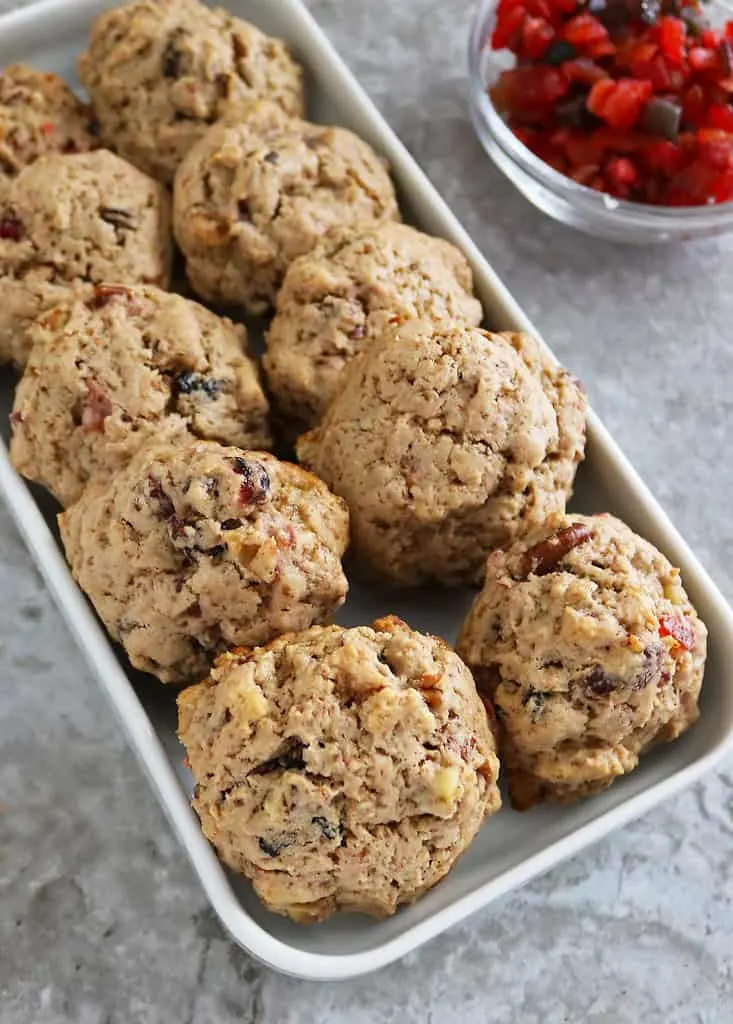 I used elements of that Sri Lankan Christmas Cake of my youth in these Easy Fruitcake Cookies.
Now, I did not marinate the fruits and nuts in brandy for days. In fact, for this version, I left the brandy out (only using a bit in the drizzle). I whipped everything up the same day.
I also exchanged the butter for solid coconut oil. While I used all-purpose flour in this recipe, you could substitute it for some gluten-free all-purpose flour.
Even with my adaptations, the smell permeating my kitchen when these were baking took me on a trip down memory lane!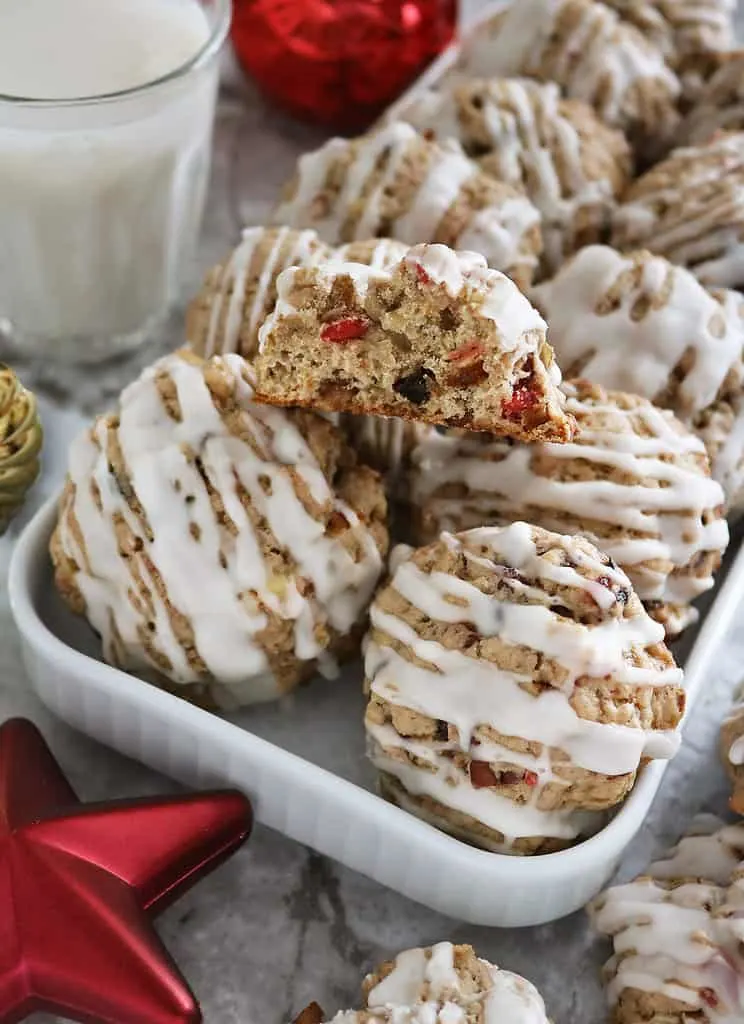 When these came out of the oven, I forced myself to wait until they were somewhat cool before digging into one. And then I thought, why not make a quick drizzle or frosting for these with brandy?
So, I mixed up some confectioners sugar with brandy and drizzled it over these cookies/. Only one word came to mind as I sank my teeth into one of these ~ glorious.
These cookies are so good – I sure hope you give these a try! If you are looking for a plain, eggless cookie, check out these vegan spritz cookies too.
Thanks so much for stopping by. If you make this recipe, please let me know in the comments below what you think of it. For more fusion, spice-filled, recipe ideas, please subscribe and follow me on Instagram and Pinterest!