These 11-ingredient vegetarian mushroom lentil burgers are loaded with mushrooms, lentils, and a tad of sweet potato. Served with an avocado-lime sauce on a salad or bun, they are a delicious meal option.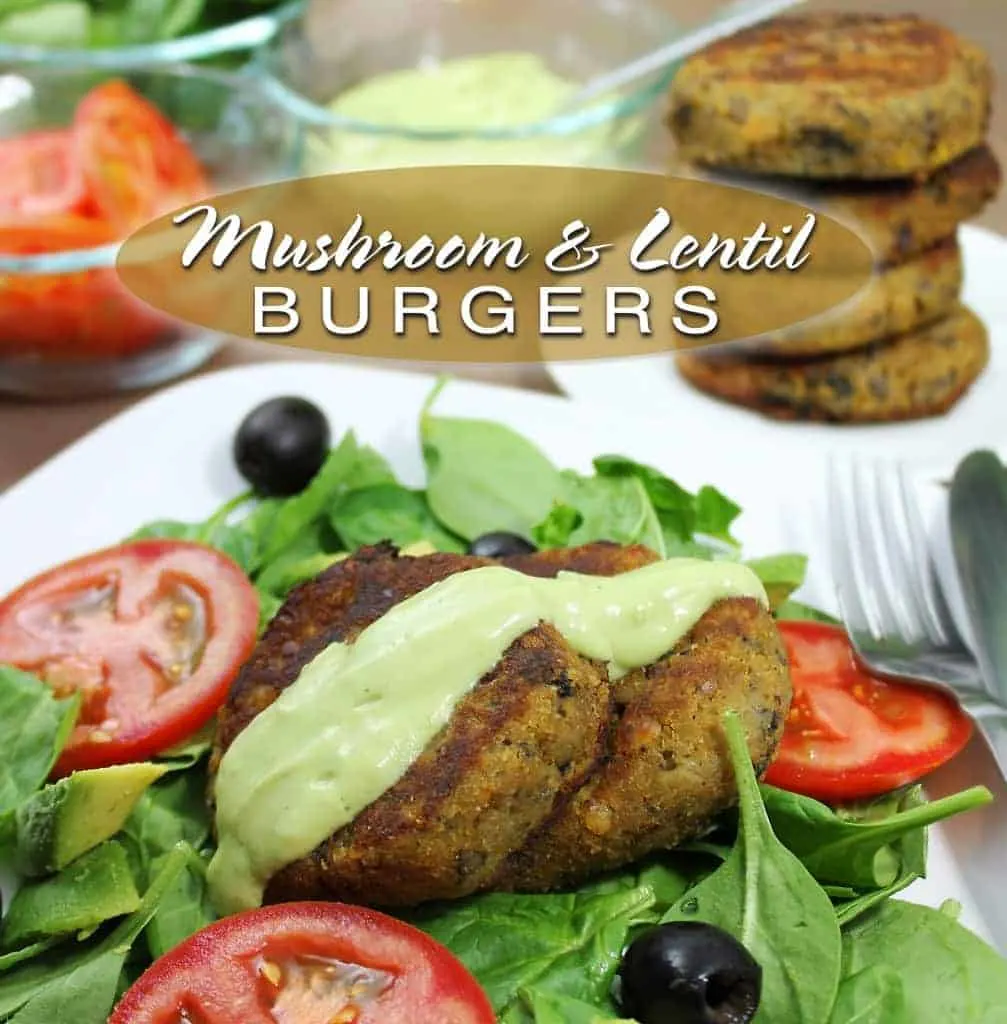 My daughter and I love these mushroom lentil burgers.
These burgers are made with only 11 ingredients. Served with a salad or on a bun with all the fixings, they are a wholesome and delicious vegetarian meal. Add them to your weekend meal prep and snack on these all weak!
The 11 ingredients needed to make these vegetarian mushroom lentil burgers are:
Olive oil
1/2 onion chopped
1/2 inch piece of ginger chopped
2 cloves garlic chopped
1 cup lentils (dry red lentils boiled in water for 30 minutes or 1 can 16 oz canned lentils)
1/2 a baked /cooked sweet potato
2 portabella mushroom caps chopped
1 egg
1/2 tsp salt
1/2 tsp pepper
1/4 tsp cumin
1/4 tsp coriander
2 tablespoons coconut flour
You can save time by using canned lentils and any leftover sweet potato you might have around. If you don't have a sweet potato but have a cooked/baked white/yellow/baking potato, that would work as well!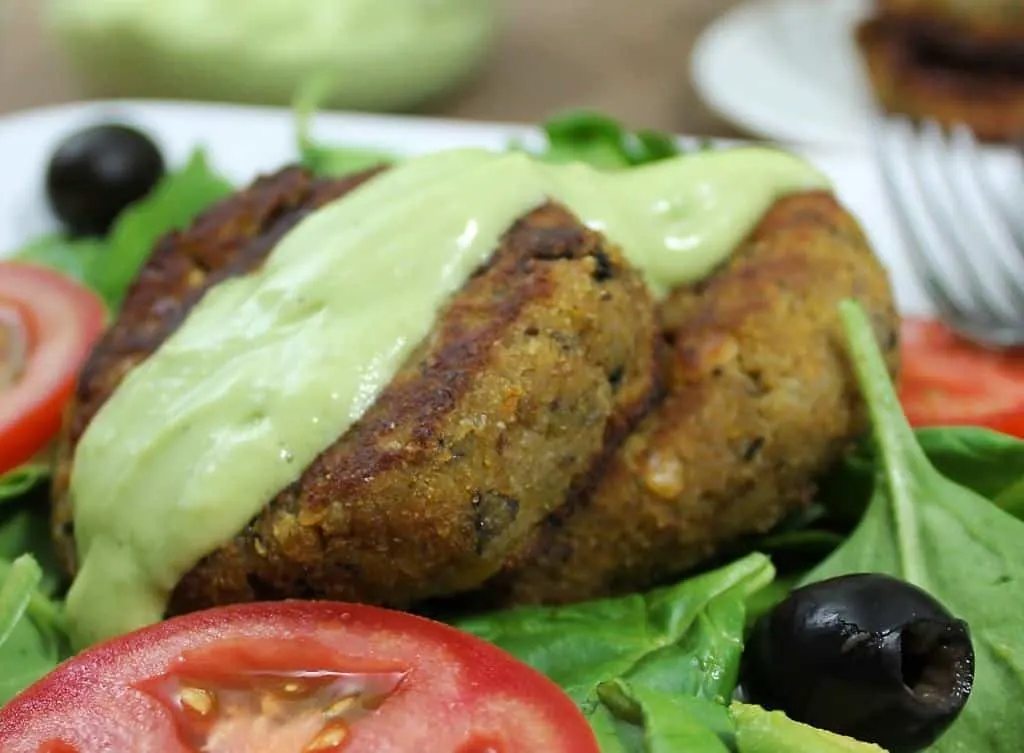 Every now and then, my daughter thinks she knows it all!
This phase of her teenage years has lead to some "animated" conversations between us, very often ending in me pointing out how annoying teenagers who think they know it all are to us, mature-er folks who actually do! Wait – you thought I would have some nugget of wisdom? Alas, all I have is humor-as this life is too short not to be able to laugh-at every phase! 🙂
However, yesterday, her know-it-all-ness saved me from a trip to the ER!
I am not too squeamish when it comes to bugs (P.S. this does NOT mean any bugs were hurt (or used) in the making of these Mushroom & Lentil Burgers).
I often don't think twice about chasing a roach down or getting a spider out of my daughter's room or employing a badminton racket to scare off a couple of carpenter bees.
However, I am not all too familiar with the habitats of these gazillion-legged creatures, fondly referred to as "creepy crawlies" or "yucksters" by my daughter. And my lack of familiarity almost ended up with a visit to the hospital yesterday evening – if not for my daughter. Yesterday, when I was in the middle of trimming some bushes, I came across this: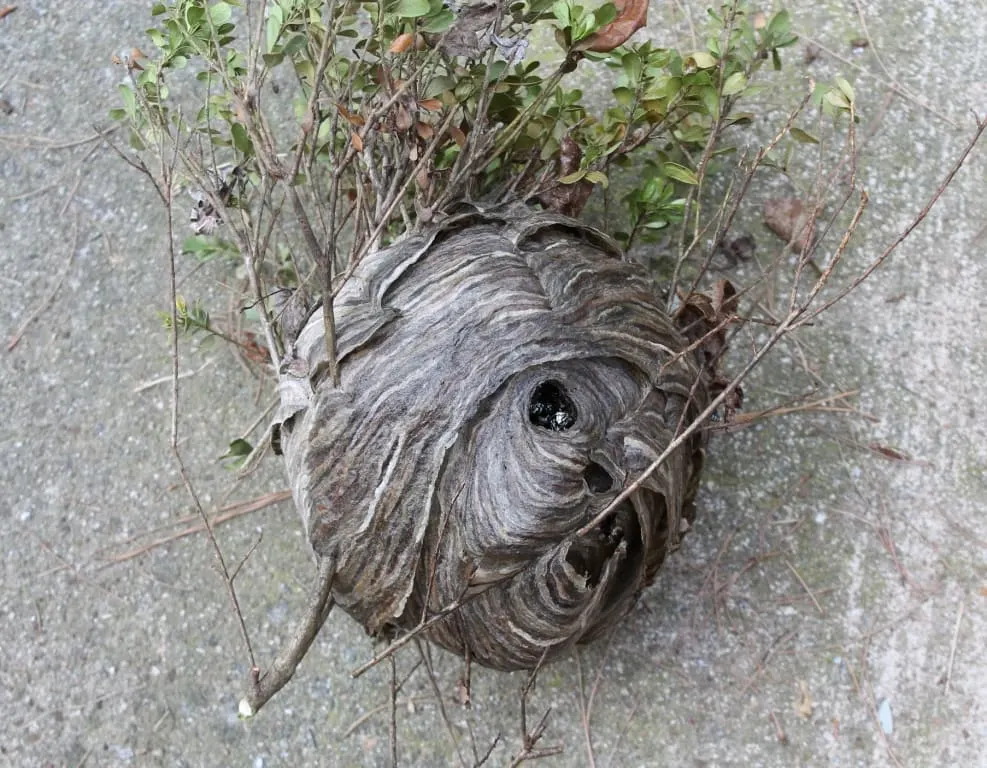 Of course it was attached to a bush I had begun to trim – thinking I could just hack at it with an axe and then throw it away, I first asked my daughter to come and take a look at my find as she is as fascinated with natures handiwork as I am. She took one look and cautioned me to move away quickly! What she knew –and I didn't– was that this was home to a band of baldfaced hornets!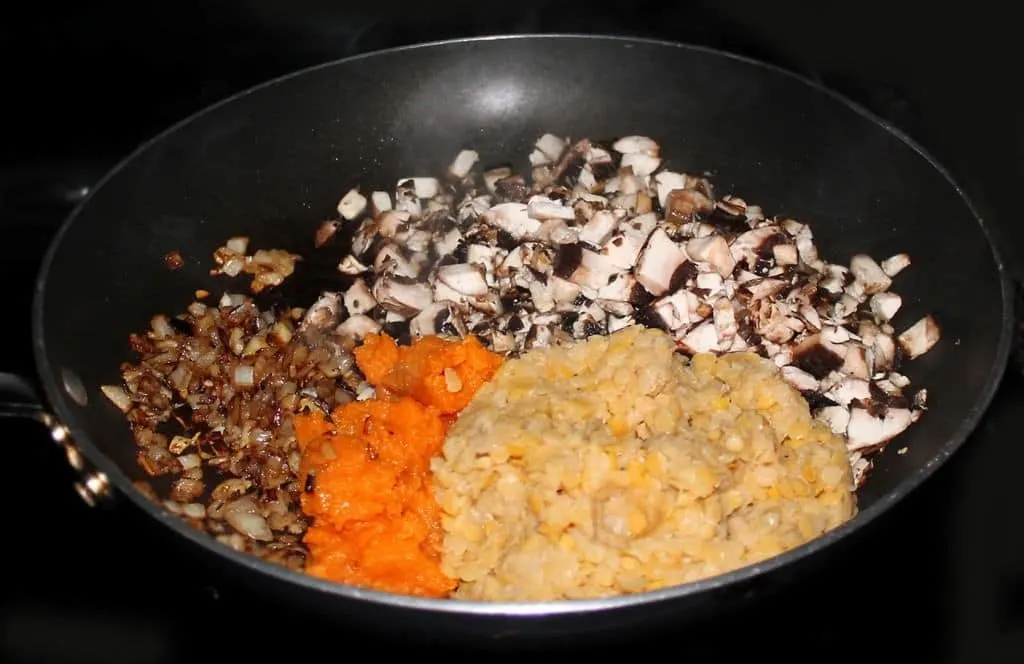 A lover of the budget friendly aspect of DIY pest control, I started to formulate my mode of attack; but my daughter Googled info on the severative of being stung by baldfaced hornets and talked me out of it.
This morning an exterminator sprayed the hornets nest before cutting it off the bush it was on and spraying the area to repel future baldfaced hornets -all while wearing a "bee-suit"…and left me to DIY away in the kitchen which resulted in these vegetarian burgers.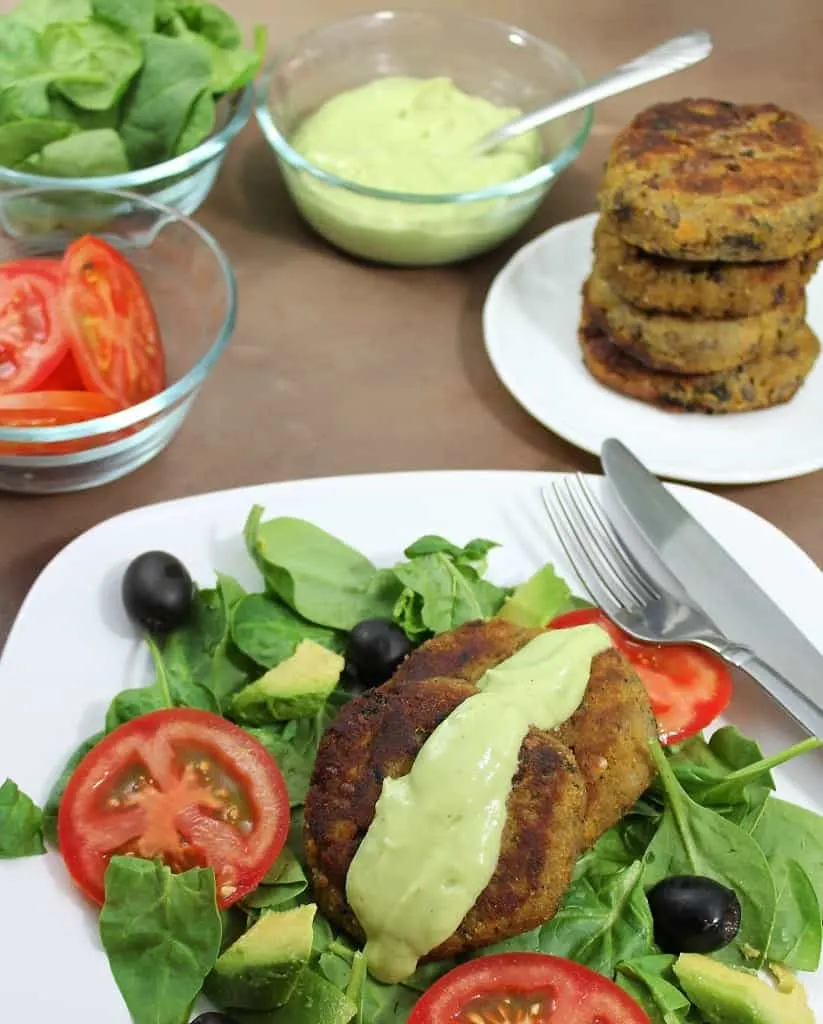 These mushroom heavy burgers were inspired by and entered into the Mushroom Council's "Swap It or Top It" Recipe Contest closing on August 15th (in case you happen to have a delectable mushroom recipe please enter it for a chance at winning 5000 buckaroos)!
These burgers are loaded with mushrooms, lentils, and a tad of sweet potato; served with an avocado-lime sauce, they don't even need a bun! I could go on about how good these are – but I think they would be best reviewed by sampling them yourselves!