Slightly golden and firm on the outside and lightly airy on the inside, these Gluten Free Lemon Poppyseed Scones for two are the perfect treat to enjoy for a leisurely breakfast. They are also made lactose free.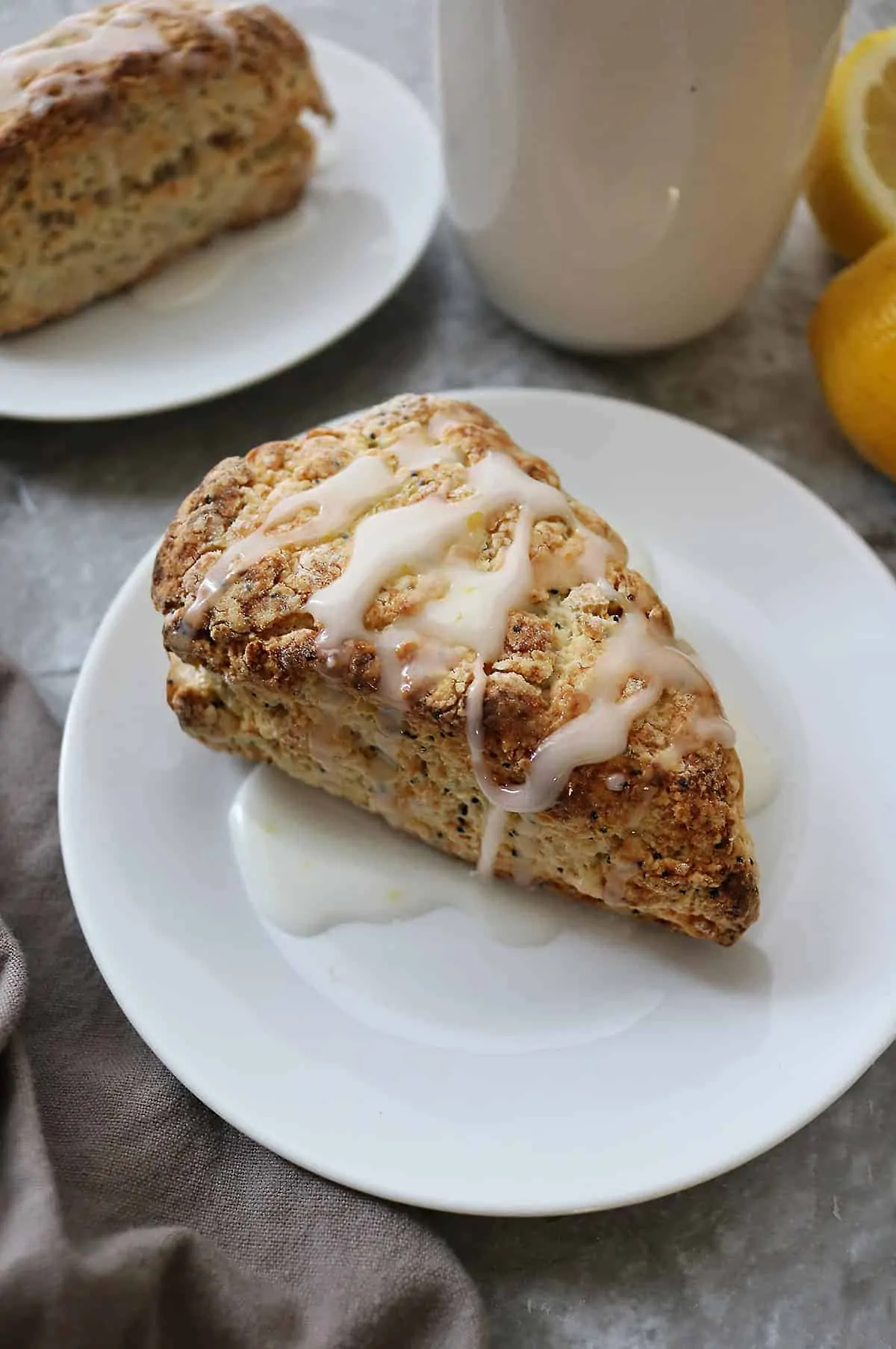 These Lemon Poppyseed Scones are inspired by some I had on a visit to Dr. Bombay's Underwater Tea Party.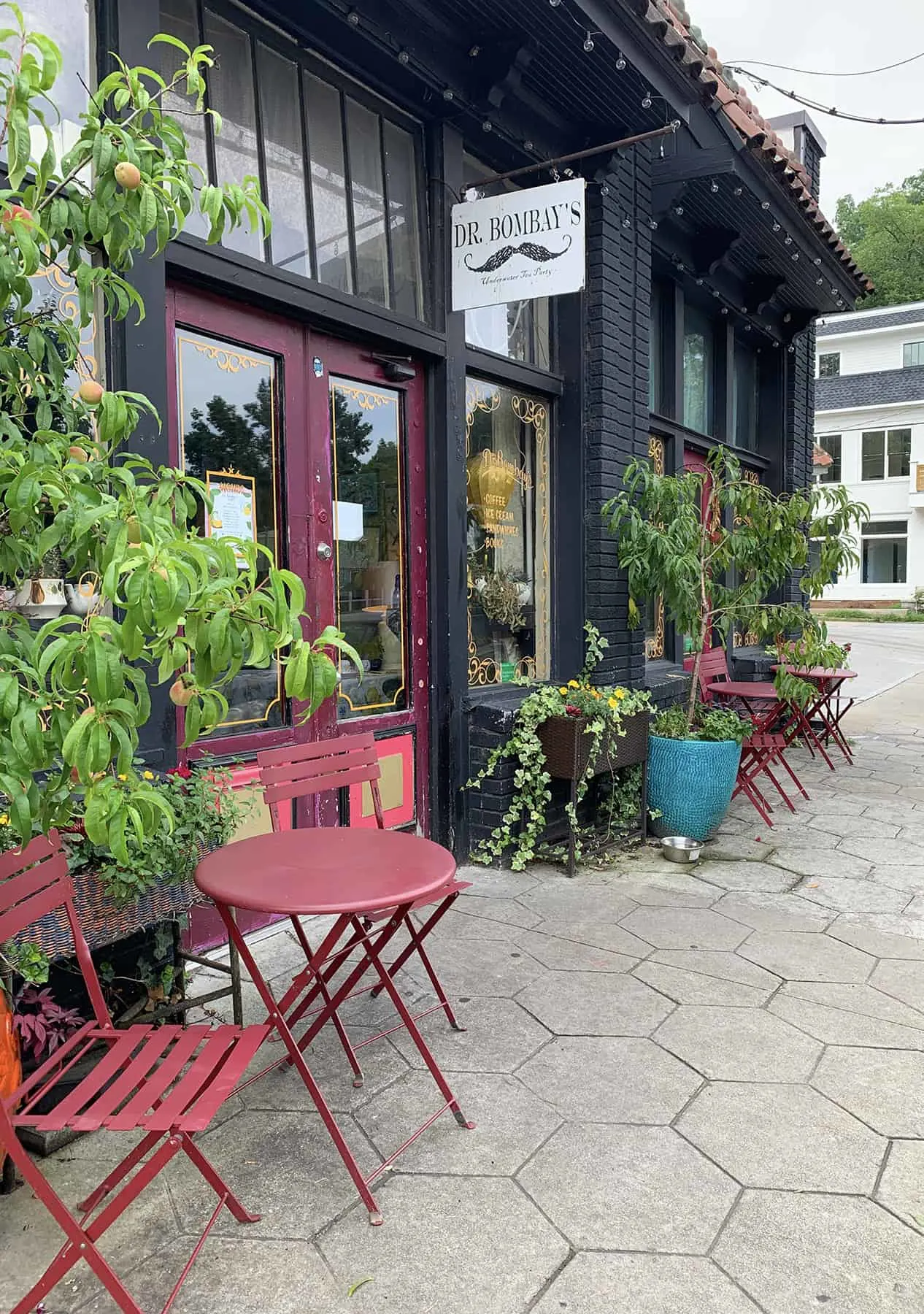 What is Dr. Bombay's Underwater Tea Party you ask?
Well, it is considered a community tea house that is in the tranquil Candler Park area in Atlanta.
Much to my dismay, I found the "Underwater" part of the establishment's name did not mean that I had to cross a moat or sit in an aquarium-like room to enjoy afternoon tea. Tell me I'm not the only one who entertained these thoughts after reading "Dr. Bombay's Underwater Tea Party?"
But, despite my initial dismay, the whole experience of afternoon tea was such a pleasurable one.
My mom and sister joined my daughter and I for afternoon tea at Dr. Bombay's Underwater Tea Party.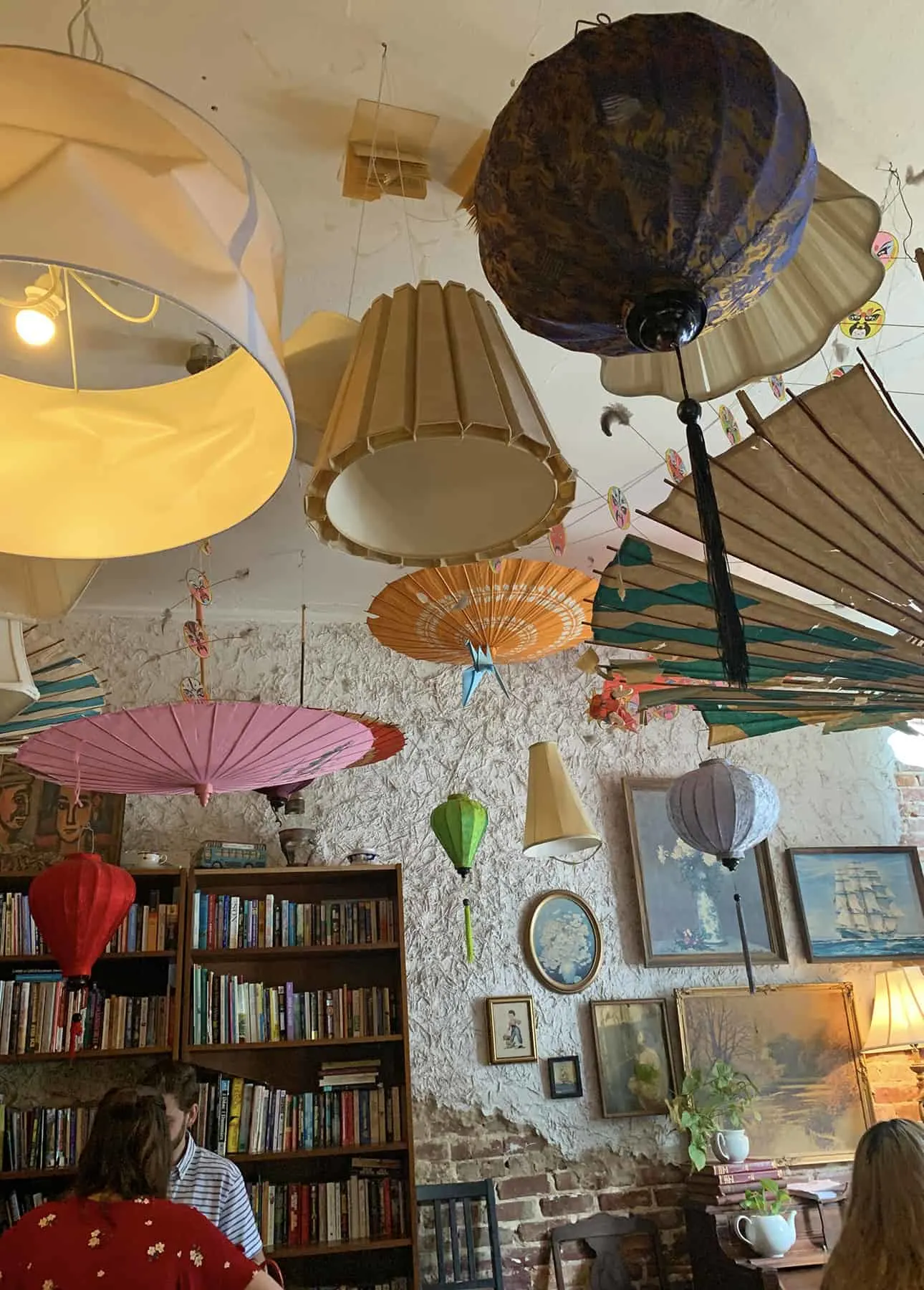 From the mismatched umbrellas lining the ceiling to the delicious treats, this was such a memorable experience and one I would highly recommend trying if you are in the Atlanta area.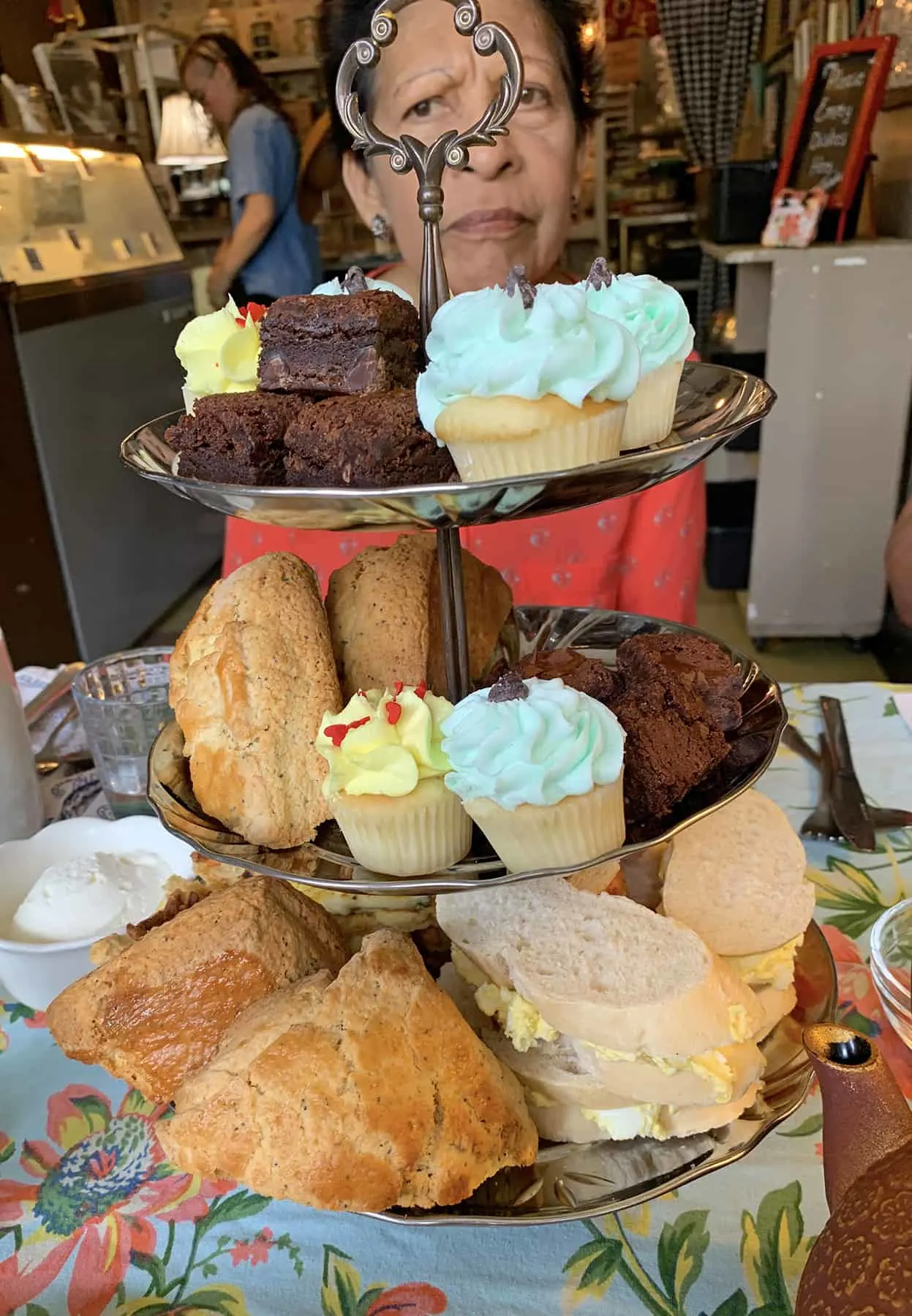 Our friendly server brought us a 3-tier tray filled with egg-salad sandwiches, pimento cheese sandwiches, bite sized brownies, mini mint and vanilla cupcakes, tomato quiche, and delightful lemon poppyseed scones that were served with peach jam and clotted cream.
Along with the savory and sweet eats, we also were given two types of tea to enjoy.
We took our time lingering over this tea. Our favorite item was the lemon poppyseed scones with the clotted cream and jam.
Those scones from Dr. Bombay's were delightful – but, my daughter said the scones I made and have here were better (please excuse me while I toot my own horn a bit here). 😊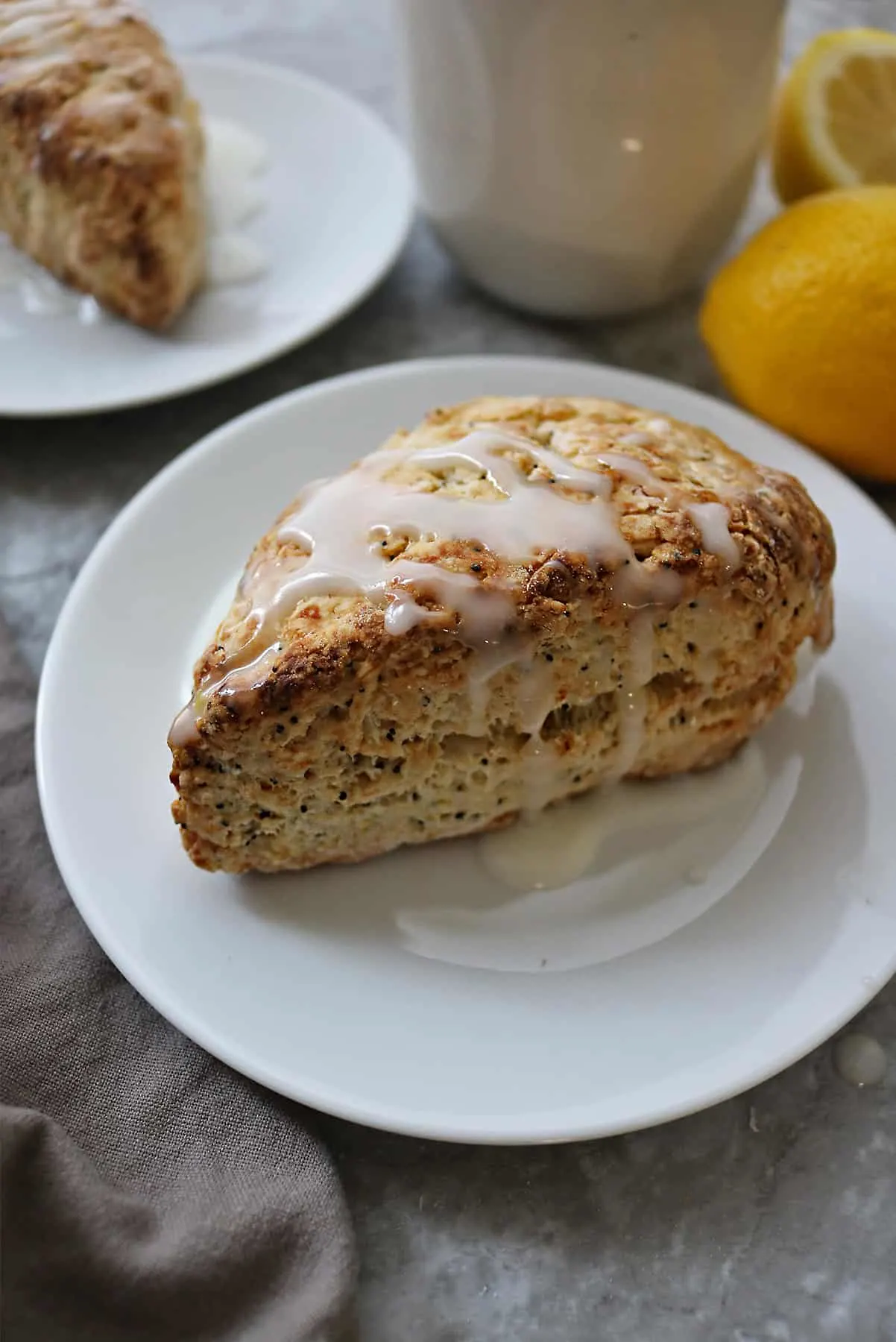 It had been a long while since I had made scones so, when my daughter and I got home, I had to try to replicate those lemon poppyseed scones.
I didn't want to make a huge batch as I like to enjoy treats like this occasionally and not all the time just because I feel better with these treats in small quantities.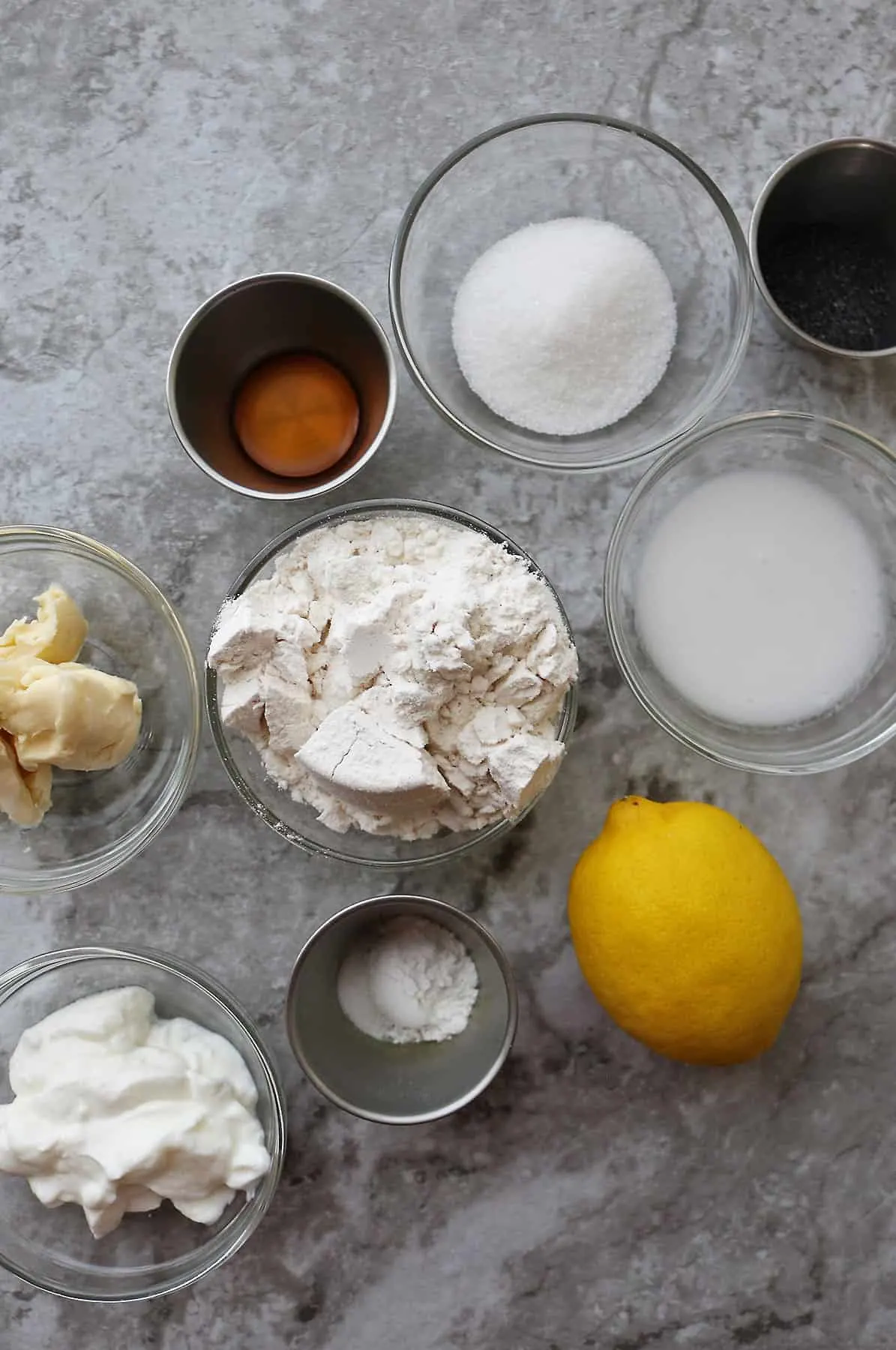 I also chose to make these scones gluten free and lactose free by using a gluten free flour blend and coconut milk instead of all-purpose flour and regular milk.
I also used half the amount of butter by subbing in some Greek yogurt.
How to make Gluten Free Lemon Poppyseed Scones?
These Lemon Poppyseed Scones consist of 11 ingredients and are so easy to make.
Just mix all your dry ingredients and then mix the wet ingredients into the dry ones.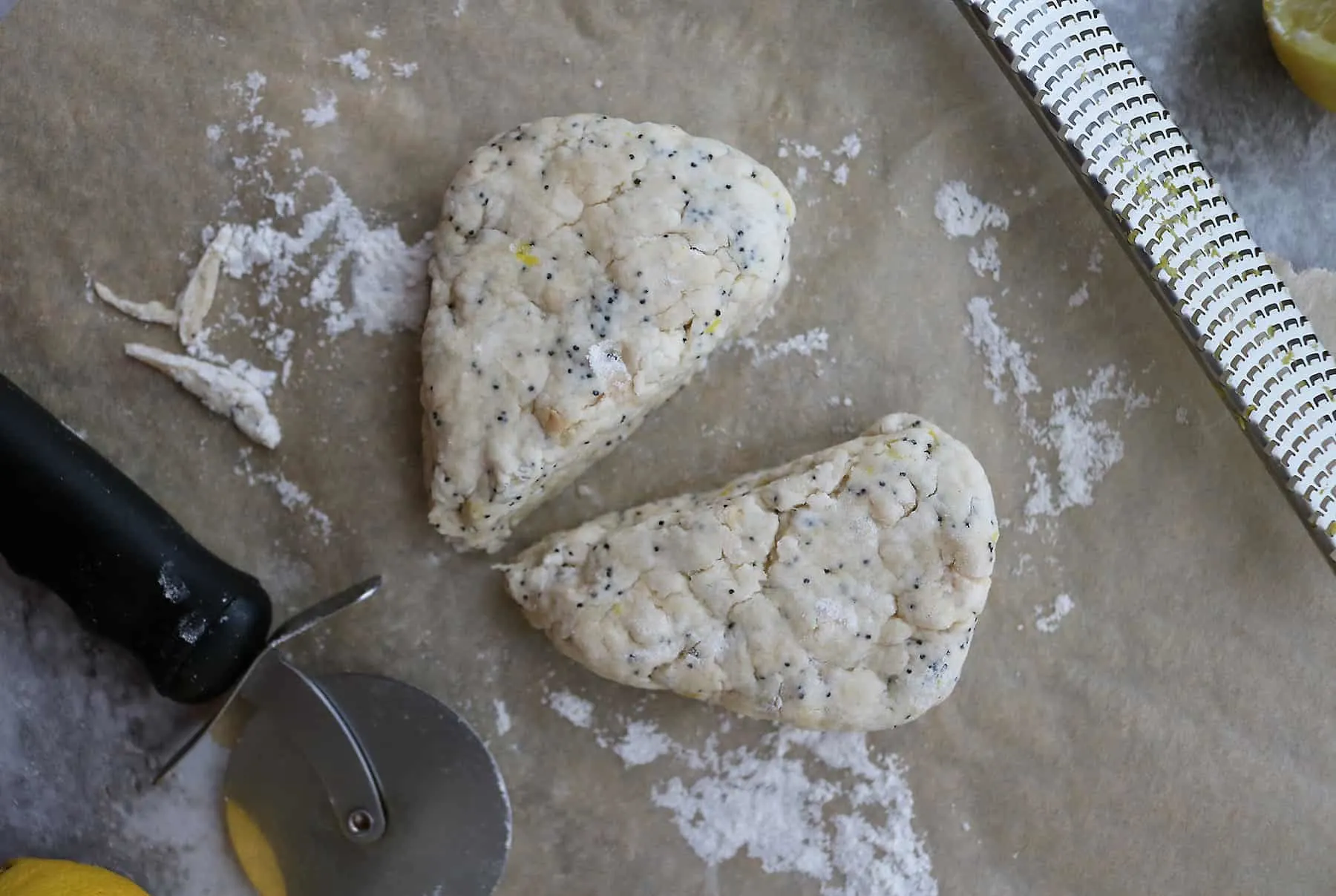 Roll dough and shape/cut, bake and enjoy.
I chose to make a lemon icing to drizzle over these Lemon Poppyseed Scones. If you want a thicker lemon drizzle/icing, check out the glaze I put on these Lemon Muffins.
I am hoping you and your dear one will thoroughly enjoy indulging in a couple of these scones over the weekend.
This recipe first appeared in Food Fanatic ~ make sure you head on over to Food Fanatic for to check 'em out!