This gluten-free, melt-in-your-mouth-good, Easy Lemon Cake makes a delicious end to a meal and needs only 10 ingredients.
This shop has been compensated by Collective Bias, Inc. and its advertiser. All opinions are mine alone. #ChooseMazola #CollectiveBias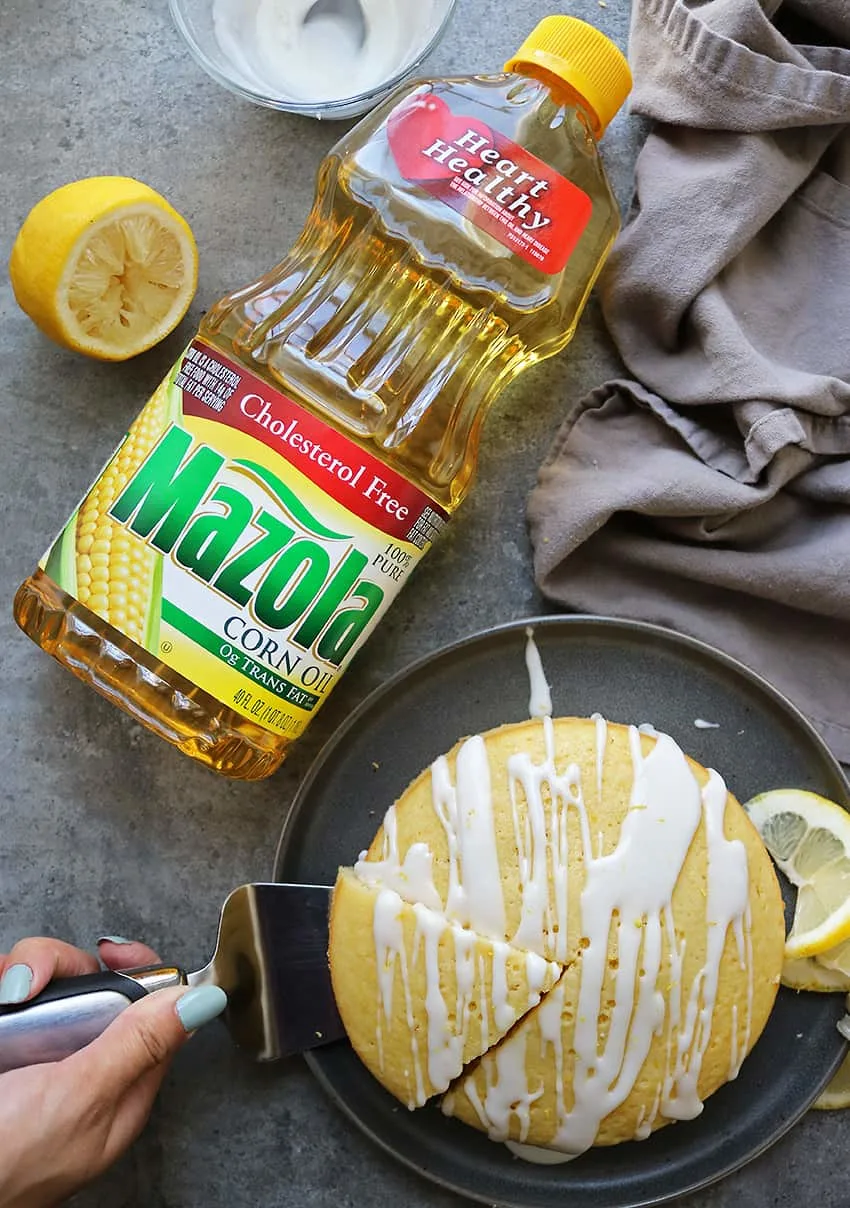 A few weeks ago, a coworker brought in a delicious pound cake with a lemon glaze. Her pound cake was so delicious that I wanted to try my hand at making a similar pound cake. Now, I knew I wanted to make mine a better-for-me version with Mazola® Corn Oil instead of butter, Greek yogurt instead of sour cream, coconut milk instead of full fat milk and gluten free flour instead of regular flour. By the way, a clinical study showed Mazola Corn Oil reduces cholesterol 2x more than extra virgin olive oil. To learn more about this claim, see Mazola.com.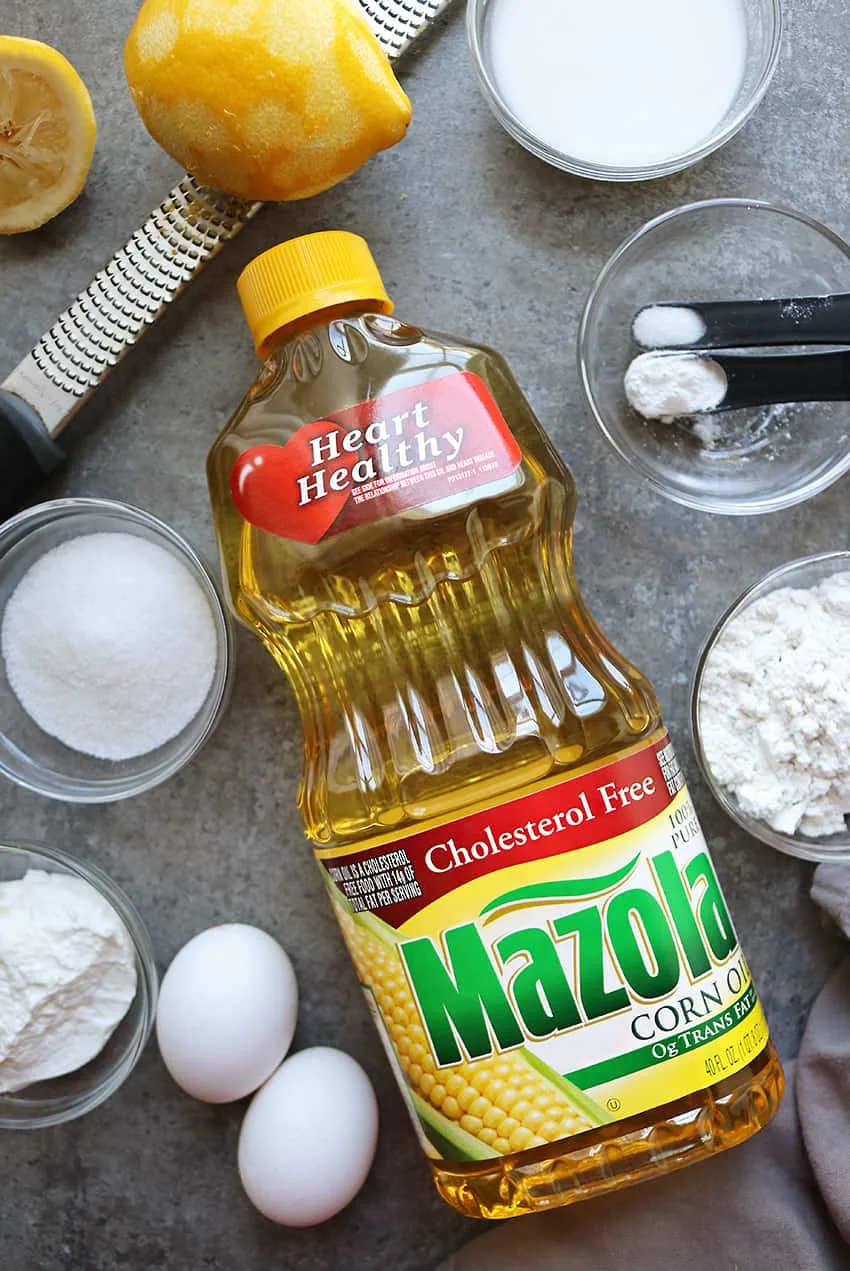 As I was gathering the ingredients to whip up this pound cake, my daughter started voicing her opinion on a version made without my suggested substitutions.
Well, that meant only one thing to me. And, that was to make two Lemon Cakes. One with Mazola® Corn Oil, Greek yogurt, coconut milk, and gluten free flour. And, another with butter, sour cream, regular milk, and gluten-full all-purpose flour.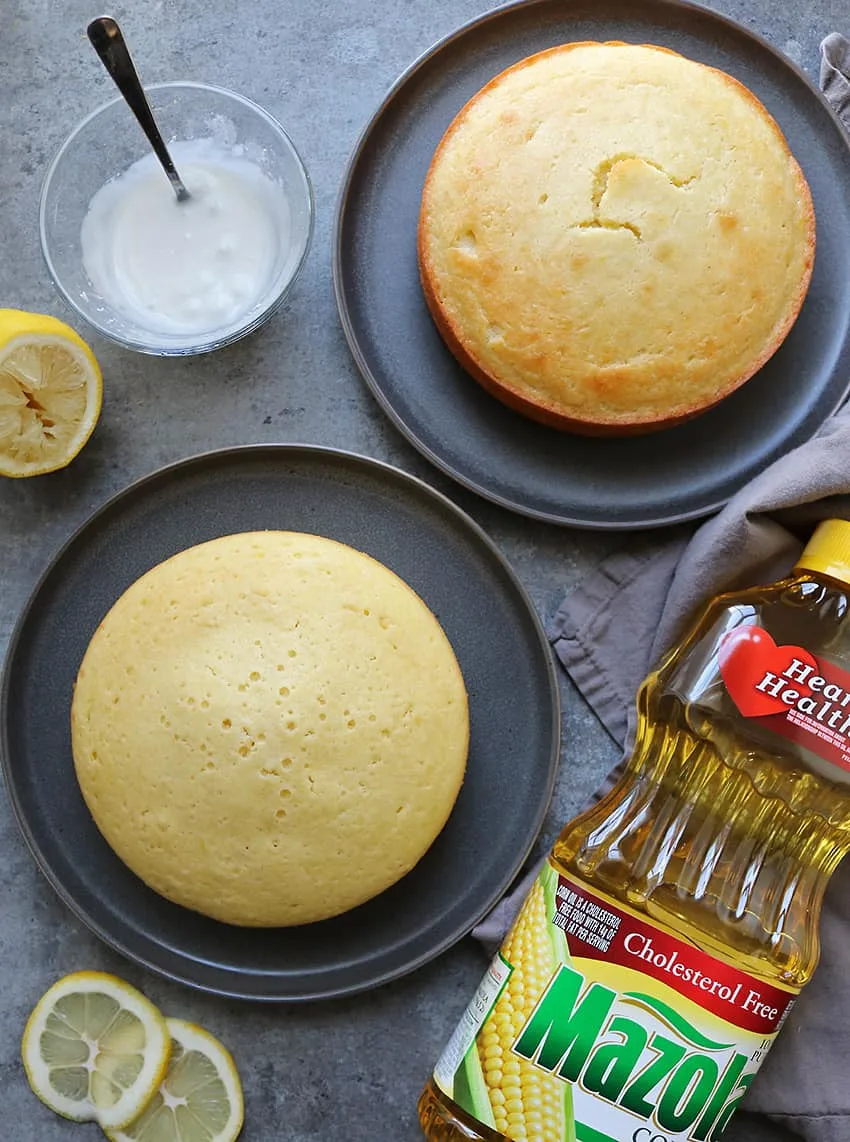 Around this little space of mine, you might run into this Salmon Hash or this Bean & Veggie Pasta Bake or this Grilled Curry Chicken. The common denominator for all three is Mazola Corn Oil.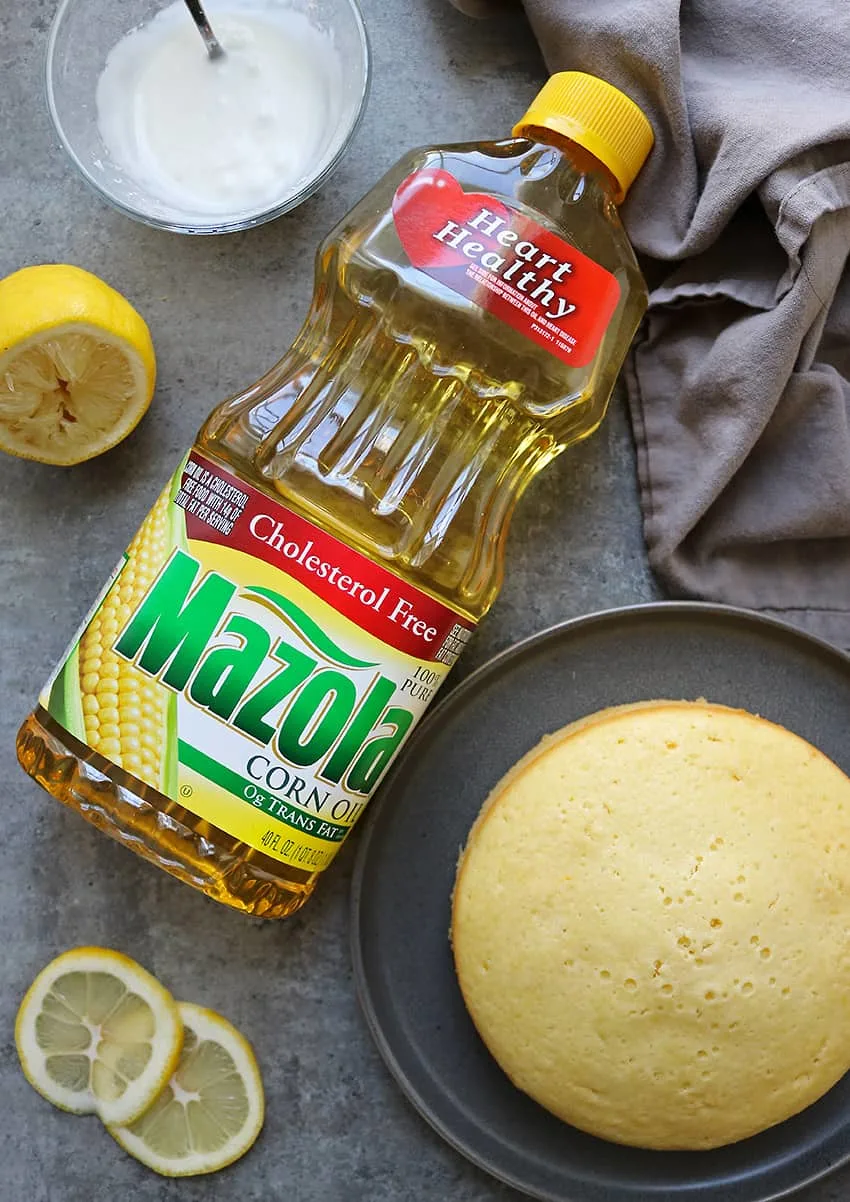 Mazola Corn Oil is an all-purpose, cholesterol free cooking oil that is a smart heart-healthy* choice for your family. *See Mazola.com for more information on the relationship between corn oil and heart health.
Mazola Corn Oil has more cholesterol-blocking plant sterols than other cooking oils – four times more than extra virgin olive oil and one and a half times more than canola oil. It has a variety of uses including baking, grilling, sautéing, stir frying, or mixing up a marinade or dressing.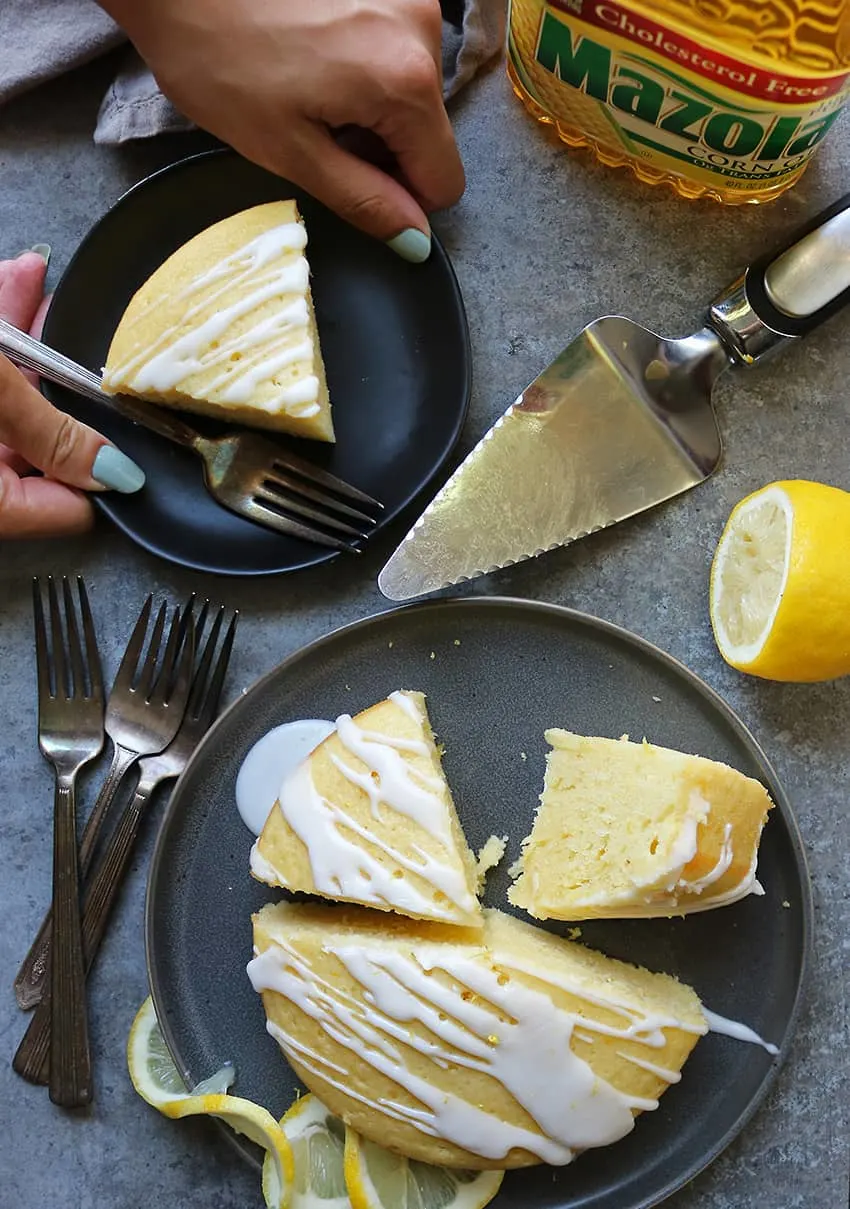 Mazola has a smoke point higher than most cooking oils at 450°F and performs well in a variety of cooking applications. Many home cooks may not realize that all cooking oils have a smoke point that, once exceeded, not only negatively affect the food's flavor but also its nutritional value. This is one reason I use Mazola Corn Oil when I'm making a Dutch baby or any baked pancake.
The 2015-2020 Dietary Guidelines for Americans no longer emphasize a "low-fat" diet, but rather choosing quality, "good" fats. This includes replacing saturated fats that are known to contribute to heart disease with unsaturated fats, especially polyunsaturated fats, like those in Mazola Corn Oil. And, according to the USDA, corn oil has more than five times the amount of polyunsaturated fats compared to olive oil. You can reduce saturated fats and cholesterol in your meals easily with simple swaps, such as substituting butter with Mazola Corn Oil.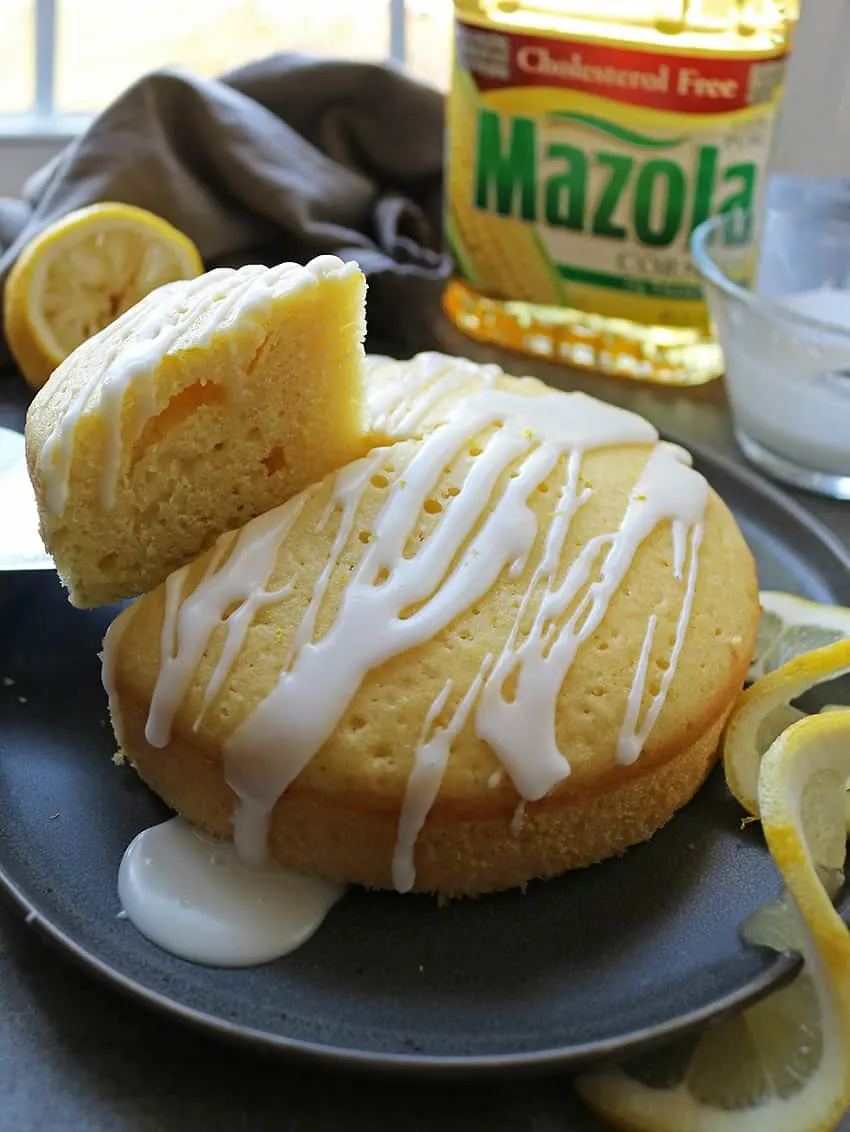 Getting back to these lemon cakes…
These Lemon Cakes are so easy to make. They require one bowl, 2 baking trays, and just 10 ingredients. I used a whisk and spatula to mix up the ingredients for this. I just dumped all the wet ingredients together and mixed them well and then added in the dry ingredients. The hardest part in making these cakes is waiting for them to bake and then cool down, while the aroma fills your home.
When these cakes finally cooled down, I drizzled them with a simple lemon juice + confectioners sugar drizzle.
Then my daughter and I got down to the business of tasting these. And, we actually enjoyed the one made with the Mazola Corn Oil, Greek yogurt, Coconut Milk and gluten free flour. It was tender and moist and in an odd way, it had a slightly more intense lemon flavor (I am thinking that may be the case because Mazola Corn Oil enhances the lemon flavor instead of competing with it?)
And, as you can tell from the pictures, the one made with the butter, sour cream, milk and all-purpose flour also turned a more golden color than the other one. In tasting both, the one made with butter, etc. also tasted a tad bit drier than the one made with Mazola Corn Oil.
This gluten-free, Easy Lemon Cake makes a delicious end to a meal like this chicken curry with coconut roti. This cake is melt-in-your-mouth lusciousness and I sure hope you give it a try soon.