This shop has been compensated by Collective Bias, Inc. and Mazola® Corn Oil. All opinions are mine alone. #simpleswap #CollectiveBias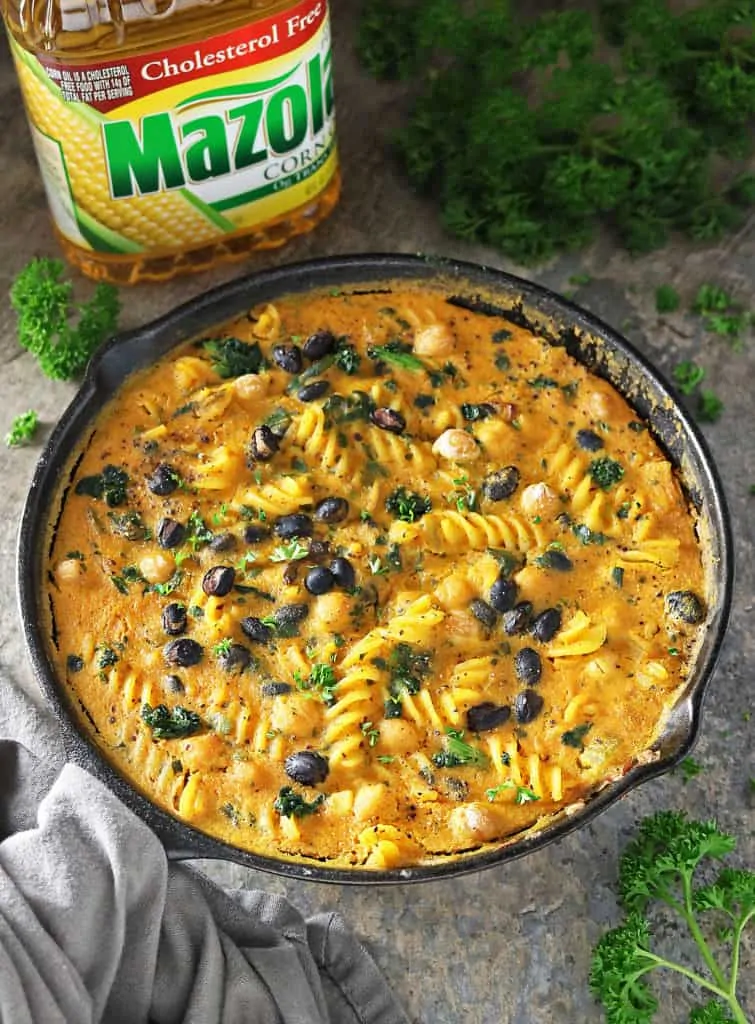 Way back during my high school years, I walked into my Human Anatomy class one day to find my teacher scooping out the waxy bit of a yellowish-white candle onto a plate. She then proceeded to hold it up and tell us that that's what cholesterol looked like before lecturing on about how cholesterol (in the right amounts) is essential in making the outer coating of cells and bile acids as well as in helping our bodies make Vitamin D and hormones. But, as we know, cholesterol can also cause serious issues to our ticker if allowed to run amok. And, seeing February is National Heart Health Month, I figured we could talk a bit about foods that have been shown to reduce cholesterol. Speaking of which, I recently came across some interesting info. A clinical study showed Mazola® Corn Oil reduces cholesterol 2x more than extra virgin olive oil. To learn more about this claim, see Mazola.com.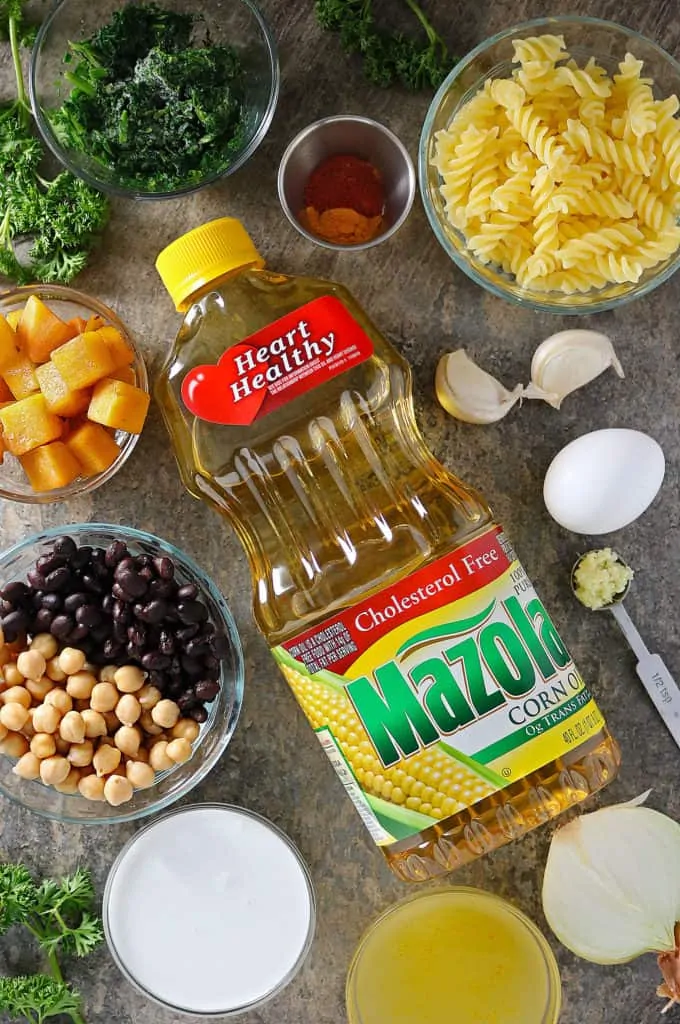 By the way, cholesterol free Mazola® Corn Oil has a neutral taste that won't negatively impact the taste of ingredients, so it lets the natural flavor of your food stand out. For the longest time, I did not realize that all cooking oils have a smoke point that, once exceeded, negatively affected the food's flavor and nutritional value! Mazola® Corn Oil also has a smoke point higher than most cooking oils at 450°F and performs well in a variety of cooking applications, including stir-frying, sautéing, grilling and even baking. You can check out Mazola® Corn Oil on Facebook for more recipe ideas, tips and information!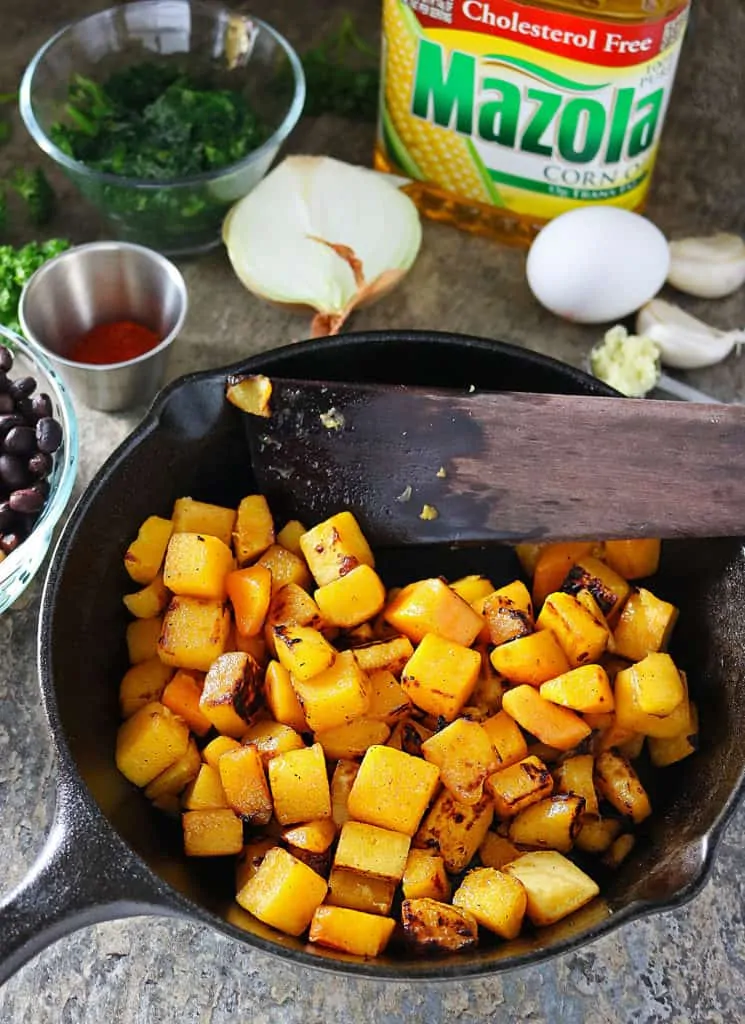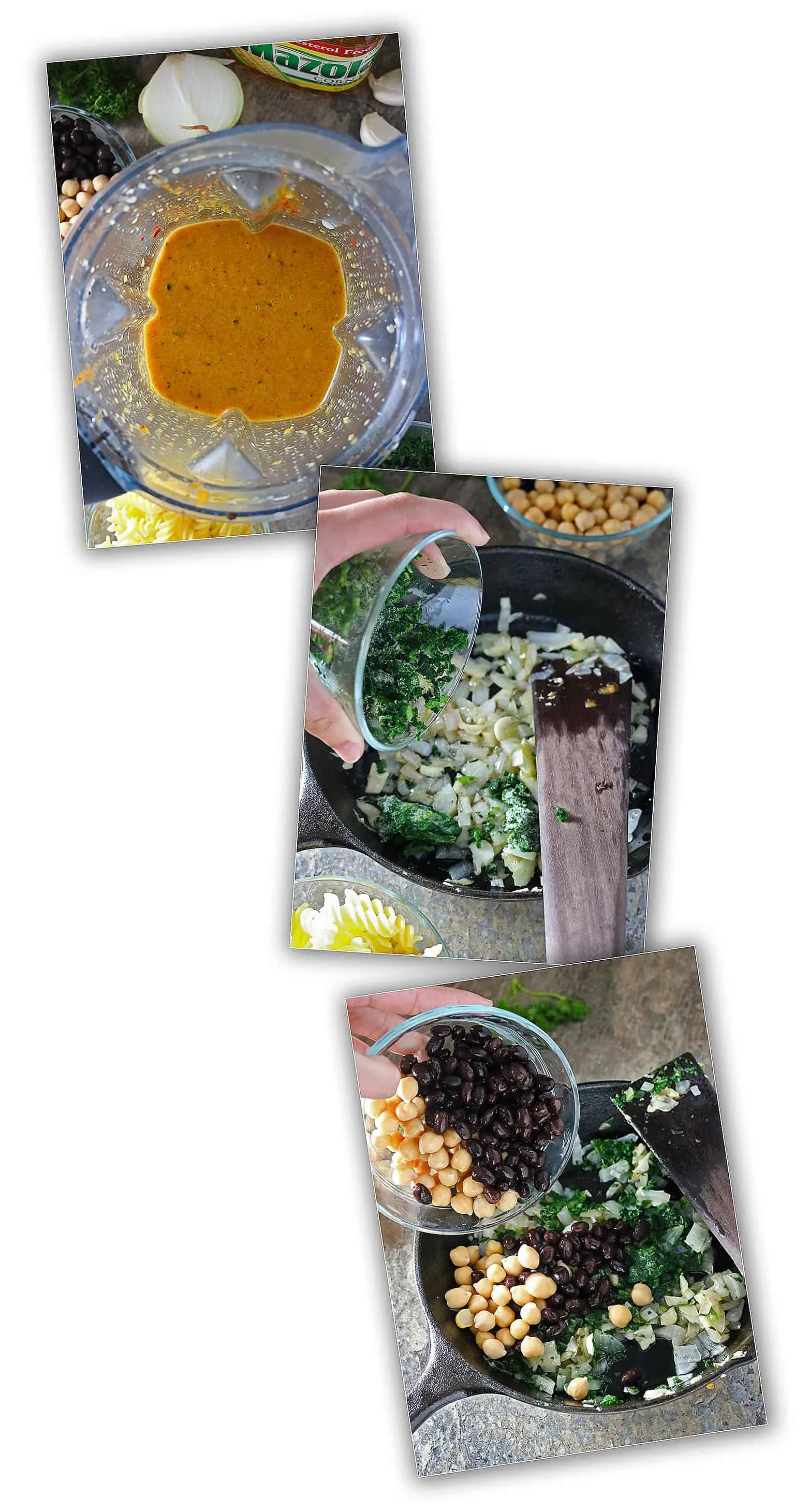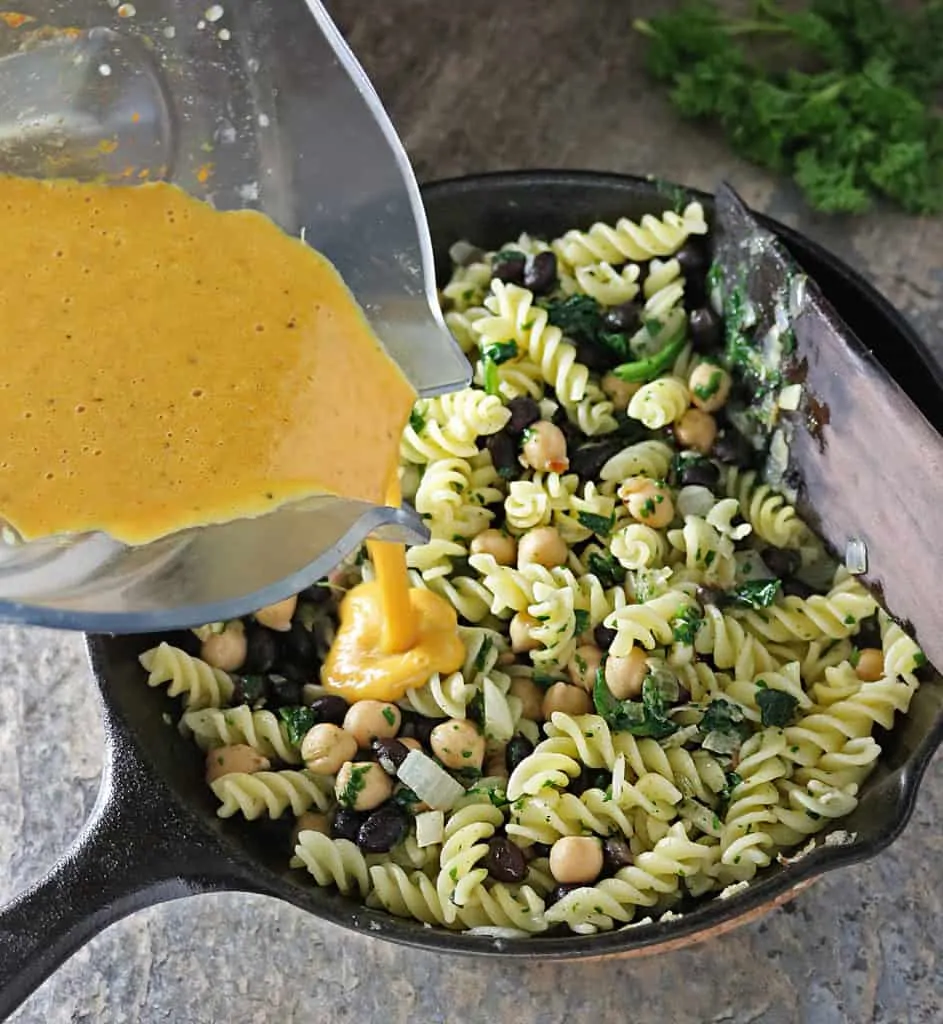 In addition to Mazola® Corn Oil, certain foods such as beans, garlic, and spinach also play a part in helping reduce LDL ("bad") cholesterol. And, today's Easy Bean & Veggie Pasta Bake with Creamed Butternut Squash is made with Mazola® Corn Oil and is jam packed with beans, garlic, and spinach! In this dish, I used Mazola® Corn Oil instead of butter, coconut milk instead of heavy cream and gluten free pasta instead of regular pasta to make this a gluten free, dairy free, lighter meal for anyone who might be restricting their gluten intake, cutting out lactose or trying to be kinder to their hearts.
When I pulled this out of the oven, my daughter took one look at it and said "hmmm…mom, this does not look like a winner-of-my-tastebuds-dinner" but… then she took one mouthful… and another… and yet another… and this Easy Bean & Veggie Pasta Bake with Creamed Butternut Squash won her over! Now, this dish involves quite a few separate steps such as:
~ roasting the butternut squash…
~ creaming it with coconut milk, vegetable stock, turmeric and smoked paprika…
~ and, waiting a bit till it cools before adding in the egg and blending the mixture again…
~ as well as, prepping the gluten free pasta, spinach and beans…
the resulting gluten-free, lactose-free, bake is simply scrumptious and kinda great for your ticker too!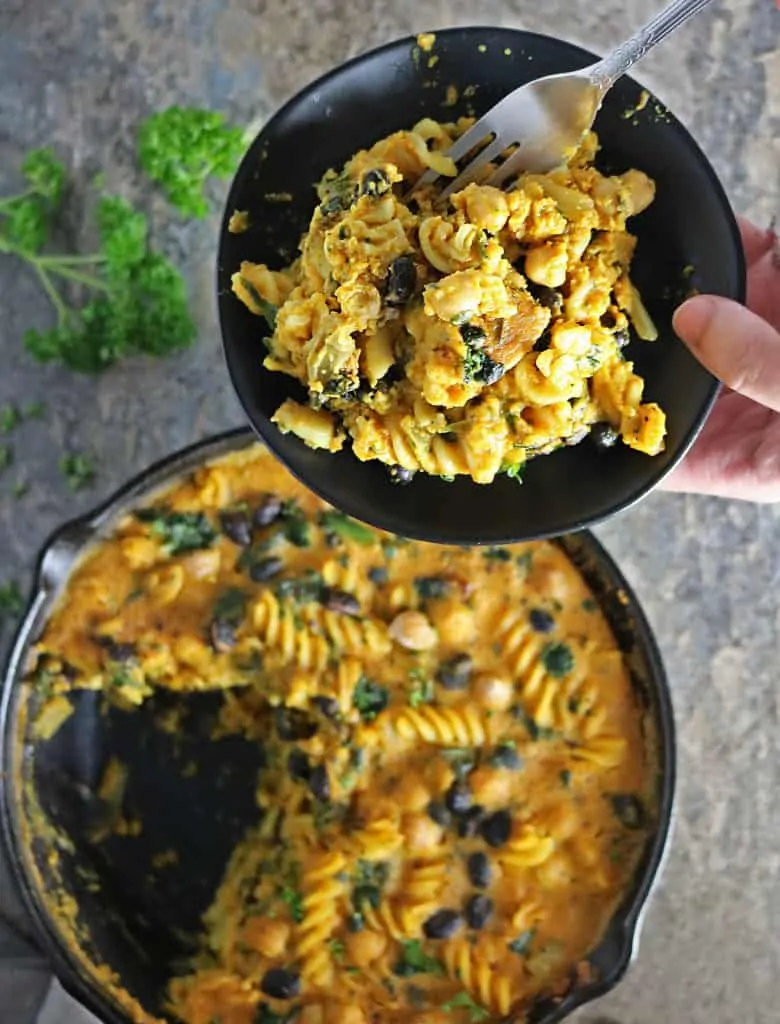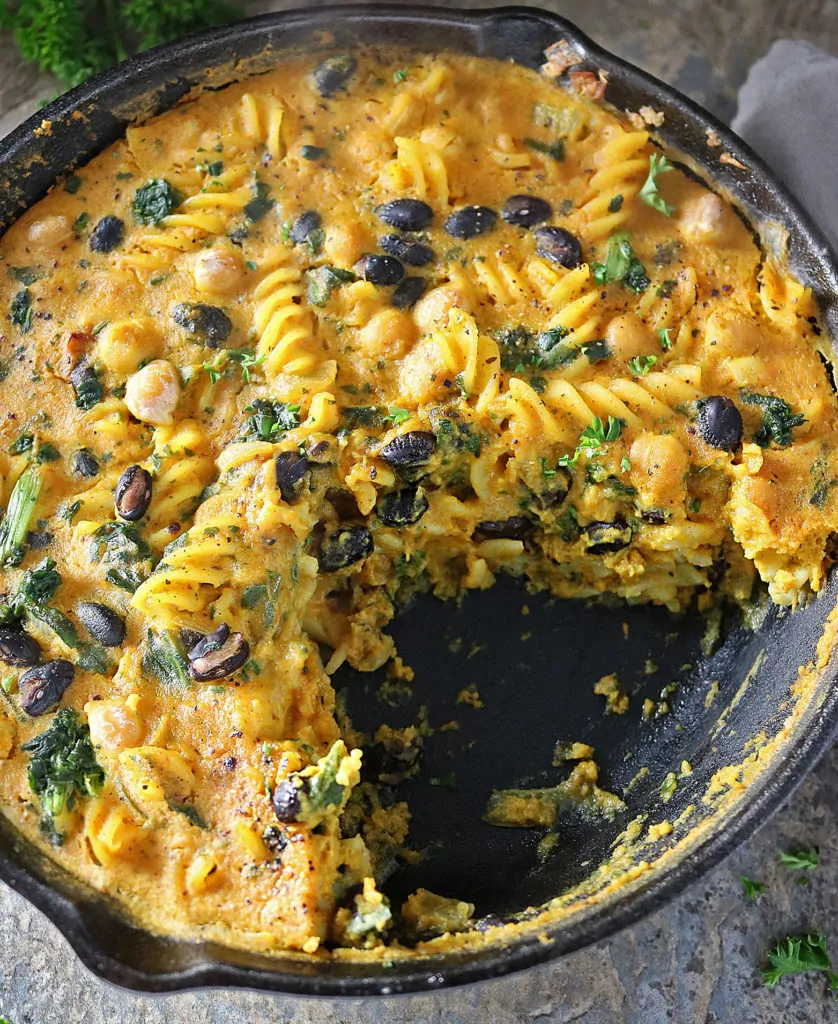 Happy Heart Health Month ~ I sure hope y'all are kind to your tickers this month and every month … and I sure hope y'all give this recipe a try sometime soon!