A popular Sri Lankan dish, this banana flower stir fry makes a delicious, highly aromatic, unique, and healthy side dish to a variety of meats and vegetables.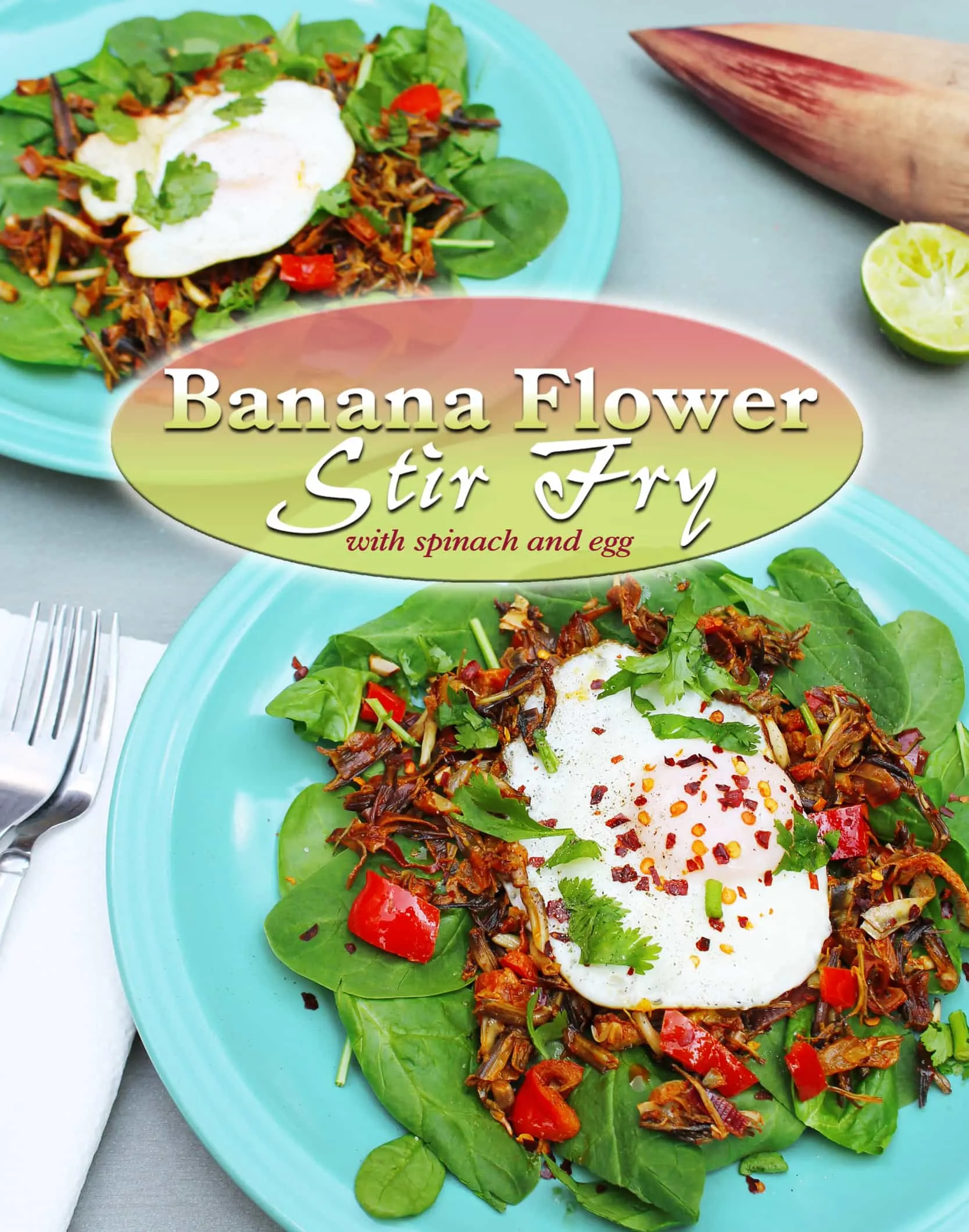 Banana flowers are the blossoms from a banana tree. During my childhood years in Sri Lanka, banana flowers were used in everything from salads to curries to soups. They were easily found everywhere from roadside vendors to specialty supermarkets.

My mom loved cooking banana flowers and during our childhood, my sister and I were lucky to enjoy it in many curries and sambols.
However, when my mom moved to Atlanta, banana flowers were hard to find. At least, that was until we began frequenting a South Asian store called Cherians – where she found her first banana flower outside of Sri Lanka.

I had forgotten about my mom's favorite vegie until a group I belonged to called The Recipe Redux challenged its members to come up with a recipe using "edible flowers"! When I read some of the examples/suggestions such as using "rose water, flowering herbs, floral teas, dried lavender blossoms or even fresh flowers like nasturtiums, violets, borage, squash, sunflowers", the first thing that came to mind was "Falooda", a drink I grew up with that uses rose syrup.

But, then I found a fresh banana flower at Cherian's and I knew I had to enlist my mom's help in coking this.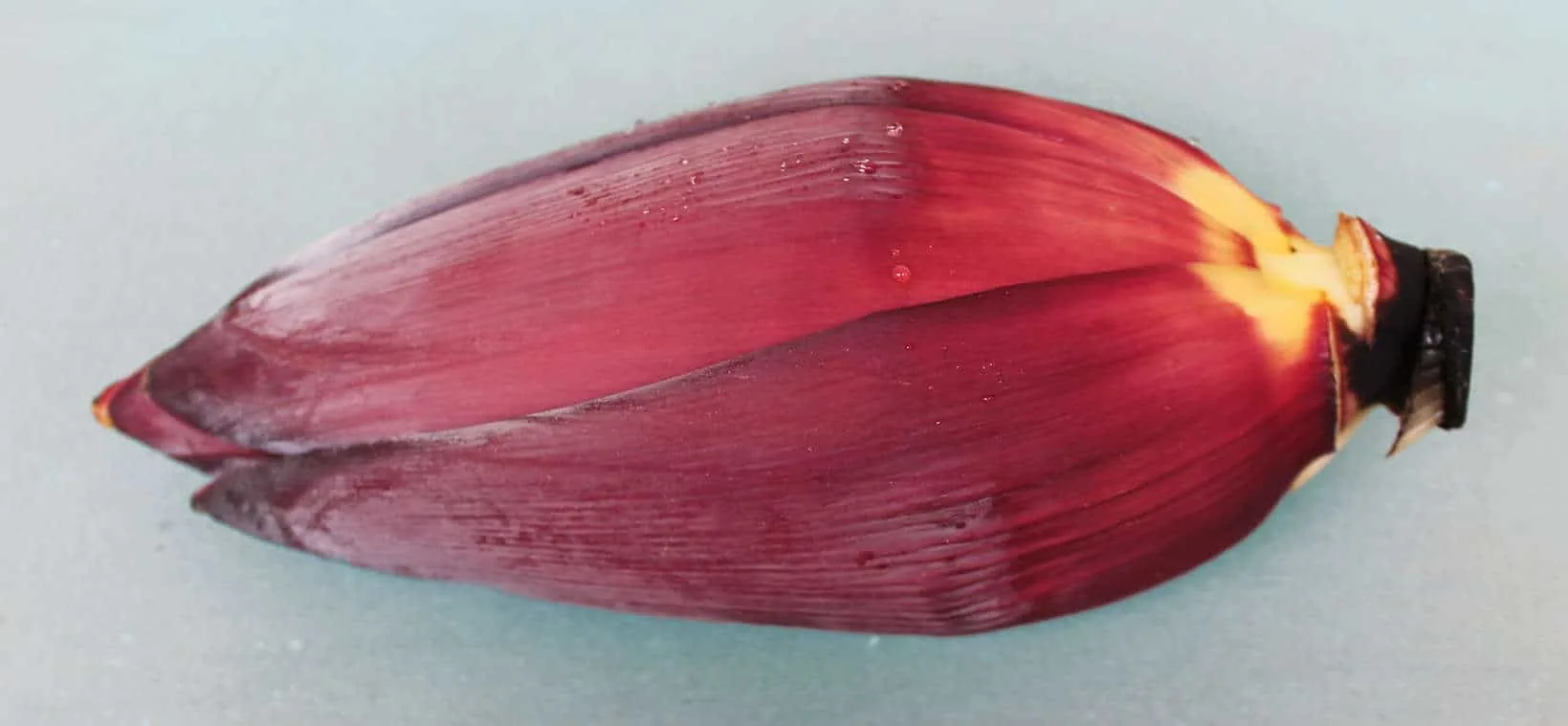 What is a Banana Flower?
Banana flowers are banana blossoms on banana trees.

They are made up of "bracts" – which are the purple leaves; "female flowers" – which are the blossoms tucked inside each purple bract that eventually grows into bananas, and a "heart" which is the white tender part of the flower revealed after the bracts and blossoms have been peeled off.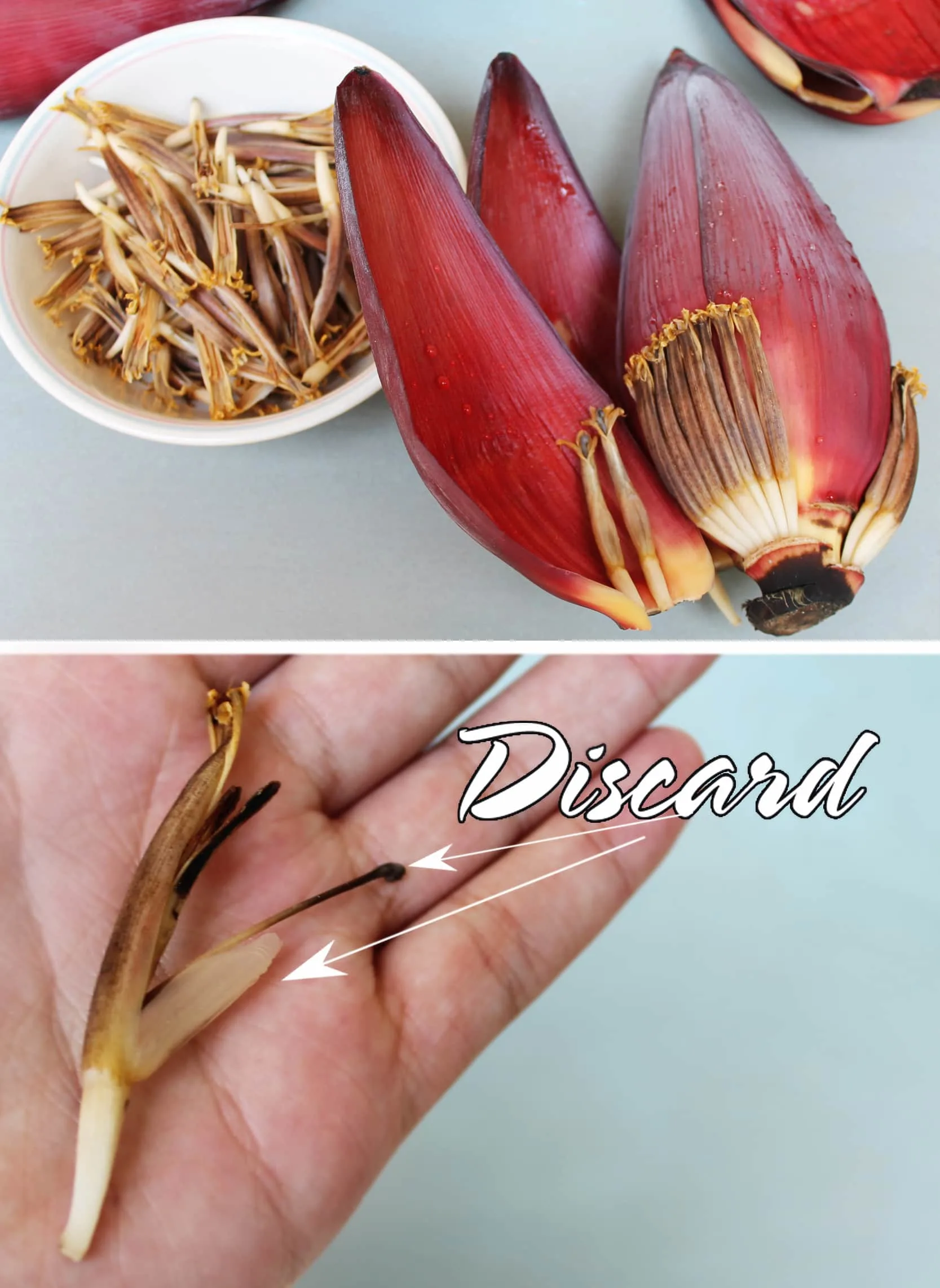 While it might not look pretty in a vase on your table, it makes one mean stir fry! Banana flower dishes are common in South Asia, but, every one seems to have their unique way in preparing it.

My mom throws away the little blossoms and finely dices the heart and the tender purple bracts (after the more brittle outer layers have been discarded); and makes a stir fry with a ton of spices.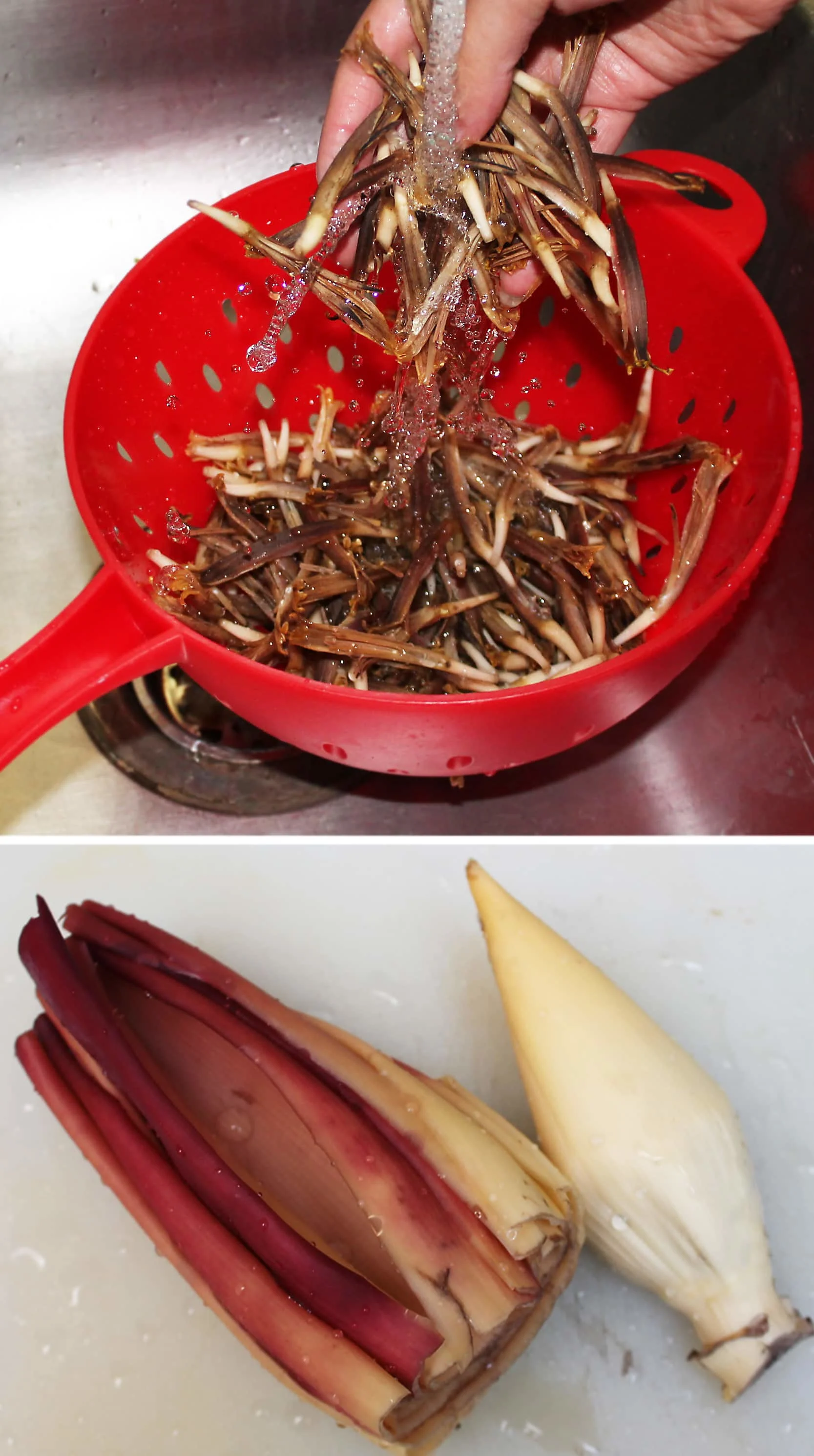 How to clean a Banana Flower:
However, I have seen people clean the blossoms removing the "pistil" (the more brittle stick with a head on it) and the "scale" (the small, translucent part) and using them in a stir fry or curry.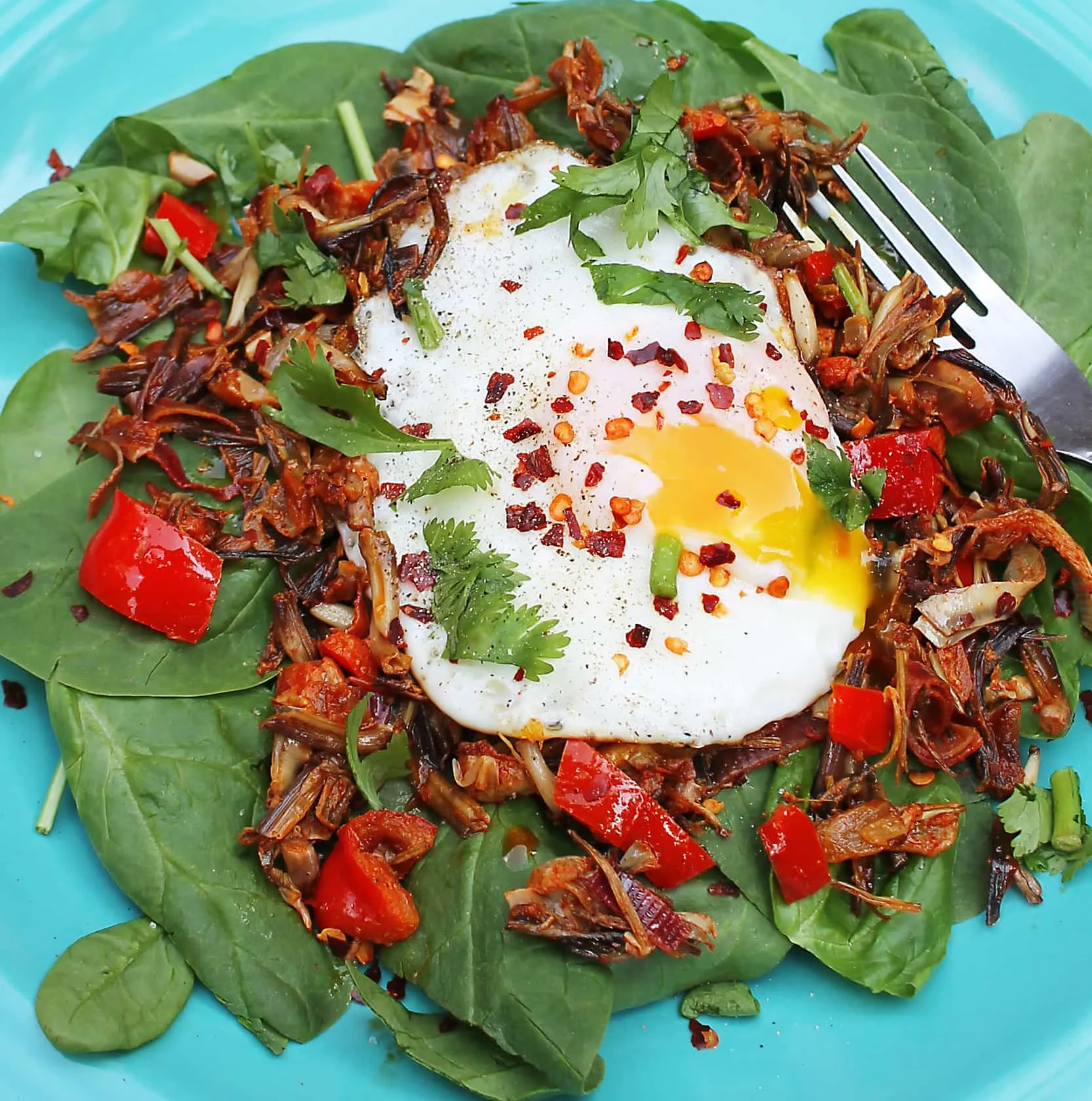 I decided to incorporate my mom's method with what I have seen others do, so I cleaned the blossoms and also chopped up some of the tender bracts and the hearts.

However, it just slipped my mind to immerse the blossoms, heart and tender bracts in a bowl of cold water with lemon, hence the slightly darker blossoms.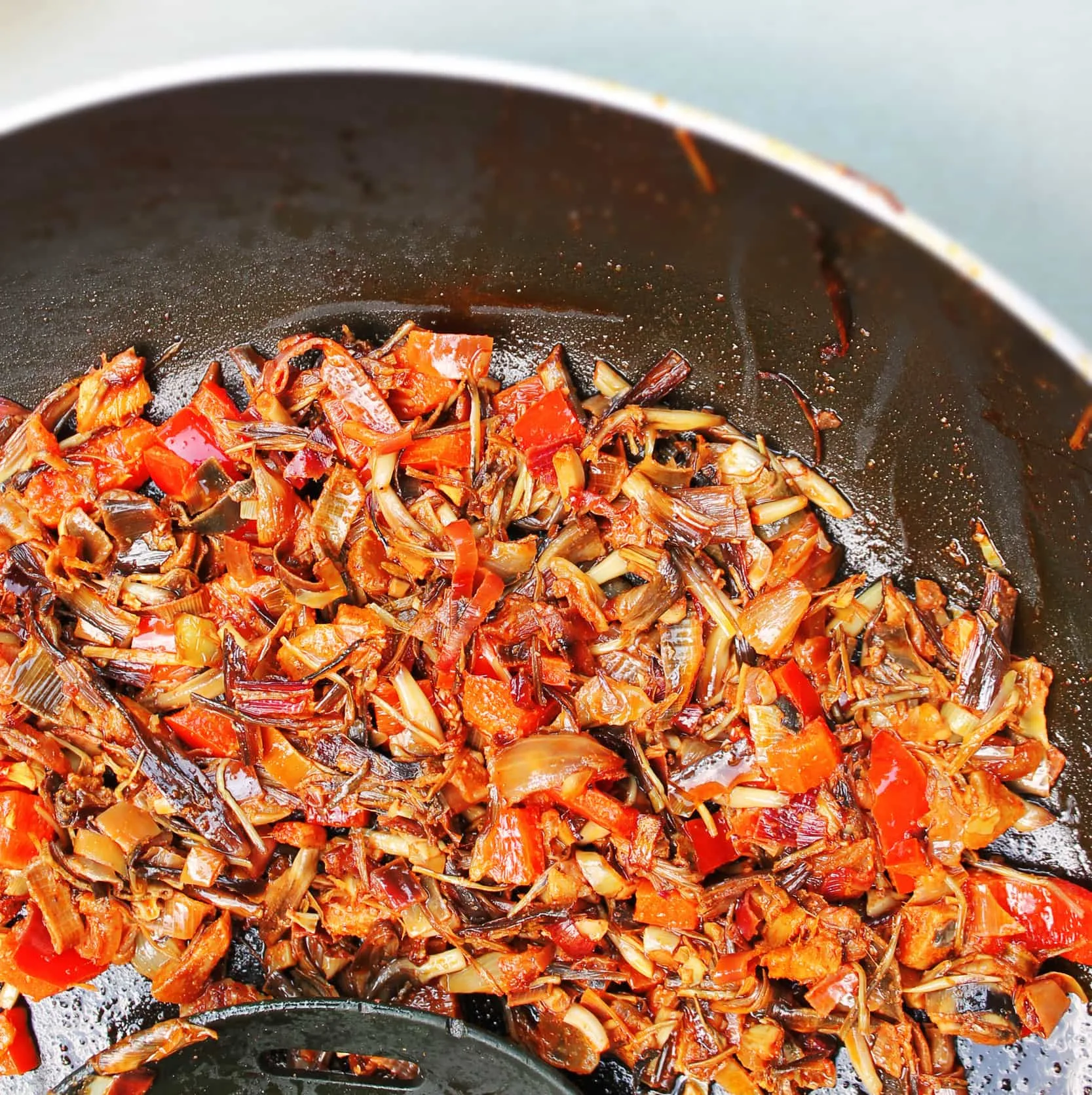 While chopping, there seems to be a slimy discharge – which is easily rinsed off under cold water or in a bowl of water with lemon.
Let's cook a Banana Flower!
I sauteed the chopped parts of this veggie in olive oil, onions, ginger, garlic, and red pepper with a few spices. And, served it on a bed of spinach with an egg on top. When I was a kid, we ate banana flower stir fry with rice and maybe another curry (like this lentil curry); but there's a plethora of serving options for this flower!