Lusciously creamy FAGE Total 5% Greek yogurt is topped with crumbly, refined sugar free, Blueberry Apricot Granola.
This post is sponsored by FAGE; however, all thoughts and opinions are my own.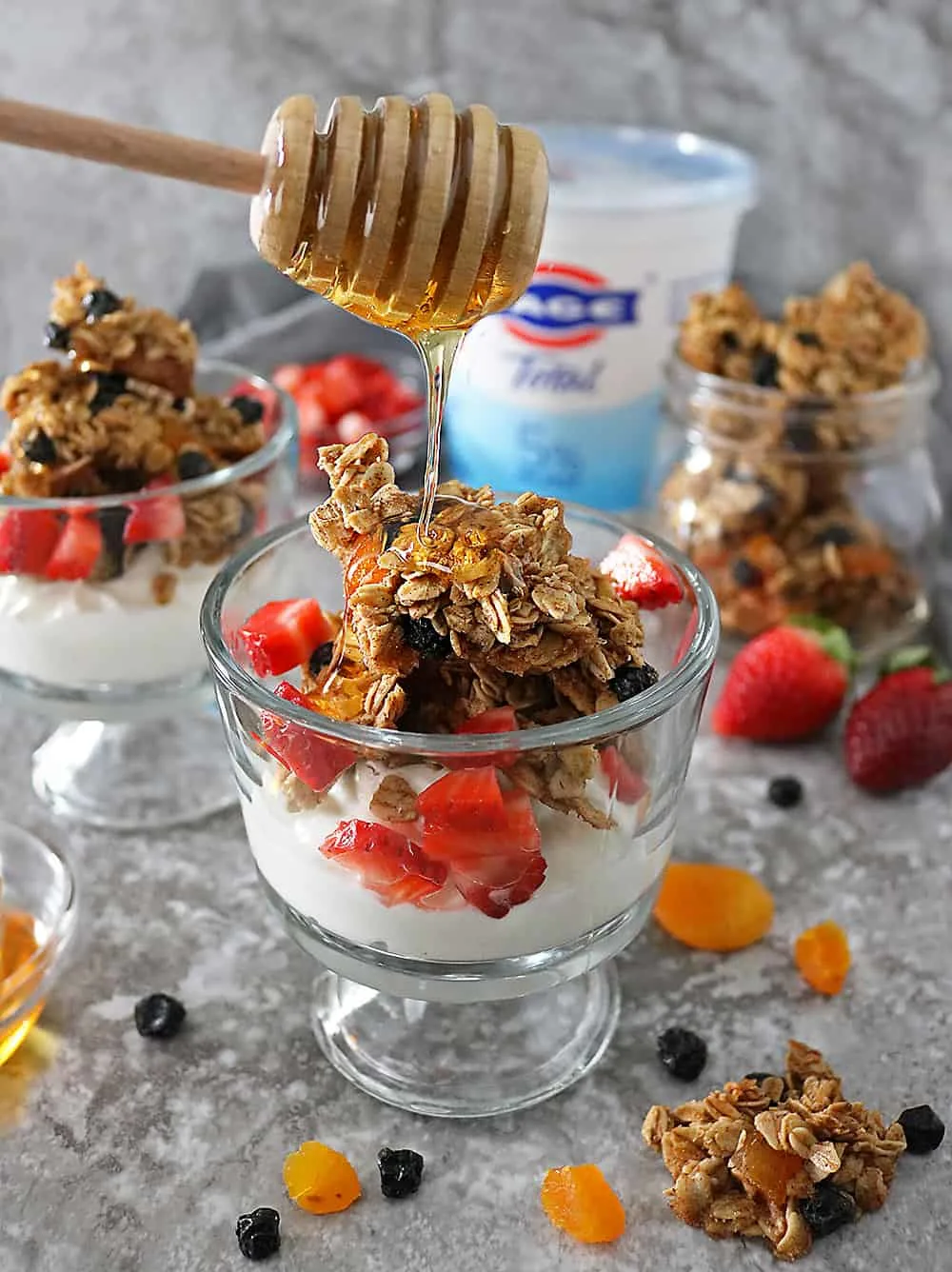 Last night I spent way too much time going through packs of strawberries at the grocery store. Each pack seemed to contain about 50% ripe (yet misshapen) strawberries and another 50% blemished and bruised ones.
I know this is terribly wrong, but, I stood there and entertained the idea of trying to switch out the bruised/blemished ones in a pack with the ripe/misshapen ones in another in order to end up with a whole pack of ripe strawberries. I didn't do it, but if I had telekinesis, I probably would have!
While I might not be able to find a pack of unblemished, unbruised, ripe, regularly shaped strawberries, these days. I know I can always find my favorite Greek Yogurt no matter where I shop.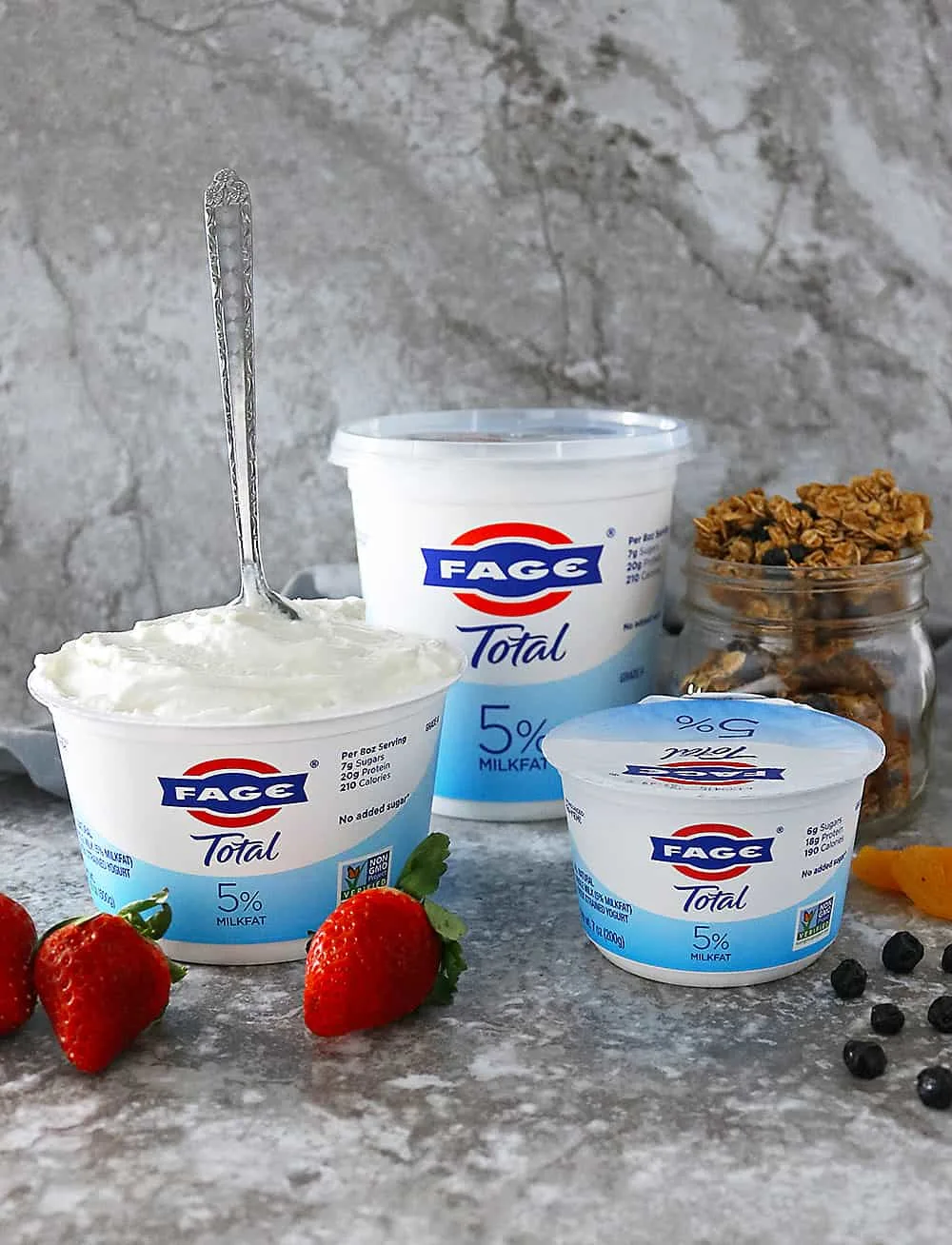 One of my favorite breakfasts is a bowl of rich and creamy FAGE Total 5% Greek yogurt with crunchy, crumbly, granola like this Apple Walnut Granola and this Cranberry Coconut Granola and today's Blueberry Apricot Granola. I simply love how rich, creamy and tangy all-natural FAGE Total 5% Greek yogurt is.
Lately, my daughter has been enjoying gobs of FAGE Total 5% Greek yogurt on top of her breakfast tacos. Protein-rich FAGE Total 5% Greek yogurt keeps us both fueled and full all morning!
Some nights, we enjoy a bowl of FAGE Total 5% Greek yogurt with honey for dessert, because, clearly FAGE Total 5% Greek yogurt can make #PlainExtraordinary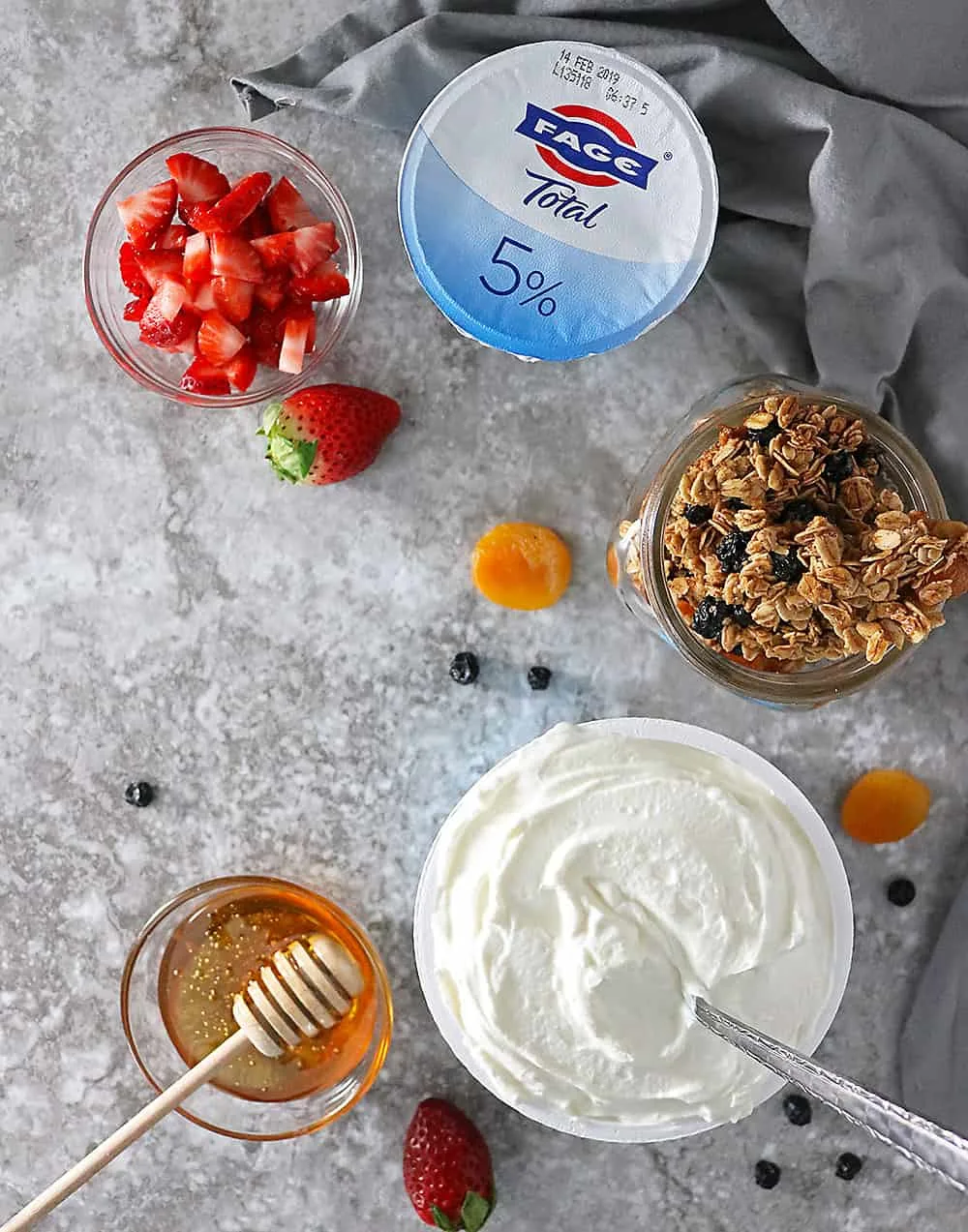 From sweet and savory yogurt bowls like these, to a topping on tacos to a key ingredient in curries, versatile and nutritious, FAGE Total 5% plain Greek yogurt is the "perfect match" for our demanding lifestyles.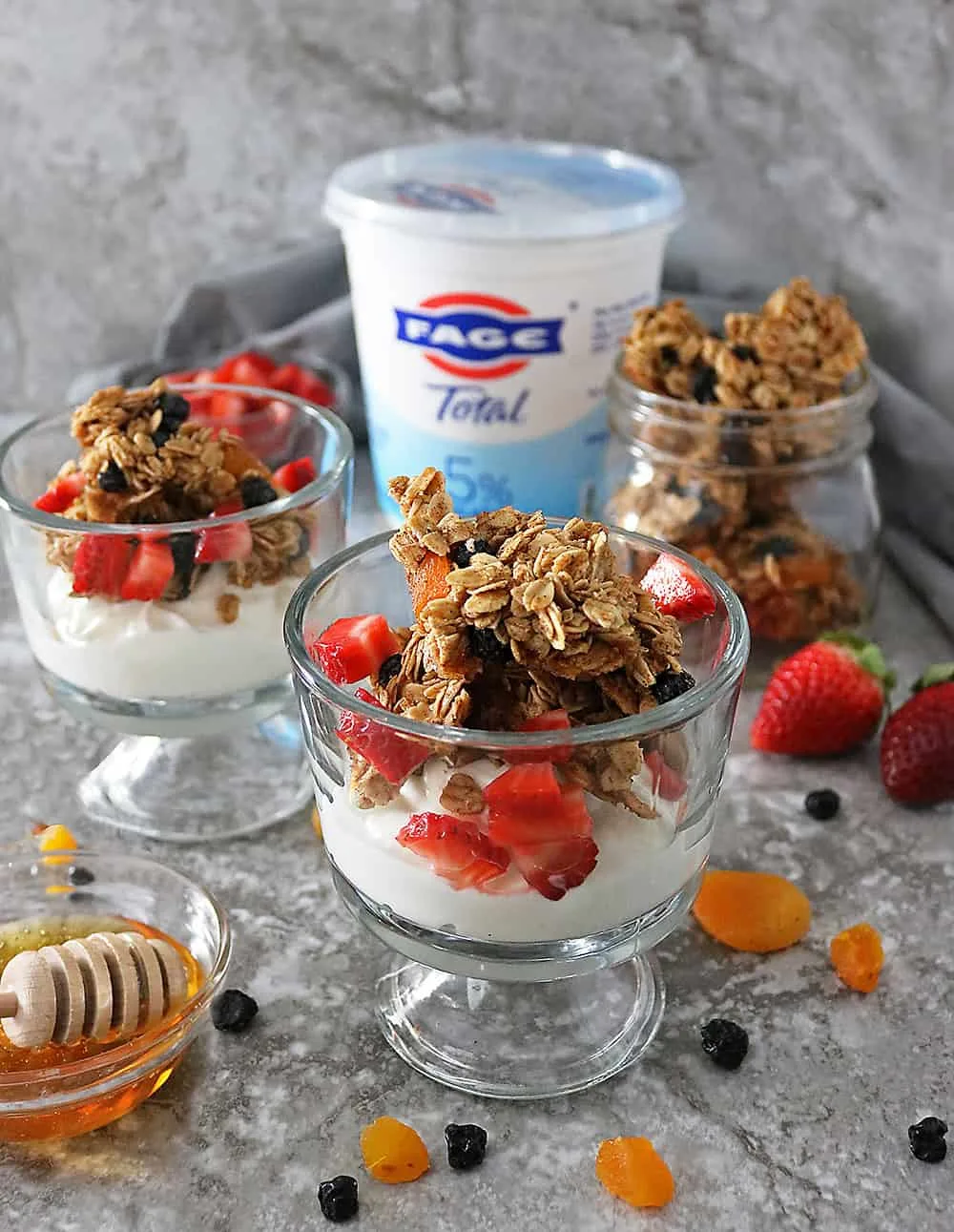 It is Non-GMO Project Verified
It contains no added sugar (contains only naturally occurring milk sugar)
It is protein-rich and a good source of calcium
It is made with only milk and live active yogurt cultures
And, it perfectly pairs with your favorite toppings
FAGE Total 5% Greek yogurt comes in three different sizes: 7 oz, 17.6 oz., and 35.3 oz to suit your needs.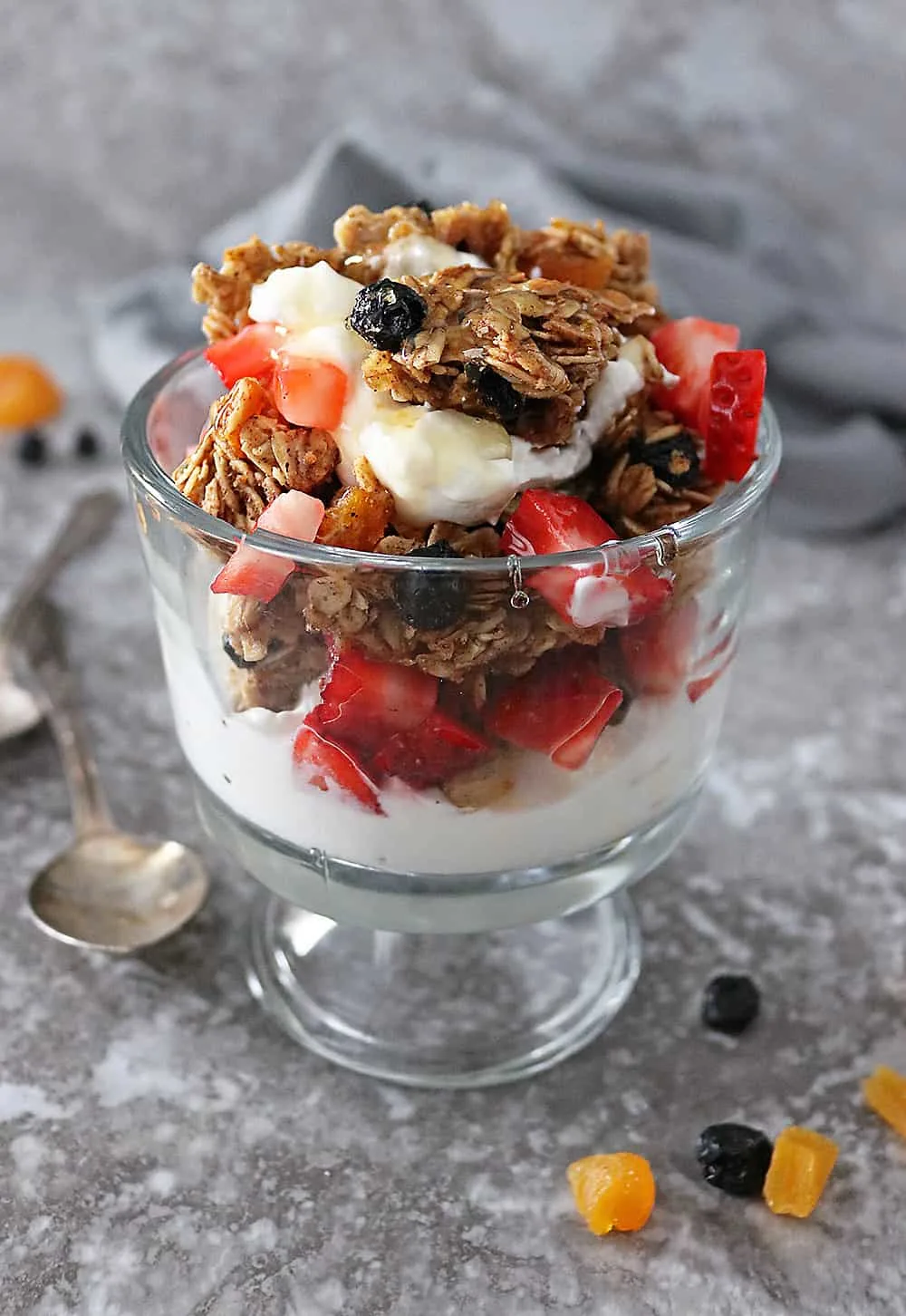 Getting back to this Blueberry Apricot Granola, this is such a simple granola to whip up.
While I grabbed a package of half edible strawberries, I opted to use dried blueberries and dried apricots for a naturally sweet kick. If you are looking for a fun twist on granola, check out these Easy Granola Cups.
Spiked with cardamom and cinnamon, this granola uses the old egg white trick to get those large chunks in it.
Please do tell me, what are some of your favorite toppings with FAGE Total 5% Greek yogurt?