Start your weekend off with these healthier, 6-ingredient, Flax Protein Waffles! Made without any flour or cream, these are a nutritious addition to any weekend breakfast or brunch table.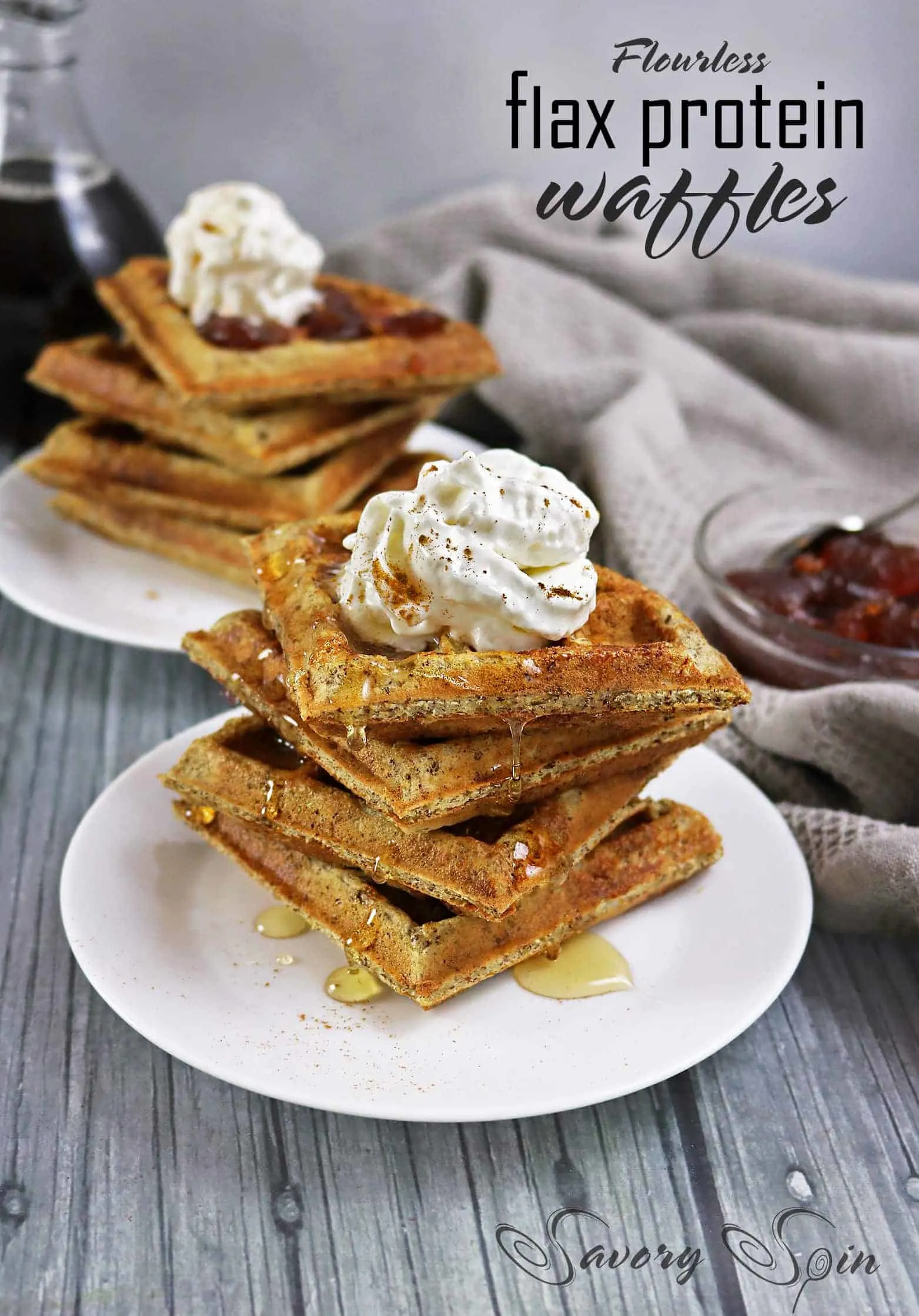 My dad got me well acquainted with the phrase "when in Rome…" when I was younger, and found the need to complain about some aspect of a city or country we happened to be visiting or living in.
He would say it so often that my younger self eventually learned…
I learned to enjoy Shawarma and the combination of milk and dates while in Abu Dhabi..
I reveled in kedgeree and Scottish eggs while in London

And, I ate my weight and then some of mangosteen, rambutan, applecakes, and Woodapple jam while in Sri Lanka

Yes…
When in Rome…or Abu Dhabi…or London… or Sri Lanka, I enjoyed the native foods, while I was there.
Then, when I left, I moved on.

I didn't go looking for Woodapple jam in London, or, Scottish Eggs in Abu Dhabi… after all, "when in Rome…" right?
But, a couple of weekends ago…
Rome came to a little store here in Decatur, Georgia!
Y'all, I was perusing the aisles of a little store called Cherian's, and, sitting there on the shelves with all the other exotic jams and jellies was…none other than WOODAPPLE JAM!!!
Now, y'all might be thinking what's all the fuss about? And, what the heck is a woodapple?
Well, I grew up eating woodapple jam on just about anything that would hold it – sometimes, that was just a spoon!
Now, woodapples are not related to apples in any way. Their "skin" is a hard shell that isn't quite as appealing as the glossy exterior of an apple.
In fact, some people think that woodapples not only look a little funky, but smell a whole lotta funky too!
But, I've always been partial to their aroma that some people describe as a combo of blue cheese and warmed up raisins.
Crack open their hard shell and the soft, almost pudding-like fruit inside is simply heavenly! Some people describe the sour-sweet taste as being similar to a combo of tamarind and dates.
But, to me, it's hard to describe – something so totally unique – I haven't tasted anything quite like it since I moved away from Sri Lanka.

Curious to know more about woodapples? Well, this video is worth checking out then.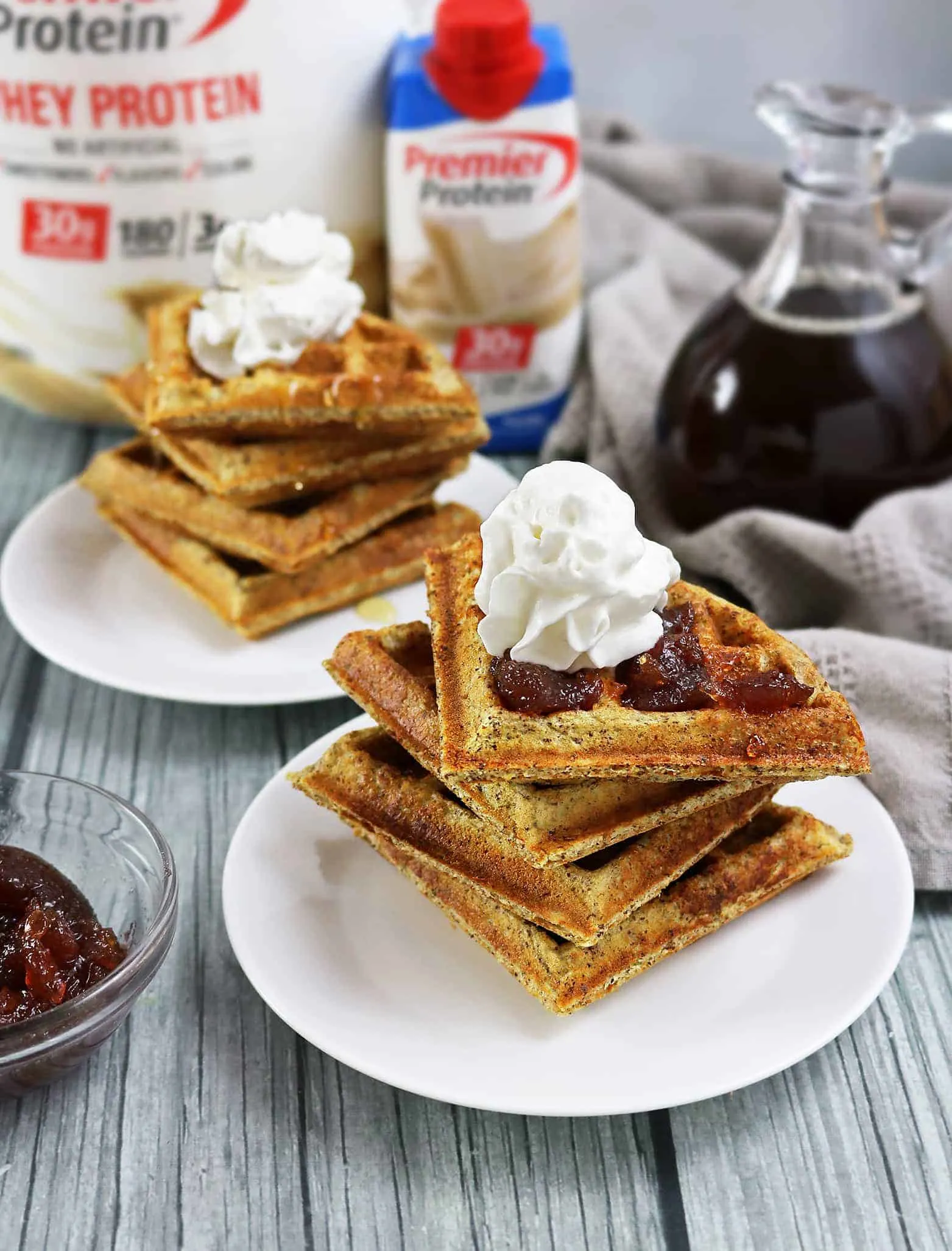 So, I had to bring some of that woodapple jam home and I have been rationing it out – only enjoying a gob or two or it every other weekend with one of my favorite waffles.
These waffles are on the healthier side. I made these with a base of Premier Protein Vanilla Protein Powder, baking powder and ground flaxseed. No flour. I then added in Premier Protein's Vanilla Shake, eggs and olive oil.
No butter or cream. We look forward to our bi-weekly rendezvous with these six ingredient waffles. The fact that they are healthier should mean that I should enjoy them more often, right?
But, then I'd deplete my woodapple jam supply even more quickly …and am not sure how long Rome will stay in that little store in Decatur!
Have y'all tried Premier Protein yet? If not, enter the giveaway to get your hands on a sample pack!
From these pancakes to these crepes to this loaf-cake to this porridge to these cookies, Premier Protein helps me protein-up my treats and eats – and, they are on a quest to help show everyone and anyone how a good source of protein can help them "tackle life's daily challenges, feel their best and live the life they want" Care to join them?