Looking for a quick grab and go breakfast? Then, these plant-based Cranberry Walnut Muffins are must try!
This shop has been compensated by Collective Bias, Inc. and Silk®. All opinions are mine alone.
#2020SilkProgress​ #CollectiveBias #Sponsored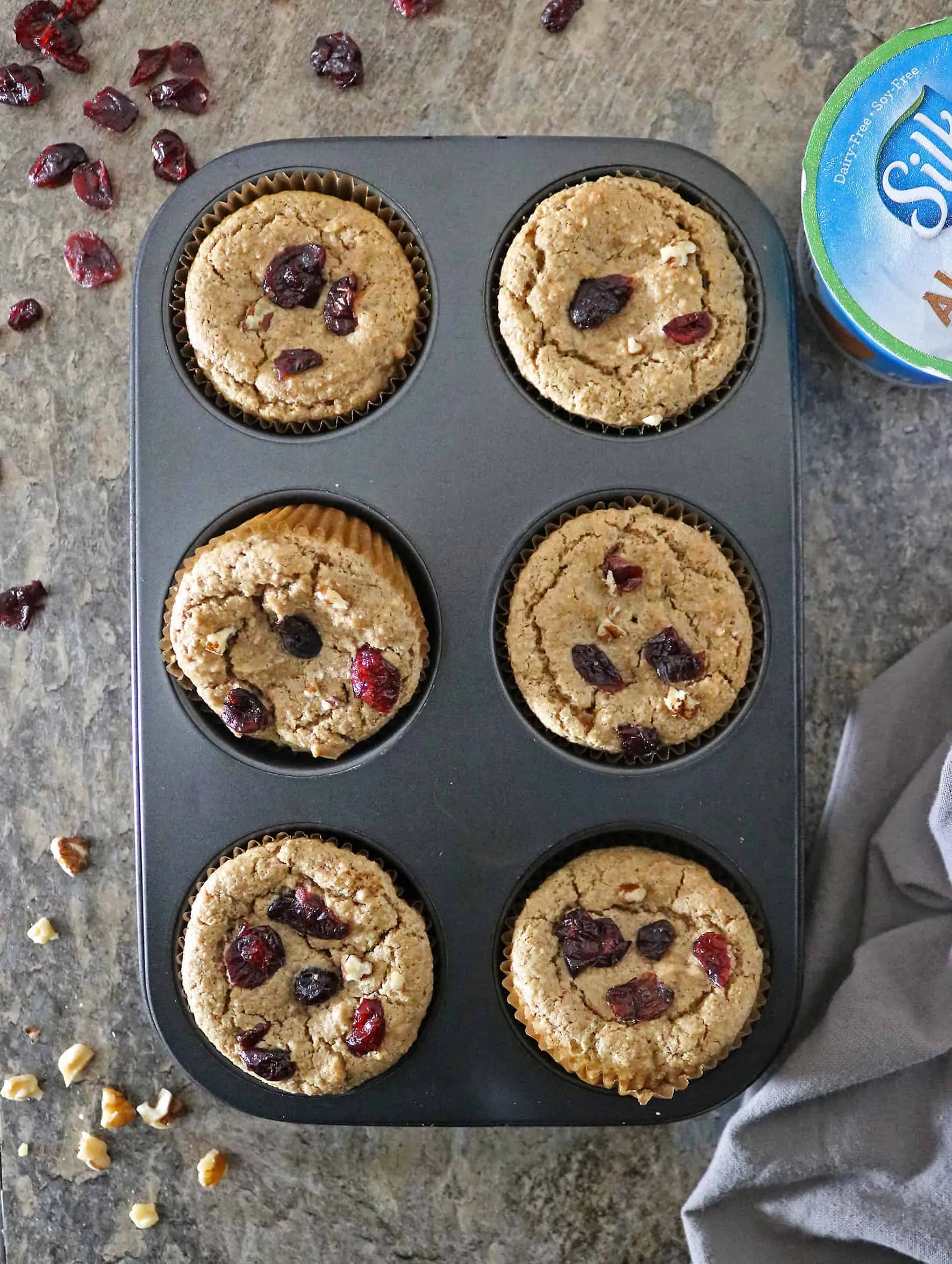 I started the Silk® 30-Day Challenge recently, and as a result, I've been trying to eat more plant-based foods at breakfast. I'm taking it step-by-step, because as the Silk® motto goes "Progress is Perfection®!" A result of that quest are these easy Cranberry Walnut Muffins.
With just 12-ingredients, these muffins are so easy to make.
I started off by grabbing all the ingredients, including Silk® Almond Yogurt Alternative and more Silk® Almondmilk while I was on a grocery-run at Walmart. Walmart and Silk® make it so much easier for me to accomplish my health and wellness choices.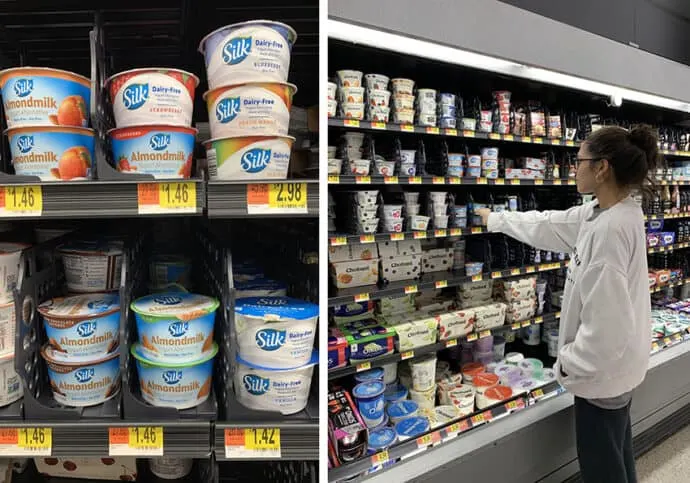 I used a combination of almond meal and oat flour for these muffins, as I love the texture almond meal lends to gluten free recipes. By the way, I grind a batch of rolled oats in my blender and store the resulting oat "flour" in an airtight container to use in recipes.
Interested in Silk® products? Hover over the photo below to click through for more information about Silk® and to purchase at Walmart.
Instead of butter and eggs, I used creamy almond butter, and Silk® Almond Yogurt Alternative. By the way, a trick I have learned from good 'ol Google when it comes to measuring almond butter, make sure you spray your measuring cup with cooking spray as the almond butter (or any other nut butter) will not stick to the measuring cup. After having enjoyed Silk® Almondmilk in this Apple Pecan Breakfast Bread, I also used it in these Cranberry Walnut Muffins.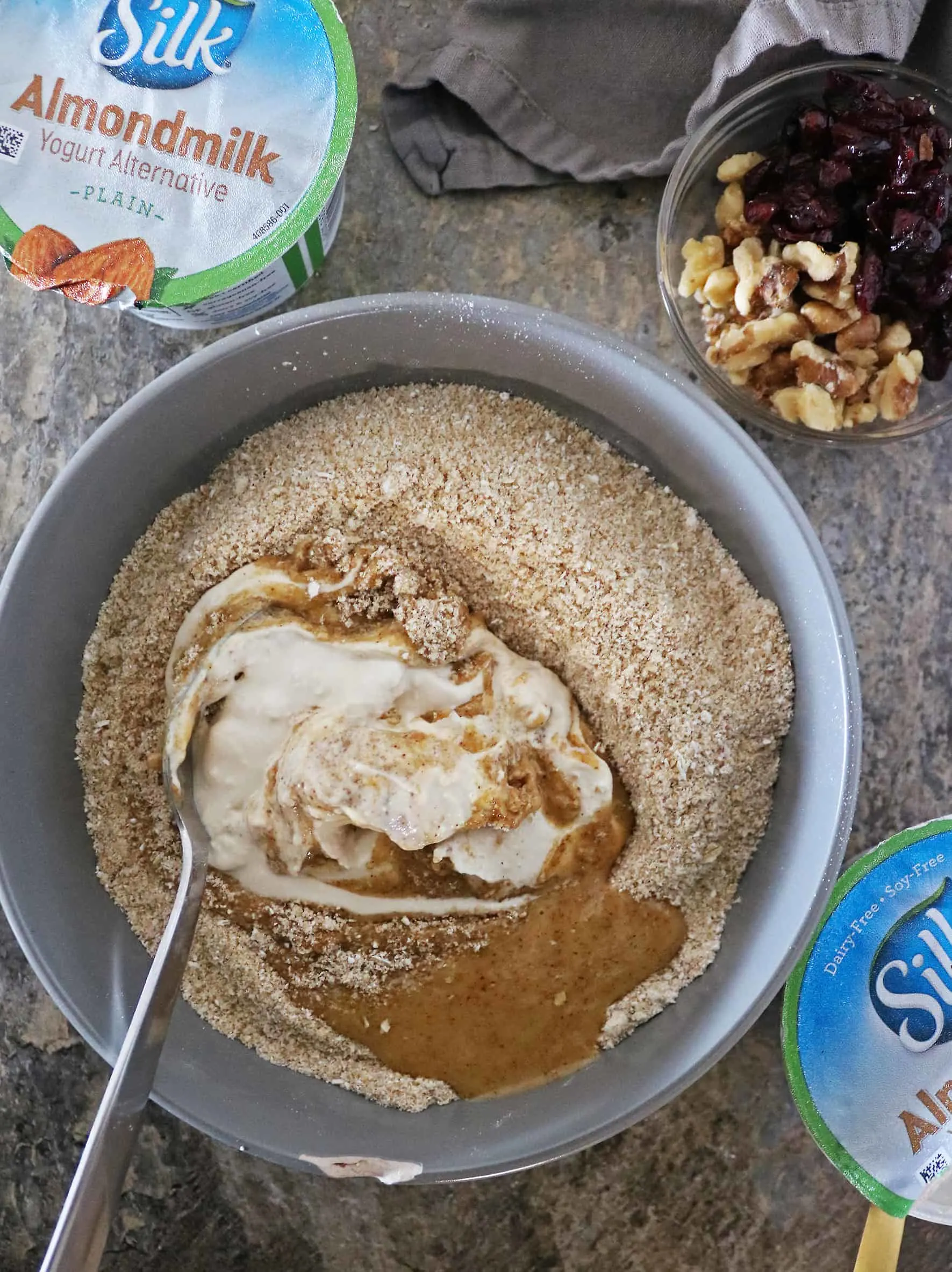 Powered with walnuts and cranberries, these muffins are a powerhouse of ingredients. There were several times when these Cranberry Walnut Muffins powered me through my mornings and afternoon slumps. Some days, I even crumbled up a muffin into a bowl of Silk® Almond Yogurt Alternative.
By the way, deliciously creamy, Silk® Almond Yogurt Alternative comes loaded with 5 grams of plant protein. Gluten-free, dairy-free and vegan, Silk® Almond Yogurt Alternative contains live and active cultures.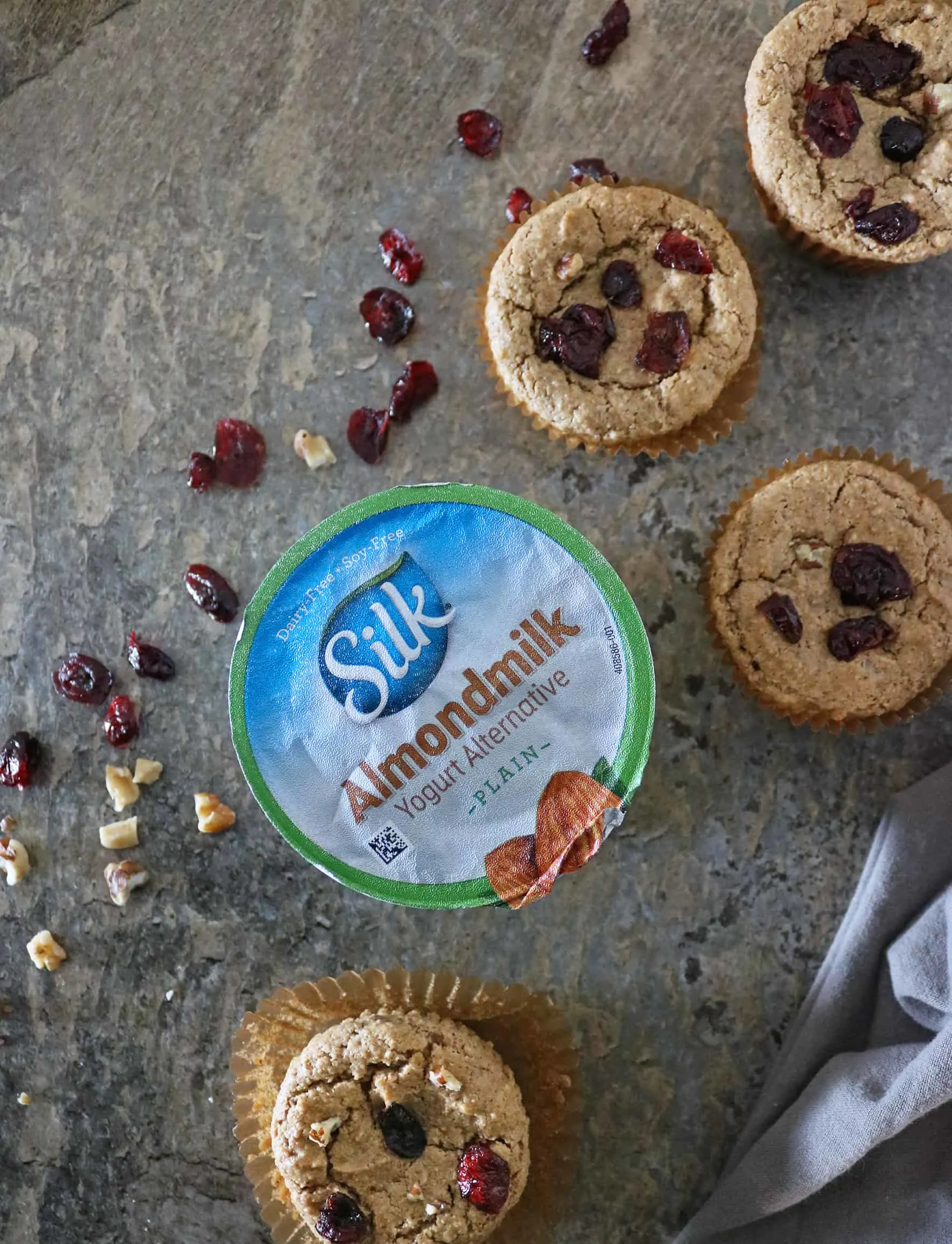 I have been reluctant to incorporate plant-based baked breakfast treats into my day, as most of the plant-based baked goods I've tried are either too sweet or too gummy or both – like my first trial of that apple pecan bread was.
But, after several trips to Walmart to stock up on ingredients and a couple of tries, I managed to come up with these tasty vegan Cranberry Walnut Muffins.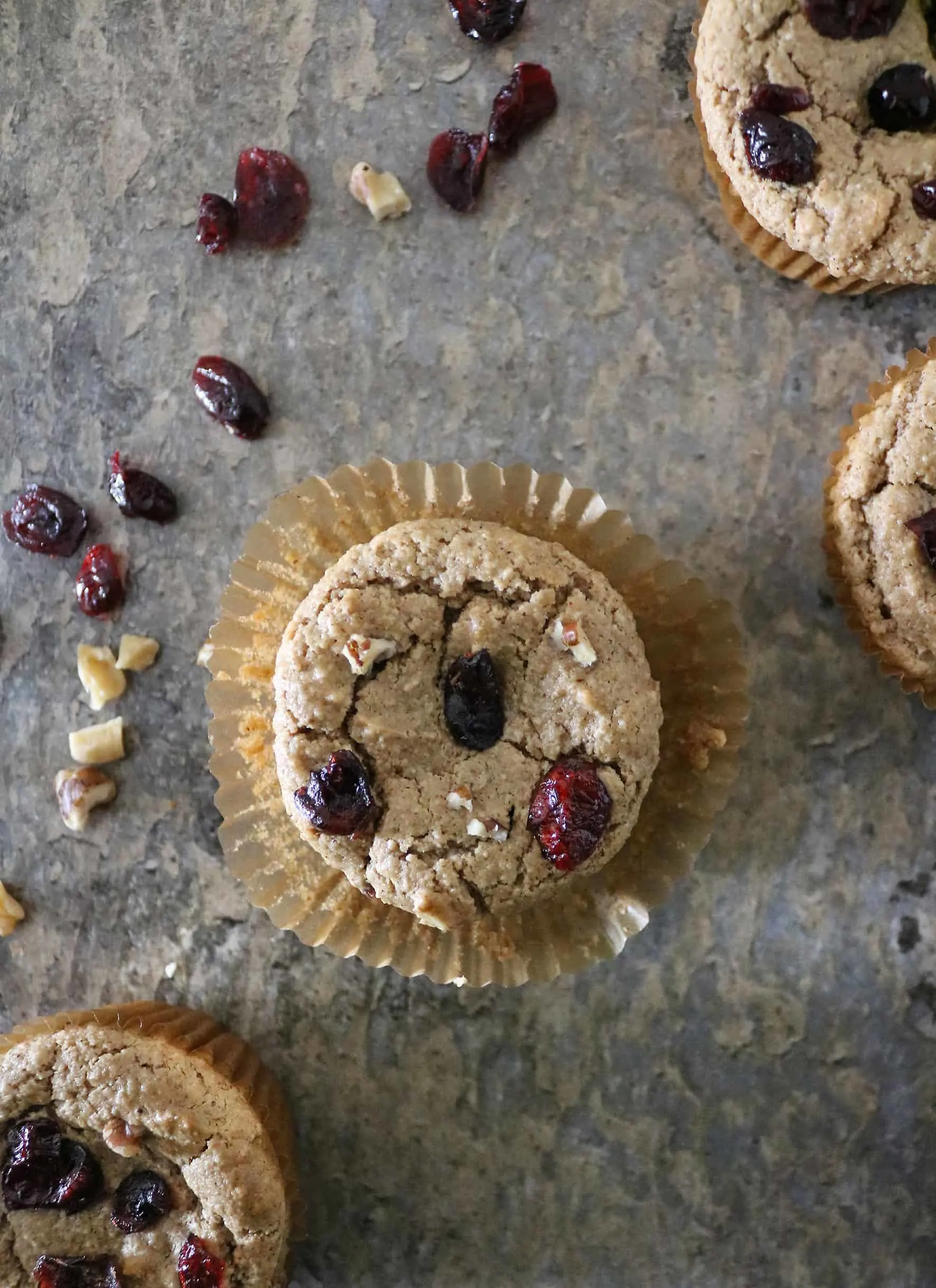 If you, like me, are looking to incorporate more plant-based recipes, into your day, then please do give these delicious vegan Cranberry Walnut Muffins a try – but first, head on over to Walmart and stock up on Silk® Almond Yogurt Alternative.
If you started the Silk® 30-Day challenge, how is it going? If not, then you can still start now, because every small choice can lead to big change​ – "Progress is Perfection." Just a reminder the Silk 30 Day challenge is a text engagement experience that serves as a "coach in your pocket" to help people of all fitness levels aspire to more active lifestyles while also introducing more plant-based items to their menus. You can find out more and sign up here! ​
Love cranberries? Then make sure you check out this Sweet Potato Cranberry Soufflé, these Cranberry granola, and this Cranberry Pear Sauce.