I've partnered with Premier Protein to bring y'all these Easy Cardamom Vanilla Swedish Pancakes! Thank you so much for supporting the brands that keep this Blog Spinning! #TheDayIsYours #Sponsored
Easy and so delicious, these Cardamom Vanilla Swedish Pancakes have a bit of a protein boost to them as well. These are an easy and tasty breakfast for us on those holiday mornings when we are looking for a breakfast to balance off those other indulgent eats and treats of the day.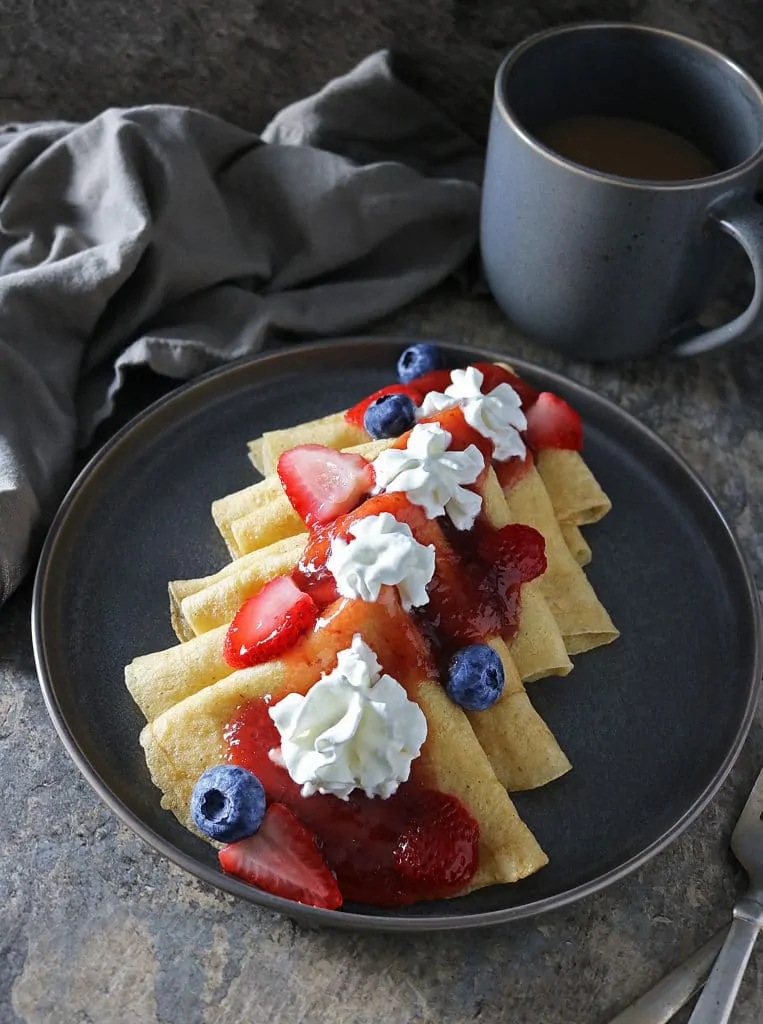 There used to be a time when I used to think that the forty five minute drive to IKEA was just too much. Then I moved an hour and forty five minutes away from IKEA and all of a sudden, we are there two weekends in a row! And, it was all the pancakes fault!
You see, up until a recent trip, I'd never experienced the joy of an IKEA breakfast platter with eggs, sausages, potatoes and two delicious Swedish pancakes or pannkakor (served with a huge smear of strawberry jam) all for just 2 bucks! My daughter and I decided to share this one platter because it was a ton of food – or so we thought! But, those Swedish Pancakes were just too delicious to stop at just one each – so we got and shared another batch of them! Then, of course, we went back the weekend after – and took my mom and sister along as well!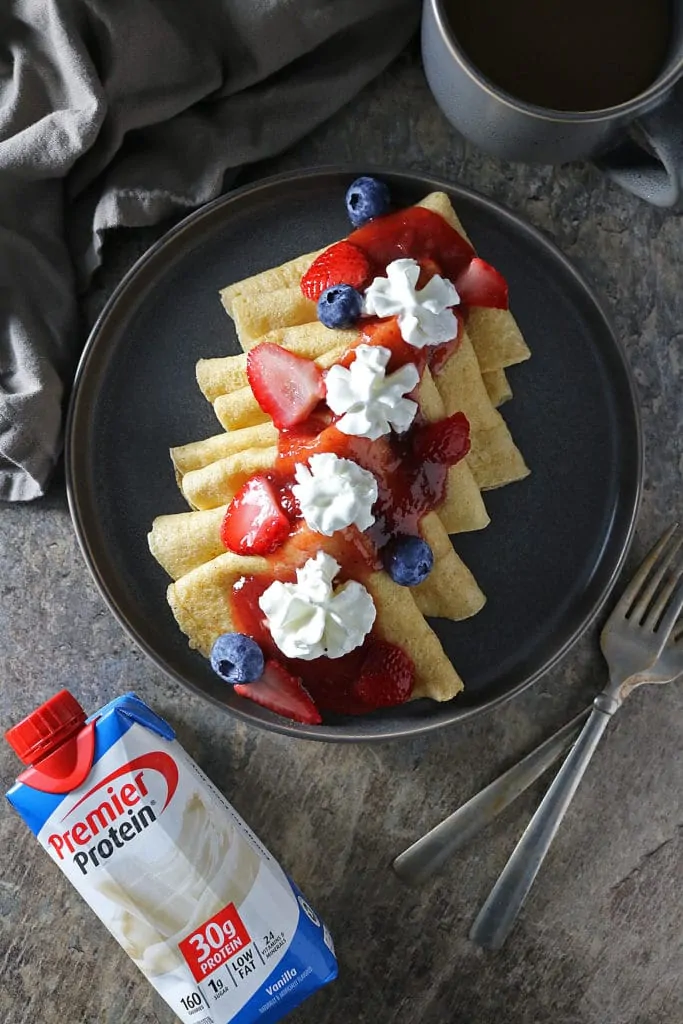 But, that hour and forty five minute drive every weekend is hard on my old bones so the weekend after, I decided to try my hand at making pannkakor at home. I found a recipe on the interwebs from an European site and replicated it exactly and that batch of pannkakor got the thumbs up from my daughter. As this batch was a bit too thin for me (though that was mostly my error and not the recipe), I decided to doctor it up some the next time. Well, the weekend after, I used Premier Protein's Vanilla Shake instead of milk and added more flour to it along with some cardamom (because a little bit of spice is always nice eh!) and made these Cardamom Vanilla Swedish Pancakes.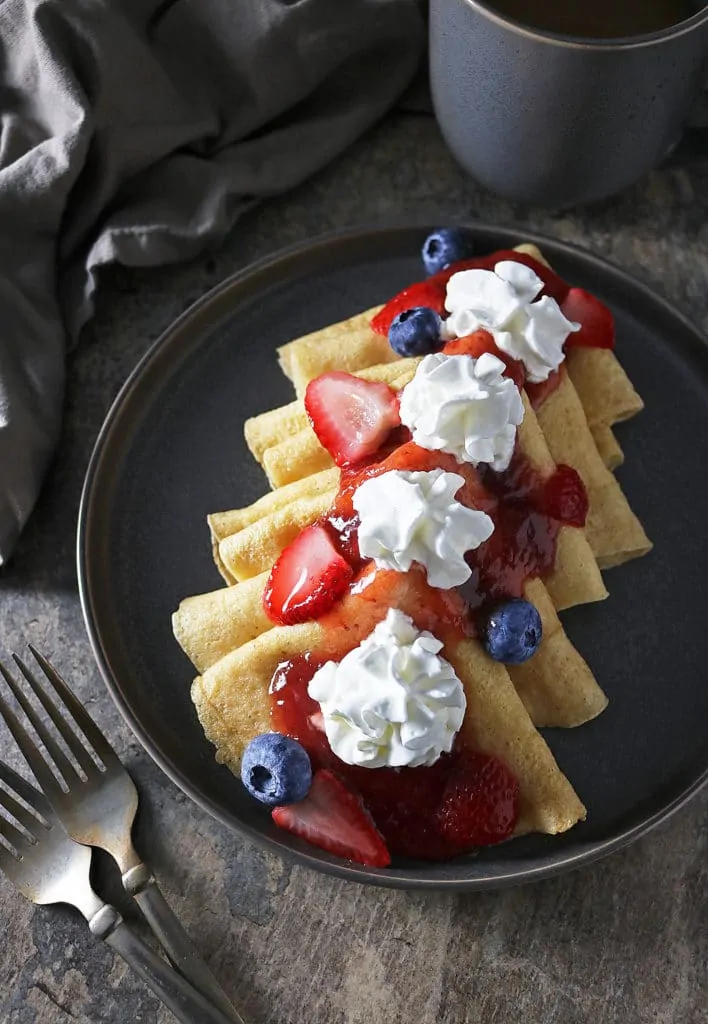 Sweat or savory, pancakes are some of my favorite foods, and I'm so glad to have yet another variation of them to add to my pancake rotation – besides, these are super easy to make, and – made with Premier Protein, they sure are a healthy-ish way to start off your day!
Wanna learn more about how Premier Protein is trying to show everyone and anyone how a good source of protein can help them "tackle life's daily challenges, feel their best and live the life they want?"
Then, simply follow them on Facebook, Instagram, Twitter, Pinterest and Youtube!
Cardamom Vanilla Swedish Pancakes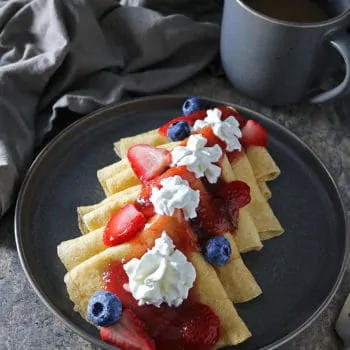 3 eggs
1.5 cups Premier Protein Vanilla Shake
1 cup enriched all purpose flour
1/4 tsp cardamom
2 pinches salt
1 tbsp sugar
butter for greasing the pan
Add the eggs to a bowl and mix them well. Then add in the Premier Protein, cardamom and sift in the flour to avoid clumps. Mix till ingredients are incorporated.

Meanwhile, heat up a large skillet or frying pan and grease with butter. When the pan is hot, add in a quarter cup (approx) of the pancake batter and turn pan so batter spreads out evenly. If you'd like, you can assist this process with a spoon too. When batter is spread out, let it bubble a bit (about a couple of minutes). Then lift up with a spatula and flip and let cook another minute or two. Then, when warm, fold into fourths.

Enjoy with jam, whipped cream and fruit, if desired.