This post was sponsored by Hood as part of an Influencer Activation for Influence Central and all opinions expressed in my post are my own.
Enjoy conversation and the camaraderie of your family and friends as y'all gather around the breakfast table with a stack of these gluten free, cardamom spiced, Easy Banana Pecan Pancakes and steaming mugs of coffee with Hood Calorie Countdown.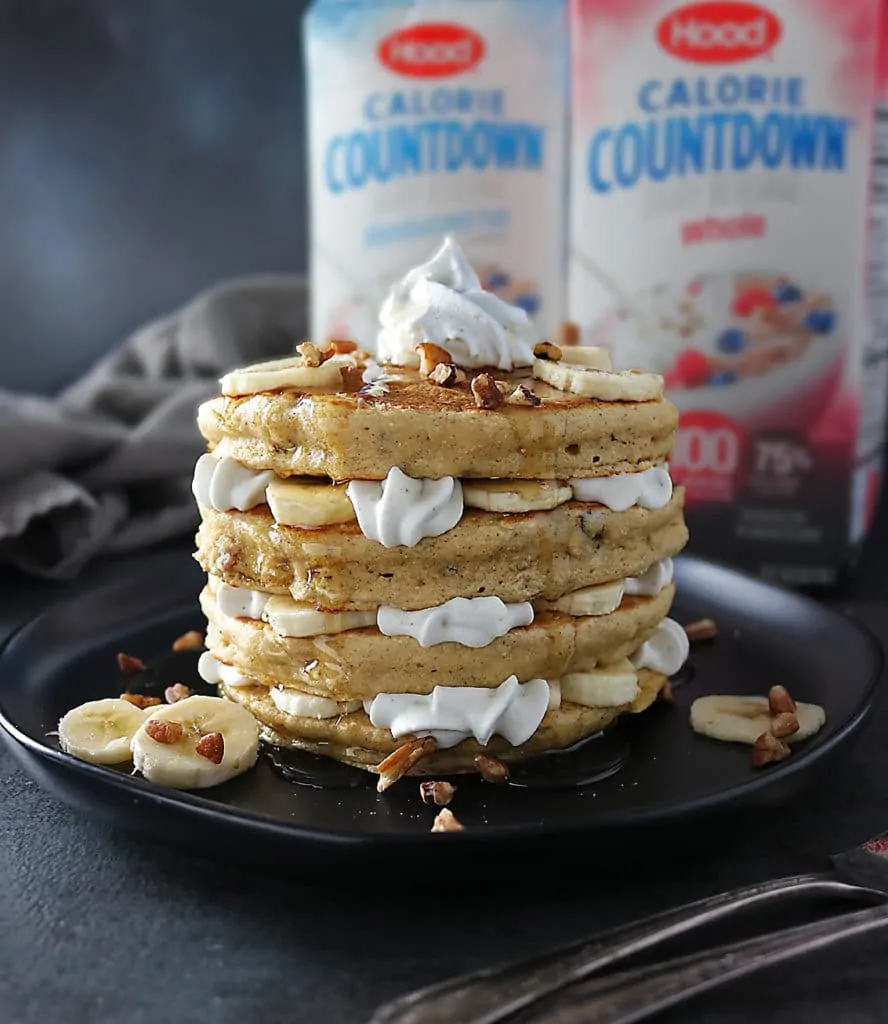 It's hard for me to resist the lure of pancakes on a Saturday morning. TBH, it's hard for me to resist the lure of pancakes – period.
From flattich Swedish Pancakes to fluffy American ones, from savory pancake sandwiches to stuffed and rolled up Sri Lankan coconut pancakes, I have yet to meet a pancake I didn't love to chow down on!
To me, pancakes are not only delicious, but their history is so fascinating. For example, did you know that way, way, back in the day, before yeast and baking soda came on the scene, freshly fallen snow (or the ammonia in it) was used to make pancakes light and soft?
Boiling water and ashes were used for a similar result. They (boiling water and ashes) were mixed together and after the ash settled, the liquid was used in the pancake batter.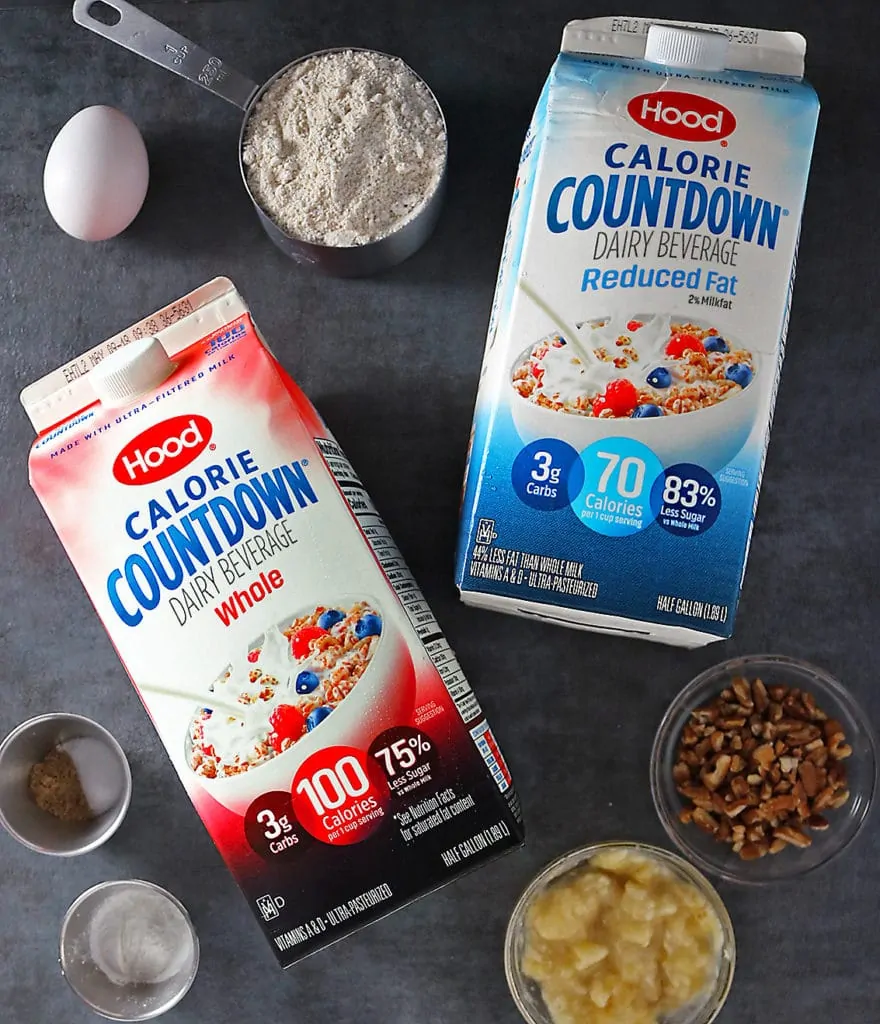 While I might be a tad bit sceptic about using ash liquid or snow (no matter how fresh) in my pancakes these days, I don't think twice about using Hood Calorie Countdown in them. I recently came across Hood Calorie Countdown in the dairy section at my neighborhood Walmart store, and decided to bring a couple of cartons of it home and use it in these Banana Pecan Pancakes.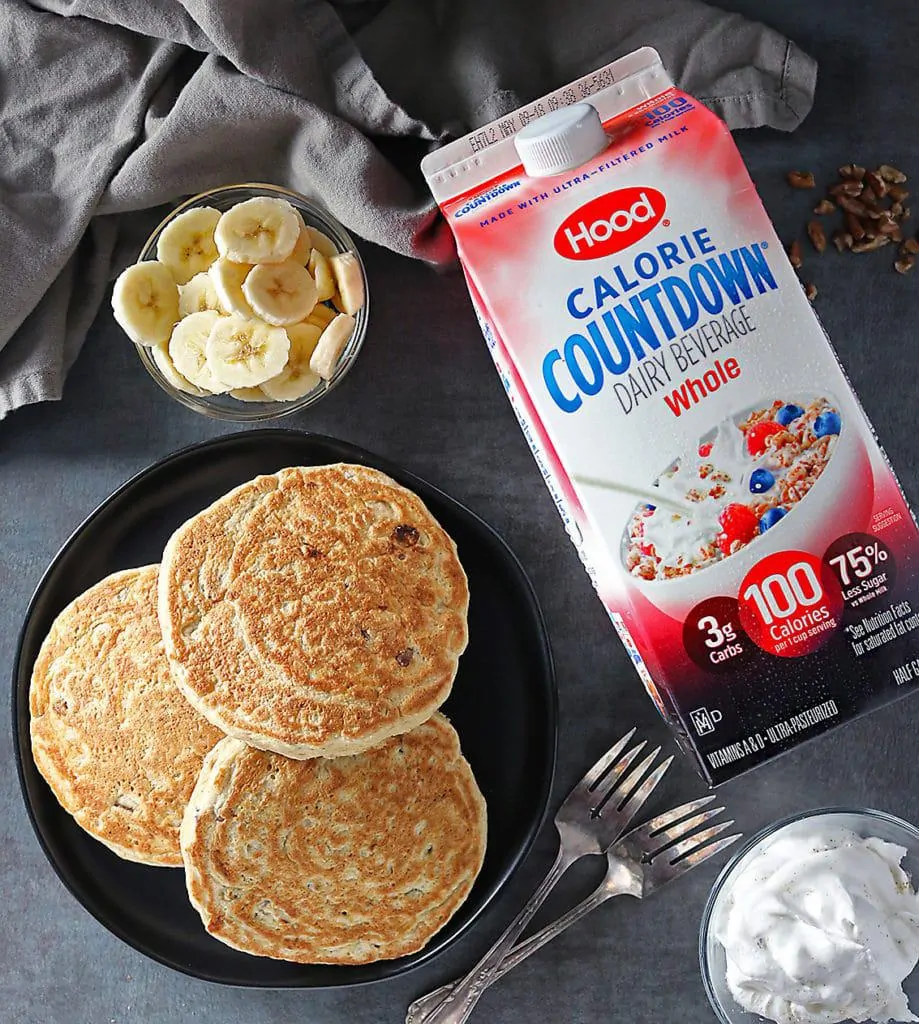 If you are wondering what exactly is Hood Calorie Countdown?
Well, Hood Calorie Countdown is a milky smooth dairy beverage that has 42% fewer calories, 75% less sugar and 67% fewer carbohydrates than milk. It provides 25% of your Daily Value for calcium and 15% of your Daily Value for Vitamin D (based on a 2,000-calorie diet) per one cup. Creamy and delicious, Hood Calorie Countdown comes from Hood, which is a leader in high quality dairy products.
Hood Calorie Countdown comes in: Whole, 2%, Fat Free and chocolate and can be found at Walmart and other local retailers.
Want to try out Hood Calorie Countdown? Then, you can use this coupon to save on your purchase!
If you would like to find out more about Hood Calorie Countdown, make sure to visit their website. For more recipe ideas and inspiration using Hood Calorie Countdown, check out this link. Also, make sure to follow Hood Calorie Countdown on Facebook, Instagram, Twitter and Pinterest!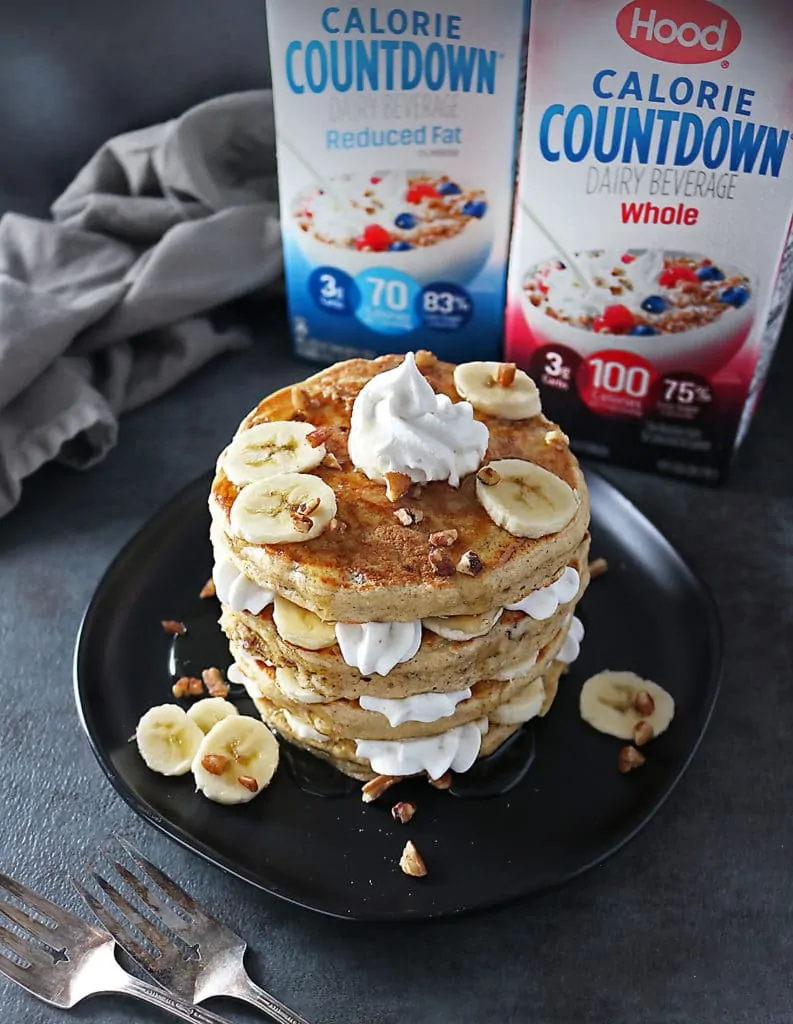 Now, getting back to these Banana Pecan Pancakes, they are an adapted version of these Oatmeal Pancakes. I simply added in some cardamom, mashed bananas and pecans for a flavor and texture boost. Fluffy yet filling, these pancakes were delicious with layers of fresh, sliced bananas and freshly whipped cream and steaming mugs of coffee.
Tips To Make Fluffier Pancakes:
• Use a whisk.
I have found that while blender pancakes can be so easy to make, the ones mixed up with a whisk tend to be fluffier.
• Let the batter rest.
While using ground up oats, I started letting the batter stick for a bit to make sure the batter was not runny. In the process, the resulting pancakes were quite a bit fluffier. So, I tried doing this with those pancakes I made with regular flour and the same applied.
• Check expiry dates.
If the baking powder you happen to be using has expired, your pancakes are going to be on the flatter side. Now this wouldn't be an issue if you were making Sri Lankan coconut pancakes or Swedish pancakes, but might be a concern otherwise.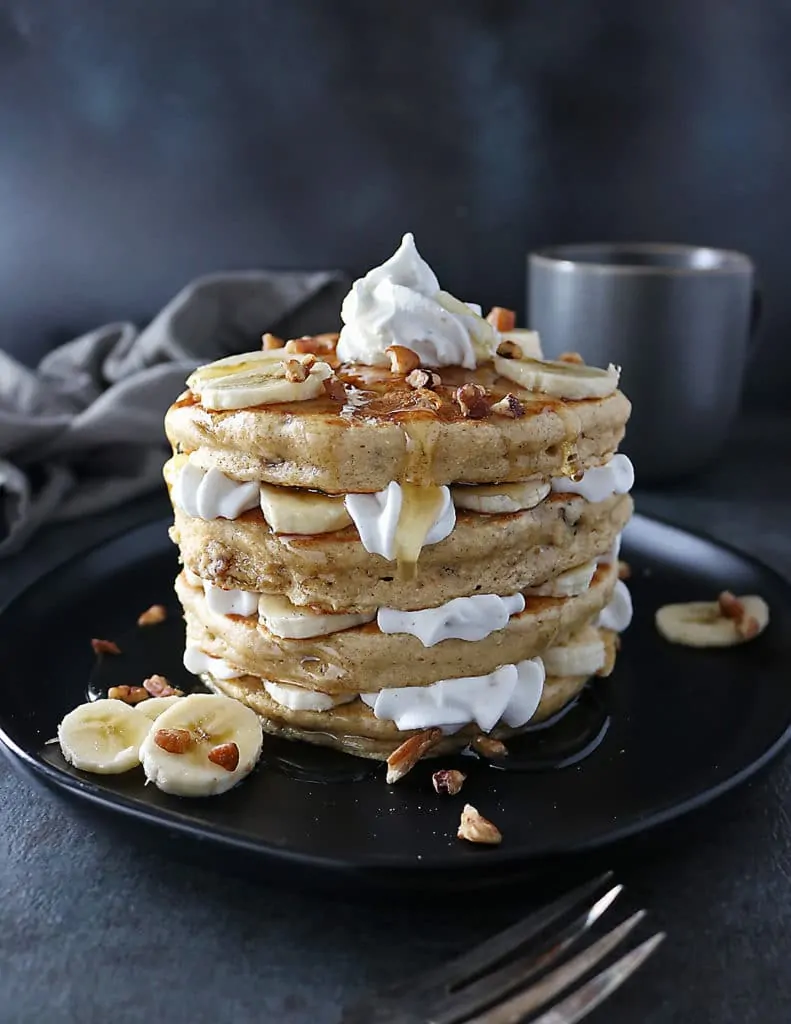 I would love to know if you've make this recipe or any other recipe from this blog so please do rate the recipe and let me know your thoughts on it in the comments below.
You can also FOLLOW ME on FACEBOOK, TWITTER, INSTAGRAM and PINTEREST to get recipe ideas and inspiration.
©Savory Spin All content and images are protected by copyright. Please do not use my images or recipe without my permission.