This post was sponsored by Hood as part of an Influencer Activation for Influence Central and all opinions expressed in my post are my own.
This comfortingly creamy, protein rich, Spinach Mushroom Bake is spiked with turmeric and smoked paprika and makes for a delicious low carb dinner or breakfast, paired with some bacon!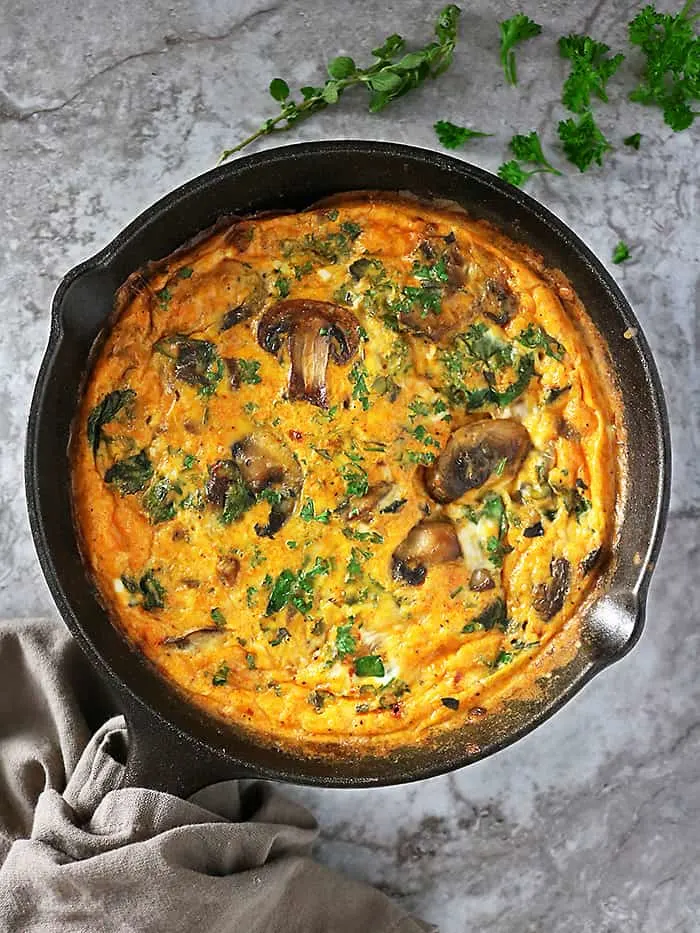 My daughter and I enjoyed slices of this Spinach Mushroom Bake for dinner after our little sojourn to Tallulah Gorge, a couple of weekends ago. With a combination of cheese, Hood Calorie Countdown, eggs, spinach and mushrooms ever so tenderly spiced with garlic, onions, turmeric and smokey smoked paprika, this low-carb bake is just as tasty for breakfast as it was for dinner. And, it is so so easy to make!
Spinach Mushroom Bake in 4 Steps!
1) Just sauté up onions and garlic in a skillet, then throw in some mushrooms and spinach.
2) Make the sauce by whisking together Hood Calorie Countdown, eggs, cheese, turmeric, smoked paprika, salt and pepper.
3) Pour the sauce into the sautéed veggies, indulge in a bit of swirling action in the skillet, and..
4) Place it in the oven and boom! Dinner! Or, Breakfast! Or, both!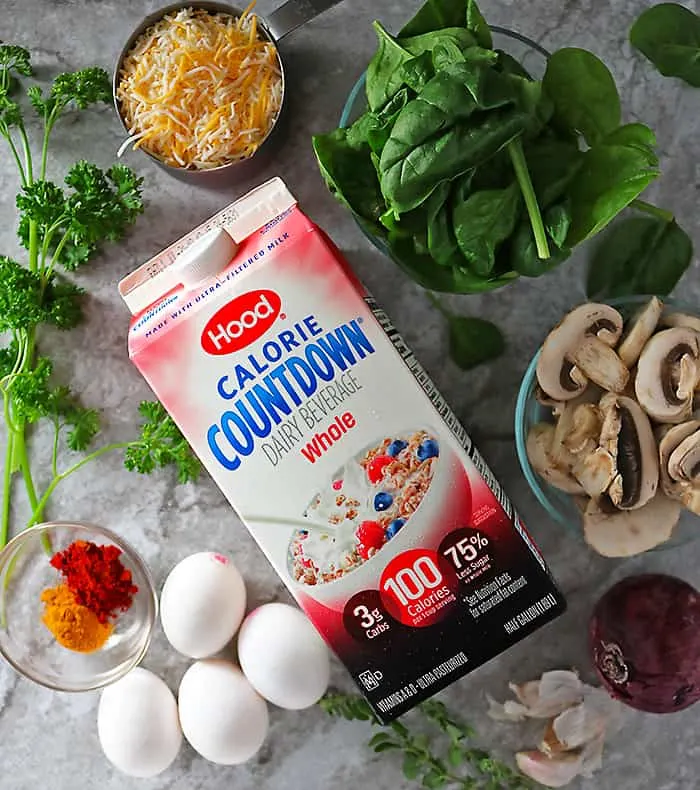 A friend told me that she was trying to get a handle on her food intolerances by adding a little bit of the intolerable foods into her diet, so I figured I'd adopt her approach to deal with my lactose intolerance. Please do keep in mind that I am not a nutritionist or food expert in any way – I just like experimenting with foods to find what works for me.
So far I've noticed that adding just a smidge of dairy into my diet hasn't been as detrimental as I used to think it would be. I used Hood Calorie Countdown (a dairy beverage) in these Banana Pecan Pancakes a little while ago, and I used just a half cup of it in this Spinach Mushroom Bake as well.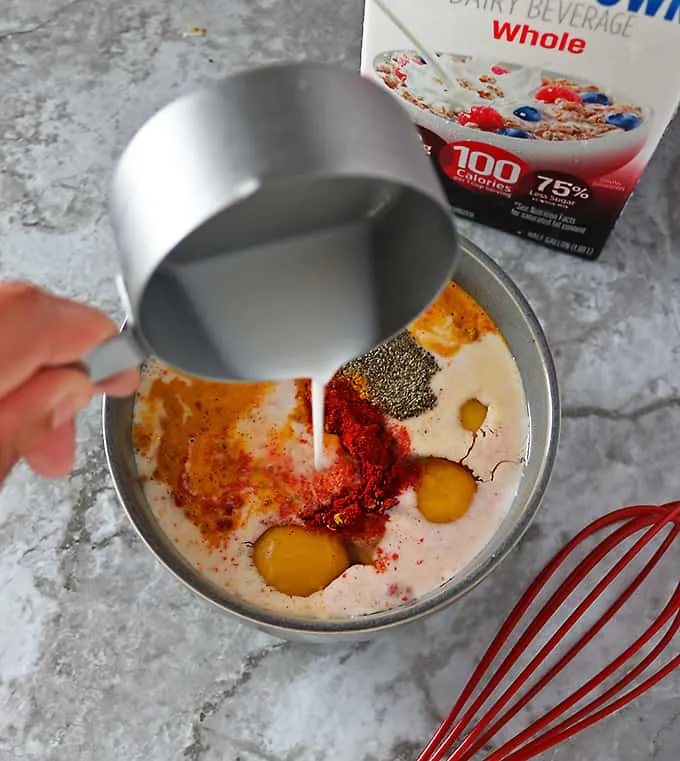 Hood Calorie Countdown is a milky smooth dairy beverage that has 42% fewer calories, 75% less sugar and 67% fewer carbohydrates than milk. It provides 25% of your Daily Value for calcium and 15% of your Daily Value for Vitamin D (based on a 2,000-calorie diet) per one cup. Creamy and delicious, Hood Calorie Countdown comes from Hood, which is a leader in high quality dairy products.
Hood Calorie Countdown comes in: Whole, 2%, Fat Free and chocolate and can be found at Walmart and other local retailers.
If you'd like to try out Hood Calorie Countdown, then, you can use
this coupon
to save on your purchase.If you would like to find out more about Hood Calorie Countdown, make sure to visit their
website
. For more recipe ideas and inspiration using Hood Calorie Countdown, check out
this link
. Also, make sure to follow Hood Calorie Countdown on
Facebook
,
Instagram
,
Twitter
and
Pinterest
!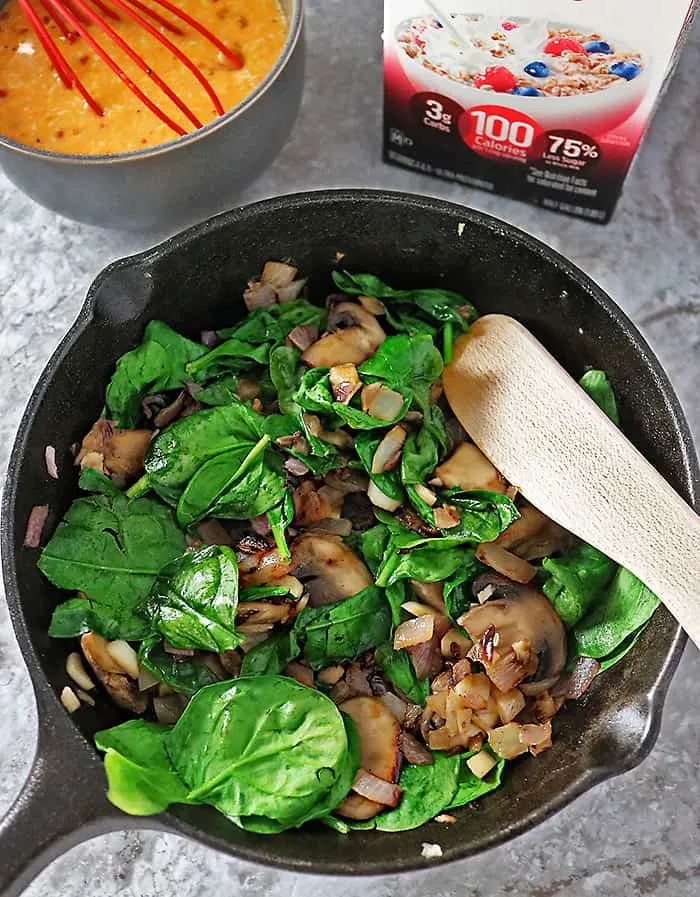 This low carb Spinach Mushroom Bake hit the spot for dinner, for us. My daughter and I had it with a side of bacon and it wasn't too filling. Seeing we had filled up on this Date Shake immediately after we got home from Tallulah Gorge, neither of us wanted something too heavy.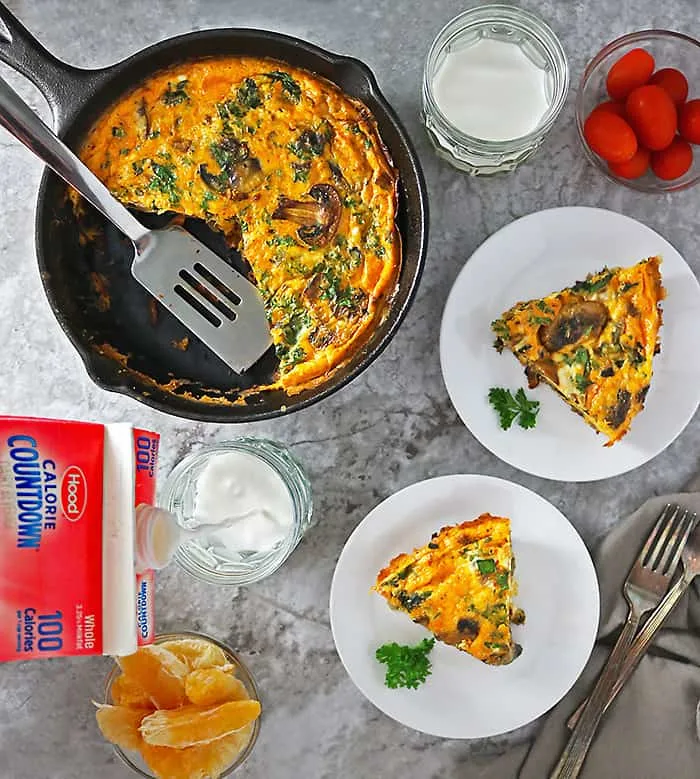 By the way, Tallulah Gorge is one of the most breathtaking canyons, I've been to, here in Georgia! The gorge itself is said to span 2 miles and is nearly 1000 feet deep. There are supposedly over 1000 feet to the bottom of Tallulah Gorge and back – but, the steps are not continuous so we didn't huff and puff as much as we did when we took on the steps at Amicalola Falls. There several running and biking trails, varying in difficulty and miles, around Tallulah Gorge.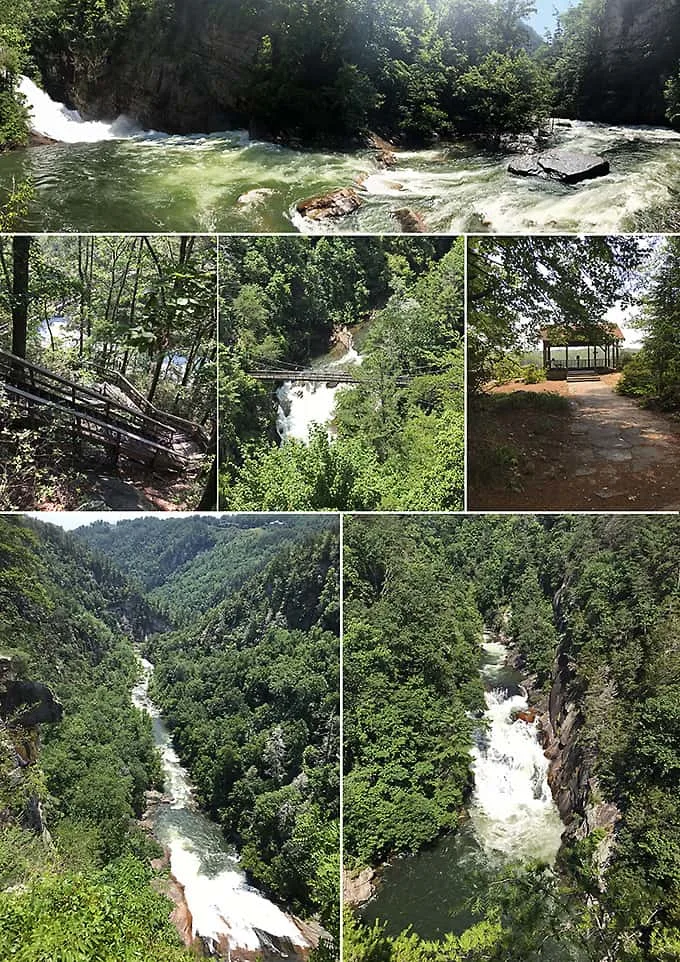 My daughter and I planned on getting passes to go across the gorge floor (where you see all the gushing water and rocks in the top photo), but, the dam that feeds the Tallulah Gorge Waterfalls was being worked on and no one was allowed to cross at the bottom as the water levels were too high. If you are in Georgia and plan on making the trek to Tallulah Gorge, be prepared to have your breath taken away at certain viewing spots, and, get there early to get one of the 100 passes given out each day to hike across the gorge floor – the views are so worth it!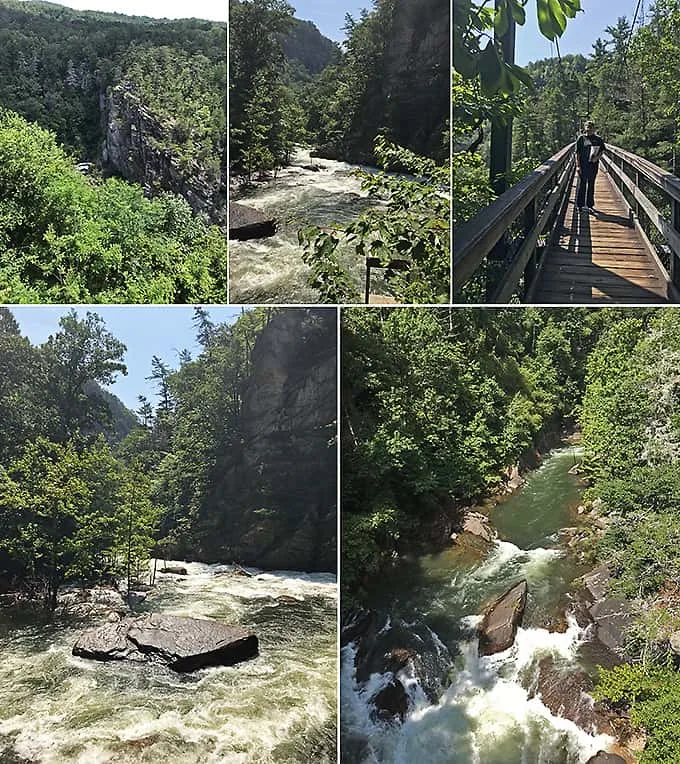 I would love to know if you've make this recipe or any other recipe from this blog so please do rate the recipe and let me know your thoughts on it in the comments below.
You can also FOLLOW ME on FACEBOOK, TWITTER, INSTAGRAM and PINTEREST to get recipe ideas and inspiration.