These Eggless Easy Carrot Cake Cinnamon Rolls consist of an aromatic dough studded with grated carrots and a decadently spiced pecan, raisin filling. Topped off with a tangy plant-based icing, these are a delicious breakfast treat!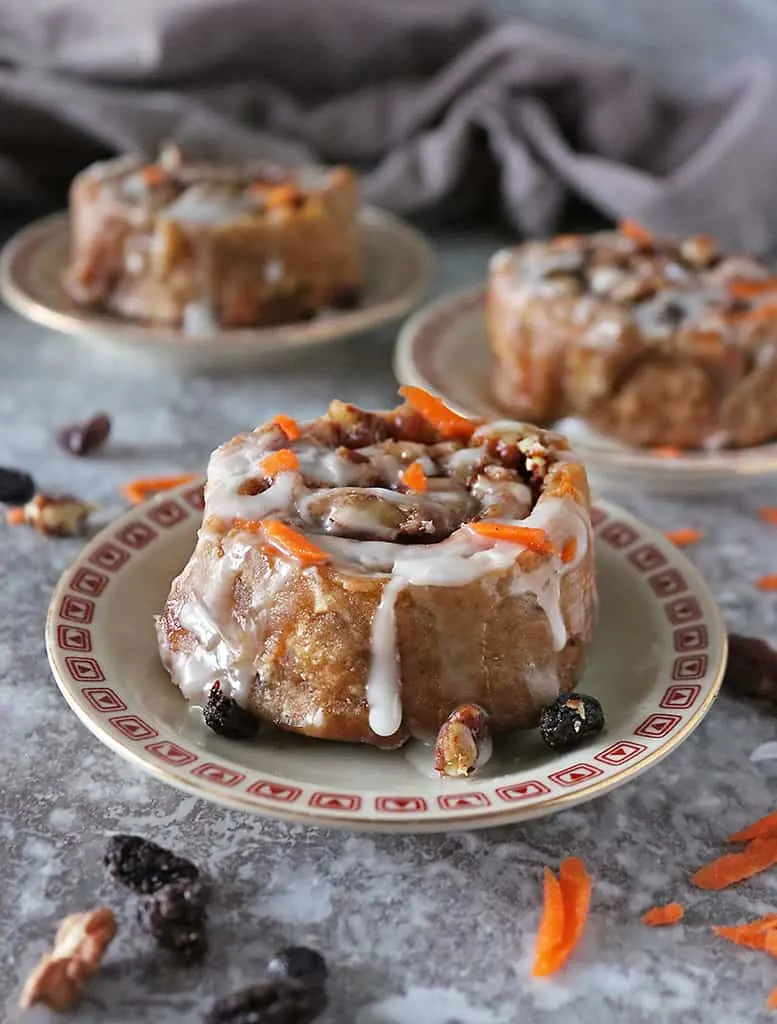 This recipe is an eggless, yeast-free spin on cinnamon rolls that combines components of carrot cake and cinnamon rolls into one deliriously delicious breakfast treat!
My daughter and I love these carrot cake cinnamon rolls because:
• They smell heavenly,
• They taste absolutely delicious,
• They can be made in 45 minutes,
• They are made with pantry-staple ingredients,
• They are plant-based, and
• They are super easy to make.
If you are out of eggs, no worries, these rolls don't need any. If you are intimidated by blooming yeast, no worries, you won't have to put aside those intimidations for this recipe.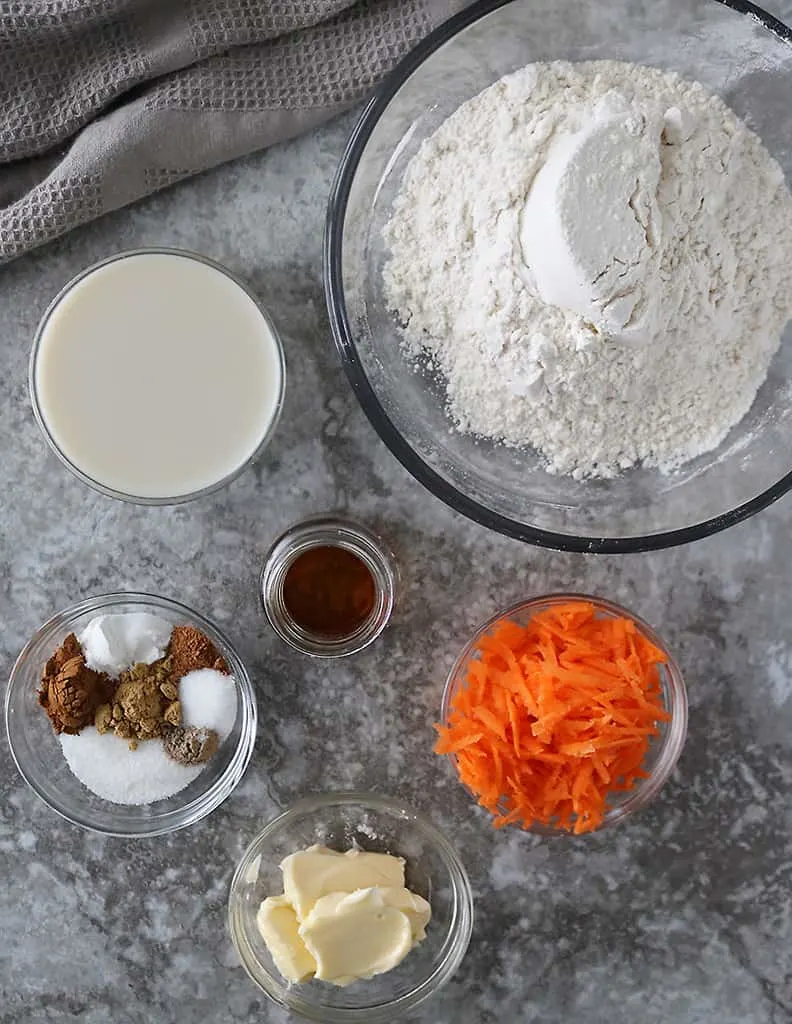 What are the ingredients needed to make these carrot cake cinnamon rolls?
At first glance, you might think this recipe calls for a rather large number of ingredients, but if you read through the list, you might see that you already have most, or all, of the following ingredients hanging out in your kitchen ~ ingredients such as:
Flour,
Sugar,
Brown sugar,
Baking powder,
Salt,
Coconut oil or vegan butter,
Almond milk,
Cinnamon,
Nutmeg,
Ginger,
Cardamom,
Vanilla extract,
Almond extract,
Carrot,
Pecans,
Raisins,
White vinegar, and
Powdered sugar.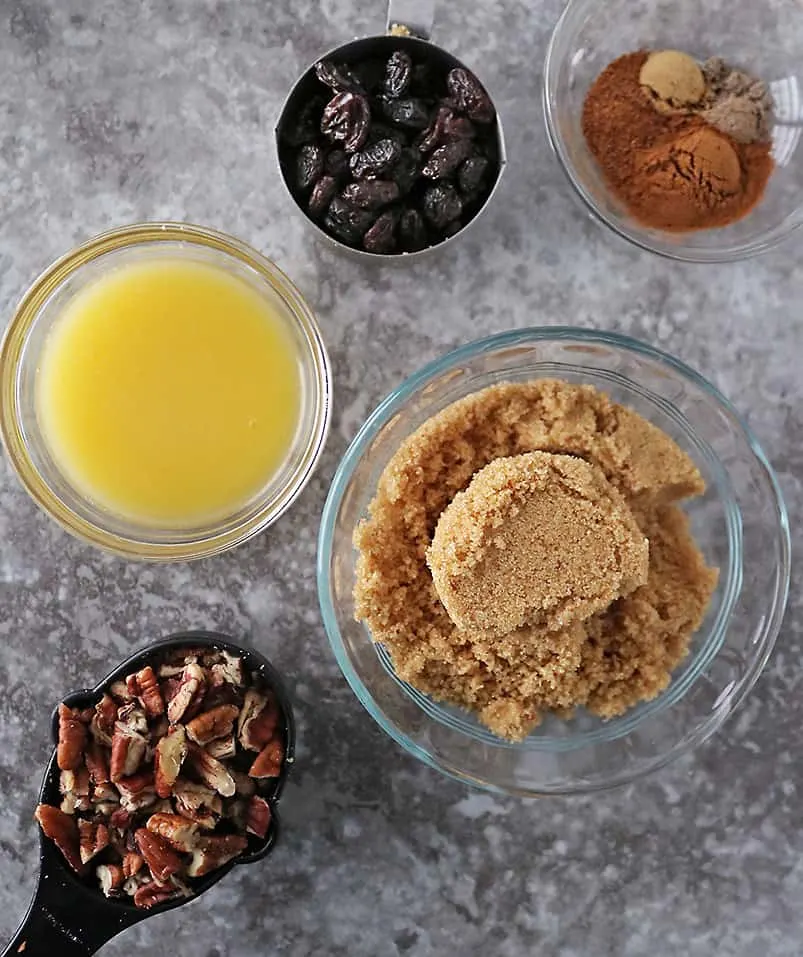 It is only Thursday and I just made a second batch of these rolls for us. Yes – we adore these cinnamon rolls. They are not only delicious, but they smell heavenly too. Besides, with carrots, pecans, and raisins in them – eating one of these is like eating a salad, right? I kid! I kid!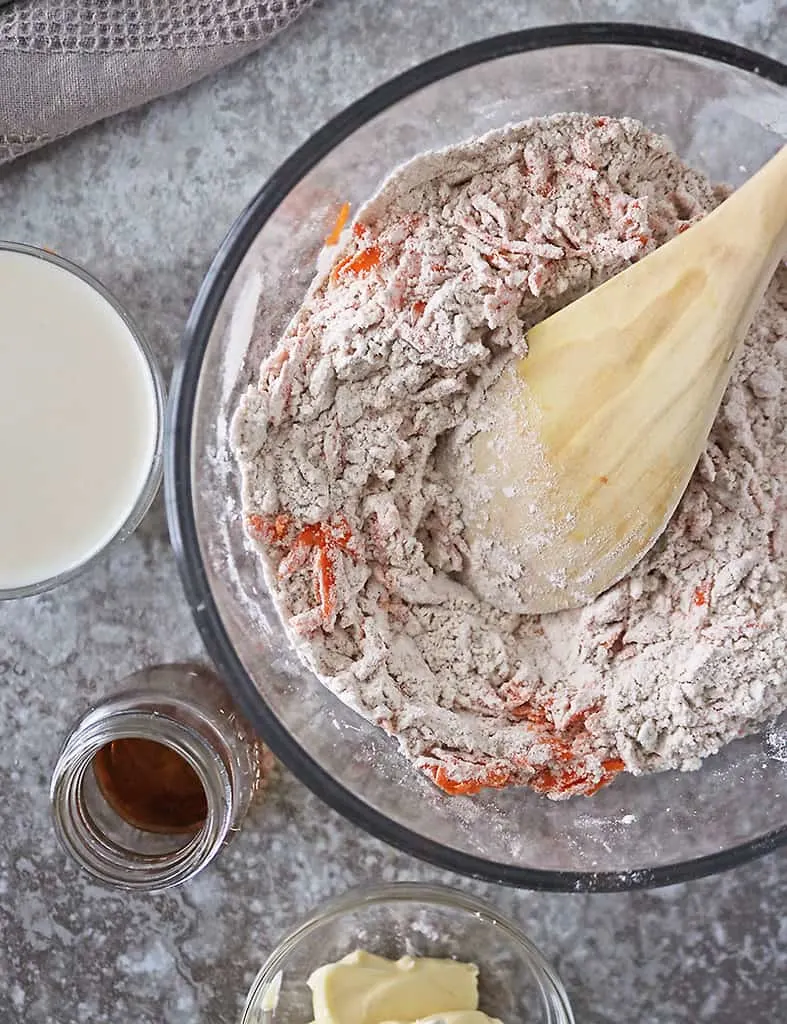 I have made this recipe with coconut oil as well as this vegan butter (btw, this isn't a sponsored mention, just an ingredient that I like). With the latter, these rolls had a slightly crispy outer roll as compared to the coconut oil. But both worked out well in this plant-based / vegan recipe.
Now, I'm not vegan, but I feel better mentally and physically when I incorporate more plant-based options into my diet. This just works for me. So, if you would rather use regular butter, please feel free to sub that in instead.
Like I did with these pumpkin cinnamon rolls, I leaned on aromatic and warming spices like cinnamon, cardamom, ginger, and nutmeg to flavor these rolls.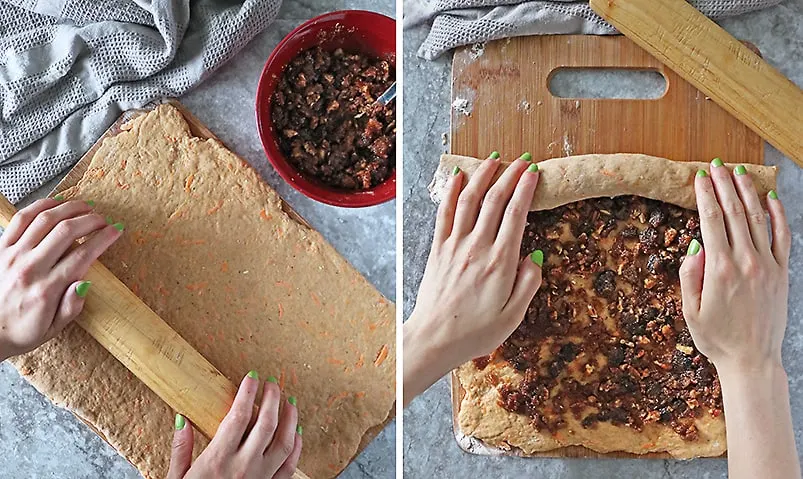 I studded the dough with grated carrots. And, I added pecans and raisins to the filling that was also spiced with cinnamon, cardamom, ginger, and nutmeg.
If you prefer your carrot cake with walnuts instead of pecans, feel free to use walnuts in these carrot cake cinnamon rolls. If you prefer your carrot cake without raisins, then leave out the raisins that I added into this filling.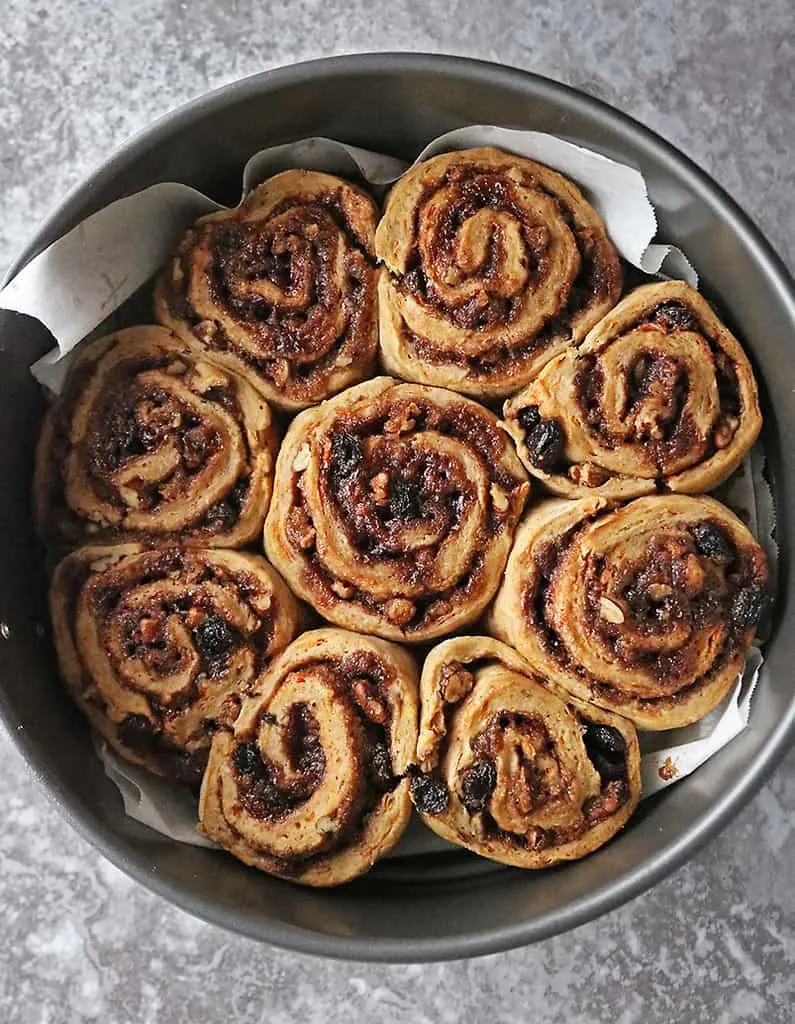 If you are trying to follow a gluten-free diet, then you can use Cup 4 Cup's gluten-free all-purpose flour blend (not sponsored either…hmmmm) or your favorite GF flour blend instead of regular all-purpose flour.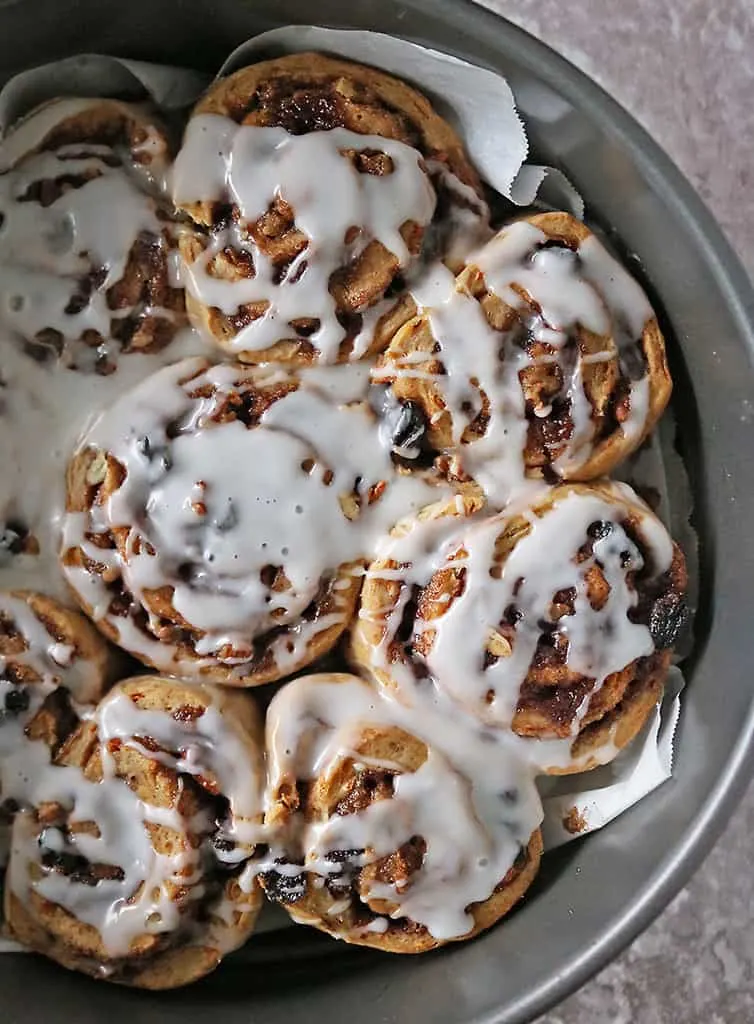 These rolls are so easy to make!
In addition to the ingredients mentioned above, you will need one bowl (I often use the same bowl I make the dough in, to make the filling as well), a rolling pin, a board (or you could use your counter), and a circular baking pan.
After you gather the ingredients and utensils, it's just a matter of:
• Mixing the ingredients for the dough together (dry first, then add in the wet),
• Roll out the dough,
• Mix up the filling ingredients,
• Spread the filling onto the dough,
• Roll it up,
• Cut it (I use a very sharp knife, but I've seen quite a few recipes that use dental floss or thread to cut the cinnamon rolls),
• Place on a baking tray,
• Bake.
• Drizzle on the icing, and…
• Enjoy!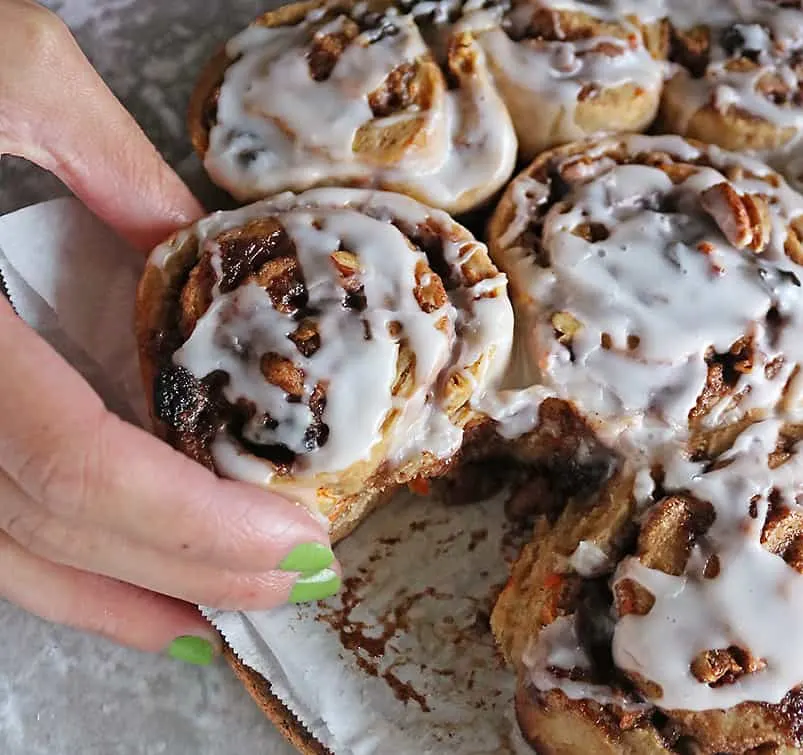 These carrot cake cinnamon rolls are a deliciously decadent treat – perfect for Easter or any other weekend when Cinnamon Rolls are a must. They are so much more tastier than store-bought cinnamon rolls, and, even though they are on the decadent side, they are made with ingredients that you can easily read and come in at less than 3oo calories for one ~ that is with the icing!
If you love carrot cake as much as we do, here are recipes that employ carrot cake components into cookies, cupcakes, waffles, and even refined sugar-free bars!
Hoping you and your loved ones join my daughter and I in enjoying a batch of these cinnamon rolls this weekend!