Delightfully nutty and frothy, this tasty and easy pistachio latte can be made at home with just 3 ingredients. And, better yet, you don't need a latte maker or milk frother to make it.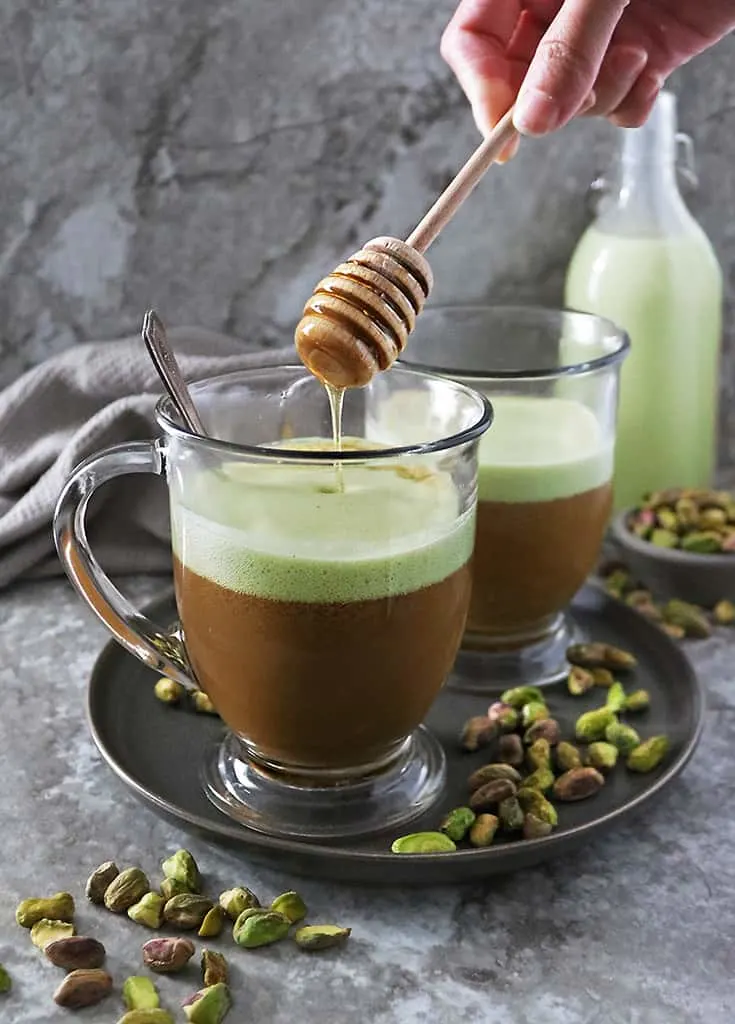 Recently we were at a coffeehouse called Tidal Grounds in Mt. Pleasant, South Carolina, when my daughter and I happened on a Pistachio Lavender Latte. Strong, robust, and with an ever so subtle hint of pistachio and lavender, this latte was simply delicious.
During the next couple of days of our short getaway to South Carolina, we frequented Tidal Grounds, trying to get our fill of that Pistachio Lavender Latte.
But… each cuppa kept us wanting and hoping for more please…
So, on our drive back to Atlanta, my daughter decided she would start scowering the menus of some of the coffeehouses in Atlanta to see if any of them sold a Pistachio Latte.
All her searching led her to a new Starbucks Pistachio Latte that was being sold in select stores in NYC. And, said drink had not quite worked its way down to 'Bucks stores in our neck of the woods.
Starbucks might be the first to unite flavors of pistachio and browned butter in their new latte. However, back in 2018, several food bloggers came up with their take on a pistachio latte – making use of pistachio syrup to flavor their delicious concoctions. As usual, I was three years too late for that trend!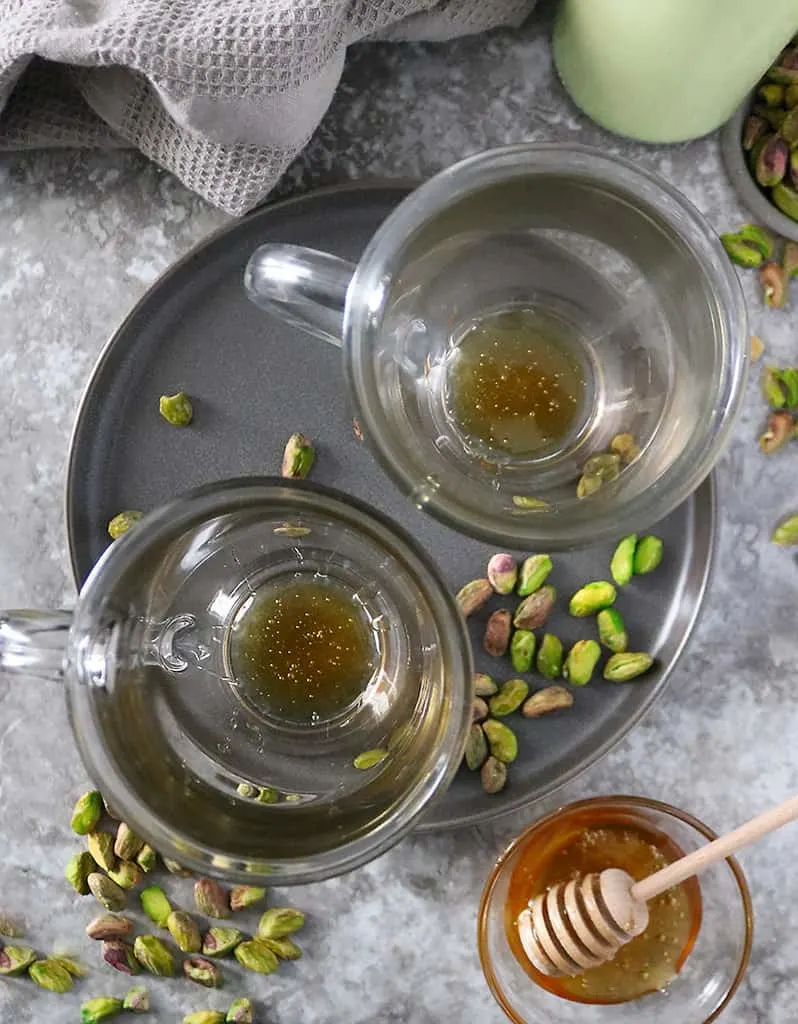 However, getting back to my daughters' adventures in the search for liquid pistachio concoctions… she abandoned the idea of finding a latte and decided to try and get her hands on some pistachio milk so she could talk me into making a similar pistachio latte. But, again, she ran into a wall.
The only store-sold pistachio milk she could find was by a brand called Táche. A little more Googling and she couldn't find Táche Pistachio Milk anywhere near us.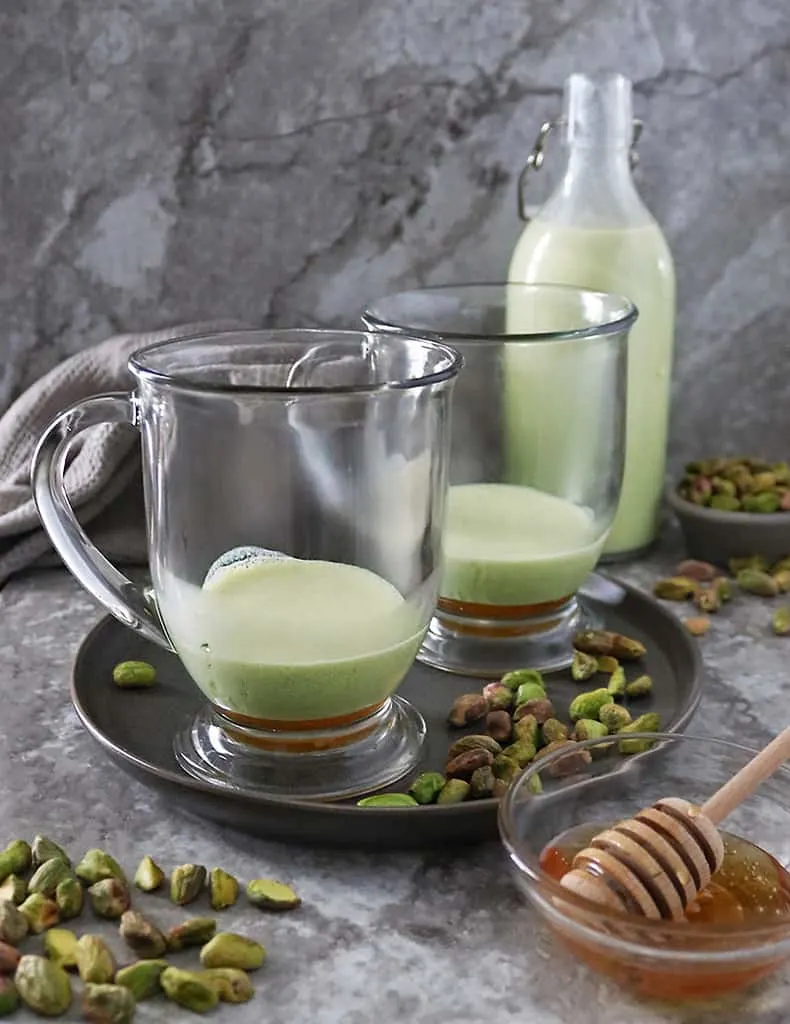 So, I decided I would try my hand at making our own homemade pistachio milk (you can grab the recipe here). And, it turned out pretty darn good, if I do say so myself!
Well, I took that pistachio milk, frothed it with a little whisk, and added it to some honey and strong-brewed coffee and that's the story behind this frothy, creamy concoction you see here today.
What are the ingredients needed to make this pistachio latte?
To make this delicious, super easy pistachio latte, all you need is:
Honey
Strong brewed coffee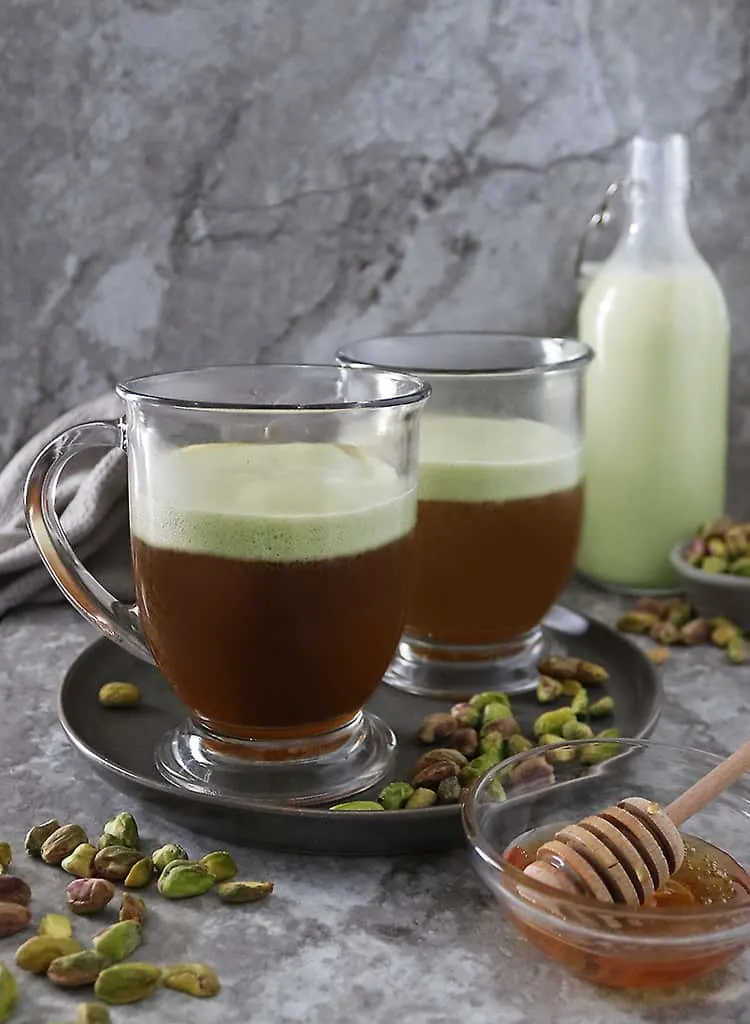 How do you make this pistachio milk latte?
Add some honey to a mug,
Then warm up some pistachio milk in the microwave for about 40-45 seconds,
Whisk it up with a handheld mini whisk,
Add in some strong brewed coffee (or even instant expresso would work) and…
Boom – your latte is ready!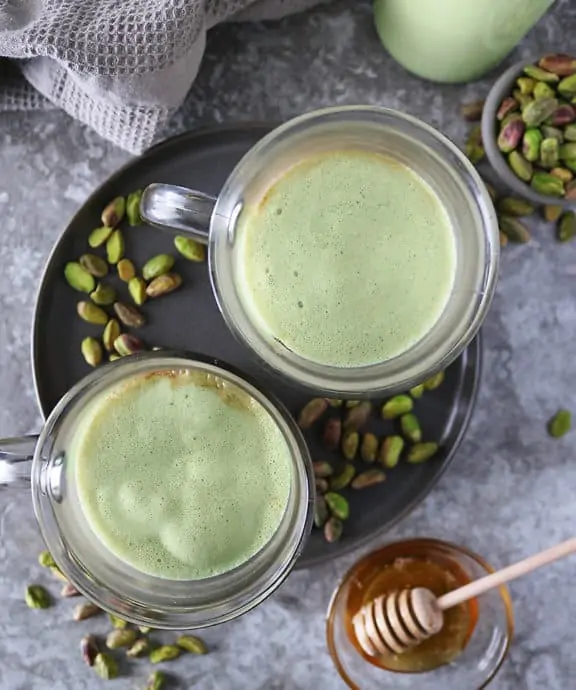 Substations:
I wanted to keep the list of ingredients to make this latte as simple as possible. So I decided to use fresh pistachio milk without any pistachio syrup or artificial pistachio flavorings. However, pistachio milk has a mild pistachio flavor and if you would like to add a little more pistachio-oomph to this beverage, please do feel free to add a splash or two.
I also wanted to keep this latte dairy-free so I opted to use pistachio nut-milk. But, if pistachios are not your jam, then use almond milk or cashew milk instead. Or, feel free to use regular milk if that is what you prefer.
I need some sort of sweetener in my coffee so I opted to use honey as I love the taste of honey and pistachio together. However, if you don't need to sweeten your latte, then skip the honey. Or, if you would rather use maple syrup or agave, then sub either of those in – or any other sweetener you prefer.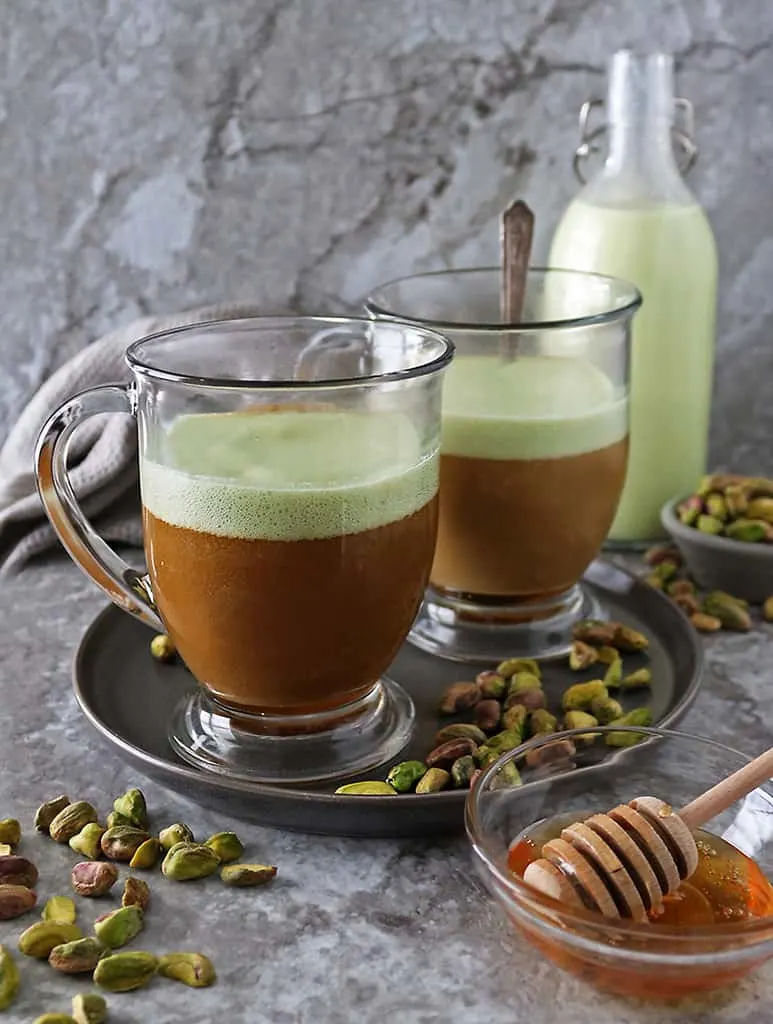 This is a delicious, frothy, creamy beverage that you can make in your home with just a few ingredients and without any fancy equipment. If you happen to get your hands on a pkg of Táche pistachio milk, then you don't even need a blender to make your own homemade version. Either way, you will have a tasty and pretty drink in your mug!
By the way, this is not a sponsored post. Brands mentioned herein are personal preferences only.