Ready to eat in just 10 minutes, this dairy-free Papaya Chia Pudding is made with a few ingredients such as almond milk, papaya, chia seeds, a splash of almond extract, and a pinch of cinnamon and cardamom. It is perfect for a grab-and-go breakfast, snack, or dessert. Delicious and healthy, it is decadently creamy too.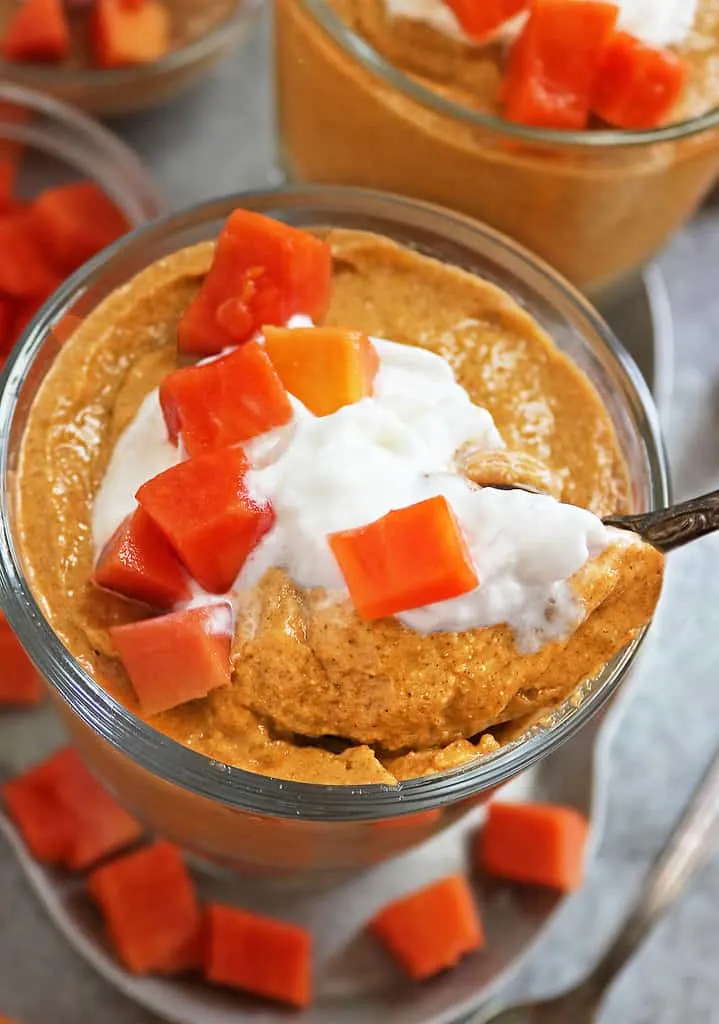 Papaya just doesn't get as much press as its summer fruit counterparts. But, it is a must-try if you are looking for a delicious, creamy, and naturally sweet treat.
By the way, this Papaya Chia Pudding Recipe results in a delightfully smooth chia pudding. So, if you are not a fan of chia pudding because of its lumpish texture, well, the method I used to make this chia pudding, is a must-try, for this, and all your future chia pudding recipe experimentation!
What is papaya?
Papaya is said to be a berry that grows on trees that can reach over 10 feet in height. It is part of the Caricaceae family of flowering fruit trees that are found in tropical climates. In Sri Lanka, where I grew up, it is referred to as papaw (pronounced pah-paw). It is also referred to as pawpaw in some other countries.
Besides being absolutely delicious, this oval-shaped fruit is chock-full of nutrients. It is said to aid in everything from digestion to heart disease, improving blood glucose levels in people with diabetes, and lowering blood pressure. If you would like to read more about the benefits of papaya, please check out this article.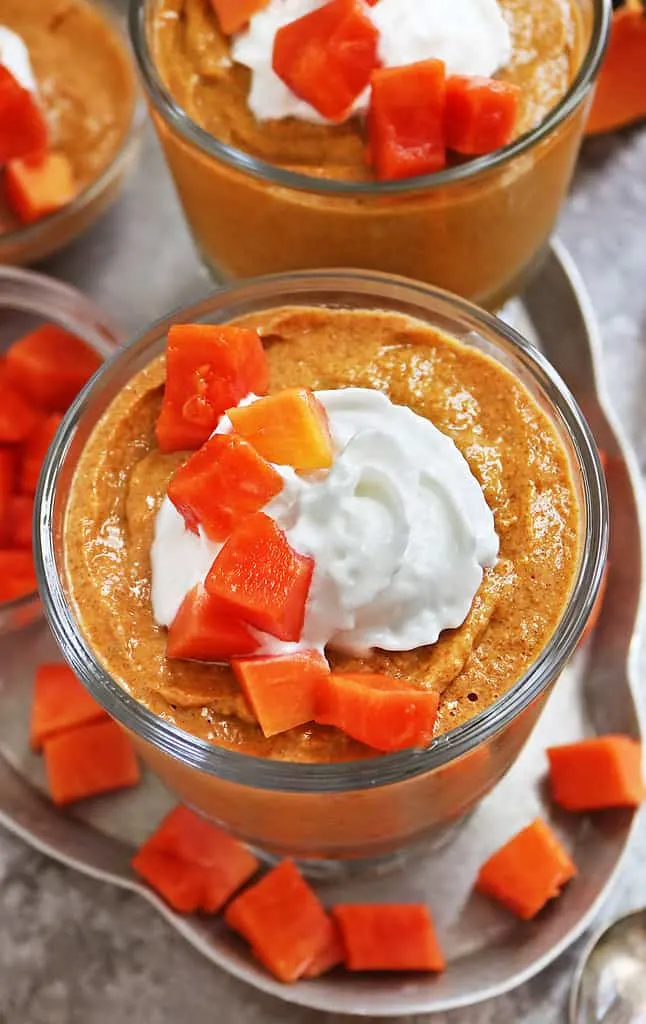 How to eat papaya?
Papaya can be enjoyed by cutting through the fruit lengthwise, removing the caviar-like seeds with a spoon, and scooping out the orange, sweet flesh to devour.
The orange "flesh" of the papaya can be eaten raw as is or can be blended into smoothies like this papaya ginger smoothie I shared not too long ago. Or, made into a chia pudding like the one you see here today.
Why eat this papaya chia pudding?
This chia pudding is lusciously creamy and tasty.

Thanks to warming spices like cinnamon and cardamom and aromatic almond extract.

It is packed with nutritious ingredients.

It is completely dairy-free, making it a dream dessert for those of us who are lactose intolerant.

Sweetened with maple syrup and ripe, sweet papaya, this chia pudding is free of refined sugar.

If you are vegan, well, so is this pudding. But, you do not have to be vegan to enjoy this. My boyfriend, who is a carnivore, wolfed this down in record time.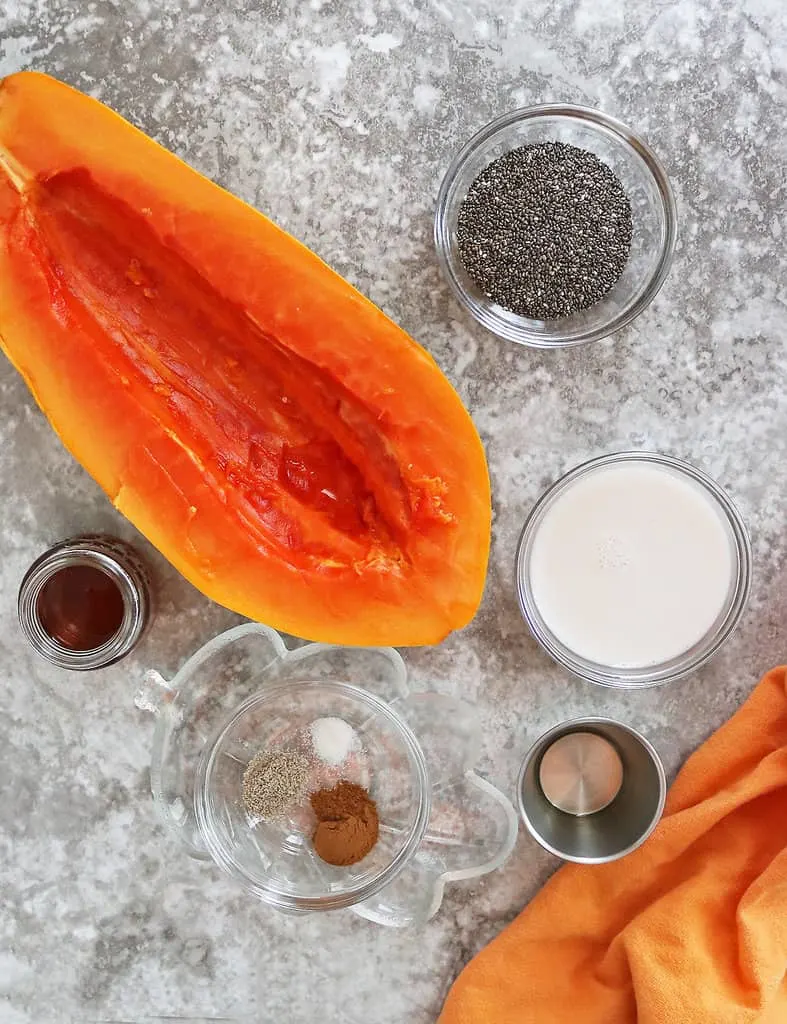 What are the ingredients in this papaya chia pudding recipe?
You will need these 8 ingredients to make this recipe, and they are:
Chia seeds (I used black chia seeds).

Almond milk or any other milk of your choice. Califia Farms Almond Milk is my favorite for this chia pudding recipe and nope, they are not paying me to say this.

A very ripe papaya.

Maple syrup ~ though if your papaya is very ripe and sweet, you will not need the maple syrup. I usually wait to add the maple syrup in last, often tasting this chia pudding before I add it in.

Cinnamon.

Cardamom.

A pinch of salt, and

Almond extract.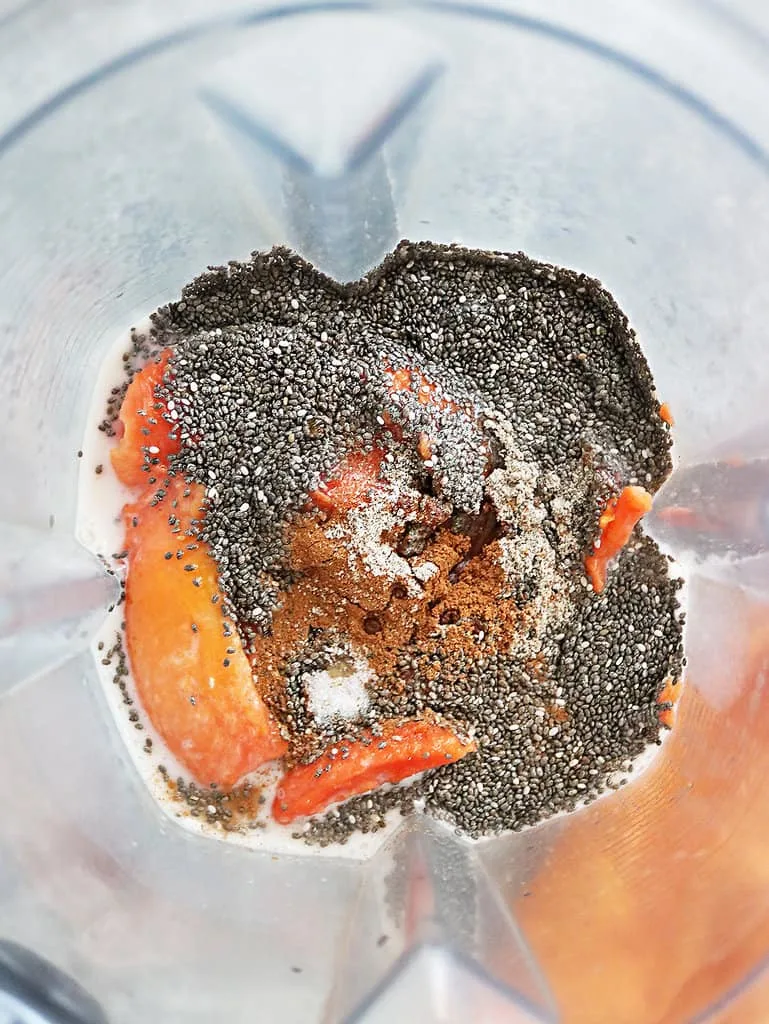 How to get this chia pudding so creamy?
After gathering all your ingredients, simply add them to a blender and blend until all ingredients are well incorporated.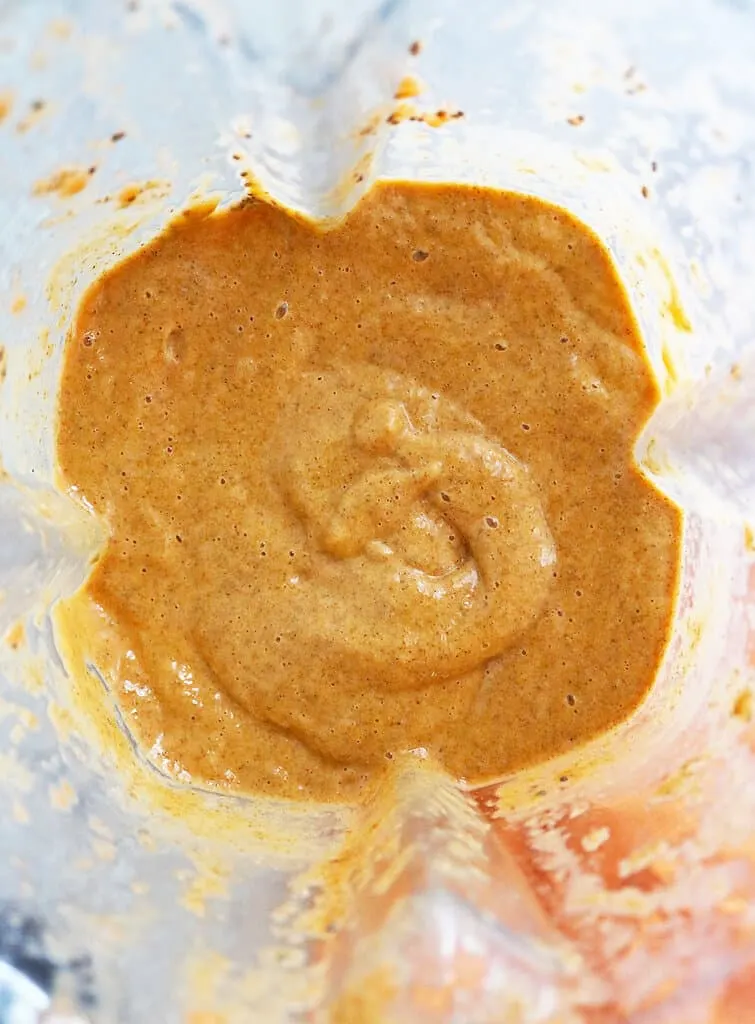 A high-powered blender can break down those chia seeds to give this chia pudding a creamy texture. One that is definitely creamier and more uniform than the one seen in this avocado chia pudding.
Besides, blending the chia seeds in this pudding also means that you do not have to wait 3+ hours for the chia seeds to absorb the liquid to take on a pudding-like consistency.
When you blend the ingredients into chia pudding, the seeds are broken down, so they are more easily digestible. This means this chia pudding can be enjoyed a few minutes after the blender is turned off. Talk about a quick and easy chia pudding recipe!
Now, if you prefer a chilled chia pudding, then place this papaya chia pudding in the fridge to chill for 2–3 hours. When chilled, top with some whipped coconut cream and a few more papaya chunks, and enjoy!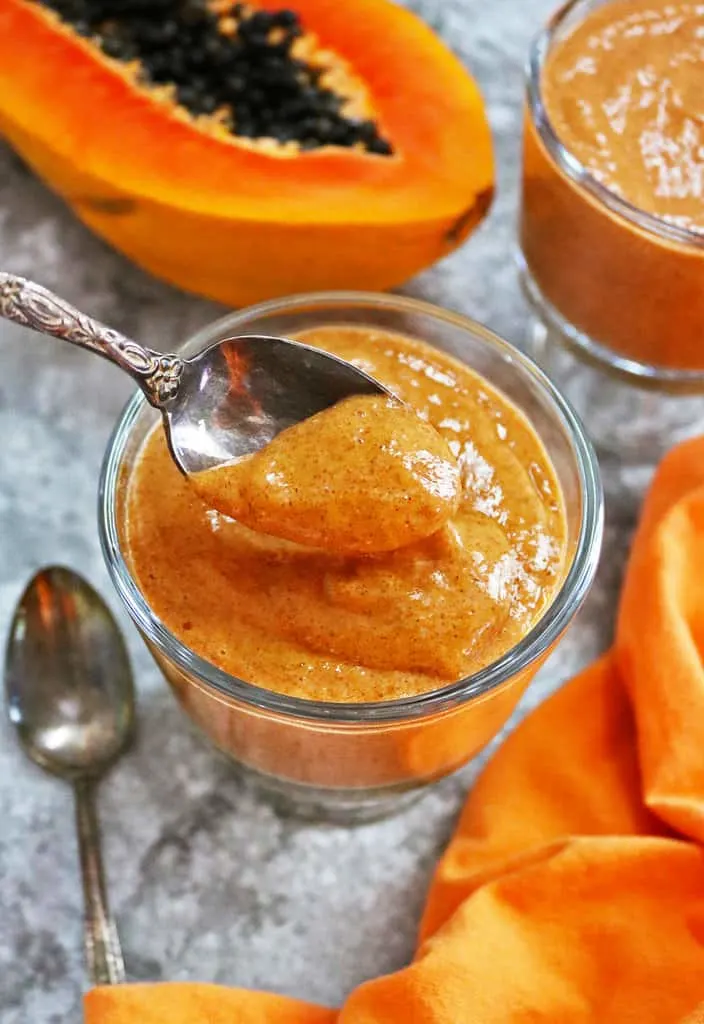 Thanks so much for stopping by. If you make this recipe, please let me know in the comments below what you think of it, or tag your creation on social media with @savoryspin or #savoryspin. For more fusion, spice-filled, recipe ideas, please subscribe and follow me on Facebook, Instagram, and/or Pinterest!