This shop has been compensated by Collective Bias, Inc. and its advertiser. All opinions are mine alone. #BeHeartHealthy #CollectiveBias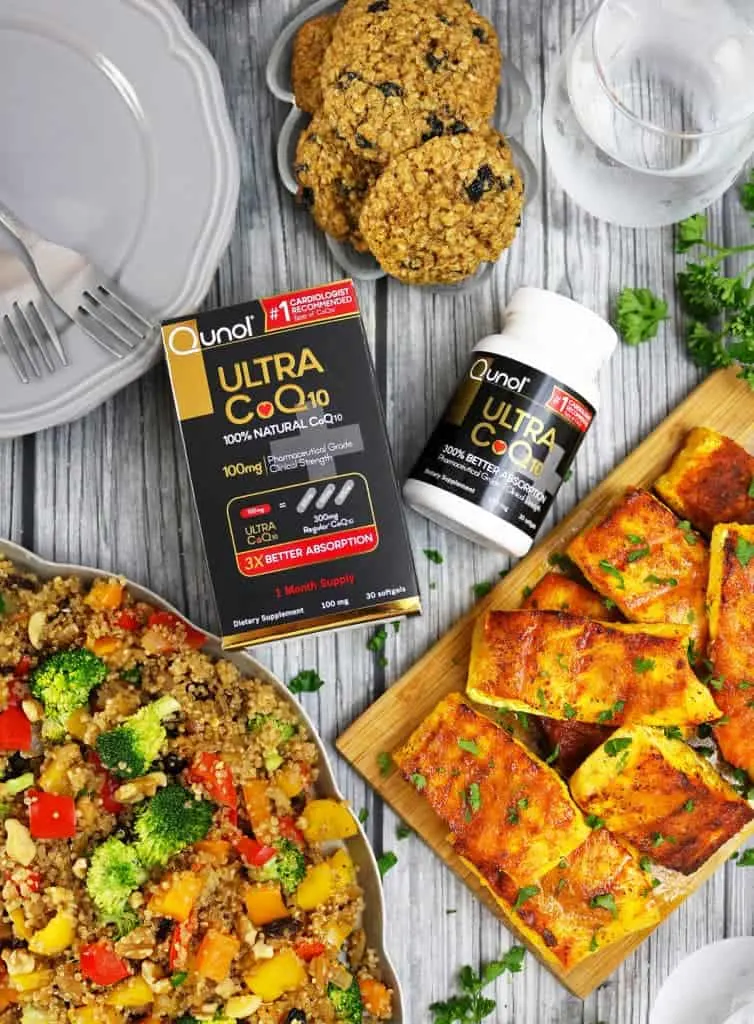 As the 53rd anniversary of American Heart Health Month comes to a close, I figured we could sit down and share one more virtual, heart-healthy, meal – what'd ya say?
And, on the menu we have turmeric and cumin rubbed salmon with a sauteed 3-pepper quinoa salad and blueberry oatmeal cookies for dessert – talk about a spread eh?!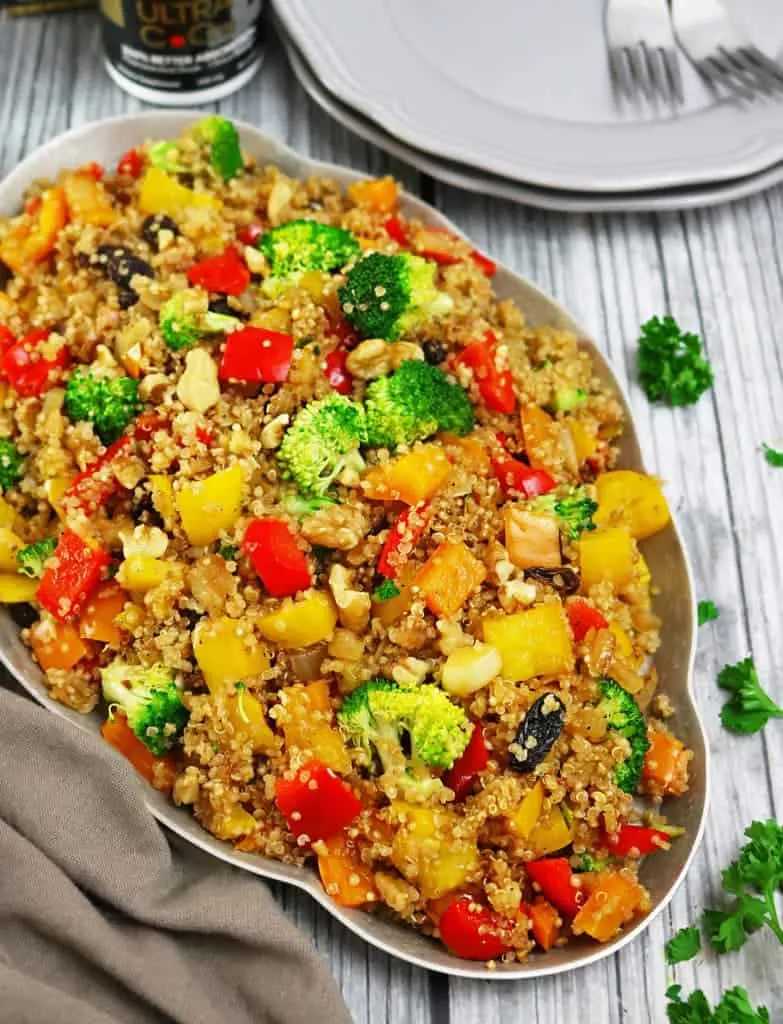 As I've shared on here before, watching my dad lose his long, hard, struggle with congestive heart failure wasn't easy. There were so many questions, so many what-if's, so many should'ves-could'ves-would'ves. And those kinda thoughts can wreak havoc in anybody's head.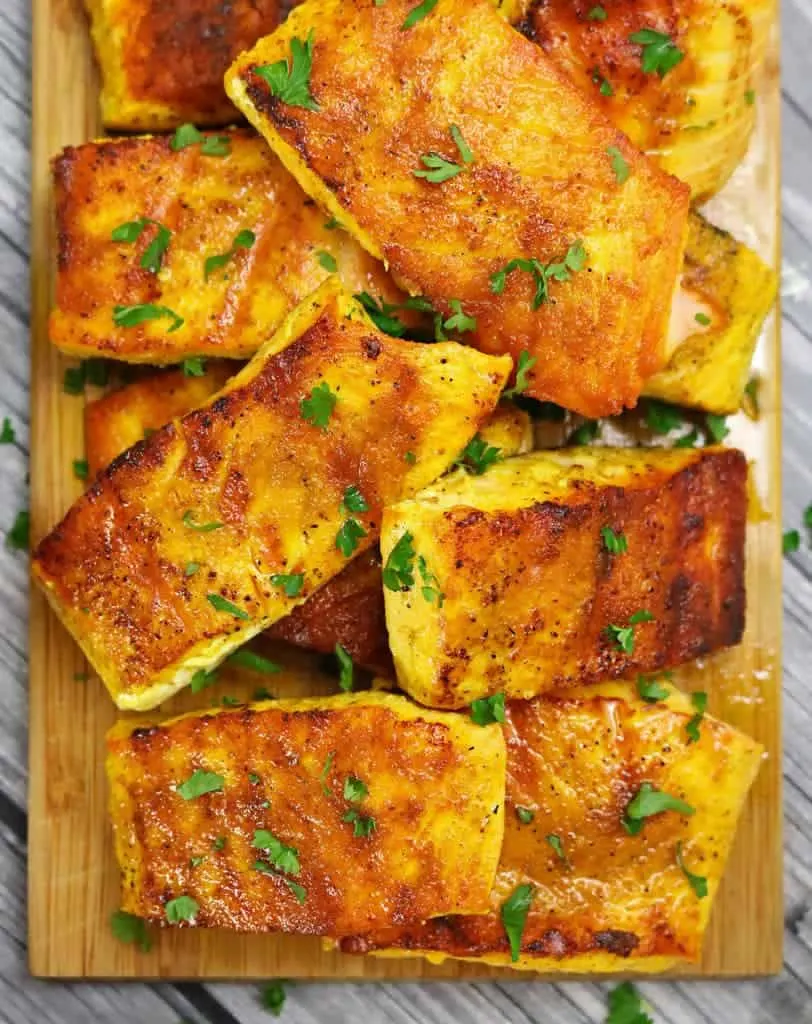 So, back then, to quell those thoughts, I embarked on a journey to learn all I could find out about heart health. After all, knowledge is power – right?
Now, I didn't resort to learning about my ticker in quite the way German surgeon Werner Forssmann (1904-1979) decided to do. That chap resorted to examining the inside of his own heart by threading a catheter into the vein in his arm and pushing it 20 inches and into his heart! Yikes! Even though his experimentation lead to the invention of cardiac catheterization (which happens to be a common procedure now), I figured I'd stick to books and web sites. I have a daughter I want to stay healthy for and I figured learning and implementing little changes could maybe lead to reaping benefits down the road.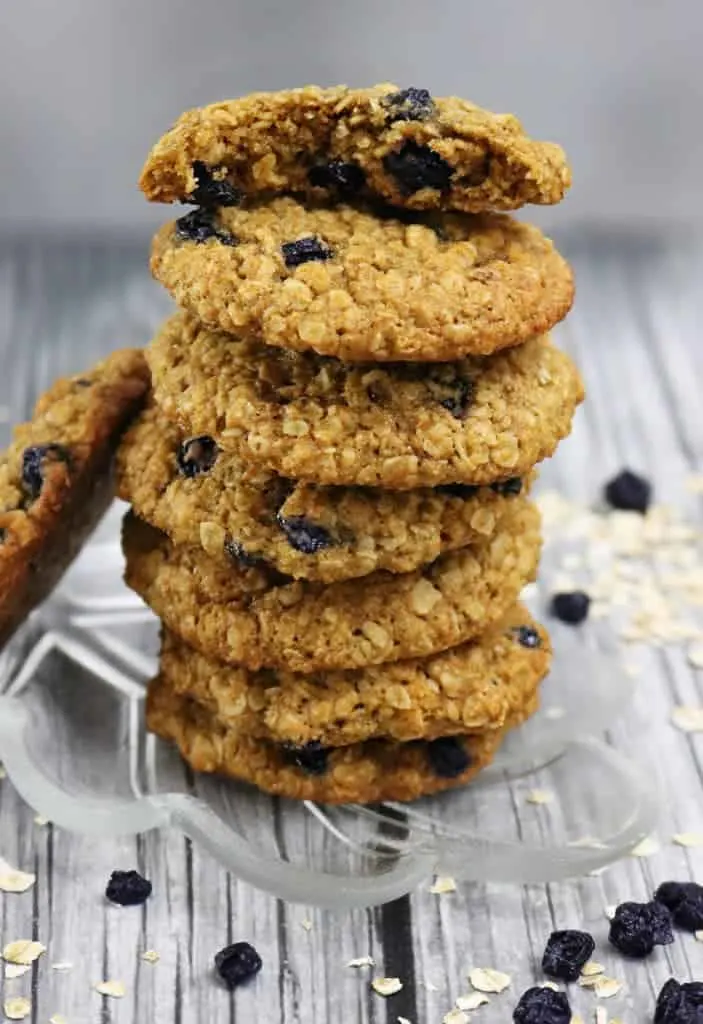 I've always loved working out and eating my veggies – because a good sweat and whole foods always helped me keep my mind de-cluttered. But, the more I read, the more I started to realize the importance of heart healthy foods such as salmon, walnuts, blueberries, red, orange and yellow veggies, and broccoli and CoQ10 supplementation.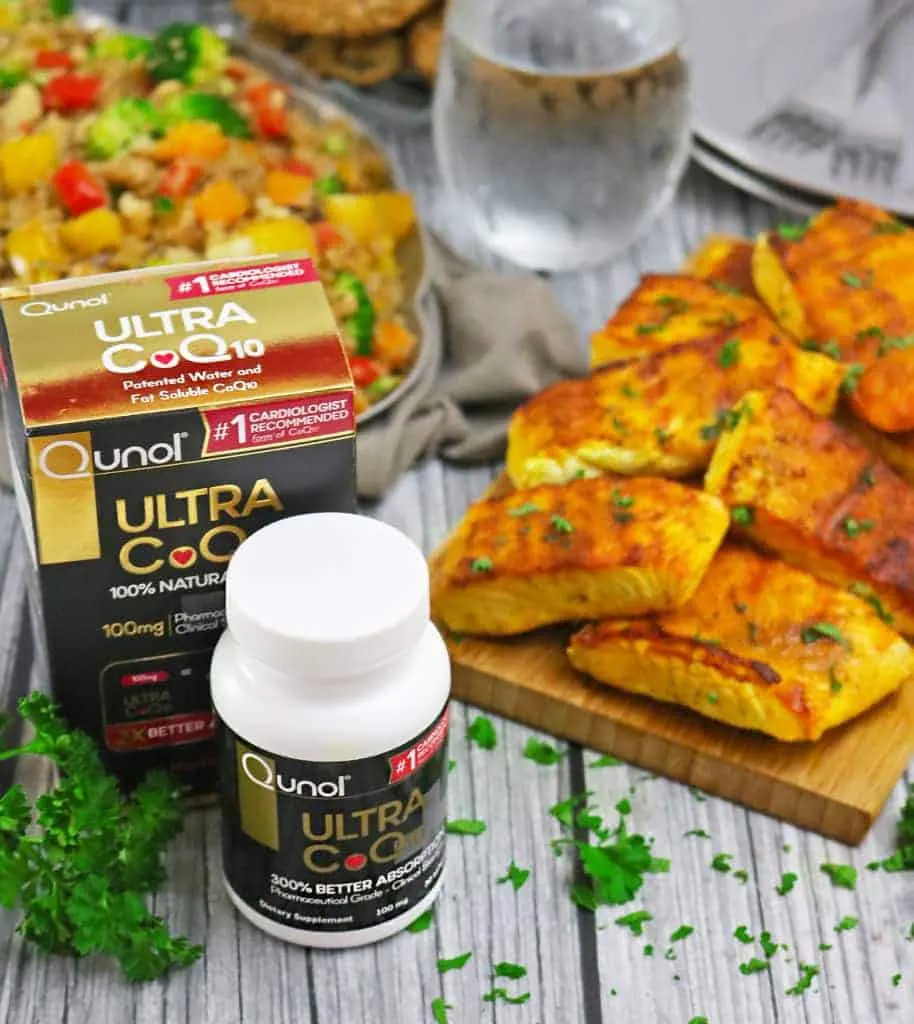 CoQ10 supports heart and vascular health and its levels decline with age and increased stress levels, and that's where Qunol Ultra CoQ10 comes into play. Qunol Ultra CoQ10 is 100% Water and Fat Soluble and essential for energy production.
CoQ10 levels also decline from statin use and Qunol Ultra CoQ10 happens to be beneficial for statin drug users – you can find out more about Statin drug use and it's side effects in this ebook.
And now, back to this meal – this is three recipes in one (I happen to pick up all the ingredients for this meal as well as get my supply of Qunol Ultra CoQ10 at my local Kroger store).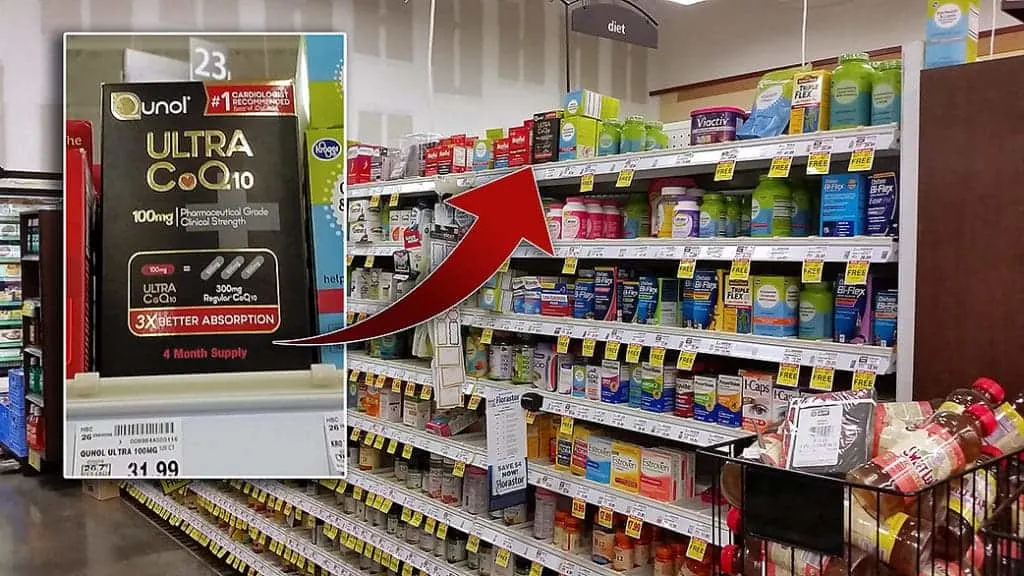 • There's simple and so delightfully tasty, turmeric and cumin rubbed salmon with just a bit of salt and pepper.
• Then there's this sauteed quinoa salad with red, orange and yellow bell peppers, broccoli florets, plenty of garlic, ginger and onions that's topped with walnuts and raisins. This warm veggie quinoa salad doesn't have a ton of spices but the veggies and onions and garlic and ginger jive so well together – this also happens to be one dish that improves with time and tasted better the day after!
• And, to finish everything off are these scrumptious, flourless, blueberry oatmeal cookies. These cookies are gluten free (provided the oats are certified gluten free) and contain no butter. And, with coconut sugar, they won't make your blood sugar spike too high either. My daughter and I enjoyed these cookies for breakfast too. My daughter isn't even a huge fan of dried blueberries, but she loved these cookies!
Apparently I made a ton of each of these as my daughter and I enjoyed leftovers for three days!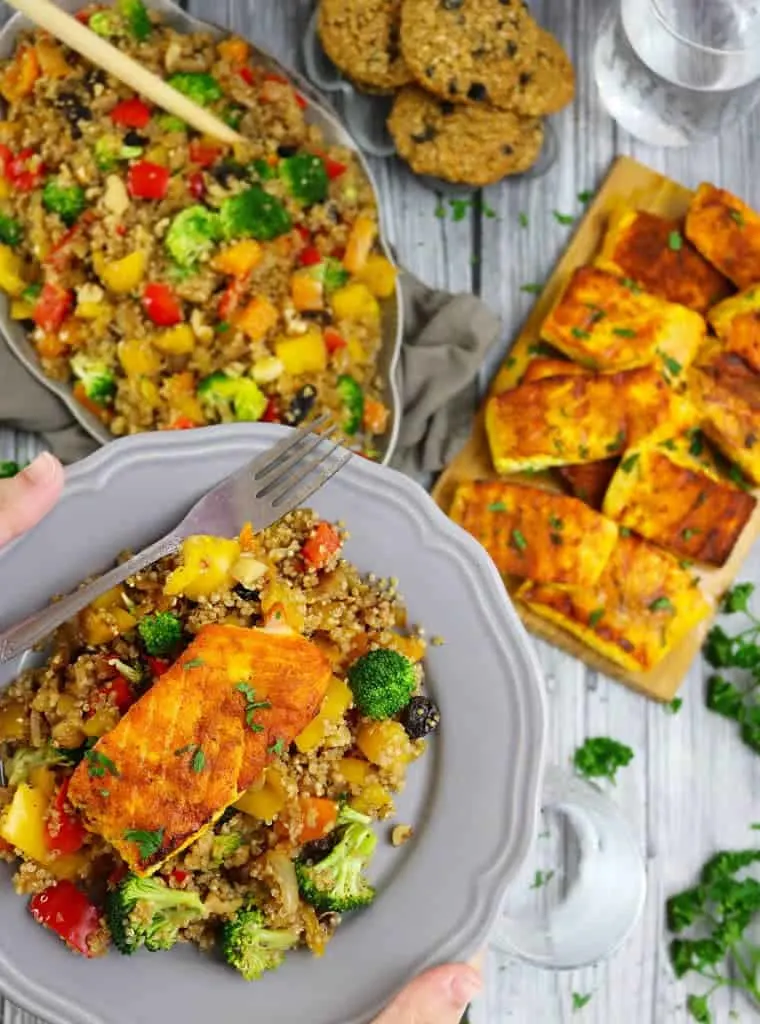 Even though Heart Health Month is coming to a close, there's no harm in adopting and sticking to a few heart-healthy habits, is there?
If you'd like to find out more about how Qunol Ultra CoQ10 can be apart of those heart healthy habits, make sure to follow them on Facebook!
Qunol Ultra CoQ10:
• 3 Times Better Absorption than regular* CoQ10
*Regular CoQ10 refers to unsolubilized Ubiquinone in oil suspensions in softgels and/or powder filled capsules/tablets."
• #1 Cardiologist Recommended form** of CoQ10
**Form refers to Water and Fat soluble CoQ10. Source: AlphaImpactRx ProVoice Survey 2016

Other heart healthy meals for Heart Health Month…
Walnut Encrusted Spicy Salmon with Roasted Chickpeas and Brussels Sprouts