I'm hoping I make you wanna waffleize your weekend with these super simple, gluten free, goodness-full, Sesame Sweet Potato Waffles!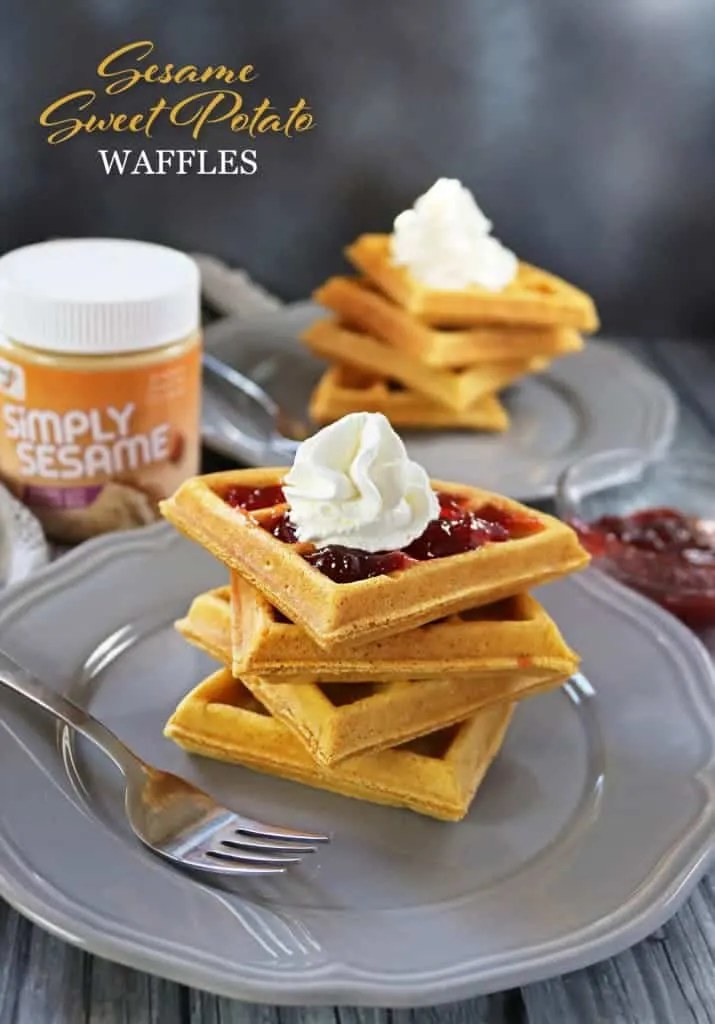 It's been one of those topsy turvy weeks for me…
I've been making breakfast for dinner about as many times as I have been making breakfast for breakfast…
I've been working out when the sun went down instead of when it came up…
And…it all started last Saturday when I took a tumble off an 8 foot ladder.
Yup, I tumbled – a tumble worthy of a guffaw if it had aired on America's Funniest Home Videos.
But, that tumble taught me a thing or two about myself.
For one, not to toot my own horn, but I've gotta be the clumsiest person I know. Yes, THE clumsiest!
And…second, I didn't think it was possible, but, apparently, I can still do a back-flip!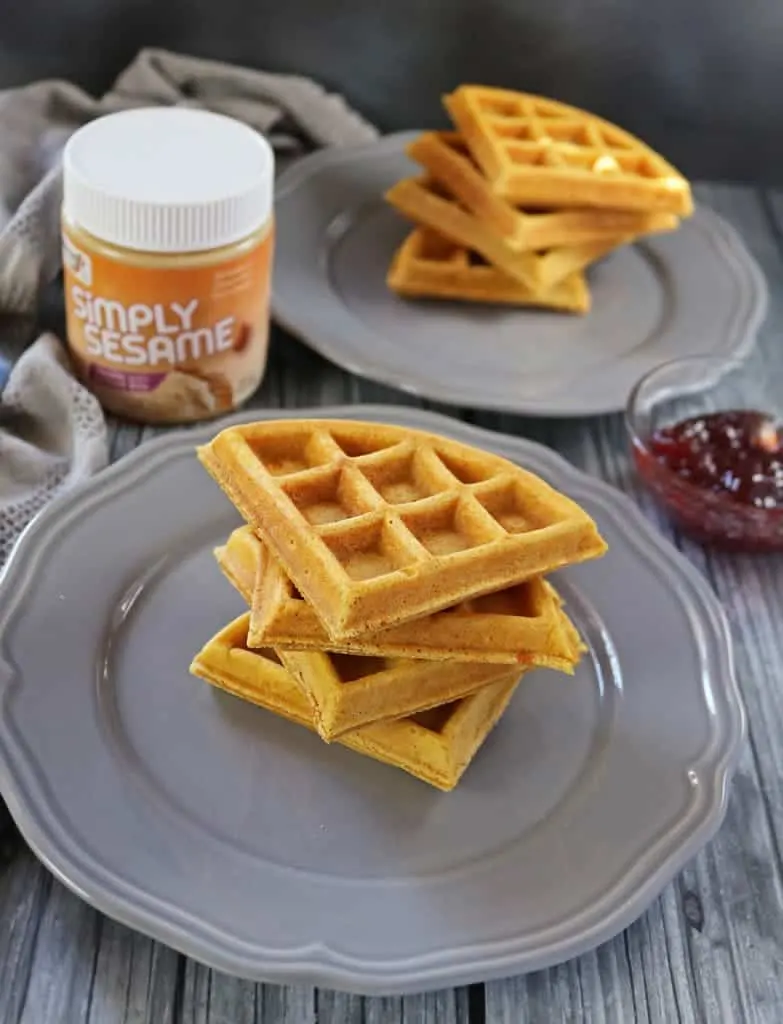 Of course, I had quite a bit of assistance from the top rungs of that ladder and the back of my couch…
But, I nailed the landing – and landed perfectly …on my head!
Ahh…yes.. admit it – you've a bit jelly, right?!
I kid! I kid!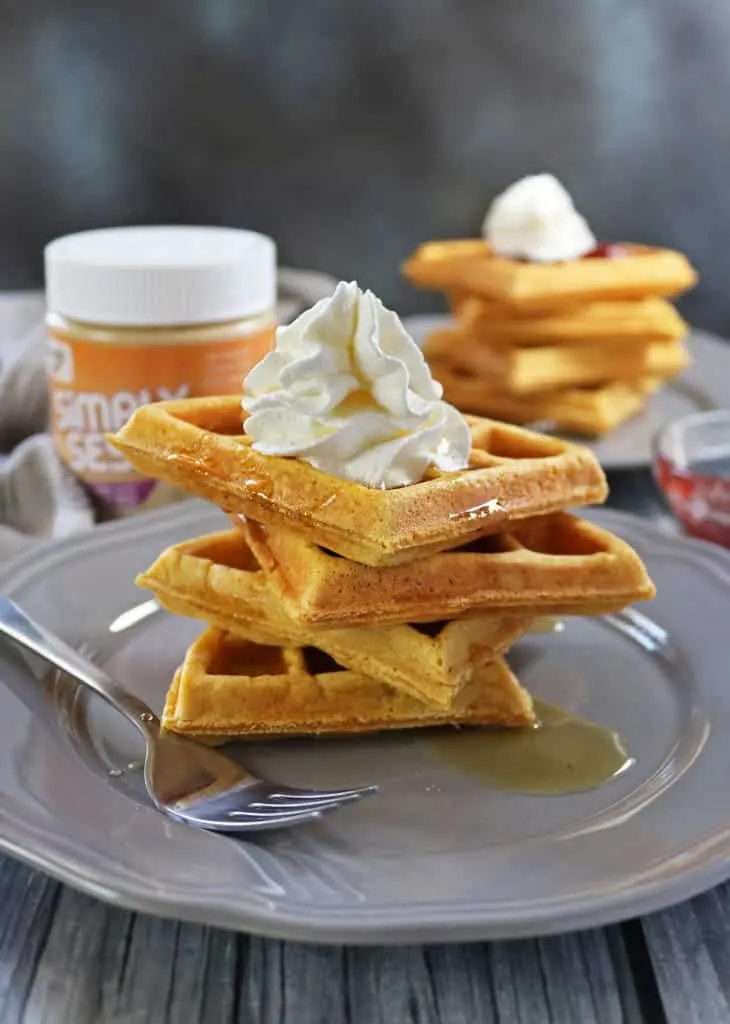 Seriously, I'm fine now. I was bumped up but nothing serious.
However, that little mishap kinda tumbled up my week.
It threw a wrench in my dinner plans and I ended up giving my waffle iron a workout with a variety of quick and easy waffle recipes.
Some days, I threw in beet puree I found in the back of my fridge and other days I threw in sweet potatoes. So…technically… we ate our veggies, only they were in waffle form!
One night I decided to throw in some Simply Sesame Spread I had leftover after making these Chocolate Dipped Sesame Cookies, and… y'all, the slightly tangy almond sesame spread balanced out the sweet potatoes so well that my daughter insisted the resulting waffles were worthy of sharing, so here they are! By the way, this is not a sponsored post, I just simply enjoyed using Simply Sesame Spread.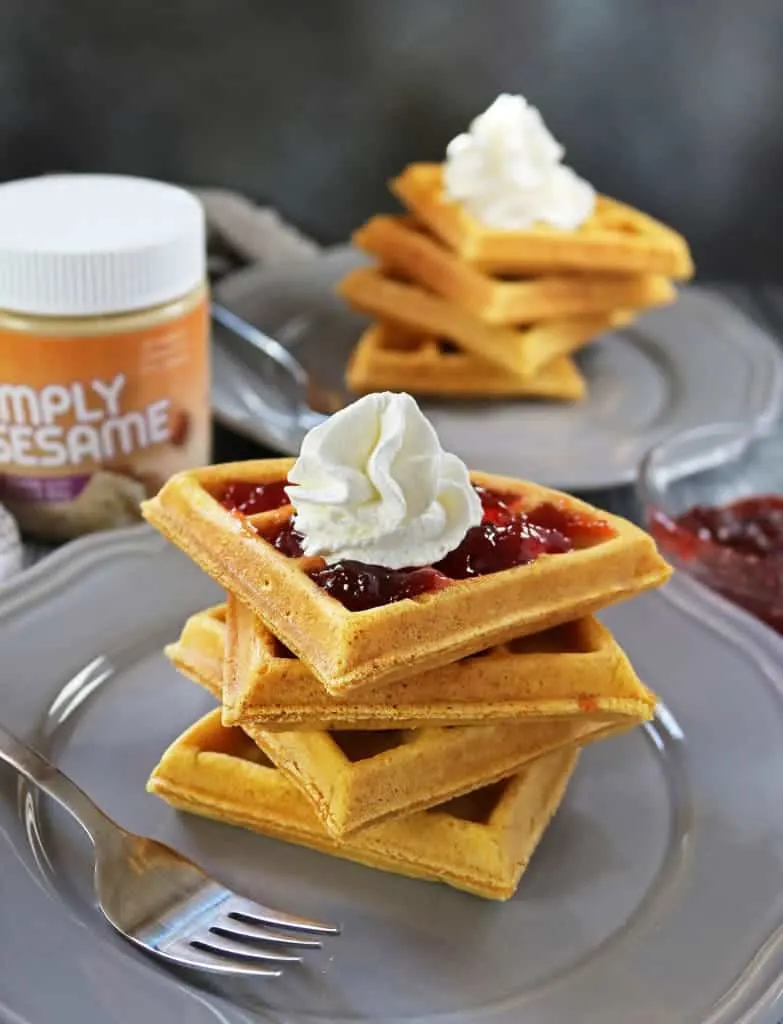 These Sesame Sweet Potato Waffles consist of six ingredients:
1) Sweet potato,
2) Simply Sesame Spread
3) Eggs,
4) Tapioca flour,
5) Baking powder,
6) And, almond extract.
They are full of good-for-you ingredients and made one heck of a tasty weeknight dinner – and, am betting, they will make one heck of a weekend breakfast too!
I like my waffles with jam and some sort of nondairy whipped topping – but my daughter thinks am a total oddball for not eating waffles the way they were intended to be eaten …and, that is with an Eiffel-Tower-sized-squirt of whipped cream on them!
I'm hoping I managed to convince you to give this recipe a try or, at least to add some veggies to your waffles.
I'm also hoping I managed to talk you out of attempting a back flip off a ladder- they are so overrated! 😆
Here's hoping you have a wonderfully waffleized weekend!