The mighty mung bean is the star of this Mung Bean Cabbage Sauté, which is a delicious blend of mung beans, aromatic spices, and cabbage. This flavor-packed dish can be served as a side dish and even a main one.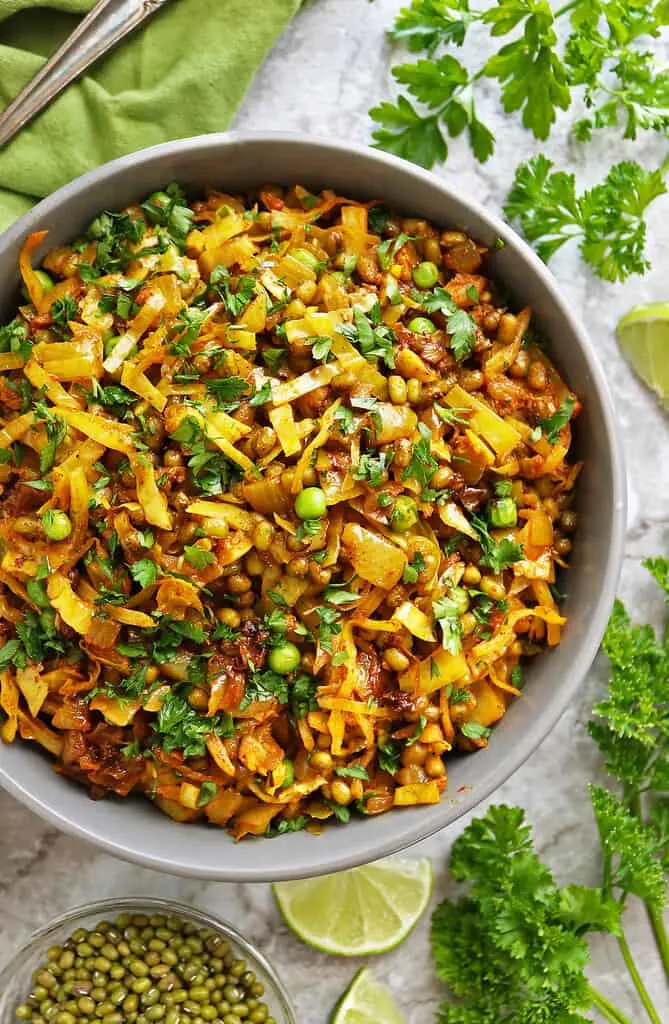 This Mung Bean Cabbage Sauté is an easy sauté that's packed full of plant protein. There has been many a night when I made a large pan of this and enjoyed it as my main meal until the leftovers ran out.
What are mung beans?
From the same family as lentils and beans, mung beans are teeny tiny nutritional powerhouses. Mung beans are also referred to as green gram, maash, mūng, and monggo.
Are Mung beans healthy?
These little legumes are said to help with everything from gut health and digestion to heart health and diabetes management. Mung beans are even said to have anti-microbial properties and anti-inflammatory properties.
Mung beans can be used in curries, sweet bakes like this mung bean oatmeal breakfast bake, and sautés like this Mung Bean Cabbage Sauté.
Which brings us to…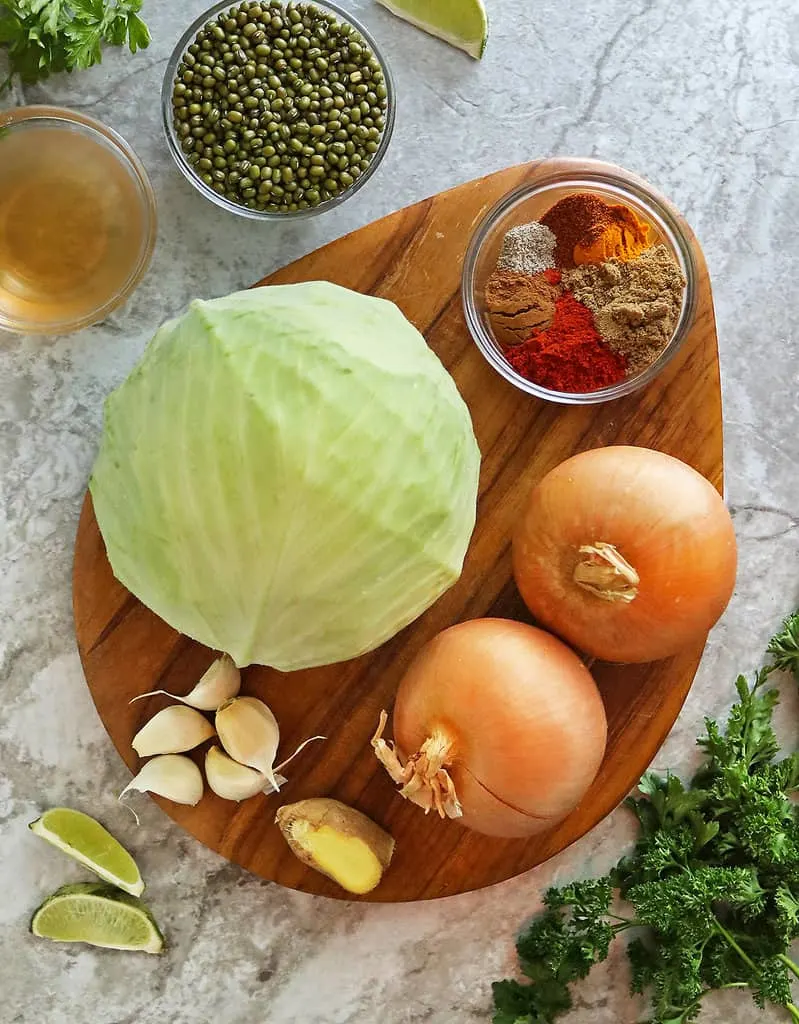 What are the ingredients in this Mung Bean Cabbage Sauté?
You will need the following 13 ingredients to make this Mung Bean Cabbage Sauté, and they are:
Coriander
Smoked Paprika
Turmeric
Cinnamon
Cardamom
Cayenne
Onions
Ginger
Garlic
Lime
Mung Beans
Cabbage
Vegetable Stock
Salt and pepper were also used along with a few optional garnishes for this dish, namely some green peas and some fresh parsley.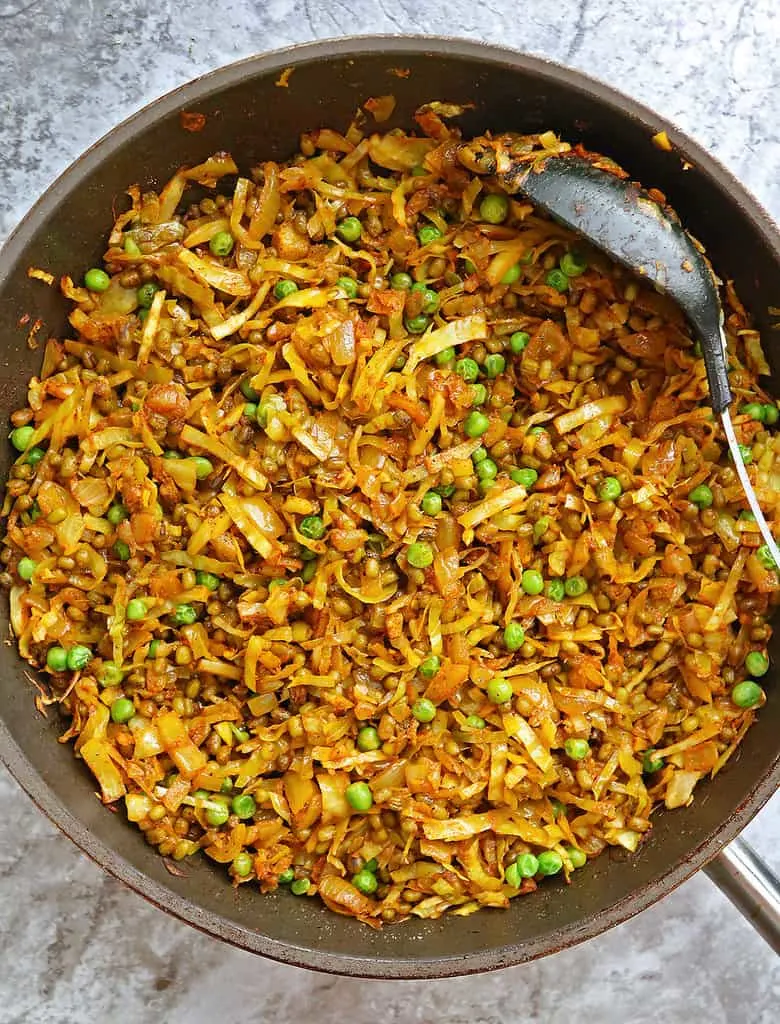 Tips when making this dish…
Cut the onions into small pieces or slivers, so they caramelize uniformly.
Chop up the cabbage into small pieces. The smaller the pieces of cabbage, the quicker it will cook.
Sauté the onions, ginger, and garlic until the onions start to caramelize a tad bit. This slight caramelization adds so much flavor to this dish.
Once all the ingredients are in the pan, turn the heat onto medium and cover the pan. This helps the mung beans and cabbage to cook more evenly.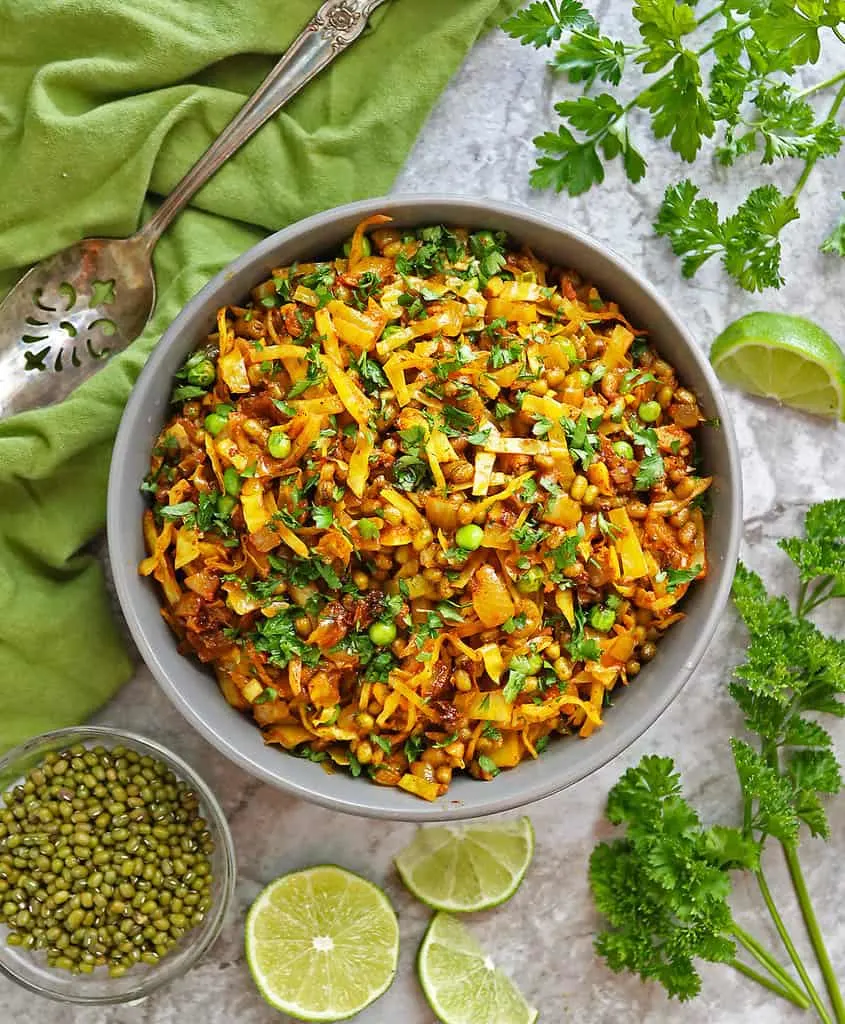 How to serve this Mung Bean Cabbage dish?
This Mung Bean Cabbage Sauté can be served as is, garnished with some parsley.
It can also be served as a side dish with some roti or yellow rice, some zucchini curry, some pineapple chutney, and some broccoli croquettes.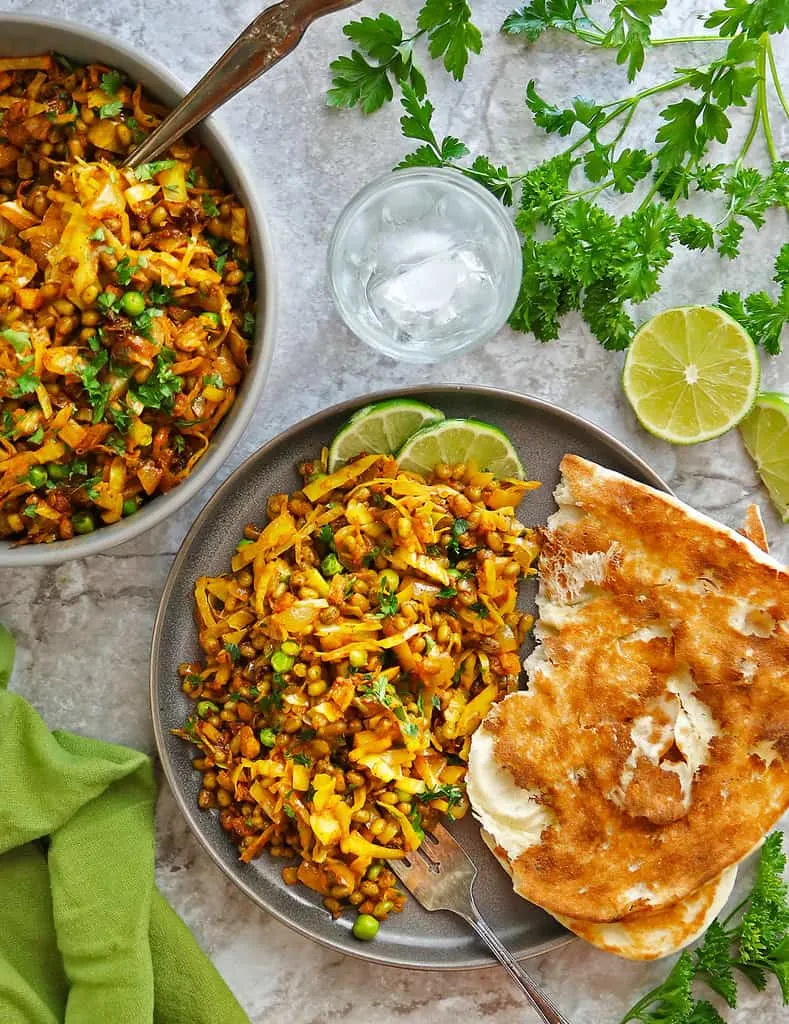 How to store this Mung Bean Cabbage Sauté?
This Mung Bean Cabbage Recipe can be stored in an airtight container in the refrigerator for up to 7 days.
Thanks so much for stopping by. If you make this recipe, please let me know in the comments below what you think of it. For more fusion, spice-filled, recipe ideas, please subscribe and follow me on Instagram, and/or Pinterest!