Naturally gluten-free and vegan, this pineapple chutney is sweet, tangy, and spicy, and it pairs deliciously with everything from burgers to curries.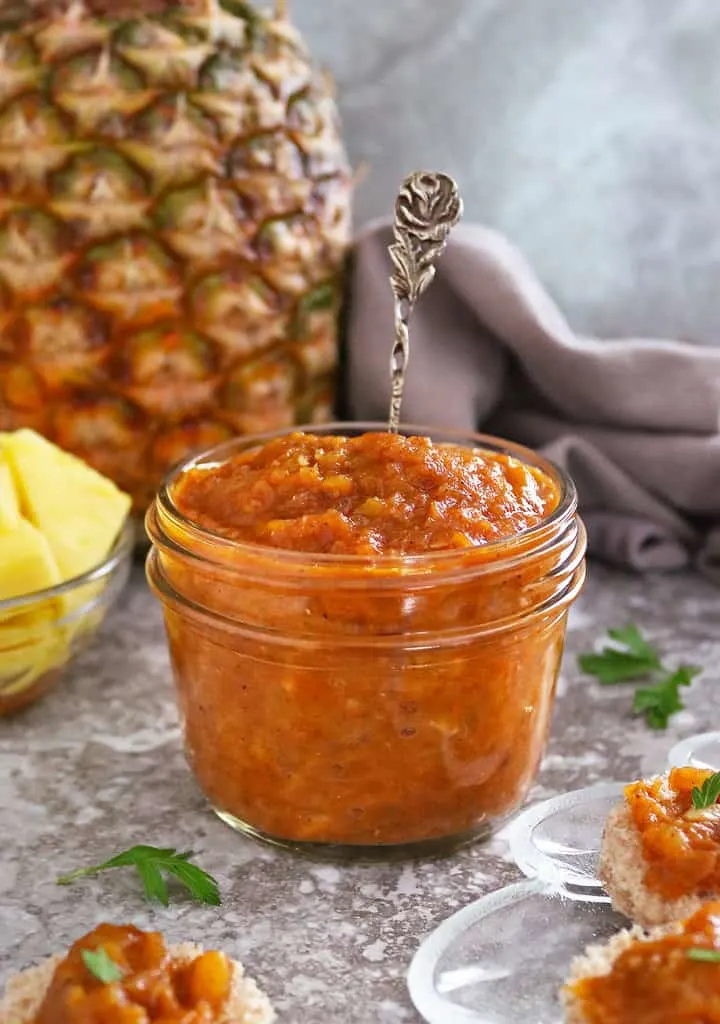 This pineapple chutney packs one heck of a delicious punch.
Wondering what does this pineapple chutney taste like?
Well, this pineapple chutney is tantalizingly tangy, ever so slightly spicy, and refreshingly sweet ~ all at once!
This pineapple chutney is:
• Vegan,
• Gluten-free,
• Spicy,
• Sweet,
• Tangy,
• So easy to make,
• A nutritious recipe,
• Ready in less than 15 minutes,
• Made with only 12 (readily available and easy-to-find) ingredients!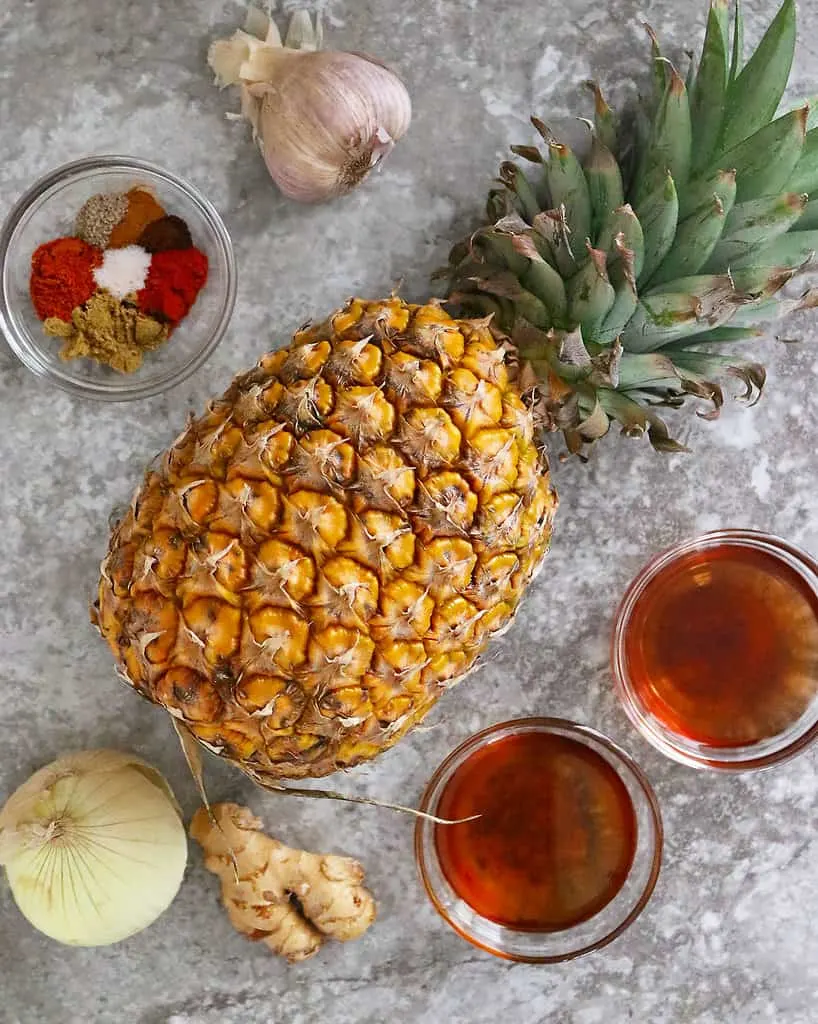 Speaking of ingredients…
What is pineapple chutney made of?
The 12 ingredients needed to make this chutney are:
Onion
Garlic
Ginger
Coriander
Smoked paprika
Cayenne
Cardamom
Cinnamon
Cloves
Maple Syrup
Red wine vinegar
Fresh ripe pineapple
How to pick a ripe pineapple?
When picking a pineapple, make sure to pick one that has fresh green leaves, a yellowish/orange base and body, and one that is firm but yet supple. Fresh pineapple will also have a distinct fruity smell. Make sure that the pineapple you pick does not have brownish bits on the body or base.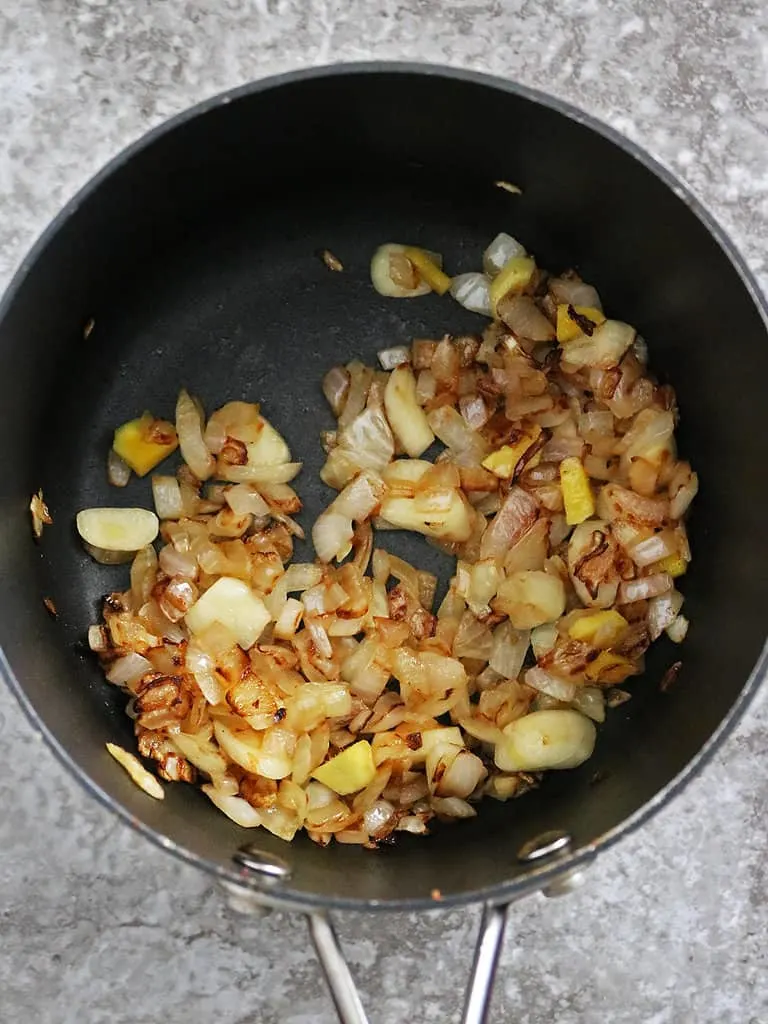 Are there substitutions in making this recipe?
I prefer the taste and flavor of fresh onion, ginger, and garlic. But, you could also use the peeled and cut onion, ginger, and garlic that is sold in the produce section of most grocery stores.
Other than the cayenne, the coriander powder, smoked paprika powder, cardamom powder, cinnamon, and cloves work best in the quantities specified. You can omit the cayenne for a mild and sweet chutney, or use a little less. But if you prefer it spicy, then you can use the amount specified or even add in a 1/4 tsp more.
Instead of maple syrup, you could also use honey or even brown sugar.
In case you do not have red wine vinegar, well… you should probably go out and get some because apple cider vinegar or white vinegar would alter the taste drastically.
And for the star ingredient, I used a ripe fresh pineapple. You could use canned pineapple if you like. Make sure you use pineapple canned in pineapple juice and not sugar syrup. Though, I would strongly suggest that fresh and ripe pineapple is the best option.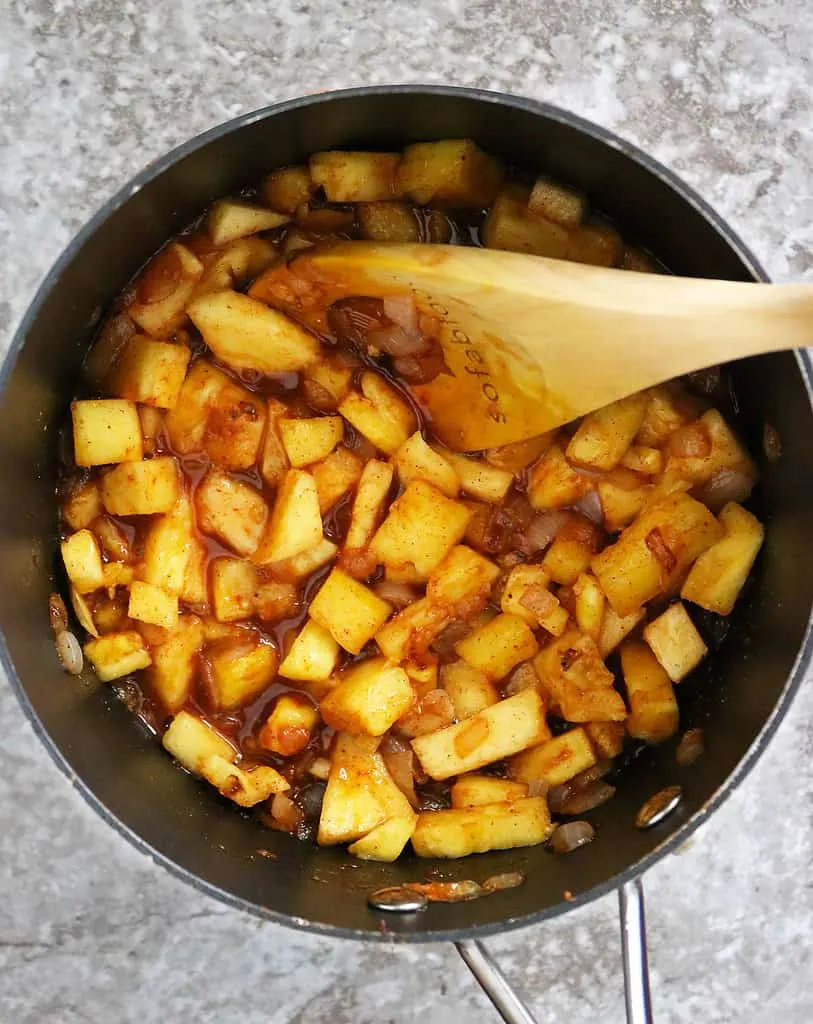 How do you make this pineapple chutney?
Once you have all the ingredients together, all you have to do is sauté the onion, garlic, and ginger together, then add in the spices, salt, maple syrup, red wine vinegar, and fresh pineapple. And then simmer for about 7-10 minutes and voilà, you have a delicious pineapple chutney on your hands!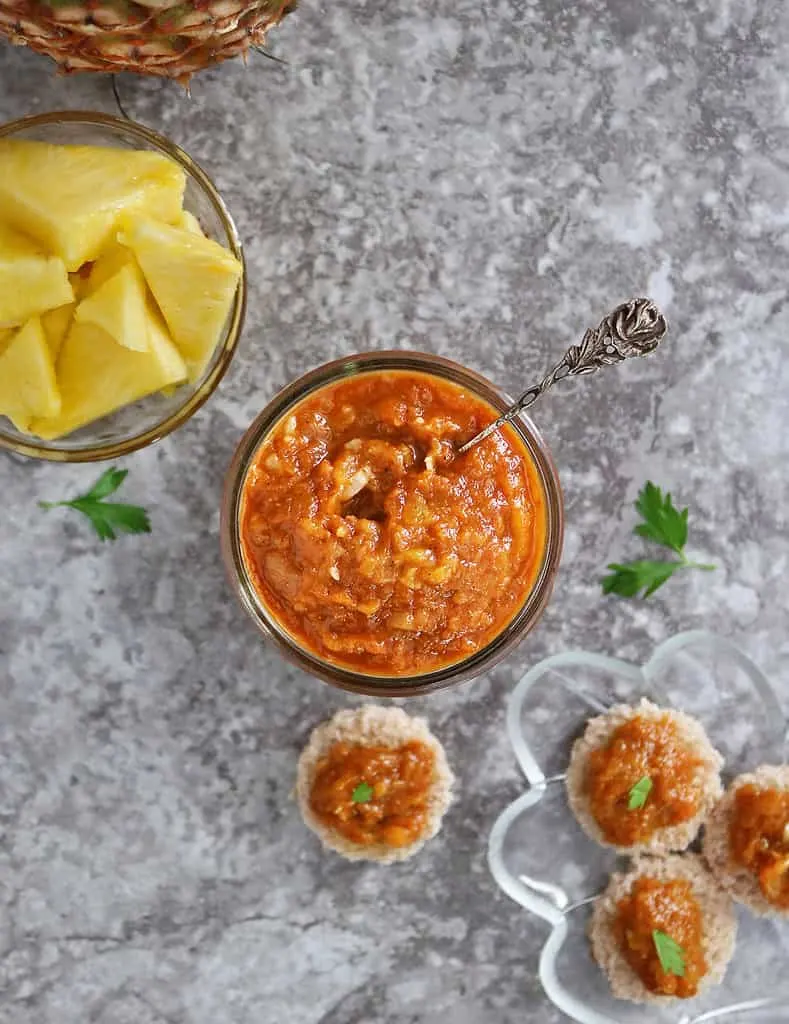 What do you serve this chutney with?
I made this pineapple chutney when my daughter was in town. Like this mango chutney that readers seem to love, this pineapple chutney pairs so well with so many dishes.
One night, we enjoyed this chutney with some leek fritters my daughter made.
Then another night we slathered some of it on veggie burgers.
Yet another night we enjoyed this with some roti and lentil curry too.
And then there have been many snacks of this chutney on simple toast or crackers.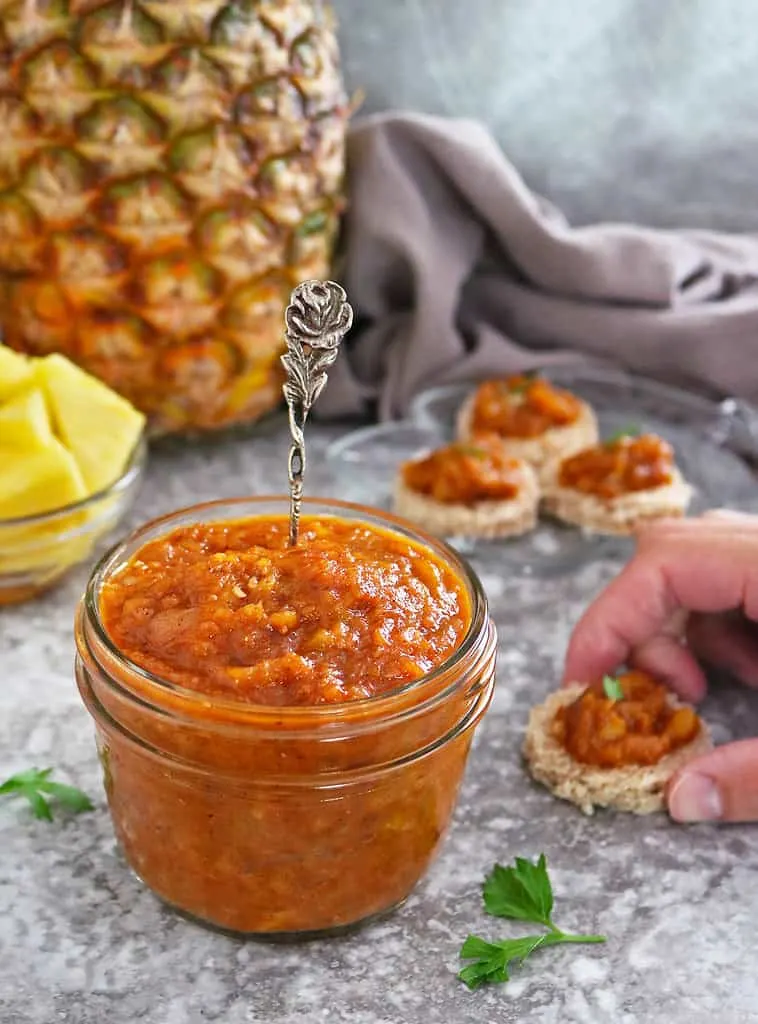 How do you store this chutney?
Place this chutney in airtight containers and place them in the fridge. They will stay fresh for a week to 10 days if opening the container and taking some every day before closing it and putting it away.
I made some of this chutney and placed it in a couple of airtight containers. My daughter and I worked our way through the first large container of this chutney in about a week. Then, I completely forgot about the chutney in the small container. Then, this weekend, I stumbled on it. I was about to throw it away when I decided to check the taste and smell, and it tasted and smelled great, so I had a huge helping with some bread and with a salad on the side.
As of today, I am still ok, so I guess I can say that if you place this pineapple chutney in an airtight container and in the back of your fridge, it should stay fresh for about 3 weeks!
If you need convincing on making this pineapple recipe, just check out the reviews on this mango chutney because this pineapple chutney is even better ~ which makes it a must-try!