This is a tasty and easy mango chutney that calls for only six main ingredients. Naturally gluten-free, this mango chutney pairs so well with everything from burgers to curries.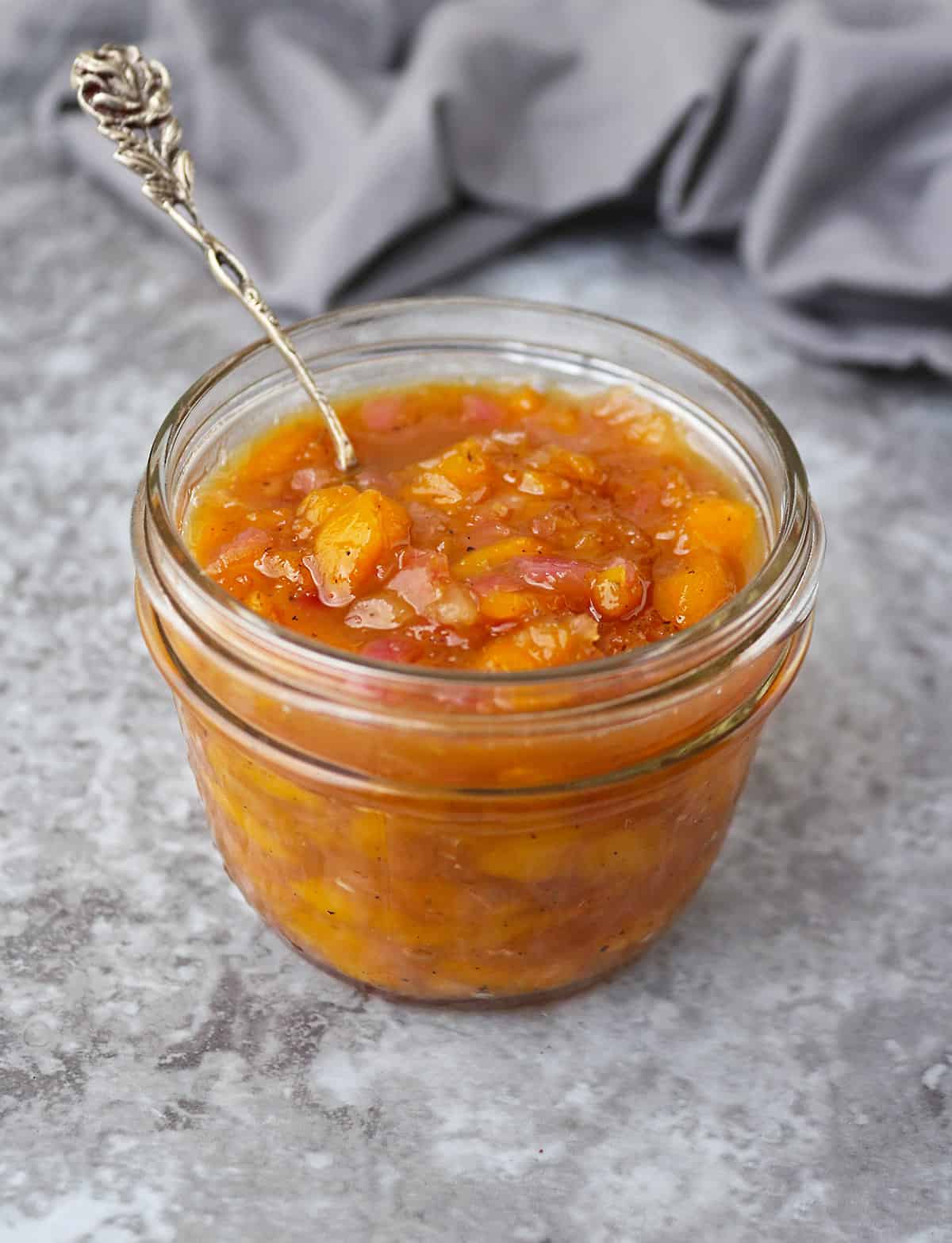 This easy mango chutney is one of our favorite condiments ~ along with this homemade sweet chili sauce.
It requires only 6 main, easy-to-find ingredients and some salt and pepper. You can add in spices such as coriander, smoked paprika, cardamom, cinnamon, and chili powder ~ if you have them on hand.
What are the ingredients to make this Easy Mango Chutney?
You will need:
mangoes,
red onion,
grated fresh ginger,
garlic,
maple syrup or honey,
red wine vinegar, and
with salt and pepper to taste
*OPTIONAL: coriander, smoked paprika, cardamom, cinnamon, and chili powder.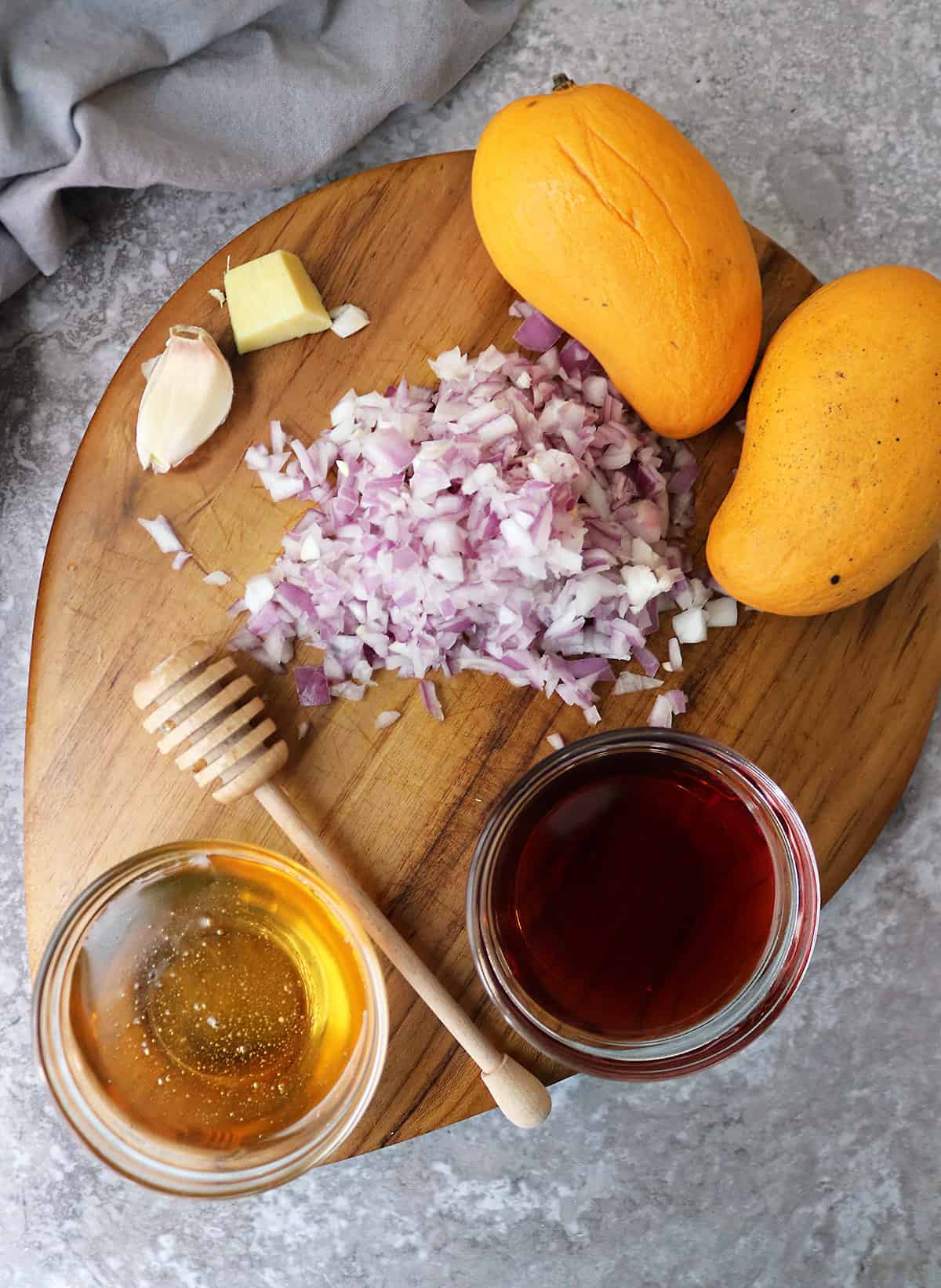 I've always indulged my craving for mango chutney at my mom's house. At least that was before sheltering-in-place (SIP) became part of our everyday vocabulary.
Pre-SIP, a few weekends a month, my daughter and I would make the drive down to Atlanta from Athens and catch up with my mom over lunch or a shopping excursion.
My mom is a huge fan of mango chutney and usually grabs a jar or two from Cherians, – a store that specializes in South Asian goods located in the city of Decatur, in metro Atlanta.
And, my daughter and I usually help her whittle down her supply of mango chutney when we lunch with her.
With store-bought mango chutney, a little goes a long way. I am good with just a small teaspoon on my plate along with any other curries and roti we might be having.
Alas, these days, my mom's senior community is enforcing a strict no-visitors rule. So, we haven't been able to see my mom for what seems like ages and we haven't been able to help her whittle down her supply of mango chutney. 😉
Recently, when I made some salmon burgers and sweet chili sauce, my daughter mentioned how well a little mango chutney would go with our meal.
We have been limiting our trips to the grocery store so I really didn't want to drive to Cherians just for some mango chutney, so, I figured I would try and make some at home with what I had in my kitchen.
As mangoes are one of the highlights of our weekly shopping excursions, we had plenty on hand. A quick call to mom and I was given the other ingredients on the label of the jar of mango chutney at my mom's house.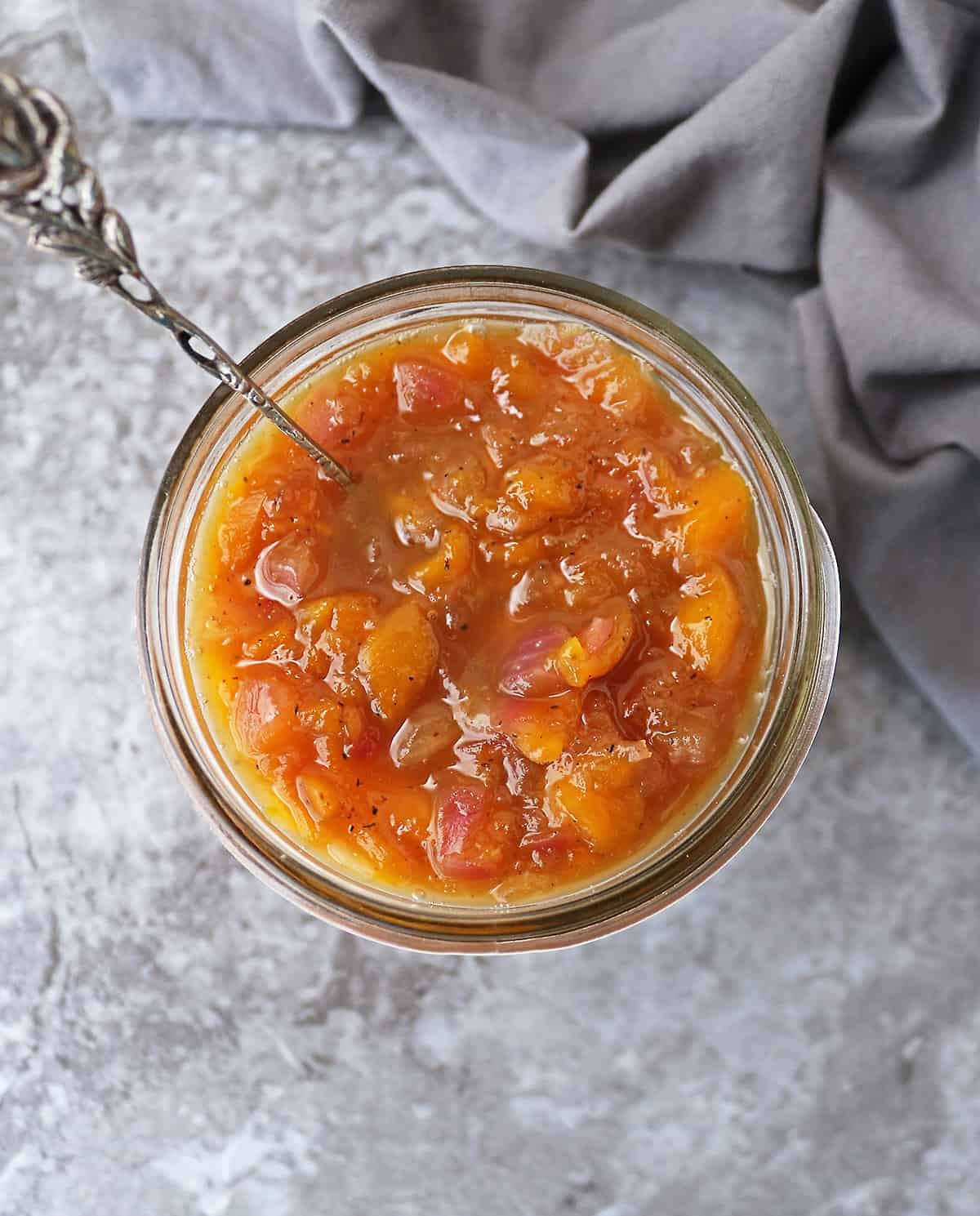 I decided to replace sugar with maple syrup (you can also use honey instead of maple syrup) and add in some onion, ginger, and garlic along with red wine vinegar and cut down on the powdered spices for no other reason than I wanted to save them for easy curry recipes like this zucchini curry, instead.
However, if you have some coriander, smoked paprika, cardamom, cinnamon, and chili powder on hand, they too can be added to this to amp up the flavor of this easy mango chutney.
My first attempt had way too much vinegar. But, my daughter and I thoroughly enjoyed the second batch I made. Hands down, it made us lick our plates!
What do you eat mango chutney with?
With this batch of mango chutney, I couldn't say, a little went a long way as my daughter and I finished almost half this jar with some air fryer salmon balls I made. This chutney also pairs well when served along with a dinner of curry and roti or paired with a snack of these Black-Eyed pea fritters with greens.
Other easy chutney recipes I love:
If you are looking for a spicier spin, then check out this Mango Habanero Chutney here.
A few other chutney recipes we love are this one for apple chutney, this easy onion chutney, and this one for peach chutney – both recipes are super easy and quick to make.
Can you use brown sugar instead of maple syrup or honey in this recipe?
Yes, an equal amount of brown sugar can be used. Do keep in mind that this mango chutney might be a bit thicker, but that is not necessarily a bad thing.
How do you store this mango chutney?
This mango chutney can be stored in an air-tight container in your fridge for up to 4 days.
Can you eat this as soon as you make it?
Yes, you can eat this as soon as you make it. But – the flavors come together beautifully when this chutney is left to chill in the fridge for about 6 hours or so. This chutney always seems to taste better the day after we made it.