This 5-ingredient Easy Pumpkin Chili Sauce is spicy, sweet, and oh so scrumptious. This sauce can be prepared in less than 10 minutes and pairs perfectly with everything from appetizers, mains, and sides.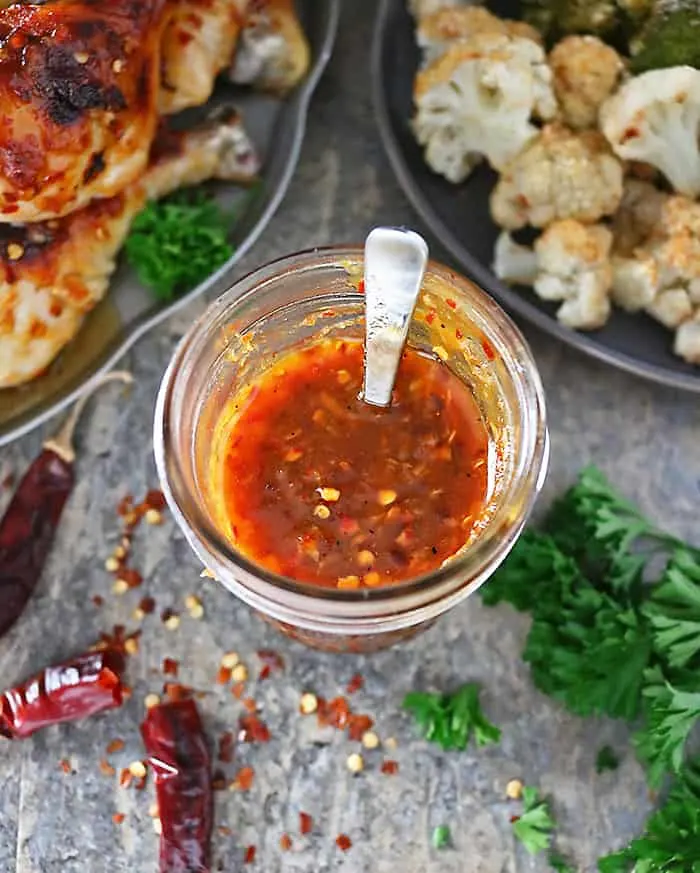 This Easy Pumpkin Chili Sauce always has my daughter and me licking our fingers and our plates. I have been making this sauce for a while now. And it's a recipe that does not disappoint.
What are the ingredients needed to make this pumpkin chili sauce?
You need only 5 ingredients to make this sauce, and they are:
maple syrup,
100% pure pumpkin puree,
fresh garlic,
red wine vinegar, and
chili flakes.
Can this sauce really be ready in less than 10 minutes?
Most definitely! All you need to do to prepare this pumpkin chili sauce is to add the ingredients to a heavy bottom pan and let them simmer for 4 – 6 minutes, stirring vigorously, so they don't burn.
The hardest step in making this sauce is peeling the garlic and grating it. The next hardest step is opening the can of pumpkin puree.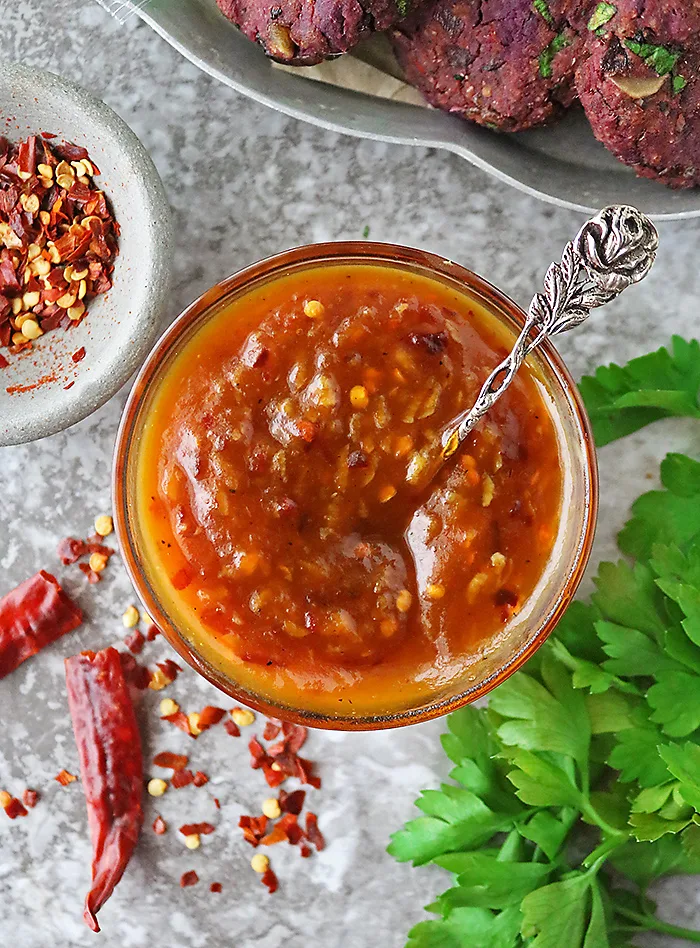 How do you serve this sauce?
This pumpkin chili sauce can be served warm or cold.
In the past, I have slathered chicken drumsticks with this sauce. I have also served it on top of little phyllo dough appetizers.
These days I usually serve this sauce with everything from these Baked Purple Sweet Potato Fritters to this roasted cabbage. Sometimes, I make a batch of this and serve it on a charcuterie board along with some mango chutney, sweet chili sauce, veggie crudites, homemade crackers, and some cut-up pita bread.
This sauce happened one day when I wanted to make a batch of some homemade sweet chili sauce and did not have any tomato paste.
I did have some pumpkin puree and decided to experiment with it instead. And, the result was simply delicious.
---
From September 2018:
I first shared this pumpkin chili sauce when my daughter and I attended a football game at the University of GA in Athens. On game days, the little college town of Athens would transform into a sea of red and black in anticipation of a Bulldogs win.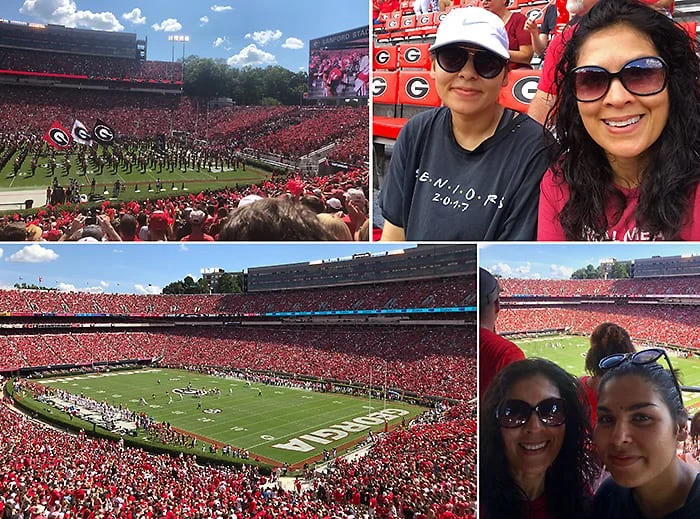 Now, I am not a football fan at all. If I am invited to a friend's place to watch a game, I show up. But, truth be told, I have no idea who is playing who or even for that matter what sport it is. The main attraction for me is the table of food!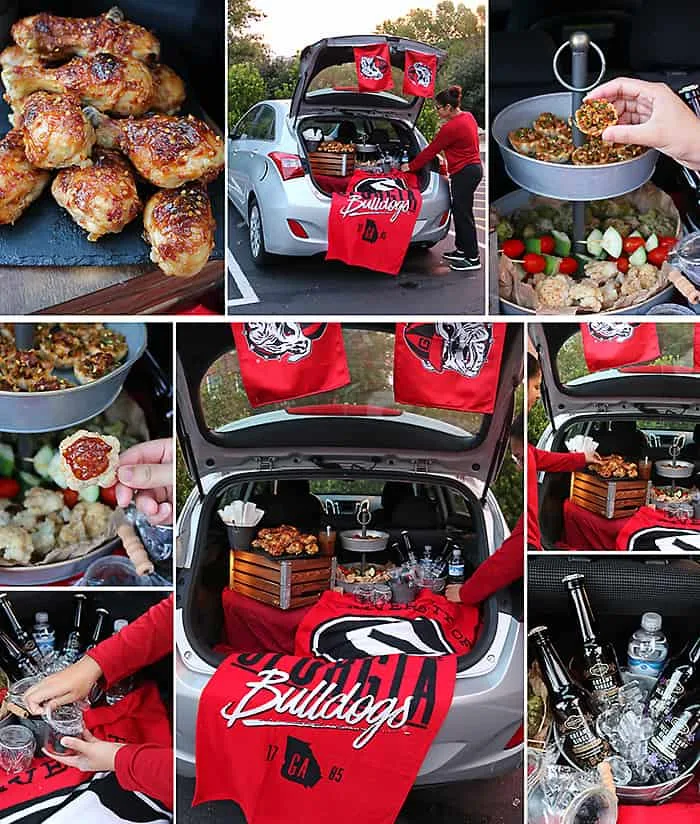 One time we even had a tailgating get-together, and my daughter and I went all out and decked out the truck of my car! We had chicken drumsticks with pumpkin chili sauce, some phyllo appetizers (recipe below), and a plethora of drinks, and veggies.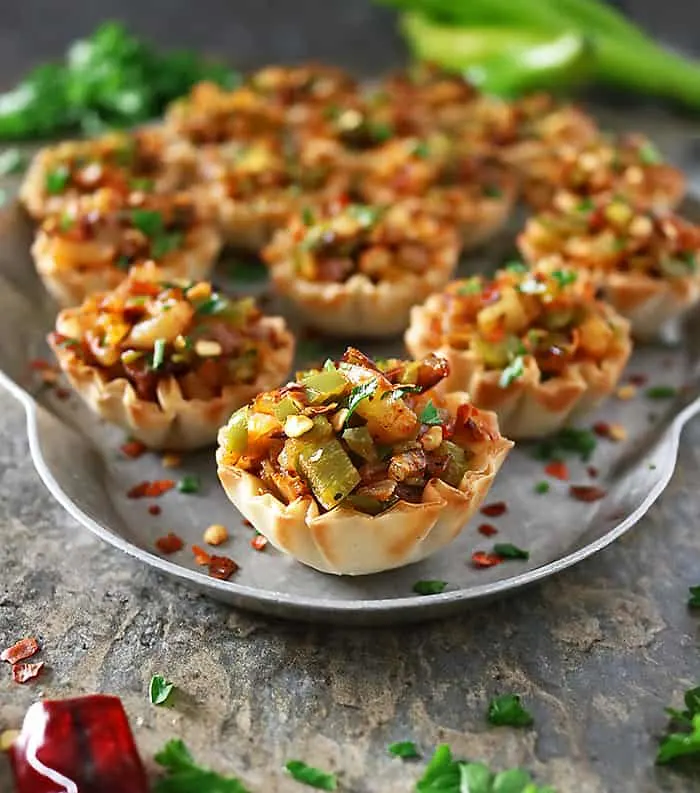 How do you make these Potato Hatch Chili Phyllo Shells?
Ingredients to make these appetizers are:
Extra virgin olive oil
onion
fresh garlic
yellow potatoes
hatch chilies
coriander
smoked paprika
parsley
And store-bought phyllo shells (baked according to pkg directions)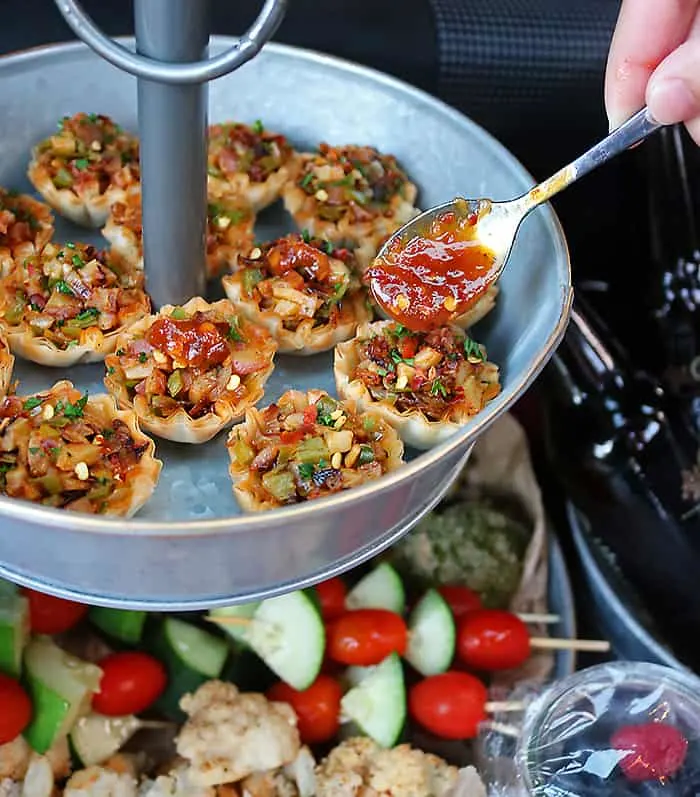 Directions to make these appetizers:
Peel and finely chop up the onion and garlic.
Place a pan over medium heat with the EVOO. Then add chopped onion and garlic into the pan and let sauté about 7-10 minutes, stirring ever so often to keep onion and garlic from burning.
While onion and garlic are cooking, wash and dice potatoes into very tiny pieces and hatch chilies too. Then add diced potato and hatch chili to onion and garlic mix along with the smoked paprika, 1 tsp of the parsley and coriander.
Turn the heat down a bit and sauté about 10 more minutes or until potato bits are tender.
Taste at this point and season with salt and pepper accordingly.
Spoon potato hatch chili mix into pre baked phyllo shells.
Garnish with the remaining tsp of parsley and chili flakes (optional).
Add a small dollop of the pumpkin chili sauce onto the Potato Hatch Chili Phyllo Shells and enjoy!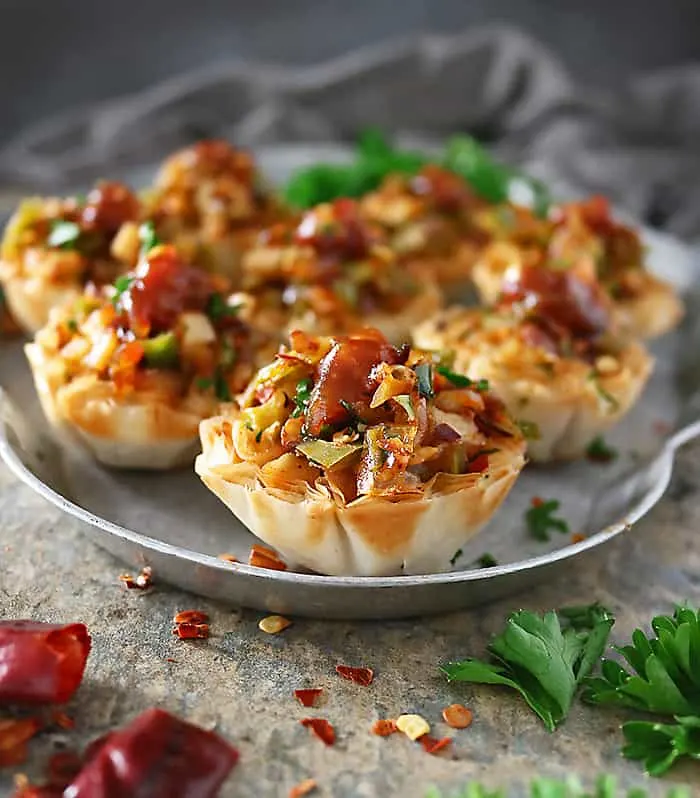 I would love to know if you've make this recipe or any other recipe from this blog. Please do rate the recipe and let me know your thoughts on it in the comments below. You can also FOLLOW ME on FACEBOOK, TWITTER, INSTAGRAM and PINTEREST to get recipe ideas and inspiration.