I have partnered with Kroger to bring y'all this Pumpkin Chili Sauce, Pumpkin Chili Chicken and Potato Hatch Chili Phyllo Shells. As always, all opinions are my own – thanks so much for supporting the brands that keep this blog spinning!
This spicy and sweet pumpkin chili sauce is a spunky accompaniment for game day eats. Slather it on chicken for some tasty Pumpkin Chili Chicken or dollop it onto Potato And Hatch Chili Phyllo Shells for a delicious game day appetizer that is sure to be a crowd favorite!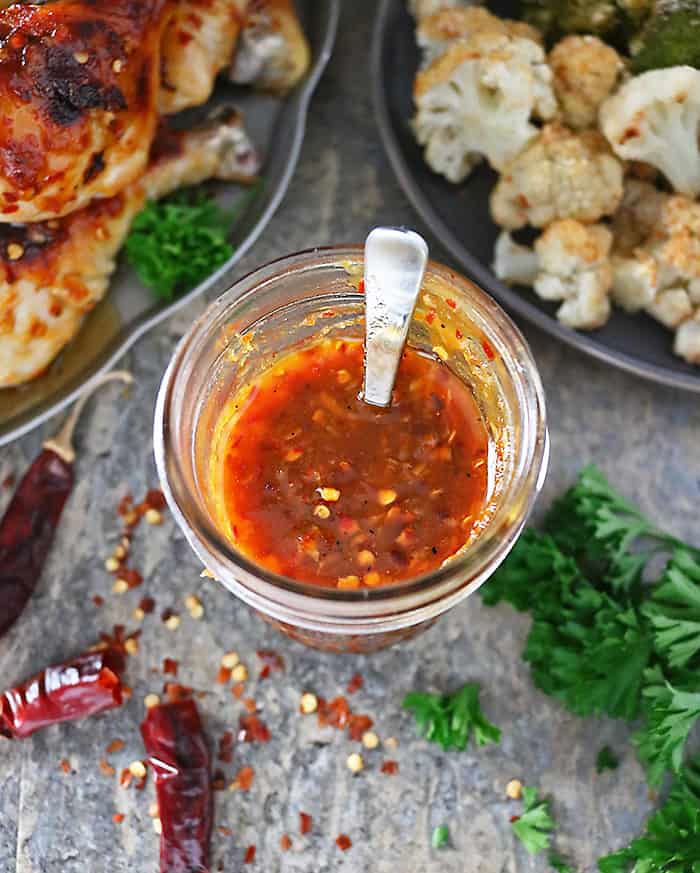 On the afternoon of Saturday, September 1st, this little college town of Athens, GA transformed into a sea of red and black in anticipation of the UGA Bulldogs' football season opener. From tailgating fans to those watching from inside Sanford Stadium (like my daughter and I were), the excitement was electric – and hard to ignore.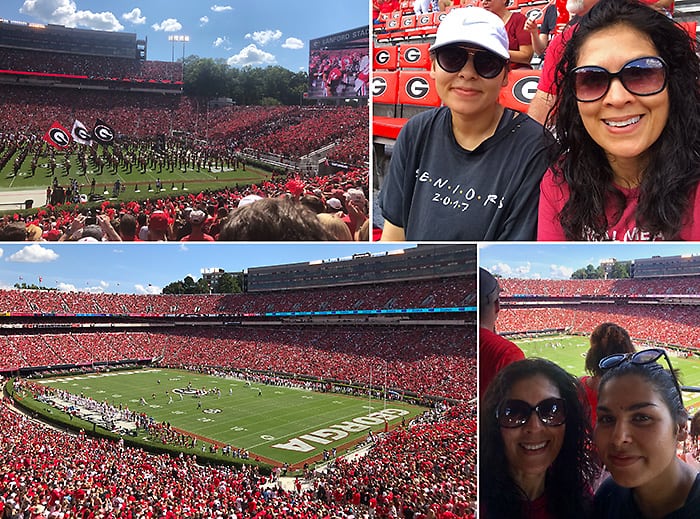 Last October, I moved to this little college town of Athens, smack dab in the middle of football season. During those first few weekends just after moving, I would often head to the neighborhood Kroger store at the break of dawn, to pick up necessities that didn't get packed.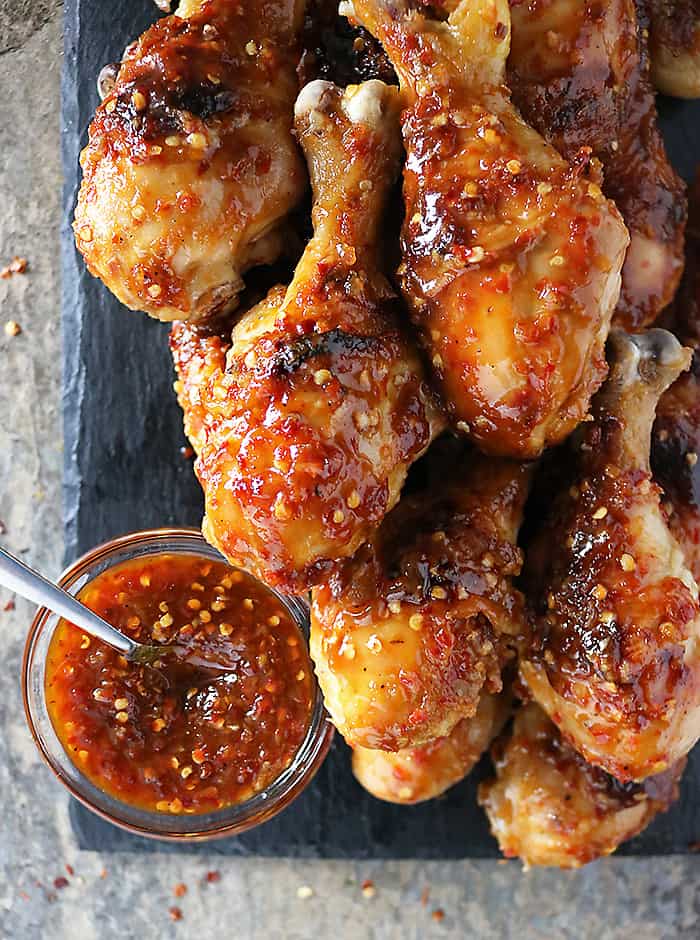 On those drives, I found myself fascinated by those die-hard UGA fans who would start tailgating even before the sun was fully up! And, before long, I came to realize that UGA football weekends are filled with bustling tailgating feastivities from before sunup to way after sundown!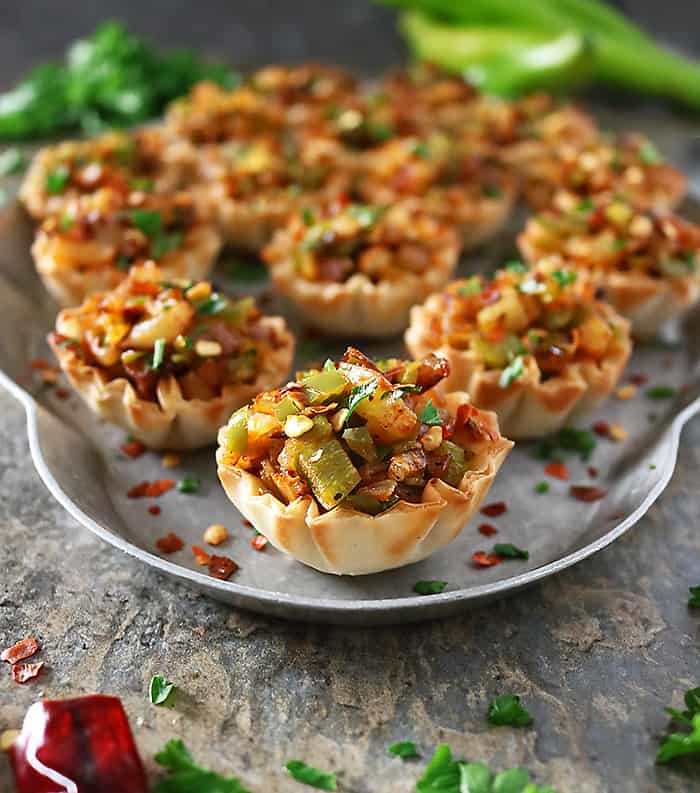 So, this year I figured, why not join in – eh?! With that said, today I have two recipes that are perfect for tailgating (or homemaking) adventures that make use of a sweet and spicy, Pumpkin Chili Sauce.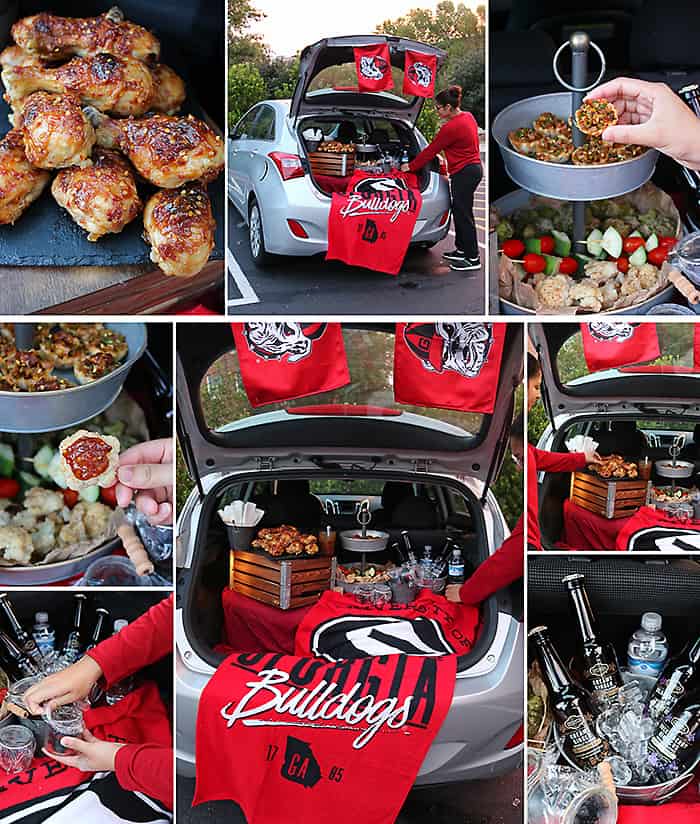 Which means, technically, I am sharing three recipes here today. One for a delicious, toe-curling, sweet and spicy, Pumpkin Chili Sauce. Another for Pumpkin Chili Chicken. And, a third for Potato Hatch Chili Phyllo Shells that makes use of that pumpkin chili sauce as a topping.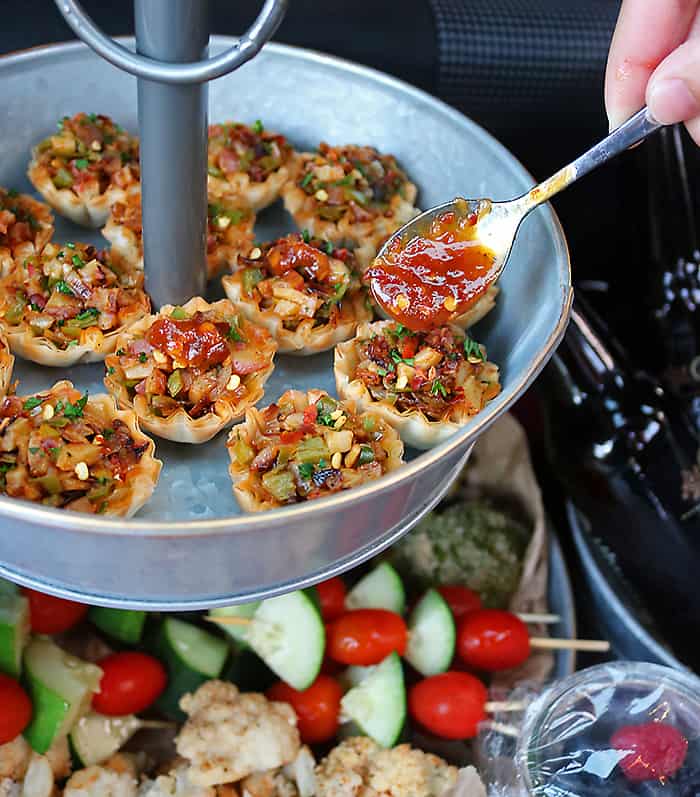 Starting with that Pumpkin Chili Sauce, it is made with 5 main ingredients that I picked up from Kroger:
• honey,
• garlic,
• red wine vinegar,
• chili flakes, &
• 100% pumpkin puree.
Simply add all the ingredients together in a pan over medium heat. Stir them as they stew together for about 6 minutes, season with salt and pepper and boom! This Pumpkin Chili Sauce is ready to enjoy!
I marinated some Simple Truth™ Natural Chicken Drumsticks in this Pumpkin Chili Sauce and then baked them up, but they can be easily grilled as well for a tasty tailgating tidbit. And, you can sub in chicken for any meat you like. Or, even top your favorite burger with a generous dollop of this pumpkin chili sauce and you won't be disappointed.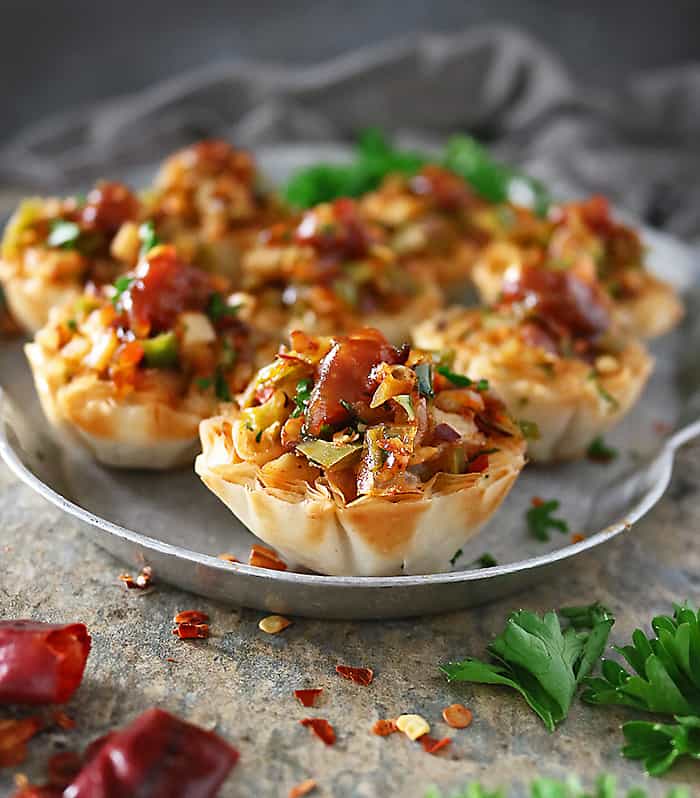 As Hatch chilies were on sale at Kroger, I brought home a bunch and then sautéed them up with some potatoes, onions, garlic, smoked paprika and coriander. I then used that potato hatch chili filling to stuff some phyllo shells to make some easy-to-handle, Potato Hatch Chili Phyllo Shells. These Potato Hatch Chili Phyllo Shells topped with that Pumpkin Chili Sauce were an instant hit with spice lovers and non-spice lovers alike.
Also, on our tailgating menu were roasted veggies that were slathered with that pumpkin chili sauce. As well as some salad skewers, summer berries and Kroger Private Selection soft drinks and water. When I was shopping at Kroger for the ingredients I needed for these dishes, I also stumbled on a plethora of UGA fan memorabilia right there in Kroger!
Kroger was my one-stop for all my game day eats and supplies! So, next time you are prepping for game day, why not head to Kroger to stock up on all your tailgating (or homegating) supplies and ingredients.
I would love to know if you've make this recipe or any other recipe from this blog so please do rate the recipe and let me know your thoughts on it in the comments below. You can also FOLLOW ME on FACEBOOK, TWITTER, INSTAGRAM and PINTEREST to get recipe ideas and inspiration.