Loaded with roasted butternut squash, roasted garlic and harissa, this 7-ingredient, Roasted Butternut Squash Dip is perfect for a backyard BBQ party, Mother's Day brunch or even a movie night with your family.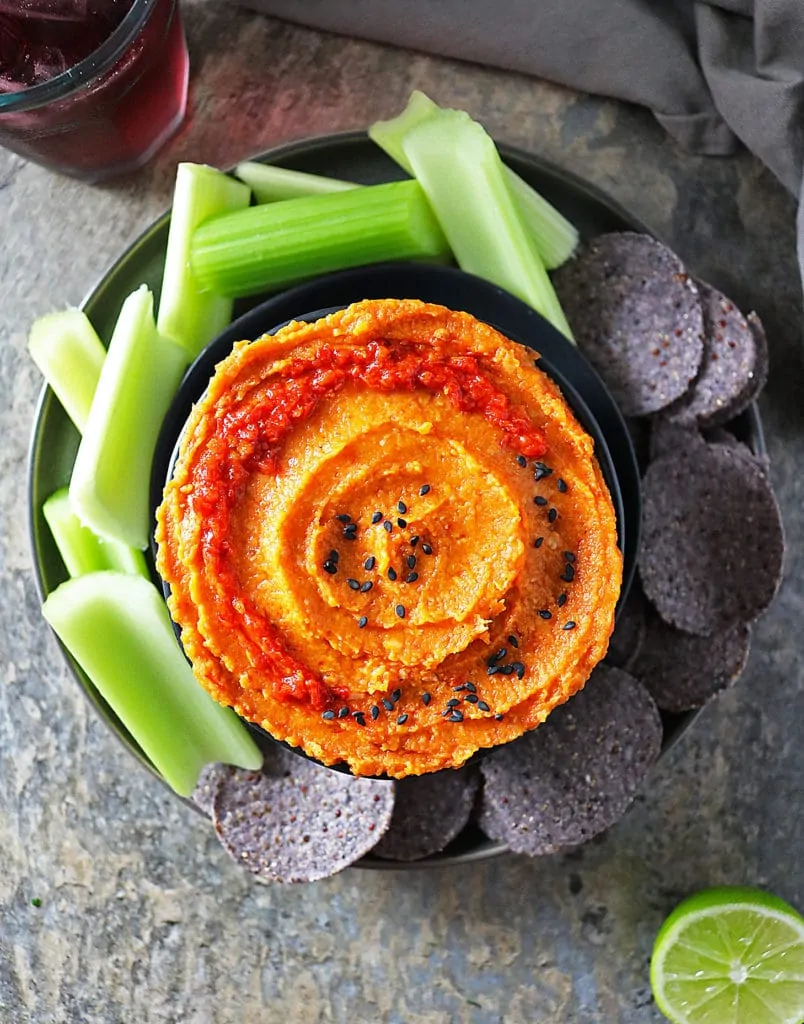 These past few months, I've managed to drastically reduce the amount of bandaids I've used.
And, it's all thanks to those packages of pre-cut butternut squash that line the shelves of just about every grocery store, these days.
Those packages are a finger-saver for me! And, I cannot recall a grocery run when I didn't come home with a package or two of those pre-cut butternut squash.
Simply roasted and lightly salted, butternut squash is pretty darn delicious!
Blend it up into a sauce with a bit of your favorite milk and a few spices and it makes for one lusciously creamy soup or even pasta sauce.
I even jazzed it up with enchilada sauce and enjoyed it immensely in this enchilada shakshuka.
And today I have it in this easy, 7-ingredient Roasted Butternut Squash Dip, for you!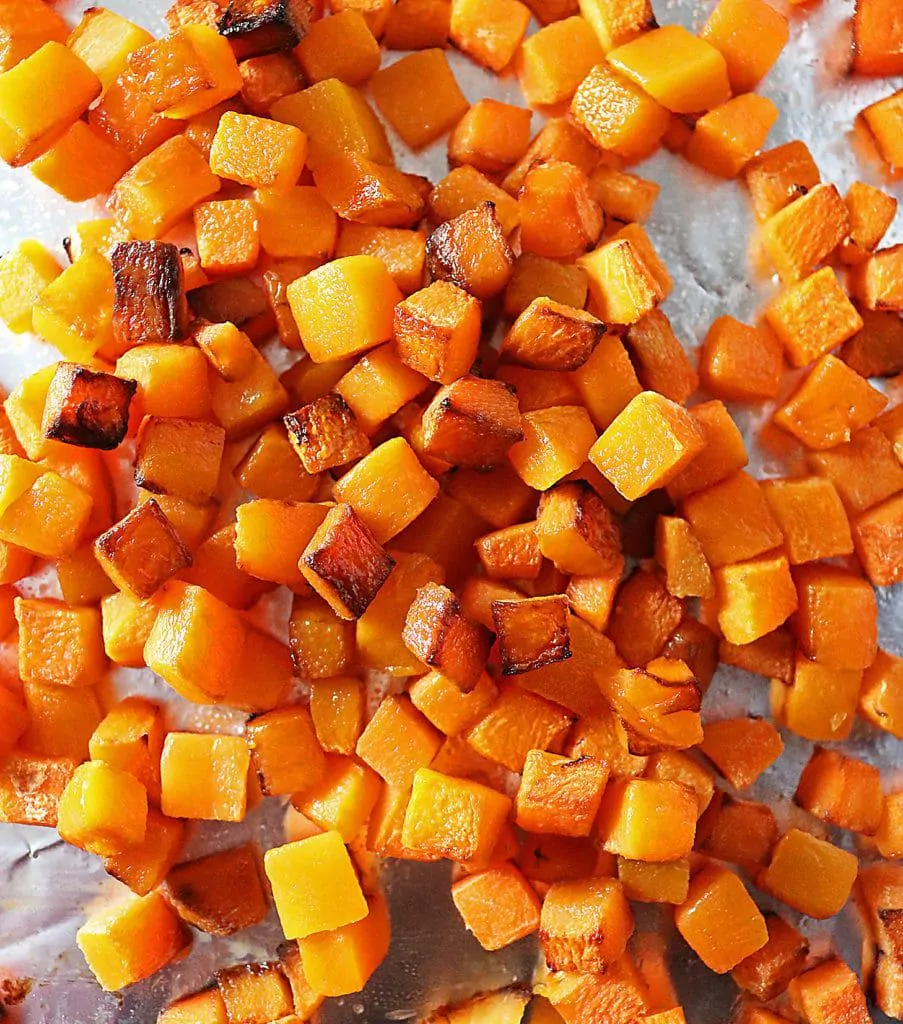 This Roasted Butternut Squash Dip is so super easy to make. But, like I discovered when making this Charred Zucchini And Caramelized Onion Salad, technique goes along way.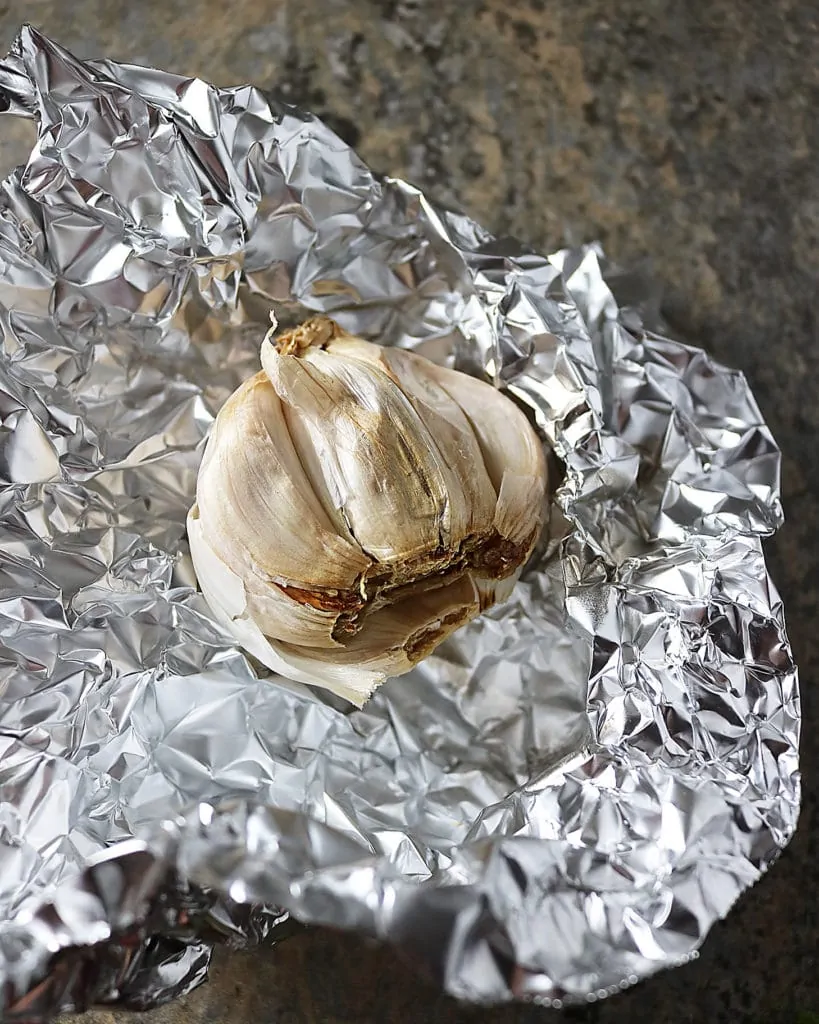 Roasting up the butternut squash and blending it with roasted garlic alone adds so much flavor. But, when harissa and a smidge of coriander join the party, it's like disco lights for your tastebuds! That is, if disco lights were/are (no judging) your thing.

Three Simple Tips and Tricks to Make This Flavorful Roasted Butternut Squash Dip:
1) Make sure to use roasted garlic.
You can use raw garlic, but, I have found that roasted garlic adds such a depth of flavor to this dip. And, instead of competing with the sweetness of the roasted butternut squash, it seems to complement it.
2) It's ok to use substitutions.
I used store-bought harissa (but you can make your own using this recipe, if you'd like), which is a chili paste with spices like cumin and coriander in it. If you'd prefer a chili sauce/paste without cumin and coriander, then try sambal oelek. If you'd prefer something on the milder side, then use an equal amount of tomato paste.
3) Spin in some spice!
While harissa already has coriander in it, I love the smoky taste of coriander and used a smidge more. Now, you can use a bit of cumin or curry powder or garam masala instead, if you prefer. Instead of using extra oil in this dish, I turned to spices to amp up it's flavor.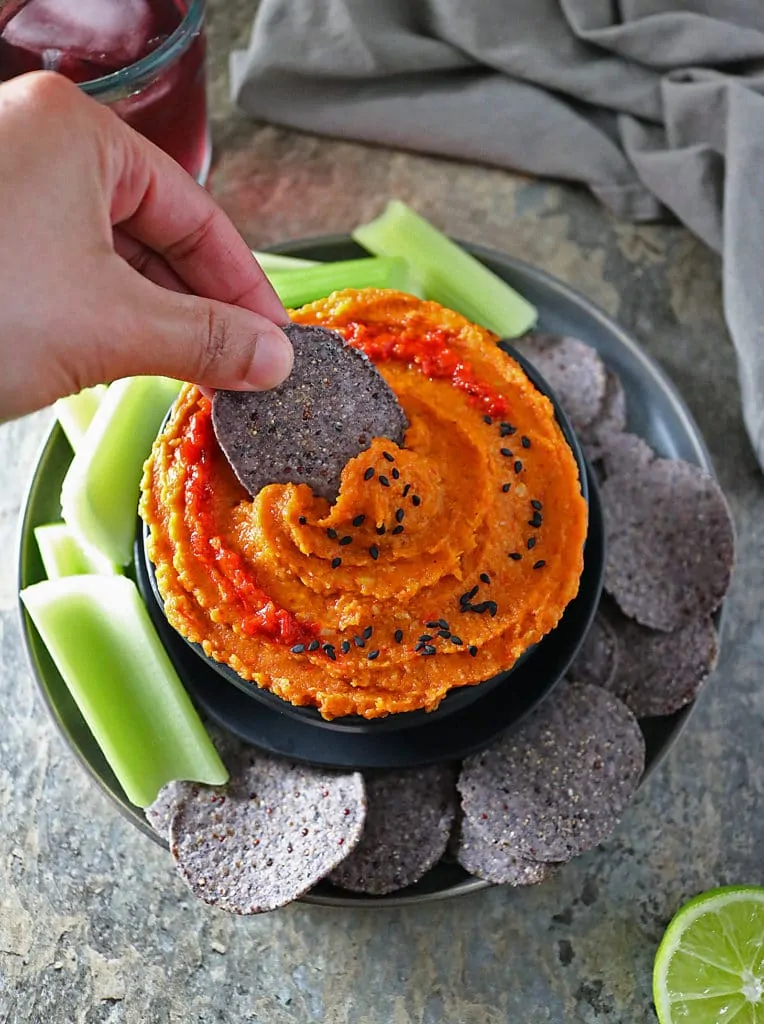 I also used a can of chickpeas in this dip to thicken it up and give this dip a nice protein boost. This dip is delicious slightly warm but it is also delicious served at room temperature. If you have leftovers, they can be refrigerated for upto 3 days. But, who am I kidding, you aren't going to have leftovers.
While we started off dipping celery, chips and some Spinach Pakoras (from Asha's cookbook) into this dip, we polished off the last of it with spoons and …gah.. dare I say it… our fingers!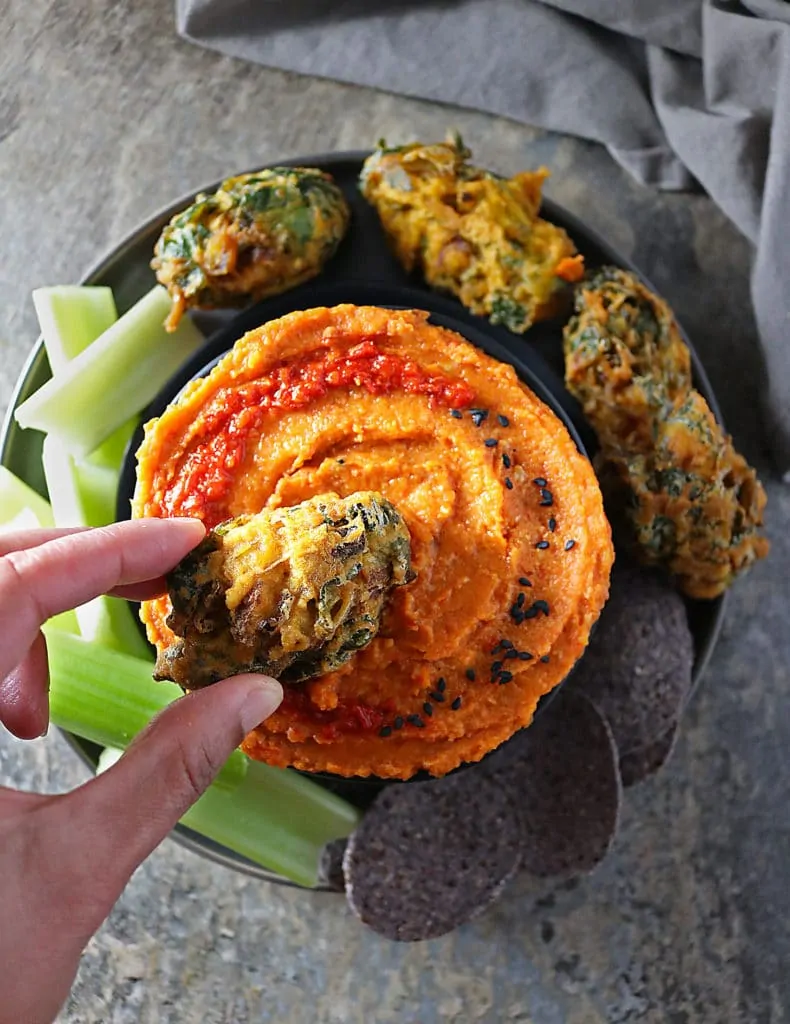 I would love to know if you've make this recipe or any other recipe from this blog so please do rate the recipe and let me know your thoughts on it in the comments below.
You can also FOLLOW ME on FACEBOOK, TWITTER, INSTAGRAM and PINTEREST to get recipe ideas and inspiration.
©Savory Spin All content and images are protected by copyright. Please do not use my images or recipe without my permission.