Made with just 10 ingredients, this Easy Pumpkin Lentil Curry is a creamy and comforting vegan curry that can be made in less than 30 minutes. Paired with some rice, naan, or roti, this curry is perfect for a busy weeknight or leisurely weekday dinner.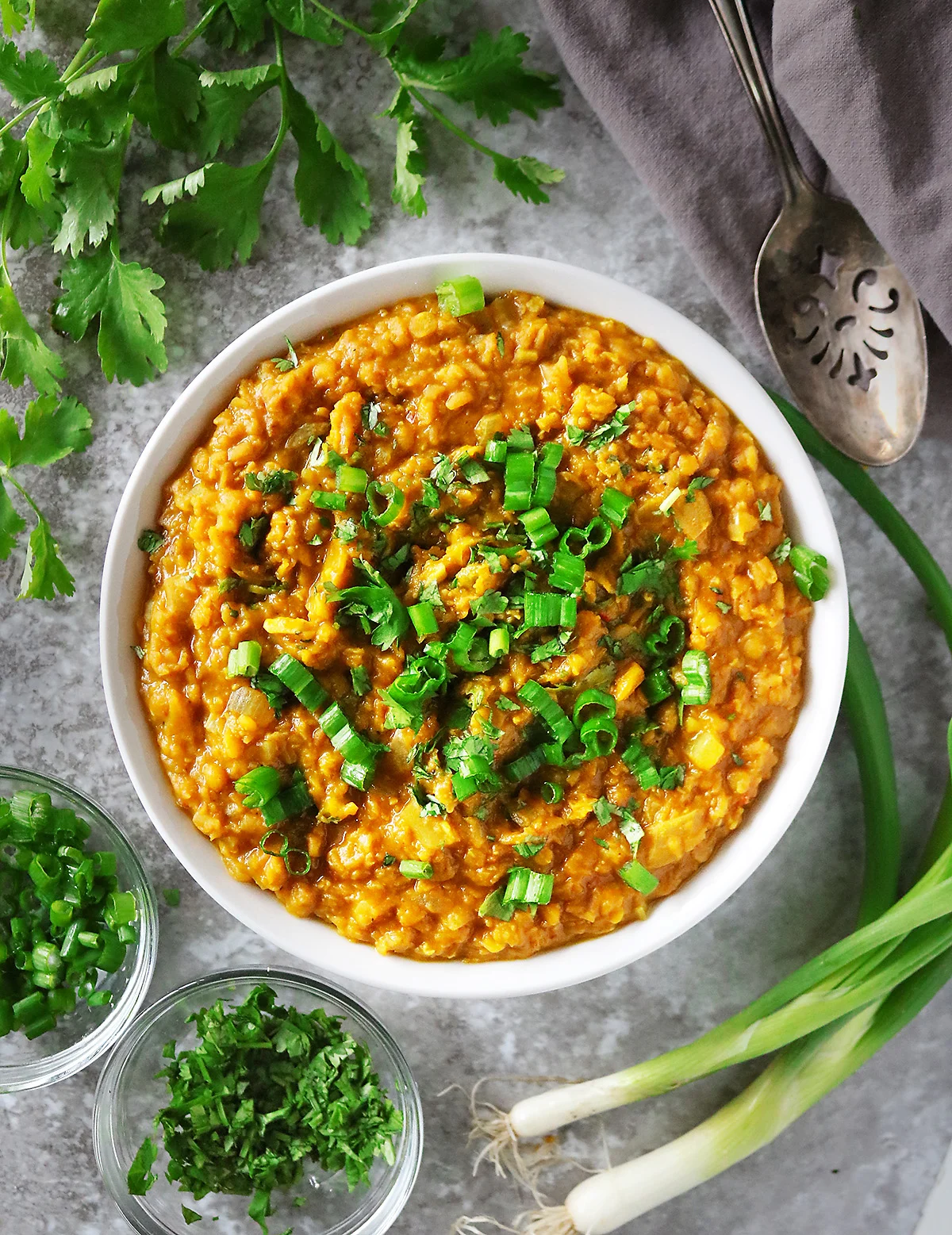 This pumpkin lentil curry is so easy. You start off by sauteing ginger, garlic, onion, and celery together. Then you add in some canned 100% pure pumpkin, (washed) dry red lentils, spices, vegetable stock, or water, and let it simmer for about 15 minutes. When the time is up, you have a delicious and tasty, plant-based curry.
As this nutritious curry can be prepared so quickly with easy-to-find ingredients, this is perfect to enjoy for a weeknight dinner or weekend meal.
Where did lentils come from originally?
Lentils are said to have been found in Ancient Egyptian tombs as early as 2400 BC. Since then, they have made their way, alongside meat, onto certain European tables and mingled with garlic and onions on certain Middle Eastern and South Asian tables.
Lentils come in a variety of shapes, colors, and sizes. To name a few common varieties of lentils, there are those that are green, those that are yellow, those that are red, and even those that are black. But, no matter their shapes, size, or color, lentils are always a healthy, plant-protein-rich, addition to any meal.
At one point in time, lentils were even referred to as "the poor man's meat." But now there's even a festival celebrating these little orbs in Pullman, Washington!
Are lentils good for you?
The humble, budget-friendly lentil has quite the reputation when it comes to low fat, high protein legumes. Lentils are little warehouses of nutrition as whatever is in them often helps us manage to keep our cholesterol levels down and our blood sugar levels under control. If you like to, you can read more about the health benefits of lentils here.
And, boy-o-boy are lentils versatile! From using them in these Chocolate Lentil Pancakes to these Lentil and Olive Vada's to a myriad of stews and curries, lentils have been adorning my breakfast, lunch, and dinner table since I was a young one.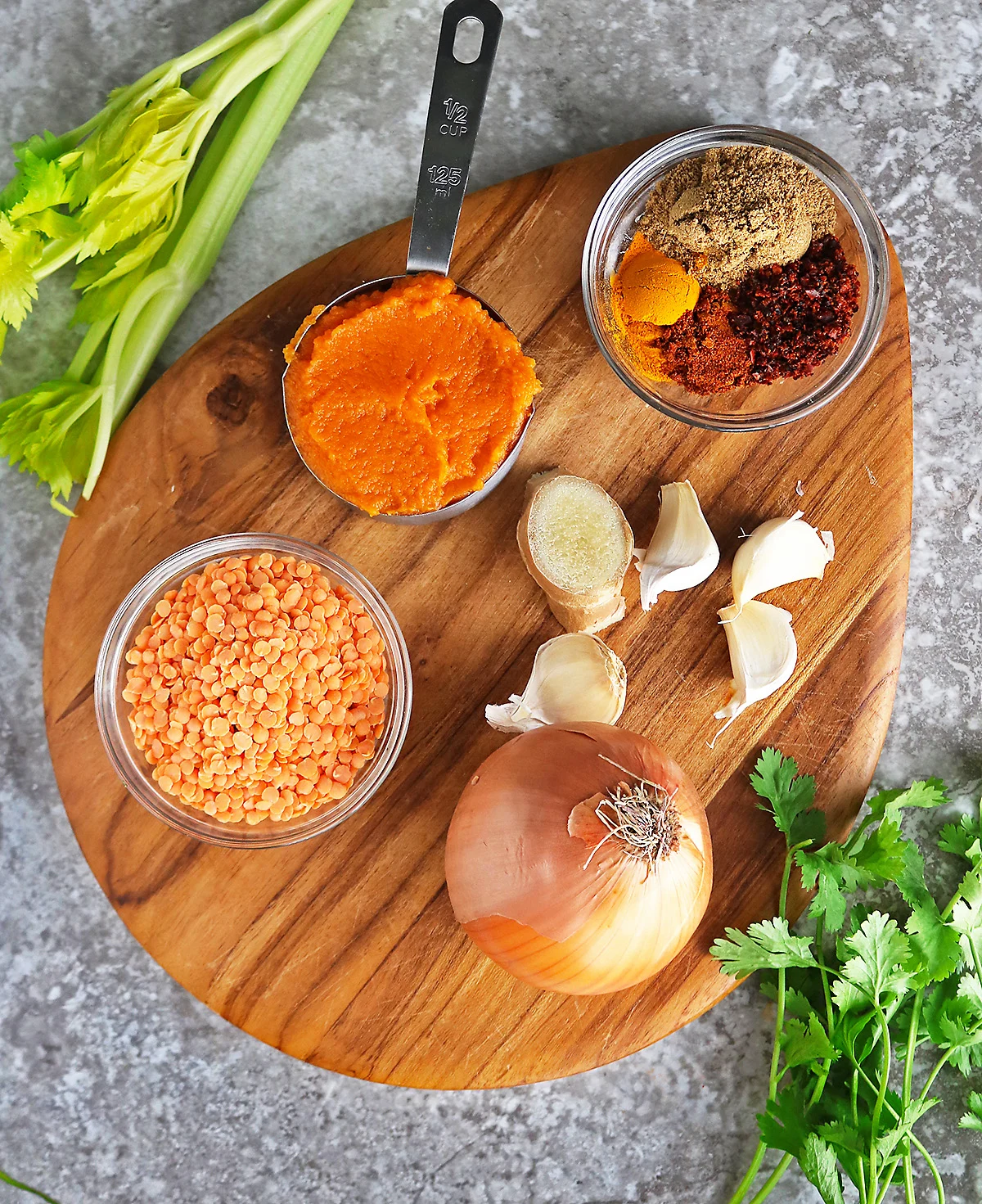 And today, I have yet another variation of a lentil dish. Even if you happen to be over pumpkin, I have a feeling you are going to love this lentil side dish as pumpkin is only used as a thickener in it.
When the pumpkin mingles with the ever so lightly caramelized onions, ginger, celery, and garlic, as well as the spices, it metamorphoses into something simply scrumptious. I added in some fiery harissa to add a bit of a spin to this delicious, low-calorie, curry.
What are the ingredients needed to make this easy pumpkin lentil curry?
To make this easy and comforting curry, you will need the following 10 main ingredients:
Onion
Garlic cloves,
Fresh ginger,
Celery,
Dry red lentils,
100 % pure Pumpkin Puree (not pumpkin pie filling),
Coriander,
Turmeric,
Smoked paprika, and
Harissa.
I also used water to thin this down, but you can use an equal quantity of vegetable stock as well. And, olive oil was used to saute the ingredients.
This pumpkin lentil curry was then seasoned with salt and pepper and garnished with chopped parsley, but feel free to use cilantro if you prefer.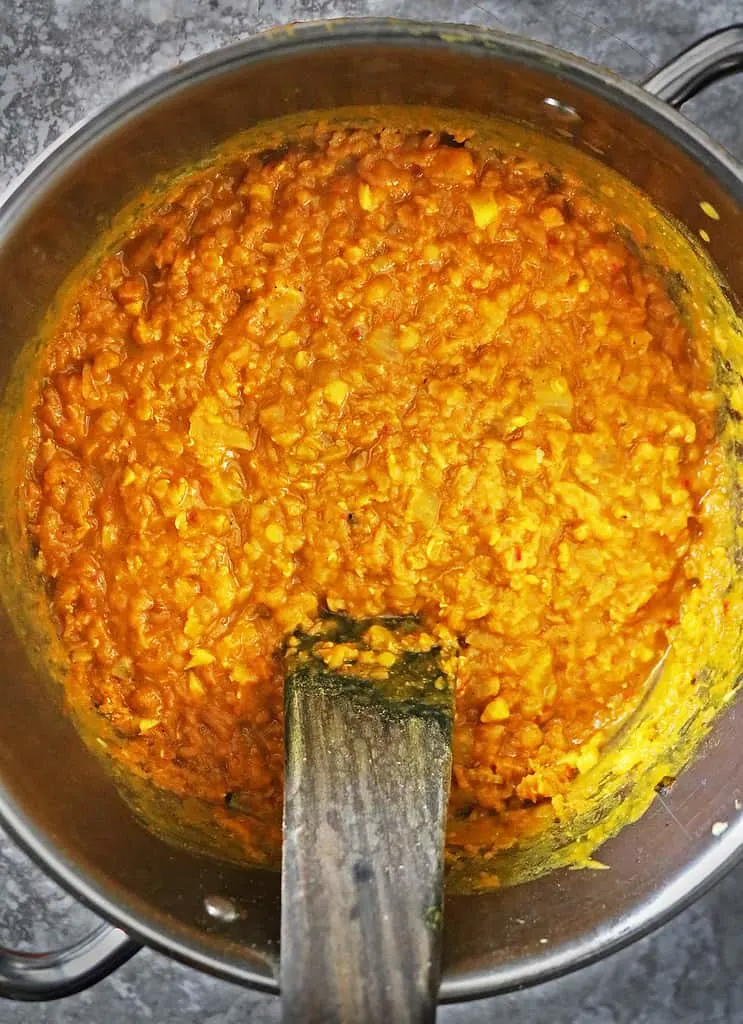 Growing up in Sri Lanka, lentil curry always made an appearance at every get-together. No matter if it was a holiday feast, a funeral, a Sunday dinner, or just because, lentil curry always made an appearance on the table, along with yellow rice. When I was growing up in Sri Lanka and Abu Dhabi, lentil curry was a holiday must!
So, have I convinced you to serve up a batch of this super easy pumpkin lentil curry on your holiday table? Well, if not, why not enjoy this at a busy weeknight dinner or a leisurely weekend meal?
A few Tips when making this pumpkin lentil curry:
Instead of using dry lentils, you can use canned lentils in this recipe. You will just adjust the cooking time down as well as the quanity of water/vegetable stock used significantly. If canned lentils are used, then, after you add the lentils and about 1/2 the amount of water/veg stock, then you would let this simmer covered for about 5 minutes. If you would like a lentil curry recipe with canned lentils and without the pumpkin, then check out this one.

The combination of spices I have here are a guide. You do not have to striclty adhere to the quanitities listed. Sometimes, I have made this pumpkin lentil curry and used cayenne powder instead of smoked paprika. Sometimes, I have forgone the harissa for some chili flakes. There have been even times when I added in some cumin to this mixture. So, feel free to experiment – but do remember, different quantities and types of spices will alter the taste of this dish significantly.

If you want to make this a richer and creamier curry, then add in a bit of coconut milk. Instead of the 3 1/2 cups of water/vegetable stock, use about 2 1/2 cups of water/vegetable stock and add in 1 cup of coconut milk or any milk you prefer.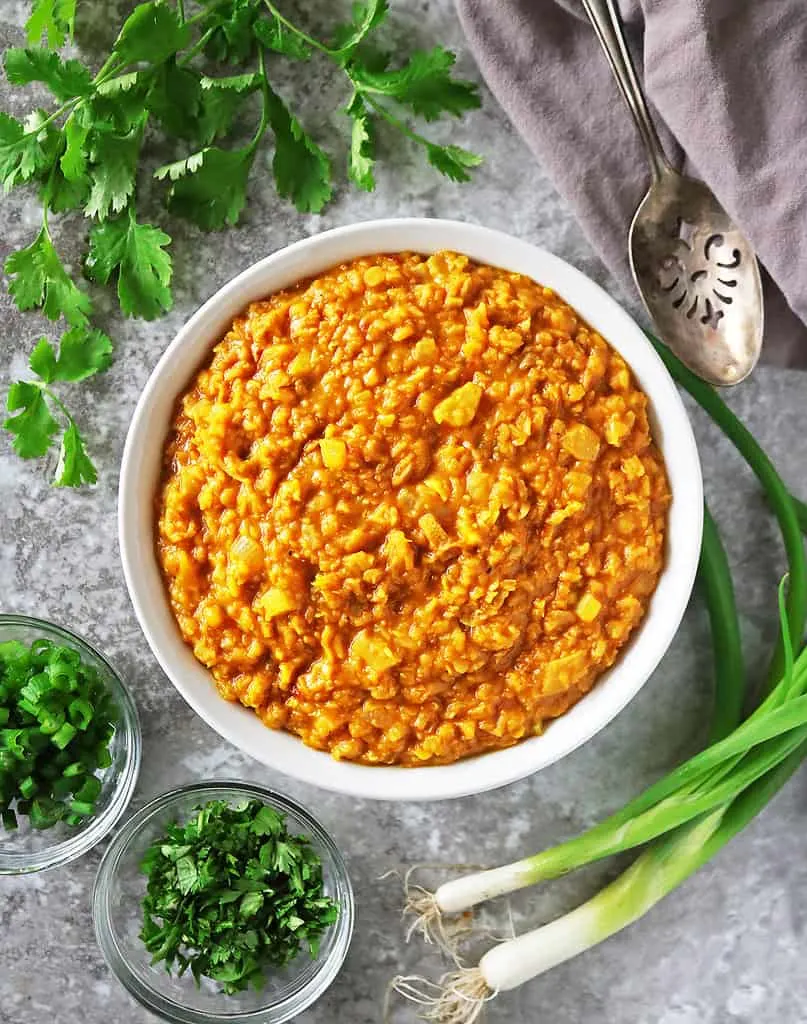 What do you serve this pumpkin lentil curry with?
I love how creamy and comforting this curry is ~ even without any coconut milk. This curry pairs beautifully with roti, yellow rice, or even some black rice and beans.
If you are in a time crunch, then grab one of those packages of rice that you can heat up in 90 seconds to serve with this. Or, even some store-bought naan.
If you want to make this curry part of an elaborate weekend meal, then a serving suggestion would be to serve it with some of this yellow rice, some of these vegetarian meatballs, this beetroot curry, a batch of this cashew curry, and some apple chutney, or mango chutney, or apple cranberry chutney.
How long can you store this pumpkin lentil curry?
You should be able to store this curry in an airtight container in your fridge for up to 5 days. When you need to enjoy some, just spoon onto a microwave-safe plate and microwave for 30 seconds to a minute.
---
This pumpkin lentil curry is easy to make and I am convinced that you and your family are going to love this easy dish.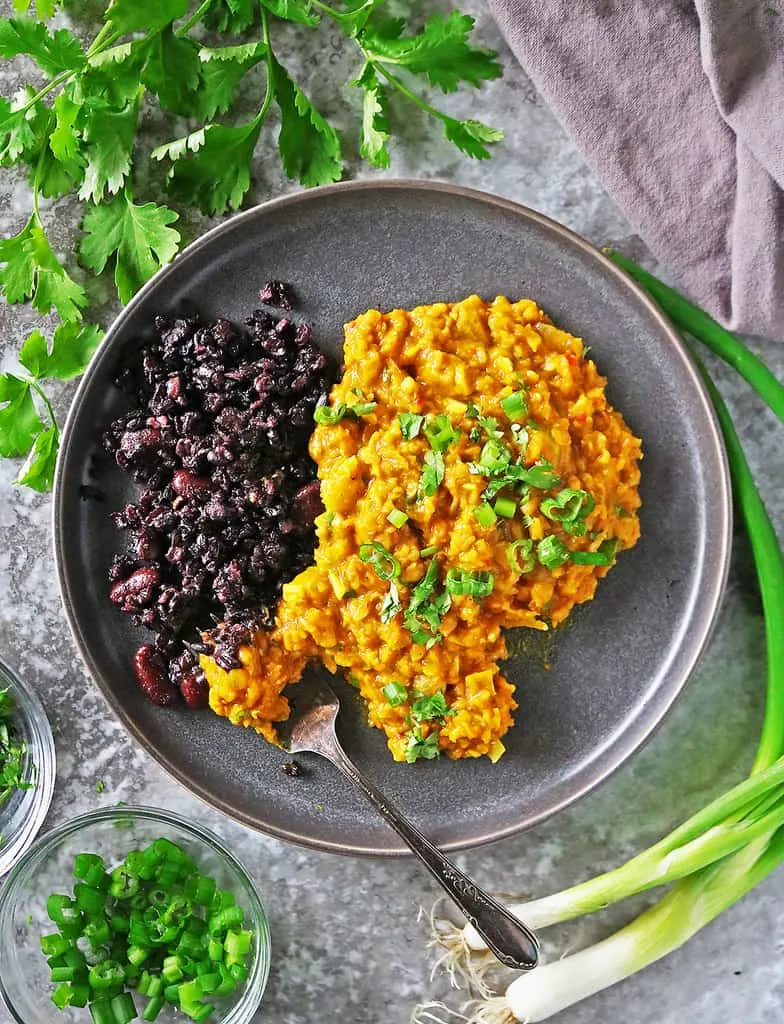 A version of this Pumpkin Lentil Curry first appeared on Food Fanatic – with apples to add a bit of a sweet spin.