This creamy Roasted Tomato Soup Recipe is a simple one that consists of blending a sheet pan of roasted and scrumptiously spiced, tomatoes, onions, garlic, ginger, and chili peppers with a bit of almond milk. This dairy-free recipe is perfect when paired with some bread or a grilled cheese sandwich, and is ready in 35 minutes.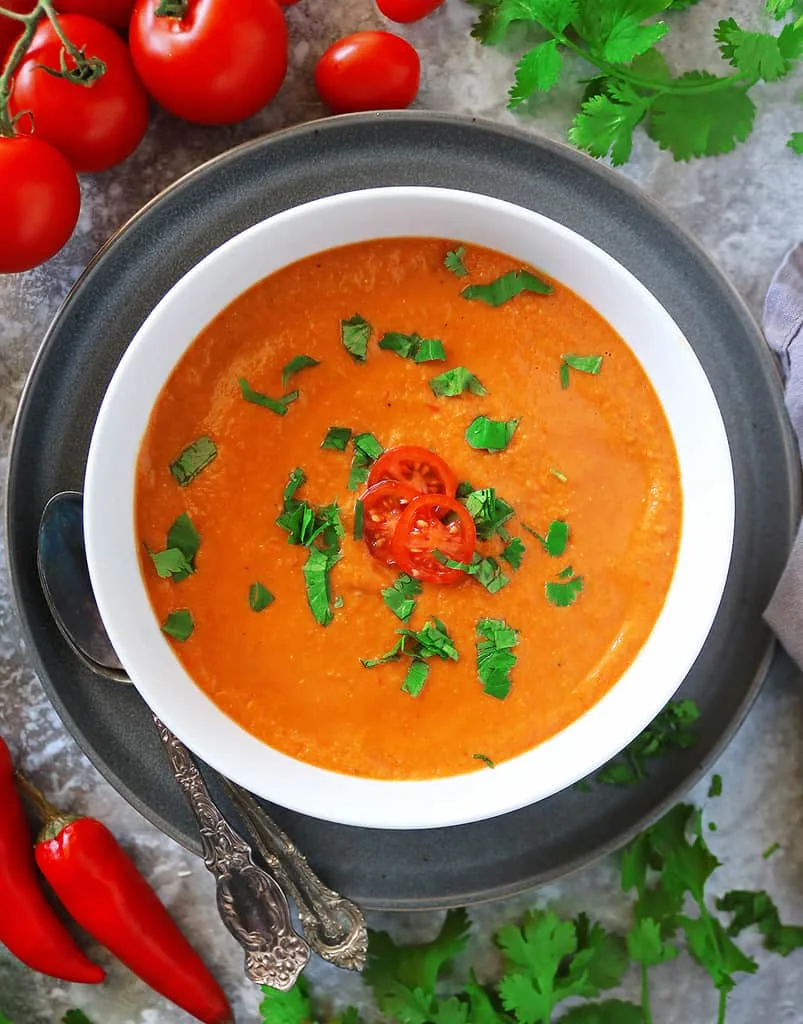 I so love this roasted tomato soup recipe. It is an incredibly easy one. And, it is packed full of flavor from aromatic spices and the simple act of roasting tomatoes, ginger, garlic, onions, and chili peppers.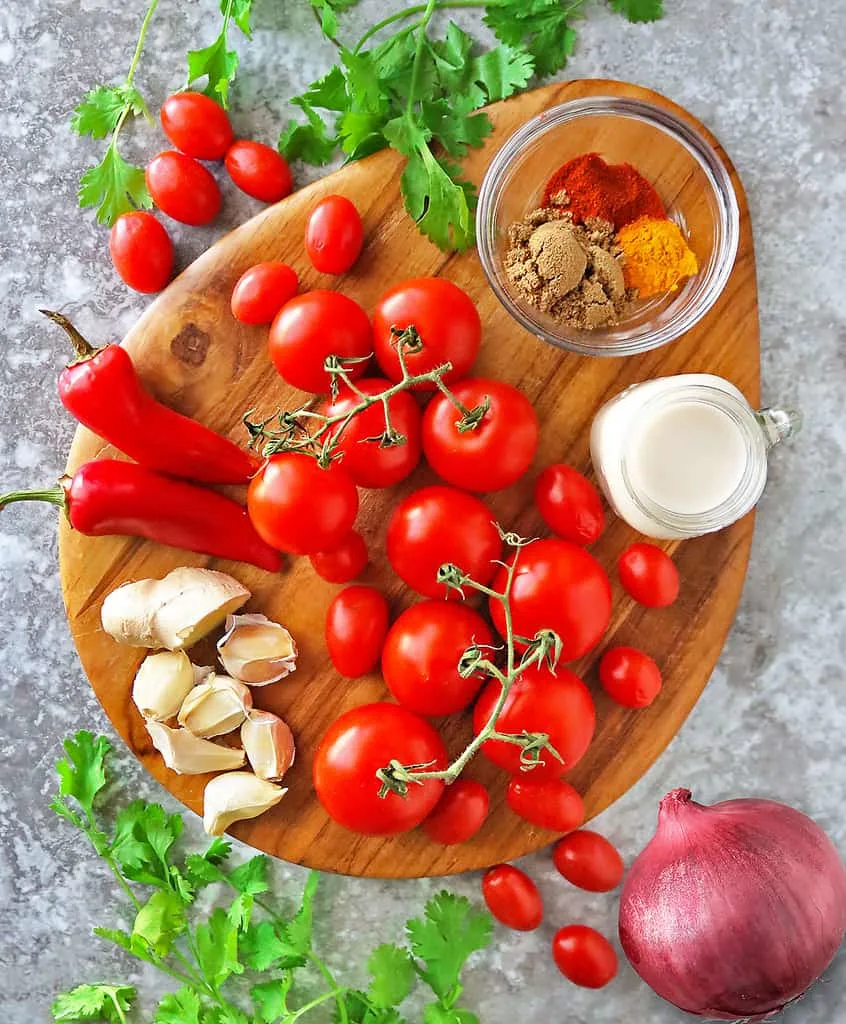 What are the ingredients needed to make this creamy roasted tomato soup recipe?
This recipe is made with the following 10 ingredients:
Tomatoes
I used a variety of tomatoes in this recipe. I had a few leftover cherry tomatoes and some Campari tomatoes hanging out in my fridge, so I used them. But, you can use your favorite tomatoes. Just make sure that, when slightly chopped, they equal abut 3 cups approximately.

Red onion
When it comes to the onion, it can be a yellow one or a red onion. When slathered with spices and roasted, they both taste very similar. This is a versatile recipe, and I hope to encourage you to use what you have on hand. I usually like to use red onions as they are supposed to have a higher antioxidant content than their yellow counterparts.

Garlic
For this recipe, I would urge you to use fresh garlic. It adds so much flavor to this dish and garlic is a good source of prebiotics. If you are time crunched, you could purchase some peeled and canned garlic that most grocery stores have in theirproduce section.

Ginger
Just as with the fresh garlic, I would urge you to use fresh ginger. Fresh ginger not only adds so much flavor, but is a nutritional powhouse with gut-calming properties, among many others. However, if you cannot find fresh ginger, I would not substitute ginger powder in this as it will alter the taste immensely.

Red chili pepper
I think a bit of spice makes all dishes nice. However, it is fine if you do not think the same. In fact, if you would like a milder version, this is one ingredient on the list than can be completely ommitted.

Turmeric
I used turmeric powder in this recipe. But, if you can get your hands on some fresh turmeric, you will be using about a 1/2 inch knob. Just peel it, chop it up, and add it to the ingredients.

Smoked paprika
I used a bit of powdered smoked paprika in this dish. You could use plain paprika if you like, but this will change up the flavor ever so lightly.

Coriander
For this dish, powdered coriander was used along with smoked paprika and turmeric. The spices were mixed together with some extra virgin olive oil and drizzled over the tomatoes, ginger, garlic, and chili pepper.

Almond Milk
I used almond milk to make this roasted soup recipe creamy and harmoneously unite the other ingredients. You can use coconut milk or cashew milk if you prefer.

Parsley
In this roasted tomato soup recipe, parsley played the role of garnish. Just a little went a long way in adding some much needed color and a tad bit of flavor.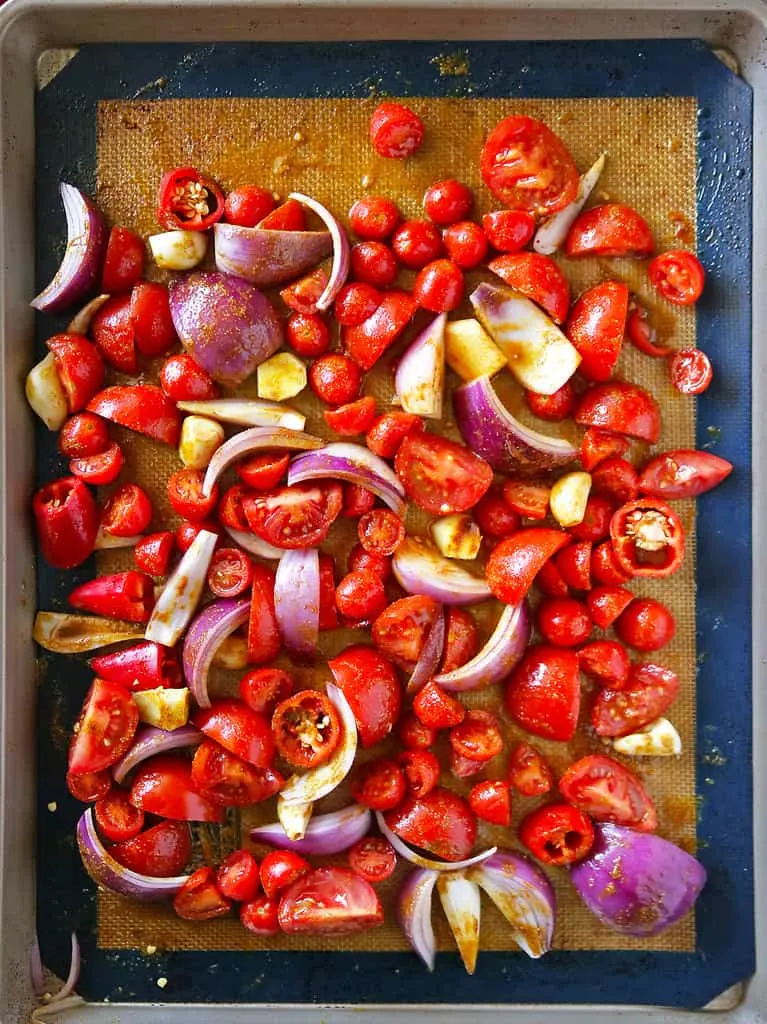 How do you make this easy spicy roasted tomato soup?
Once you have the ingredients for this dish, it is ready in 35 minutes, and 4 simple steps.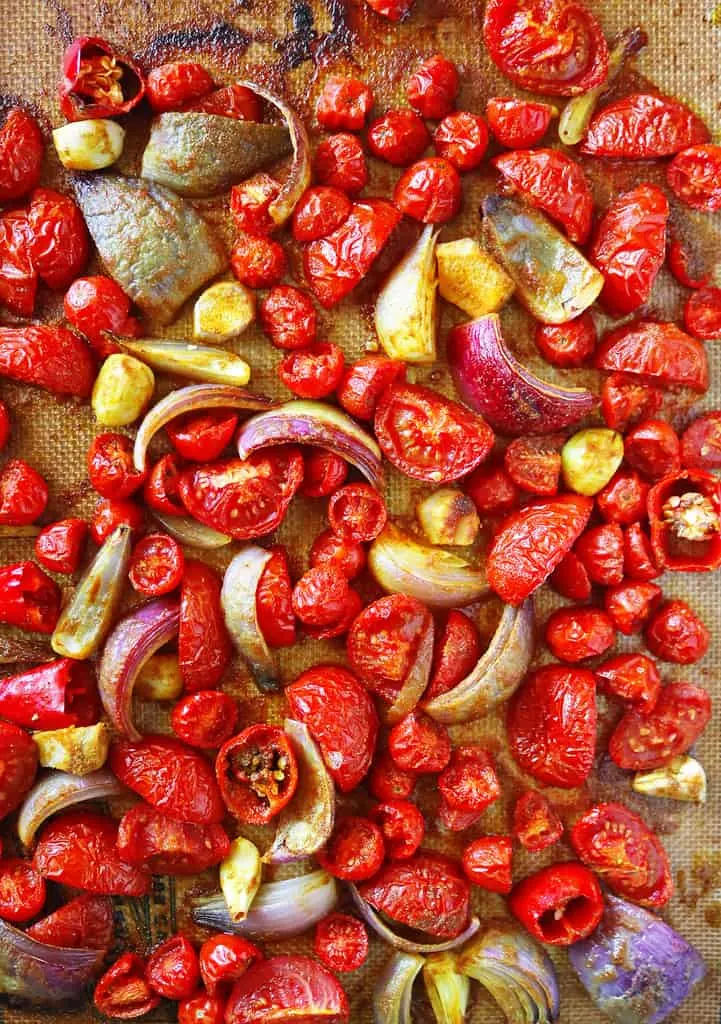 You will simply peel and roughly chop up the onion, ginger, and garlic. You will also roughly chop up the tomatoes and chili pepper and spread them out on a sheet pan.

Then make a quick sauce by mixing the turmeric, smoked paprika, and coriander with some extra virgin olive oil. Drizzle this over the chopped ingredients on the sheet pan and toss the ingredients so the sauce is evenly distributed.

Pop the sheet pan in the oven and bake the spiced ingredients for 30 minutes.

Add the roasted ingredients to a blender along with the almond milk and voila! Your delicious roasted tomato soup recipe is ready to enjoy!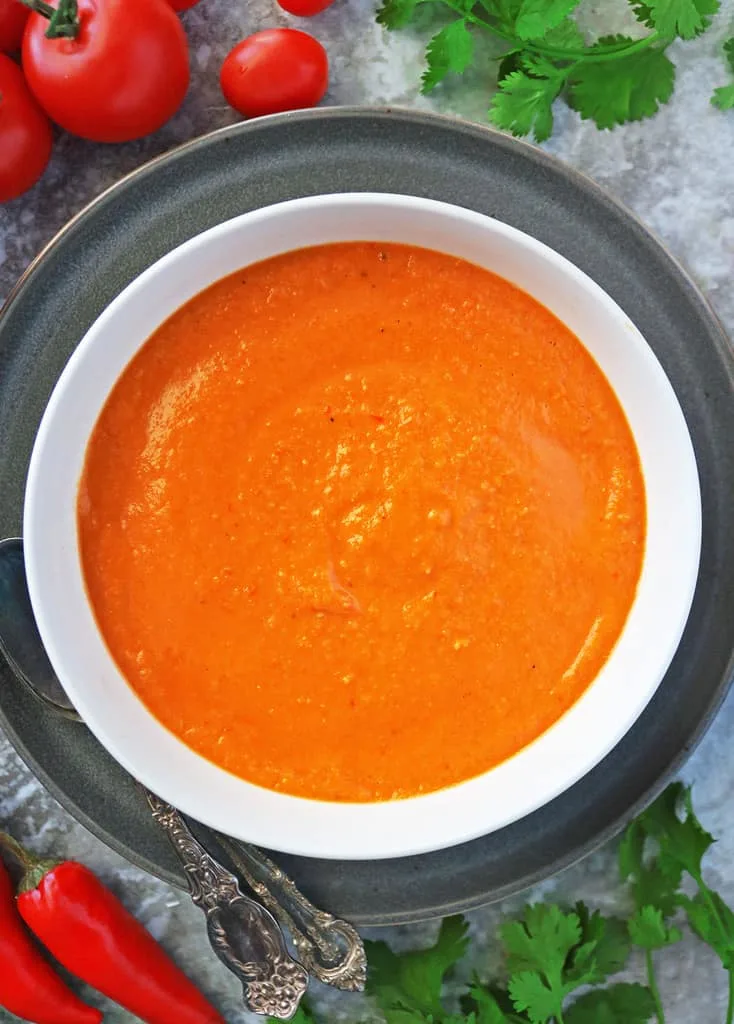 I recently made a batch of this creamy and spicy roasted tomato soup to enjoy after a long hike. I paired it with a chunk of a baguette. I had some leftovers of this roasted tomato soup so I stored the leftovers in an air-tight container in my fridge.
The next day, I warmed it up in the microwave and enjoyed it with a grilled cheese made with vegan cheese. There have been times when I paired some of this soup with a bowl of black rice and beans.
Now I know that sounds rather odd, but you have got to give this combo a try sometime.
This is, hands down, my favorite tomato soup recipe, and, I am hoping you will give this recipe a try and it becomes your favorite as well.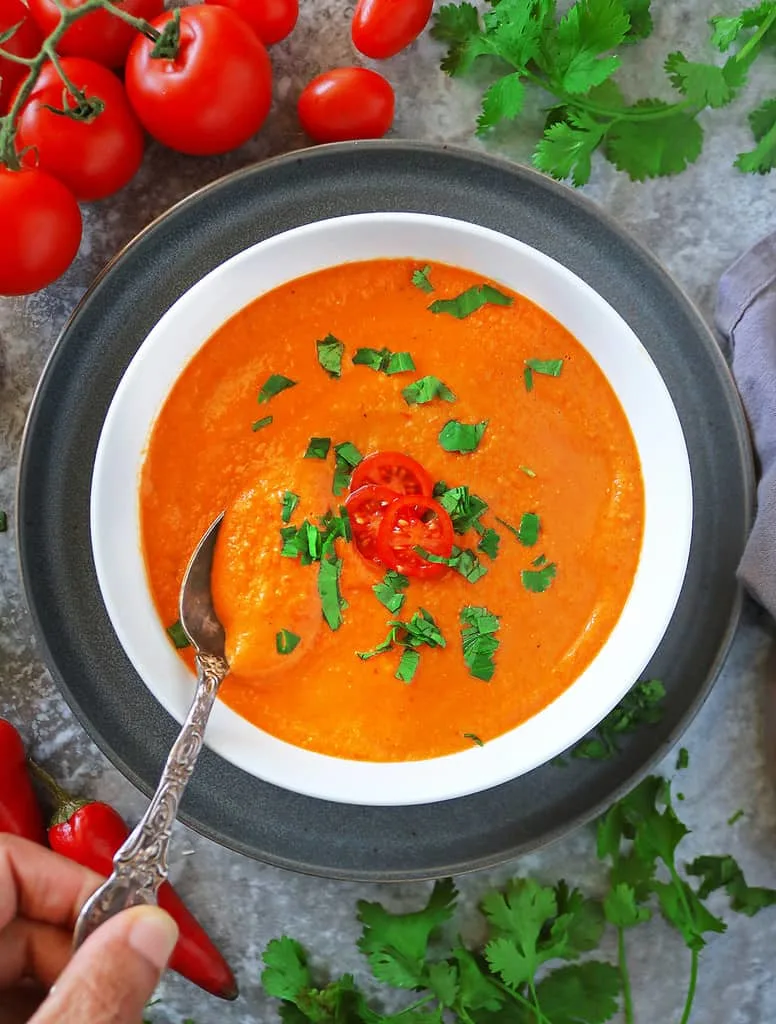 If you are looking for more tasty soup recipes, make sure to check out this cauliflower soup and this purple sweet potato soup too.