With just 9 ingredients, this Spicy Purple Sweet Potato Soup is a wholesome, nutritious, soup that is simply fun to devour. Creamy and comforting, this soup is vegan, gluten-free, and whole-30 friendly.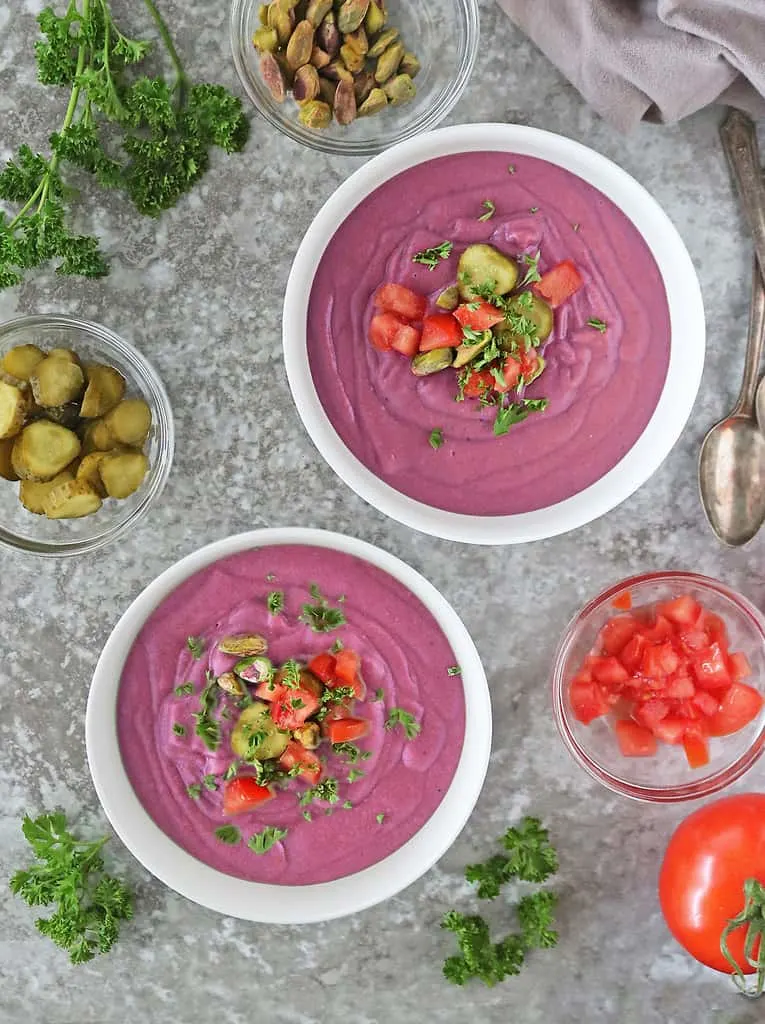 Ever since I came across purple sweet potatoes, I have been enamored by them. I mean – they are purple, which, in my opinion, just makes them fun to eat.
Over the years, I have mashed them, smashed them, air-fried them, baked them into cupcakes (that turned blue ~ all in the name of science), and enjoyed them in delicious fritters. So, with temperatures hovering around the low 30s here in this little town of Covington, Georgia, it's only fitting that I soupify them.
And, this Spicy Purple Sweet Potato Soup turned out all sorts of delicious. It is so creamy and comforting. Like a hug in a bowl. And-gosh darn – it is a funky shade of mauve! Did I already say that?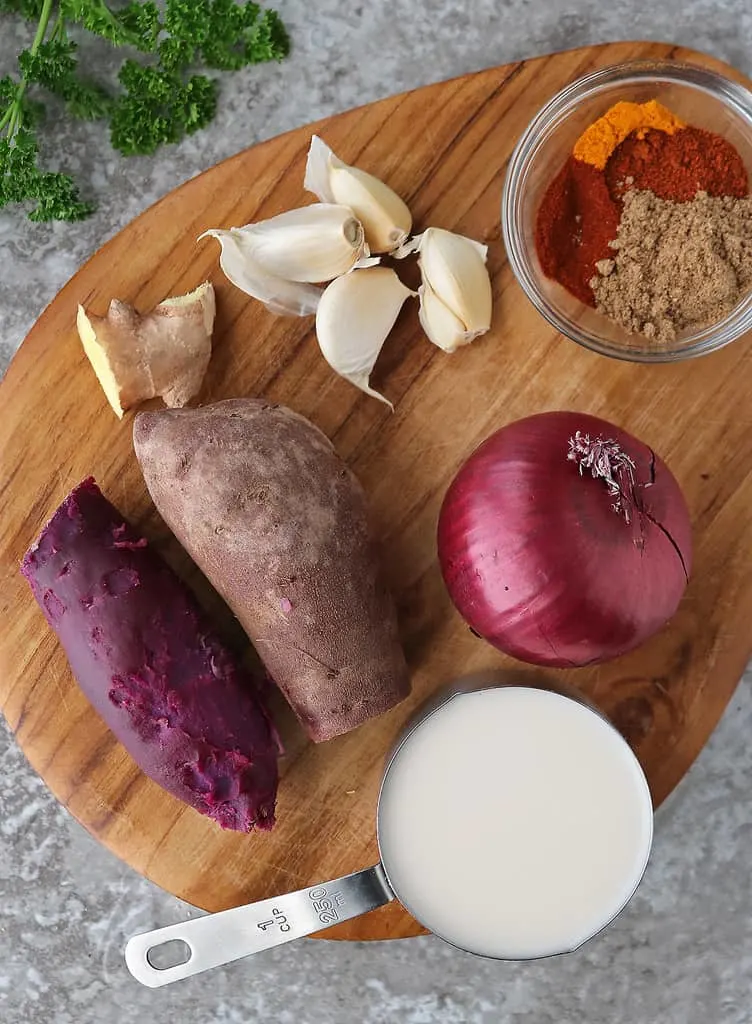 What are the ingredients needed to make this purple sweet potato soup?
This soup is made with just 9 ingredients, that are quite easy to find, and they are:
Purple sweet potato
Red onion
Garlic
Ginger
Coriander
Turmeric
Smoked Paprika
Cayenne
Almond/coconut Milk
In addition to the above 9 ingredients, you will also need olive oil to sauté the onion, salt and pepper to taste, and parsley to garnish.
If you haven't experienced a purple sweet potato before, they are a tad bit milder and less sweet than orange sweet potatoes. They are also a bit drier as well. Properties that make them ideal for sweet and savory dishes alike.
They also come with a hefty nutrient and antioxidant content that's said to help with everything from diabetes to heart health to liver health. This means – I can have a bowl of this Spicy Purple Sweet Potato Soup with my next adult beverage to even things out – right?!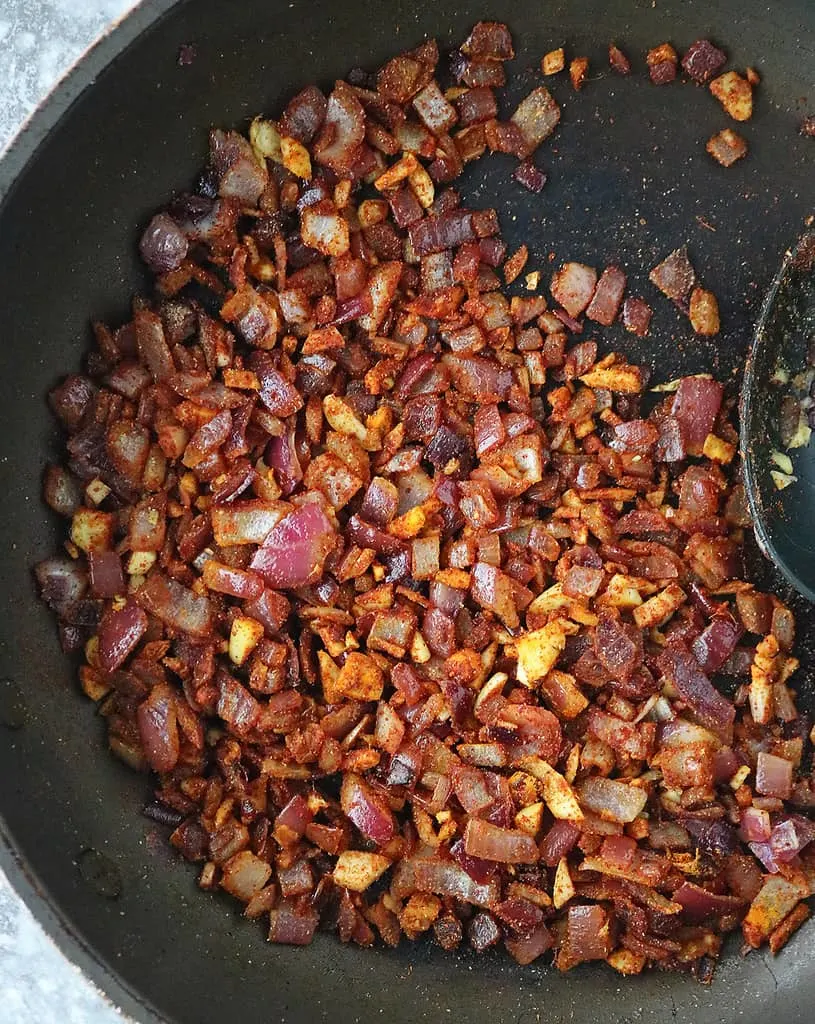 How to make this soup?
This Spicy Purple Sweet Potato Soup is so easy to make.
Start off by baking or boiling a purple sweet potato. While it is baking/boiling, sauté red onion, some ginger, and some fresh garlic with some oil. When they are tender, add in the aromatic spices and turn the heat off.
Then, add in the baked/boiled sweet potato, the spiced onion + ginger + garlic mix, as well as some almond milk, and blend until smooth and creamy. If the soup is too thick, you can add in a little more almond milk to thin it, or you could also add in some vegetable stock. If almond milk gives you the heebie-jeebies, then use vegetable stock instead. Just make sure to adjust the amount of salt you use.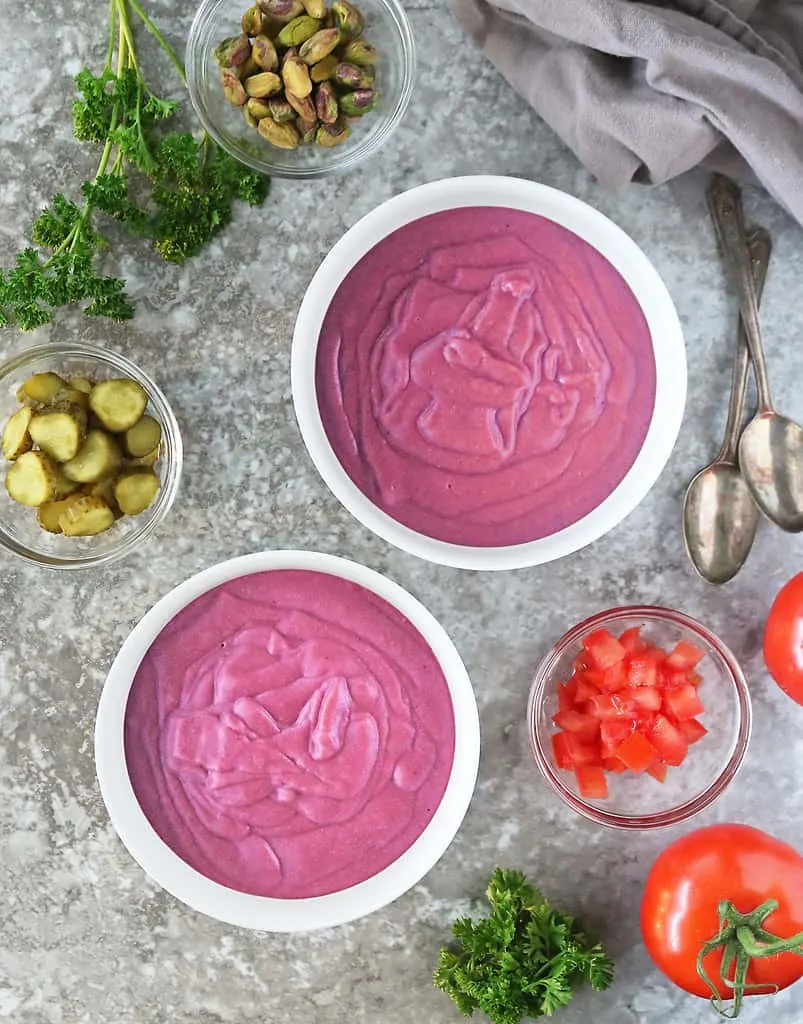 If you do not like your soup spicy, then lessen the amount of cayenne used, or leave it out completely.
This is a fun and versatile soup. I am sharing this recipe on here in hopes that you either recreate it as is or have fun and experiment with it and make it your own.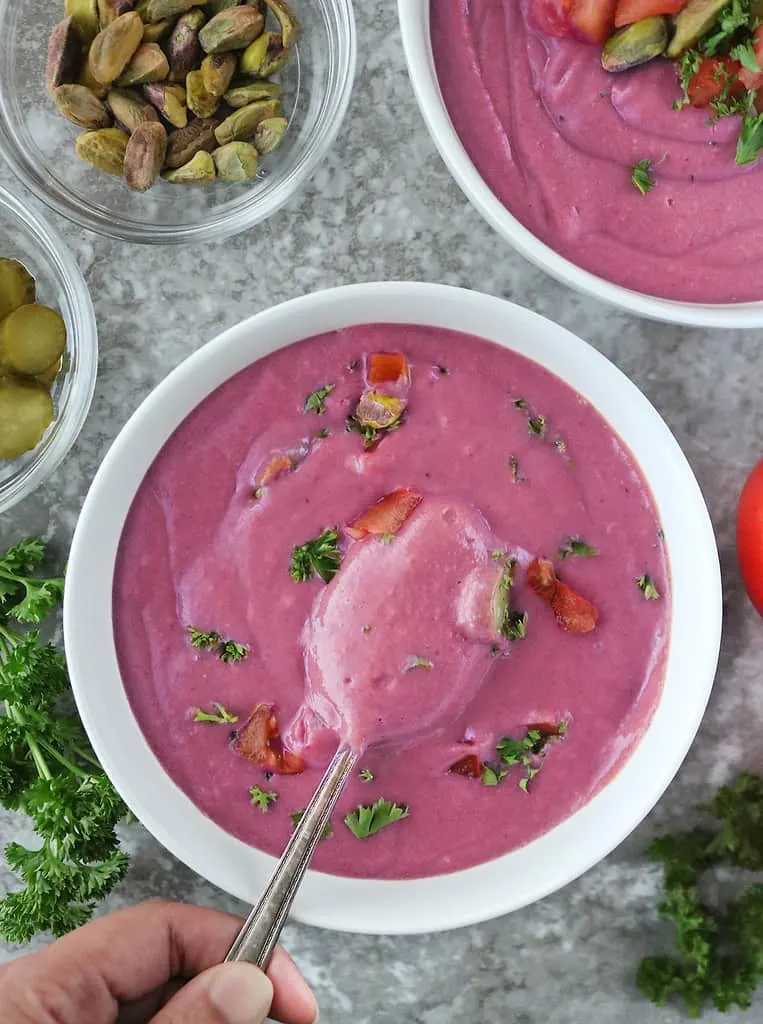 Thanks so much for stopping by. If you make this recipe, please let me know in the comments below what you think of it, or tag your creation on social media with @savoryspin or #savoryspin. For more fusion, spice-filled, recipe ideas, please subscribe and follow me on Facebook, Instagram, and/or Pinterest!