Ready in less than 30 minutes and made with just twelve ingredients, this easy kale curry might just make a kale-lover out of you. Creamy and comforting, this one-pot curry makes a delicious and nutritious dinner when served with some rice or roti.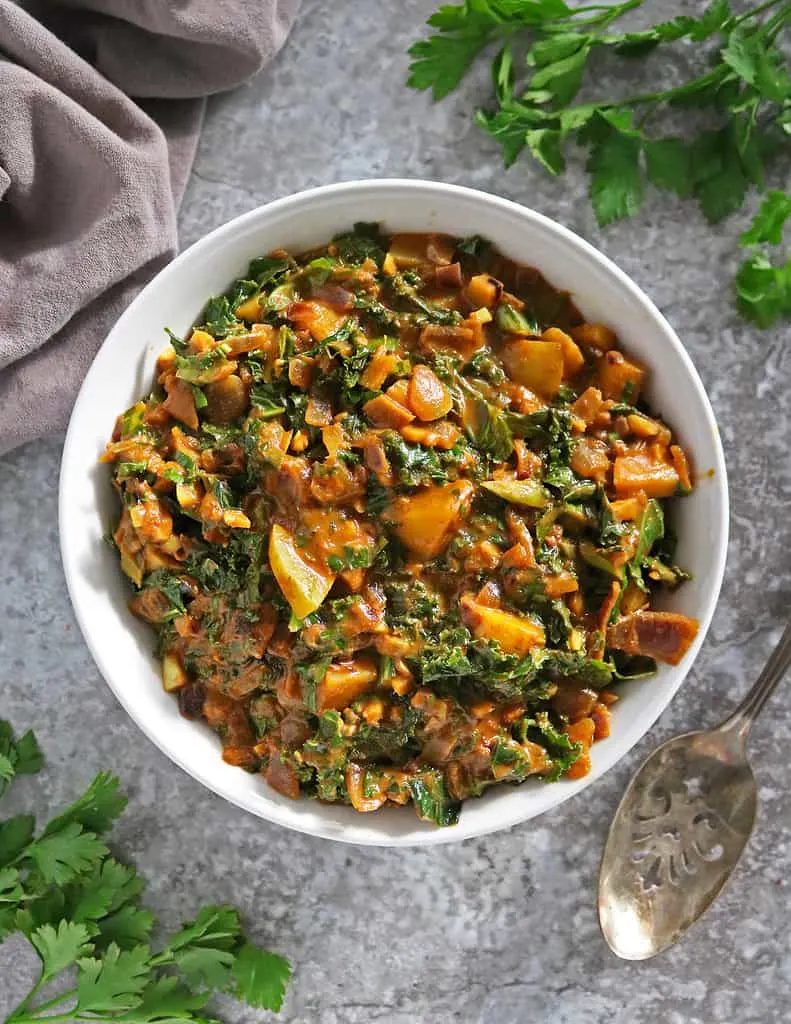 When it comes to kale, people usually tend to have strong opinions. There are those that love it and those that seem to love to hate it. I hope this doesn't scare you off, but I happen to fall into the former category.
With that said, if you are still reading – thank you!
I have enjoyed kale in breakfast bakes, in spicy salads, and even in holiday side dishes. So, it was about time that I curry-fied it.
Now I have added a small amount of kale instead of spinach when making this chickpea curry. But, this is the first curry I am sharing on here with kale as the star.
I simply love this curry as it is:
• comfortingly creamy,
• tasty,
• flavorful,
• plant-based,
• nutritious,
• filling, and
• made with only 12 ingredients!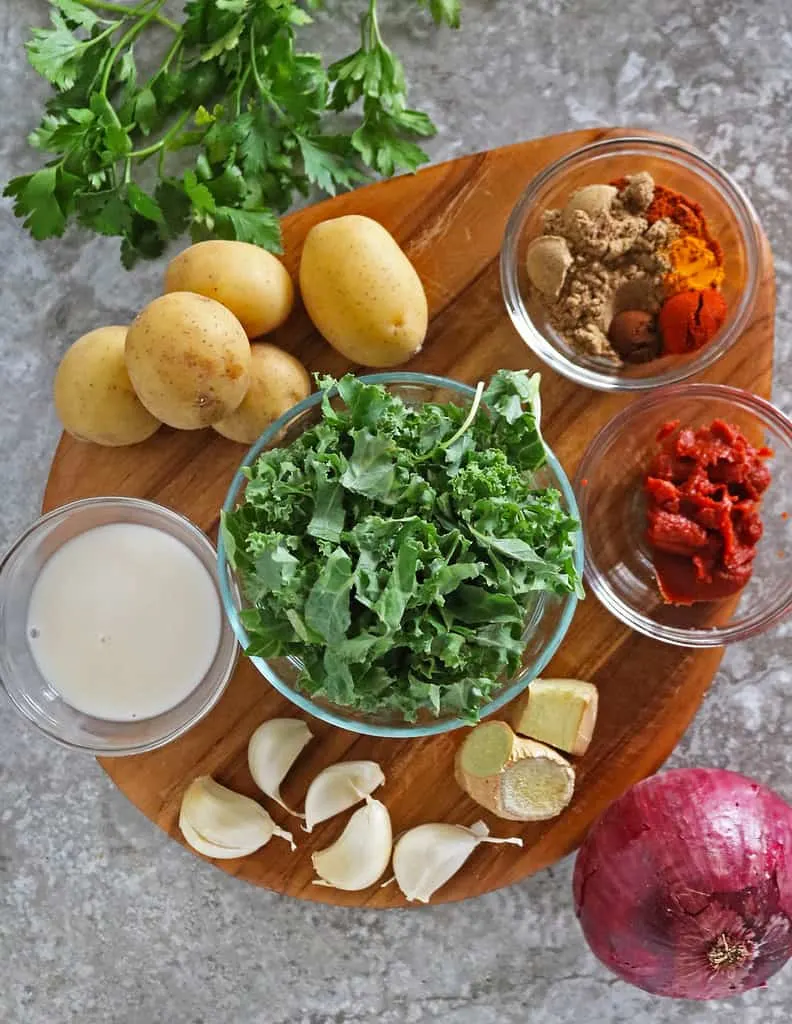 What are the ingredients needed to make kale curry?
The 12 ingredients needed to make this curry are:
onion,
garlic,
ginger,
baby potato,
kale,
coriander,
smoked paprika,
cloves,
turmeric,
cayenne pepper,
tomato paste, and
coconut milk.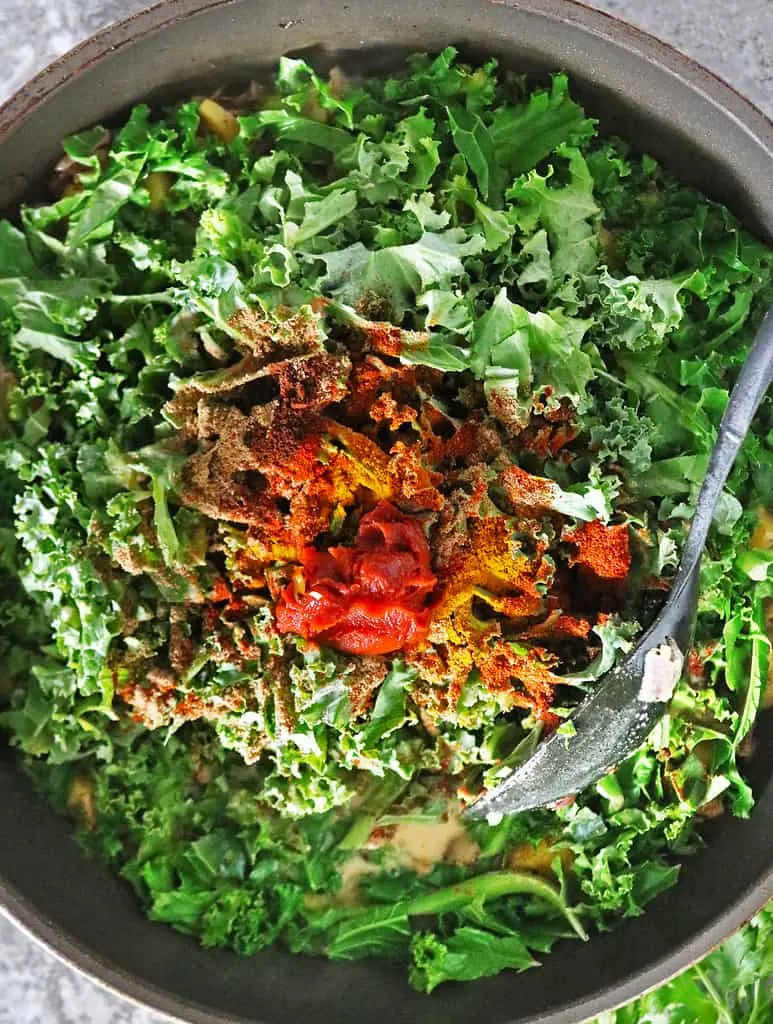 This recipe starts off with a quick saute of the trinity of Sri Lankan cuisine – onion, ginger, and garlic. Potatoes are added in next.
A quick tip – I cut the potatoes into small pieces so they would cook quickly. After I added the potatoes into the pan, I added in a smidge of water and put the lid on the pan. This further helped the potatoes cook quickly.
After the potatoes were in, a bag of fresh kale went into the pan, along with the spices, tomato paste, and coconut milk. You could add in a bit of water to thin the curry out. When the kale began to wilt, I turned the stove off and put the lid on until it was time to serve it.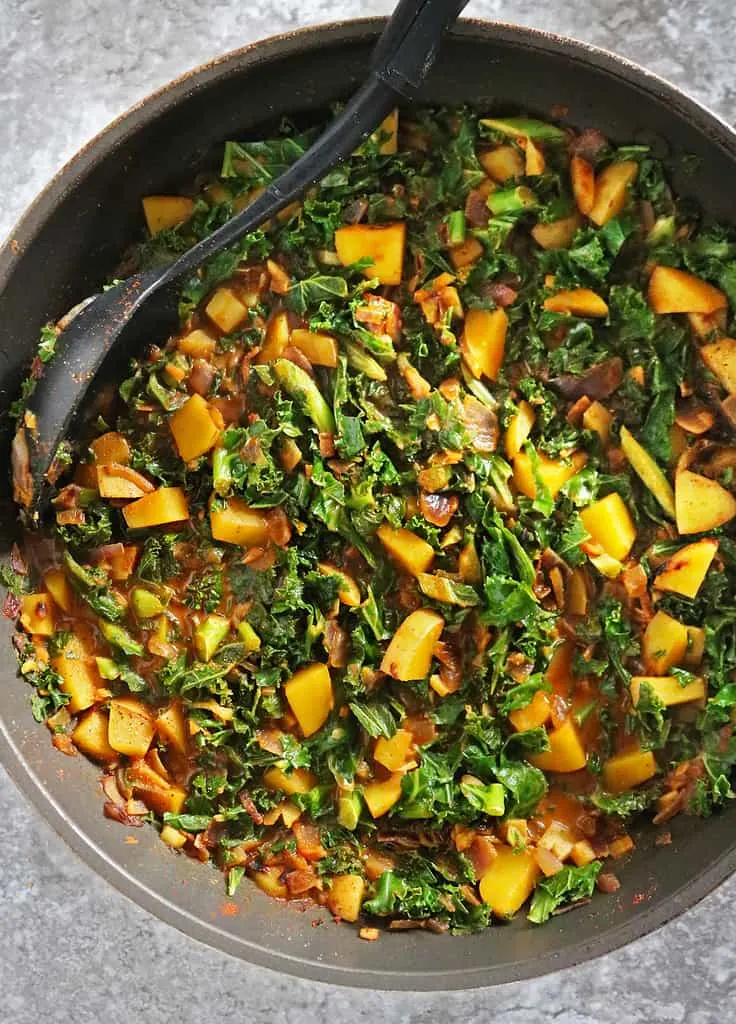 What to serve with this curry?
This kale curry can be served with some roti or rice pilaf.
If you want to serve up a vegan curry feast, you could pair this with some mango chutney, carrot curry, and some cashew curry as well as some rice, roti, or naan.
This is a delicious curry. The few potatoes are tender and are delicious paired with the kale. The kale itself is tender. I tried to remove as much of the kale stalks as I could but some slipped by me. If you are using a bunch of fresh kale, then it would be easier to separate the kale leaves from the stalk. For this recipe, I used a bag of fresh, washed kale.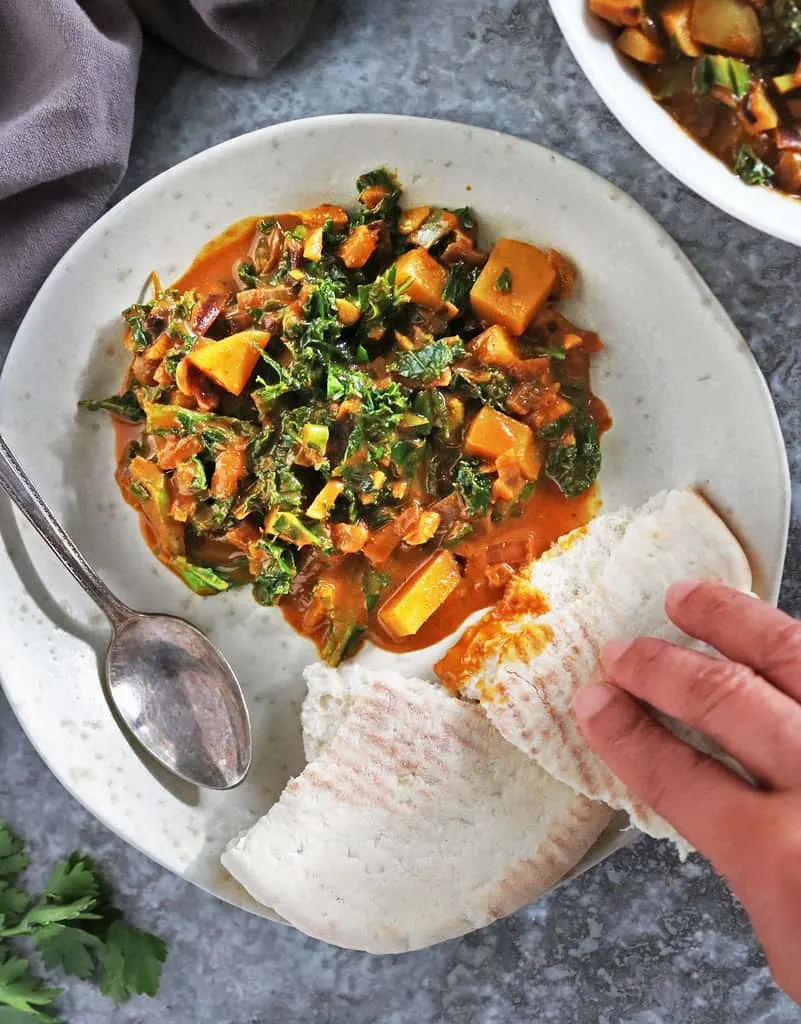 How to store this kale curry?
I stored this kale curry in an air-tight container for about 4 days. It might last longer than that, but the leftovers always seem to disappear rather quickly.
If you are a kale lover, I would love to know what you think of this curry. If you are not a kale lover, I hope you give this recipe a try and not let the star of this recipe, scare you off. Maybe this recipe might just have you putting away your kale no kitchen supplies in exchange for some kale yeah ones?