Made with canned chickpeas and frozen spinach, this dairy-free, Easy Chickpea & Spinach Curry is so tasty and so hearty!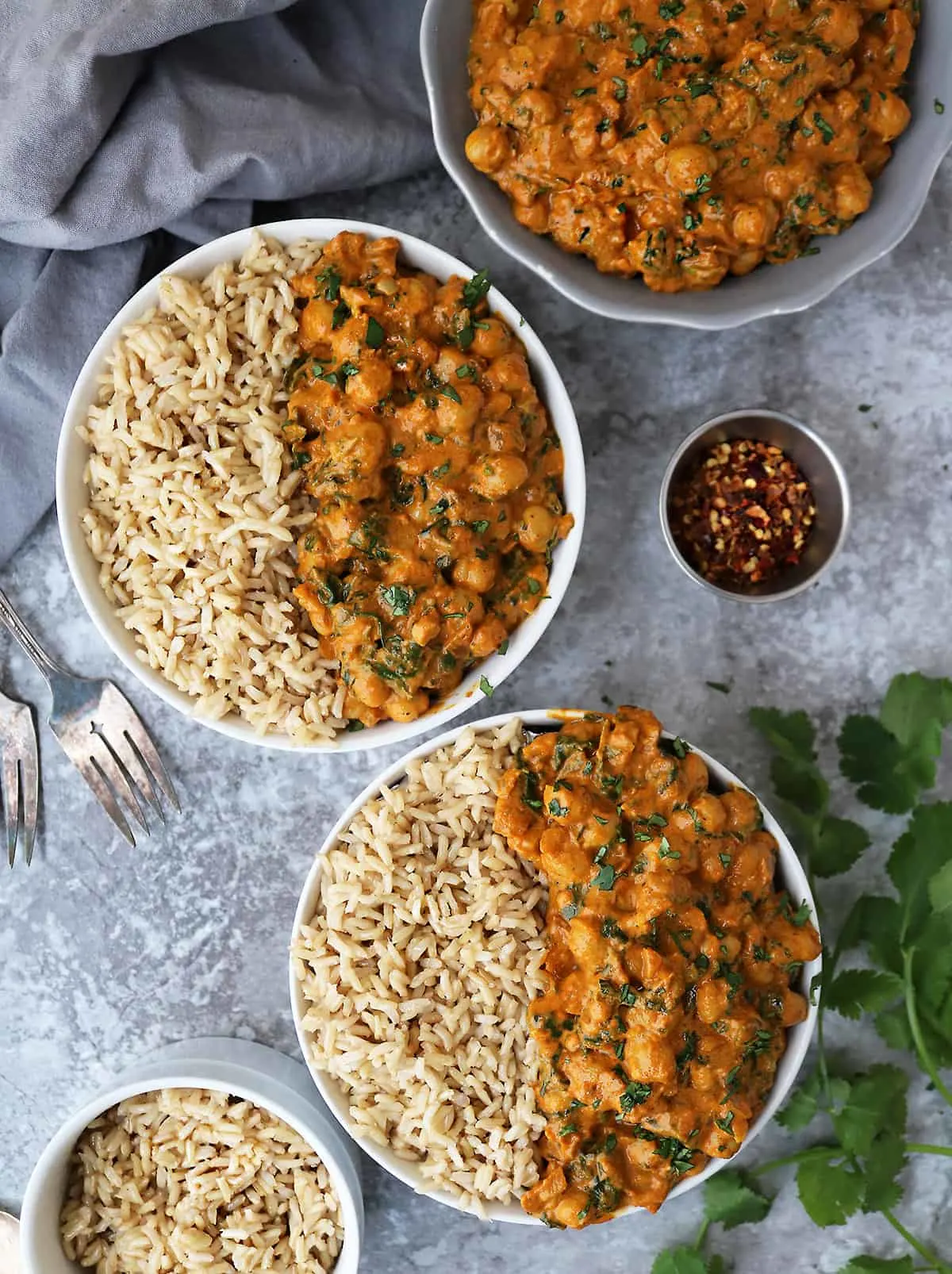 *This post was first published in September 2016. It has been updated with photos and text and is being re-published today.
We love this Easy Chickpea & Spinach Curry so much that we almost always lick our plates clean after enjoying it for dinner.
It is luxuriously creamy, incredibly satisfying, and a healthy and nutritious plant based dinner. It is also great for meal prep – so long as you portion it out and close the containers!
This is a curry that can be enjoyed year-round but especially on cold winter days… and cold winter days reminds me of the following story…
---
When cold, wet and dreary weather forced us indoors during the winter of 2003, my then 5-year-old daughter and I started a "cold-weather" tradition.
We would wake up most Saturday mornings, and (even before we brushed out teeth) we'd start the process of bread making.

My daughter would help me pick a recipe for a new type of bread and we'd spend a good part of the morning measuring, mixing and kneading (and in her case, bathing in) the ingredients to our latest venture.
And, when that loaf emerged from the oven – ahh – the look on her face of pride and accomplishment, why it was simply priceless!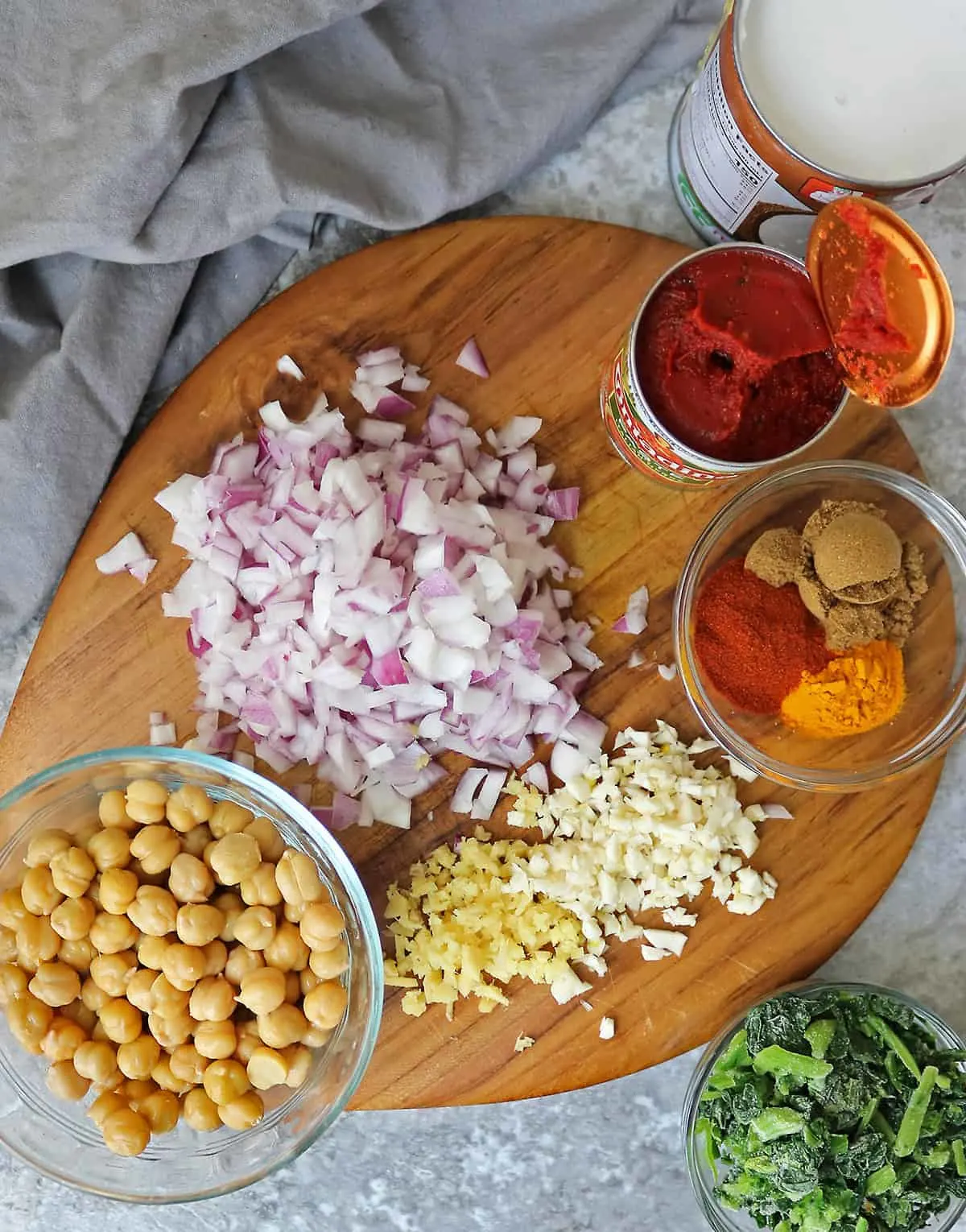 However, as she got older and soccer and Tae Kwon Do and homework began to fill our weekends, our little cold-weather tradition was set aside. We'd talk about it fondly from time to time, but that was it.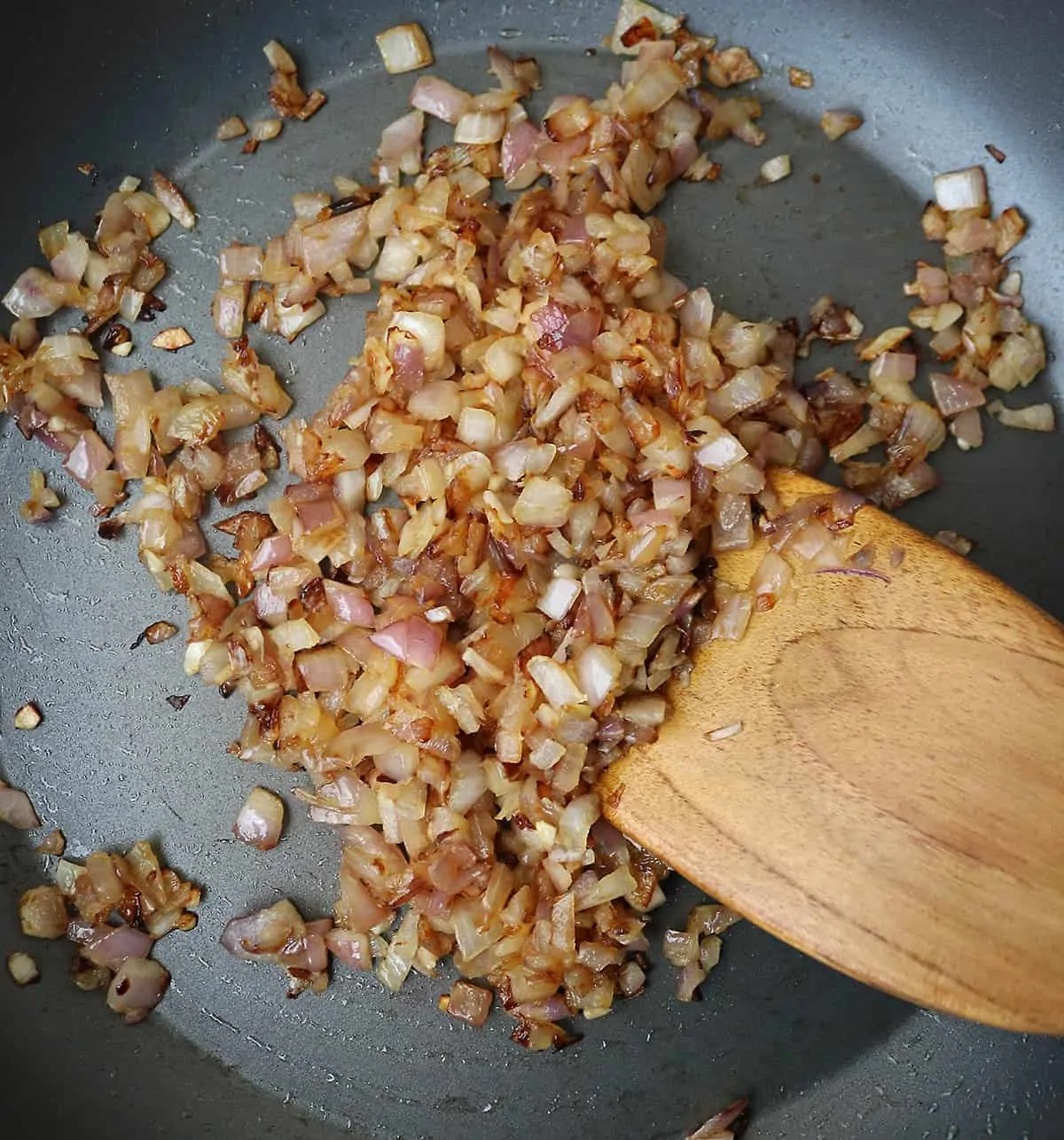 Then, voila, senior year happened on us this year and things seemed to have changed. Instead of just talking about our cooking soirees of long ago, my daughter started bugging me to let her help with our next meal.
So, I did one better, instead of just having her help, I decided to play supervisor and guide her on some of the basics of curry making so when she is off on her own, she can whip up a couple of easy curries that will last for days!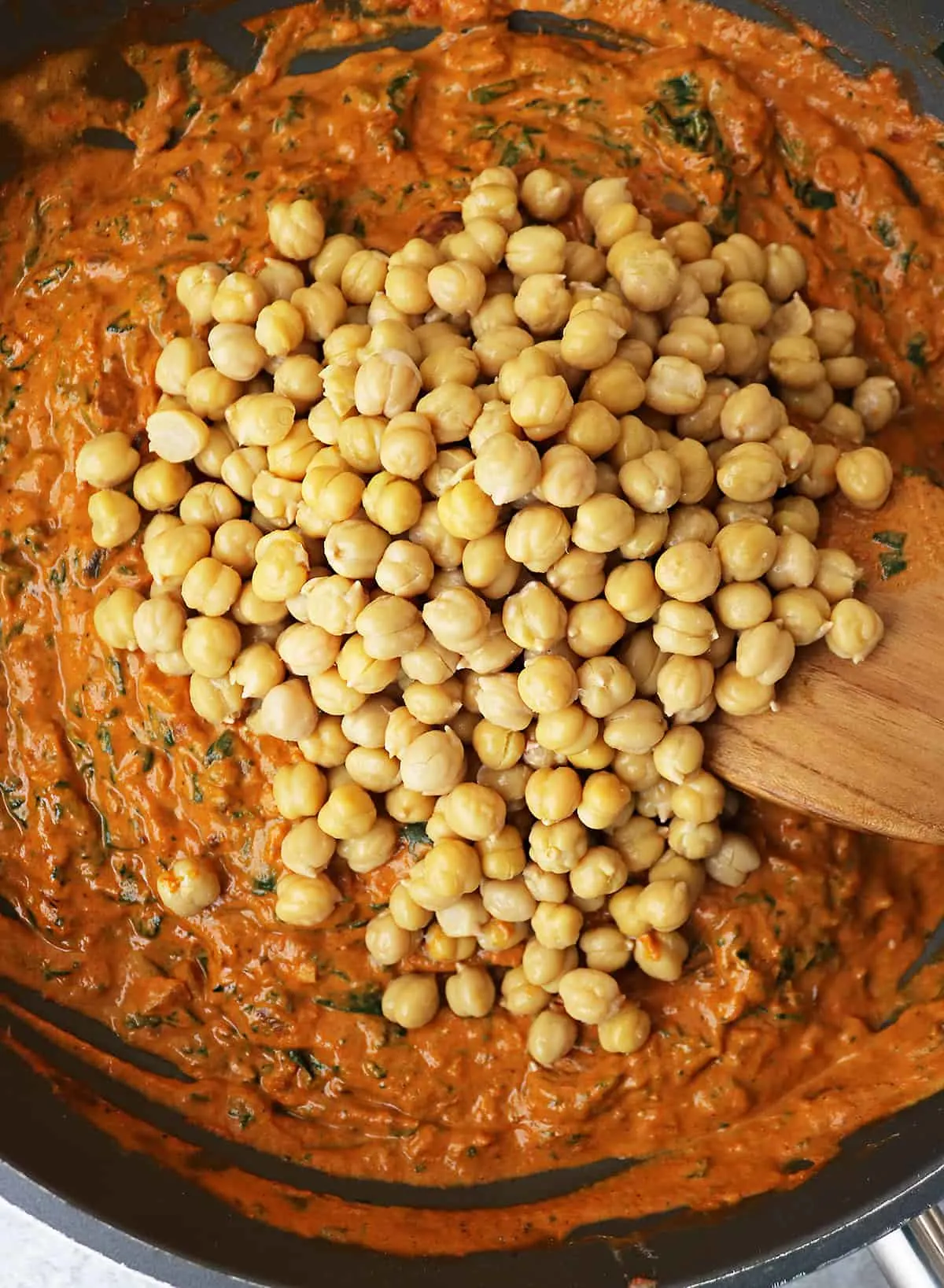 How to make this Easy Chickpea & Spinach Curry?
• Most of the curries I make, start off with a standard base of onions, ginger, and garlic sauteed together.

• For a super simple curry, I add a can of tomato paste and a can of coconut milk to the onion, garlic, and ginger.

• I vary the spices I use, opting for a mix of coriander, cumin, turmeric, garam masala and/or paprika usually.

• Then I throw in whatever veggies I fancy and voila – curry in a hurry becomes a reality!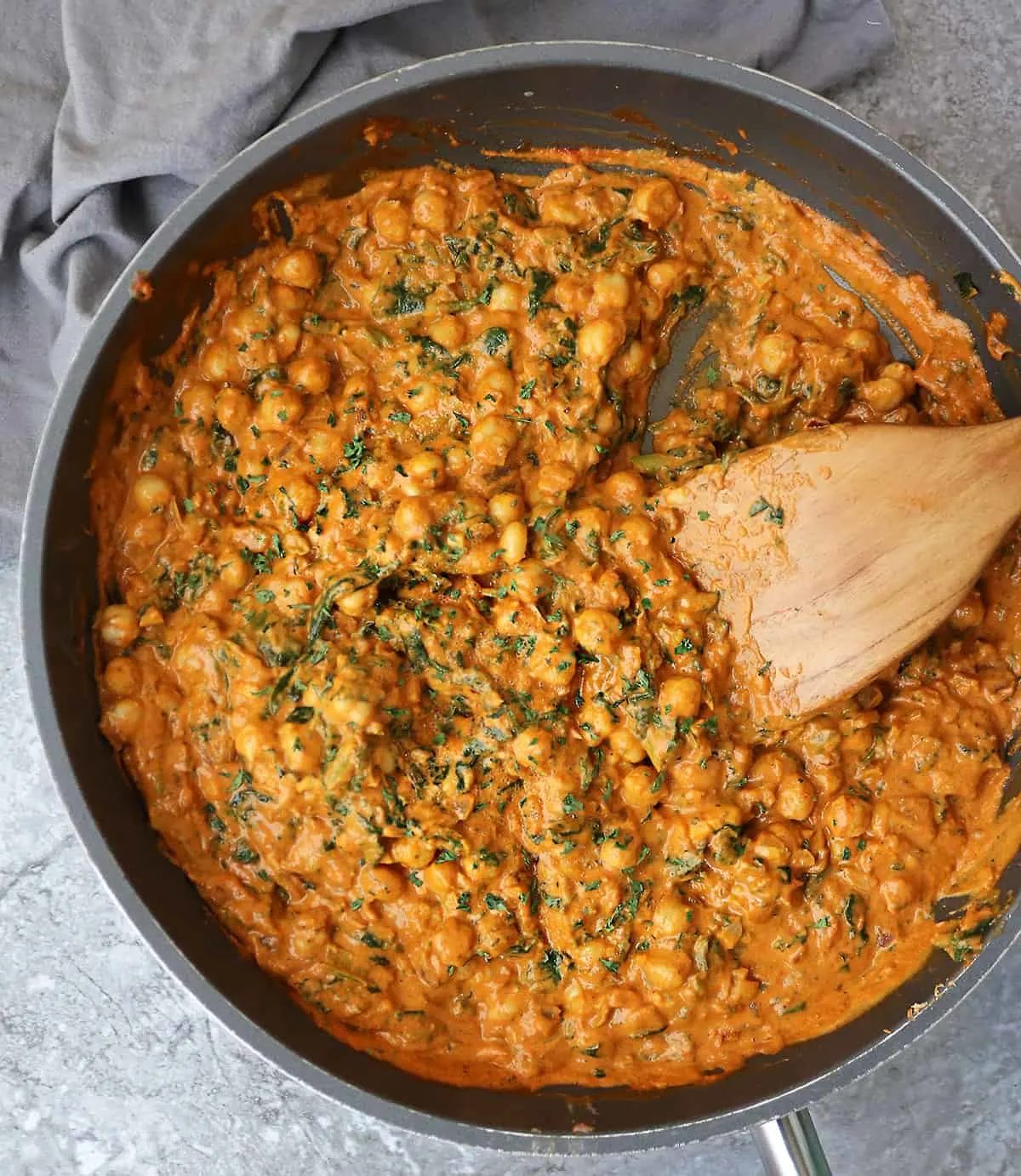 The first curry my daughter made all on her own was an Egg Curry that I posted on Instagram not too long ago.
Her second was this Chickpea & Spinach Curry!
Since we had picked up some packages of microwave rice from Walmart over the weekend, she suggested we enjoy our quick and easy Chickpea & Spinach Curry with a package of even quicker and even easier, Long Grain & Wild Ready Rice.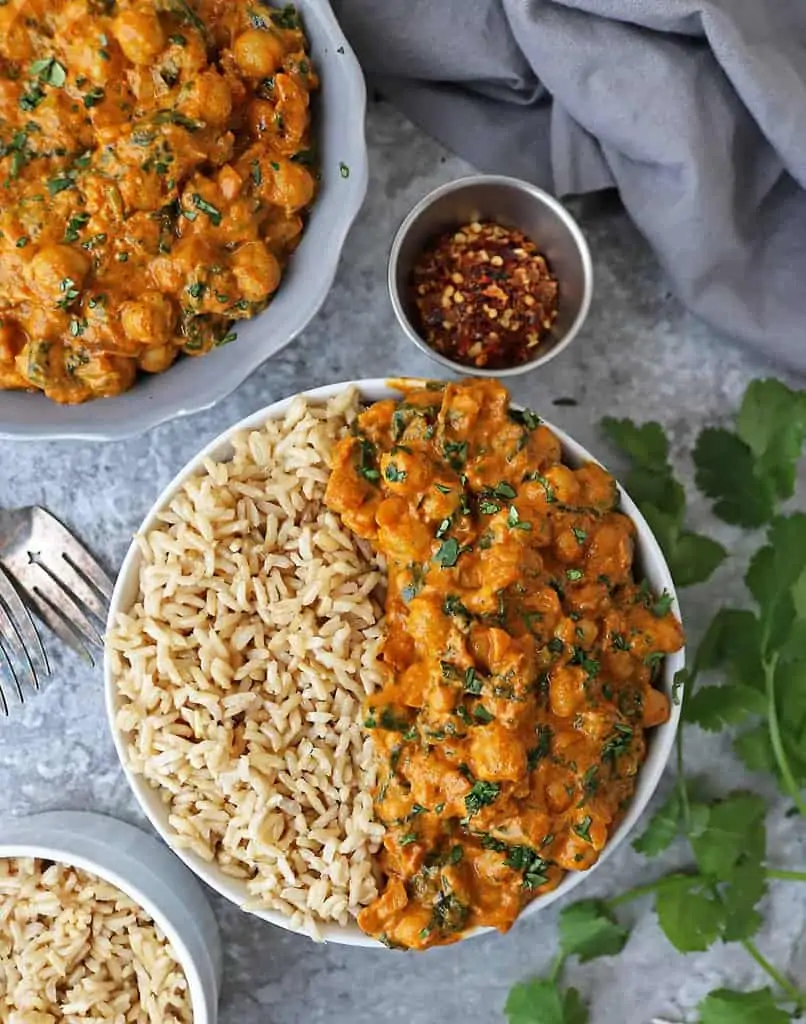 However, if you have a bit more time on hand, why not whip up a delicious turmeric quinoa or some tasty Sri Lankan roti to go with this curry.
Do you remember the first thing you ever made entirely by yourself?
For me, it was spaghetti and meat sauce and my eat-almost-anything-gladly dad ended up suggesting we order pizza… hmmm…
Thanks so much for stopping by. If you make this recipe, please let me know in the comments below what you think of it, or tag your creation on social media with @savoryspin or #savoryspin. For more fusion, spice-filled, recipe ideas, please subscribe and follow me on Facebook, Instagram, and/or Pinterest!