Now, you might look at this Easy Beetroot Curry and think "what died right there in the pan?" But, this could just be the perfect vegan curry for a Halloween night dinner. Serve it with some fried black rice for a truly gory experience.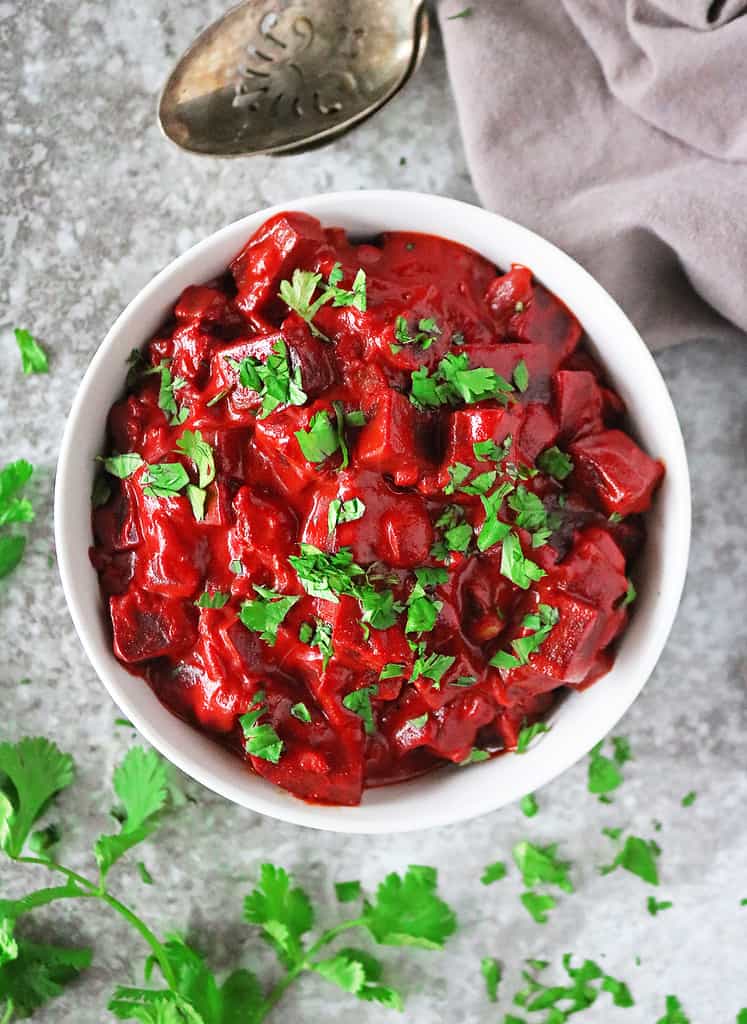 *This post was first published on October 13th, 2016. The content and photos herein have been updated and this post is being republished today*
Let's be honest, this beetroot curry looks a tad bit gory. It's all red blobs and red oozy stuff… the kind of stuff that might fill your nightmares! Which just might make it the perfect dish to serve up for Halloween.
However, I would not be surprised if your first thought looking at this isn't "mmm mmm mmm delicious!"
But, that is exactly what it is. It is finger, and spoon, and plate-licking delicious!
If you don't believe me, I urge you to give this recipe a try. I find this curry so tasty that many a time I have made it and enjoyed it like it were soup. Straight out of a bowl!
Some of the reasons I love this easy beetroot curry are:
• It is so tasty,
• It is filled with nutrients that make me feel good,
• It is creamy,
• It is plant-based, and
• I can make this beetroot curry with 12 pantry staple ingredients!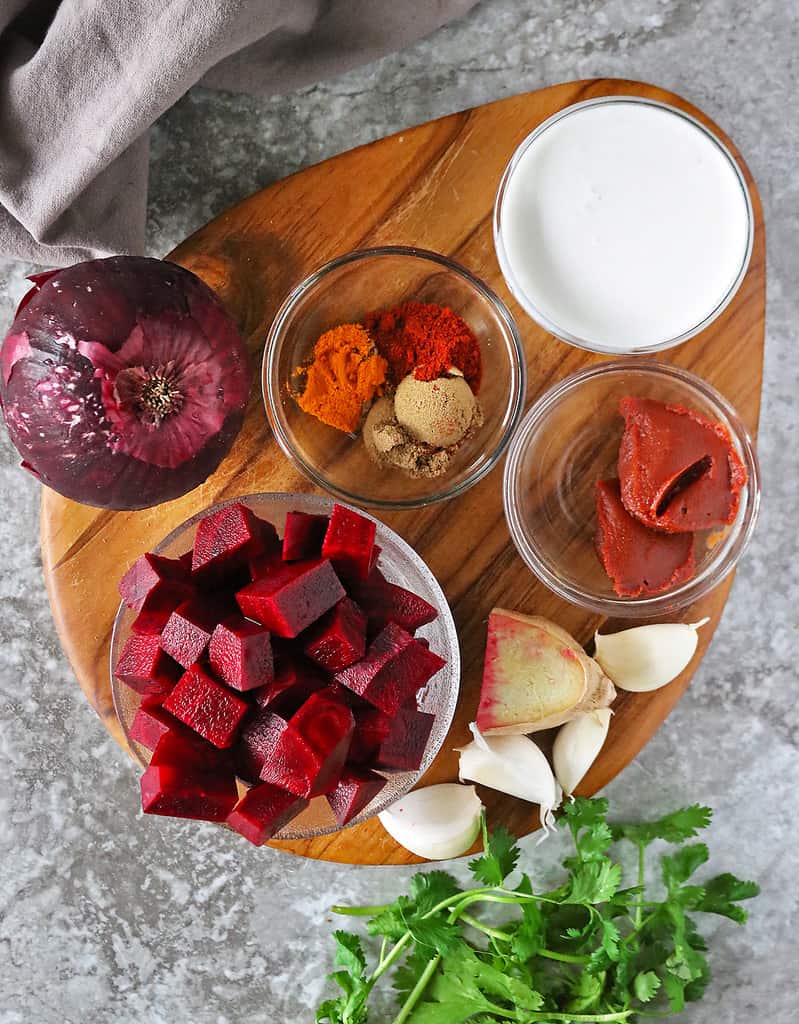 What are the 12 ingredients needed to make this beetroot curry?
The 12 ingredients needed are:
Red onion,
Fresh garlic,
Fresh ginger,
Fresh beetroot (not canned),
Coconut milk,
Tomato paste,
Coiander powder,
Smoked paprika,
Turmeric,
Cayenne pepper,
Cilantro, and
Olive oil.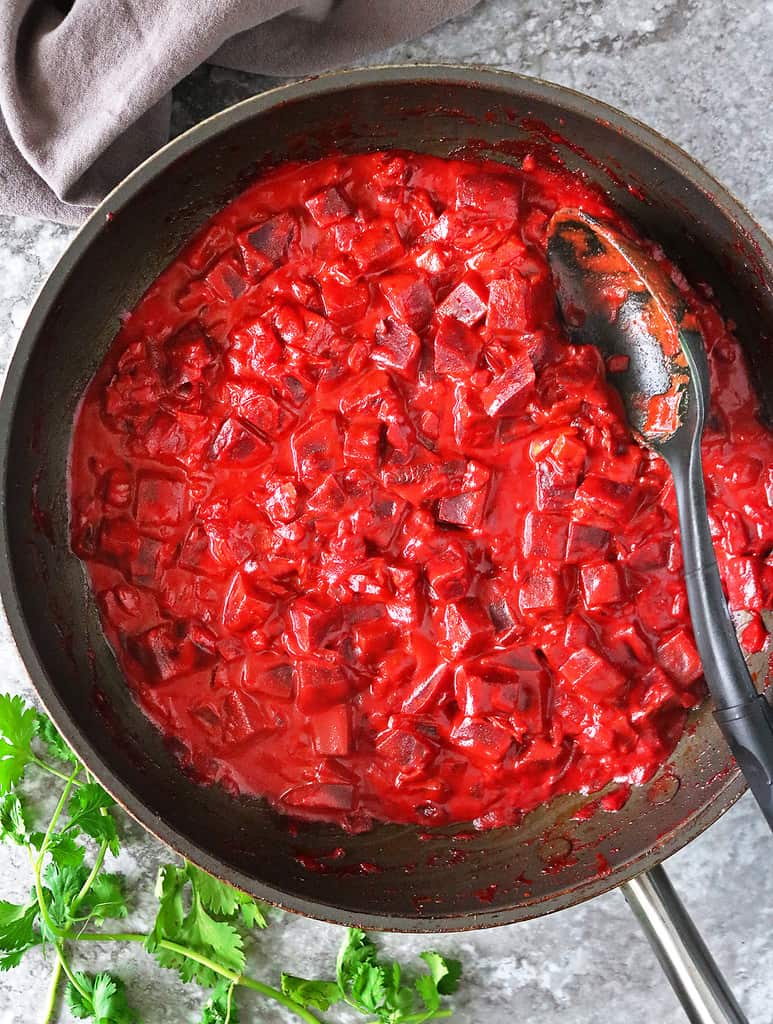 A few tips when making this beet curry:
• Use full-fat coconut milk. When making curries, I prefer to use full-fat coconut milk. Some cans of coconut milk are not creamy – with shards of coconut. And, those would not work in this recipe.

• Saute the onions, ginger, and garlic first. This adds so much flavor to this dish.

• Do not be afraid to add in the cayenne. Beetroot, when cooked, tends to be ever so slightly sweet and the cayenne balances it off. However, if you are reluctant to add in the cayenne, just add in1 teaspoon instead of 2 teaspoons.

• Cut the beets into small bite-sized pieces. The smaller they are, the quicker they will cook.

• After adding the beets and other ingredients to the pan, make sure to let everything come to a low simmer while keeping the pan covered. This helps cook the beets so they are tender.
---
From October 2016
Food has this amazing ability to unite people. To draw people close to each other. And, every now and then, a person comes along with that same ability. Maybe you've met a person, or several, like that?
Well, my daughter told me about this new student on the football team at her high school who does just that. She told me that even as a 17-year-old, this boy has a way of drawing players to him, of leading them without them even knowing he is leading them, of setting a tone of good sportsmanship on the field and off the field, which has lead to camaraderie and more wins this year than ever before.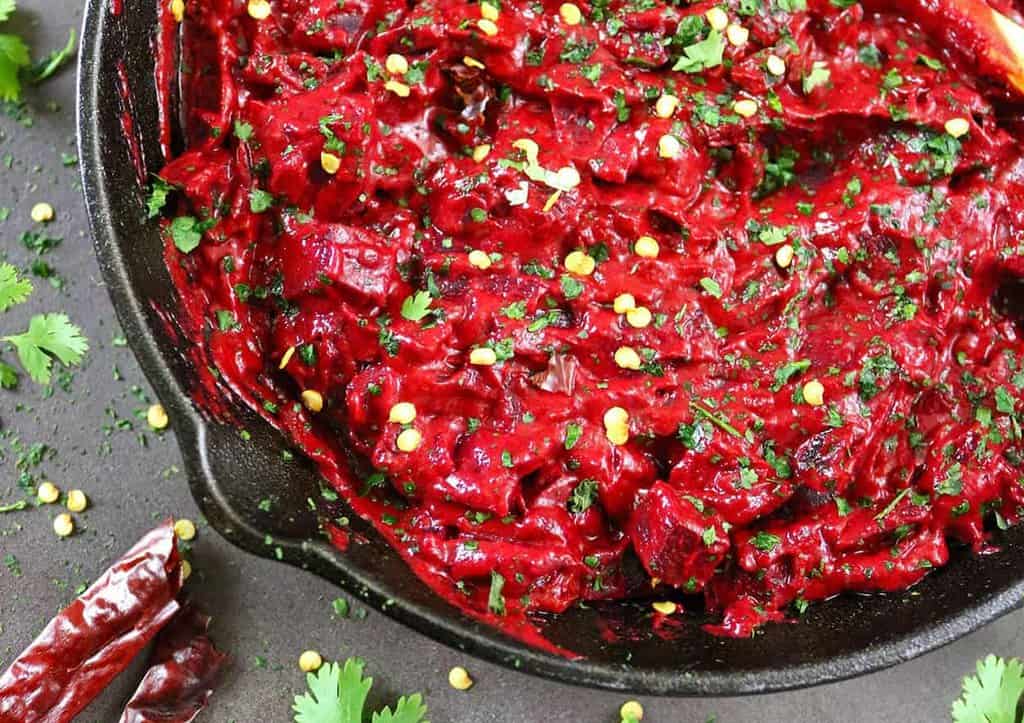 But today, today I don't fall into that category of uniting anyone. Today I am here to divide and conquer!
Okay so maybe that conquer part was a bit too dramatic. But, let's face it – when it comes to the humble, sometimes unsightly, beetroot – you either love it or abhor it!
I happen to love beets. A few years ago, I even did a "Beetified" series where I doctored up fellow bloggers' recipes with beets!
In my humble opinion, from their gorgeous coloring to their versatility and taste, beets have my heart!

But, back to this Beetroot Curry. This curry is a spin on the Sri Lankan beetroot curry my mom makes. Traditional beetroot curry is more a spiced saute of beetroot, onions, ginger, garlic, mustard seeds, curry leaves, and a bunch of spices. It is a gloriously aromatic and delicious concoction.
A spin on the Sri Lankan beetroot curry of my youth…
The beetroot Curry you see here is just as aromatic and delicious, but, it makes use of ingredients that you can find at most grocery stores here in the United States. And, I also added in some coconut milk to have a bit of curry because sopping up this curry with rice or bread is simply glorious.
From prep to finish, this beetroot curry should take about 45 minutes – if you prep as you go. However, if you prefer to peel and cut everything before you start cooking, this might take longer.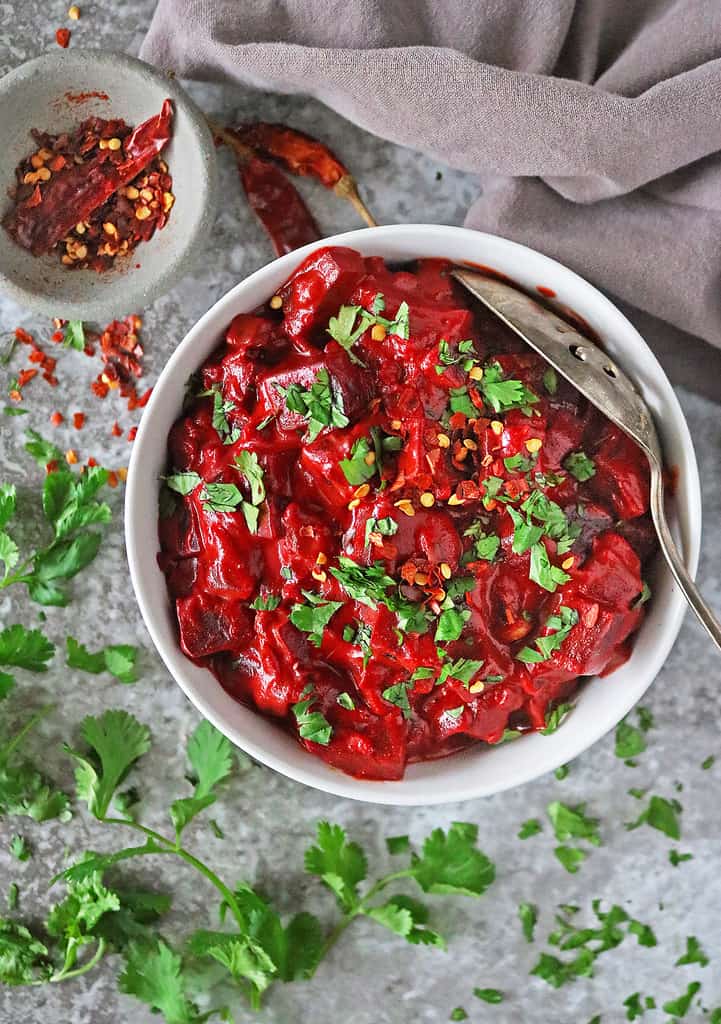 What to serve with this vegan beet curry?
For a quick and simple meal, this curry is delicious with some roti.
For a more elaborate meal, you could serve this curry with some yellow rice or black rice and beans, some croquettes, and some mango chutney or apple chutney.
And, for a Halloween theme, you could serve this easy beetroot curry with some black rice, some baked purple potato fritters, and some pumpkin chili sauce.