In this easy, 2-Ingredient Pan Fried Cucumbers recipe, cucumbers are gently pan-charred with a generous sprinkle of harissa.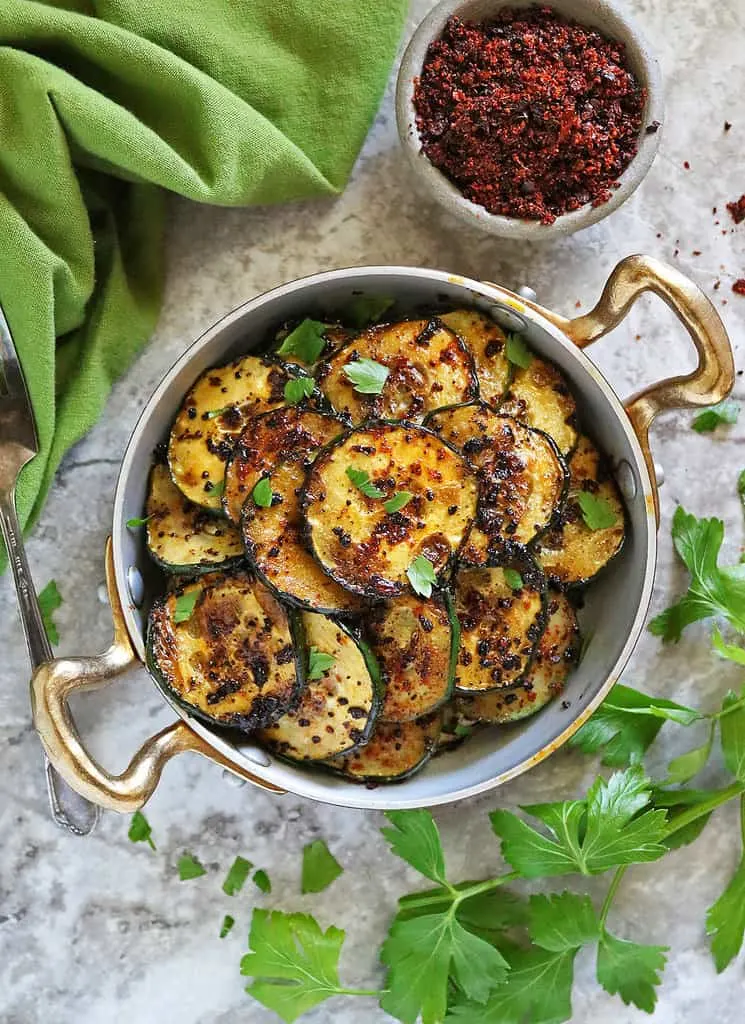 This 2-Ingredient Pan Fried Cucumbers recipe is such an easy one. And, these days, it is one of my favorite ways to enjoy cucumbers.
At the beginning of summer, I started nursing a hankering for warm cucumbers.
Now, warm cucumbers during a heat wave might not sound like the best idea, but, you might change your mind if you tasted this side dish.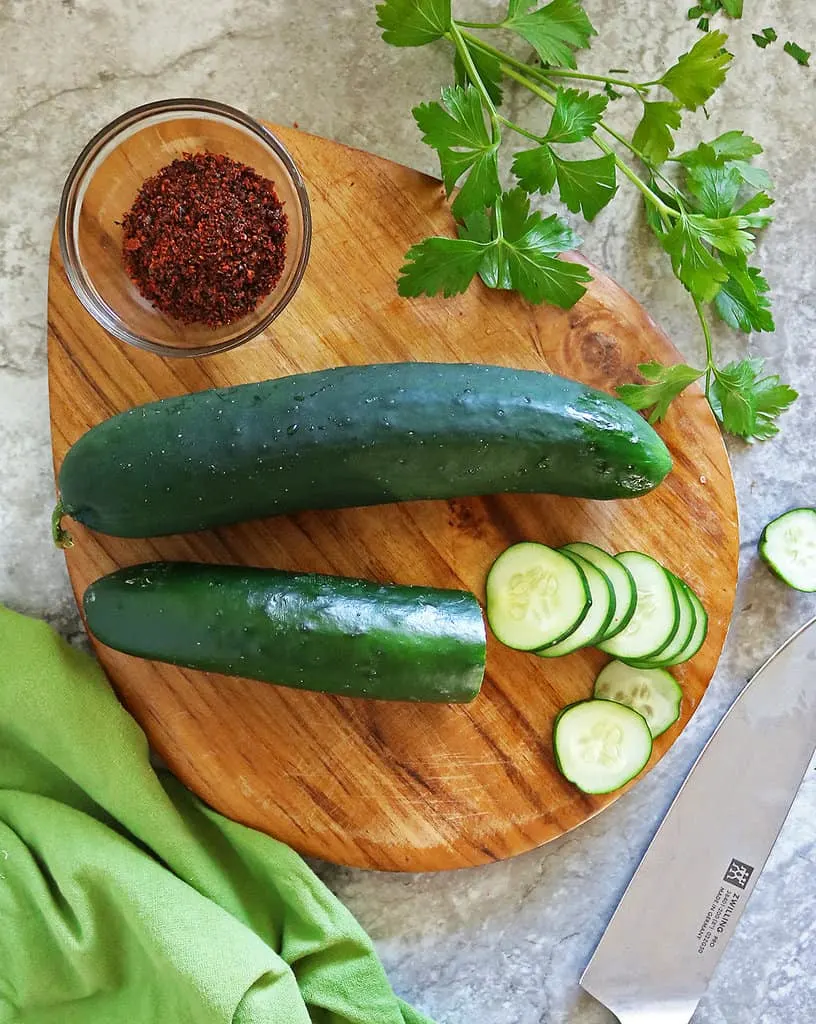 What are the ingredients to make this 2-Ingredient Pan Fried Cucumbers recipe?
To make this dish, you will need:
• Cucumbers, and
• Harissa
You will also need some oil, salt, and pepper.
What type of cucumber is best in this recipe?
I recently learned that there are over one hundred cucumber varieties. And, the ones that are most commonly found here in North America are garden cucumbers. They are said to be smooth-skinned and dark green.
And, as you guessed, garden cucumbers are what I used in this recipe.
You could also use English cucumbers in this dish. Though, I think any one of the other 99 varieties of cucumber might work just as well. So long as they are firm to touch.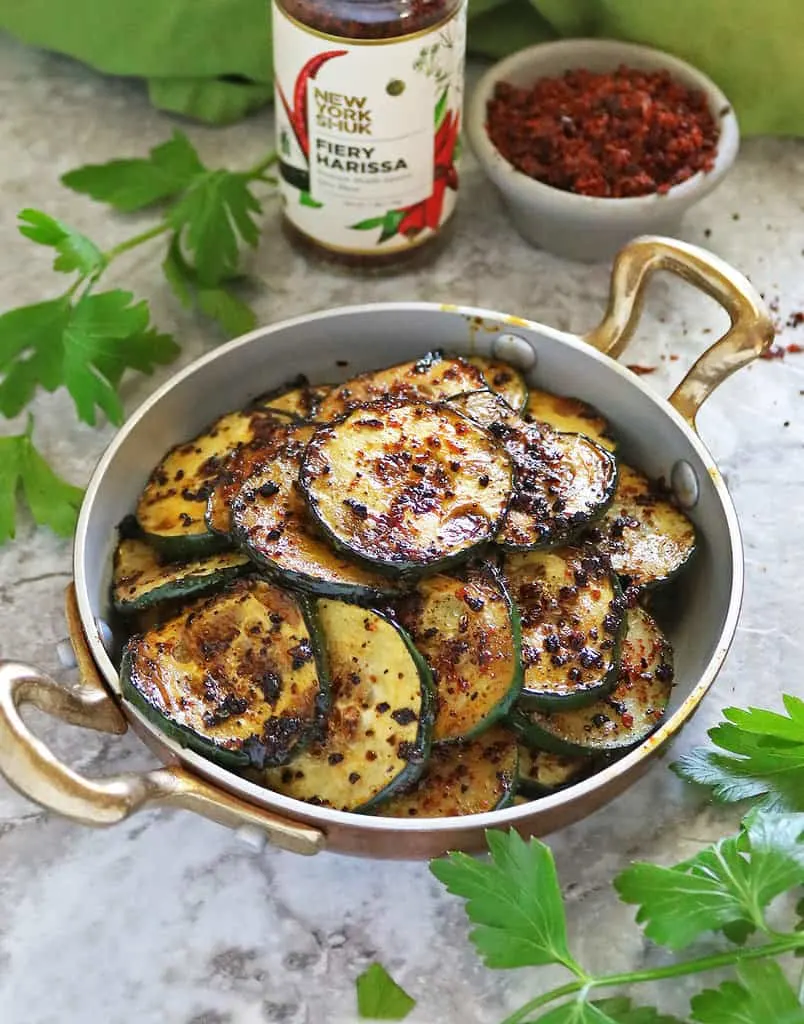 What is harissa?
Harissa is a smoky spice blend that is said to have originated in Tunisia. It is available in powder and paste form. And, it is usually a blend of dry red chile peppers with spices such as cumin, coriander, caraway, garlic, and sometimes, citrus. Depending on the ingredients used, harissa can be spicy or even tangy.
It has been my experience that no two harissa blends are exactly alike.
And, my favorite harissa blend is the one made by New York Shuk. Now, am not being paid to say this, it's just what I have on hand and love to use. I usually stock up on New York Shuk Fiery Harissa when I am at Sprouts. NY Shuk's harissa is delightfully spicy and smoky, with layers of flavor that transcend into every dish it is added to.
Some days I pan sauté a butterflied chicken breast with just harissa and a bit of salt and pepper.
On other days, I enjoy it in dishes like this Easy Harissa Tofu Curry, these Harissa Jackfruit Balls, this Harissa Tempeh Recipe, and this Easy Harissa Salmon with Asparagus and Israeli Couscous.
Speaking of recipes, let's get back to this 2-Ingredient Pan Fried Cucumbers one…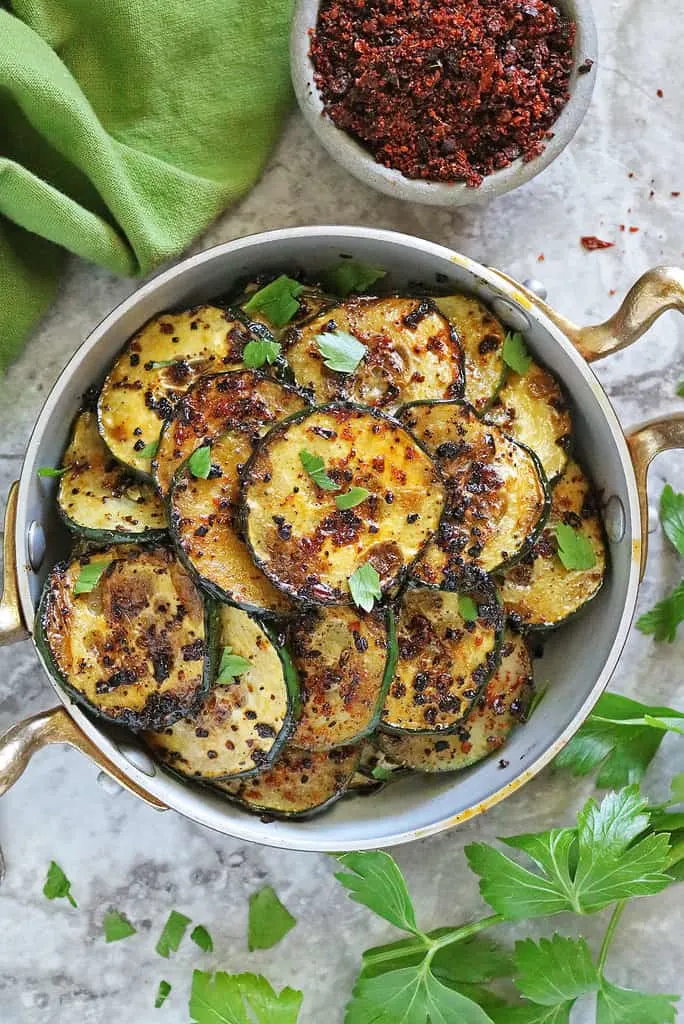 Tips when making this Pan Fried Cucumbers Recipe…
Slice the cucumber into slightly thicker slices, about 1/4 of an inch thick. If the slices are too thin, they tend to get burned. During the pan-frying stage, these cucumber slices will lose a lot of their volume.

I pan-fried these harissa spiced cucumbers over a medium flame, on a gas stove. But, do keep in mind that all stoves differ in heat and intensity.

Pan-fry the cucumbers for 2–3 minutes on each side, or until each slice is slightly charred.

When these pan fried cucumbers are freshly made, they will be ever so slightly crispy. However, if you store these in a covered container, they lose their crispness. They are still tasty, but, tend to be a tad more soggy than crispy.
Which brings us to…
What is the best way to store these pan fried cucumbers?
To be perfectly honest with you, these cucumbers do not store well. As I mentioned, they tend to lose their crispness and get a tad bit soggy. They are still tasty. But these pan fried cucumbers are best enjoyed when freshly made.
However, if their lack of crispness does not bother you, they can be stored in an airtight container for up to 5 days. You can reheat them in the microwave or sauté them in a pan. However, keep in mind that they don't get back to being as crispy as when they were first made.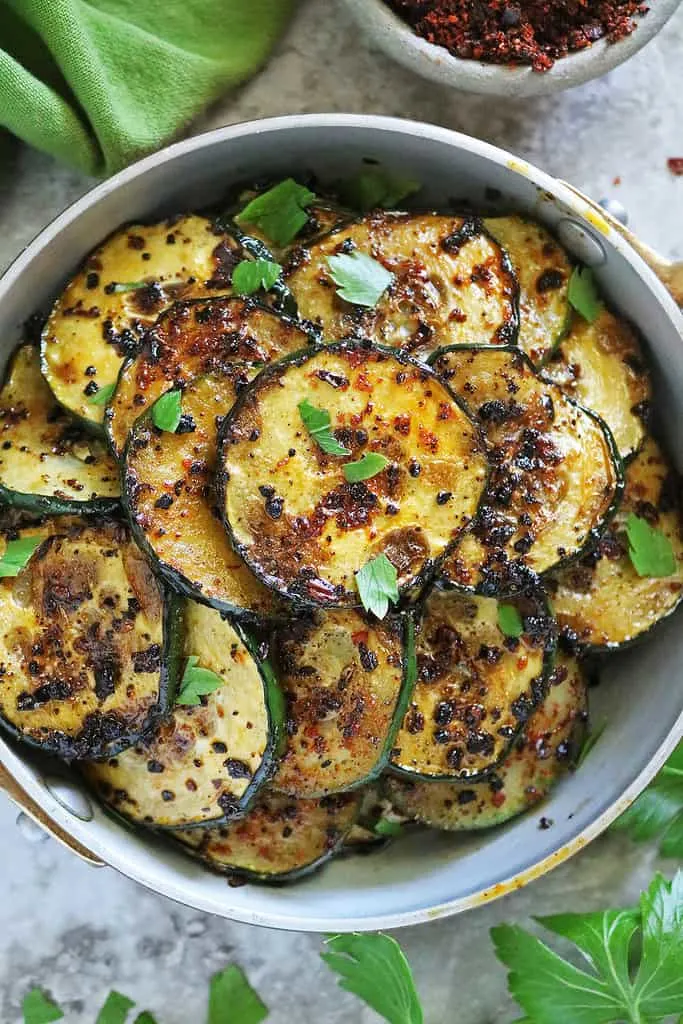 How to serve these 2-Ingredient Pan Fried Cucumbers?
These warm cucumbers can be enjoyed by themselves as a snack.
They can also be served as a side dish with yellow rice, mango chicken curry, broccoli croquettes, cherry chutney, and charred zucchini.
Or, with a simple and easy Quinoa dish or Israeli Couscous with Chicken.
---
Thanks so much for stopping by. If you make this recipe, please let me know in the comments below what you think of it, or tag your creation on social media with @savoryspin or #savoryspin. For more fusion, spice-filled, recipe ideas, please subscribe and follow me on Facebook, Instagram, and/or Pinterest!