This delicious 3 ingredient Cherry Chicken is an easy and healthy meal option. Pair it with some yellow rice and veggies for a tasty and wholesome meal.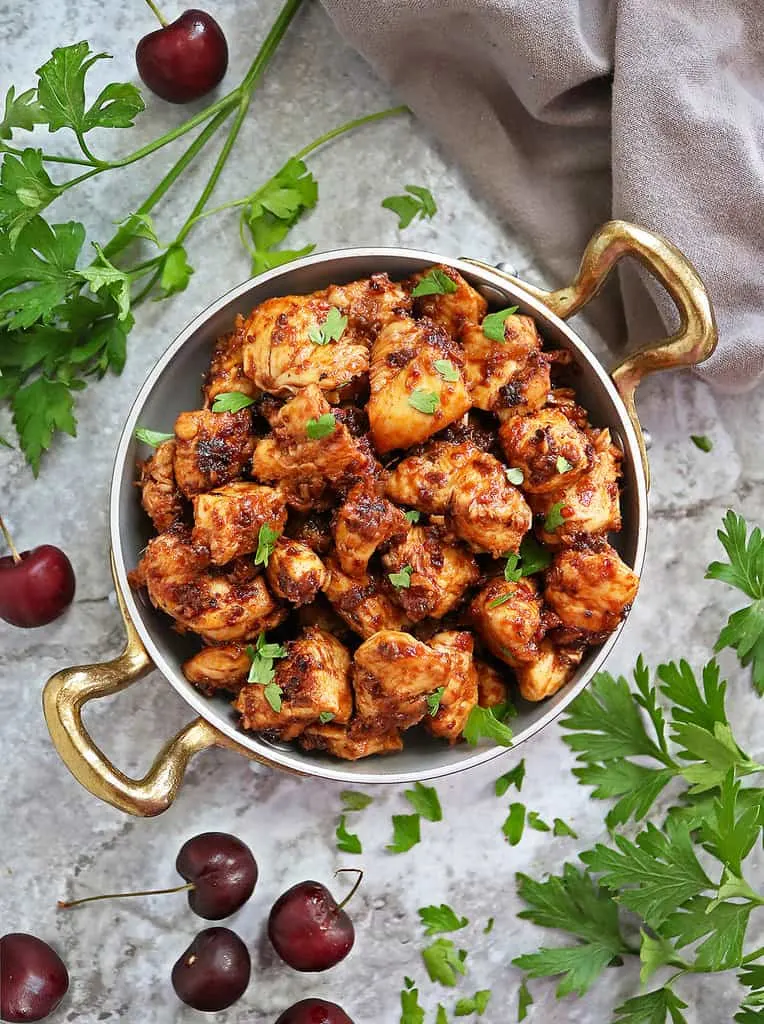 In this 3-Ingredient Cherry Chicken, chicken tenderloins are tossed in a delicious blend of cherry chutney and harissa. The result is tender chicken that is flavored with a delicious blend of tangy, spicy, and sweet.
I love this chicken dinner. To me, it is so easy to make, it is delicious, it is healthy, and it is a versatile menu item.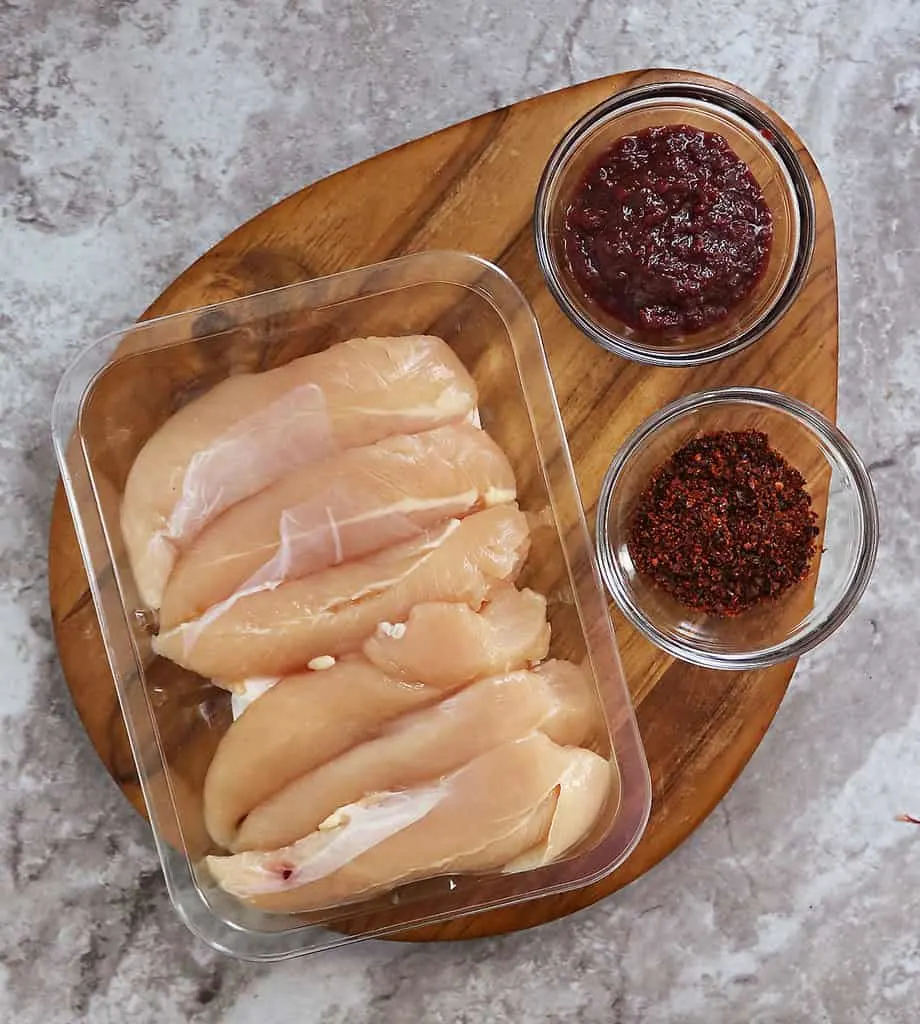 What are the ingredients needed to make this 3 ingredient Cherry Chicken?
For this easy dish, you will need the following ingredients:
Chicken Tenderloins
Chicken tenderloins usually have those little white stringy tags in them. I usually like to cut these out before I cook.

Cherry Chutney
I use homemade cherry chutney in this recipe. If you prefer, you could also use store-bought cherry chutney. While I haven't tried it yet, you could also use mango chutney or onion chutney in this recipe.

Harissa
Harissa is a hot chili paste or powder usually made with roasted peppers and a smorgasbord of herbs and spices. As I've mentioned before, I love New York Shuk's Fiery Harissa. I am not being paid by them to say this, this is just one of my go-to Harissa. You can usually find it at Whole Foods and Sprouts stores. You can also get it online via New York Shuk's website or Amazon. I use this Harissa in everything from simple side dishes like these sautéed cucumbers to more elaborate meals like this Harissa Salmon with Asparagus and Israeli Couscous.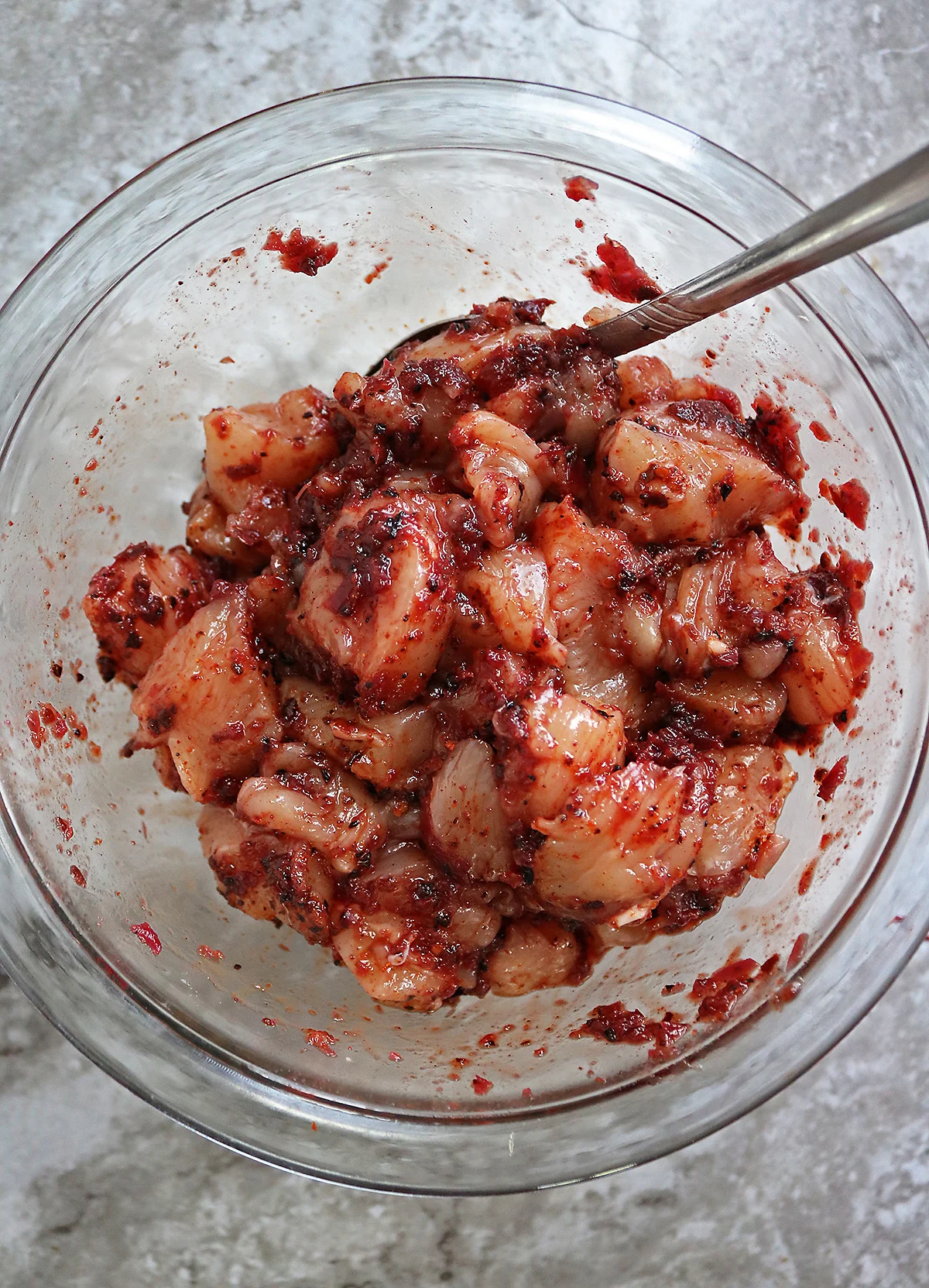 How do you make this recipe?
This recipe involves one cutting board and knife, one bowl, and one skillet and spatula.
First off, remove the chicken from the packaging and cut it into bite-sized pieces.
Then, add in the cherry chutney and harissa and mix it well. There are times when I feel like I do not want to dirty a bowl. Those times, I will add the harissa and chutney onto the cut-up chicken while it is on the cutting board, and mix it up.
Then set a large frying pan or heavy-bottomed pan on a stove top set to a medium flame/heat and add some splashes of your favorite oil to it.
After that, add in the cherry chutney and harissa-coated chicken and saute until the chicken is cooked (timings and quantities are noted in the recipe card below).
How long to cook chicken tenderloins on the stove?
The best way to cook chicken tenderloins so they are not too dry is to cook them in a skillet over a stovetop set to medium-high to high heat for about 3 minutes on each side.
As the chicken tenderloins are cut into smaller bite-sized pieces, these pieces could cook quicker than the whole tenderloin, sometimes taking 2 minutes to 2.5 minutes to cook.
After sauteing the bite-sized chicken for 2.5 minutes or so, I usually take the pan off the stove and leave it covered for about 5 minutes or so.
This quick saute, along with letting the chicken rest covered for a bit, as well as the cherry chutney have helped me cook up some juicy and tasty cherry chicken every time I have tried this recipe.
How to serve this cherry chicken?
This cherry chicken can be tossed into a salad.
It can also be served in a bowl, along with my favorite roasted sweet potatoes, some greens, cucumber, and tomato.
Or, it can be served with your favorite rice, quinoa, or pasta and some veggies for a wholesome meal.
---
---