This Cashew Semolina Cake AKA Sri Lankan Love Cake recipe results in a highly aromatic and deliciously spiced cake. Made with the ingredients that go into a traditional Sri Lankan Love Cake such as semolina, cashews, rose water, maple syrup, cinnamon, cardamom, nutmeg, fruit preserves, and lime zest, this Cashew Semolina Cake is made without eggs.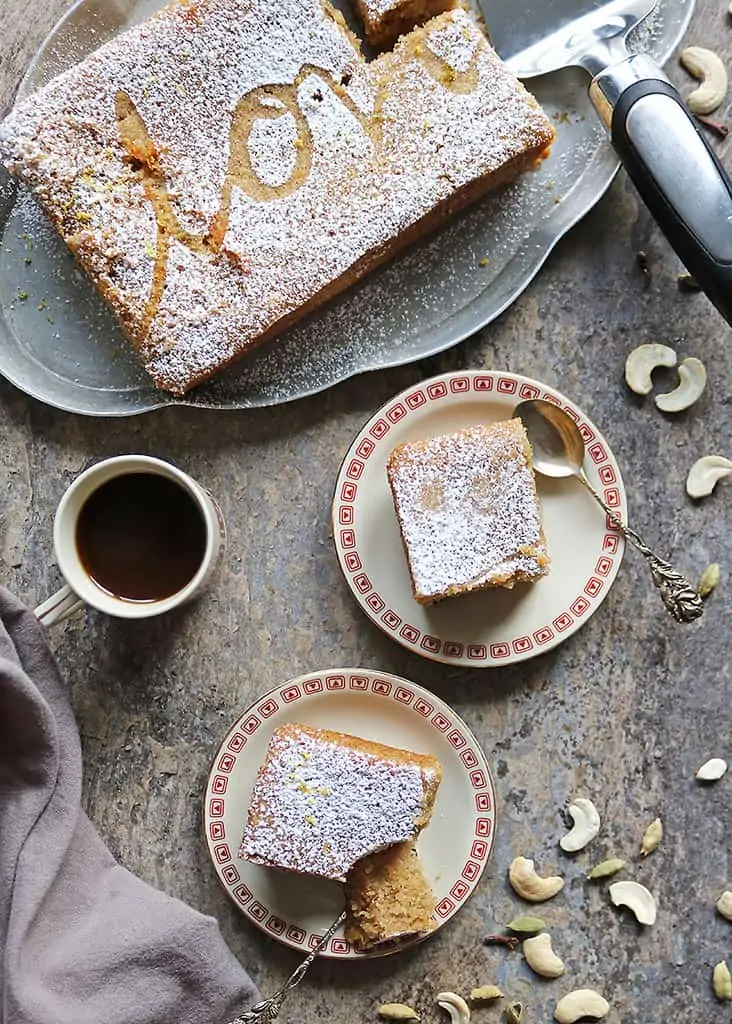 Traditional Sri Lankan Love Cake is an incredibly flavorful and enticingly aromatic cake. Made with semolina, cashews, rose water, honey, cardamom, cinnamon, candied winter melon, and lime zest, it is a coarse cake that is simply delicious. It is usually served with a dusting of powdered sugar and a hot cup of tea or coffee.
History of Sri Lankan Love Cake:
There are many theories on the origination of the Sri Lankan Love Cake ~ some say that there as many theories about its origination as there are versions of it. One of the most popular ones suggests that the Portuguese, who occupied Sri Lanka in the 1500s, brought with them a variety of delicious cakes.
One of the cakes was called "Bolo di Amor" which translated into coarse cake of love. It was said to have been made with semolina and a variety of spices.
Another cake, called "Bolo di Chila" was a cake made with a Portuguese squash referred to as chila doce, and served with a light dusting of sugar.
Elements of both these cakes, such as using semolina instead of flour and including squash in it, somehow merged into one love cake.
The theory goes on to speculate that back then many a love cake was used as the language of love to woo prospective suitors.
I don't know about you, but I'd melt if someone baked me a cake! I like to think that if food was a currency, Sri Lankan Love Cake would be the equivalent of a bar of gold! But I digress…
Staples of traditional love cake:
These days, most traditional Sri Lankan Love Cake recipes list candied winter melon, also called "puhul dosi" as one of their main ingredients. There are a few recipes that use pumpkin preserve instead of puhul dosi.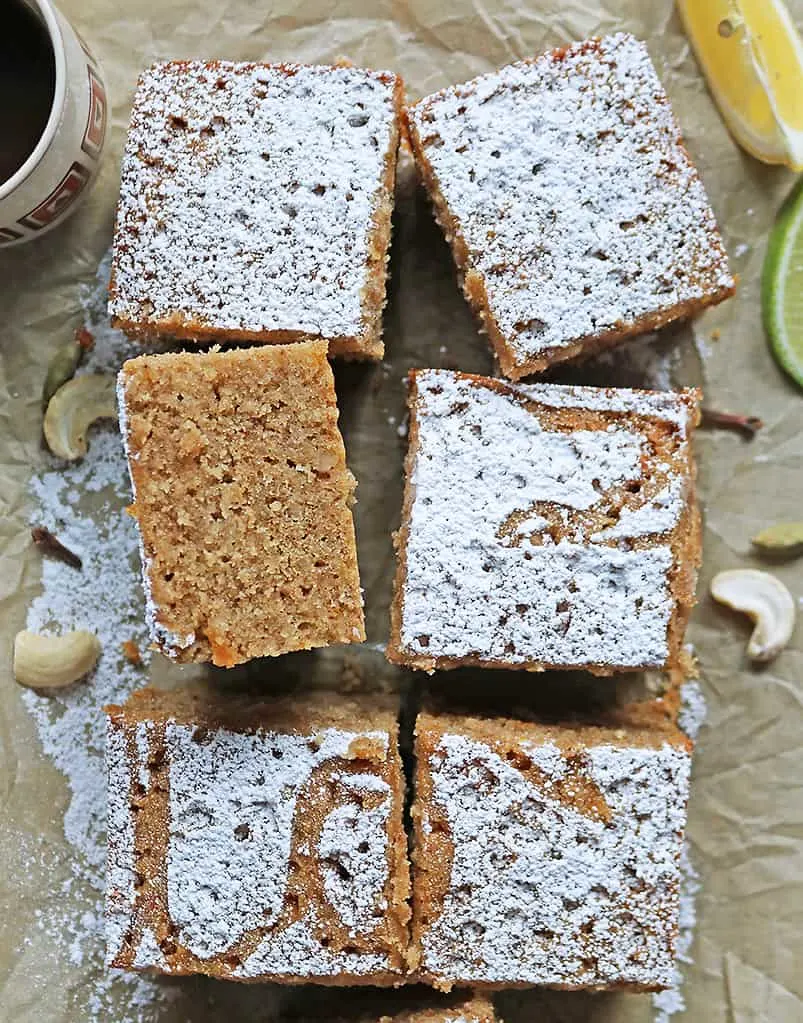 Most recipes also call for equal quantities of butter, sugar, and cashews, and a large number of eggs that help love cakes bake up with a bit of a crunchy exterior (kind of like a brownie) and a somewhat dense and moist interior.
Adaptations to make this Cashew Semolina Cake AKA love cake recipe:
The Cashew Semolina Cake/Love Cake you see here is not a traditional Sri Lankan Love Cake.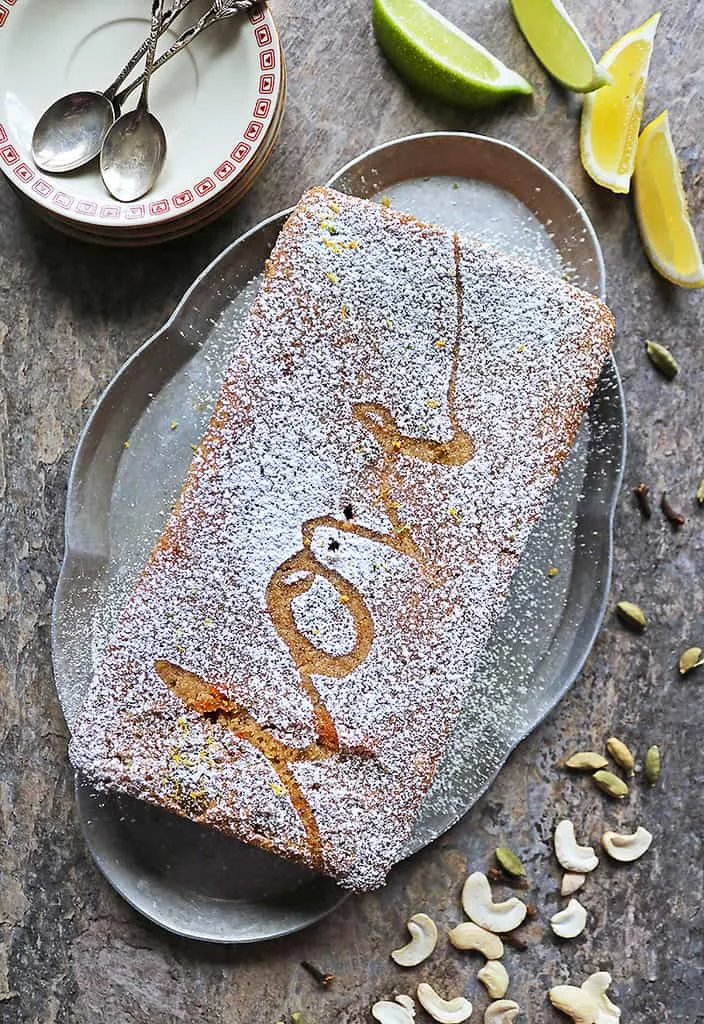 As I had a hard time finding puhul dosi or even pumpkin preserve at some of the grocery stores around me, I decided to make this adapted version of Sri Lankan Love Cake.
Also, there are a good bunch of traditional Sri Lankan love cake recipes on the interwebs, I figured the interwebs needed an eggless version as well!
While it uses many of the same ingredients, this Cashew Semolina Cake is made without puhul dosi and without eggs as well. As a result, this love cake has a soft exterior and a dense and moist interior.
I left the eggs out and used maple syrup instead of honey so the resulting love cake would be a plant-based version, vegans could join in on enjoying as well. By the way, I replaced the eggs with a combination of applesauce and baking powder. I also have a sugar-free version coming soon.
In a few prior tries, I used a combination of candied ginger and apricot preserves as stand-ins for the puhul dosi. The resulting cake was enchantingly aromatic and tasty but way too crumbly. My mom suggested I store it in the fridge for a few days and then wrap it in plastic and squeeze it in on all sides, but I figured I would give it a few more tries.
And after a few tries and lots of delicious love cake to try, I ended up with this coarse, aromatic, extremely flavorful Cashew Semolina Cake. By the way, this is a small batch cake recipe with 8 small servings or 4 regular servings.
I usually love my cake with a mound of frosting. My daughter likes to joke that I just want a slice of frosting and not cake. But, this cake, just like this Pistachio Rose Cake, is so incredibly tasty, it doesn't need any frosting or icing.
You will enjoy this cake if:
☑️ ️You are looking for an aromatic and flavorful cake to enjoy with your evening coffee,
☑️ You want an easy yet tasty cake to serve your family and/or a few friends,
☑️ You have adopted a plant-based diet and want a deliriously delicious cake to enjoy,
☑️ You are looking to woo a significant someone ~ especially with Valentine's Day on the horizon!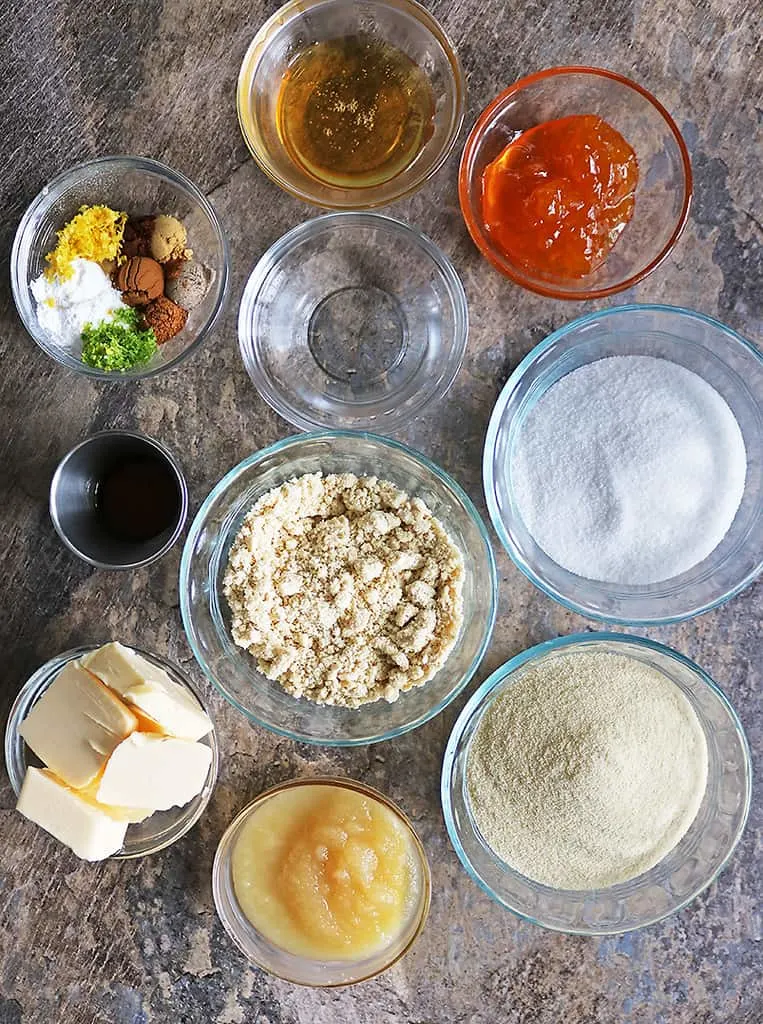 What are the ingredients needed to make this Cashew Semolina Cake?
The 18 ingredients I used to make this small batch love cake recipe are:
semolina,
apple sauce,
vegan butter,
sugar,
maple syrup or honey (use honey if not looking to keep this a plant-based recipe)
almond extract,
vanilla extract,
rose water,
cardamom,
ginger,
cinnamon,
nutmeg,
cloves,
cashews,
apricot jam,
lime zest,
lemon zest, and
baking powder.
You probably have most of these ingredients in your kitchen already – but if not, you can easily find them at most local grocery stores. The rose water might be in the international food section or if you are buying online, Amazon has a good stock to choose from.
How to make this easy Cashew Semolina Cake?
You can have this cake ready to bake in 8 steps, but first, you will make sure that your vegan butter, applesauce, apricot jam are all at room temperature. Then, zest a lime and a lemon using a Microplane grater (Amazon affiliate link). If you didn't buy ground cashews, you can grind up some unsalted raw cashews in your blender.
Then:
Cream the vegan butter and sugar for about 2 minutes using a handheld electric mixer,
Add in the rose water and applesauce and mix well,
Then add in the apricot jam, maple syrup/honey, vanilla, and almond extracts and mix well,
Add in the ground cashews and mix well with the mixer,
Add in the cardamom, cloves, nutmeg, cinnamon, ginger, lime, and lemon zest,
Also, add in the semolina and baking powder and,
Mix well using a spatula,
Spoon into a loaf pan and bake at 300 degrees for an hour and 10 minutes.
Insert a toothpick into the center of the cake to test if it is done. If it comes out clean, the cake is ready to set aside to cool. If it comes out with wet batter, then place it back in the oven for another 10 minutes as all ovens are different.
When the cake is done, cool it to room temperature and serve it as is or serve it dusted with a bit of powdered sugar.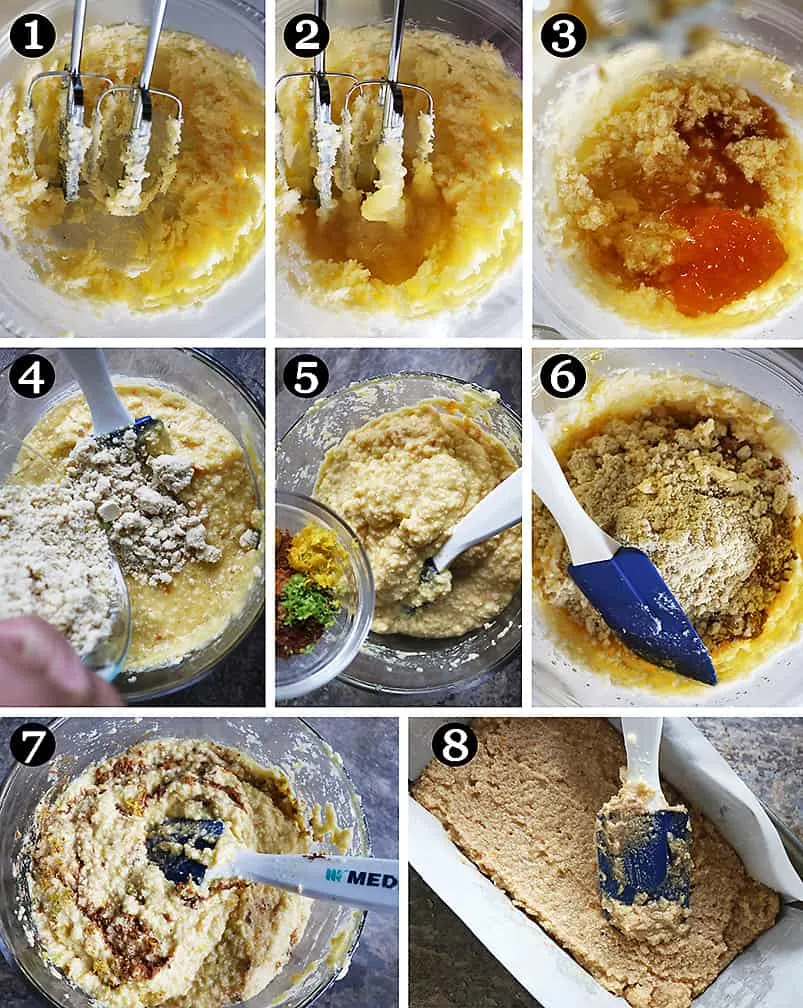 How do you store leftovers of this cake?
This Cashew Semolina Cake Recipe (Sri Lankan Love Cake), like Christmas Cake, is said to get better with age. So, this is going to be hard, but if you can refrain from eating the whole loaf, you can seal it in an airtight container. The popular opinion is that it will last a whole year. But, in our house, even if I seal it and hide it in the back of the fridge, this cake never seems to last longer than 4-5 days.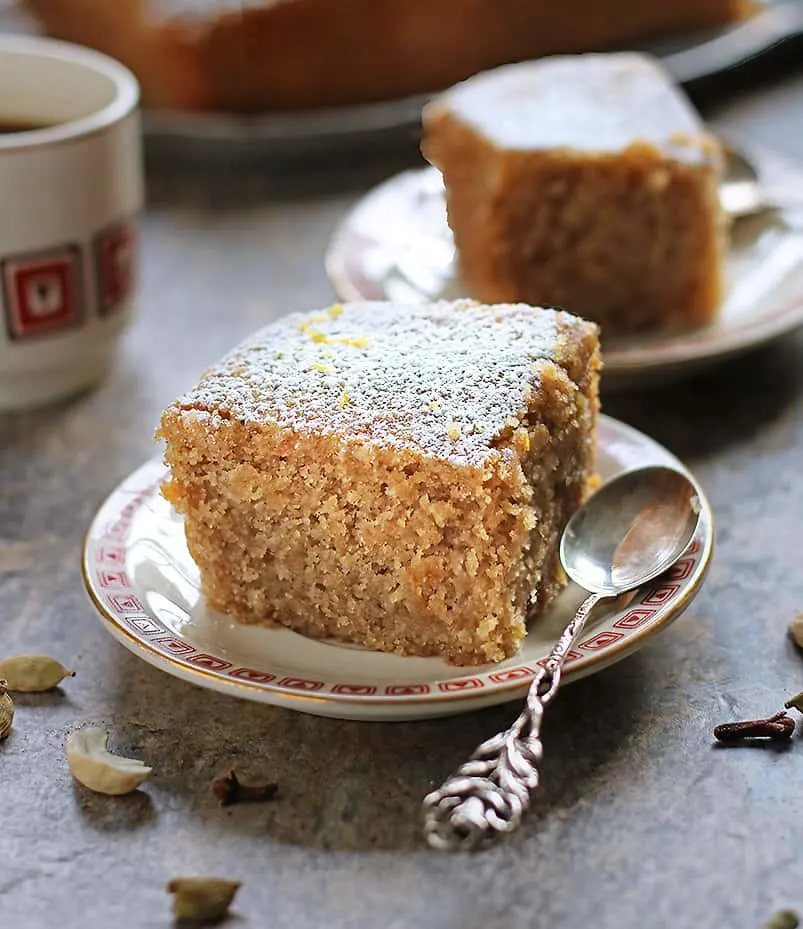 What can be substituted for semolina?
You can use all purpose flour or whole wheat flour instead, in this recipe – which will result in a less coarse cake.
What type of vegan butter is best in this recipe?
When baking cakes, I have found I get the best results using Earth Balance vegan butter sticks.
Can real butter be used?
If you do not need for this to be a plant based cake, then real butter can be used.
What can be substituted for rose water?
If you cannot find rose water, you can increase the amount of vanilla extract used in this.
If you make this cake, I hope you enjoy it as much as my family and I have.
Please also tag @savoryspin on Instagram / Pinterest to let me know.
Estimated reading time: 8 minutes
If you are looking for cakes that are delicious without frosting check out this Easy Pumpkin Spice Cake Recipe and Pistachio Cake Recipe.