This Pistachio Rose Semolina Cake is adapted from Yotam Ottolenghi's and Helen Goh's "Sweet" Cookbook. It is such a beautiful union of cardamom, rosewater, almond and pistachio. Serve up this exquisite cake at your next get-together as a wonderful finale to a meal.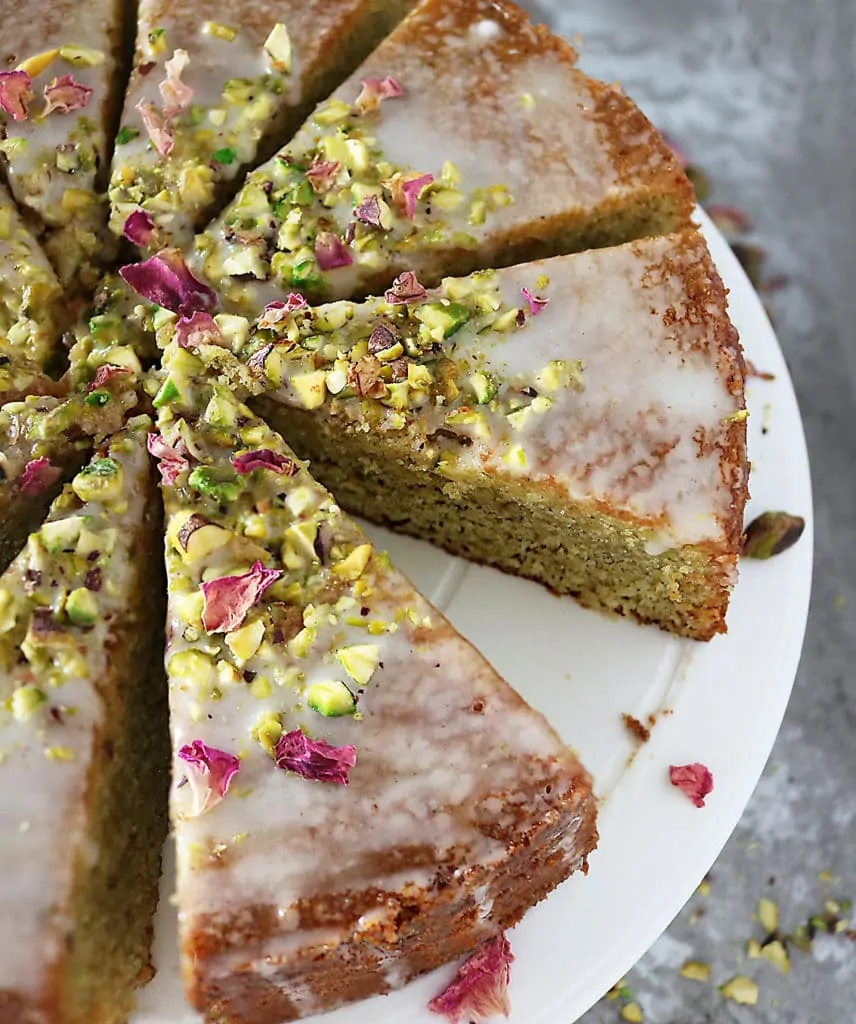 *This is an updated version of a post that was first published on May 7th, 2018.
This Pistachio Rose Semolina Cake simply exquisite. Very much like this Sri Lankan Love Cake, it is a coarse cake made with semolina. It, too, is packed full of flavor ~ so much flavor that each forkful simply delights our tastebuds. This cake is a delicious cake and can be enjoyed without any frosting or icing ~ But a big mug of milky tea or coffee is a must!
If you try this cake, I am hoping you will enjoy it as much as we do!
---
But first, a little history on how I was introduced to this cake…
In the summer of 2017, my daughter and I headed across the pond to London.

While we were there, we got to visit family, awe at some of London's sights and sounds and check out the local food scene ~ which included a stop at one of Yotam Ottolenghi's restaurants.
I am a huge fan of Ottolenghi's style of cooking and managed to taste just about every one of the savory dishes he had on his menu that day.
By the way, if you focus on the 6 larger images in the collage below, you will see that all the savory and sweet dishes of the day are displayed openly so it's easy to pick and choose how much or how little one would like.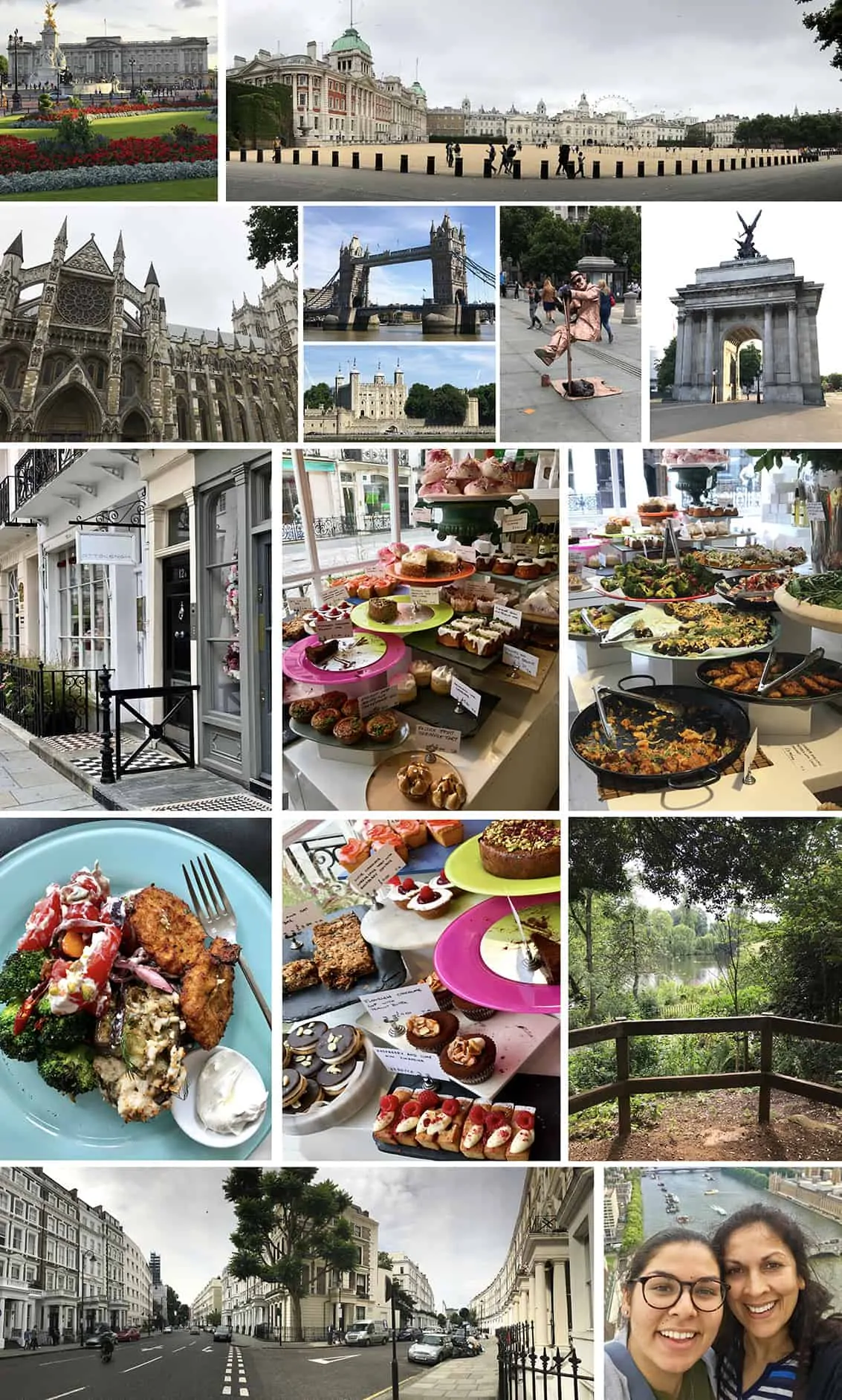 My daughter and I were so stuffed after our lunch. But, neither of us wanted to leave without trying any of the sweets so we filled up a togo box with a variety of Ottolenghi's cakes, cookies and meringues.
We headed to Hyde park with our loot and managed to find a secluded spot overlooking the lake (4th row, left most picture in the collage above) and dug into our loot.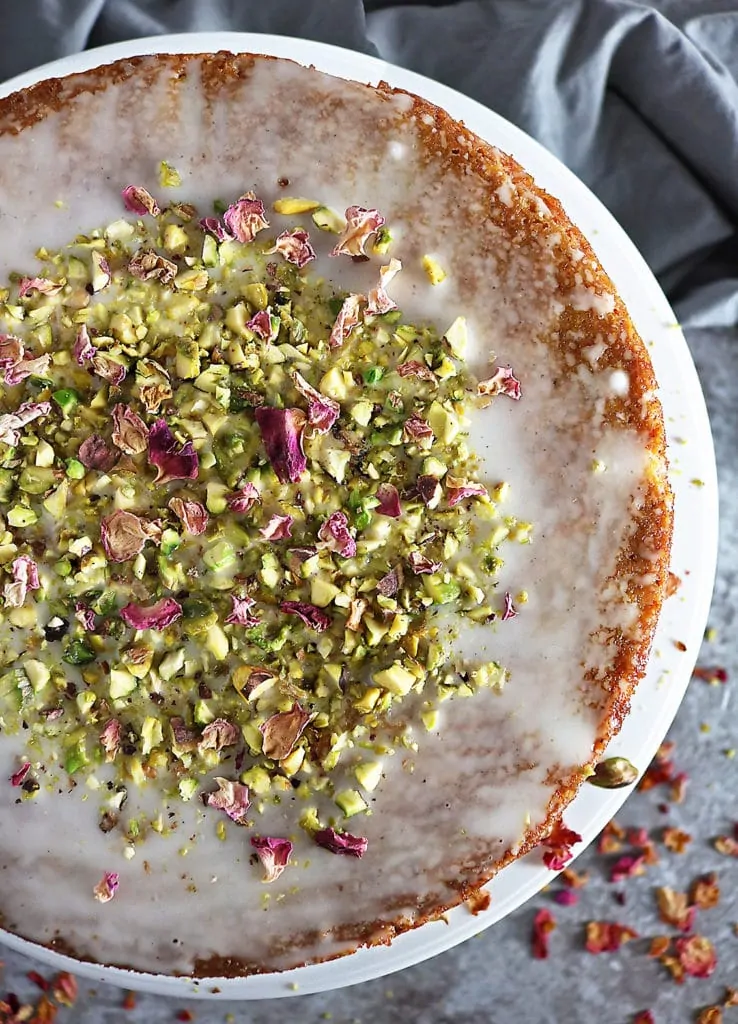 Y'all, when I got to the slice of pistachio rosewater semolina cake, my tastebuds were swooning!
This was one heck of a tasty cake! And, it had NO frosting!
Frosting is usually my jam – but this didn't need any. None.
Each forkful was so luxurious, so flavor packed with hints of rosewater, pistachio, almond and lemon!
We regretted getting only one slice and having to share it! We went back to that Ottolenghi restaurant before we left London, but, they had sold out of their pistachio rosewater cake.
When my daughter and I got back home to Georgia, we found a recipe for that Pistachio Rosewater Semolina Cake and vowed to give it a try as soon as she had college sorted out and I had sold the house and moved to a condo (which feels like it was eons ago).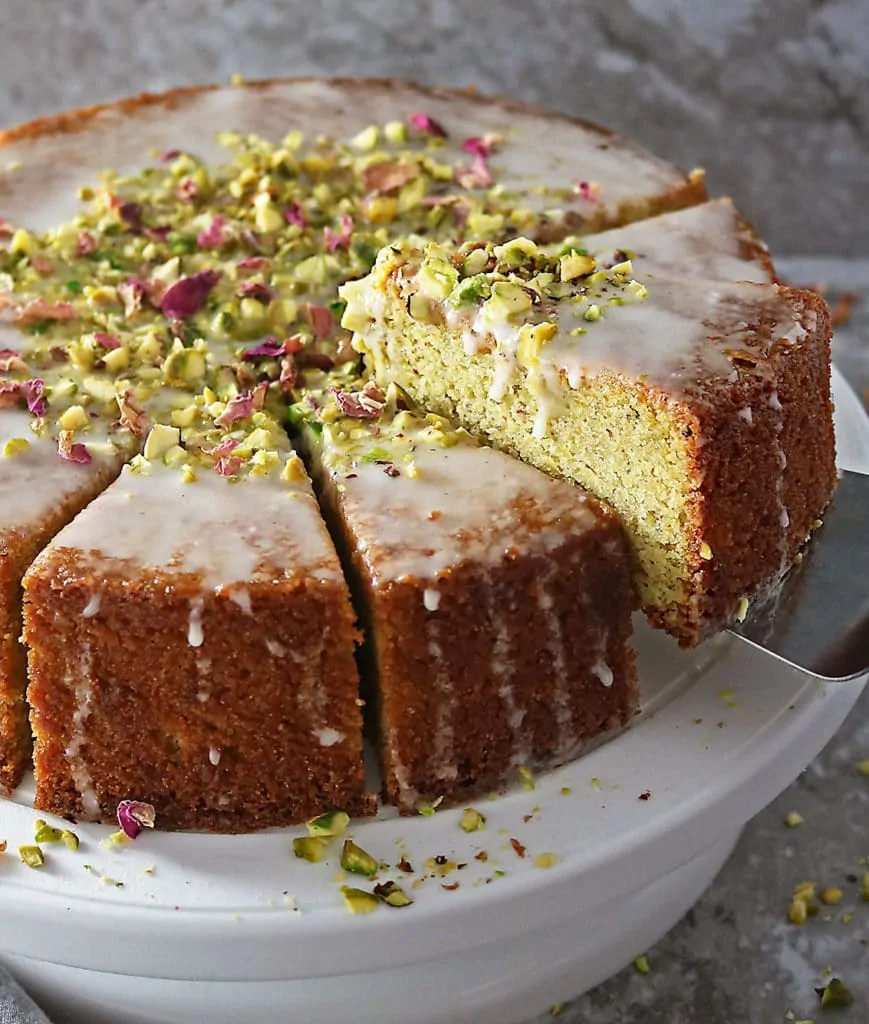 Well, come New Years Eve night, we were hovering over that recipe in our new kitchen. That first time we tried this recipe out, (by the way, this recipe can be found in Yotam Ottolenghi's and Helen Goh's new cookbook: "Sweet") I subbed in oat flour for semolina. I am thinking that that substitution lead to a cake that was just too sweet for me.
But, the second time I tried my hand at replicating Ottolenghi's Pistachio Rose Semolina Cake, I followed the directions and ingredients almost exactly.
This time, I reduced the amount of sugar and also used cardamom powder instead of cardamom pods as the powder can be easily found among the spices at just about every local grocery store.
And, the resulting cake had our tastebuds swooning!
How to make this Pistachio Rose Semolina Cake: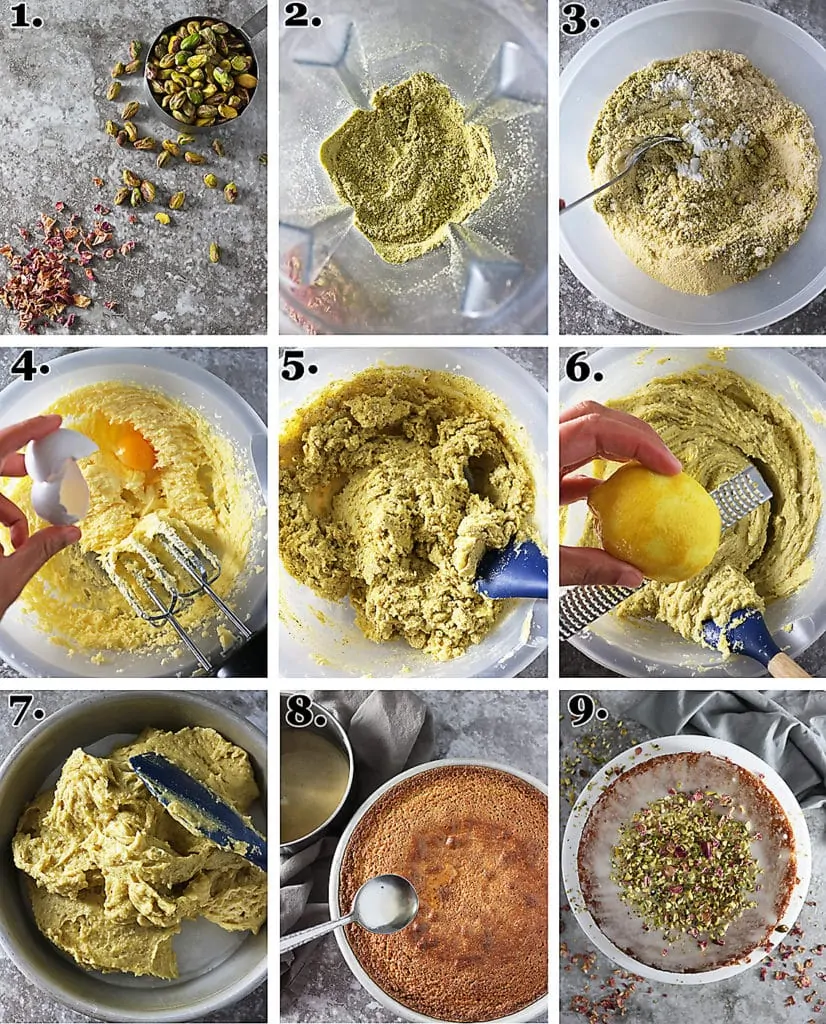 1. Gather all your ingredients together.
The first time I made this, I found the directions and ingredient list a bit intimidating – but, having all the ingredients prepped, measured and ready to go, helped save time and my sanity.

2. Grind up the pistachios (along with the cardamom powder) to a flour like consistency.

3. Mix the Dry ingredients together.
Spoon the pistachio/cardamom powder into a bowl with the almond meals, semolina flour, baking powder, salt.

4. Cream the butter and sugar together until the electric beater leaves a "trail" through it. Then, add in the eggs one at a time, mixing between each egg. Make sure not not overbeat though.

5. FOLD in the mixed dry ingredients into the butter/sugar/egg mixture.
Use a spatula and gently fold in the dry ingredients.

6. Add in lemon zest, rose water and vanilla extract.

7. Scrape the mixture (it won't be too runny) into a greased and lined baking tray and bake.
In the last 10 minutes of the cake baking, make the rose water syrup.

8. When cake is taken out of the oven and is still warm, spoon the warm rosewater syrup over it.

9. Let Cool, glaze, and enjoy!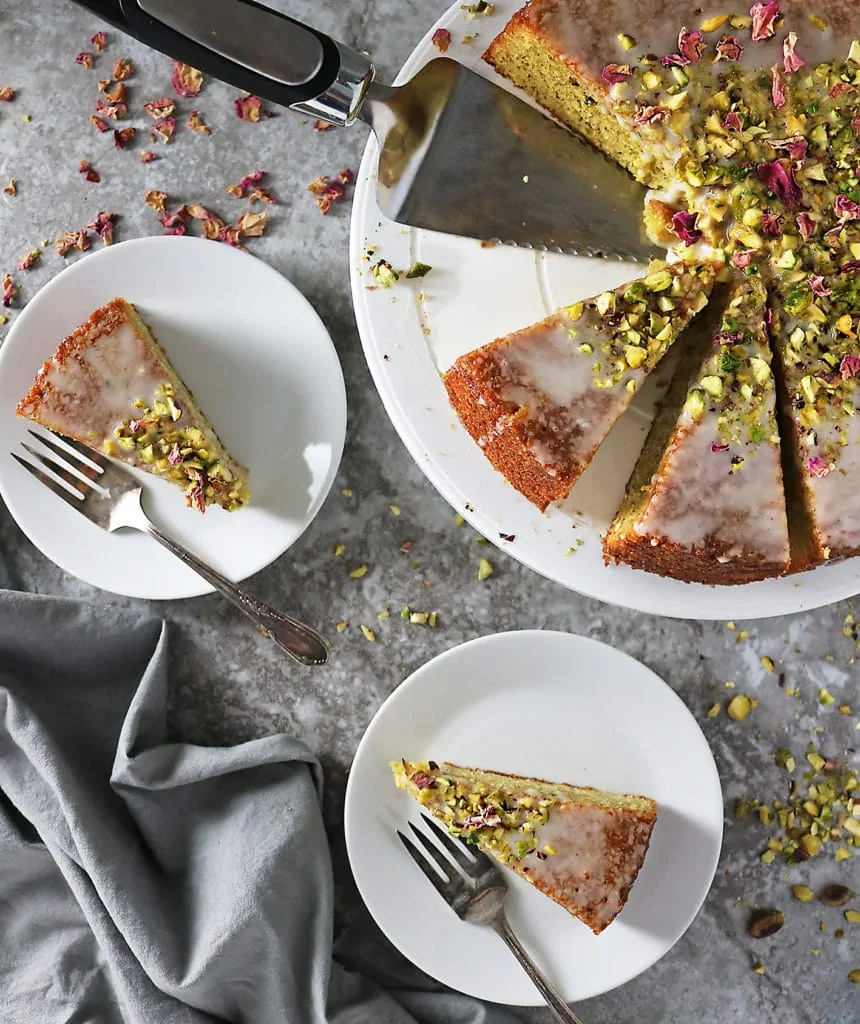 So, of course, I decided to share this very slightly adapted version of Ottolenghi's Pistachio Rose Semolina Cake (which has become one of my all time favorite cakes), here.
I cut down on the time required to make this by using store bought dried rose petals instead of making candy rose petals as suggested in the original recipe.
I also did not make the rose cream to go with this and added a very simple lemon rose cardamom glaze instead.
This is a spectacular cake to bake up and enjoy around the holidays, for New Years' (like my daughter and I do) or even for Mother's Day or Father's Day. It also pairs beautifully with this Cashew Semolina Cake – which is also a cake that is so tasty it does not require any frosting!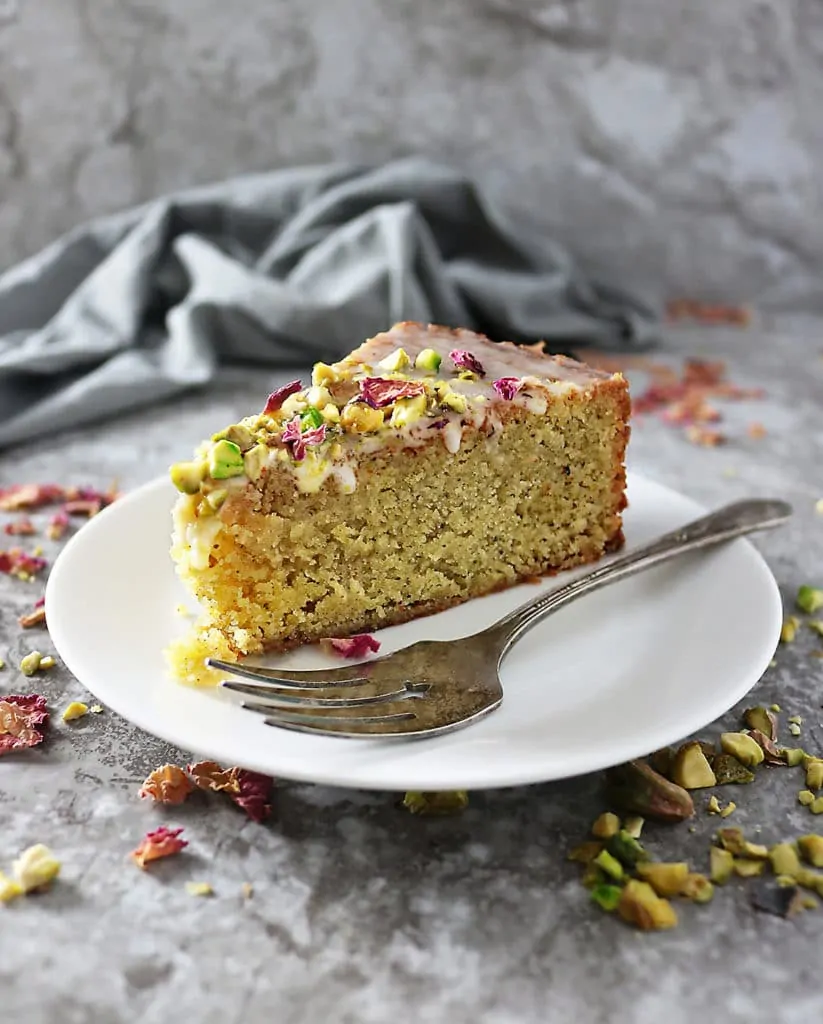 I would love to know if you've make this recipe or any other recipe from this blog so please do rate the recipe and let me know your thoughts on it in the comments below.
You can also FOLLOW ME on FACEBOOK, TWITTER, INSTAGRAM and PINTEREST to get recipe ideas and inspiration.
©Savory Spin All content and images are protected by copyright. Please do not use my images or recipe without my permission.
Disclosure: Savory Spin is a participant in the Amazon Services LLC Associates Program, an affiliate advertising program designed to provide a means for sites to earn advertising fees by advertising and linking to amazon.com.